December 2020 – Holiday Cookies
Many Days, December 2020
VBC Meeting #94: Holiday Cookies
Host of the Month: The Internet
Location: The Internet
Vegan Bake Club normally does holiday cookie decoration of some sort in December (2013 being an exception, which instead featured an Iron Chef-style bake-off team competition):
So we did "Holiday Cookie(s)" for 2020.
This is what we made:
Slynn and Neva: Animal "Crackers"; Banana/Peanut butter/Coconut Cookies
We made these animal "crackers" and our old-favorite banana/peanut butter/coconut cookies: one batch with raisins, one batch with chocolate chips.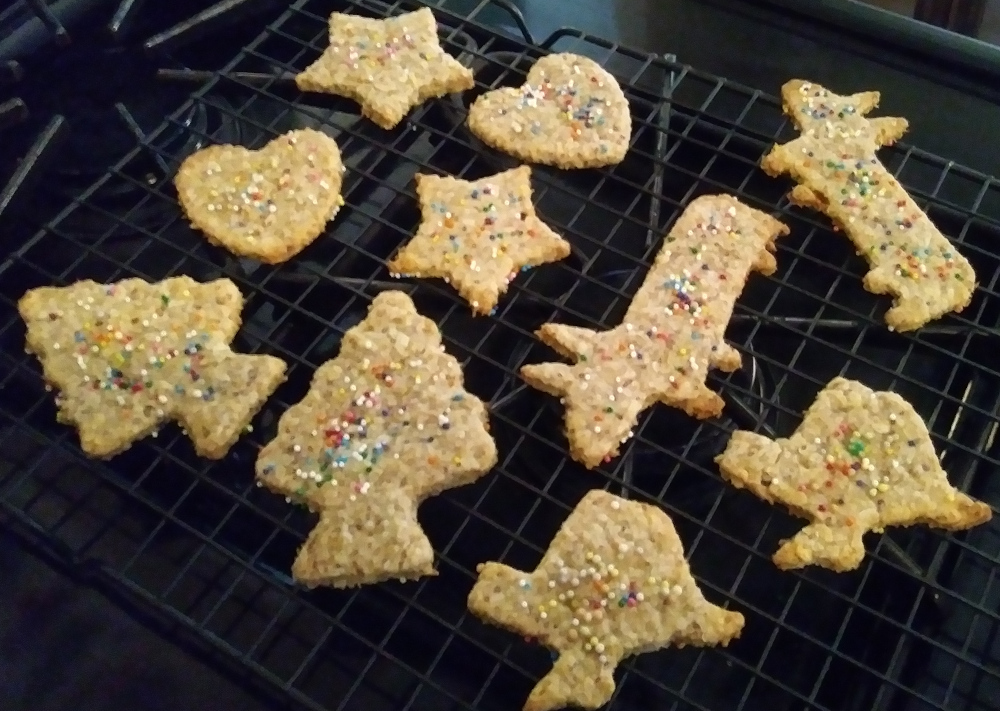 1 cup flour
1/2 teaspoon baking powder
1/2 teaspoon salt
1 1/2 cup quick oats
1/2 cup shredded coconut flakes
1/3 cup applesauce
1/4 cup coconut oil
2 flax "eggs" (1 TB ground flax seed, 3 TB water = 1 egg)
1 teaspoon vanilla extract
1 teaspoon cinnamon
1/4 cup milk of choice
1 Tablespoon maple syrup
Mix dry ingredients, then add wet. Refrigerate dough for 1 hour or overnight. Roll, cut out, and bake on a lined sheet at 350°F for 12-15 minutes. Adapted from https://sugarspiceandglitter.com/kids-kitchen-no-sugar-animal-cookies/.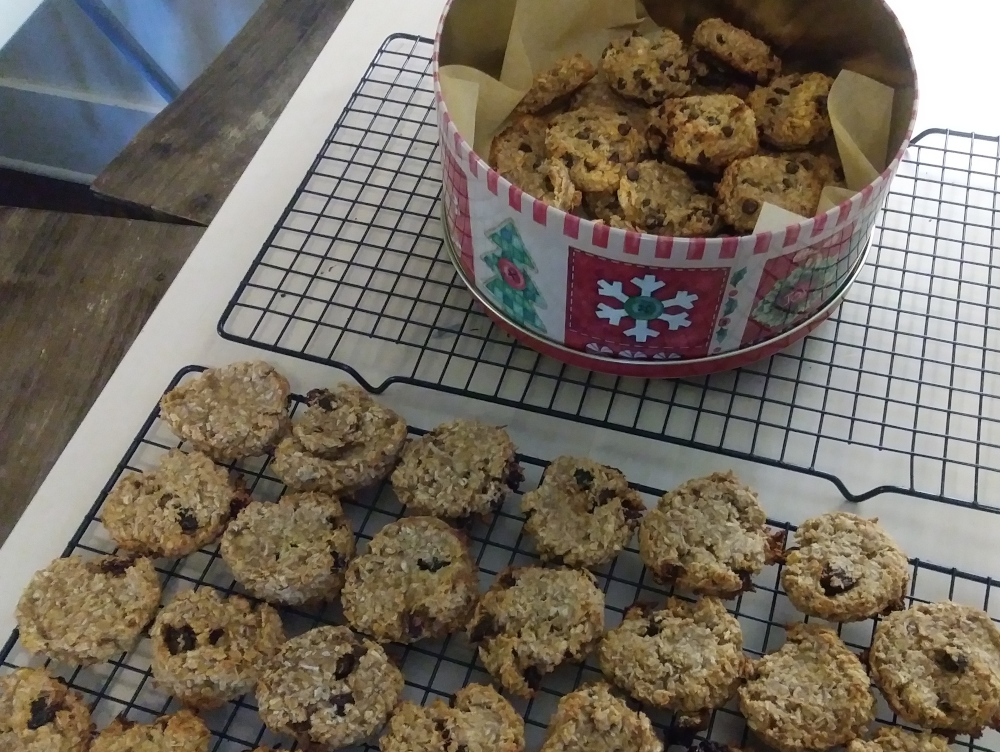 Lauren: Chocolate Orange Ginger Nuts
I have been thinking for a while about what cookies I wanted to make for the holidays knowing I wanted it to involve chocolate and orange. Yesterday, walking up and down the driveway, I decided I wanted ginger nuts. I combined the three things by veganizing this Ina Garten recipe and mixing up the spices a bit with this Martha Stewart recipe. I added orange zest and the juice I could squeeze out of one orange with my fingers, since the dough seemed a bit dry in the adaptation. Of course this made me think of John and wonder if I should have put the whole orange in 🙂 . For the spices I think I used something like: 2 teaspoons cinnamon, 3/4 teaspoon black pepper, 3/4 teaspoon nutmeg, and 1 3/4 teaspoon ground ginger. I didn't put in any crystallized ginger, but I did press each side of the cookies into sugar like Ina. However, this made the cookies sweeter than I wanted, so when I make them again, I will either only press one side into the sugar or skip this step altogether. I also think this cookie would be nice with oats in it. Oh yeah, I used 1 cup of whole wheat flour in place of 1 cup of all purpose flour and replaced the large egg with 1.5 flax eggs. To get in chocolate, but not make it much sweeter, I melted dark chocolate chunks with a little orange extract and drizzled it over the cookies.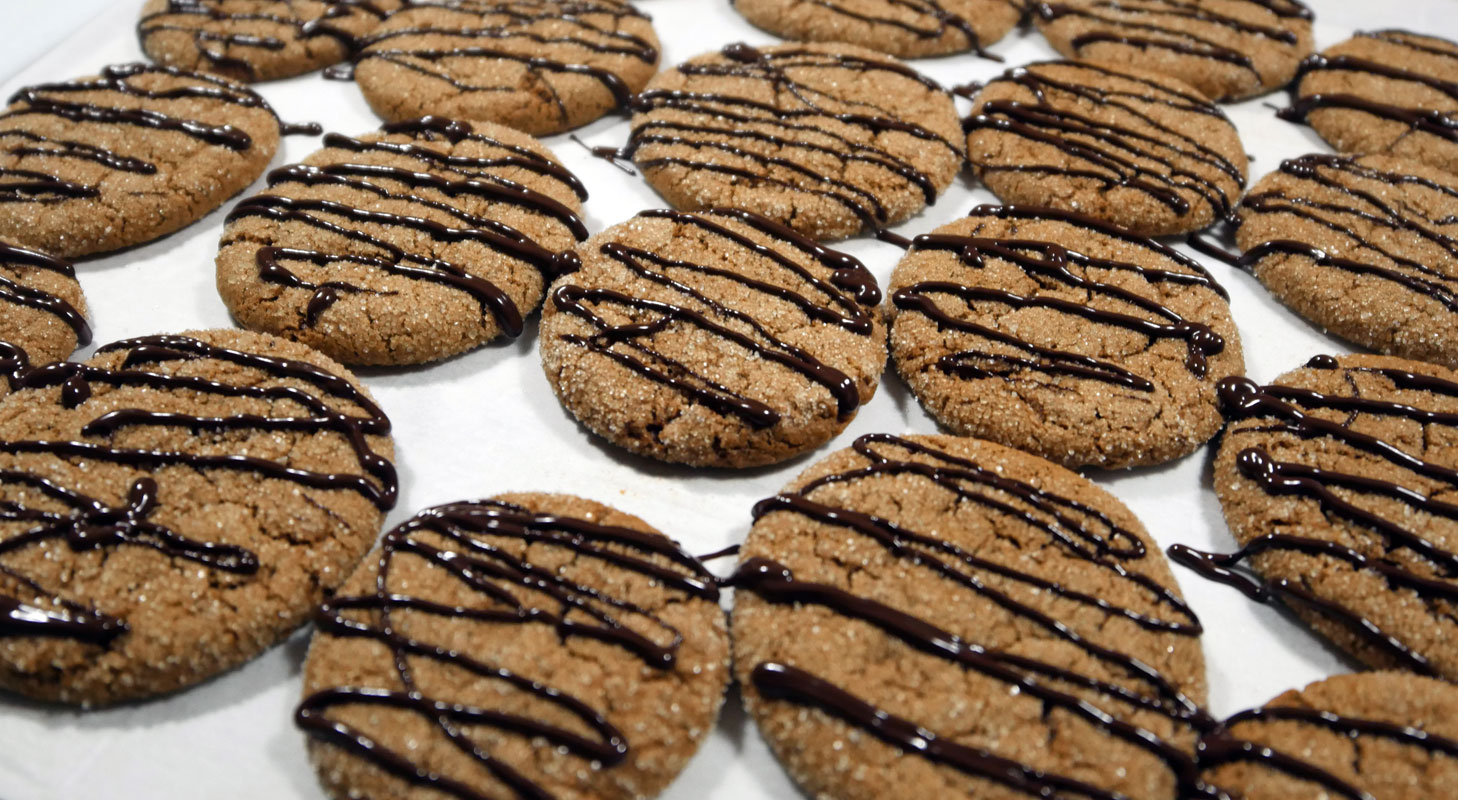 Caroline: Billy's Marranitos
I made Billy's marranitos from last year's New Years. 2020 did those marranitos dirty so I wanted to give them a second chance at life! I used ground ginger instead of fresh and I didn't exactly zest an orange. Since my sister is moving, she had already packed up her zester and grater, so I lightly peeled an orange and then chopped and chopped and chopped up the peels. Also, the dough was pretty dry but I didn't want to veer off the recipe too much, so I pushed through. This turned out to be very labor intensive when rolling out the dough. From the first step, it was a shaky start for me. I don't know if I creamed the coconut oil and brown sugar properly. I had to look up what this meant and it made sense when it was just coconut oil but stopped making sense when the brown sugar was added to it. However, save for a couple overbaked marranitos, they actually turned out really good! I intended to make a glaze or icing to decorate them, but COVID delayed everything so I barely made these yesterday.
Please enjoy a photo of my naked marranitos (none are actually pig-shaped because I don't have that cookie cutter shape).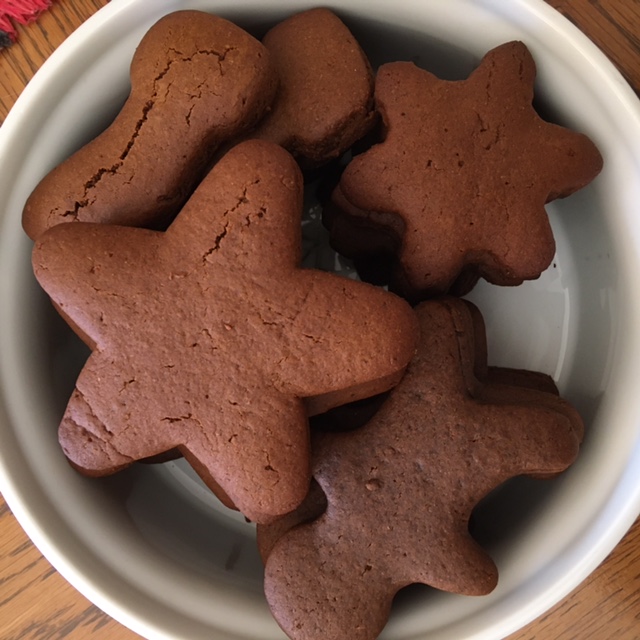 Ramon: Giant Cookie
I made a giant cookie! I've made this recipe 4-5x in the last 9 months as my least favorite part of cookie making is separating out the dough in batches but cookies are my favorite "sometimes food" as my friend Cookie Monster would say.
I've had fun experimenting with this recipe based on what ingredients we have available and what sounds good. So far, nothing has been bad/intolerable! This time I opted to swap out half the flour for oatmeal, canola oil for olive (we were out of olive), and added walnuts. I've also added cocoa powder and other fillings in the past. The photo is the most recent cookie, out of the skillet because I forgot to take a picture.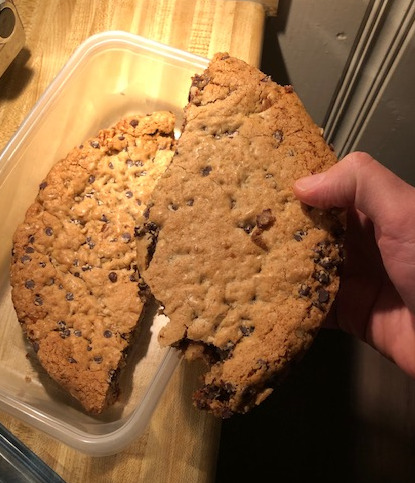 Drew: Basic Chocolate Chip Cookies
So, I hadn't done anything for this prior to the 23rd of December when the plan was to go down to my parents for Christmas with my sister and her family. There is always cookie making and decorating as part of Christmas with my family so I was going to post about that. But, COVID f'd that up too! My sister, brother-in-law and their two kids all got COVID so there was no traditional Christmas with them or cookie making! So, today being cold and rainy and me not wanting to go out, I just made some basic chocolate chip cookies from stuff we had at the house. I followed this recipe kinda https://www.noracooks.com/vegan-chocolate-chip-cookies/. I used less sugar, only a half a cup of chocolate chips (all we had), added diced almonds to make up for the lack of chocolate chips, and added a tiny bit of almond milk as the dough was dry. I baked the cookies on 2 parchment covered cookie sheets at the same time. One cookie sheet was dark and one sheet was silver. This was not intentional. After cooking them, the cookies on the dark sheet were perfect and the ones on the silver sheet were a bit burnt on the bottom. But, it is pretty slight and they're all still very edible! I always see on recipes where they mention the color of the cookie sheet as a need to use a different cook time (though this one didn't say anything about it) but I've never seen the results of it. Now I have, so that was exciting.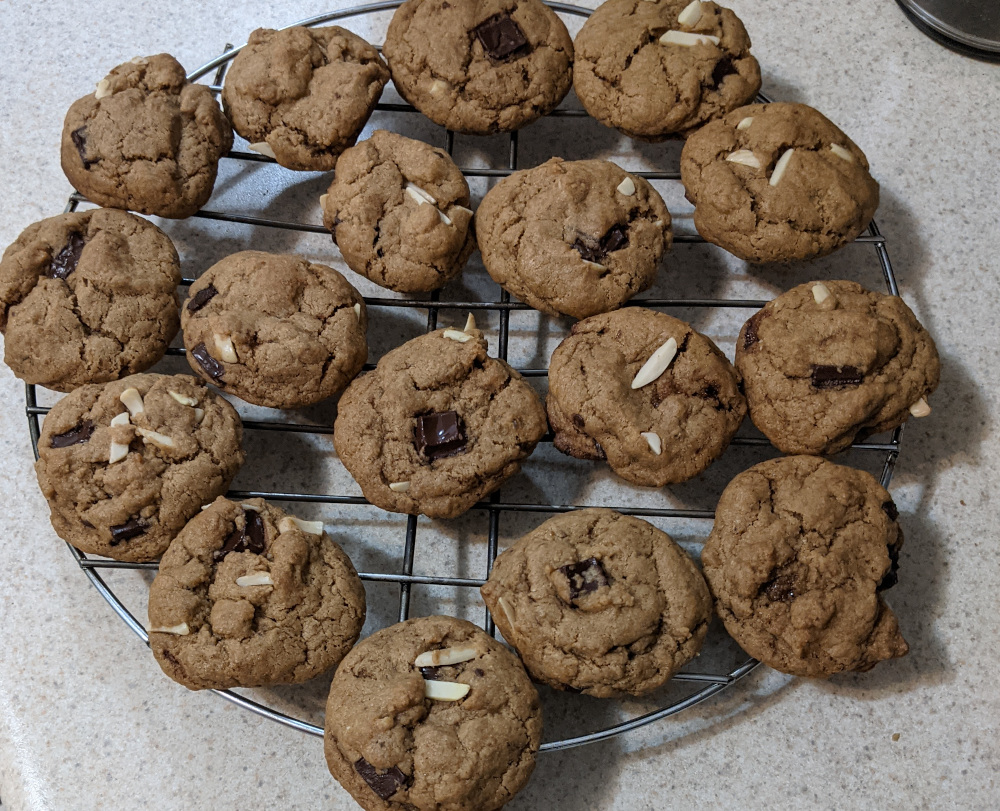 Megan and Will: Sugar Cookies; Snickerdoodles; Chocolate Crinkles
Willy and Megan (me, I) made classic vegan sugar cookies using this recipe and using store bought icing. The recipe involves rolling out the dough and chilling for an hour which I consider to be a lot of painstaking steps. We only did this because our friend wanted to decorate cookies and we wanted to eat cookies, so she found a vegan recipe. In this picture are cookies she made and we frosted.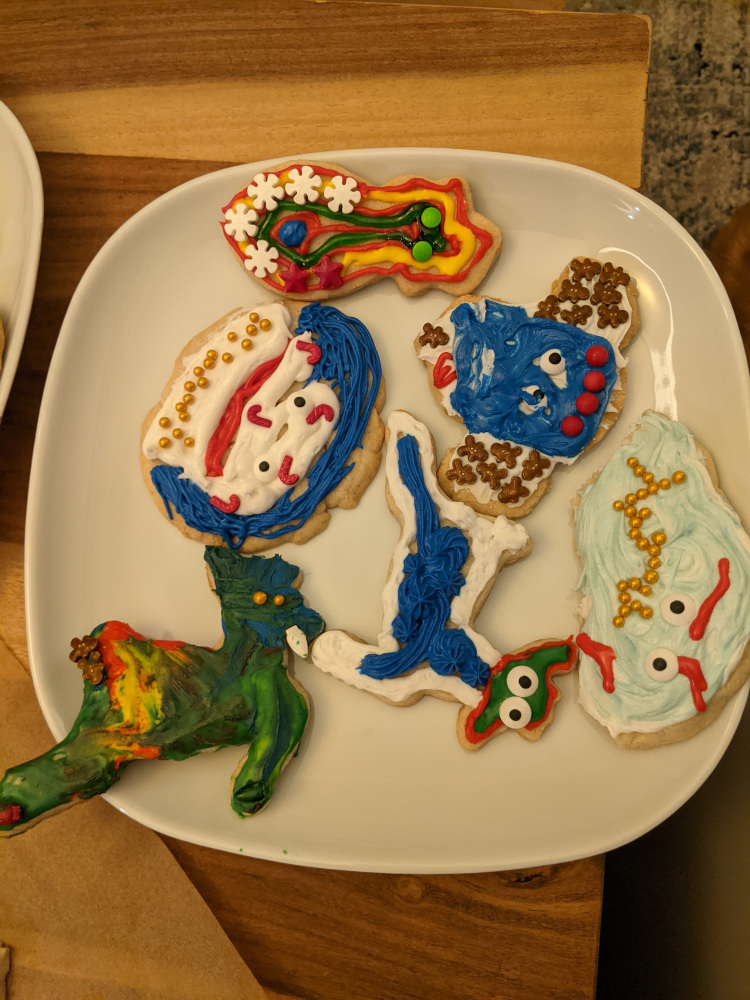 Willy is showing his self proclaimed self portrait.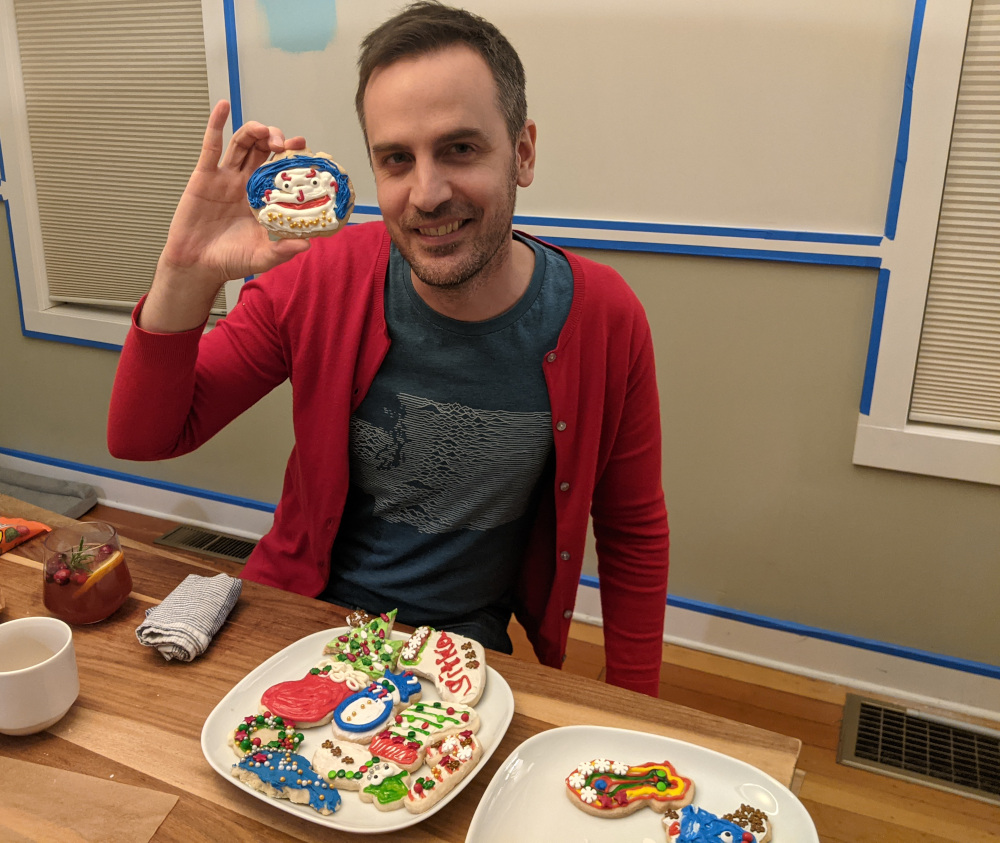 Later on, we actually made these again ourselves. We used gf flour for half a batch for friend. They tasted great and cannot tell flour is different because cookie is 88% butter and sugar. We also tried half batch with coconut sugar instead of white. Normally this is a great substitute for lower glycemic result, but in such a lily white cookie the tan goodness was too intense and the caramely flavor was out of place–not the case with a chocolate chip cookie.
Later I made snicker doodles for Willy using this recipe. The cream of tartar make them little fat babies which is nice. I used the ppk chai spice mix for the coating, and Willy said taste like gingerbread.
Today and yesterday Willy made chocolate crinkles which we also made when we made sugar cookies. His mom used to bake these for Xmas when he was young enough to be blond in that way some white people do. Do not flatten the cookies before baking or they will be too dry. Some like a sugar coating all over the cookie. Others like Will and his mom are a bit shall we say minimalist so they just put the sugar on top.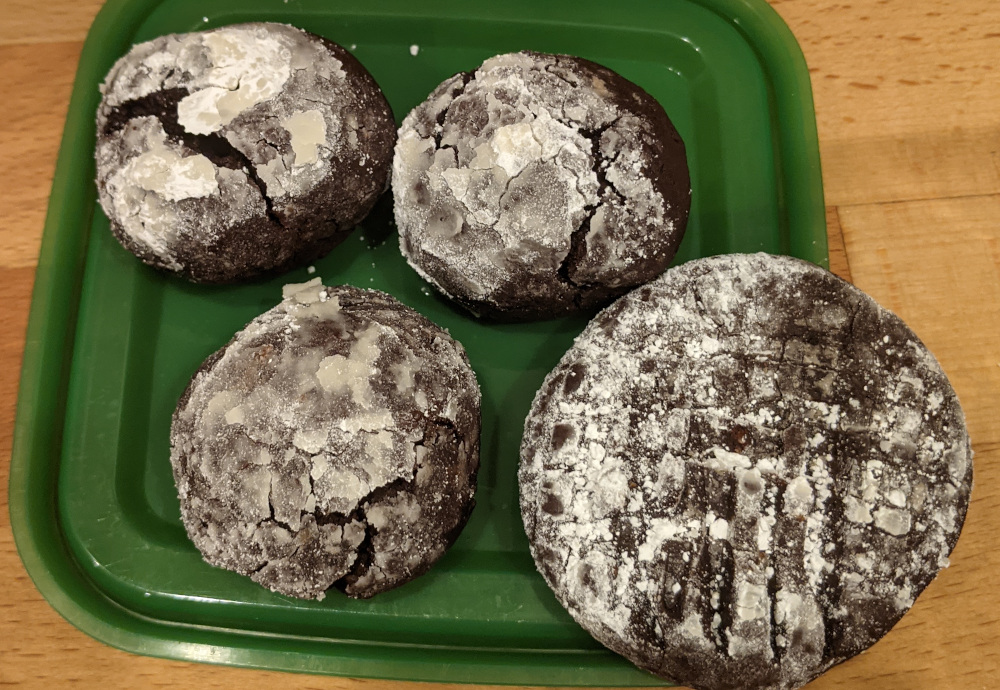 The snicker doodles did not live long enough to be photographed.
Billy: Marranito Donuts
Nice cookies! My plan was to make marranitos, but Caroline beat me to it. Nice work Caroline.
I decided to create marranito donuts (pan dulce de marranito?!) by loosely following this recipe and incorporating marranito spices.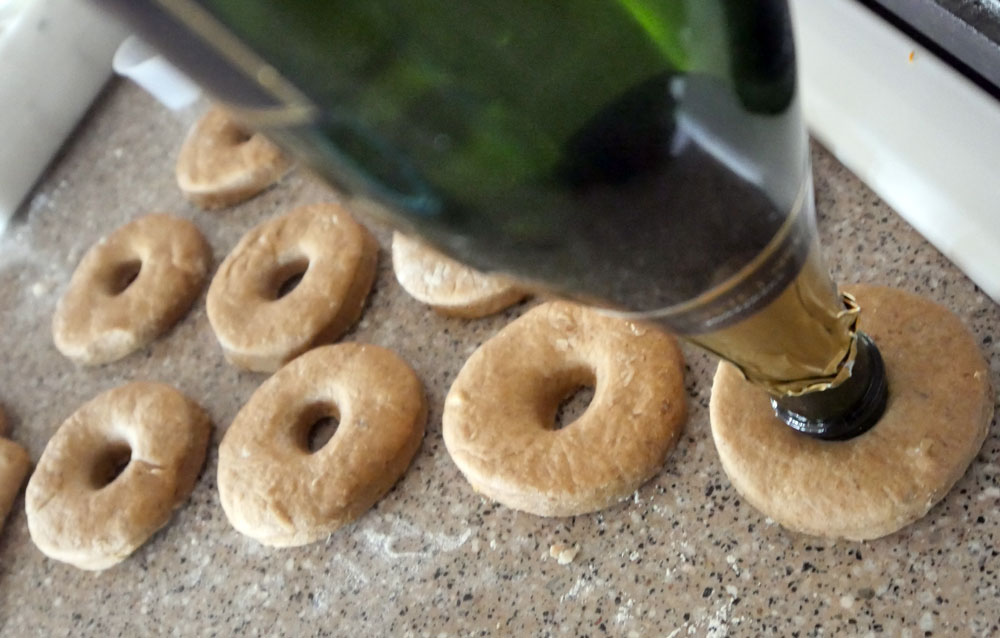 The glaze also contained chili powder (flashbacklol 2013 "Secret Ingredient" for some) and cayenne pepper for a kick. Recipe post to follow.