Maple Glazed Cream Filled Donuts
This recipe is inspired by Voodoo Doughnuts' vegan cream filled donut with maple icing. That is my favorite donut, which I have been lucky enough to have in both Portland and Denver.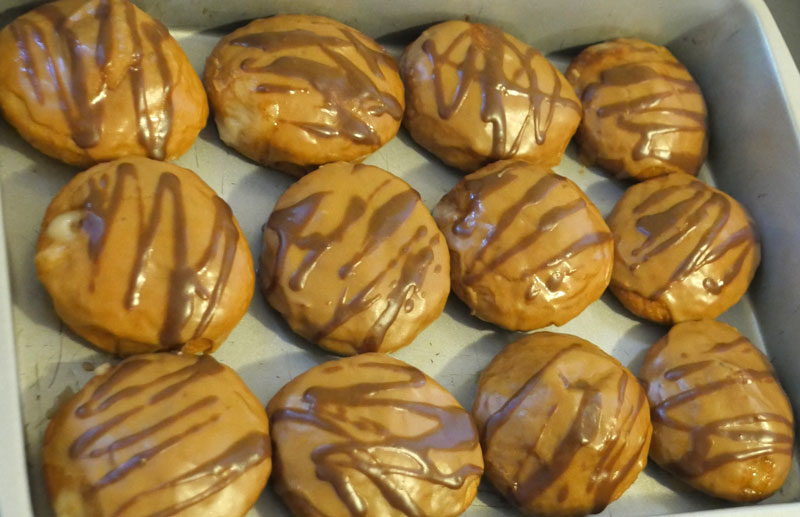 Dough:
1/4 cup warm water
2 1/4 teaspoon active dry yeast (1 package)
3 TBS sugar, divided
3/4 cup almond milk
3/4 teaspoon salt
2 TBS vegan butter or shortening
1 TBS ground flax seed (flax meal)
2 1/2 cup all-purpose flour
1/2 cup bread flour (or all-purpose flour)
canola oil for greasing bowl and frying
Donut:
1. Add water and 1 TBS sugar to large mixing bowl. Sprinkle yeast over mixture, and allow to set for 5-10 minutes while yeast starts to work.
2. In small pan at medium-low temperature, heat milk, remaining 2 TBS sugar, butter, and salt until melted/dissolved. Cool until lukewarm. Whisk in flax.
3. Add milk mixture and 1 1/2 cups all purpose flour to the bowl containing the yeast. Mix until smooth. Add remaining flours to bowl and mix until it forms a soft dough.
4. Knead dough on floured surface for approximately 8 minutes until smooth.
5. Grease sides of large bowl. Roll dough around in the oil to coat. Cover with plastic wrap, and set in warm place for approximately 1 hour to double in size.
6. Roll out dough on floured surface to 1/2 inch thick. Cut with round cookie cutter, or for quick square donuts, use pizza cutter to quickly slice dough in a grid pattern. Place cut dough on baking sheet. Cover loosely and let rise in warm place for approximately 30 minutes until doubled in size.
7. In medium or large pot, heat oil to 350°F. Deep fry donuts on each side until golden brown. Strain from oil and place on paper towels.
8. Once donuts are cool, poke each in the side with a wooden spoon handle or chopstick to create a hole for filling. Working with the filling (recipe below) in a pastry bag with tip, fill the donut.
9. Dip donut into maple glaze (recipe below) and set on baking sheet to allow the icing to dry.
Filling:
1/3 cup sugar
2 TBS cornstarch
1/4 teaspoon agar agar powder
1/8 teaspoon salt
1 cup almond milk
1/2 cup coconut cream
2 TBS vegan butter
1 1/2 teaspoon vanilla
Filling:
1. Combine dry ingredients in a small saucepan.
2. Slowly whisk in vegan milk.
3. Over medium heat, continue whisking pudding until it boils.
4. Reduce heat to lowest setting, cover, and allow to simmer for approximately
five minutes until thick.
5. Remove from heat. Whisk in vegan butter and vanilla.
6. Pour into bowl. Place in refrigerator until cool.
Maple Glaze:
1 1/2 cup powdered sugar
1 teaspoon maple extract
1 TBS vegan butter, melted
2 TBS water
Glaze:
1. In small bowl, mix together all ingredients until smooth.