December 18th, 2016 – Red and Green
Sunday, December 18th, 2016
VBC Meeting #46: Red and Green
Host of the Month: Caroline and Drew
Location: Denton, TX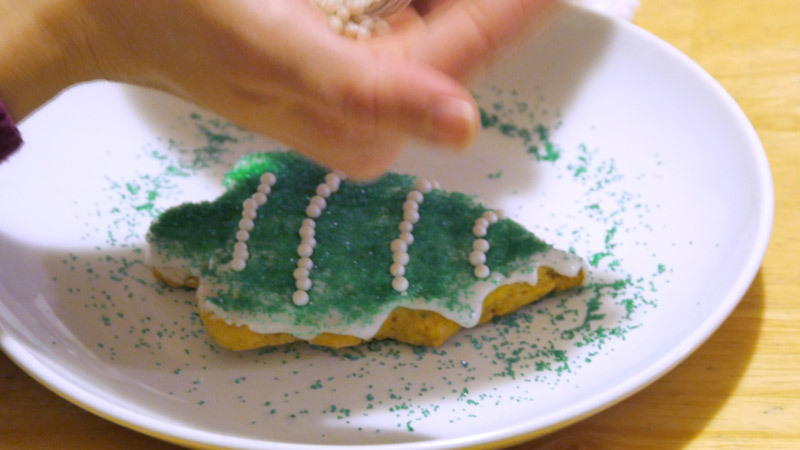 In addition to a theme of red and green, we continued our tradition of cookie decorating for the December Vegan Bake Club meeting. Drew baked some tasty sugar cookies that used pumpkin as the egg replacing binder. Apparently the dough got too sticky though (Drew suspects over-mixing), so with a touch of rage as their final ingredient, some of the cookies turned out mound-shaped instead of cookie cutter-shaped.
Frankenstein's Monster and Bullseye Cookies: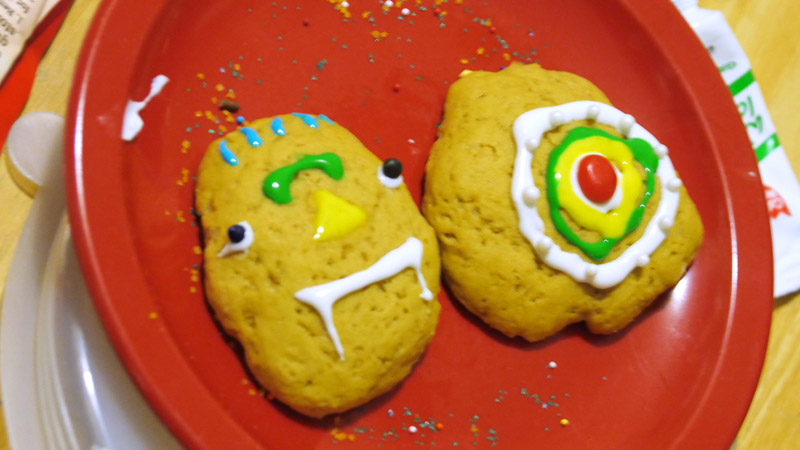 We also shared some fancy vegan chocolates from Sjaak's Organic Chocolates.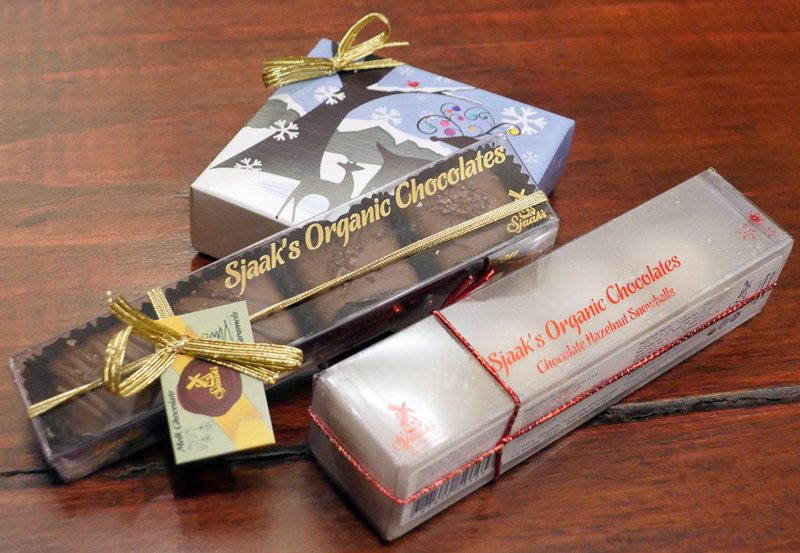 This is what we made: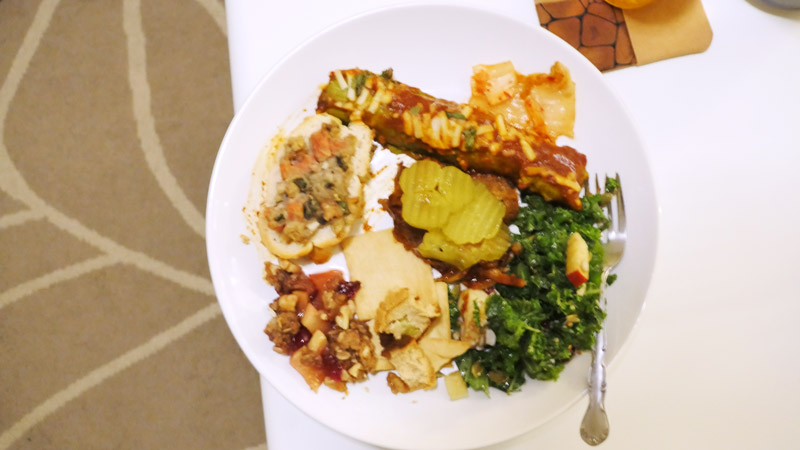 Drew: Cannellini Bruschetta
Drew made bruschetta for a holiday party the night before December's VBC meeting. We got the leftovers of toasted bread spread with cannellini beans mashed by hand, mixed with walnuts, tomato, basil, olive oil, and garlic.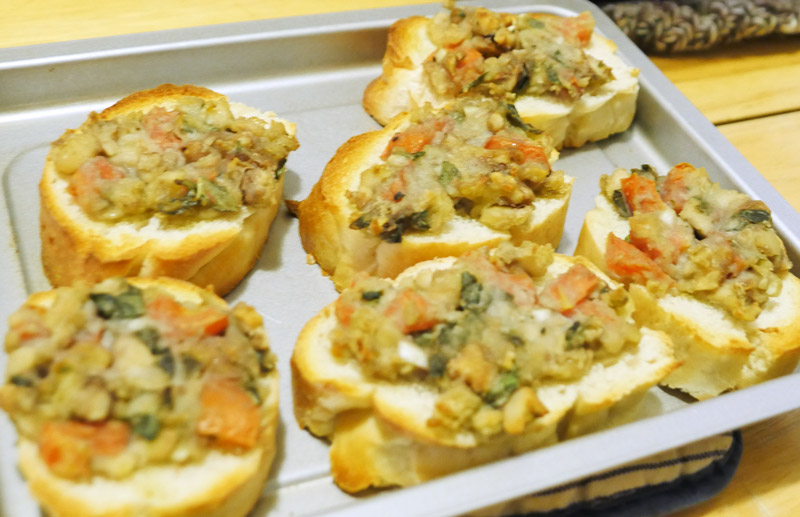 Drew and Caroline: Kale and Seeds Salad
Drew and Caroline made a kale salad, with pomegranate seeds, pumpkin seeds, sunflower seeds, diced apple, and a vinaigrette of mustard and maple syrup. They marinated two bunches of kale in the dressing for thirty minutes before adding the other ingredients. They made this based on a recipe altered from "some vegan recipes website."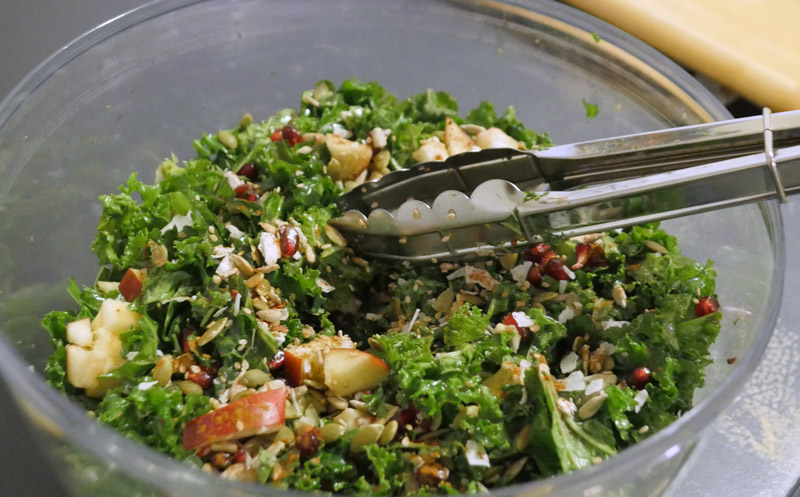 Lauren: BBQ Brisket
To create the brisket, Lauren made a double batch of the red dough 1 from this vegan bacon recipe. She wrapped the block of seitan in foil, baking at 300° for an hour and a half. While it was cooling, she made a vegan barbecue brisket sauce on the stove based off of this recipe involving ketchup (plus supplemental pre-made barbecue sauce when that ran out), Worcestershire sauce, liquid smoke, brown sugar, mustard powder, black pepper, Earth Balance butteriness, etc. She sliced the seitan, put it in a glass baking dish, covered it with sliced onion, and poured the barbecue sauce over the top, before covering it with foil and baking again. Best served with pickles!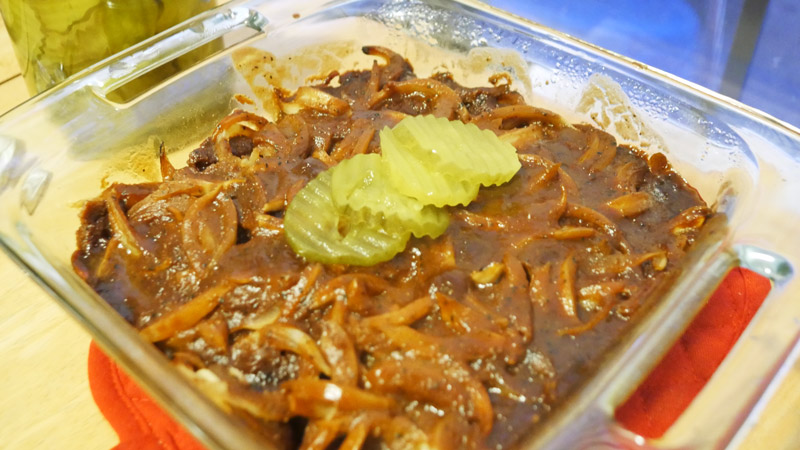 Billy: Almond Olive Cheese Wheel
Billy boiled almonds and let them soak in that water over night. He then blended them in the food processor with nutritional yeast, lemon juice, garlic, miso paste, aquafaba, and rejuvelac. He filled round forms with the cheesy mixture then shoved in pimento filled green olives in honor of the red and green theme. He served the wheels with pita chips.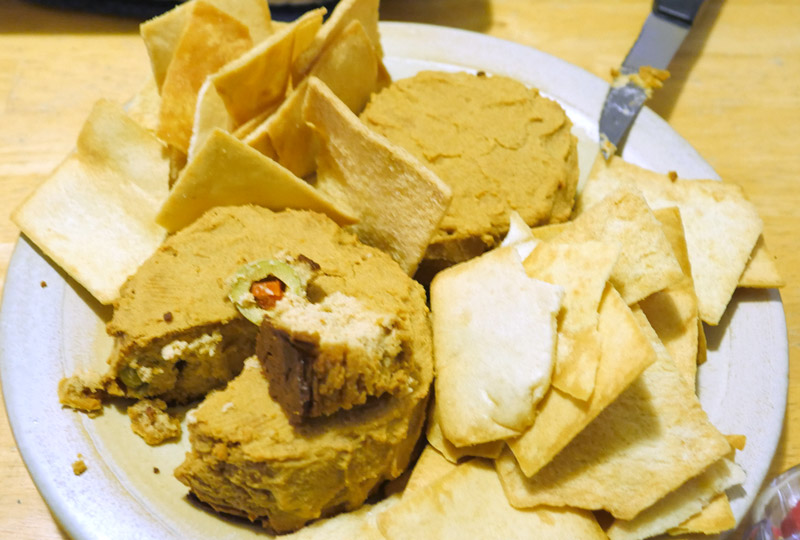 Slynn: Cranberry Apple Crisp
Slynn made an apple and cranberry filled crisp. She made the topping with flour, oats, walnuts, brown sugar, canola oil, and vegan butter.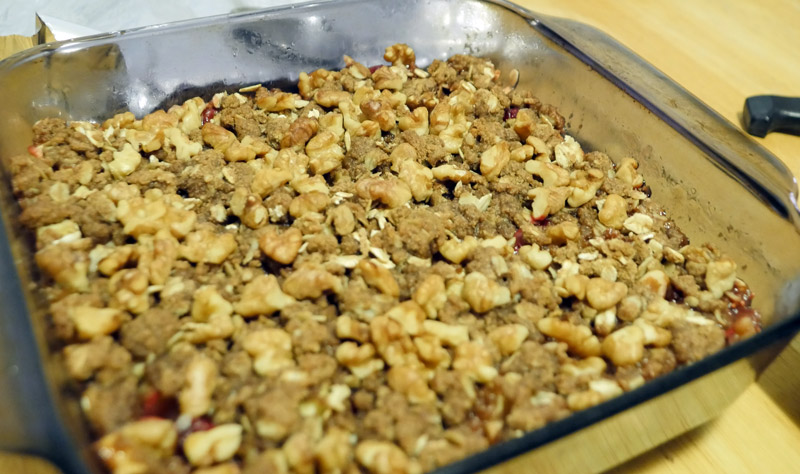 Ramon: Soyrizo and Cheeze Enchiladas
Ramon made his enchiladas with spinach, Soyrizo, vegan cream cheese, red potatoes, red peppers, shallots, and garlic. With all those red and green bits of filling wrapped in festive spinach tortillas and soaking in red enchilada sauce, this dish wins the make-believe theme award. He sprinkled the enchiladas with Follow Your Heart brand mozzarella, and cilantro from Slynn's mom's garden.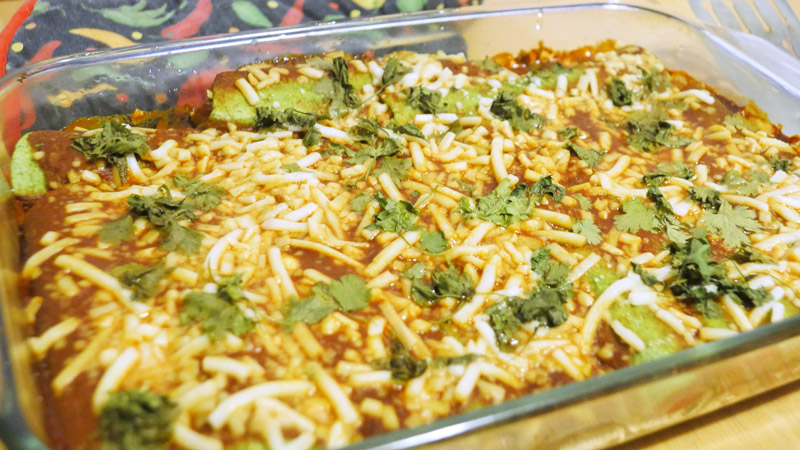 Darren: Mother-in-Law's Kimchi
Darren likes to make his own cucumber kimchi but is too impatient to do it regularly. So, he likes to buy this kimchi online direct from Mother-in-Law. He brought a napa cabbage kimchi reddened with chili pepper and a white kimchi that contained red bell pepper and potent ginger flavor.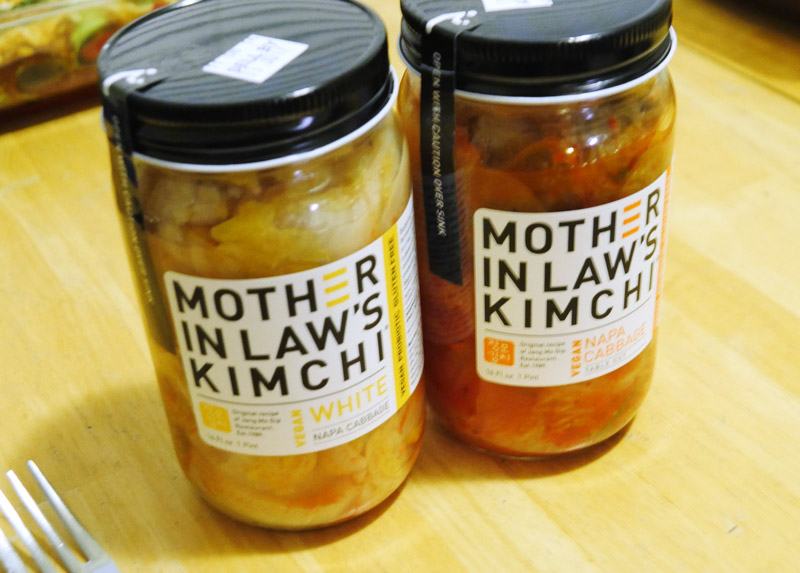 Now what you really want to see, more cookie shots!
VBC Bear: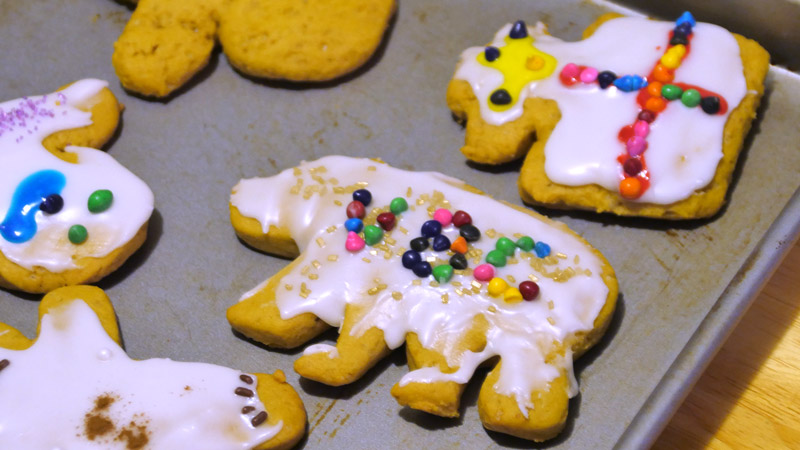 Pretty Christmas tree: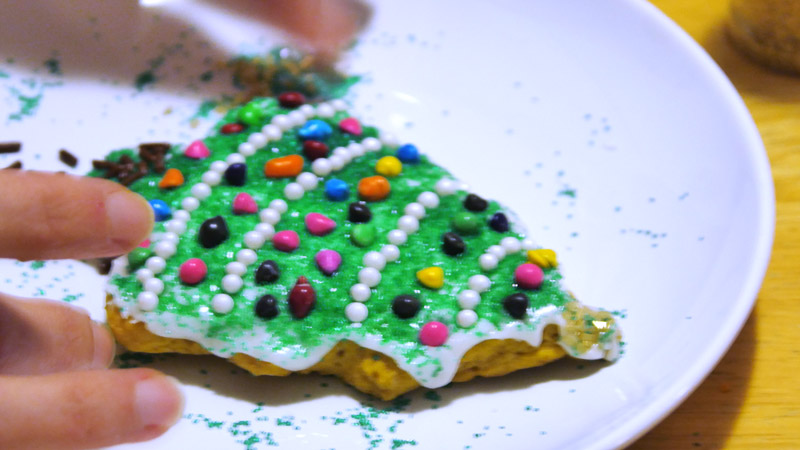 Snowman with Big Wet Smile: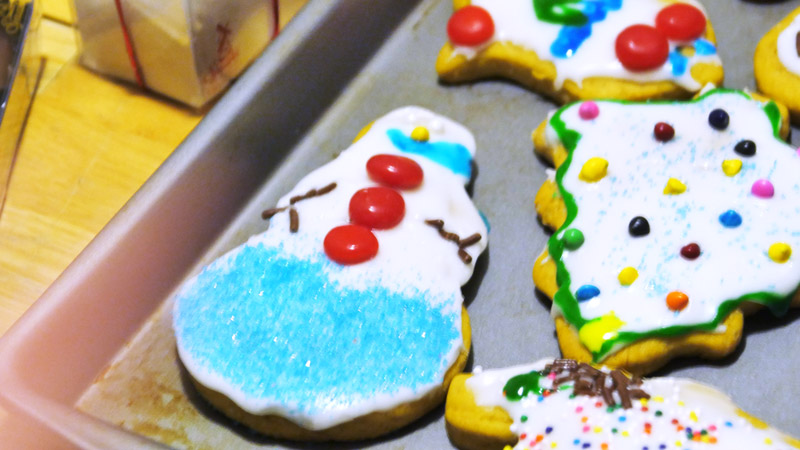 Laser Beam Eyes: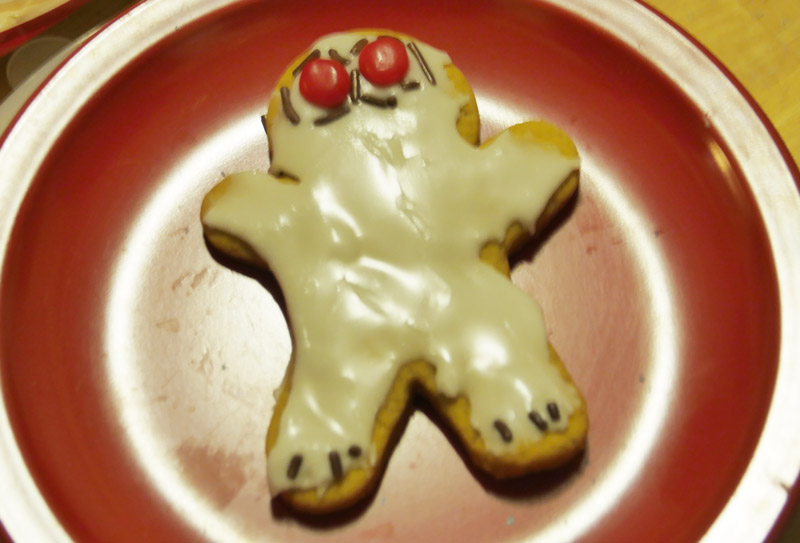 Maggie Simpson: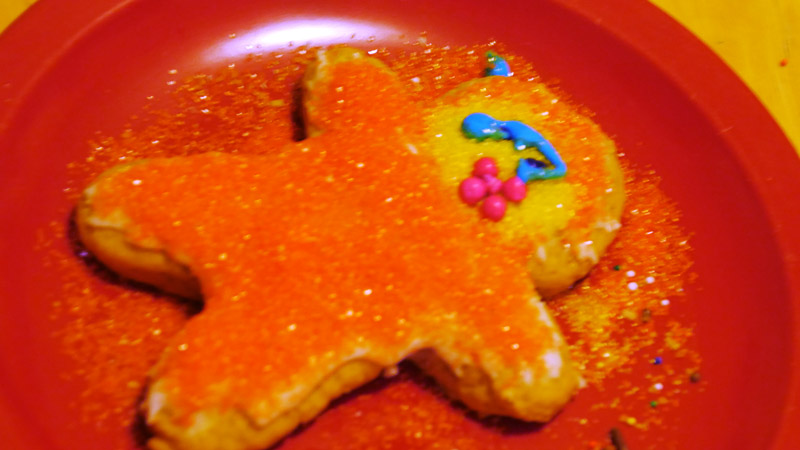 In the cookie studio: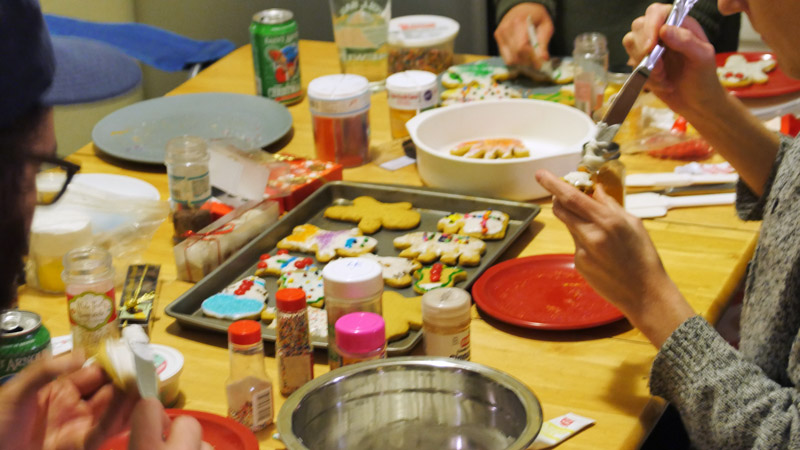 Lisa Frank Bear and Lady with Earrings: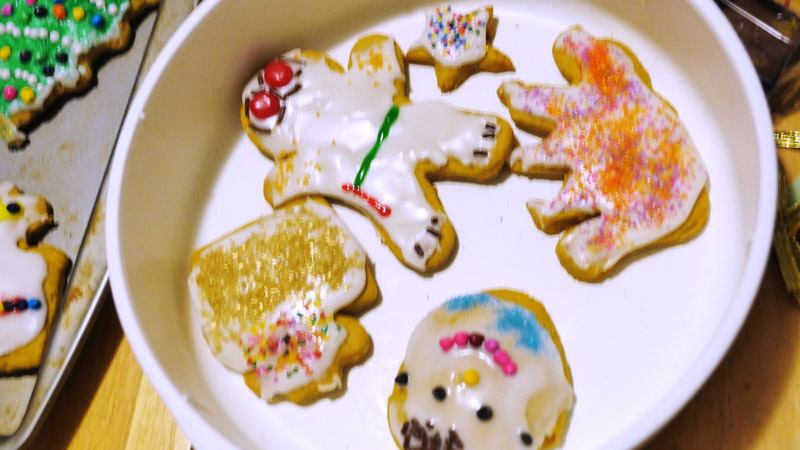 Ninja Turtle, Dog in Threadbare Pink Sweater, Evil Potato Head, Ghost Whisperer, and Vein Tree: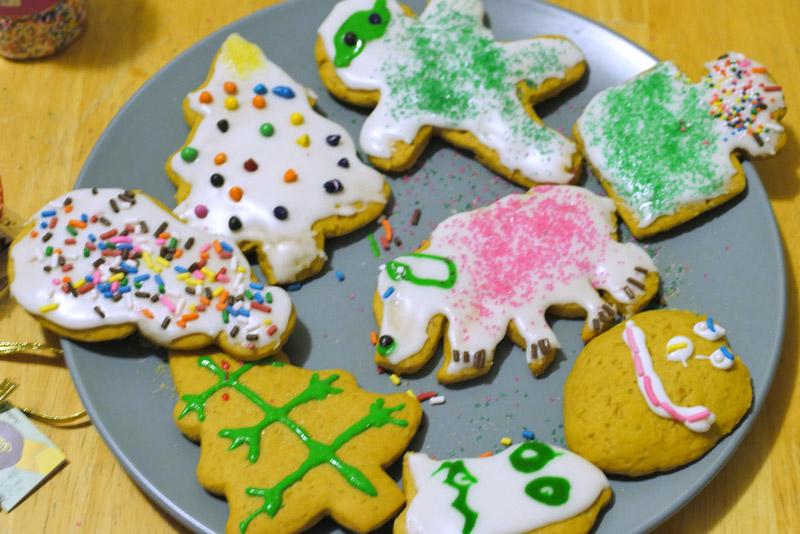 Snowman Triptych: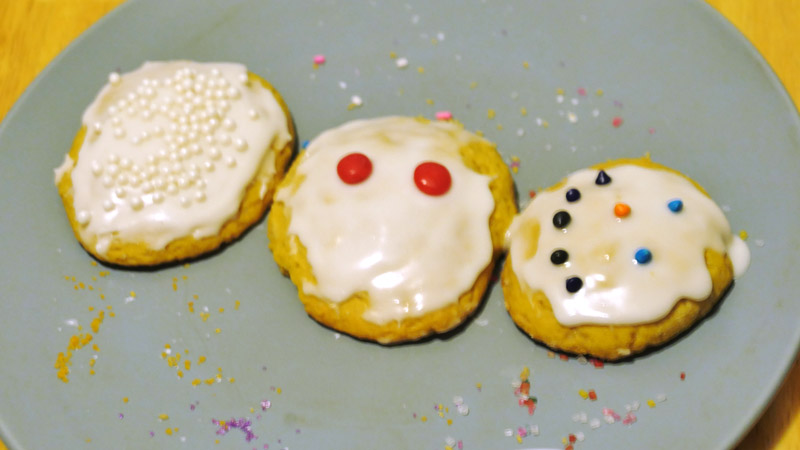 Bear with Hair, Bell Shark, and More Cookie Hits: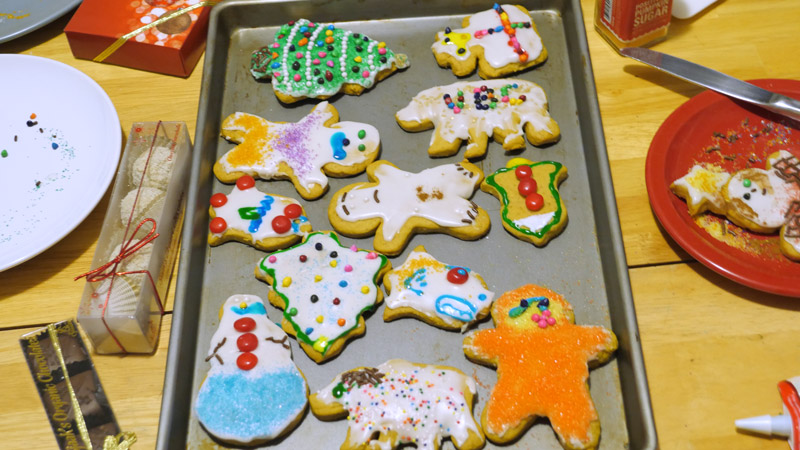 Lumberjack Angel: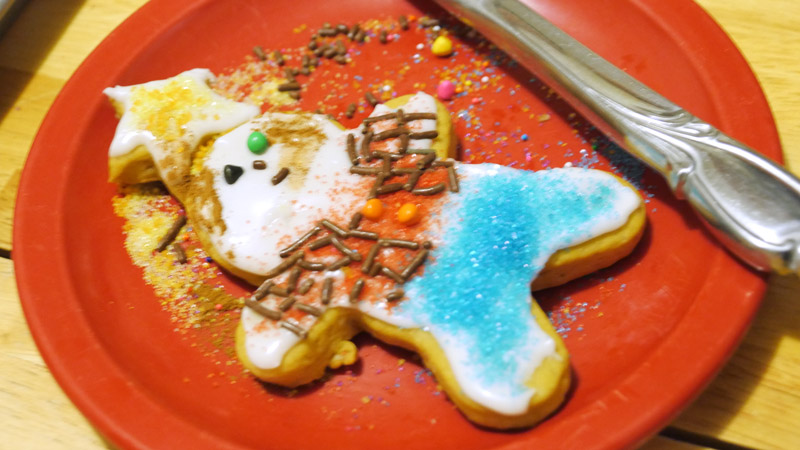 Drippy Boutique Holiday Cookie: