December 16, 2018 – Retro and Cookies
Sunday, December 16, 2018
VBC Meeting #70: Retro
Host of the Month: Slynn and Ramon and Neva
Location: Denton, TX
This December we went vegan food retro, making foods popular in past decades. As Vegan Bake Club tradition dictates, we also decorated plenty of holiday cookies
This is what we made: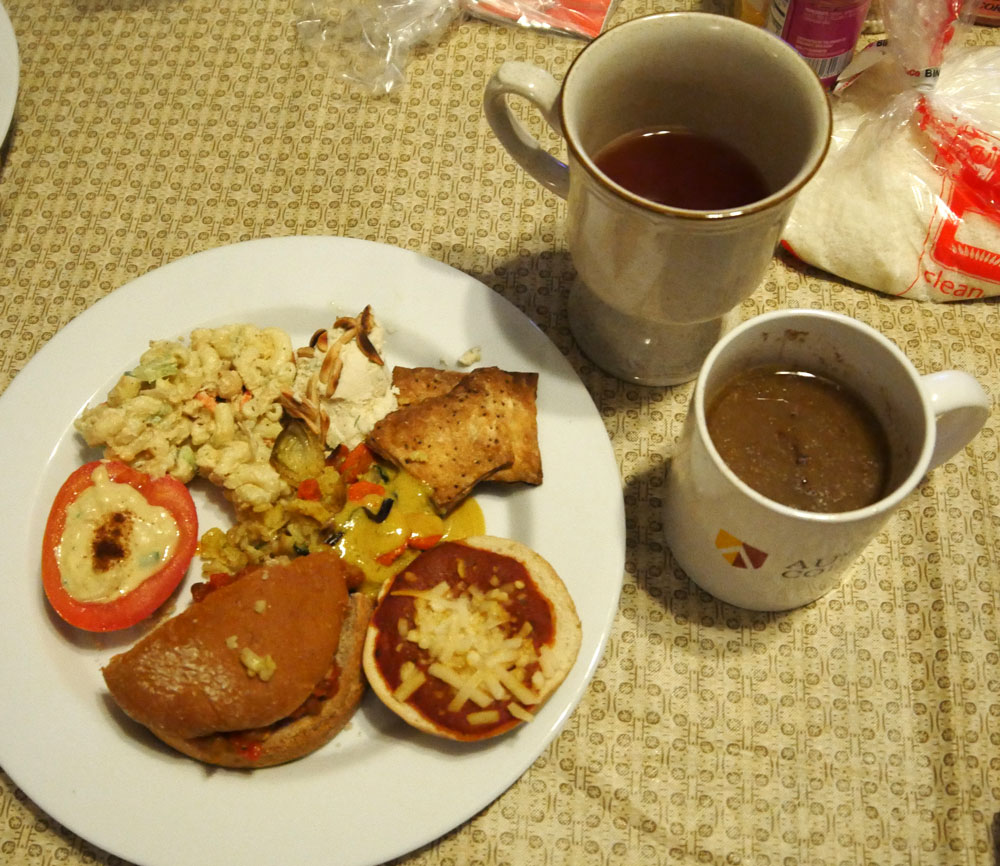 Lilly: Coconut Saffron Squash and Rice Casserole
To begin her multi-step casserole-making process Lilly sautéed yellow squash, zucchini, half a shallot, and minced garlic in a skillet with Earth Balance coconut-based margarine. She poured in a sauce of coconut cream, nutritional yeast, one spoon of margarine, and a couple pinches of saffron. She separately cooked some steamed white rice that she mostly mixed into the cooked vegetables, reserving a portion to prepare tadig for a bottom layer in her casserole dish. After filling the dish with her squash and rice concoction, she topped it with a combination of chopped Brussels sprouts, carrots, shallots, and green onion that she had roasted in the oven in more of the coconut margarine.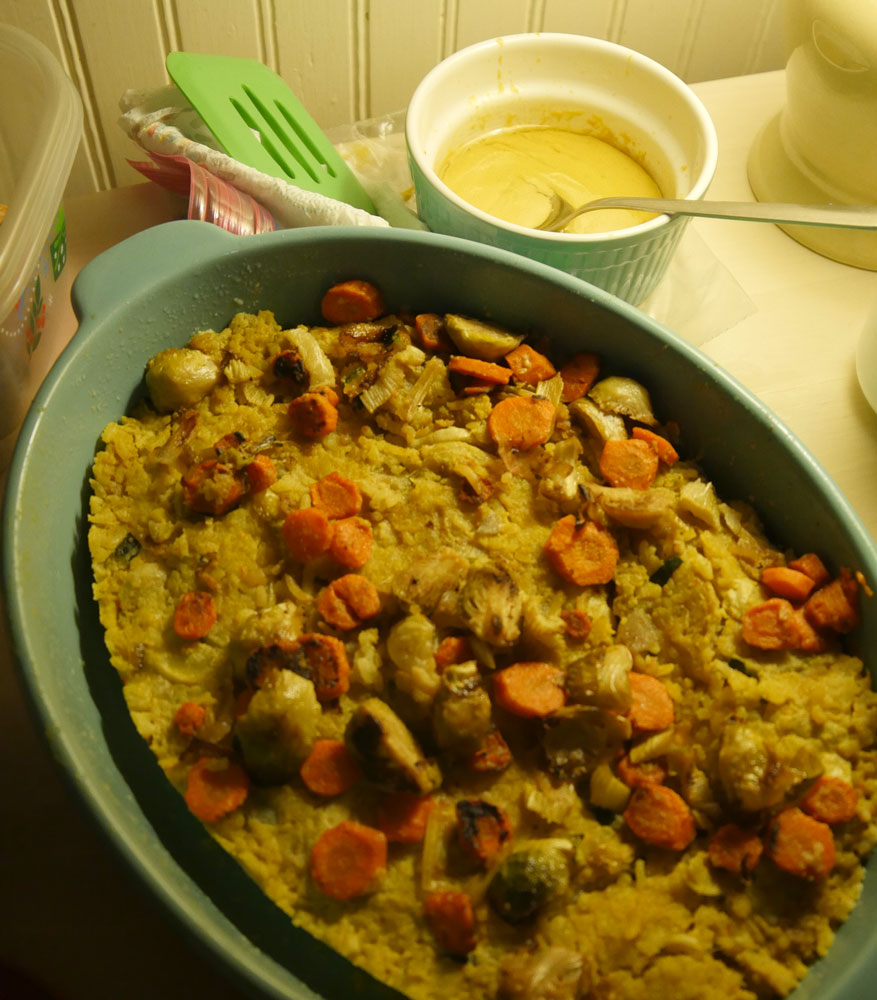 Drew: Deviled "Eggs"
Drew made tomatoes filled in the style of deviled eggs. To make the filling, he puréed a can of cannellini beans (because he accidentally picked up the wrong can when reaching for chickpeas) with vegan mayo, mustard, curry powder, cumin, chopped chives, nutritional yeast, and lemon juice. After halving and hollowing out Roma tomatoes, he filled each tomato shell with his creamy bean filling and sprinkled it with paprika.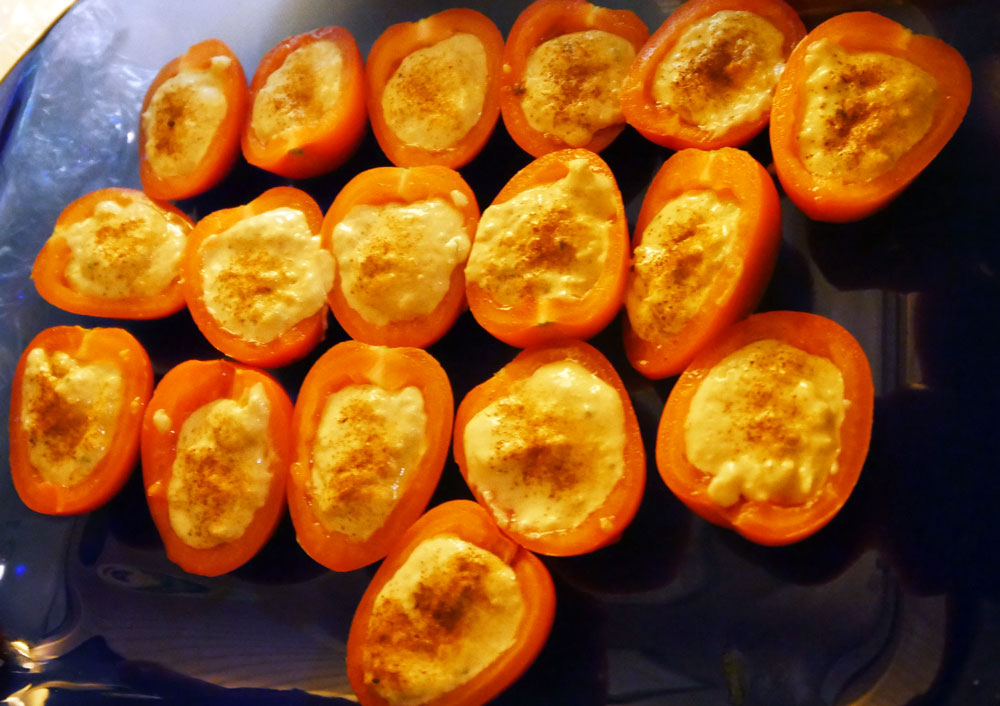 Billy: Cheese Ball with Crackers; Glühwein
Billy made crackers by mixing flour, water, sugar, and salt to form a dough. After rolling the dough out, he sprinkled it with salt and black sesame seeds, cut it into pieces, put those onto baking sheets, poked holes in them with a fork, and baked them until they had browned lightly. The crackers were a little thicker than normal, so they turned out veeery crunchy (to the extent we could have conversations just by our crunching) but tasty. His cheese ball was a cashew-based work made with quinoa aquafaba rejuvelac and flavored with fresh dill from his greenhouse, lemon juice and zest, nutritional yeast, salt, and coconut oil. He rolled the ball in toasted almonds to look nice and add texture.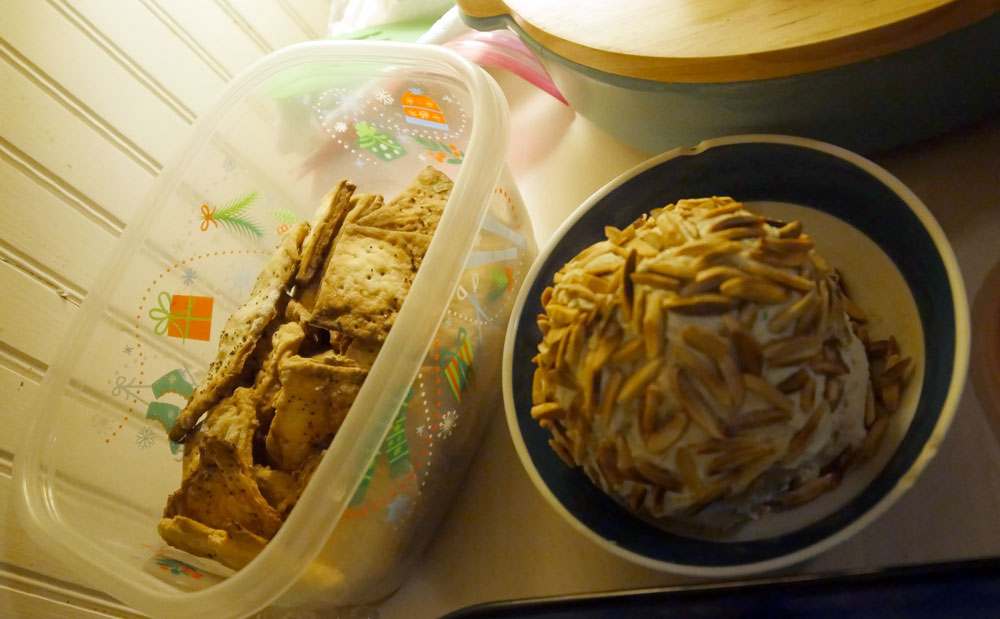 For the Glühwein, he heated his homemade mustang grape wine with a small amount of fresh orange juice on the stove and mulling spices including cloves, cinnamon stick, and allspice, plus orange peel, and star anise.
Dylan and Lianna: Sloppy Joes
Dylan and Lianna made flavorful Sloppy Joes with a can of lentils, a quarter of an onion, green and red bell peppers, two cloves of garlic, olive oil, tomato paste, tomato sauce (a cup and a half), and spices including paprika, cayenne, garlic powder, and onion powder. They served this filling with vegan burger buns.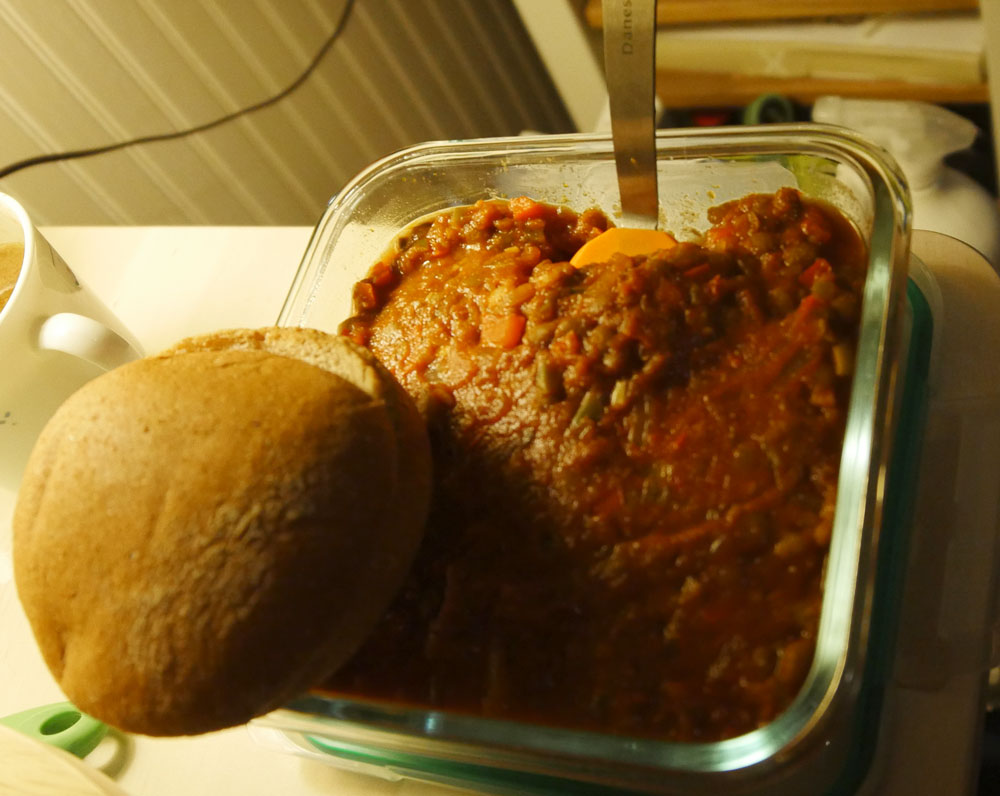 Ramon: Hot Buttered Rum
Resident drink wizard Ramon started beverage preparations by creaming two sticks of Earth Balance Soy-Free Buttery Sticks with 2 cups of brown sugar, 2 tablespoons of vanilla, cinnamon, ginger, cardamom, cloves, and nutmeg. He refrigerated this for a few minutes. Then, after heating sixy-four ounces of water, he added the buttery mixture to it along with a cup and a half of raisins. When serving his beverage, he added two ounces of rum to each mug.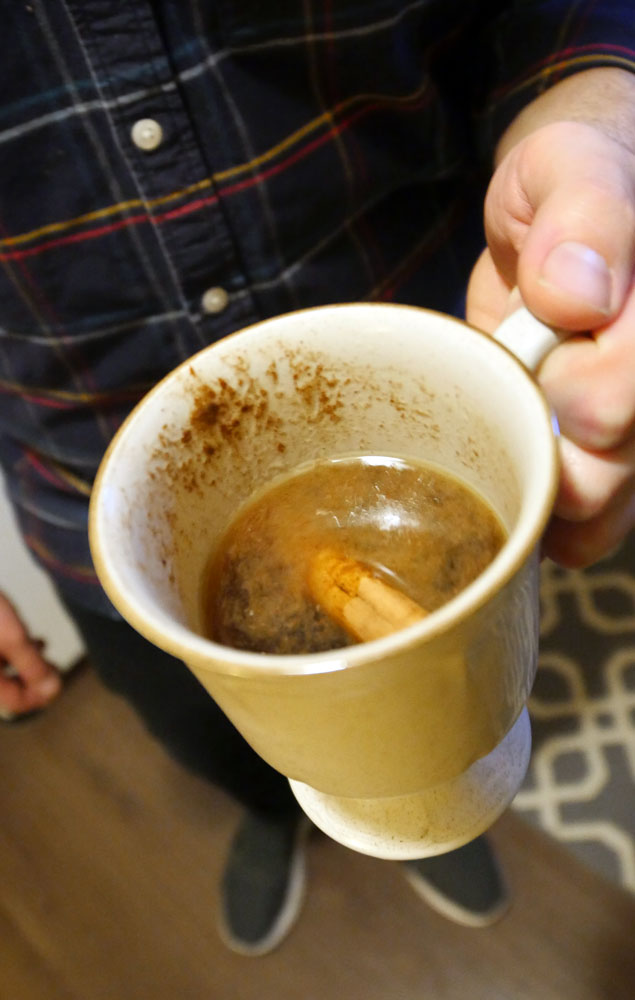 Caroline: Bagel Bites
The retro theme inspired Caroline to make a childhood favorite, bagel bites! She used mini Thomas bagels, Kroger brand pizza sauce, and Follow Your Heart Mozzarella shreds. She baked the bagels first on their own, spread on a generous amount of sauce, and sprinkled over the vegan cheese before baking again.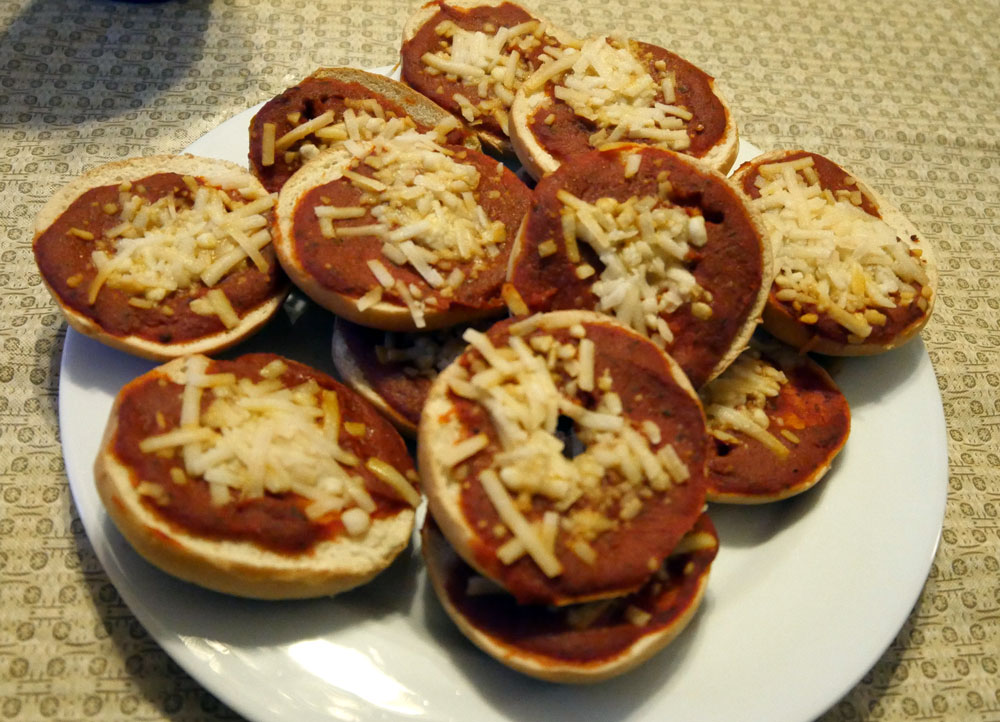 Lauren: Macaroni Tuna Salad
Though Lauren was unaware that macaroni tuna salad was a "thing", she saw multiple references to a retro macaroni tuna salad when looking for recipes. To prepare the dish, she followed a combination of this non-vegan recipe and the Chickpea Salad Sandwiches recipe from America's Test Kitchen Vegan For Everybody. She cooked and cooled elbow macaroni that was then folded into a chickpea salad of mashed chickpeas, celery, carrot shreds, vegan mayo, lemon juice, and green onion.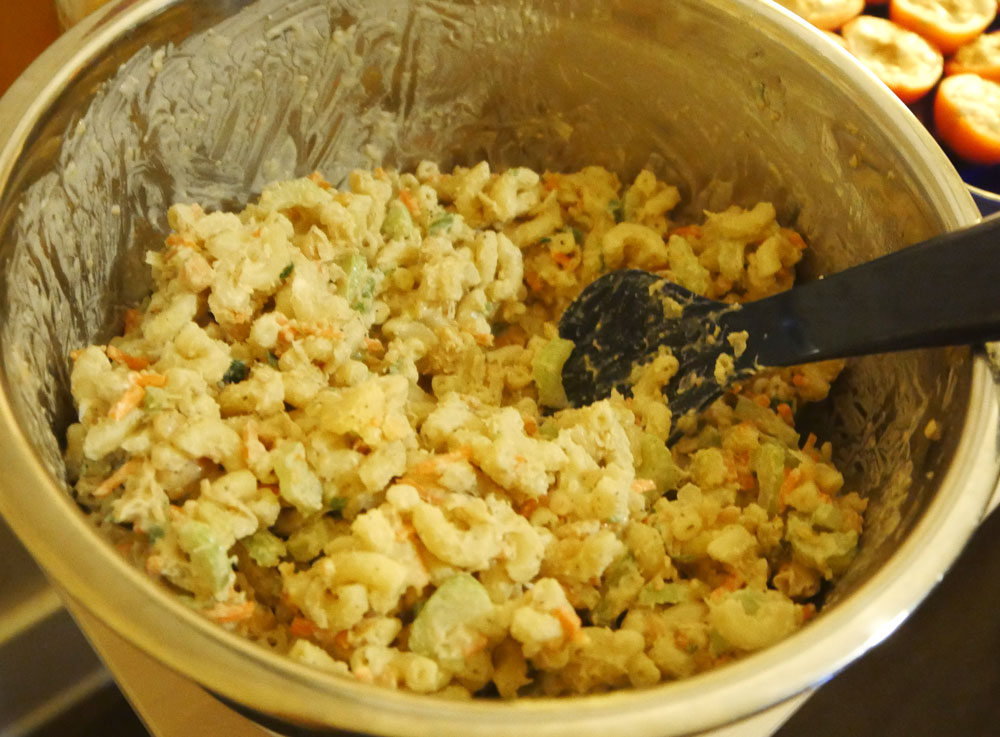 Slynn: Fluffy Cranberry Delight
Slynn made a refreshing fluffy cranberry delight dessert by first making a cranberry sauce, straining it, then adding orange juice, lemon juice, a package of lemon Jel, vanilla extract, and coconut whip. This made for a foamy festive Pepto pink delicious wondrous holiday retro treat!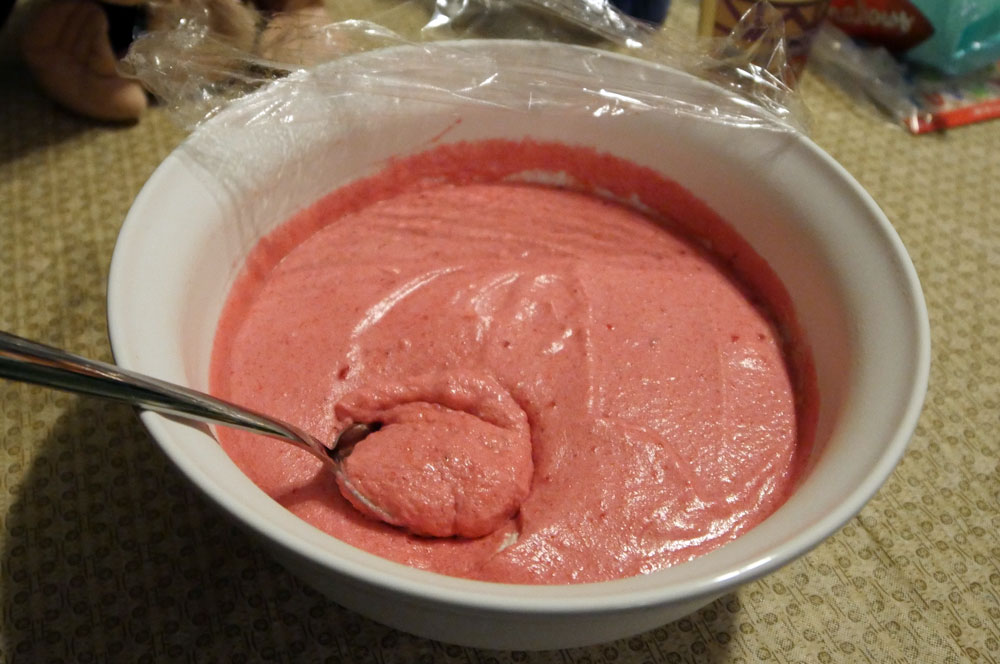 After filling our tummies, we carried out our annual holiday tradition of decorating cookies. This year for an added twist, we took inspiration from the Great British Bake Off's biscuit episode where they made selfie cookie portraits, attempting to do something similar but on a less grand scale. Lauren baked vegan gingerbread canvases using the farm house dough recipe VBC used to make the gingerbread houses at Christmas 2014. To help decorate the selfies (and for eating extras on the side) she also baked sugar cookies from Betty Crocker's Vegan Sugar Cookies recipe and gingerbread cookies using Isa Chandra's recipe. After rolling out the doughs, she cut out the cookie shapes with cookie cutters mostly designed and 3-D printed by Billy and also did some free-hand name cut outs.
Here are our edible works: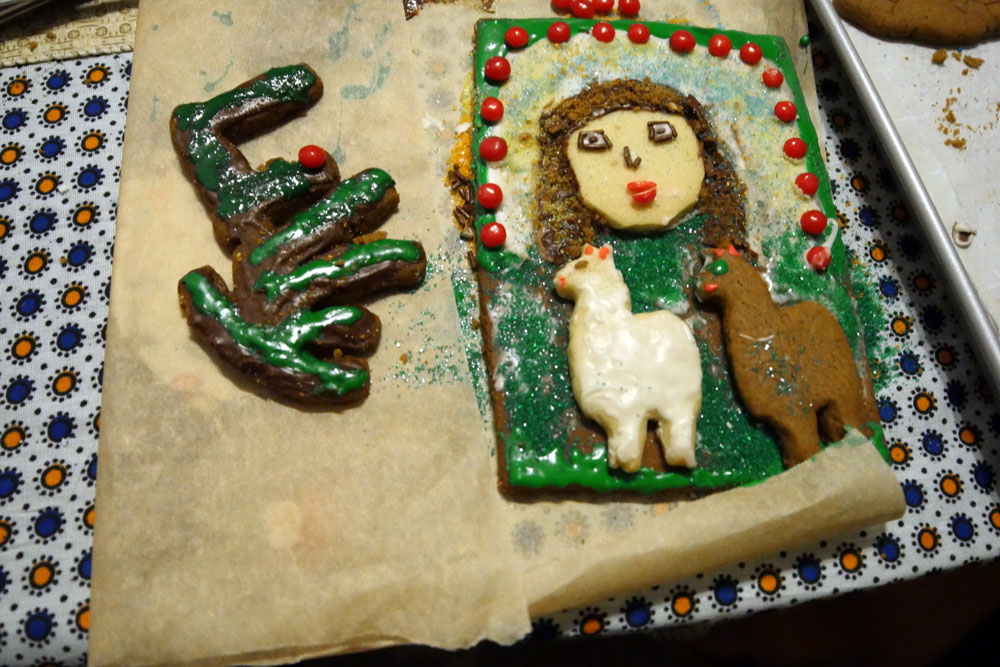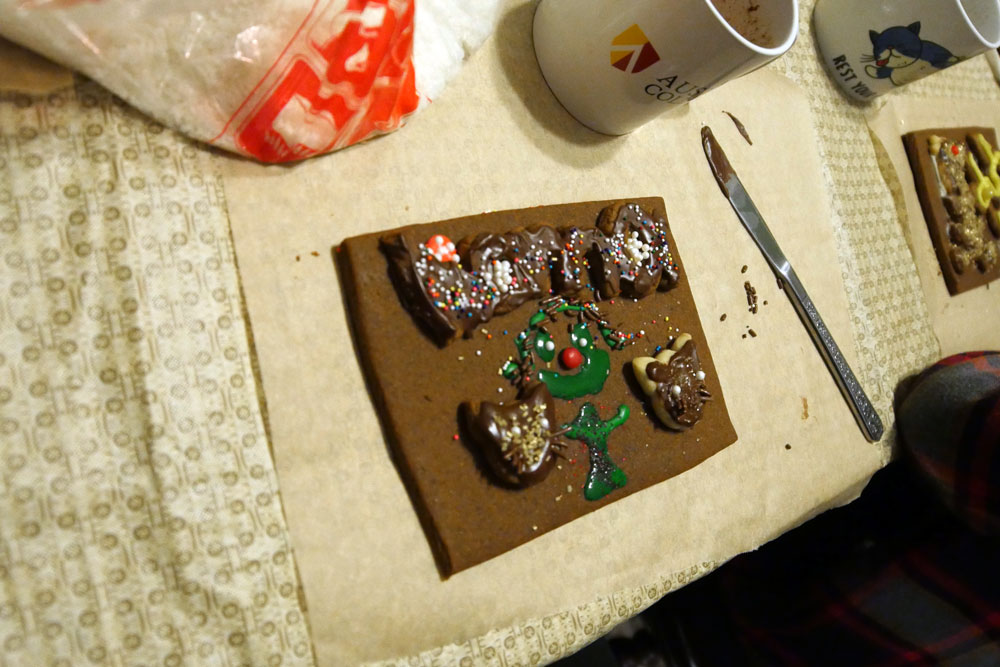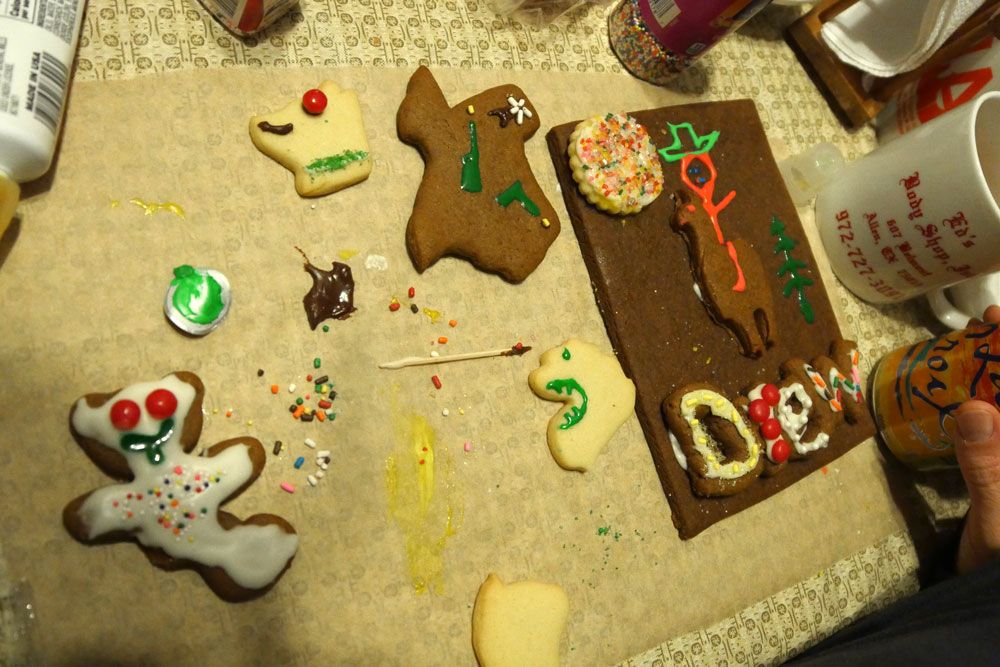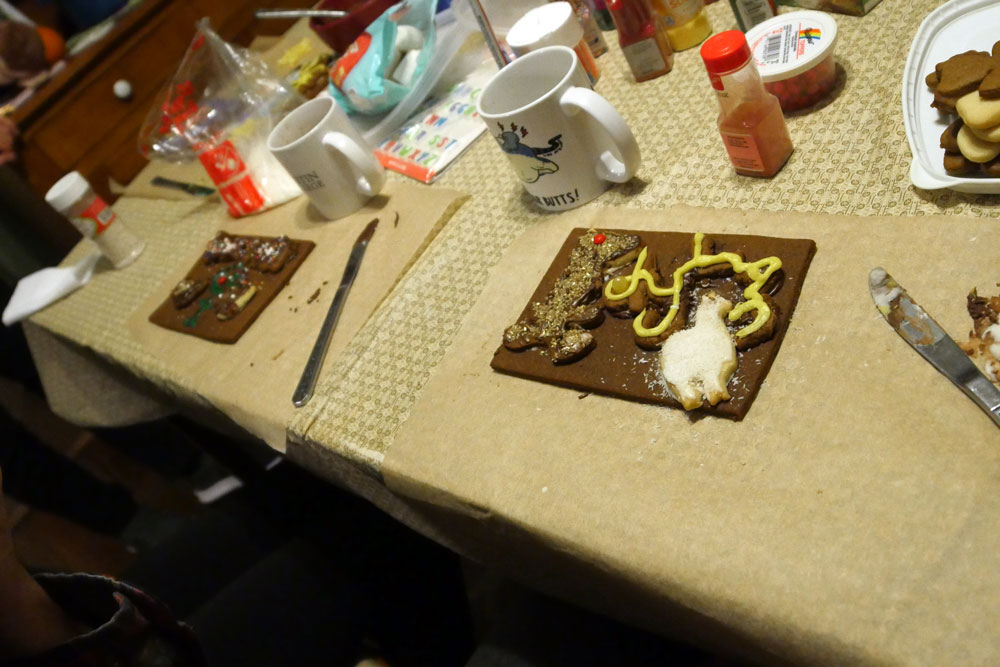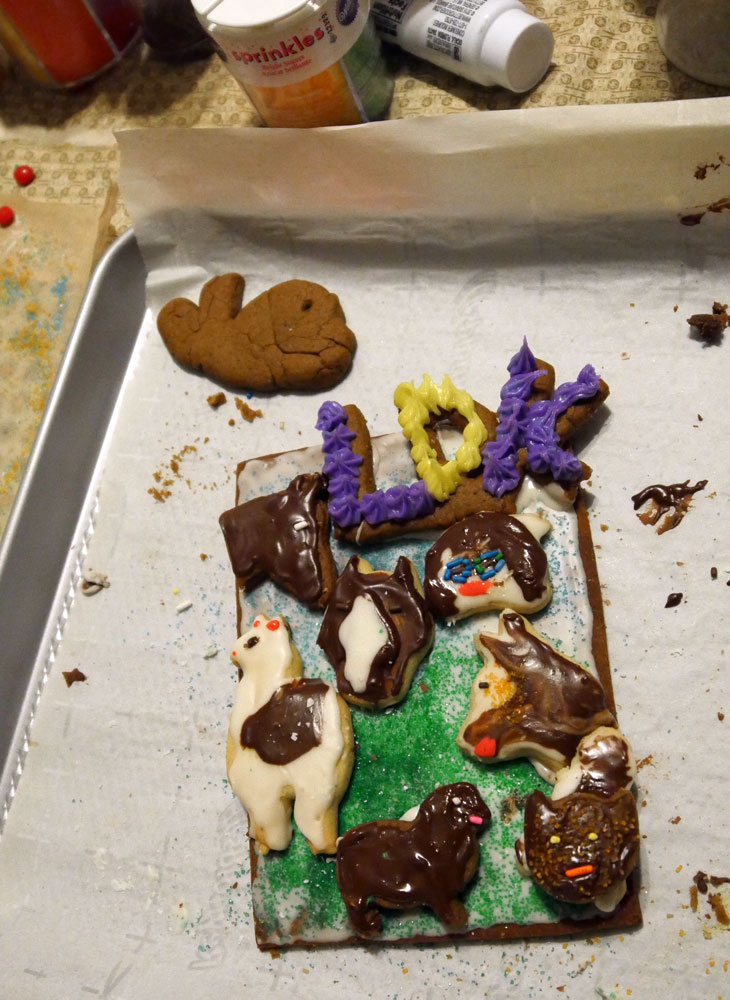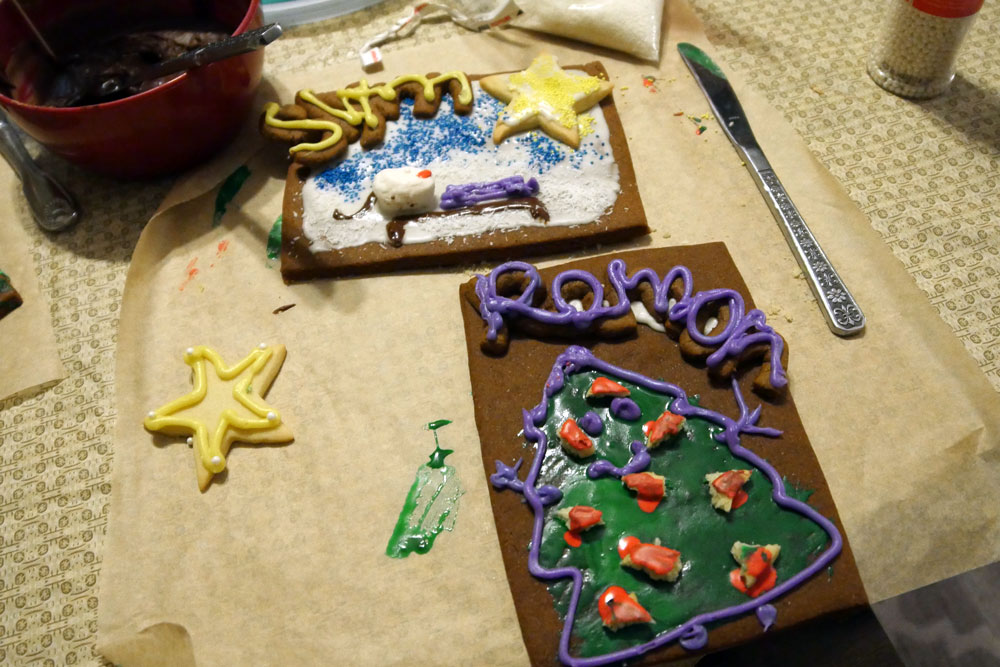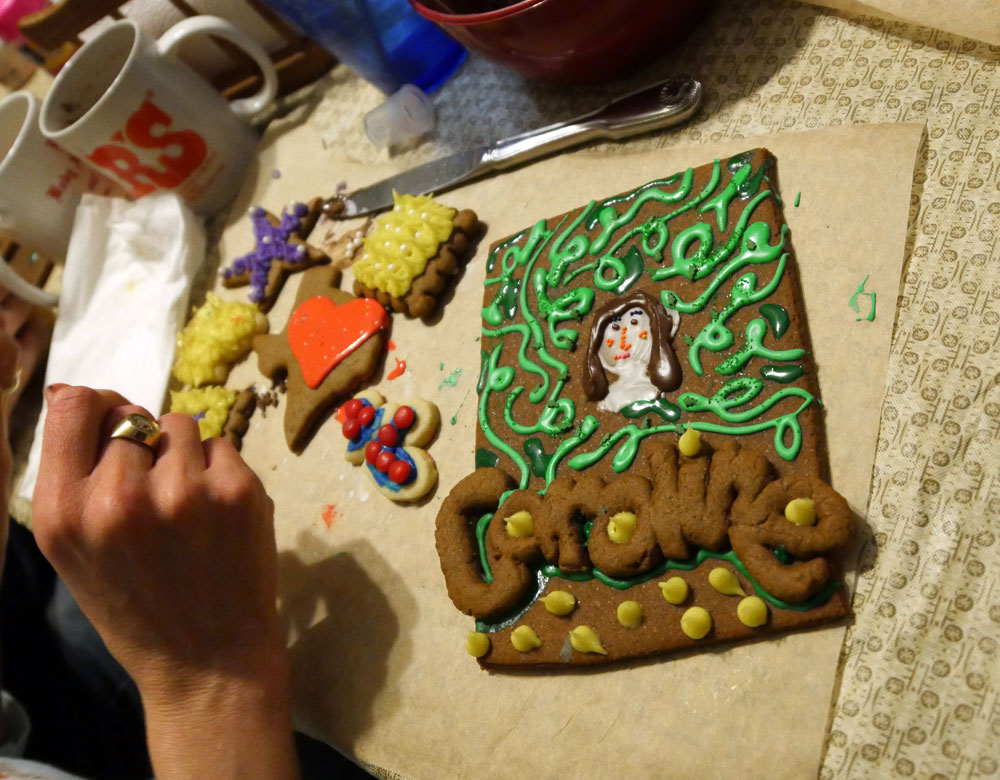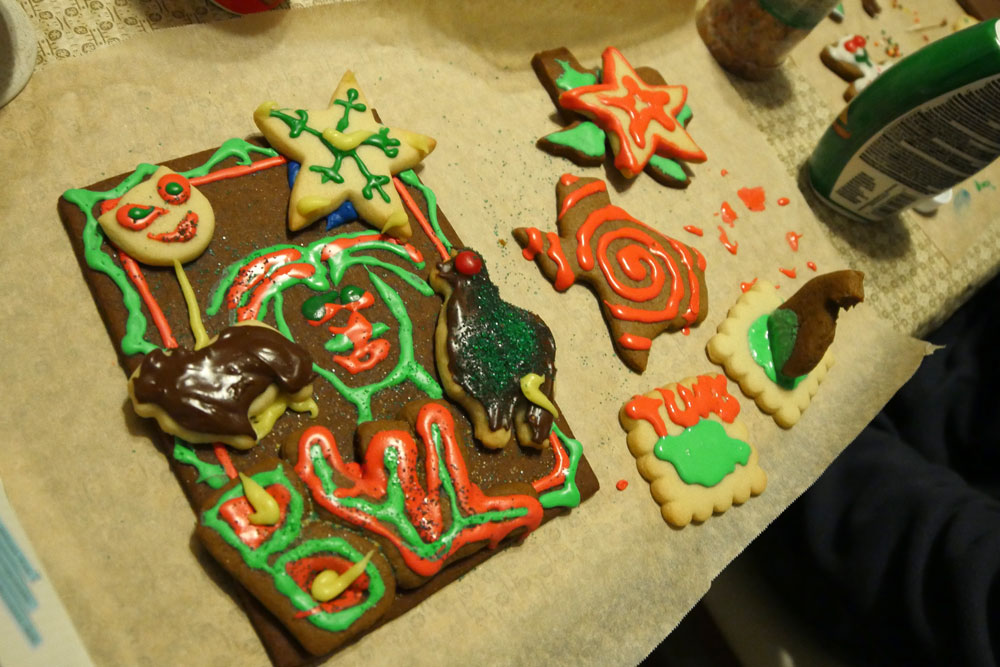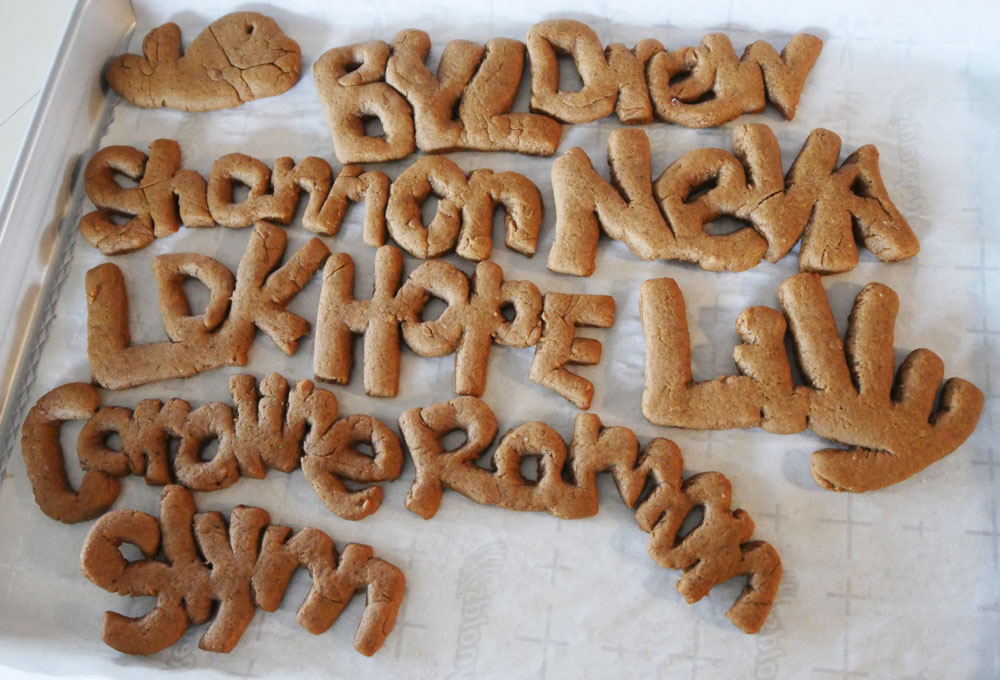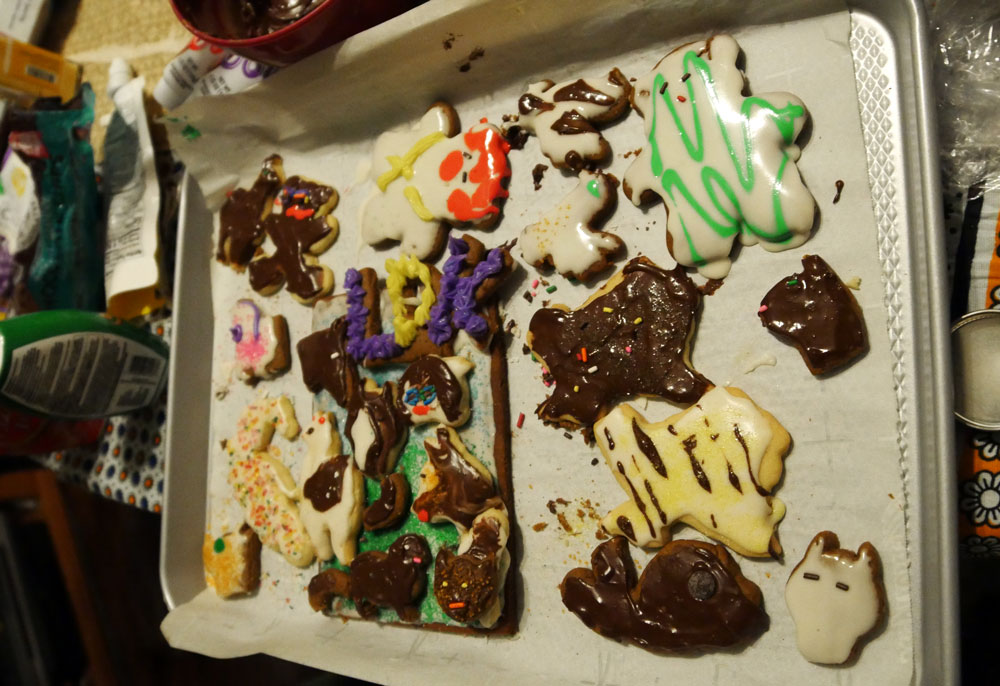 Here are our edible works: