December 16, 2017 – Street Food
Saturday, December 16, 2017
VBC Meeting #58: Street Food
Host of the Month: Billy and Lauren
Location: Ponder, TX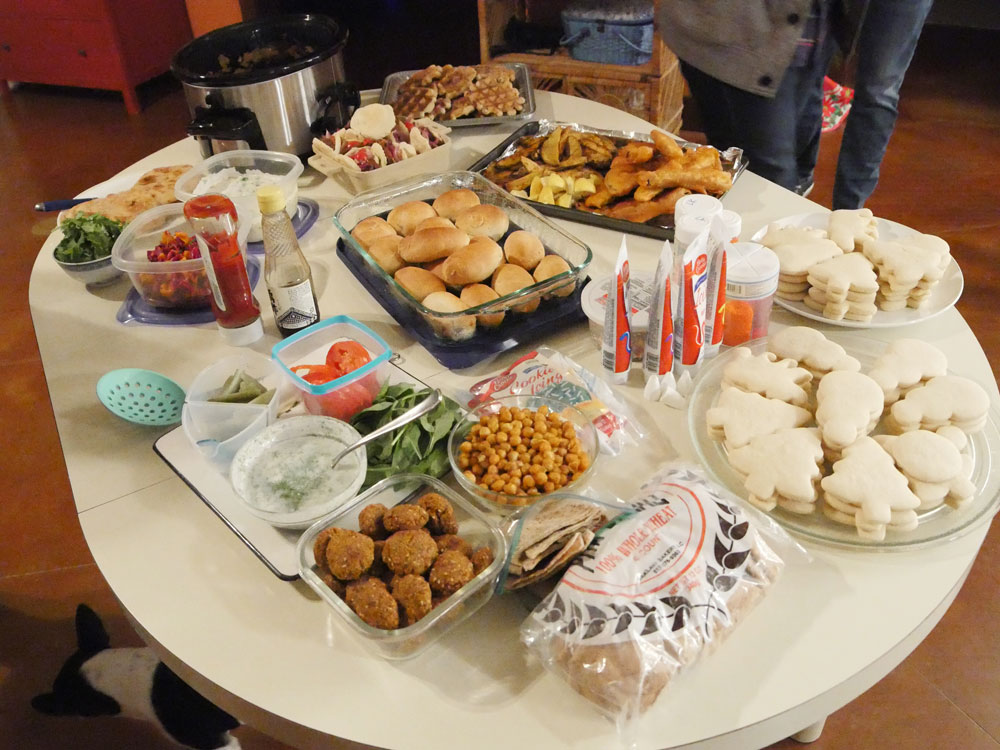 For our fifty-eighth meeting we celebrated the delights of street food and also carried out our annual cookie decorating activity.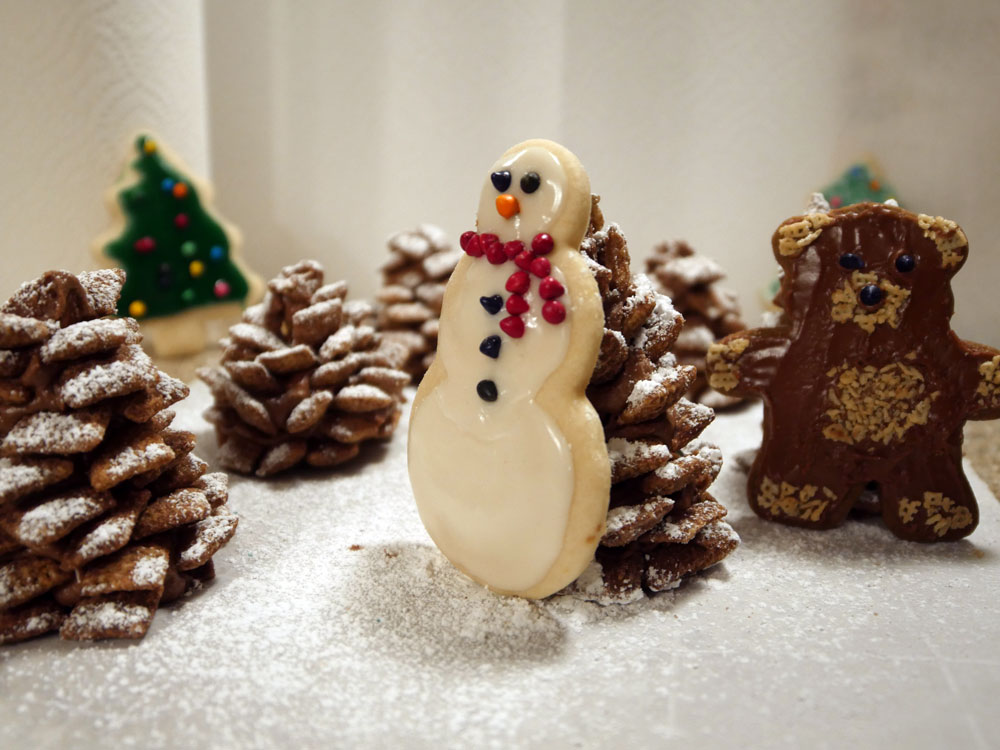 This is what we made: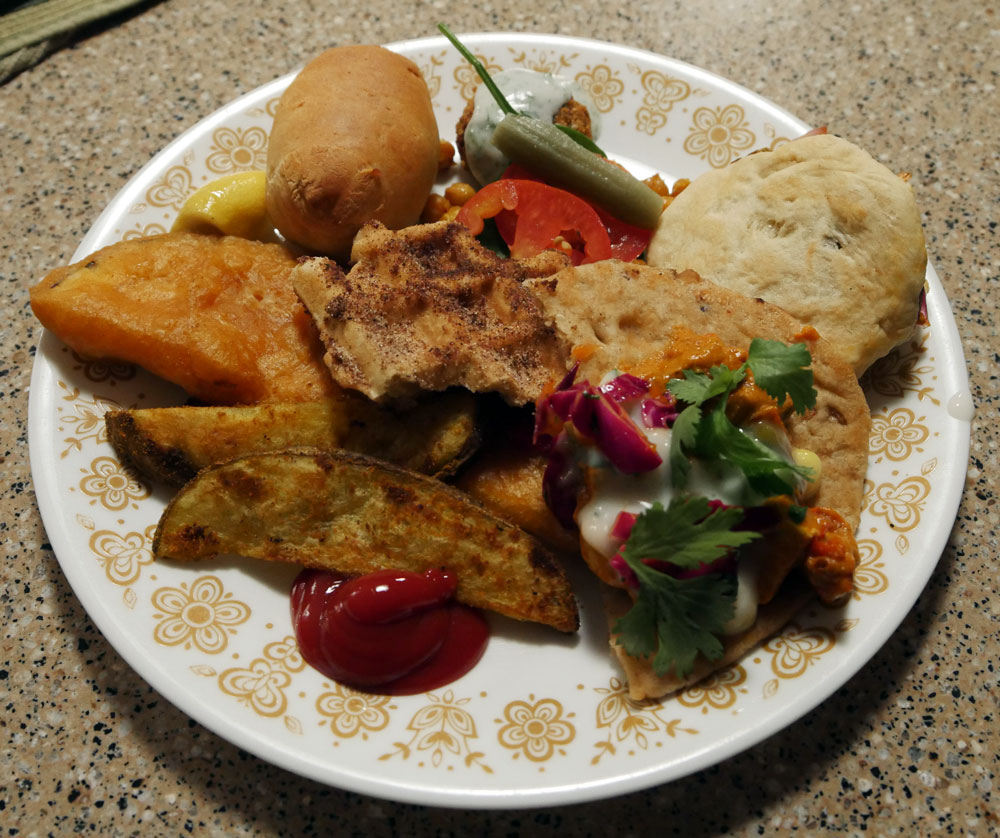 Lauren: Eggplant "Fish" and Chips; Gingerbread Cookies
Lauren made a "fish" and chips style street food featuring eggplant. She sliced and marinated the eggplant for a few hours in a lemon, seaweed, garlic broth bath. Then she patted the eggplant cutlets dry, dipped them in a non-alcoholic beer batter taken from this vegan fish and chips recipe, and deep fried the pieces at 375°.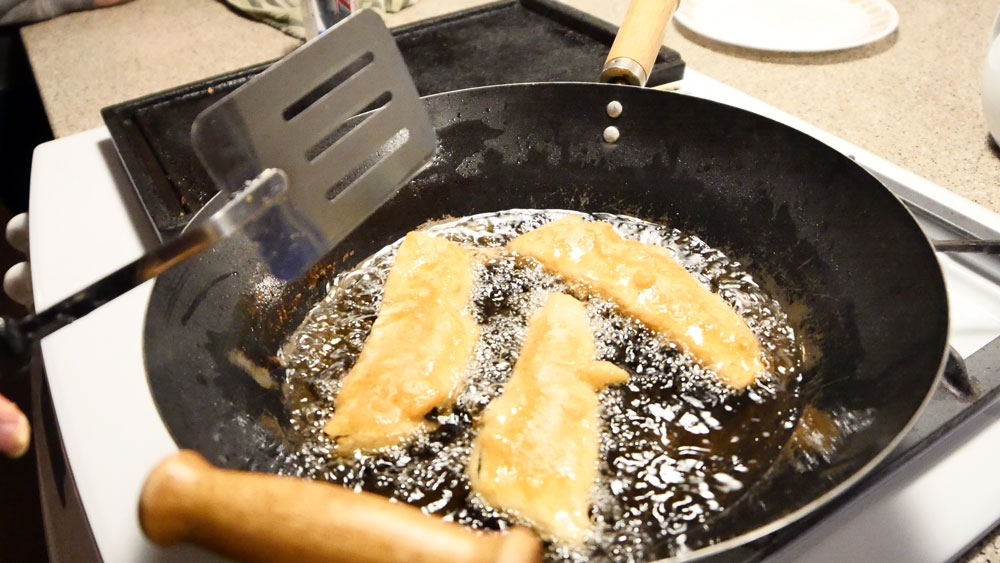 For the chips, Lauren made the baked curry fries from the Isa Does It cook book. She had been wanting to try these for a while, but because you have to boil, ice bathe, season, and bake the potatoes, she waited until having a group of people to whom she could serve them.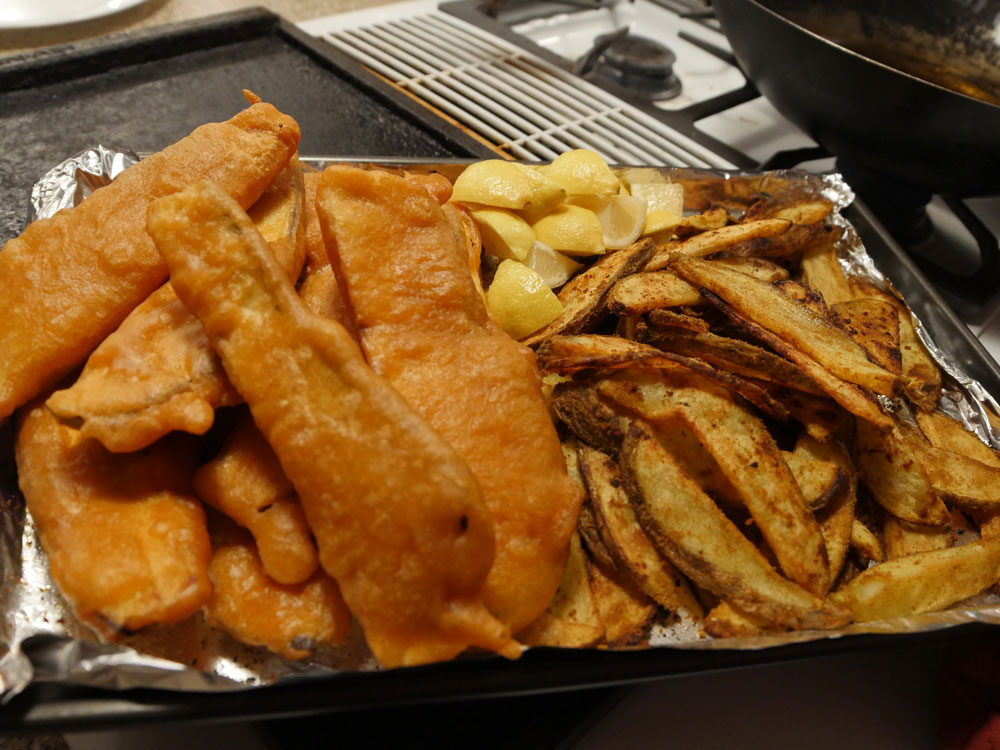 For group decorating fun, Lauren also made some gingerbread cookies shaped as Texas, stars, and gingerbread bears. Billy 3D printed some decorating tips for the Betty Crocker icings, but thankfully John also had some tips.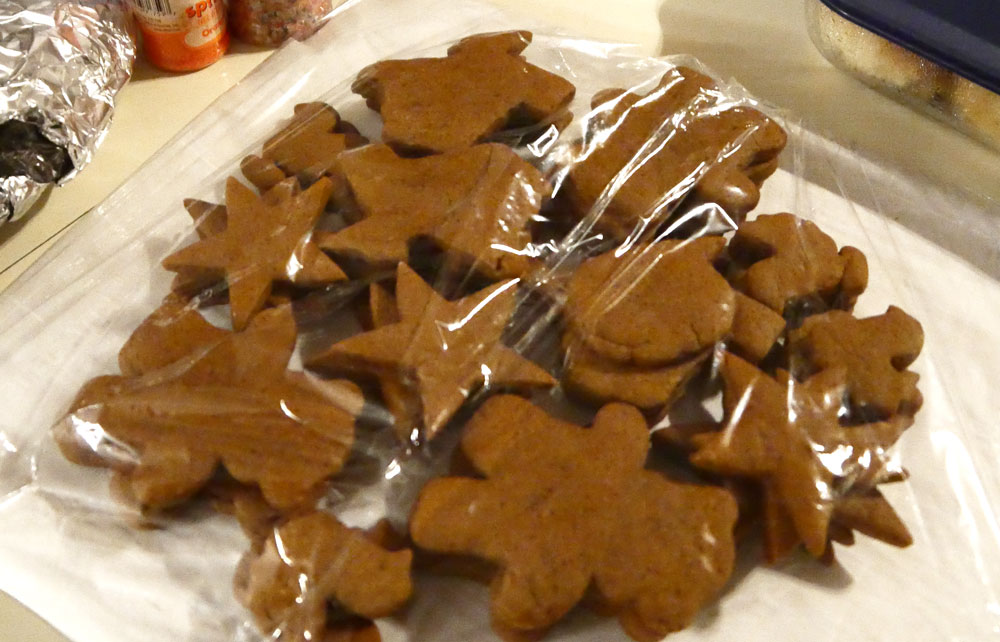 Billy: Vegan Shawarma Bites
To build his mini shawarma sandwiches, Billy made mini pita breads from scratch. He filled the sandwiches with homemade veggie bacon that had been cooked in a frying pan with green onion plus some cooked home grown onion and some home grown cherry tomatoes. He put the shawarma bites together for us like a good street food vendor.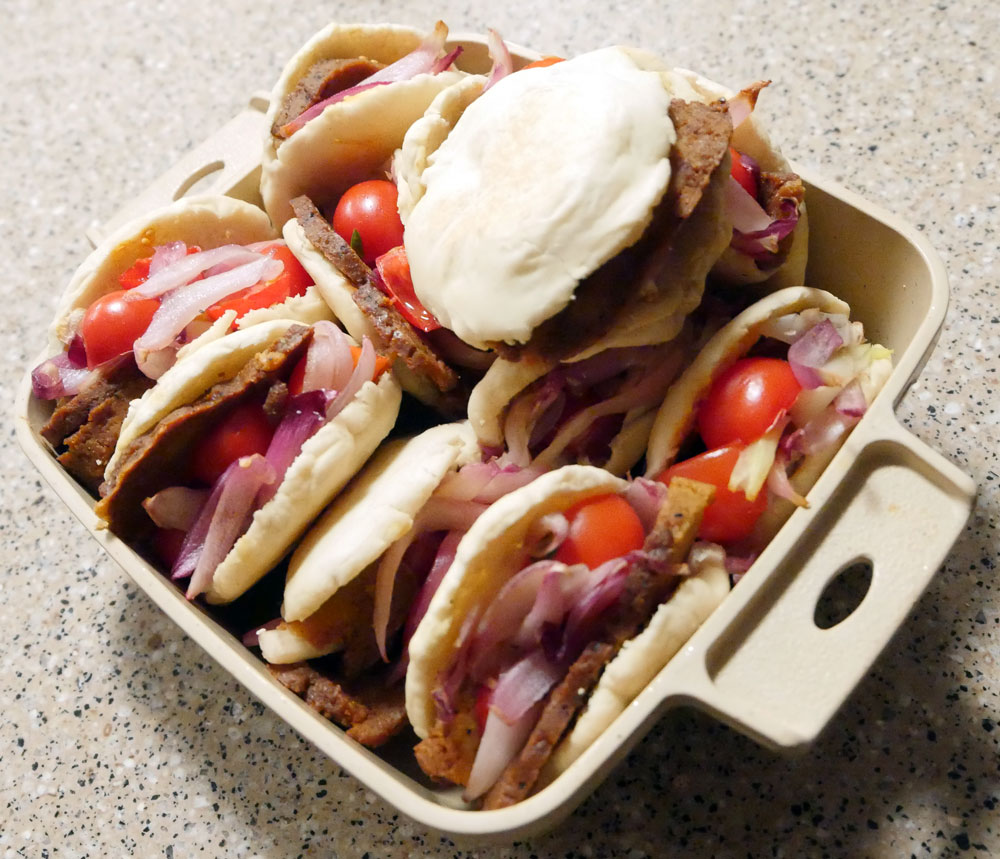 Ramon: Tikka Masala Naacos
For his naan tacos, or naacos, Ramon started from a Tofu Tikka Masala recipe using tofu, quartered cherry tomatoes, red bell pepper, chili peppers, onion, tomato paste, cashew cream, nutritional yeast, ginger, garlic, other spices, and one teaspoon of coconut sugar. For a taco topping he made a mango slaw. He boiled plain dried mango acquired from Natural Grocers with ginger for fifteen minutes to rehydrate it. He chopped it up with purple cabbage and added apple cider vinegar, lime juice, cilantro, and salt. He made a coconut yogurt sauce with cucumber, corn, lemon juice, toasted cumin seeds, garlic, mint, cilantro, and salt. He toasted pita bread spread with Soy Free Earth Balance on a griddle to serve as the "shell" of these taco sandwiches.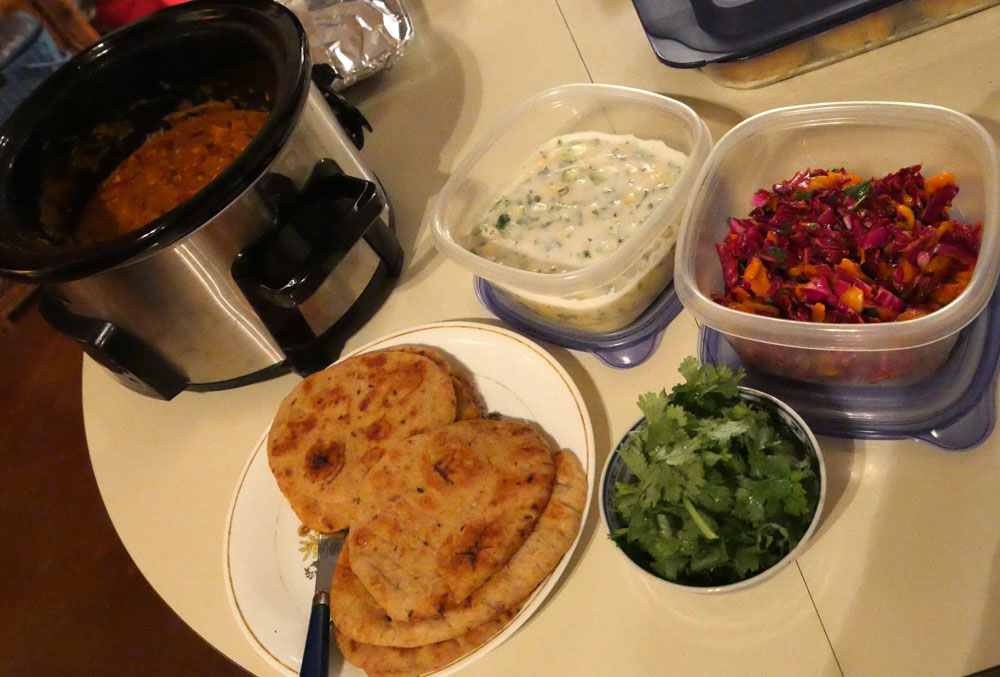 Slynn: Churro Waffles
Slynn made a very sticky sweet dough, rolled it out, cut it into circles, and placed them on the waffle maker. After cooking, she brushed the churros with margarine and sprinkled them with cinnamon, sugar, and vanilla bean powder. (Slynn made the appropriate vegan adjustments to linked recipe with Earth Balance vegan buttery sticks, egg replacer, non-dairy milk + vinegar in the dough.)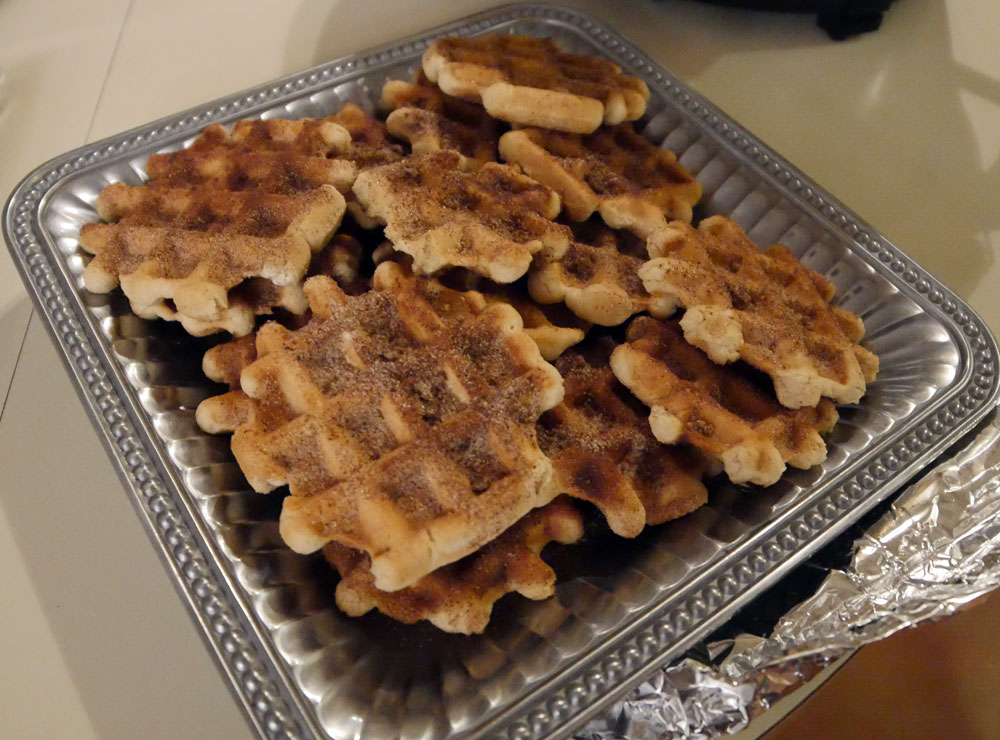 Shannon: Pirozhki
Pirozhki are sold in Ukraine and Russia as street food or on trains. For hers, Shannon made a yeast dough with flour, vegan milk, sugar, Ener-G Egg replacer, and salt. While it was rising, she made a filling by cooking Gala Apples with sugar, cinnamon, nutmeg, and cornstarch. Then she rolled the dough into a tube, cut it into one inch pieces, rolled each flat, and filled each with apple mixture. She baked the pirozhki at 400° for 20 minutes.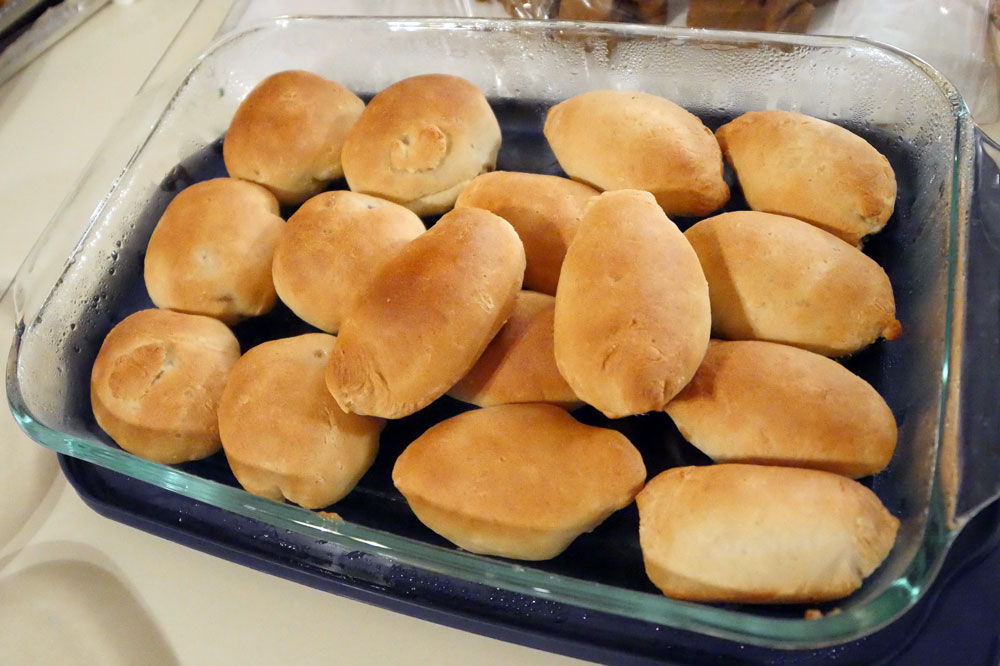 John: Lemony Sugar Cookies
John contributed to the decorating activity by providing sugar cookies flavored with lemon juice, lemon zest, vanilla, and almond extract. He cut them into the festive shapes of Christmas trees, snowmen, extra snowmen heads (when he was almost out of dough and because who doesn't need a spare snowman head?), and polar bears.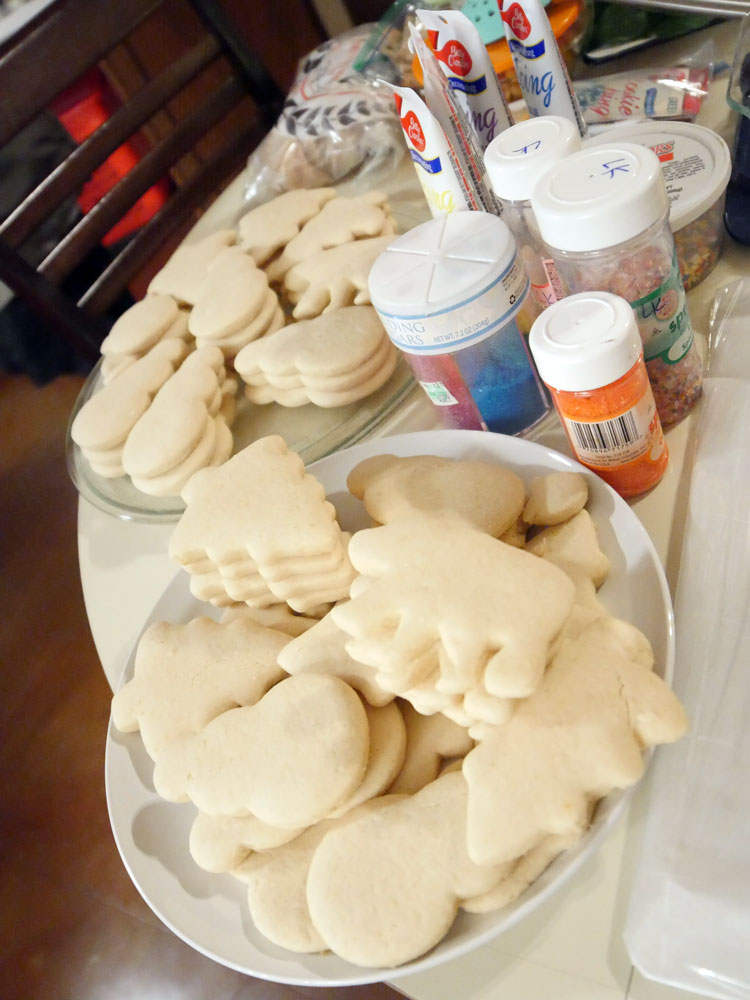 Lilly: Falafel Smörgåsbord
Lilly mixed up and fried some falafel from a package. She made a creamy sauce accompaniment of So Delicious Unsweetened Coconut Yogurt, fresh dill, dried dill, and garlic powder. She served the falafel and sauce alongside sliced pita bread, cornichons, tomato, spinach, and chickpeas simmered with onion powder, garlic powder, saffron, olive oil, and salt.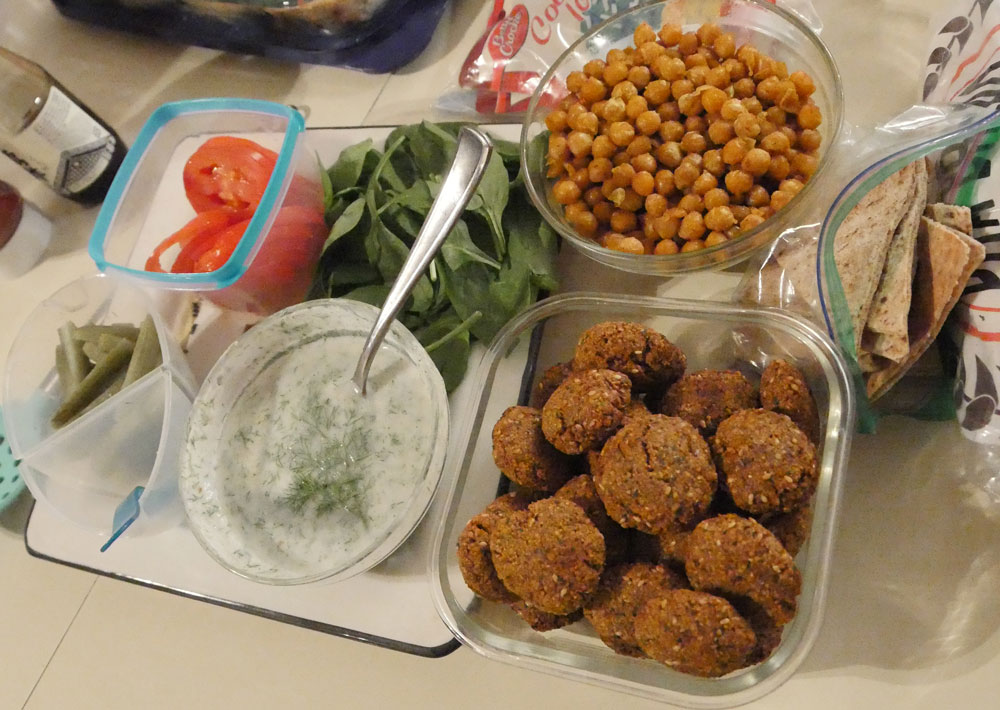 Michelle: Her Dog Jake
Michelle didn't cook her dog Jake, but she brought him up from Austin for VBC so that we could all hang out together and accidentally eat Jake hair in our cookie icing.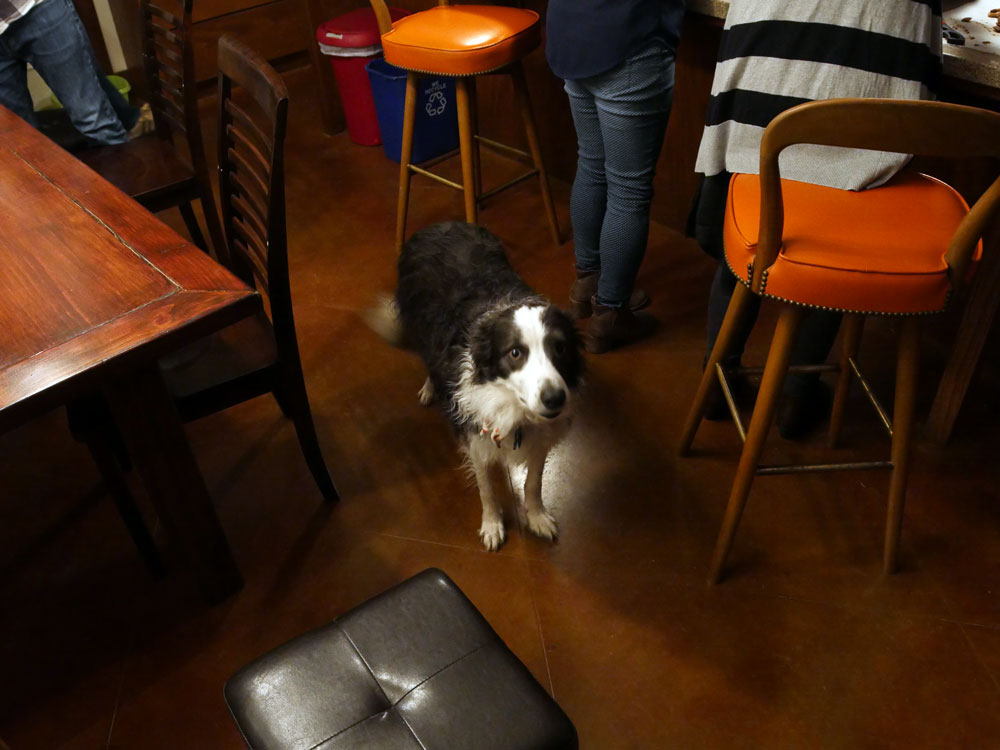 We decorated a lot of cookies as usual for the holidays, but this year Slynn brought over Chocolate Chex, pretzel sticks, vegan cookie butter, peanut butter, and powdered sugar so that we could also make chocolate snowy pine cones!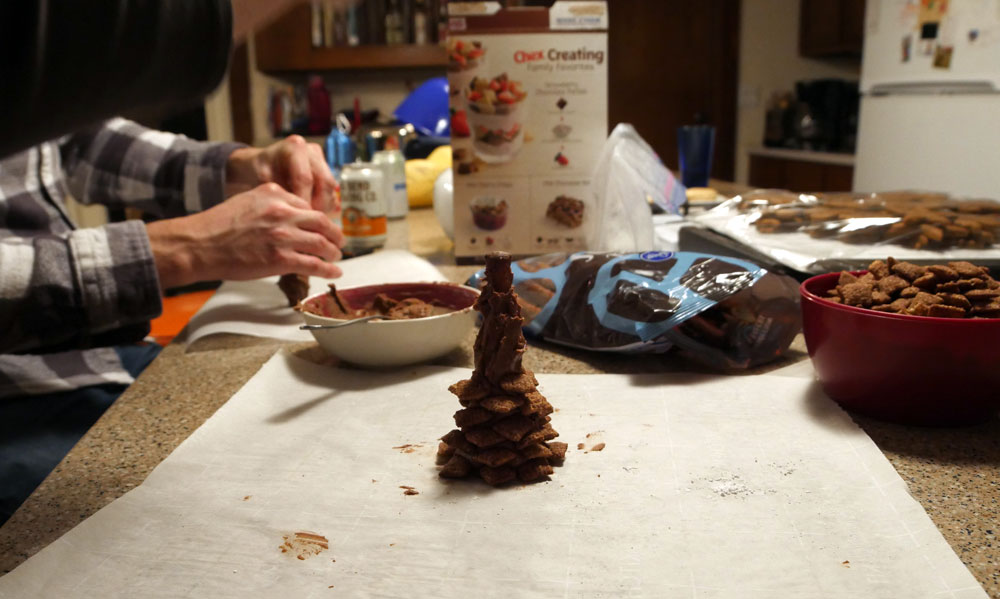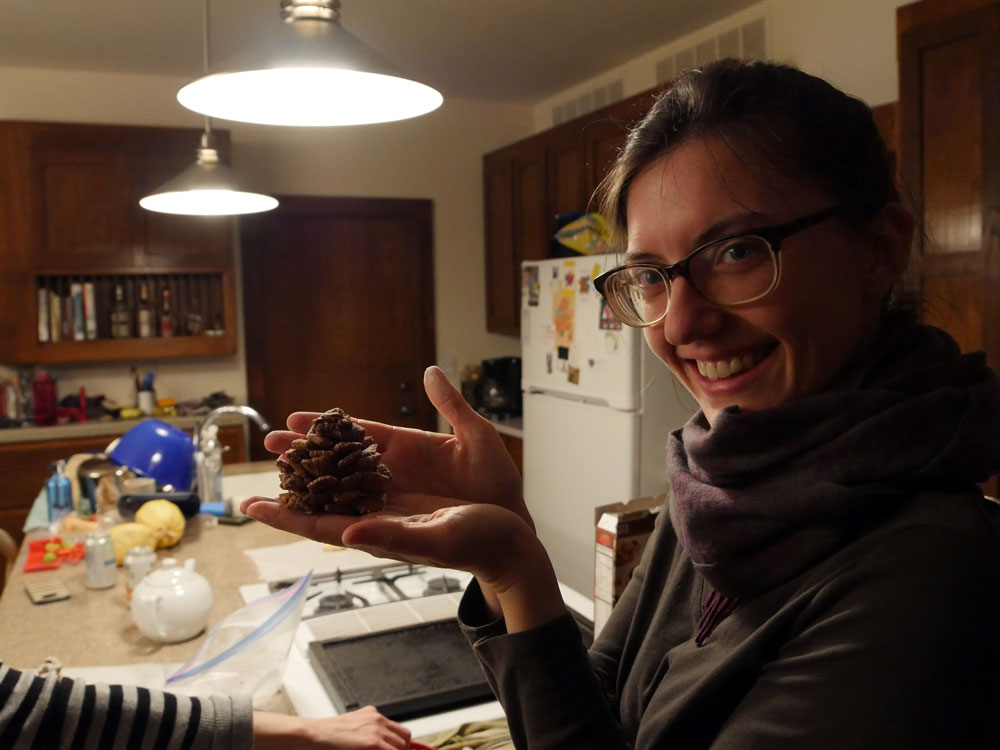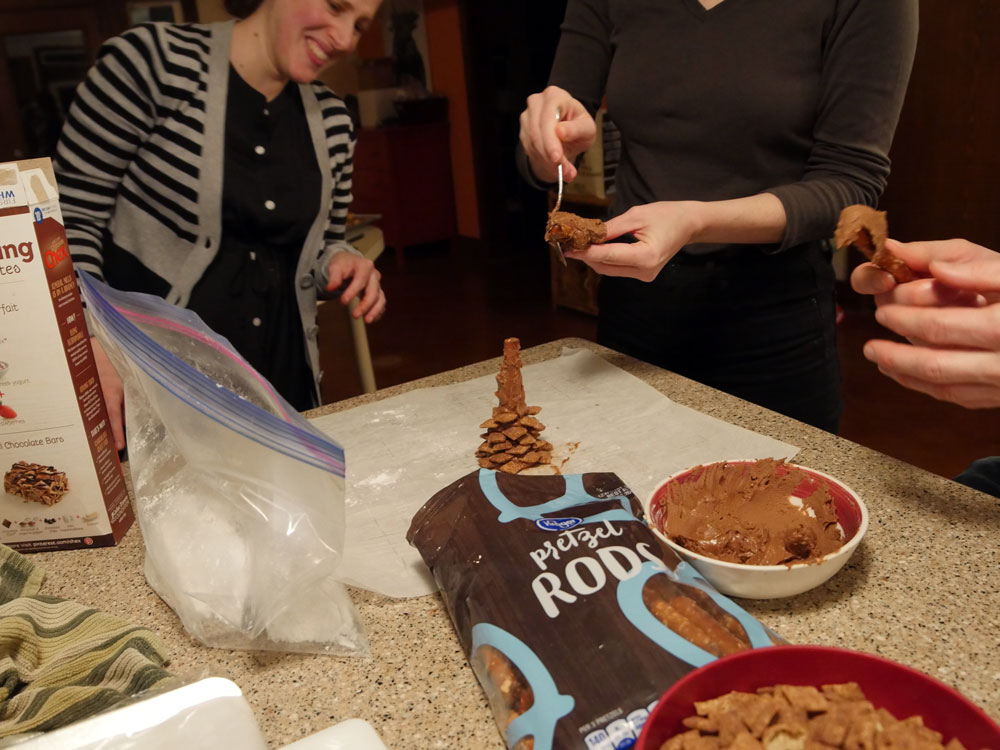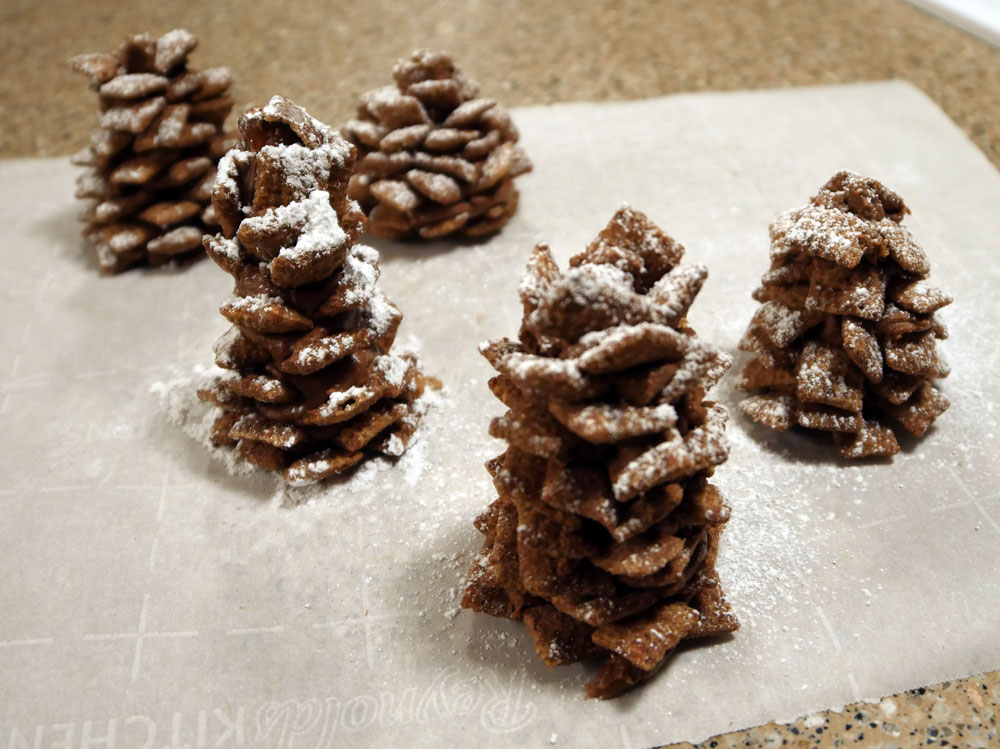 And the cookies…