December 31, 2019 – New Year's Eve
Tuesday, December 31, 2019
VBC Meeting #82: New Year's Eve
Host of the Month: Caroline and Drew
Location: Denton, TX
While historically Vegan Bake Club gathers together on weekends, New Year's Eve 2019, on the verge of a new decade, had the power to bring us together on a weeknight. For the holiday, some of us made foods traditionally eaten to greet the new year, others just brought food worth celebrating over.
This is what we made: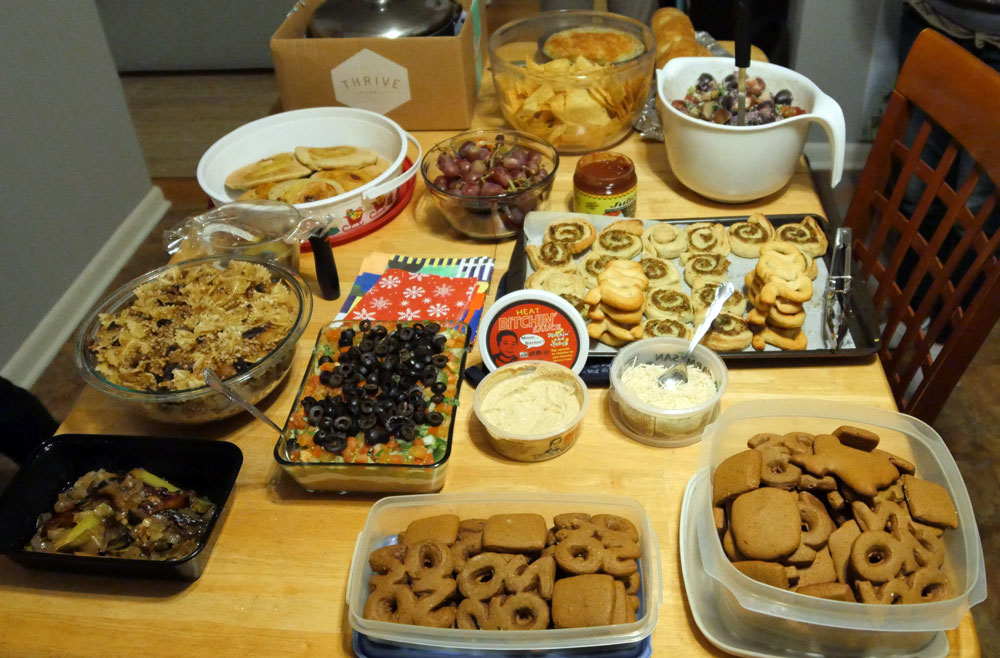 And this is what it looked like on a plate, ready to be eaten: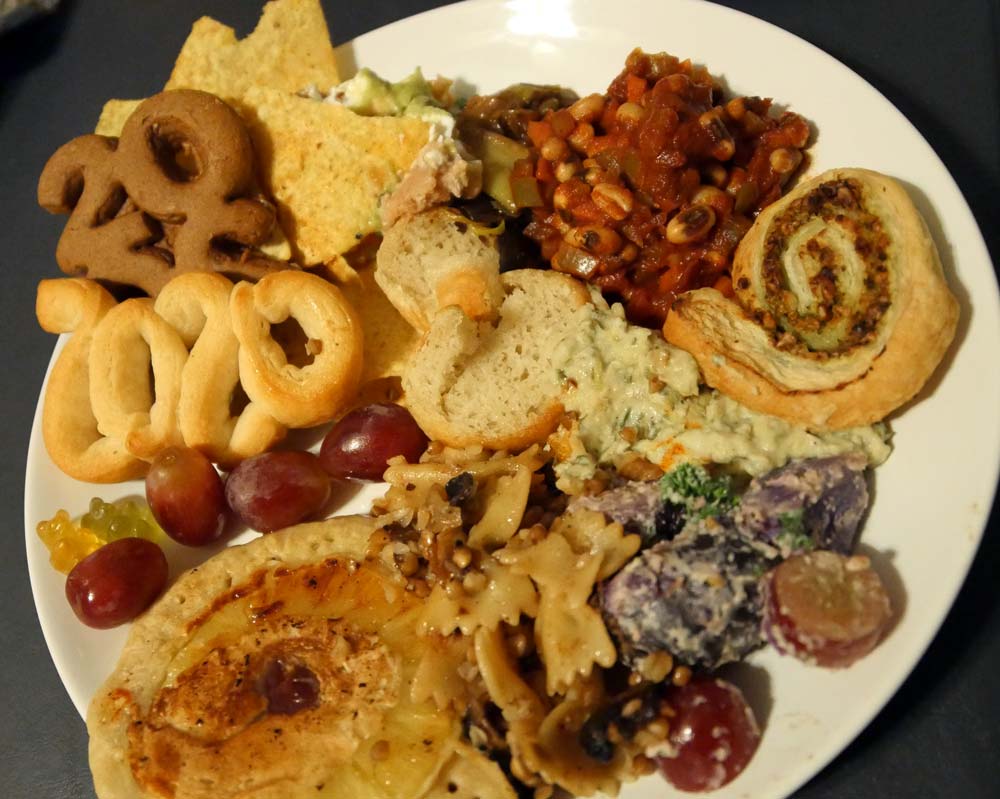 Slynn: New Year's Black Eyed Pea Chili
Around here, black eyed peas are what come to mind as the food to eat at the new year, so Slynn made us this chili to bring us luck in 2020 from the 350 Best Vegan Recipes cookbook she and Ramon were given as a wedding gift a handful of years ago. She used pre-soaked black eyed peas she found in the produce section of Albertsons (special for the holiday) plus onion, carrot, celery, bell pepper, tomato purée, chopped tomato, chili powder, and smoked paprika. For another savory treat, she fixed us some 2020 shaped Annie's Organic Crescent Rolls for the new decade.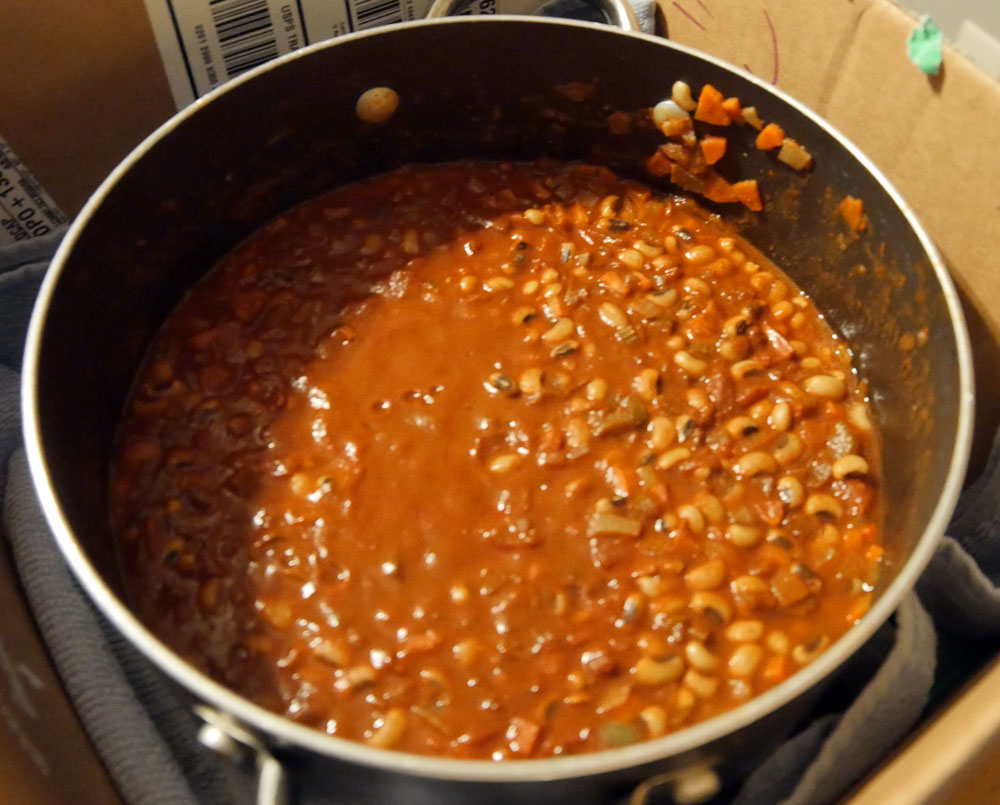 Ramon: Pineapple Upside Down Pancakes
While pineapple upside down pancakes are a brilliant concoction, Ramon confessed he didn't come up with the idea himself, rather he took the concept from Plow Burger in Austin. To make each flat cake, he placed a pineapple ring in a pan with a cherry in the middle then ladled his go-to pancake batter (but with coconut shreds added) over the fruit. To pour over the cakes, he mixed up a special syrup of bourbon, maple syrup, brown sugar, butter, and cinnamon.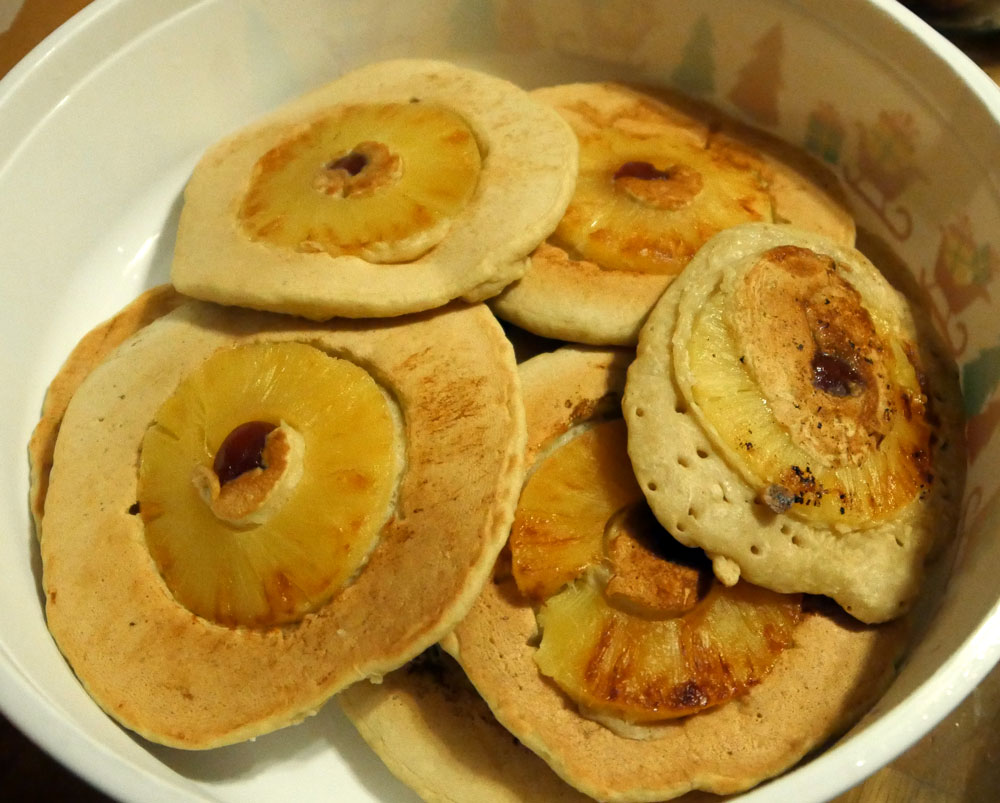 Lauren: Hot Artichoke and White Bean Spread; Baguettes
Lauren made Nava Atlas's Hot Artichoke and White Bean Spread from Vegan Holiday Kitchen adding Billy's greenhouse arugula to the cannellini beans, onion, garlic, vegan cream cheese, artichoke hearts, fresh dill, dried thyme, salt, and pepper. She topped it with Daiya Mozzarella shreds and paprika. She served the spread with Paul Hollywood's baguette dough made of flour, yeast, salt, and water, but she did not follow the recipe instructions, since she lacked an appropriately sized tub and linen couche for the baguette proofing method.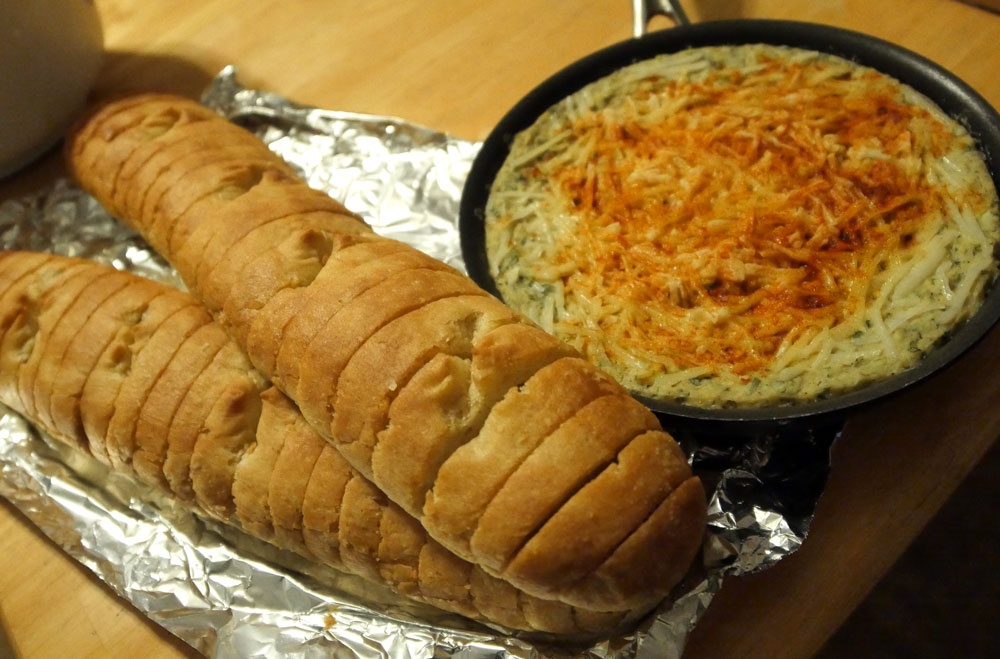 Marcia: Kasha Varnishkes; White Wine Braised Leeks
Marcia went with a Jewish take on New Year, having Rosh Hashanah in mind in choosing her dishes. She made a big bowl of kasha varnishkes and a second dish of braised leeks. To make the former, she boiled kasha, or roasted buckwheat groats, and combined it with caramelized onion, garlic, roasted mushrooms, farfalle (bow-tie) pasta, salt, and pepper. She diverged from the recipe where she forgot to reserve some of the pasta water to moisten the final dish, adding vegetable broth in its stead. Also, lacking fresh parsley and chives, she left those out.
For her second dish, Marcia prepared White Wine Braised Leeks, leeks being a symbolic foods to eat at Rosh Hashanah. Per the recipe, she braised leeks with shallots and garlic in white wine, vegetable stock, thyme, lemon zest, salt, and pepper.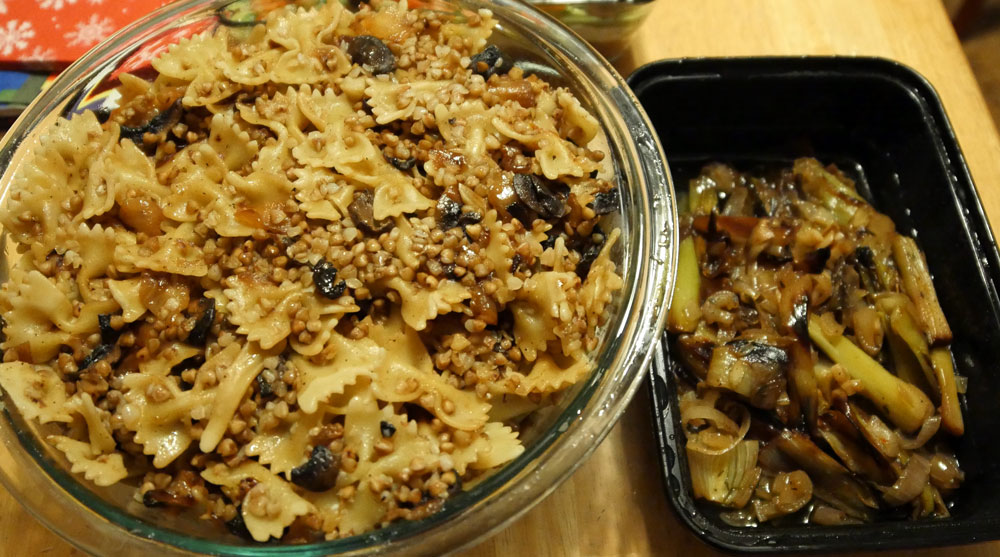 John: Five Layer Dip
For a colorful addition to our New Year's Eve festivities, John made a layered dip with striations of refried beans, Tofutti Better Than Sour Cream, guacamole, pico de gallo, and olives. For aid in consuming the dip, he also provided Julio's chips and salsa.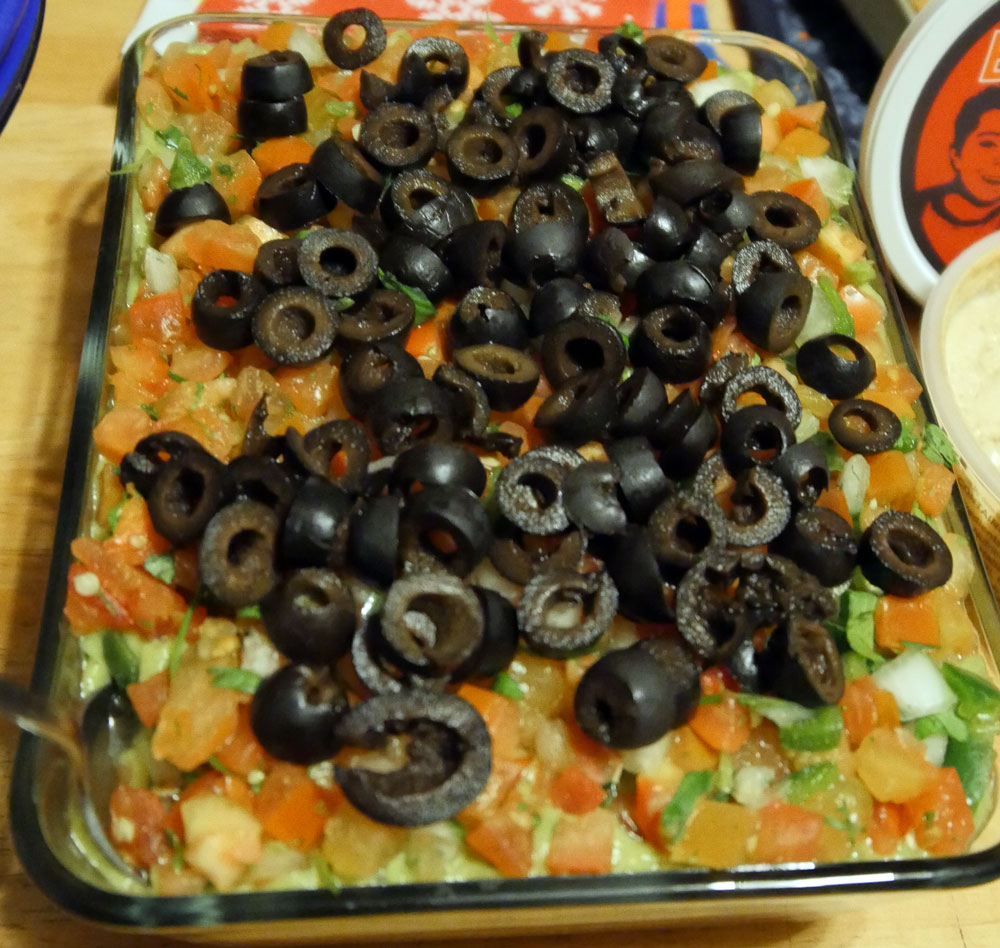 Caroline: Waldorf-Style Potato Salad
Caroline also served up a kaleidoscope of colors with her veganized version of the Woman's Day Waldorf-Style Potato Salad . One injection of color came from Drew selecting little purple potatoes in addition to red potatoes for the salad ingredients while shopping. Once boiled, the mini potatoes were coated in a dressing of vegan sour cream, vegan mayo, white rice vinegar (instead of the recipe indicated white wine vinegar), and mustard and combined with red grapes (a favorite New Year inspired ingredient of Caroline), celery, parsley, and walnuts scrounged up in a didn't-have-any-in-the-house emergency from the trunk of John's car (a left over stash remaining after John populating his family's Christmas stockings).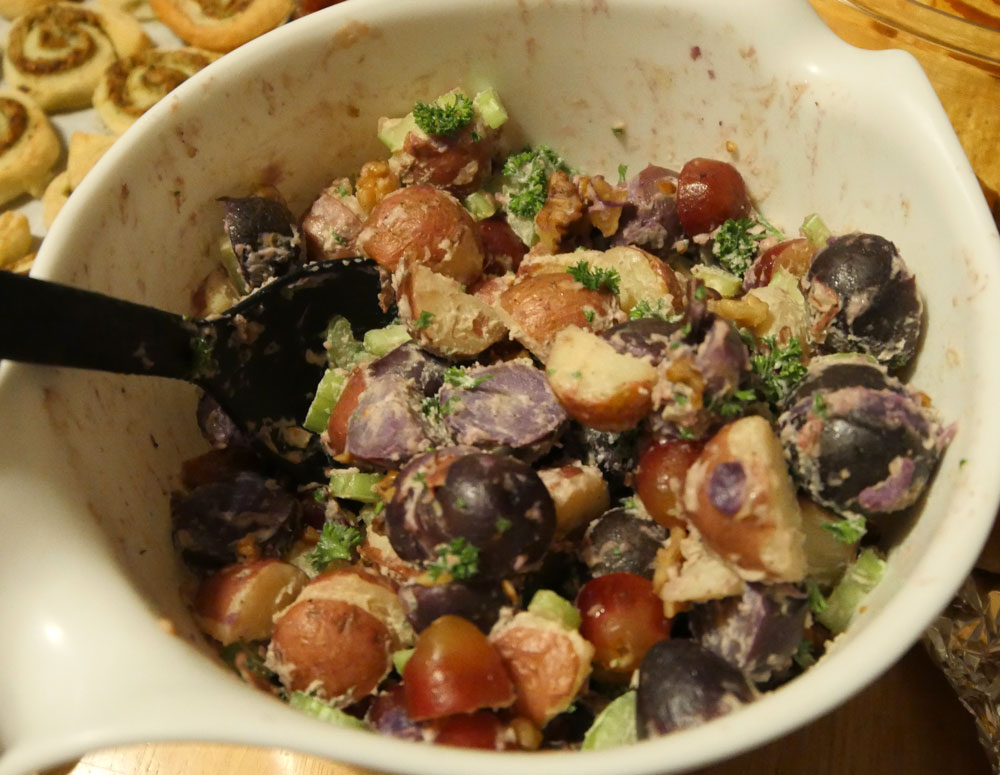 Caroline also provided us with delicious Lady May Gourmet Gummi Teddies of the Vegan Mixed Fruits variety courtesy of Drew's mom as well as extra grapes for stuff-in-your-mouth New Year's luck.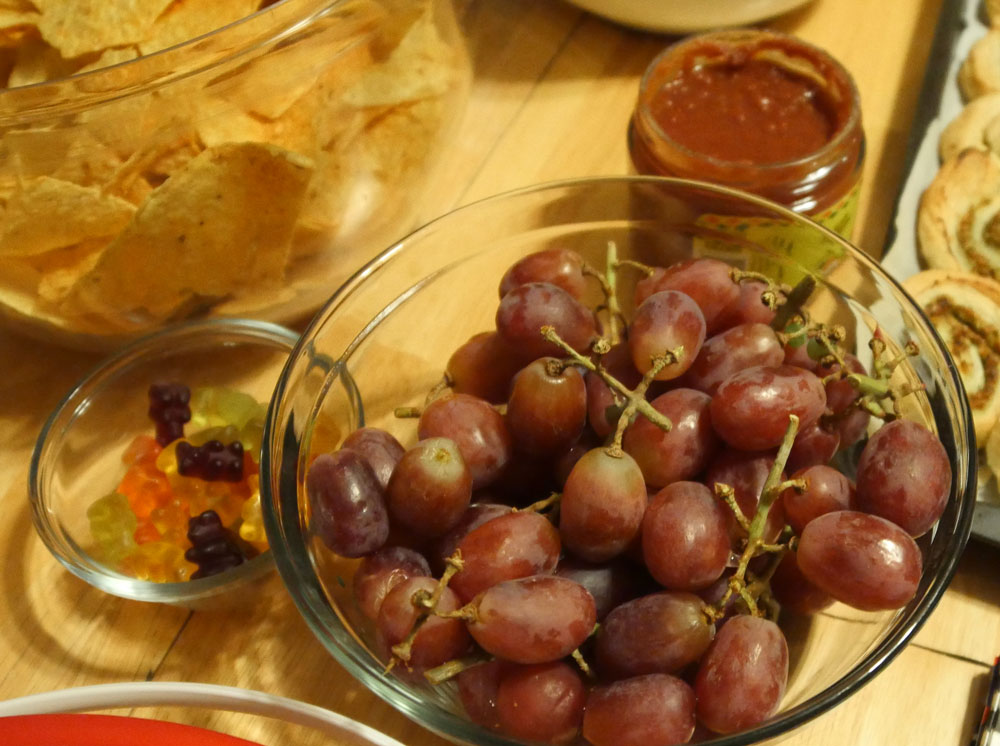 Drew: Pesto Pinwheels
For a fun and impressive looking but not so difficult New Year's Eve finger food, Drew made Vegan Arugula Pesto Pinwheels. To keep them not difficult, he used Pepperidge Farm Puff Pastry as a base. He spread the pastry with a pesto created from sort of following the recipe from Elephantastic Vegan (but without measuring anything) that included arugula, sunflower seeds (no pine nuts in this pesto!), olive oil, lemon juice, garlic, nutritional yeast, and salt. Like many pestos, the recipe also included a fair amount of fresh basil, but since Drew didn't find any at the stores he checked, he squeezed what he had left out of a tube of basil paste and substituted in some extra arugula. Before rolling up, slicing, and baking the pinwheels, he sprinkled on some Follow Your Heart Parmesan shreds.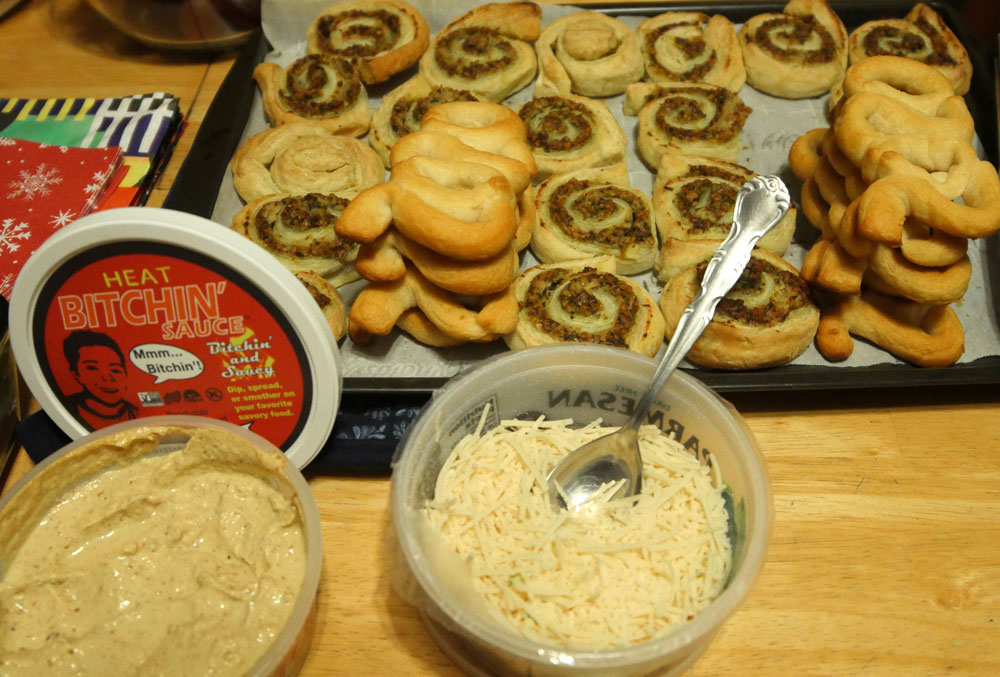 Billy: Veinte Veintitos
Billy designed and 3-D printed a 2020 cookie cutter to use on a marranito dough of flour, brown sugar, molasses, flaxmilk, baking soda, flax egg, coconut oil, cinnamon, vanilla, fresh grated ginger, and orange zest. He also cut out Texas and traditional marranito shapes, and when in a rush at the end, Colorado shapes. For optional decorating of the pan dulce, Lauren filled a pastry bag with a royal icing of powdered sugar, flaxmilk, light corn syrup, and almond extract in addition to offering last year's still disappointingly runny Wilton Cookie Icing.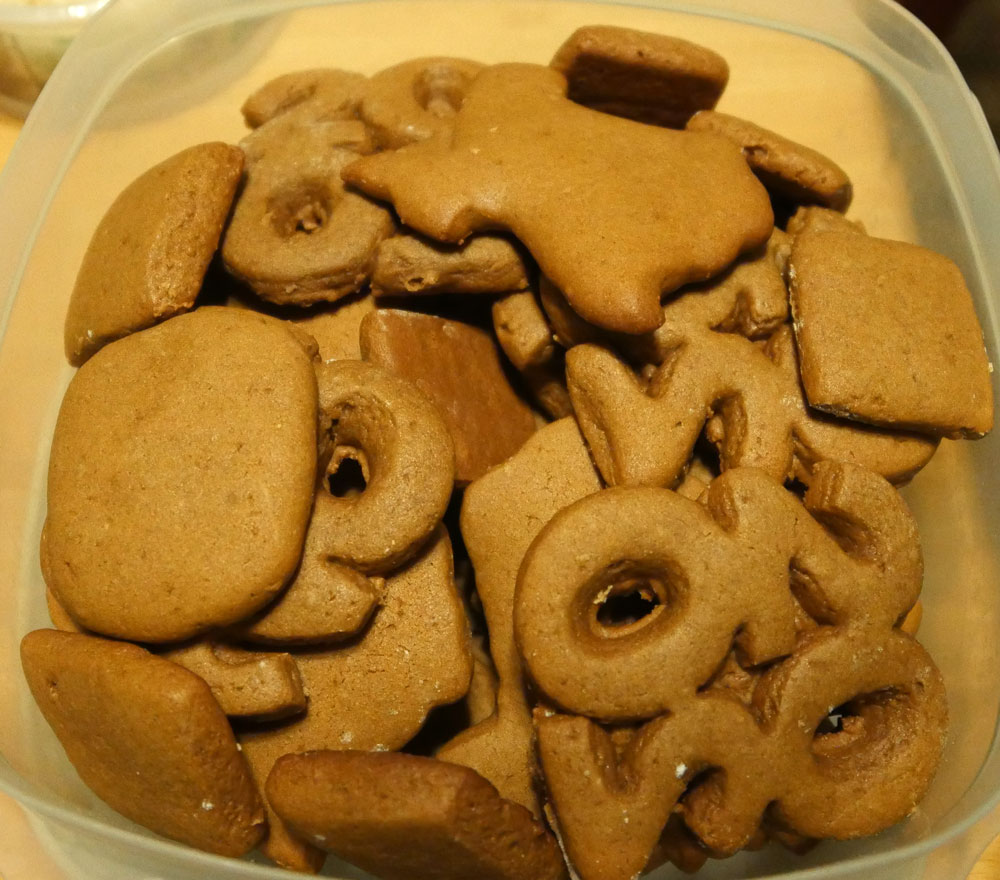 Here are some of our decorating outputs: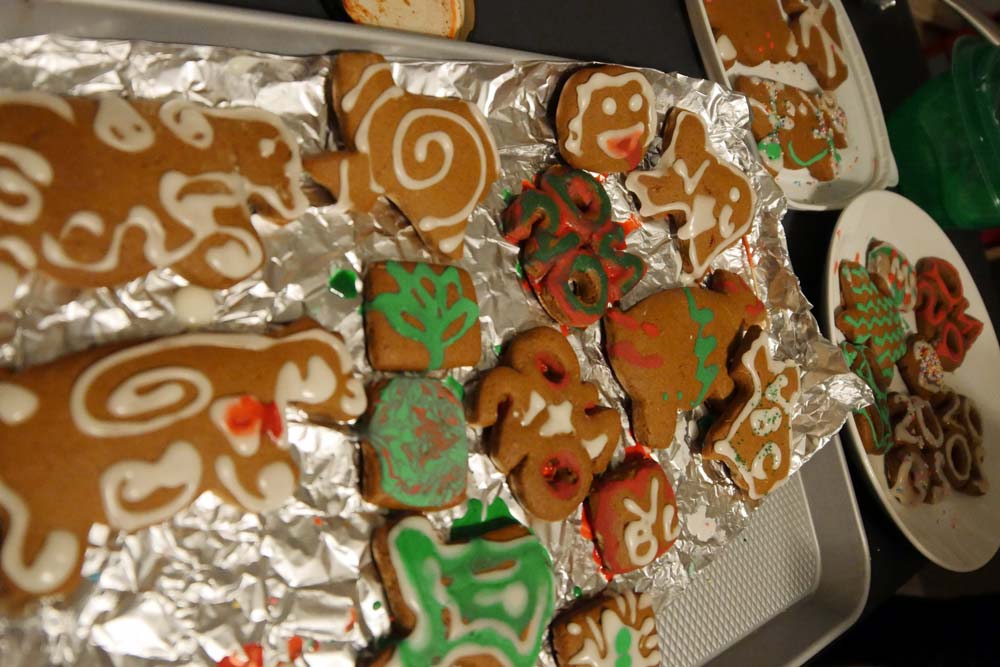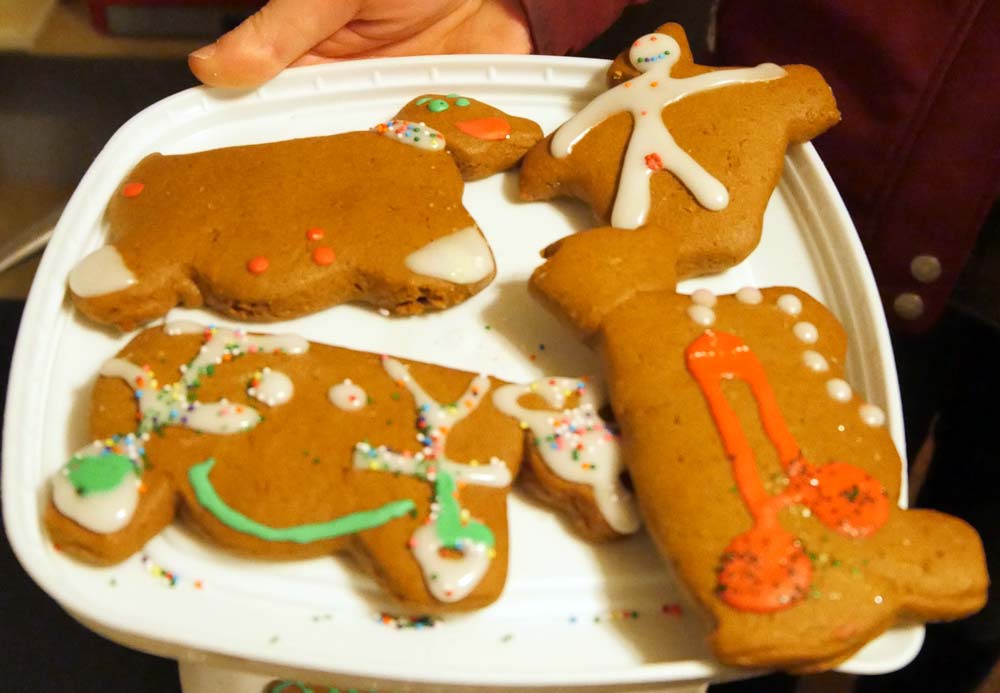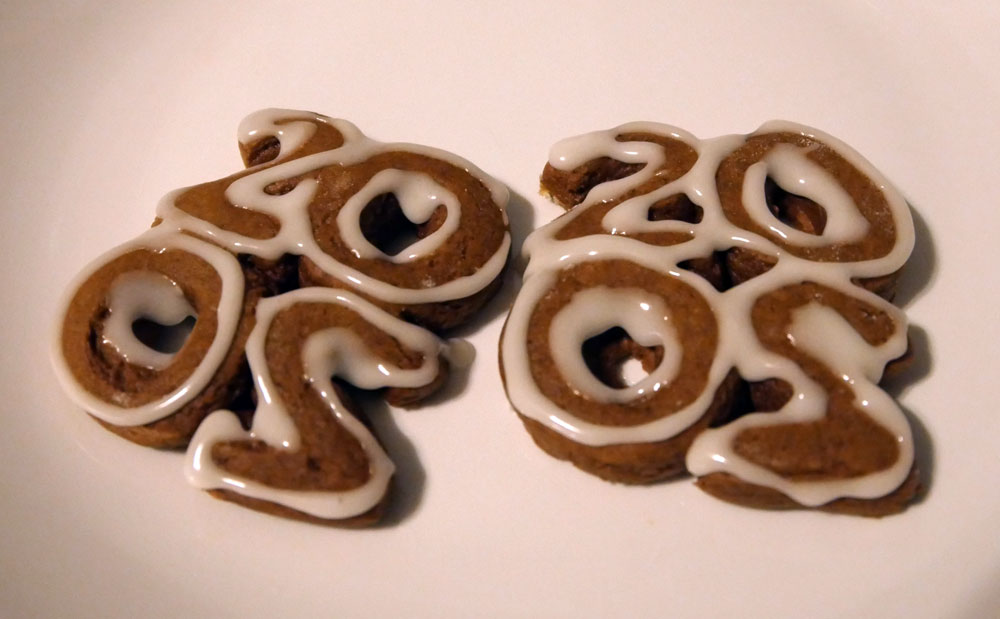 Happy 2020, y'alls!