August 27, 2016 – Olympics
Sunday, August 27th, 2016
VBC Meeting #42: Olympics
Host of the Month: Caroline and Drew
Location: Denton, TX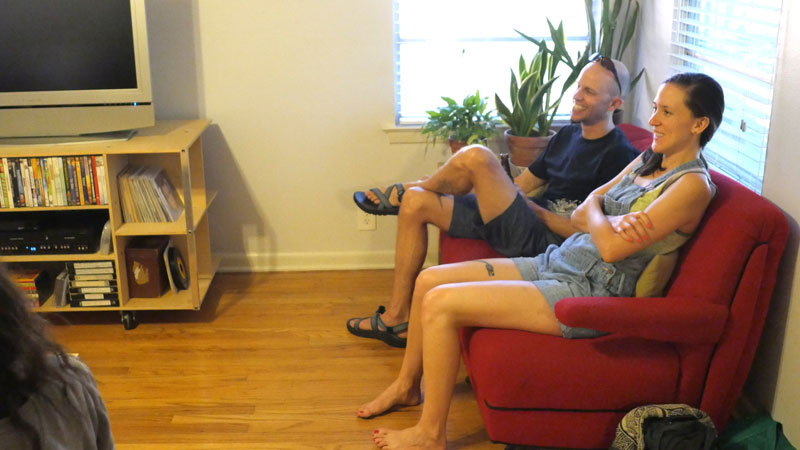 In honor of the Games of the XXXI Olympiad, a.k.a. the 2016 Summer Olympics in Rio de Janeiro, Brazil, the theme of the XLII Vegan Bake Club Meeting was Olympics. We were encouraged to bring food related to Brazil, Greece (home of the first Olympics), food for athletes, spectator food, ring-shaped food, and more! Via this gathering we learned that co-host Caroline believes "javelin is weird, y'all. Awesome, but weird."
Though the Olympics were officially over when this meeting occurred, we did get to view some of the events that had taken place thanks to the power of the Internet. We watched a synchronized swimming performance by the Russian Federation, as well as Egypt swim dancing to the Lion King.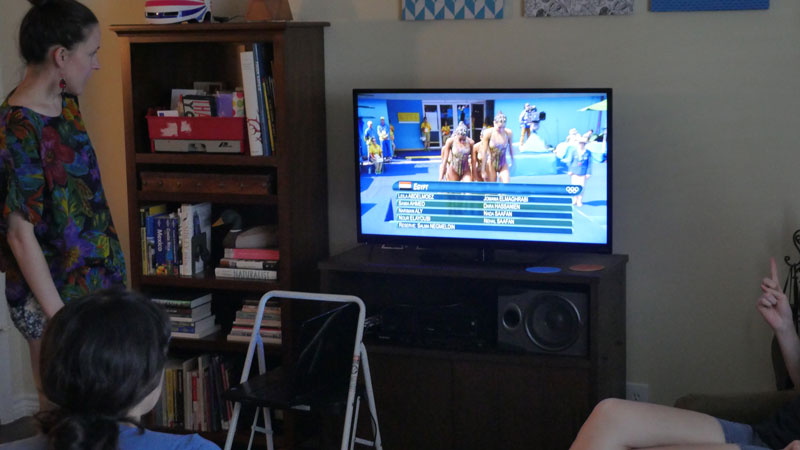 We cheered for women's archery when a woman representing Chinese Taipei finished off by hitting bullseye. We found out what hand ball looks like. We also watched some 2012 Acrobatic Gymnastics World Championships which was not part of the Olympics, but it was too good and crazy not to watch.
This is what we made: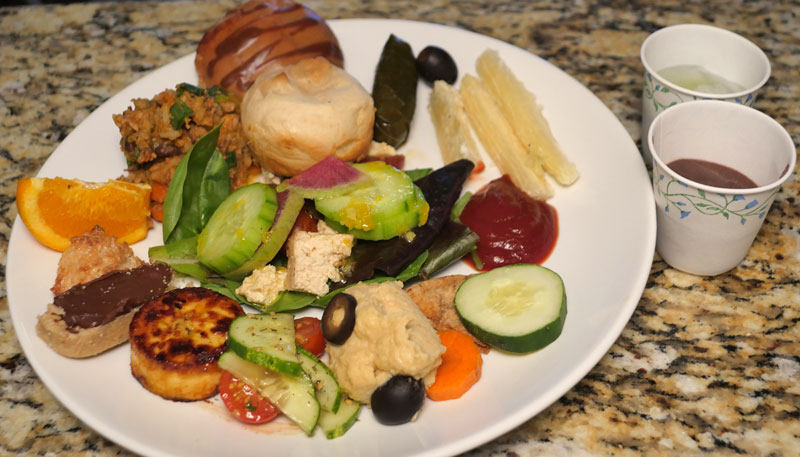 Lauren: Gold Medal Bronzes
These vanilla cream filled raised donuts with maple glaze were made with Gold Medal Brand flour. The donuts were sort of Olympic medal shaped, and the maple glaze looked kind of bronze colored.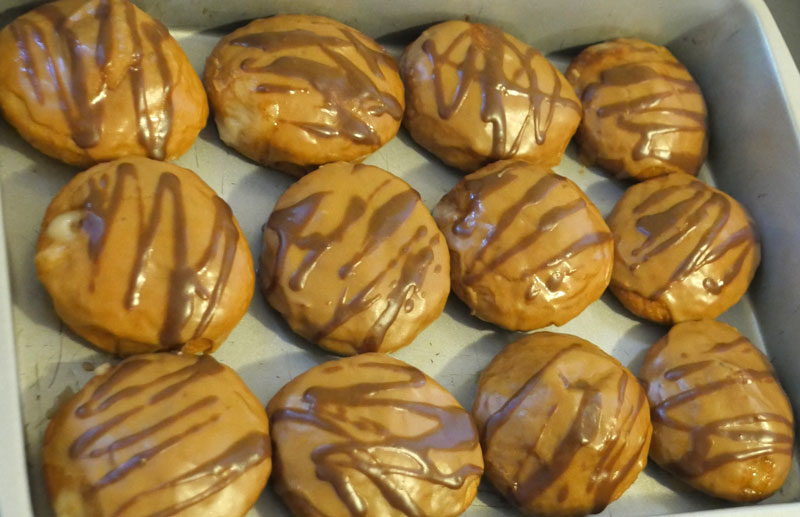 Slynn: Caipirinha; Pão de Queijo; Acai-Banana Sorbet
Slynn started out by serving us tiny cups of Caipirinha, a Brazilian beverage made with, cachaça, a sugarcane spirit (also known as Brazilian rum), lime, sugar, and ice.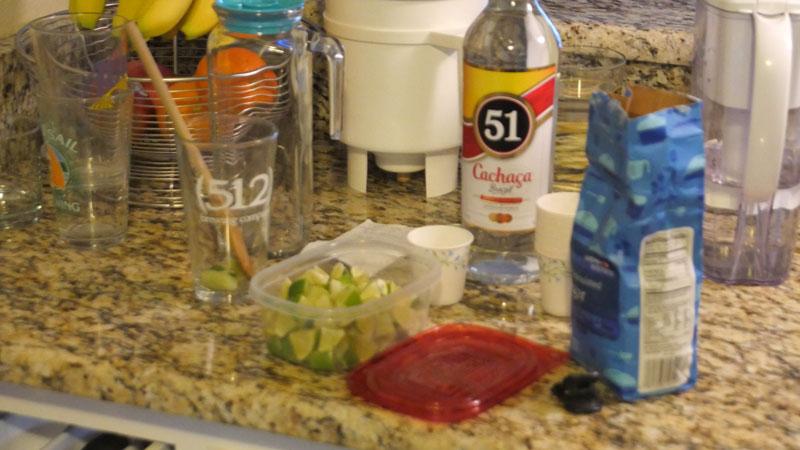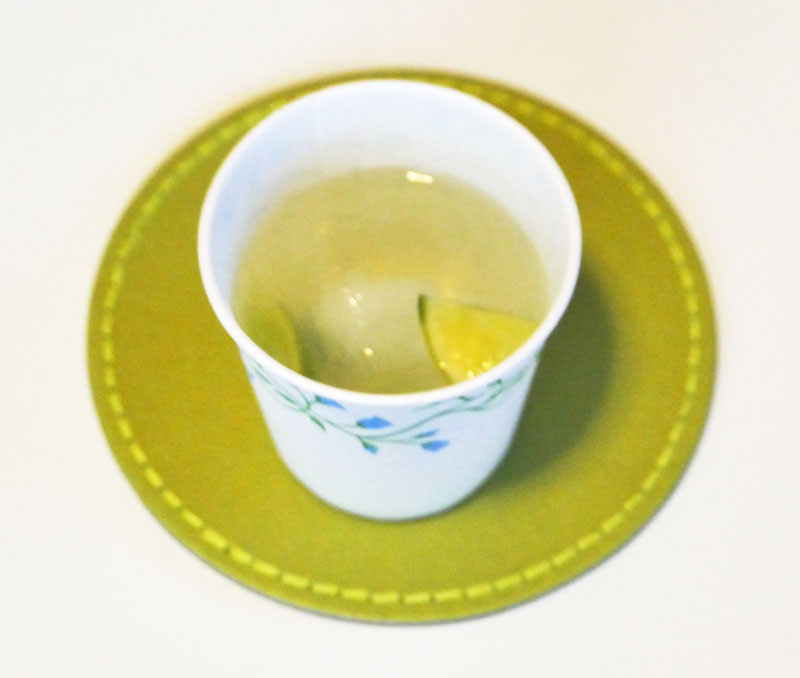 She also made pão de queijo, a cheese filled round bread often served in Brazil. She made hers from a gluten free recipe with tapioca flour and filled it with Daiya Mozzarella Shreds.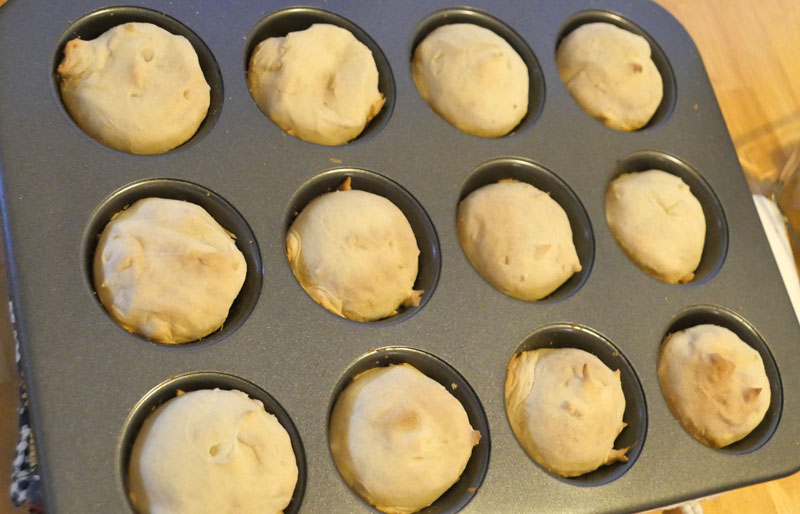 For her dessert course, she served acai-banana sorbet. Acai berries are a Brazilian superfood for athletes! She made it with frozen acai berries from Natural Grocers, frozen banana, maple syrup, and coconut oil.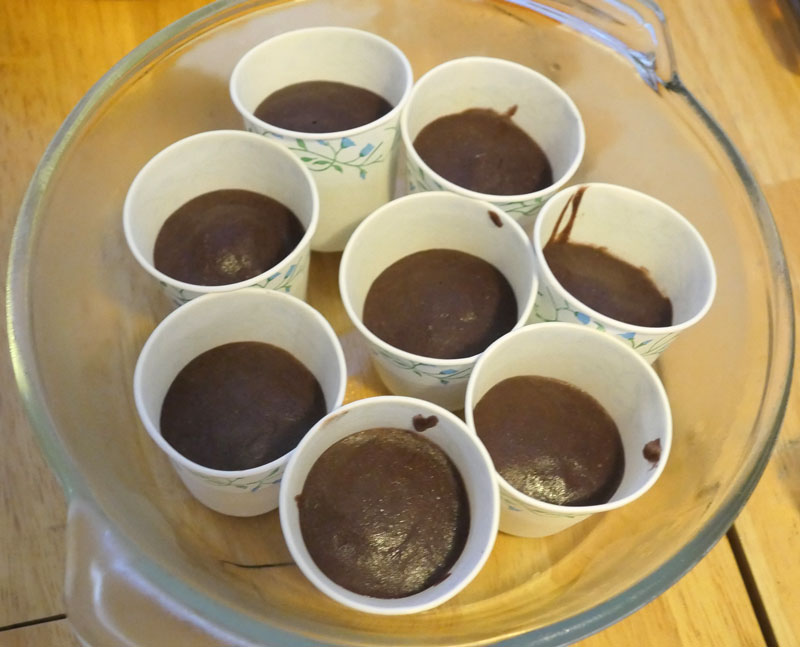 John: Paçoca; Cocadas
John made Paçoca with tapioca flour, peanuts, sugar, and coconut milk. To some he added shredded coconut. He melted chocolate chips for the tops of some too.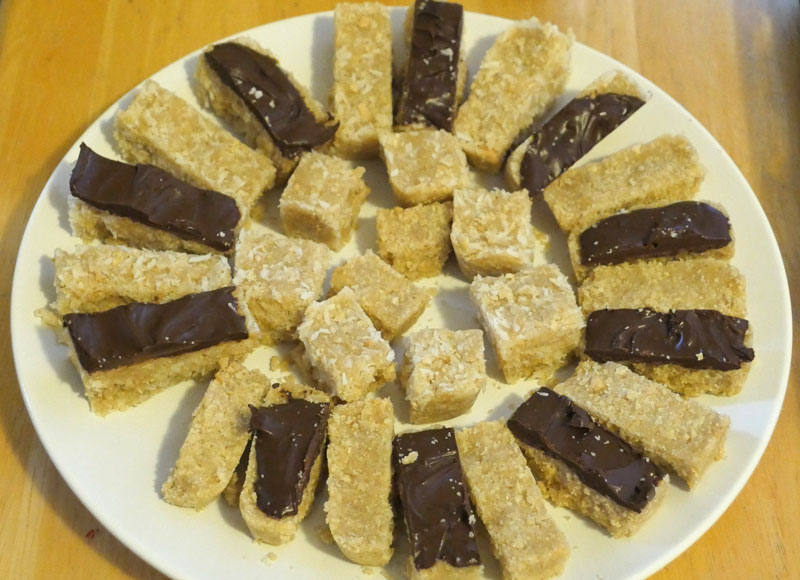 He also baked us cocadas. He made his own sweetened condensed coconut milk (based off of this recipe) to combine with coconut, almond and vanilla extracts, powdered sugar, and corn starch in this macaroon like treat.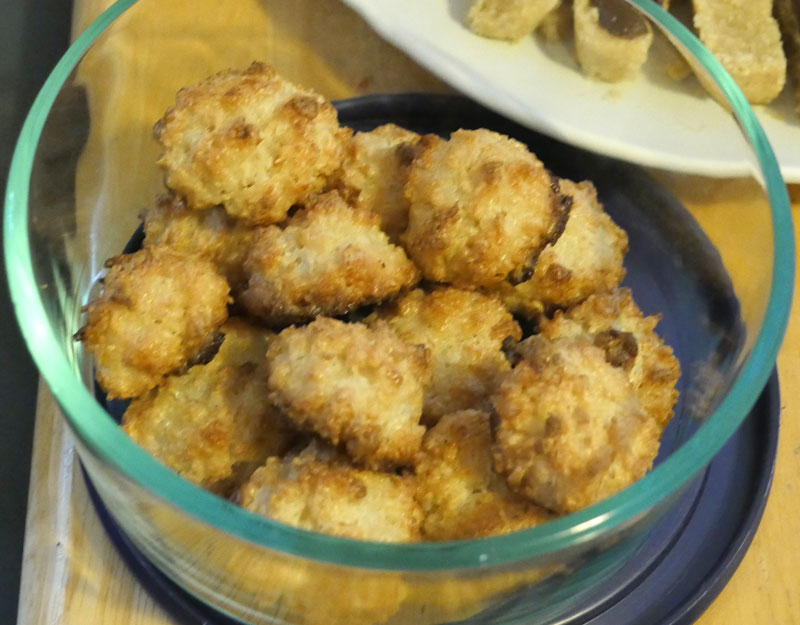 Caroline: Vegan Raw Salad
Caroline took this salad recipe from the blog frombraziltoyou.org, written by Denise Browning. The salad contained lettuce, cucumber, tomato, watermelon radish, and tofu in place of vegan cheese. It was served with an orange vinaigrette.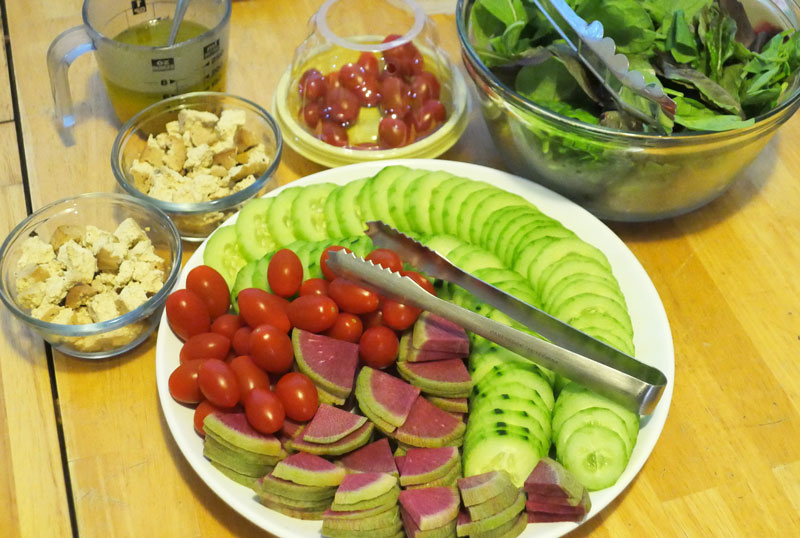 She also served orange slices to remind us of soccer half time treats of childhood.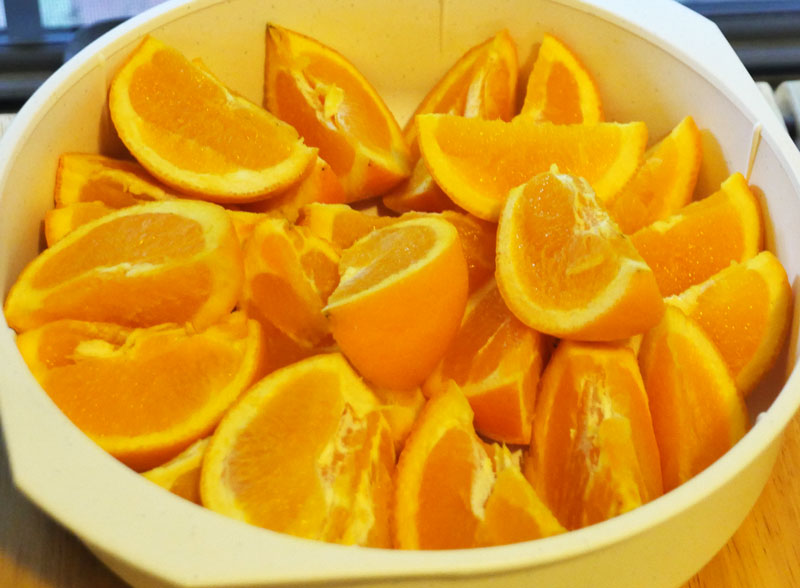 Billy: Feijoada
Billy's veganized version of this Brazilian stew contained black beans, textured vegetable protein (TVP), Field Roast Italian Sausage, home grown butternut squash and bell pepper, canned tomato, rice, green onion, cilantro, jerk seasoning, liquid smoke, chili powder, and salt.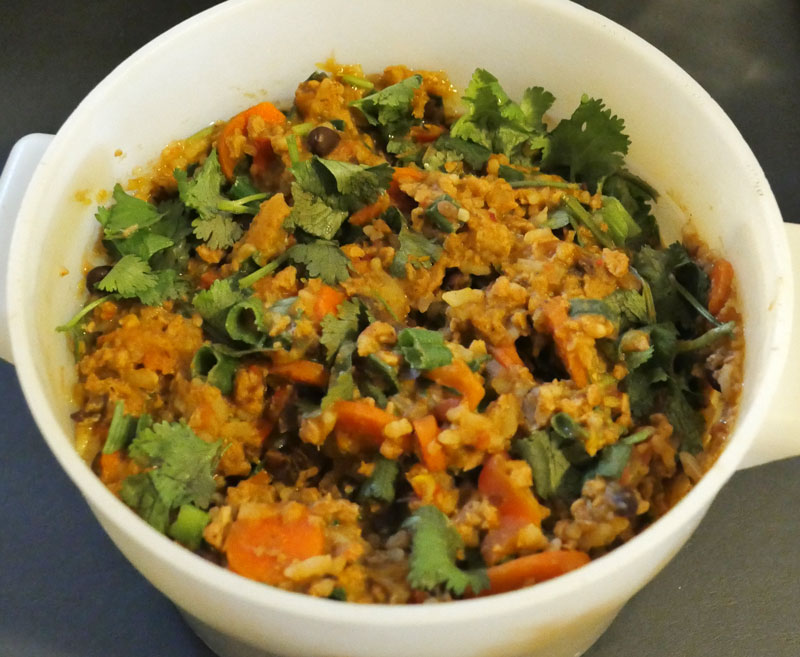 Drew: Yuca Fries
Drew made us baked yuca fries. He first boiled the yuca to get rid of some of the toughness, then cut them into strips for baking. He served them with delicious ketchup.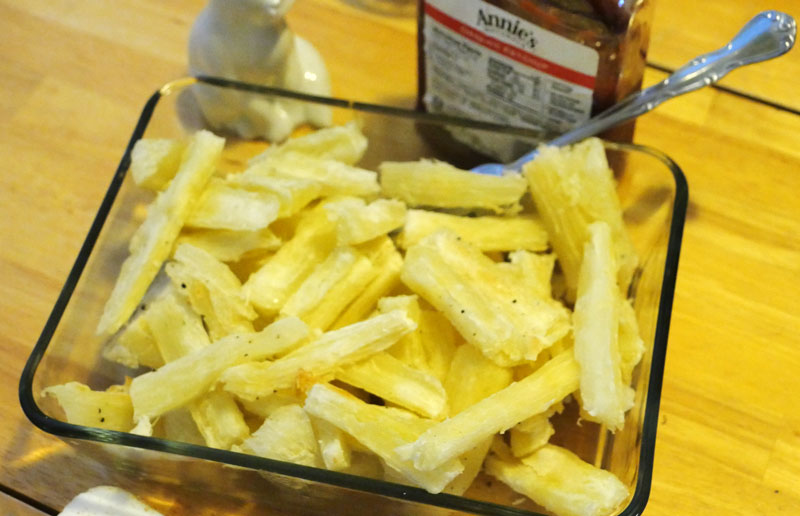 Shannon: Plantains
Shannon tossed plantain slices in brown sugar and fried them in vegetable oil and vegan butter based on this Tajaditas Dulces de Platano recipe.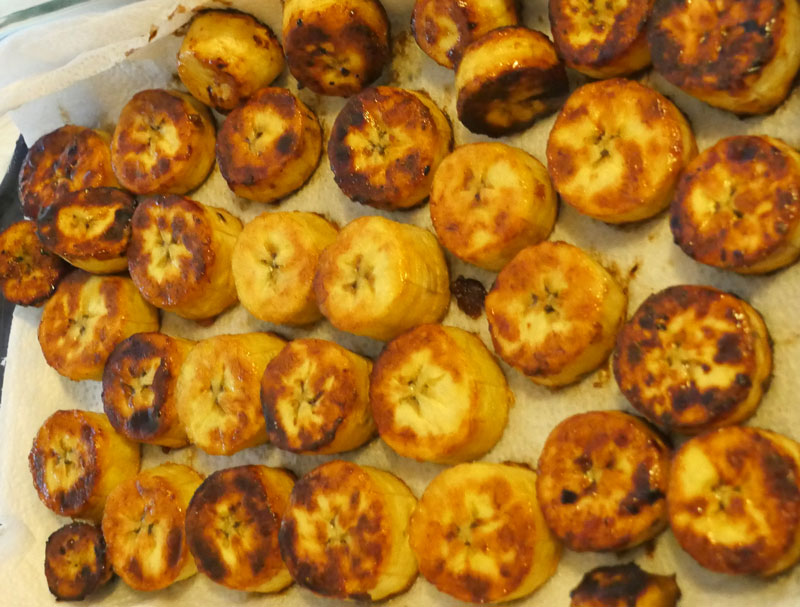 Lilly: Mediterranean Appetizers
Lilly made hummus seasoned with olive oil, garlic powder, lemon juice, and salt with olive slice garnish.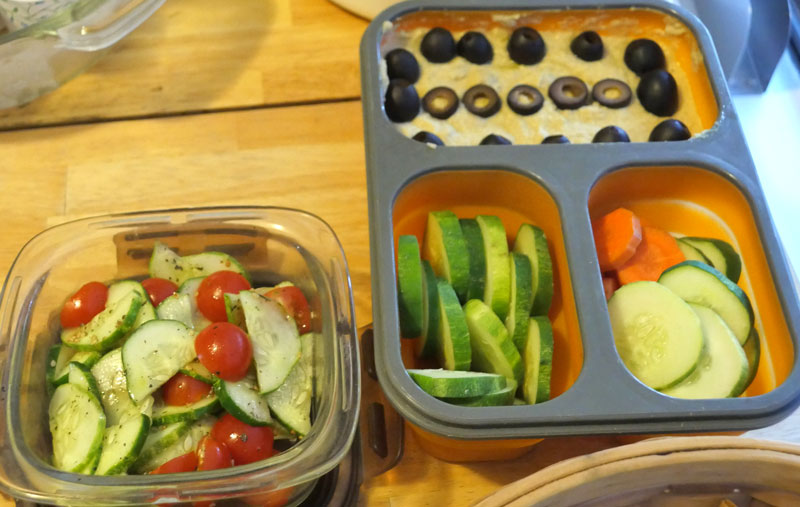 She made pita chips by slicing and seasoning white and wheat pita breads with olive oil and salt before baking them to crispness. She used sustainable olive oil imported from Greece. She also prepared a mint salad with cucumbers and cherry tomatoes that she sprinkled with sesame seeds. She also brought us dolmas from a can. We take them however we can get them!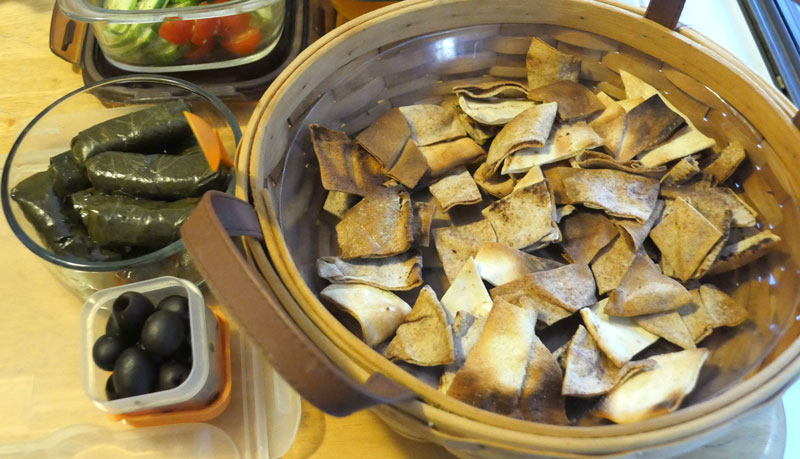 Macy was more social at this meeting then the last time she had us over, but here she is hiding.