April 15th, 2017 – Golden
Saturday, April 15th, 2017
VBC Meeting #50: Golden
Host of the Month: Caroline and Drew
Location: Denton, TX
For April we celebrated our fiftieth meeting with a golden theme as a nod to the concept of fifty year golden anniversaries.
This is what we made: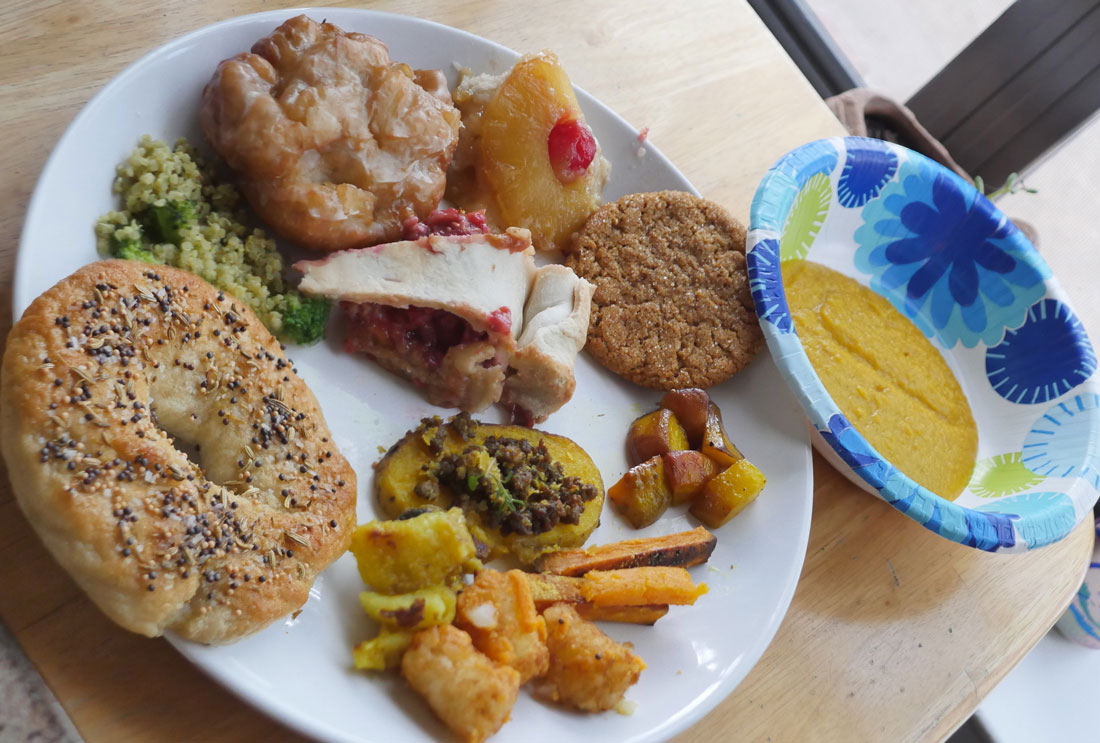 Lianna and Dylan: Butternut Wild Garlic Soup
The morning of our golden get together, Dylan and Lianna harvested some wild garlic while hiking along Clear Creek in Denton. They have recently been investigating foraging for edible plants via eattheweeds.com. They used their wild garlic in a creamy butternut soup of Lianna's design that also included sweet potato, carrot, onion, vegetable broth, safflower oil, and black pepper.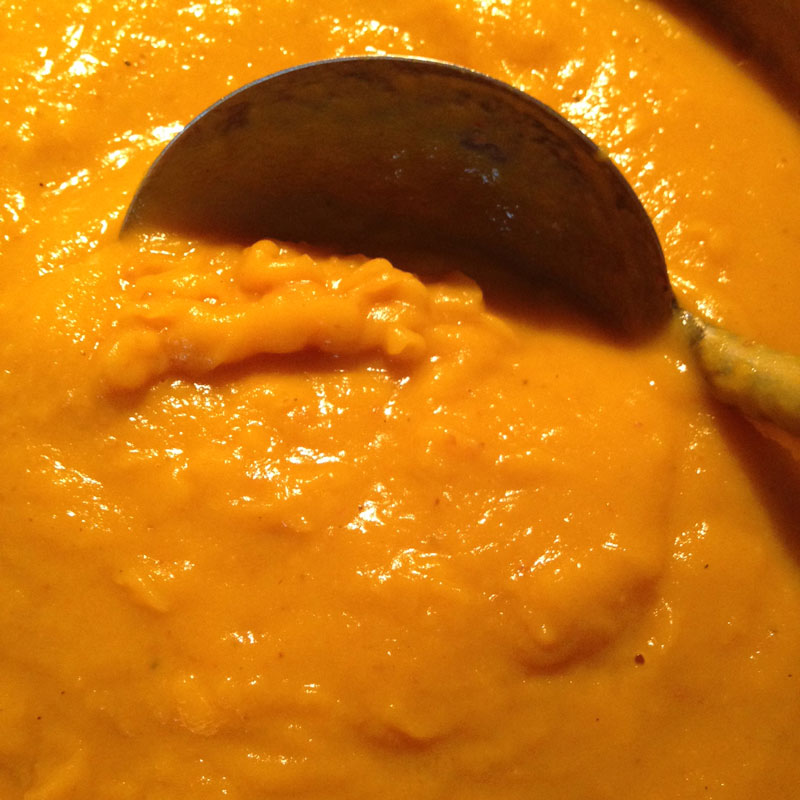 Hope: Golden Delicious Raspberry Apple Pie
For her first Vegan Bake Club meeting, Hope opted to make a pie for the second time in her life. She stayed true to theme by making her pie with golden delicious apples and a golden double crust. When she ran out of apples she craftily supplemented the pie with raspberries.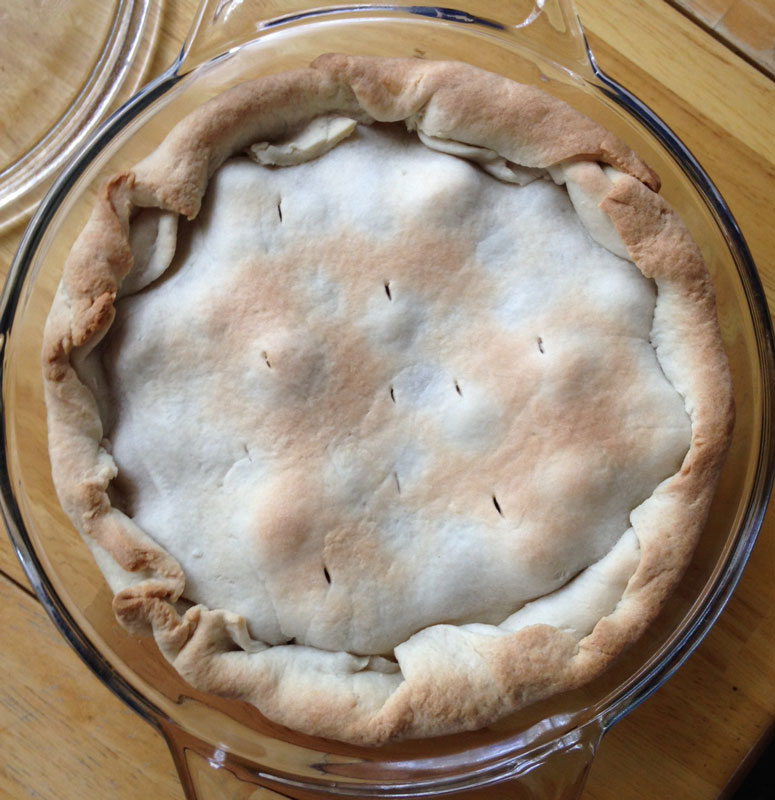 Shannon: Pineapple Upside Down Cake; Cheesy Tater Tots
Fond of pineapple upside down cake, Shannon acquired a recipe for such a cake from her mom. The recipe was for a single layer round cake, so her mom suggested increasing the recipe by half for a sheet cake. After making it, Shannon thought it would have been better to have doubled the batter to better fill the 13x9x2 pan, as it was mildly lacking in height. However, this only made for a more moist and delicious product in its ratio of pineapple to cake. Her placement of pineapple rings with maraschino cherry centers was beautiful.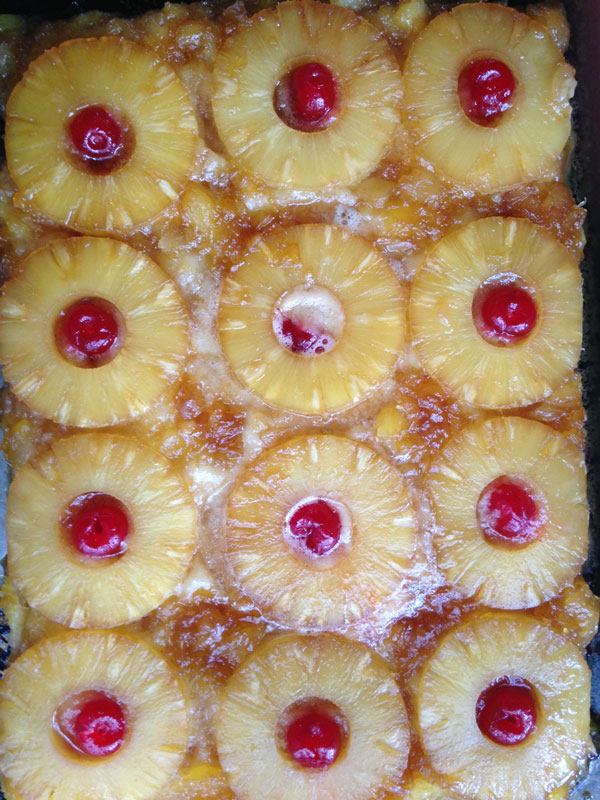 In preparation for the meeting, Shannon found that in addition to pineapple and cake, she was craving cheesy tater tots. Thus, she acquired some frozen tots and baked them, sprinkling them with Follow Your Heart cheddar style shreds in the last five minutes of cooking. Shannon was a hero for the day!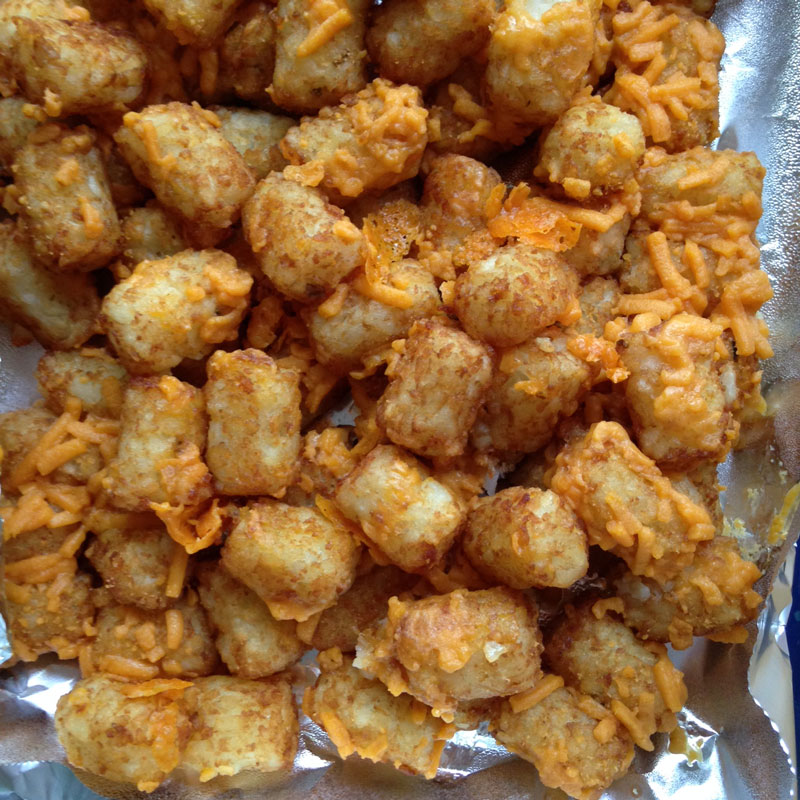 Slynn: Chai Spice Snickerdoodles
Slynn baked chai spice snickerdoodle cookies with plans to make a golden cookie via turmeric. The cookies were spiced with cinnamon, cardamom, cloves, black pepper, and turmeric.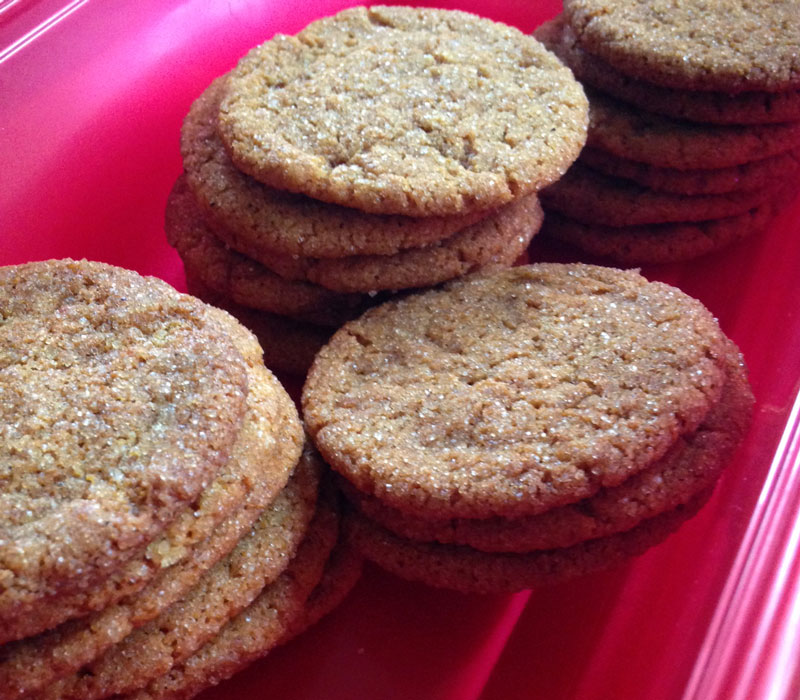 She also brought some vegan Chimes Toasted Coconut Chewy Toffees to share with us!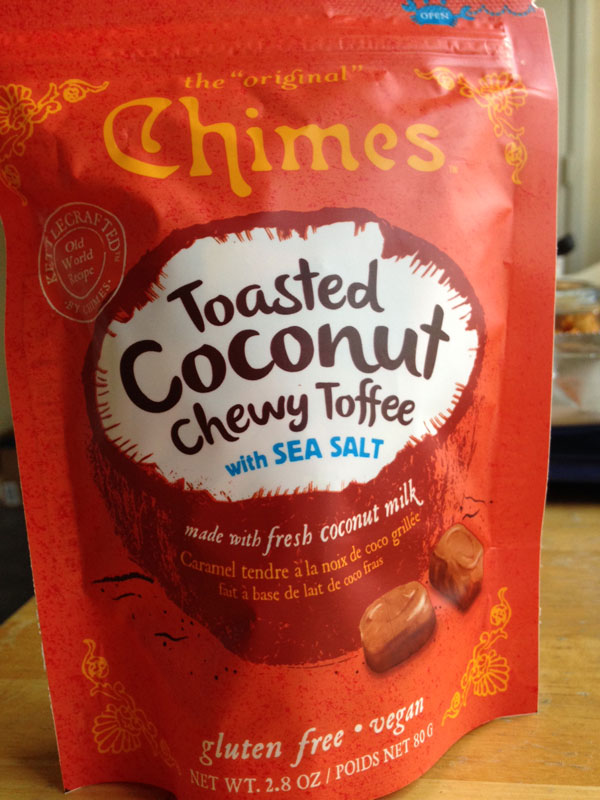 Billy: Everything Bagels
Billy tries to eat bagels most days of the week but had never made them himself. After recently hearing about bagel making (in regard to where to get New York Style bagels in DFW) on the North Texas public radio station KERA's program Anything You Ever Wanted to Know, he became interested in various bagel making traditions. He learned that many bagel places around here steam their bagels before or during baking as opposed to boiling them. He also learned that the hardness of water affects the finished product. Billy opted to boil his bagels, then brushed them with a blend of canola oil, olive oil, and flax seed meal. This allowed him to top them with a seasoning blend of fennel, mustard seed, poppy seed, garlic powder, onion powder, and coarse salt prior to baking.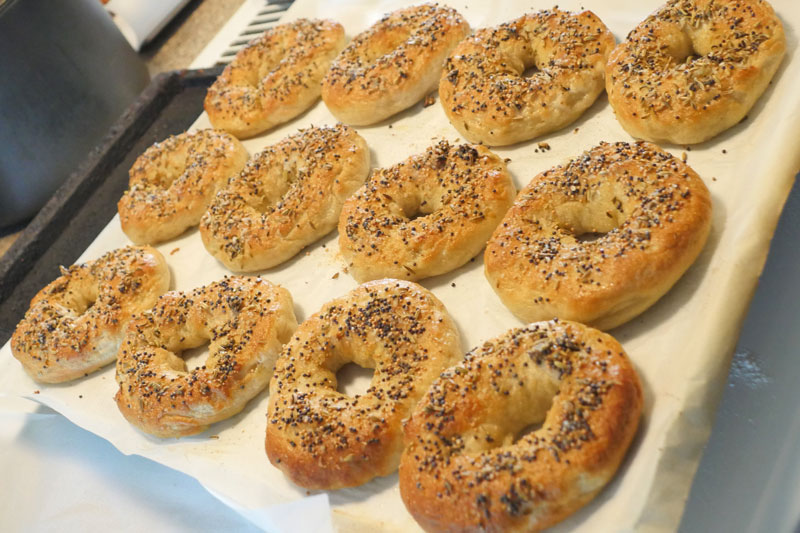 Darin: Pesto Quinoa
Darin made a pesto of basil, spinach, cashews, and nutritional yeast. He used this to dress a dish of quinoa and broccoli for a healthier-than-the-rest-of-our-golden-foods option.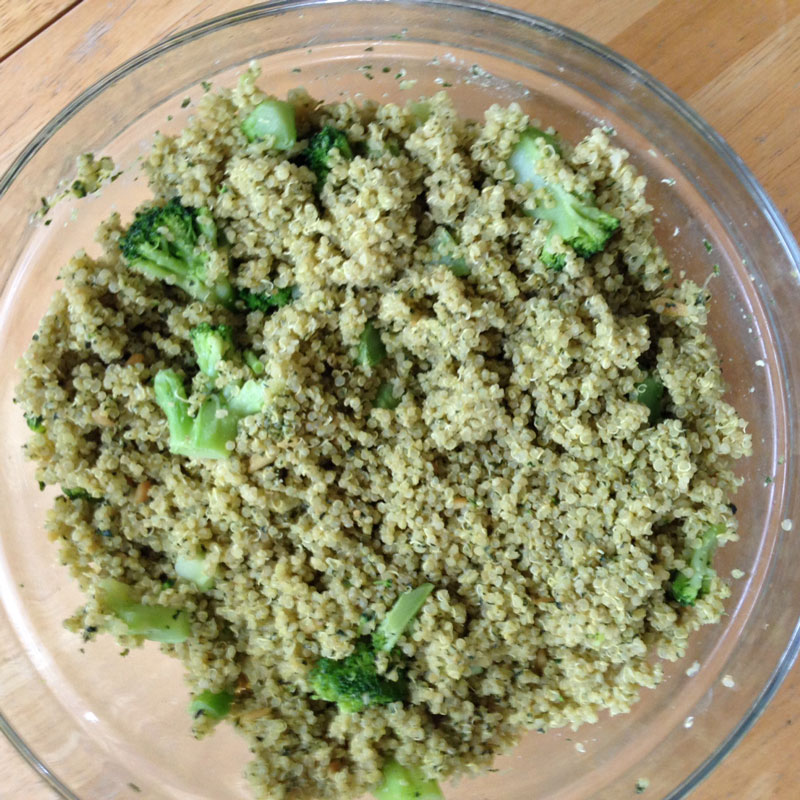 Lilly: Two Types of Potatoes
For her first potato dish, Lilly boiled and sliced small potatoes. She flavored them with Earth Balance butter and nutritional yeast. She topped the slices with her favorite plant-based "meat" crumble by Beyond Meat (because it is not chewy) and fresh sprigs of thyme from her herb garden.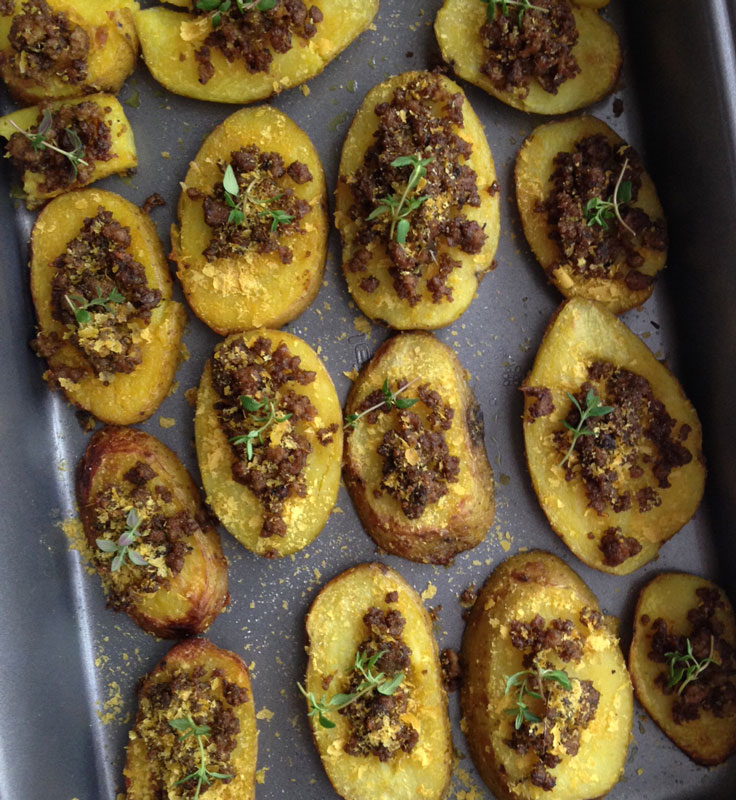 For her second set of potatoes, Lilly sautéed chopped potatoes in oil, seasoning them with garlic, turmeric, salt and pepper.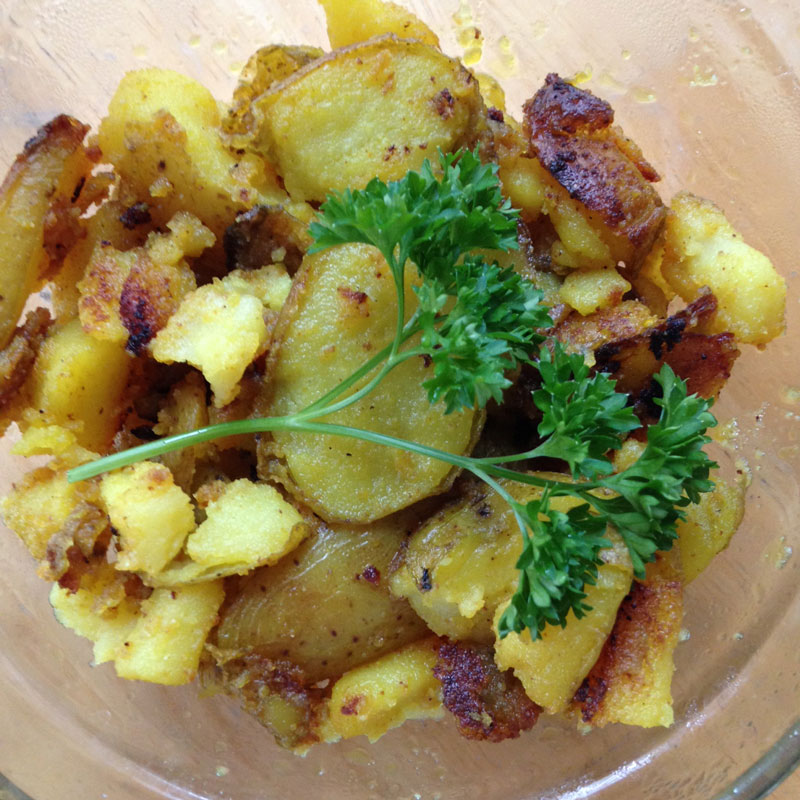 Caroline: Sweet Potato Fries
Caroline used to get mixed up on russet potatoes and sweet potatoes. For some time she had been using a recipe for russet potato oven fries to make sweet potato fries without realizing it. She made these sweet potato fries with coconut oil, turmeric, and salt. After baking them, she sprinkled the fries with nutritional yeast.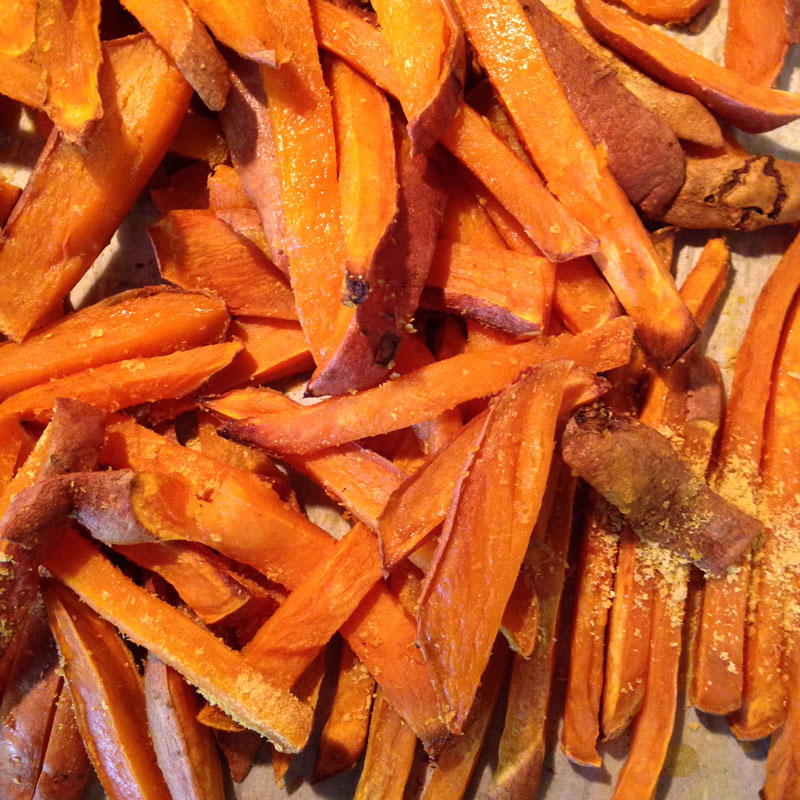 Drew: Golden Beets
Drew went to Kroger last minute for some golden beets. He seasoned them with olive oil, salt, and pepper, then roasted them in the oven at 400°F for 20 minutes.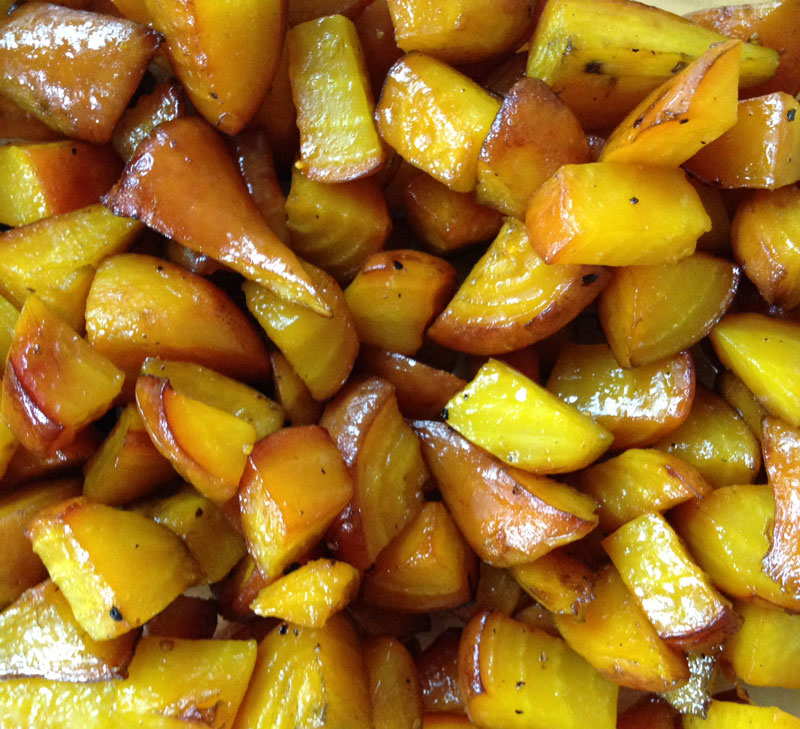 Lauren: Golden Delicious Apple Fritter Donuts
Though Lauren has made donuts for multiple previous meetings, she had never made the apple fritter sort. For these donuts, she used the Maple Glazed Donut recipe for the yeast dough, adding a teaspoon of vanilla for extra flavor. After consulting a couple of recipes on how to make apple fritter donuts, she chopped up three golden delicious apples and cooked them in a frying pan with three tablespoons Earth Balance butter, 1/4 cup sugar, and two teaspoons cinnamon. Upon folding the cooked apples into the dough she found the amount of apple was too much for the dough to handle, causing the need to remove approximately one apple's worth of chunks. This was not so difficult since the apples were spewing out of the dough with every turn anyway. After reducing the quantity of apples and adding extra flour to absorb the extra moisture the apples had added, the dough was patted flat, sliced with a pizza cutter into approximately 1×1″ squares, and piled into little mounds that held together for deep frying at 350°F.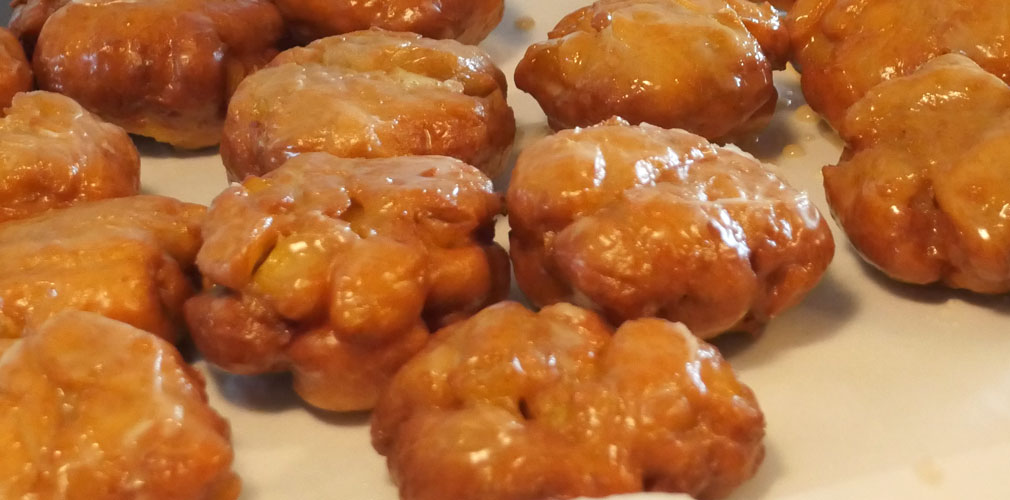 Here we are again, eating together for the fiftieth month in a row.