March 12th, 2017 – Kick Out the Jams
Sunday, March 12th, 2017
VBC Meeting #49: Kick Out the Jams
Host of the Month: John
Location: Denton, TX
John's inspiration for the Kick Out the Jams theme came from the name of rock band MC5's debut album and its title track Kick Out the Jams released in 1969. Also, this theme was a good excuse for John to put whole fruits (especially the peel) into his food preparations.
This is what we made: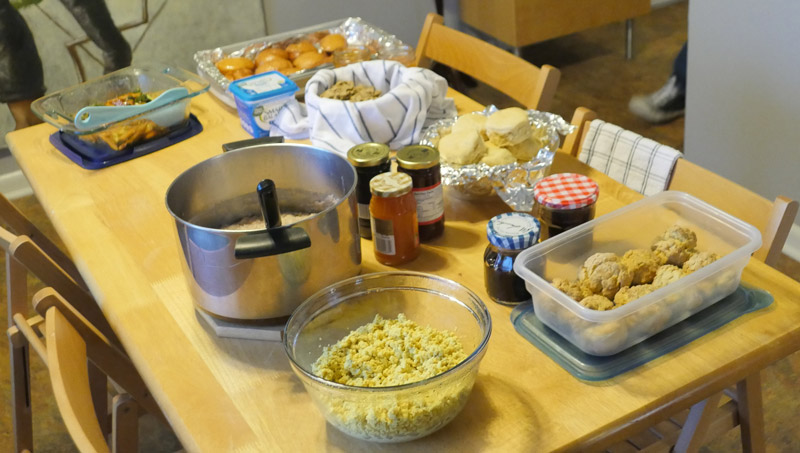 Shannon: Vegan KFC-Style Biscuits
Shannon veganized a KFC copycat recipe using basic biscuit ingredients like flour, baking soda, baking powder, sugar, shortening, vegan butter, and a vinegar/soy milk buttermilk substitute. She brushed the biscuits with soy milk before baking and brushed them with vegan butter after.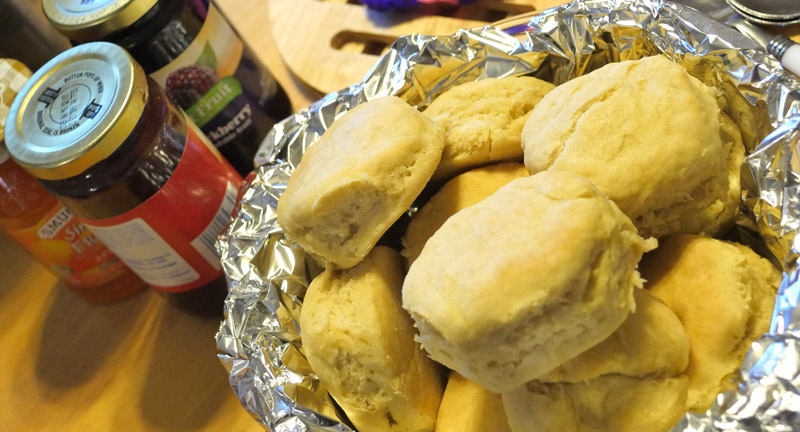 Billy: Blackberry Jelly Donuts
Billy used a raised donut recipe from our own Vegan Bake Club website to make the donut part of these donuts. He looked up a Krispy Kreme style glaze recipe to make a big bowl of glaze for dipping the donuts in post frying. He filled the donuts with store-bought blackberry jelly.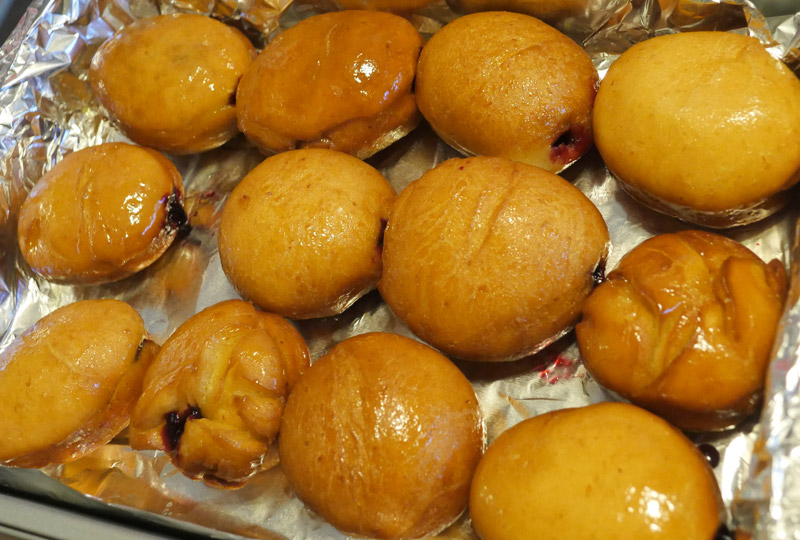 Lauren: Apricot Soy Glazed Tofu
Lauren cooked triangle tofu slices on the griddle then soaked them in a marinade of brown rice syrup, apricot preserves, soy sauce, rice vinegar, fresh grated ginger, and red pepper flakes. She stir fried broccoli then added the tofu with marinade to the pan, thickened the sauce with a corn starch water mixture, and added green onions at the end to complete the dish.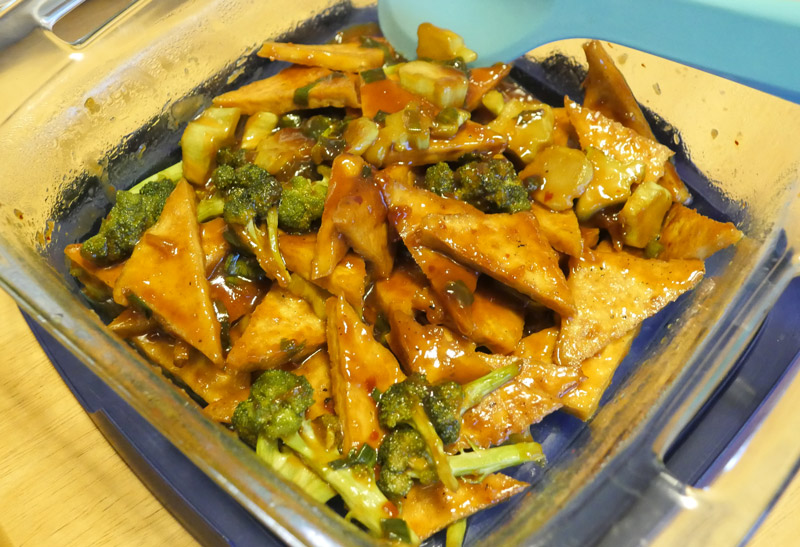 Drew: Peanut Butter and Jelly Grits
For Drew's first attempt at making grits, he whisked together half water and half vanilla almond milk with creamy peanut butter, and cinnamon to cook the grits in. He added strawberry jam once the grits finished cooking. Though he didn't originally see it listed in the recipe, he later realized it called for some sort of cannabis coconut oil blend. He didn't use that though. Hopefully he doesn't think that is a normal grits ingredient. I have never made grits–maybe it is normal.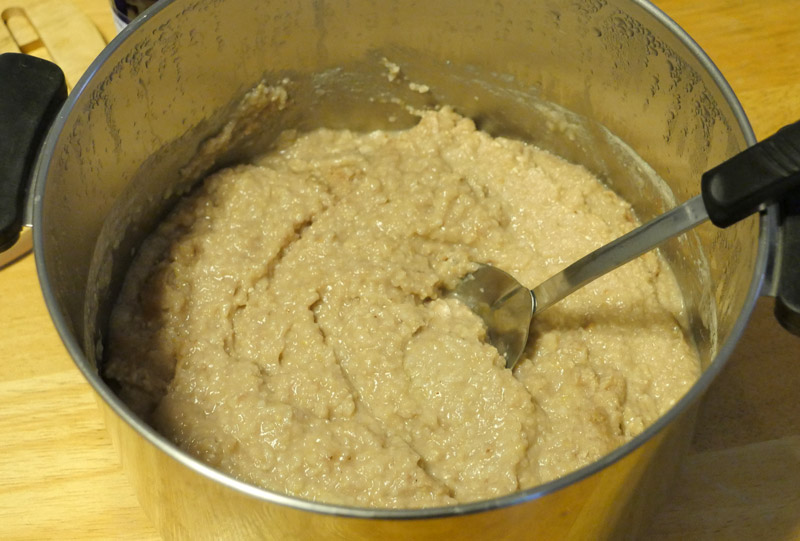 John: Lemon Orange Marmalade; Clementine Orange Marmalade; Oat Flour Biscuits
John made his lemon orange marmalade with two whole navel oranges and two whole lemons (minus the seeds) sliced into small pieces and cooked in 2 cups of water for about an hour. Then he added 1 1/2 cups of sugar and cooked it for approximately 45 minutes more.
For his second marmalade, he used three clementines cooked in 1 1/2 cups of water for about an hour. He added 3/4 cup sugar and this time cooked the jam for only 15ish minutes more because he thought the first batch was cooked too long, making it extra thick.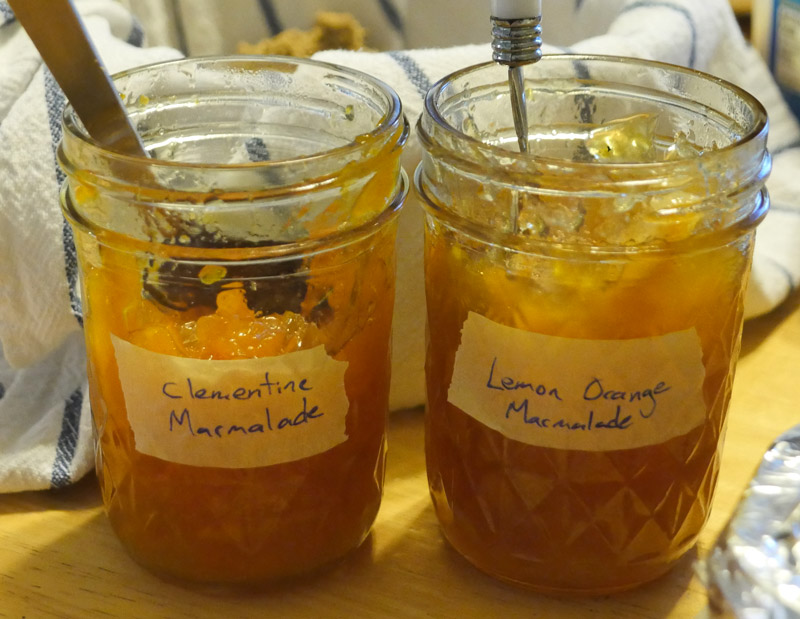 John was out of regular flour, so he looked up an oat flour biscuit recipe that included oat flour, baking powder, and salt. He veganized the other ingredients by using Ener-g Egg Replacer, coconut milk, and Earth Balance butter.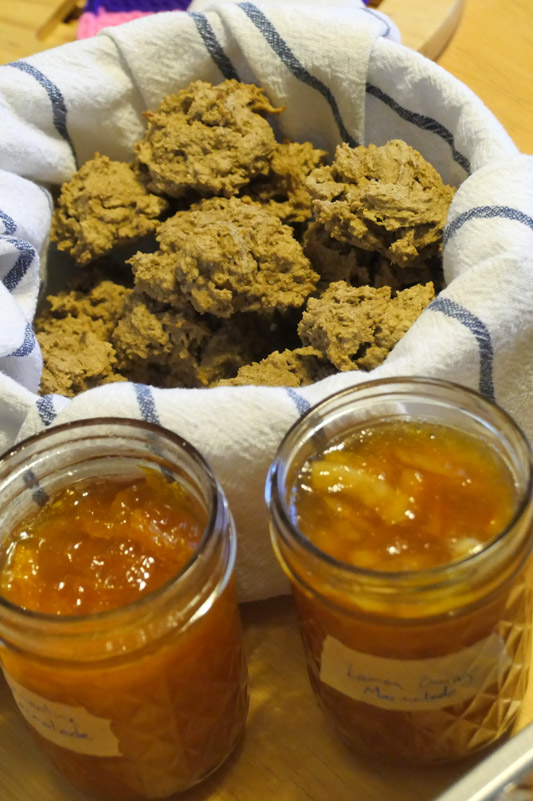 Slynn: Blueberry Lemon Chia Seed Jam; Cherry Berry Jam; Drop Biscuits
Slynn made chia seed based jams, in which the chia seeds serve as the thickening agent, allowing a relatively short cooking time of about 20 minutes. Her first jam was made with blueberries, lemon juice, lemon peel (that later gets removed), and only 3 tablespoons of sugar. The second jam was made with a frozen fruit blend of cherries, blackberries, blueberries, strawberries, and lemon juice. In this version, she used less chia seeds and processed the jam with a blender for a smoother texture.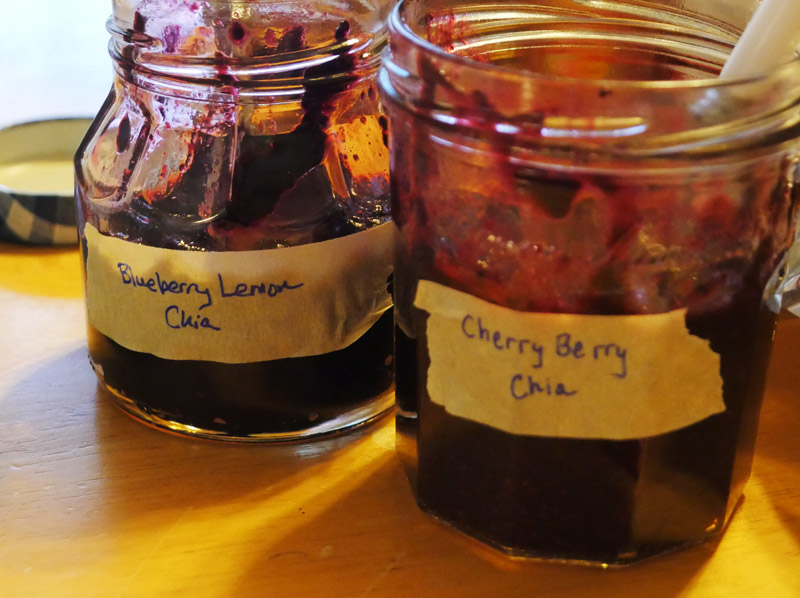 To serve with the jam, she baked drop biscuits made from The 100 Best Vegan Baking Recipes.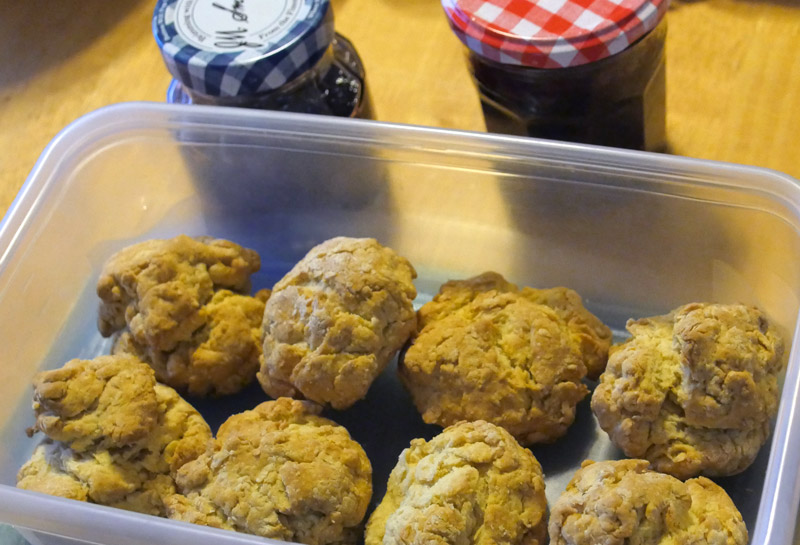 Caroline: Tofu Scramble
Perhaps via a psychic ability, Caroline knew there would be lots of biscuits at this Vegan Bake Club meeting, so she made a tofu scramble as accompaniment. She made her scramble with one firm tofu block and one extra firm tofu block. She seasoned it with food processed onions, garlic (fresh and powdered), cumin, turmeric, pepper, and salt.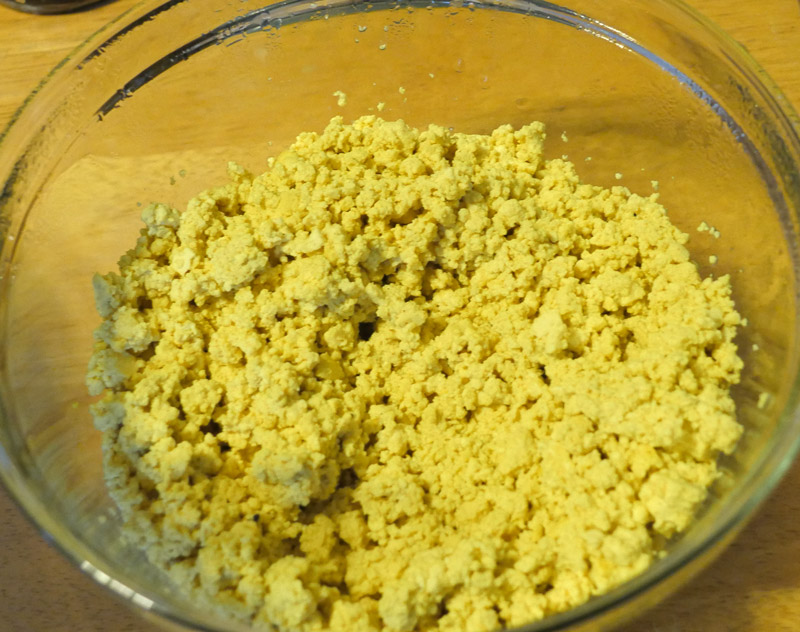 Here you go: