Many Days, April 2020
VBC Meeting #86: New Normal
Host of the Month: The Internet
Location: The Internet
Because Stay At Home orders continued into April due to ongoing fear of COVID-19, we stayed virtual and asynchronous for the April Vegan Bake Club "Meeting". The theme: New Normal. As with last month, words are generally those of the submitter.
This is what we made:
Shannon: Banana Bread Muffins
I adapted this [Best Banana Bread] recipe using Ener-G Egg Replacer and Earth Balance butter sticks. To me this is the new normal in three ways:
1. Apparently we are all supposed to make bread now. And I feel like banana bread is very popular because people didn't realize that you can't really hoard fresh produce, so they are having to find ways to use their near-rotten bananas (I now know why I couldn't find bananas for so long!). Also, it's easier than yeast bread, which is great if you haven't mastered yeast bread (like me).
2. It's the new normal to work with what you've got and adapt. For instance, when you don't have enough bananas to make a full recipe, you make half a recipe and put them in muffin tins since you don't have a tiny loaf pan.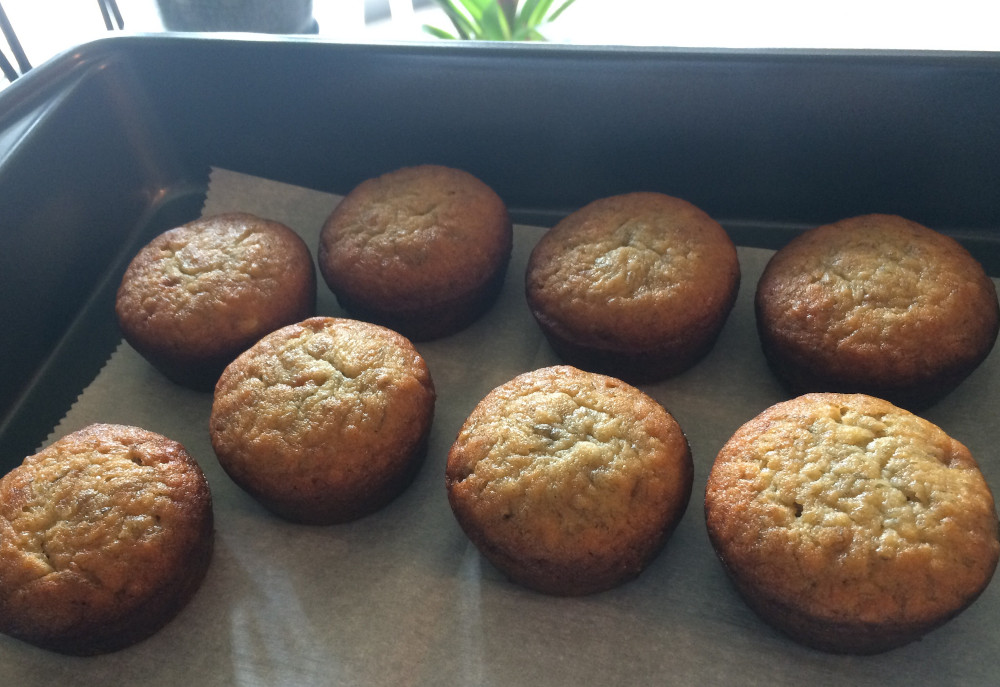 3. I am no longer required to share my monthly bakes with others. So when you mess up (like accidentally doubling the amount of baking soda in them because you forgot you were half-ing the recipe when you measured it out, but they still didn't rise like you thought they would because there still might have been too much banana in it because the amount of banana might be too little for a full recipe but too much for a half recipe, or you didn't bake them long enough even though the pokey-thing came out clean, so they are way more moist than you had intended), nobody knows but you! And you get to eat them all yourself. And it doesn't matter that your half recipe only made 9 servings, because you're not sharing!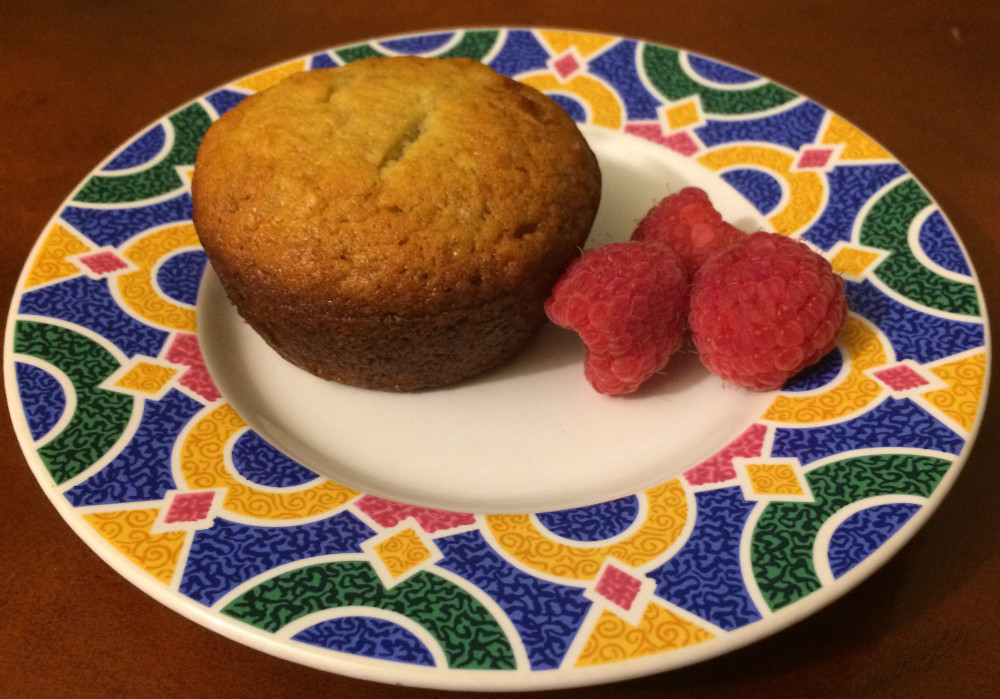 Lauren: In Response to Banana Bread
RottenVery ripe bananas are a normal for us too, though for longer than the new normal–the old normal. I am eating banana bread right now! Also, if there are too many ripe bananas for just one loaf of banana bread, you can make an extra loaf to give to your neighbor assuming you prepare the bread with a face mask, gloves, and hazmat suit and hand over the fence to them with some sort of long pole with bread passing attachment. Or, if that seems like too much work, make one loaf and chop and freeze the extra banana for easy banana shakes or smoothies. If you have vegan yogurt and some sort of vegan milk to add with the banana, it is a delicious rotten banana treat on a hot day. Or you could add juice or ice cream in place of milk or yogurt–or whatever you have on hand in the new normal.
Regarding the banana bread I am eating, I use The 100 Best Vegan Baking Recipes banana bread recipe (that is also somehow titled the Best Banana Bread–maybe this is a challenge?) as a base, which has less sugar than the food.com recipe. I also like that it uses oil instead of vegan butter stick, which can be harder to access in the new normal. Plus it doesn't use vegan egg replacer, which you also might not have in the new normal. Then I add cinnamon, nutmeg, and vanilla for flavor. To make it seem healthier and less like eating cake for breakfast, I use whole wheat flour (if I can get it in the new normal–had to cut it with all-purpose flour this time due to supply problems) and add chopped walnuts to the batter and ground flaxseed sprinkled on top. This is really a discussion in response with Shannon, not me doing my own post, but this is the recipe I do.
Caroline: In Response to Responses
I don't mind reading a discussion post in response to someone else's discussion post! It's like running into someone and chit chatting like the old normal. Except in the new normal you can't say, "aww I haven't seen you in a long time, let's hang out."
=……….(
Haley: Cinnamon Rolls; Homemade Yogurt
May I also add that BB tends to freeze very well? Ok for my entries, I have made cinnamon rolls.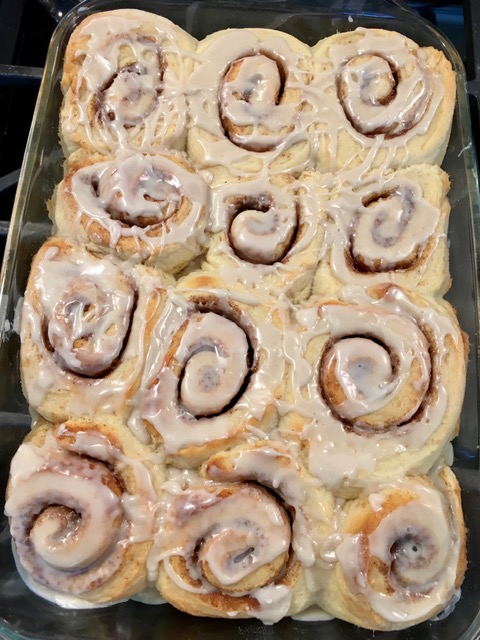 It is unlikely that I will ever make them again because they are too good but have essentially zero health benefits. Please do not make these unless you plan to share most of them. Also, who decided that this gooey delicious dessert was appropriate for breakfast? Anyway, the recipe is pretty simple, but because it is a yeast recipe, it is also rather time consuming. If I do make it again, I'll likely use less sugar. I used this recipe from the illustrious Chef Chloe.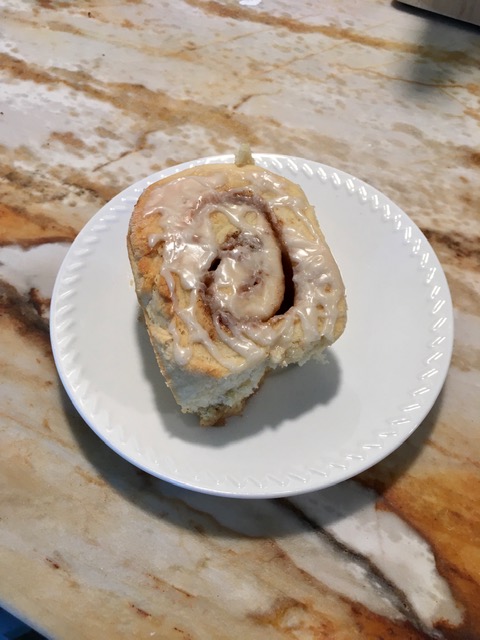 I also have been making homemade yogurt, and have tried different 'milks' and yogurt starters. So far, my favorite is a soymilk/soyogurt blend. This week I did an almond coconut milk with Follow Your Heart coconut yogurt starter. I added some agar agar because homemade yogurt tends to be runny. Every few years I think that it's a good idea to use agar agar as a thickener. Every time I am wrong. Turns out I prefer the thinner yogurts to the jelly consistency that you get with agar. Nevertheless, it still makes a more suitable breakfast than the sweet, delectable cinnamon rolls. I have topped it with a frozen strawberry and chia seed purée, pumpkin seeds, and walnuts. If anyone is interested, homemade yogurt is an easy way to get probiotics and is far less expensive than buying yogurt. I bought a yogurt maker for around $22 online. Alternately, I hear you can make it by placing the mix in the oven with the oven light on to keep it just warm enough. The recipe I used this week was: heat 2.5c almond-coconut milk by Almond Breeze to 185° then let cool to 105° (I added 1/2 tsp agar agar – do not recommend). Whisk in 1/2 c Follow Your Heart yogurt and then place in the yogurt maker to keep slightly warm for 11 hrs. Then you're done. I'll be trying this same recipe without the agar this week.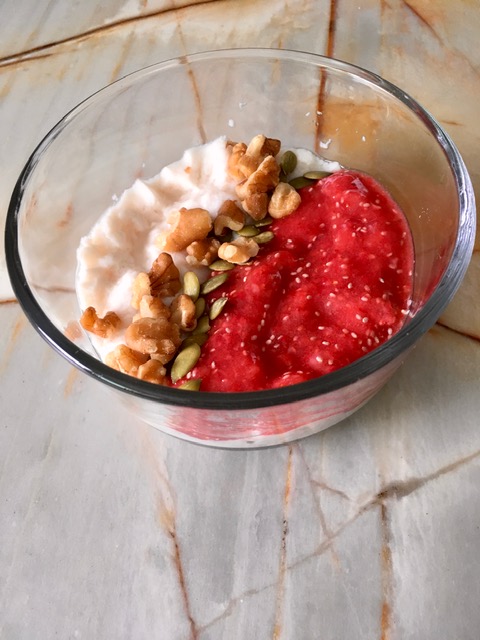 Finally, my favorite cat gif on the internet: https://www.youtube.com/watch?v=gxhBk_B3MWo.
Lauren: In Response to Cinnamon Rolls and Yogurt
In response to Haley's cinnamon rolls, I like to make and eat cinnamon rolls (not as often as banana bread since it is much faster and easier). I try to make a cinnamon roll that is a little less bad for you than Chloe's. You can substitute in some whole wheat flour, which I do in a lot of baked goods now since everyone is always putting down the white flour (with reason). Also when I make cinnamon rolls, yeah, like Haley said, less sugar than what Chef Chloe says. I have marked through 1/2 cup sugar in the cookbook Are You Sure That's Vegan? Cinnamon Buns recipe and have written in its place 3 TBS-1/4 cup. When there is going to be a sugary filling and glaze, you don't need so much sugar in the dough. Also, where Chloe uses 8 TBS vegan butter (aka 1/2 cup), the Cinnamon Buns recipe uses 1/3 cup margarine and 1/2 cup unsweetened apple sauce, so that can also be less bad. For the filling I have been putting into cinnamon rolls, I make use of rotten ripe banana, mixing 1/2 cup brown sugar into one mashed banana and 1 1/2 tablespoons of cinnamon. Brush the cinnamon roll dough with about 1 TBS melted vegan butter than spread on the filling. The banana makes a nice spreadable sweet filling without as much hard core sugar and butter as Chloe's recipe. Anyway, that is some suggestion to try to make cinnamon rolls that are a bit less bad for you and still tasty.
I was very interested in reading about the yogurt making, Haley. At some point maybe a few years ago Billy decided to experiment with yogurt making. I am not sure if he ever produced much viable product. He didn't have a yogurt maker though. Regarding your favorite yogurt being soy-based, my favorite not-homemade yogurt is Silk's Plain soy yogurt. I can eat that stuff straight or with many things. Other yogurts I have tried that are not soy seem to have a hollowness to them. I don't know why :(. I have some of the Silk yogurt in the fridge and just looked to see in the ingredients that it looks like they use pectin to thicken it. Maybe you could try that instead of agar for a less runny product?
Neva: Banana Raisin Breakfast Cookies
Neva made these banana-raisin oatmeal "cookies" with assistance from parents. She added the measured ingredients into the bowl, stirred, and used the cookie scoop to portion the cookies onto a baking tray. They feature (as you can see from the recipe linked): oatmeal, almond flour, shredded coconut, peanut butter, cinnamon, mashed banana, and raisins.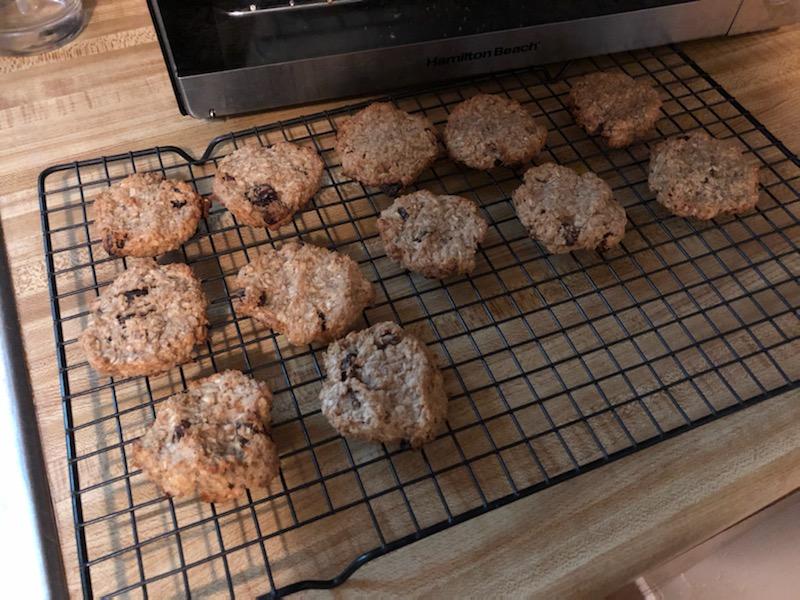 John mentioned in a previous email that cookies with less sugar might not be worth it, but I suppose with this type of recipe they can be eaten after every meal when requested, and parents don't have to feel guilty about obliging.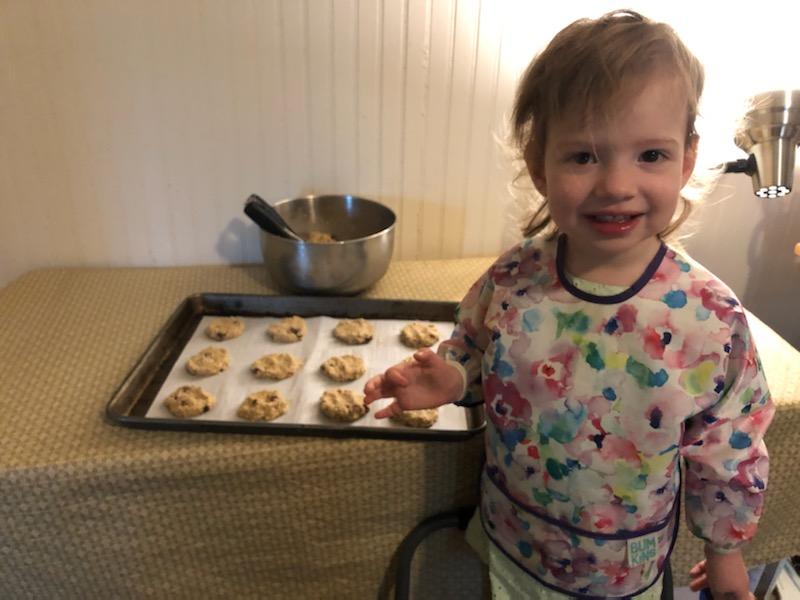 Caroline and Drew: Potatoes à la Drew
Hooray for Neva's cookies!! She looks so proud! I bet her cookies are delicious!
Potatoes! A staple for centuries. In this new normal we still want to eat lots of potatoes bc potatoes rule. Drew made a potato thing and I put a Just Egg egg on top. Later with the leftovers I mixed the Just Egg into the potato magic to fry the "egg" while refrying the potato mix bc fried food yummm.
To make the potatoe-potáto goodness, Drew chopped the potatoes into itty bitty cubes and fried them over medium high heat with olive oil, chopped onion, garlic, carrots, broccoli, celery, and Nature's Seasonings. The choice to use Nature's Seasonings is because we have a container of it sitting in our spice cabinet that we don't use very often and the new normal is to forgo the grocery store if at all possible and use what you've got at home. Also, the reason we have Nature's Seasonings is because it was a gift from Drew's mom since it is her favorite way to season things, especially her spicy guacamole, which is so good!!! Writing this is making me crave it.
Here is potatoes-à-la-Drew with Just Egg on top. Just Egg gives you a scrambled egg alternative. It's a bit bland, so I dressed it up with avocado and pink Himalayan sea salt. And of course it went well with the potato goodness!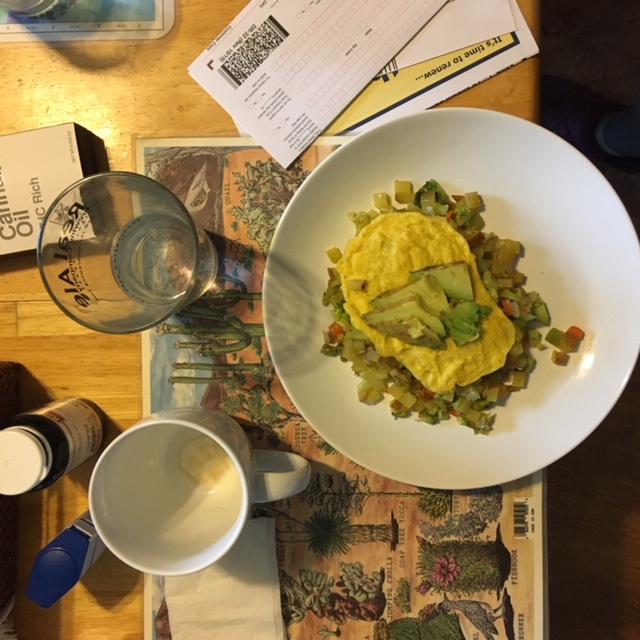 Lauren: In Response to Just Egg
I still haven't used the Just Egg. or Vegg or that sort of thing. What did you do to make that Just Egg for on top of the potatoes, Caroline? Do you just squirt the bottle of jegg onto a hot frying pan and it turns into a solid mass for topping brunch?
Caroline: In Response to Response to Just Egg
Yes, it's in a bottle (kinda gross) and pours out–it has a wide-mouthed top or whatever (not squirt). So I just poured some out in a little frying pan greased with olive oil or Miyoko's butter, and it starts to fry up and you can mix it around a little but not too much so it makes that shape (from my photo), but you can mix it up a lot for more scrambled-ness. And flip it over to let it toast a little for toasty look (and taste!). Suuuuuuper easy. It kinda gives me a comfort food feel bc–not gonna lie–been craving eggs (cuz comfort/childhood food).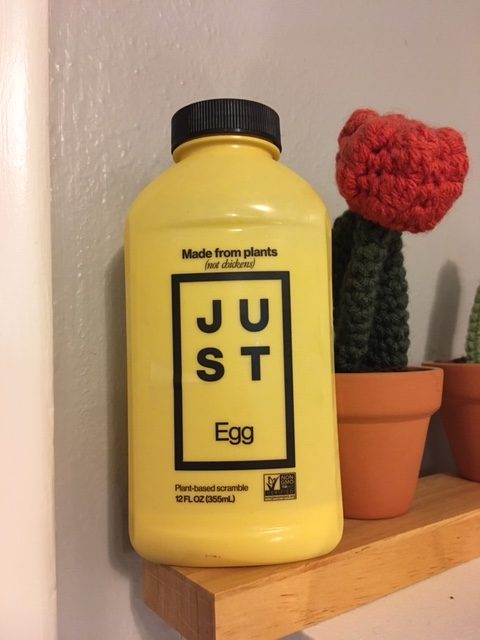 Here is Mr. Just Egg. I styled him with a crocheted (?) cactus that sits with 2 of it's siblings on our magnetic knife holder we haven't figured out a place for in John's former kitchen (we've been living in John's old house for a year now! 1 yr ago today(?) a bunch of you helped me and Drew lug our too much stuff to be Planet Shhh's newest residents! Thanks, again! Dang! That was a lot of work!)
Yeah, everyone's stuff looks amaze!
Caroline: Famous Orange Cake
I made the famous orange cake recipe with some adjustments. I thought I took a picture of it but I can't find it. Anyway, I substituted the orange juice for some lemon juice I squeezed and added water to to make the required amount. I used rice wine vinegar instead of vinegar (?). Question mark since the recipe is vague on what type of vinegar to use, so I'm assuming they mean regular ole white vinegar which we have, but it's with some cleaning supplies (cause you can clean with vinegar) and it didn't feel right to use the cleaning vinegar for eating. For the flour I used about 25% almond meal; the rest was all purpose baking flour. The cake was moist but almost a little greasy feeling? I don't know if that was because of the almond meal, lemon juice, or rice wine vinegar. Then, the icing didn't work out so well either… That recipe was followed w/o substitutions (I guess that recipe has a lot of different paths you can take so I should point out that I used Miyoko's butter and I halved the recipe since Drew doesn't like too much icing on cake and I wasn't sure I would have enough of all the ingredients back when the new normal of social-distancing was newer and there were more grocery shortages and unknowns in general). Then, I got too excited and iced the cake when it wasn't cooled off (insert Missy Elliott song) enough, so the Miyoko's butter separated and ran everywhere. But fuck it I threw some sprinkles on. It was was a sprinkly sweet buttery sheen but wasn't awful, honestly.
Lauren: Vegan White Chocolate Cranberry Macadamia Cookies; Saag Tofu
I decided to make cookies last week. Baking cookies hasn't been new normal for me, but baking a sweet for dessert when the previous sweet runs out has been. At least they last a week or so! Haley! I eat zero health benefits baked goods all the time. I'm sorry not sorry! Did I use that correctly? Oh well, if I am going to have no life but in the box of my home and nearby land or if I am going to die of Covid-19 I might as well enjoy the happiness of sweets whether for breakfast or dessert! I just baked a cake that was based on a lemon blueberry loaf, so I can and claim it has fruit with vitamin c and antioxidants. But I digress.
These cookies I baked seemed not a new normal until I realized that by making vegan white chocolate cranberry macadamia cookies I was repeating somewhat my last month's cranberry white chocolate donut things. The cookies that I adapted a recipe for had (don't read this Haley) flour, baking powder, baking soda, salt, cardamom, golden flaxseed + water for egg replacement, canola oil, sugar, brown sugar, vanilla, almond extract, macadamia nuts, white chocolate chips (Reverie), and dried cranberries.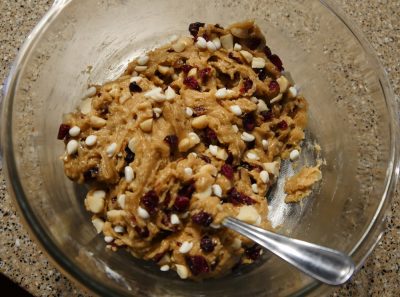 These cookies weren't as healthy as Neva's, but I am a grown up and do what I want! (As long as it complies with the Denton County Stay At Home order and President Trump's Coronavirus Guidelines for America).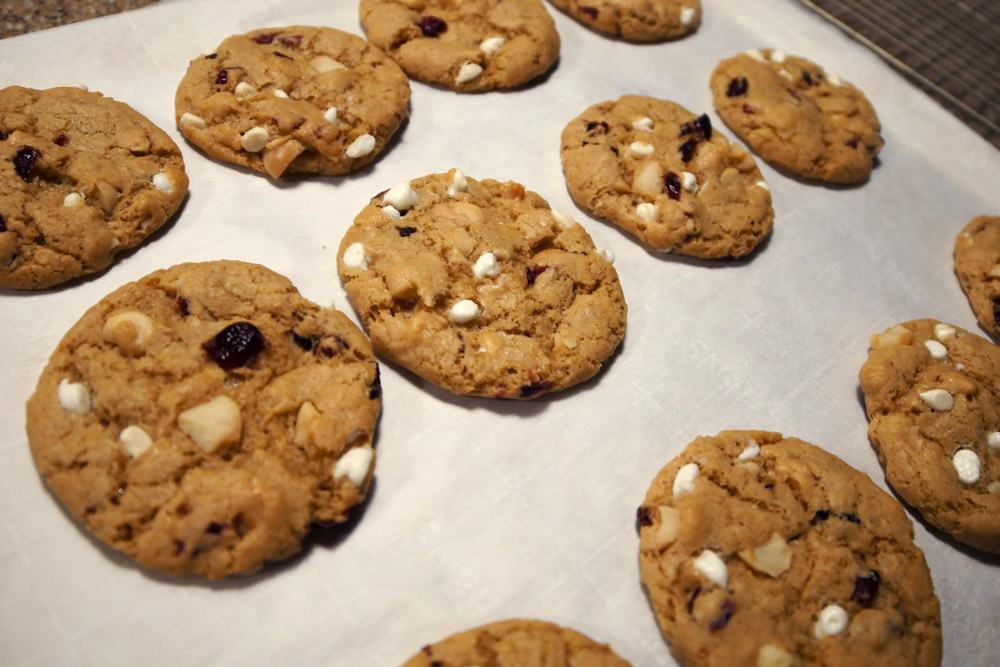 I also cook food that is not sweets. I have made Saag Tofu multiple times recently with Swiss chard and mustard purples and arugula from Billy's garden. It also had tofu, cashews, onion, garlic, ginger, canned diced tomatoes, vegan milk, coriander, cumin, cinnamon, cardamom, lemon juice, etc. and happened by roughly following a recipe from America's Test Kitchen Vegan For Everybody cookbook. Actually I have been making much more curry stuff with lots of veggies.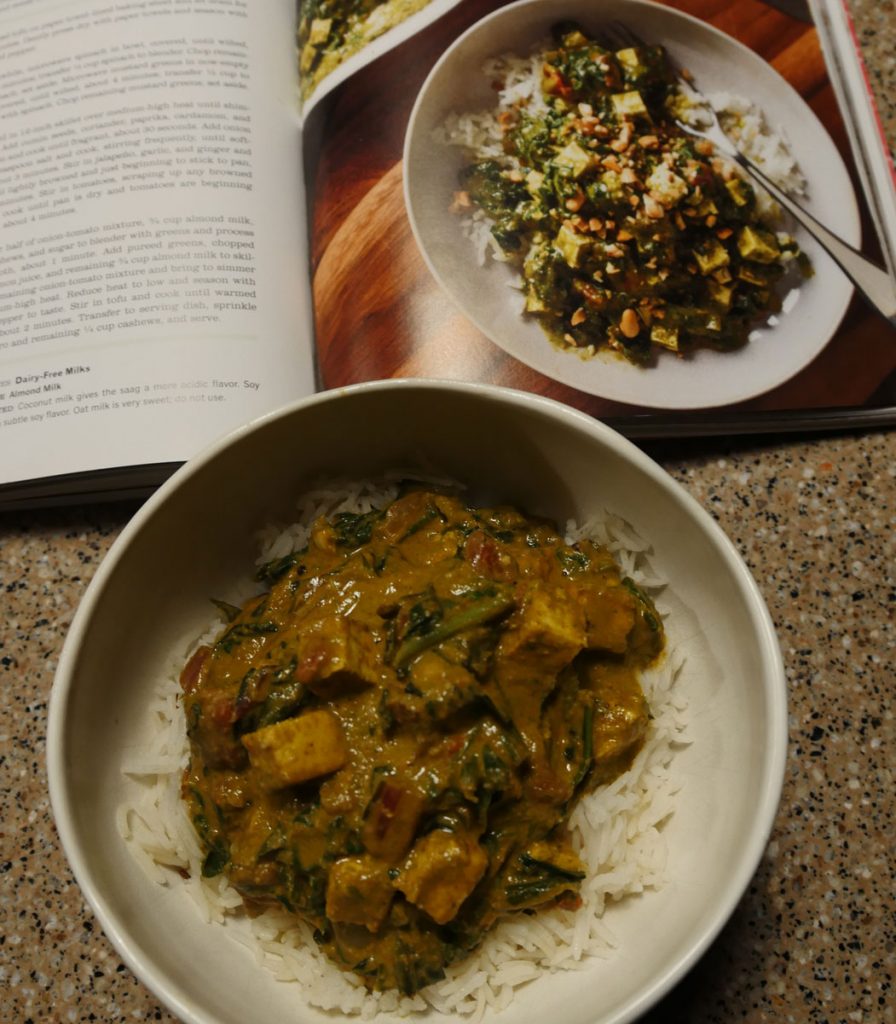 Slynn, Ramon, and Neva: Corn Tortillas
For my baking experiment this month I made corn tortillas, which, as it turns out, isn't very hard to do. But still, it was new to me! I found some old corn masa in our pantry. (This isn't the right kind for making tortillas, but we tried it anyway.) The "best by" date was long past but since the recipe only requires adding water to the flour, and it smelled and tasted okay, I decided to try anyway. There isn't really a recipe, but more of a technique to getting the dough to be the right consistency (not too wet or dry so it will hold together). I read about some fancy types of tortilla presses online, but we had a couple of similarly-sized wooden cutting boards which worked fine. Plastic wrap (in the "press") was easier to work with than parchment, which got too wet, and the tortillas stuck to it.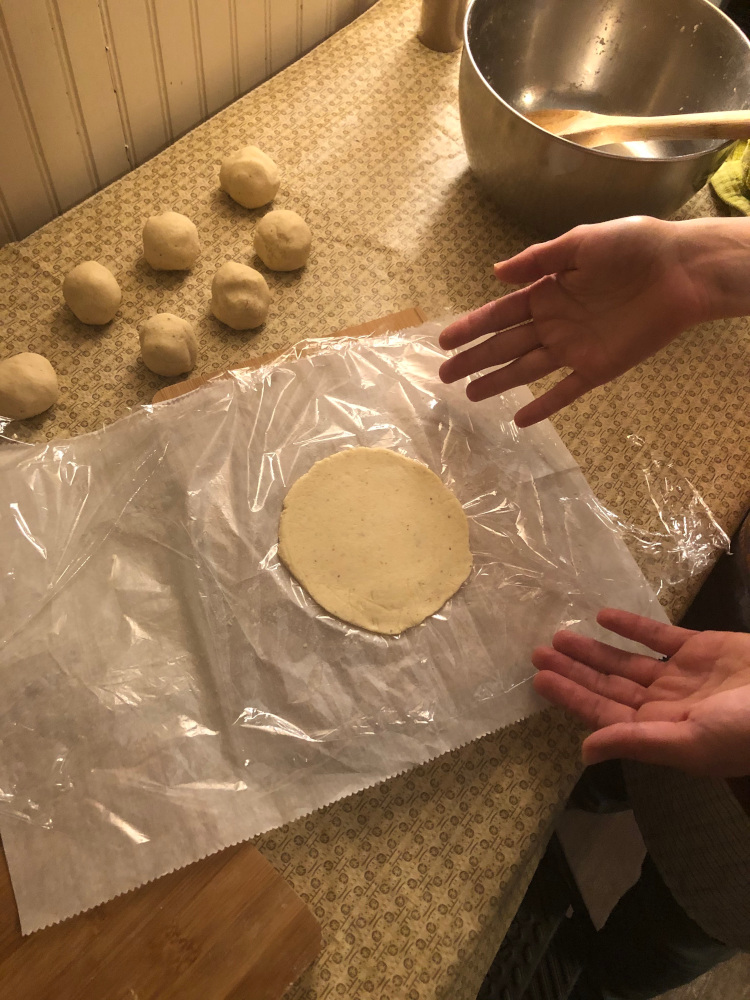 Neva also participated rolling the dough into balls and pressing out a few tortillas before she decided something else was more interesting. Ramon baked the tortillas for 1-2 min on each side in a cast iron pan. A small amount of flour makes a lot of tortillas! The tortillas tasted fine, although next time, I will use the right kind of flour and add a bit of salt.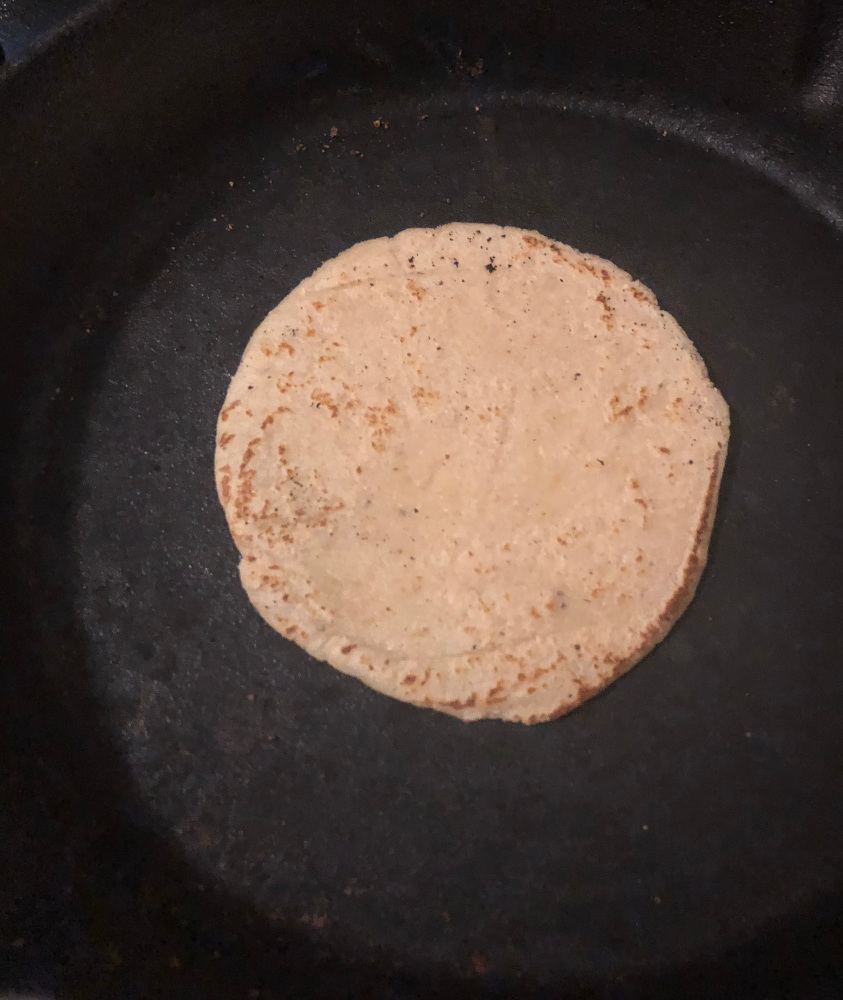 Lauren: In Response to Corn Tortillas
Your tortillas look really nice, Slynn :D. Fresh corn tortillas seem far superior to the packaged mass-marketed ones which have some weird stuff in them and don't look delicious like yours. I still eat the mass-market tortillas out of convenience, but seeing your tortillas and recalling Shannon's flour tortilla making tales, I am reminded how I should make them because it will be way yummier. Now that the new normal is to make your own bread products and keep all stores devoid of flour, it seems like the best time to make corn tortillas! Got to get the masa harina!
Billy: Greek Foods
I assembled a Greek meal for VBC this month consisting of hummus, tabbouleh, bread, yogurt, and dolmas (didn't make the last two). This is both the old and new normal.
Will: Pineapple Upside Down Cake
New normal name: Pineapple Right Side Up Cake. Explanation: everything is tipsy turvy in the new normal…up is down and down is up. These responsible pineapples practiced good social distancing, hiding from the baker at the bottom of the pan. Turned out pretty gooey but not enough pineapple flavor. Judge Megan proclaimed, "not worth the calories."
Somehow we ate it anyway.
We used pineapple chunks instead of rings b/c that's what we had. Also coconut sugar instead of other sugars. And no cherries. Pic!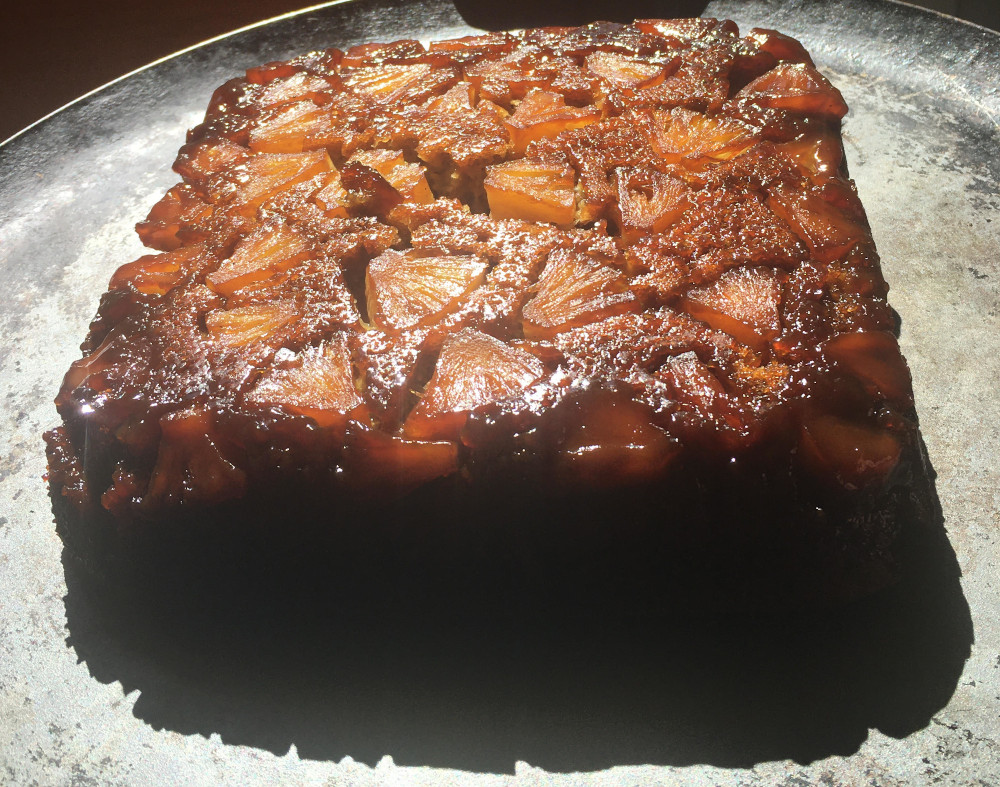 John: Orange Gingerbread Cookies; Spring Shortbread Cookies
My new normal foods are a lot like my old normals, with fewer peanut butter sandwiches. I am baking more, so maybe that's a good new normal. In mid-April, I tried to recreate Billy's orange gingerbread cookies from New Year's Eve by replacing water in a normal gingerbread recipe with orange juice and adding some orange zest. I didn't have fresh ginger, and got a little lazy with zesting, so the pieces came out large and not well distributed. Overall, the cookies were good, but didn't come close to my memory of how good Billy's cookies were.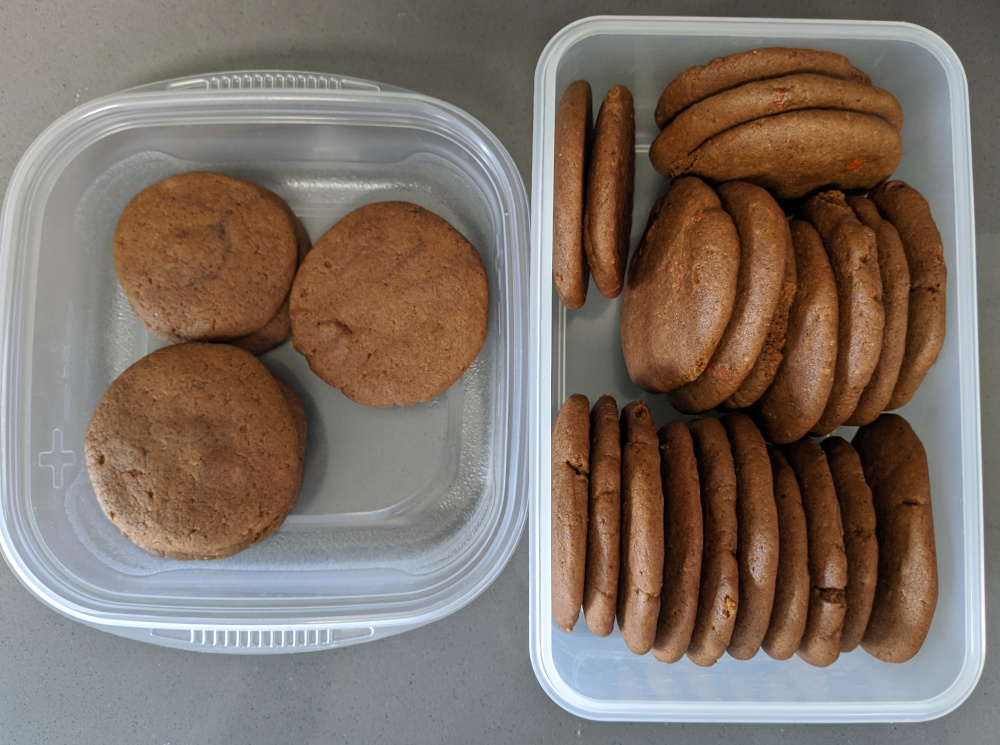 Today I went for a bike ride before breakfast and started craving Witch's Fingers cookies, and thinking maybe I could change the shape to make flowers for springtime. I found and tried a simple shortbread recipe, added some almond extract, and tried decorating them a few ways with blanched almonds, semisweet chocolate chips, dark chocolate pieces, and coconut. They're very crumbly, a little oily, and pretty good.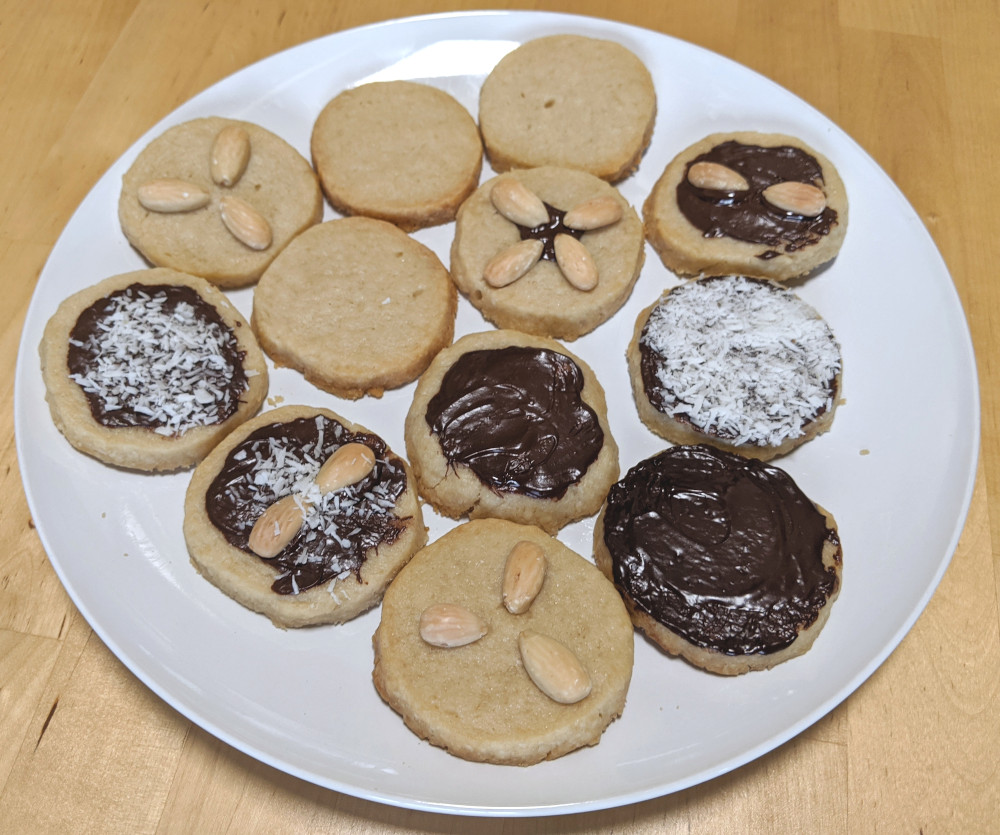 Lauren: In Response to Marranitos
John, I like your decorating shortbread cookies for Spring! Crumbly and oily sounds pretty right for shortbread too :D. Regarding the gingerbread cookie things from December VBC, the recipe is from veganizing a non-vegan marranito recipe then adding in ginger and orange zest and nutmeg for extra flavor. I think it goes something like this, and I hope you (John or collective "you") will try to make these some time and report back.
John: In Response to Response to Marranitos
Thanks Lauren!
That recipe (and all the recipes) look fantastic. I'm eating a bowl of one of my recent staples (English cucumber fresh pickles (sliced cucumber, water, vinegar, and a jar for a day or so)) while reading discussion of the best cinnamon roll options, tofu saag, blueberry lemon loaf, Greek food, homemade yogurt, fresh tortillas, Billy's garden arugula and on… and getting both hungry and nostalgic for hanging out and eating with you all.
I'm putting molasses and fresh ginger on my list and will try to remember to pick them up on my next grocery run so I can try to make the orange marranitos!