Yet Another Vegan Banana Bread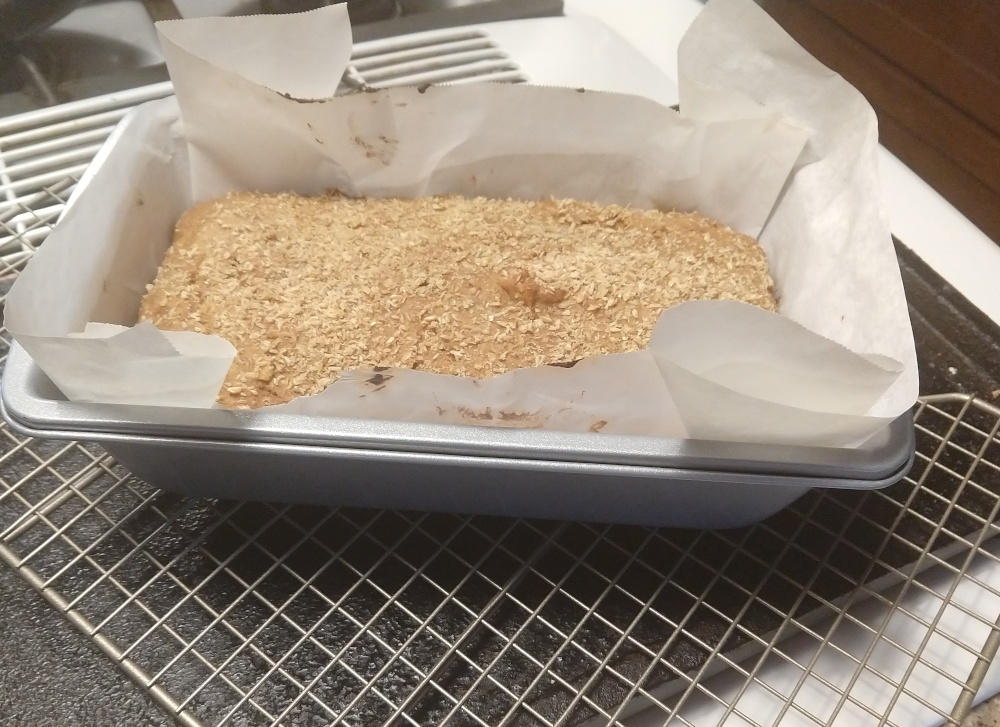 While there are immeasurable banana bread recipes out there in the world, and plenty of the vegan variety (even Michelle's great banana bread!), I am sharing yet another. It might be just so that if I lose my hard copy, hopefully this digital record will persist. This recipe is derived from The 100 Best Vegan Baking Recipes Best Banana Bread which is very good and simple to make, but here it is tweaked to add a bit more nutritionally (at least that's what it seems to the non-nutritionist not-super-healthy eating me). I also think the following recipe is very tasty.
Ingredients:
2 or 3 ripe bananas (depending if the bananas are overly large)
1/2 cup brown sugar
1/3 cup canola oil
1/3 cup vegan milk (I like Good Karma Foods Flaxmilk+Protein)
1 teaspoon vanilla
1 1/2 cup cups whole wheat flour
2 teaspoons baking powder
1/2 teaspoon baking soda
1/2 teaspoon salt
1 teaspoon cinnamon
1/4 teaspoon nutmeg
1/2 cup chopped walnuts
ground golden flaxseed to sprinkle on top
Grease or line with parchment paper a loaf pan. Preheat the oven to 350°F.
In a large mixing bowl, mash bananas and mix in the brown sugar. Then mix in the oil, vegan milk, and vanilla.
On top of the wet mixture, dump the flour, baking powder, baking soda, salt, cinnamon, and nutmeg. Toss the dry ingredients around lightly to blend, then mix down into the wet ingredients (this is a lazy way of avoiding washing a second bowl for mixing dry ingredients).
Fold in the walnuts. Pour into prepared loaf pan. Sprinkle with flaxseed. Bake for approximately 43 minutes.