Many Days, May 2020
VBC Meeting #87: Masked
Host of the Month: The Internet
Location: The Internet
Billy named the May theme as Masked, which he explained could refer to a disguised dish, hors d'oeuvres normally served at a masquerade ball, a recipe that takes the form of a face covering or can be ably eaten while wearing a mask, food referenced or eaten in either The Mask or by the masked bank robbing surfers in Point Break, to illustrate some possibilities.
This is what we made (in the words of those who made it):
John: Lemon Blueberry Mini-loaves
I made a Lemon Blueberry variant of Lauren's banana bread recipe from last month, so maybe I'll just say it's Lemon & Blueberry masked Banana Bread, for those that aren't crazy about banana bread?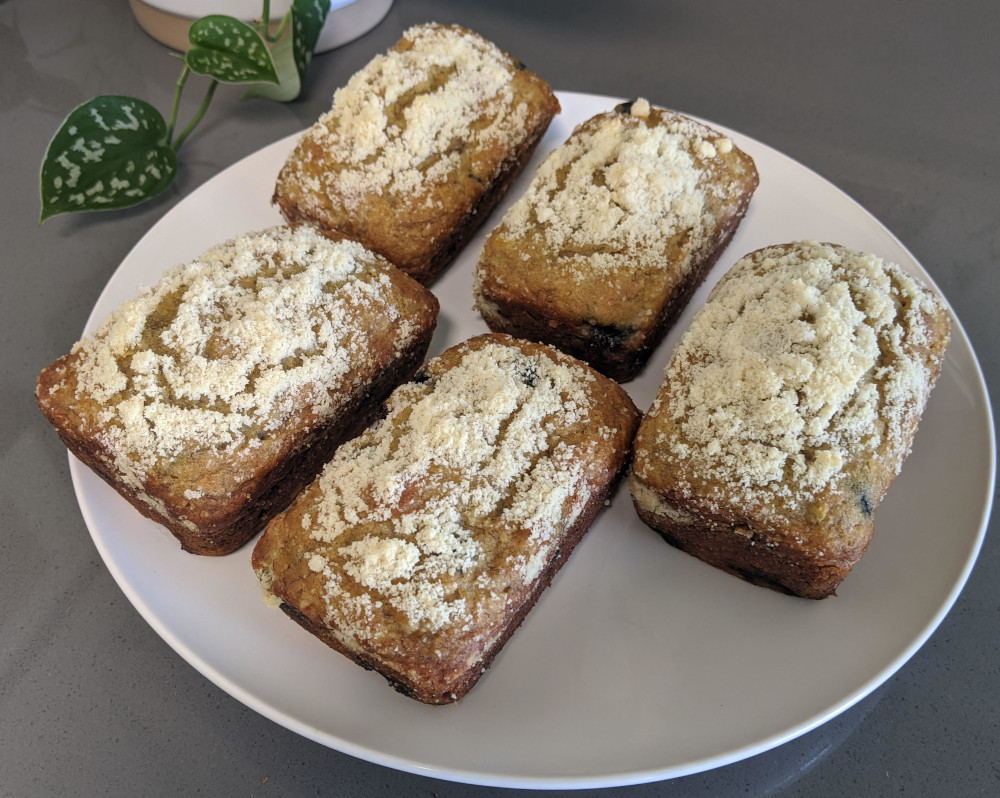 Lemon Blueberry Mini-loaves Recipe –
3 medium sized Bananas, mashed
1/3 c Canola Oil
Juice of 1 lemon + Orange juice to total 1/3 c
Zest of 1 lemon
2 tsp vanilla
2 tbsp brown sugar
1/2 tsp salt
1 c Flour
1/2 c Almond Meal + additional to sprinkle on top if you like
1 1/2 tsp Baking Soda
1/2 c Blueberries
Preheat the oven to 350°F and grease your pan. I used 5 mini-loaves, but I think the almond meal and blueberries contributed to them being pretty crumbly when sliced. These may be better suited to baking as 10-12 muffins that you can eat without cutting.
Mash the bananas in a large bowl and mix in the other wet ingredients, zest, sugar and salt. In a separate bowl, mix the flour, almond meal, and baking soda.
Mix the the dry ingredients with the wet ingredients, fold in the blueberries, and distribute among your pans.
Lauren's recipe recommends sprinkling the top with golden flax, but I didn't have any, so I tried to do so with almond meal and may have overdone it.
Bake the mini-loaves for about 40 minutes, or as muffins, around 30, until an inserted toothpick comes out clean.
The final loaves were pretty tasty and had a nice, bright, lemon flavor. The almond meal crust didn't bake much and came out pretty much as mostly loose almond meal on top of a bread. It didn't seem to add to the loaves, but didn't really harm them either. I would like to try it with a smaller amount of golden flax as the original recipe suggested.
Shannon: "June Bug" Mocktail; Annie's Crescent Rolls
First, lovely bread John!! Even the sight of bread makes me so happy, and only a little bit sad that I can't eat it myself.
So I kind of phoned in my May contribution. I felt both uninspired and super tired of cooking. Also, how is it already the end of May?! No one told me time would fly if I just sat on my couch and did the same thing day after day. So this is what is what I did to contribute:
1. "June Bug" mocktail
The newsletter for my apartment complex had a mocktail recipe that looked easy and possibly tasty. I took a picture of the recipe. It is just ginger ale, grenadine, orange juice, and orange sherbet. I replaced the orange sherbet with raspberry sorbet because I couldn't find a vegan sherbet. Turned out pretty tasty, although super sweet (I know, so shocking that combining four sugary things would make a sugary drink).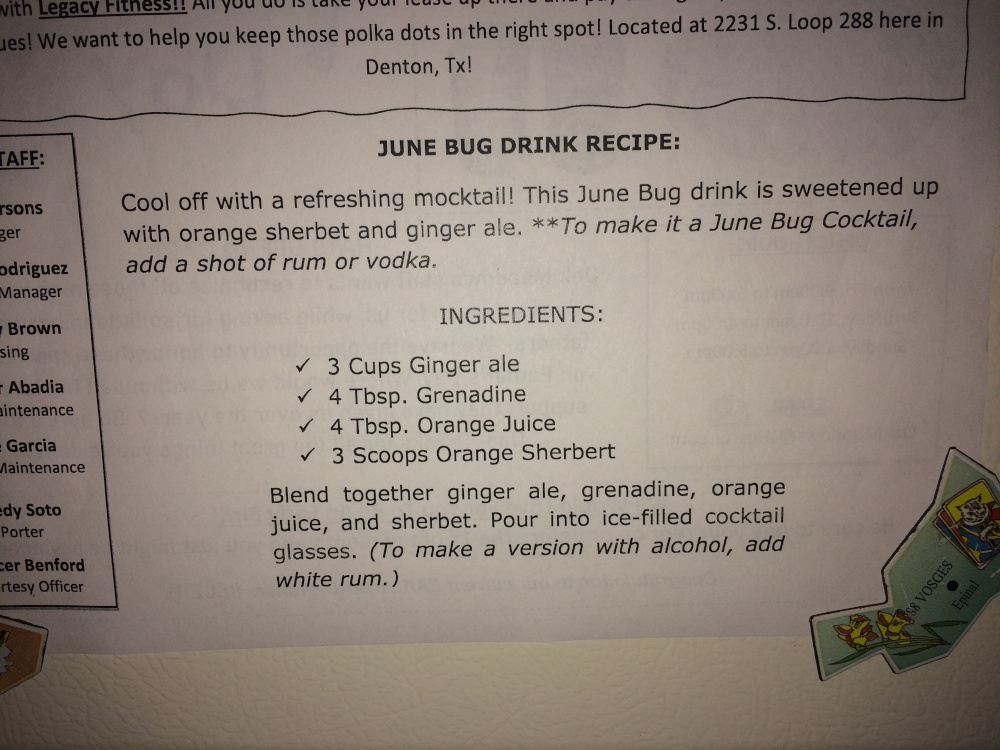 2. Annie's Crescent Rolls
I made crescent rolls from a tube because I wanted croissants but don't want to make them for reals. So I bought a tube of Annie's Crescent Rolls and baked them according to the instructions on the package. About the fanciest thing I did here was to take the time to bend them slightly into crescents (which I normally would not have done for myself, but did purely for the benefit of a VBC photo). These turned out tasting like bread. I was not displeased.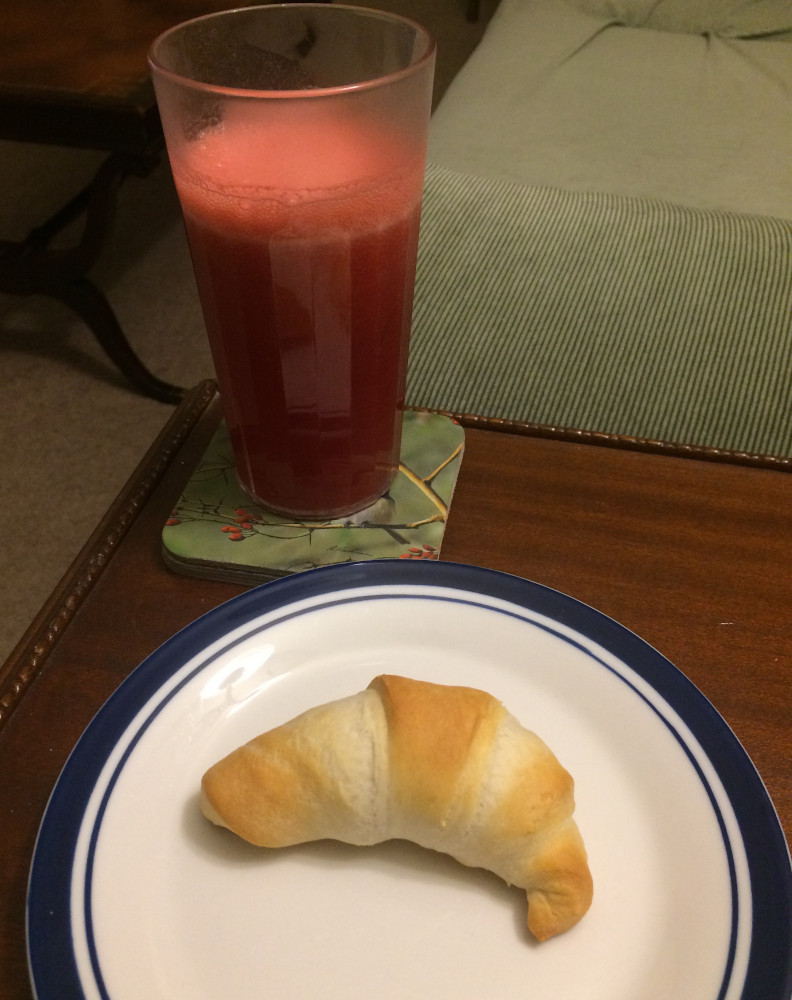 Not sure how these two items fit the theme. The newsletter was likely delivered to me by someone that was wearing a mask, and I did buy all the ingredients while wearing a mask myself. And it is possible to drink the mocktail through a straw while wearing a mask (I know–I checked). But it probably just represents the energy level I find myself out three months into a pandemic. Oh well. At least I showed up to the virtual party.
Oh, and I rather stupidly made a full recipe of the mocktail (instead of a single serving). So if anyone in Denton would like a fizzy kind of fruity sugary drink, let me know! I cannot share the crescent rolls with anyone. I ate them all.
Caroline and Drew: Stir-Fries; Gluten-Free Chocolate Chip Cookies
For this month's Masked Theme, Drew & I have made the following. I'M ASKing you to be lenient with us as our entries are only very loosely based on the theme… err or not at all really based on the theme… (Sorry!)
Stir-Fries
I baked my first tofu and am really proud of how it turned out! We added it to a stir-fry. I got the tofu-baking and sauce recipes both from Minimalist Baker.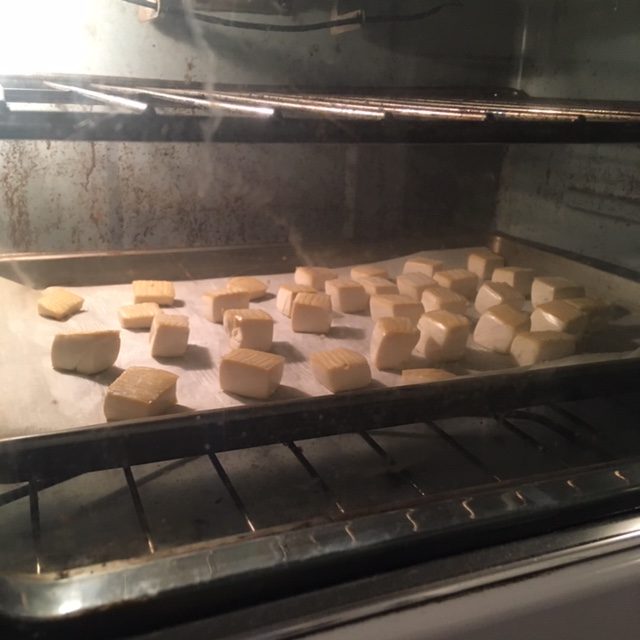 Minimalist Baker has an even faster way to make tofu that tastes good, but calls for the use of a cast-iron skillet and, optionally, a tofu press, both of which we don't have. But you don't need those things with the trusty, longer version of the recipe. I also think the longer version is easier and has less cleanup!
Anyway, the pièce de résistance of that link is the sauce recipe. It was super easy and super good!!!
The tofu stir-fry was made with long-grain brown rice and whatever stir-fry-able veggies we had on hand (garlic, onion, cauliflower, carrot, and celery).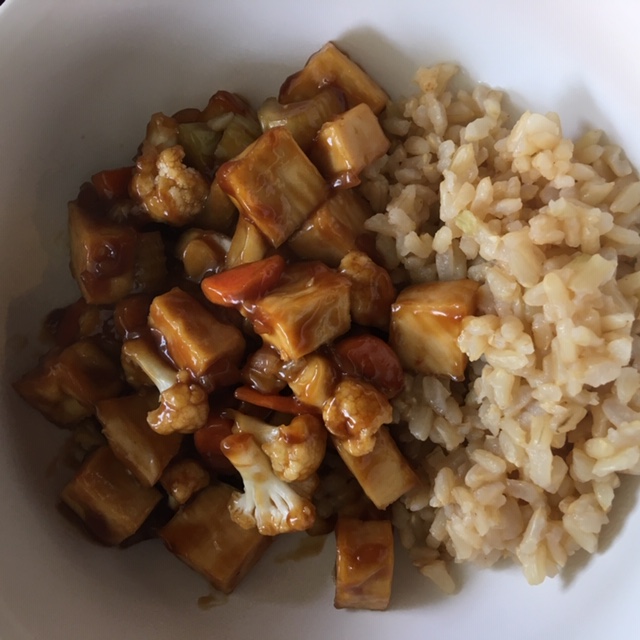 We did another stir-fry with Gardein Sweet and Sour Porkless Bites. This comes with a sauce. They were tasty! This stir fry was made also with long-grain brown rice (Drew, designated venturer-out-into-the-worlder, cannot find short-grain brown rice at any grocery store) and whatever stir-fry-able veggies we had (all the above listed veggies plus mushrooms).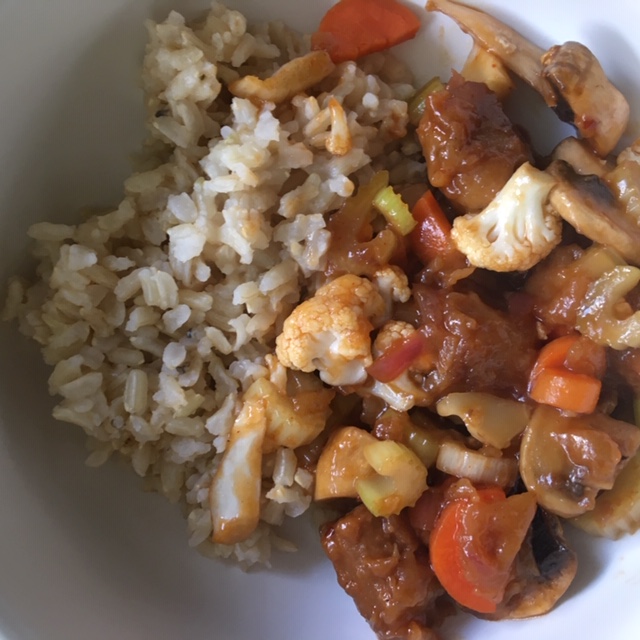 Next, we made cookies!
We used the recipe from Eat, Drink & Be Vegan by Dreena Burton, "Gluten-Be-Gone" Homestyle Chocolate Chip Cookies. When I first began my vegan journey my sister bought me this book and everything I've ever made from it has turned out really good, however the recipes call for many and very specific ingredients, which can get pricey.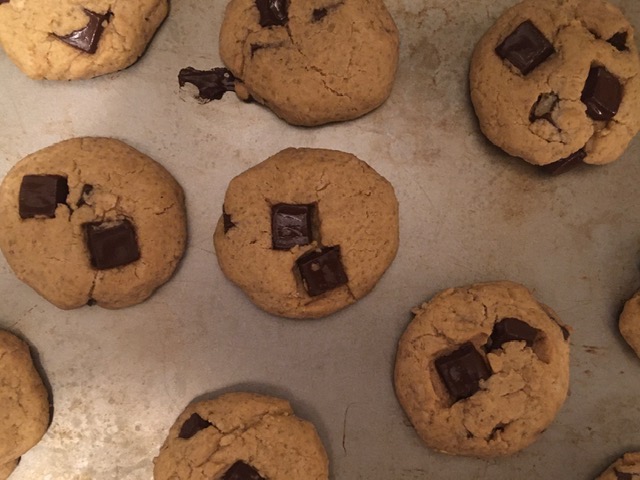 "Gluten-Be-Gone" Homestyle Chocolate Chip Cookies
3/4 cup + 1 tbsp amaranth flour
1 tsp xanthan gum
1 tsp baking powder
1/4 tsp baking soda
2 tbsp tapioca starch flour
1/4 cup unrefined sugar (we used turbinado)
1/4 tsp sea salt
1/3 cup pure maple syrup
1/4 tsp blackstrap molasses
1-1 1/2 tsp pure vanilla extract
3-3 1/2 tbsp canola oil
1/3- 1/2 non-dairy chocolate chips (we used chocolate chunks!)
Preheat oven 350°F.
In bowl, combine dry ingredients, sifting in (she swears by the sifting-in method) flour, xanthan gum, baking powder, and baking soda, and stir until well combined.
In other bowl combine syrup, molasses, and vanilla, then stir in oil until well combined.
Add wet mixture to dry, along w choco chips (chunks), and stir 'til just well combined (do not over mix).
Line baking sheet w parchment paper. Scoop rounded tbsps of batter onto baking sheet, evenly spaced apart, and ever so slightly flatten.
Bake for 11 min (no longer or they will dry out). Remove from oven and let cool on baking sheet for 1 min (no longer), then transfer to cooling rack.
Slynn: Healthier Baklava Rolls
I didn't intend to procrastinate, but I ended up baking something on the very last day of May, so I am submitting my assignment before we have even a chance to try it! Like others who responded, I'm not sure I did the best job of interpreting the theme. A few weeks ago I was brainstorming ideas and somehow came upon the idea of foods that you can make a face mask out of to improve the health of your skin. Personally I would prefer to eat these foods (such as strawberry, avocado, papaya) and hope that my skin will be improved from the inside out. Agave is one of these foods, so I made something called "Healthier Baklava Rolls" from a book called The Vegan Baker by Duja Gulin that I received as a birthday gift a few years ago. In making this recipe I was also able to find a use for the old phyllo dough in our freezer. This is my first time making a recipe from this book. The recipes are very fancy, but this one seemed easy enough to attempt. It did not end up being very easy, especially for a parent of a toddler with limited time. The filling is walnuts mixed with sugar, flour, and baking powder. This is rolled up in phyllo dough sheets that are brushed with a mixture of oil and water. The phyllo dough kept breaking apart, but I don't think it mattered too much in the end. After baking, a syrup that includes agave nectar, lemon juice, and vanilla powder is poured over the rolls. I wish the recipe would have included important details, such as baking times. I am happy to have made something from this fancy book finally!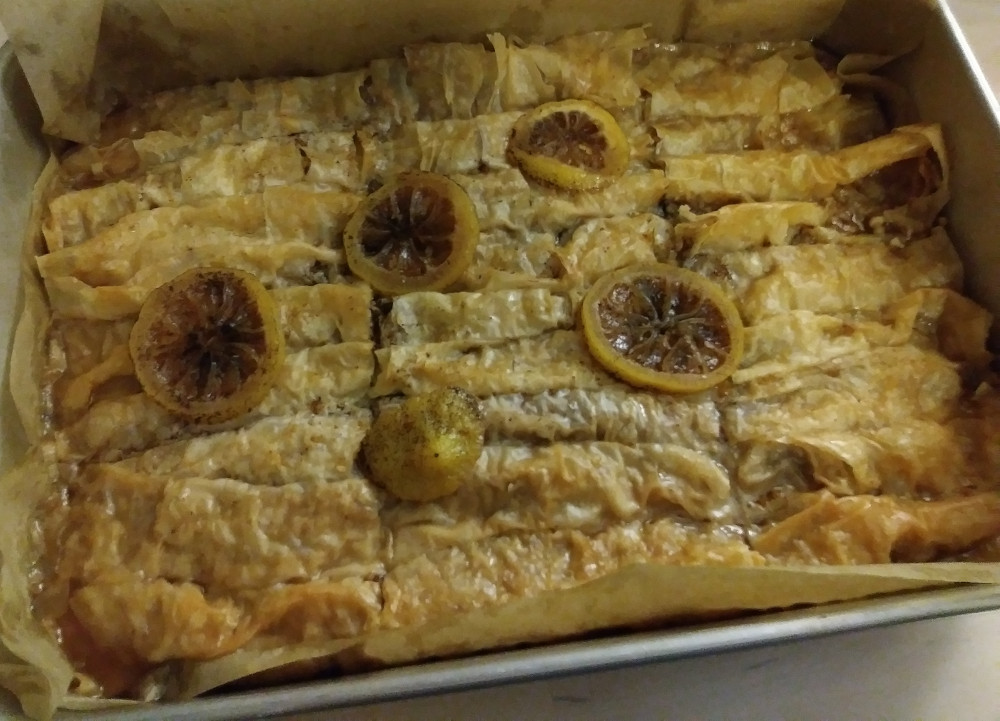 Ramon and Slynn: Corn Tortillas
Also not on theme but as an update from last month, we bought some masa harina and made corn tortillas again. They were much tastier this time. If anyone has advice for making thinner corn tortillas that also won't break apart when you try to transfer them to a pan to cook, please share!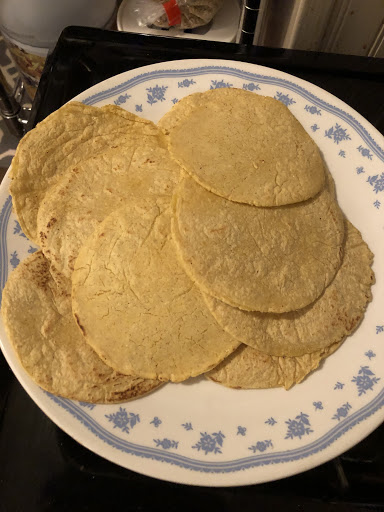 Lauren: Yellow Squash Sweet Breads
I made a couple of yellow squash sweet breads. I made them mostly because Billy's garden is currently producing copious amounts of yellow squash, so I am trying to find different uses. Also, I usually think of this sort of bread made with zucchini, so it is like yellow squash at a masquerade ball bread. Also, it is masking vegetables in something sweet and non-vegetable like.
For the first bread, I concocted a chocolate yellow squash bread. I think it turned out well with a sweet bread like texture but kind of silkier.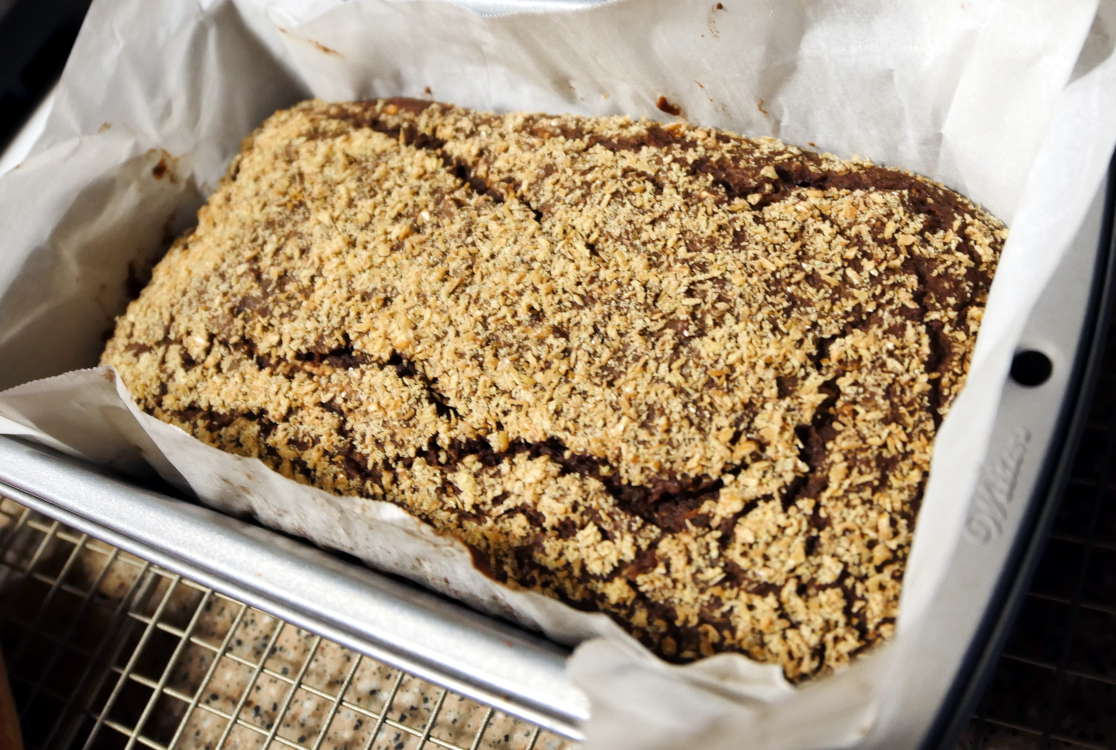 I used one decent sized yellow squash grated and thoroughly squeezed to remove the water. This was folded into a batter of whole wheat flour, cocoa powder, baking powder, baking soda, salt, cinnamon, nutmeg, applesauce, brown sugar, oil, and flaxmilk. I meant to add walnuts but forgot, but hopefully I will remember next time. I sprinkled the top of this and the next bread with ground golden flax seed like I do with banana bread.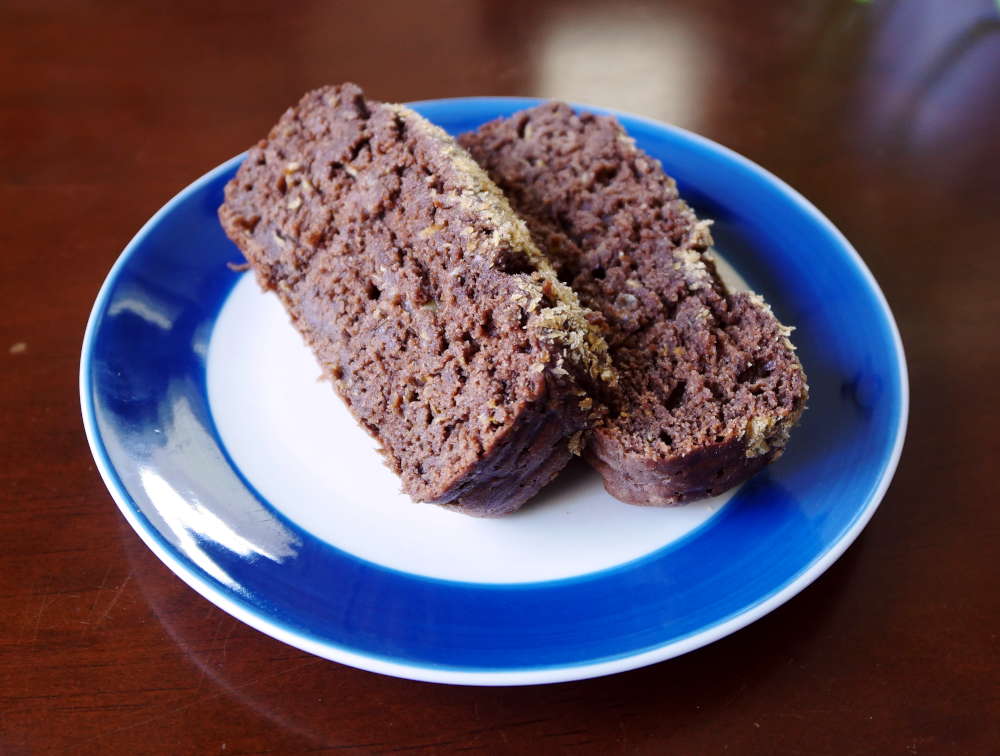 The second bread was lemon yellow squash bread. I thought the flavor was nice, but the texture was kind of gross due to mushy pockets of bread that probably occurred from me not removing enough water from the squash before putting it into the batter or maybe also too much squash. I didn't measure it, just used a squash that looked about the same size as the one in the chocolate bread. To help remedy the soggy bread, I have been putting slices of it in the toaster oven before eating it to get rid of some of the moisture. This bread was made with the squash, whole wheat flour, baking powder, baking soda, salt, cinnamon, cardamon, turmeric (I thought it would make the bread more yellow and hear that it is good for an anti-inflammatory or one of those things), Silk yogurt, sugar, oil, lemon juice, flaxmilk, and lemon zest.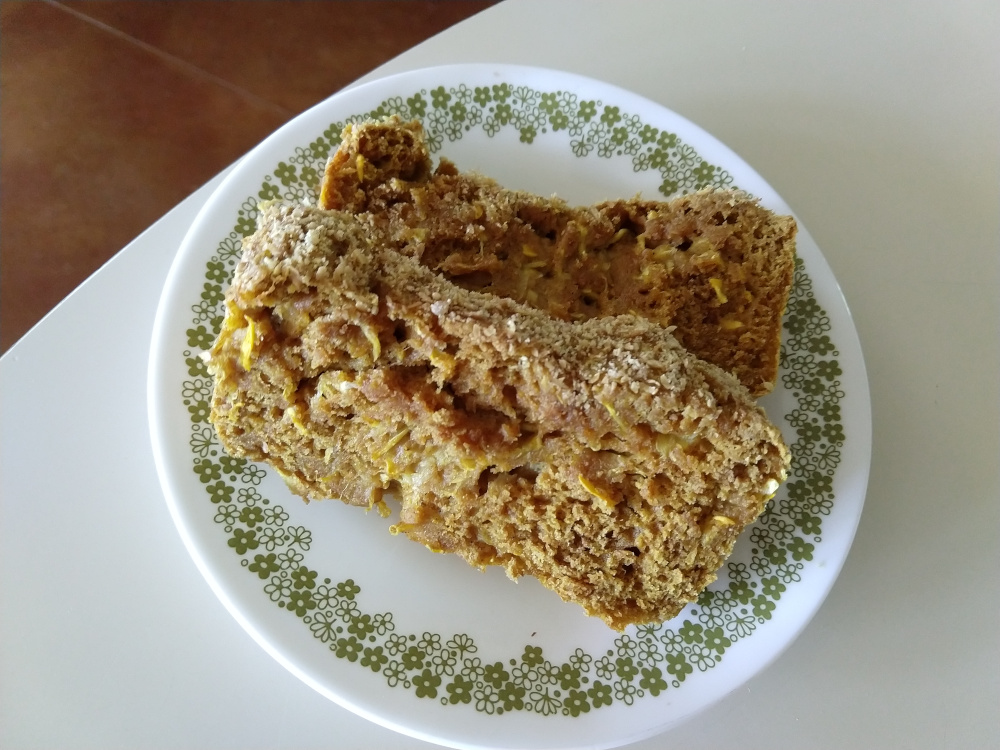 Billy: Reverse Engineered Meatless Meatballs
I decided to try reversing Gardein Classic Meatless Meatballs. The recipe is, after all, proprietary and MASKED.
Freezer pouch ingredient deck:
Water, Textured Vegetable Protein, Canola Oil, Wheat Gluten, Soy Protein Isolate, Enriched Flour, Methylcellulose, Dried Onion, Spices, [Inactive] Yeast Extract, Sea Salt, Malted Barley, Dried Garlic, Vinegar, Natural Flavors, Salt, Cane Sugar, [Inactive] Yeast, Pea Protein
Mystery ingredients:
Soy Protein Isolate: Sold as a powdered supplement. It's used as texturizer/binder, supplemented below with flaxmilk.
Methylcellulose: Also a texturizer/binder. Cellulose Gum is a top ingredient in commercially produced corn tortillas, so grind one up.
"Spices", "Natural Flavors": Marketing copy on the bag reads "…hint of oregano and fennel…", which are not listed as ingredients =D
Malted Barley: turns out this is commonly used in TVP itself.
From labeling, we determined the protein content for wheat gluten and TVP:
Wheat G: 21g protein in .25 cup
TVP: 10g in .25 cup
And derived protein quantities for an equivalent ball batch, based on the bag's Nutrition Facts breakdown:
360g total 12 meatballs product
56g protein total needed for 12 meatballs
which shaped our TVP : wheat gluten : flour ratio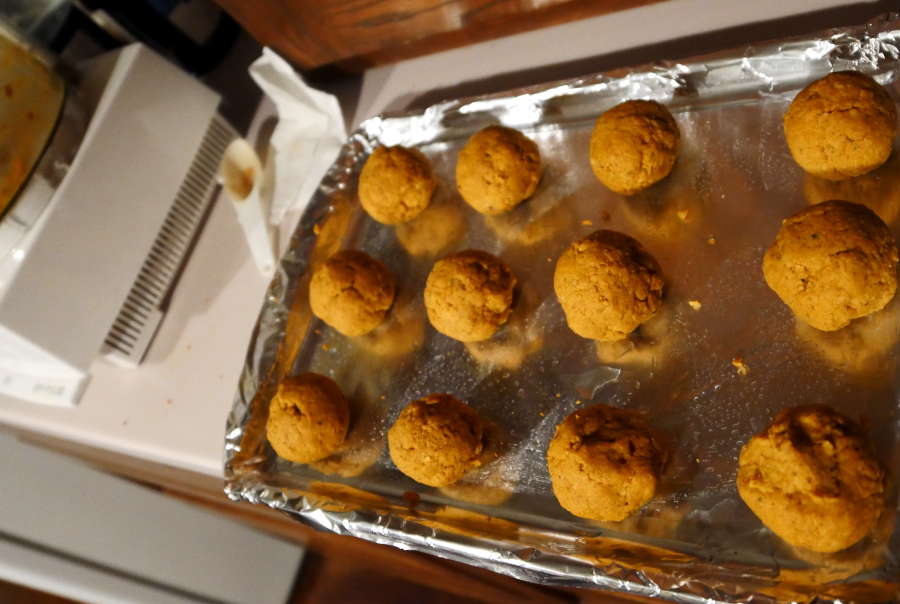 The recipe (amended after first meal):
1.5 cups soymilk/flaxmilk+vegetable broth (1.5 tsp better than "chicken broth")
.5 tsp liquid smoke
1.25 cups textured vegetable protein
3 tbsp canola oil
2 tbsp wheat gluten
1 tbsp enriched flour/whole wheat flour
1 small corn tortilla
3 tbsp pea protein
1 tbsp vinegar
1.5 tbsp nutritional yeast
3 tsp salt
2 tsp garlic powder
2 tsp onion powder
1 tsp turmeric
1 tsp chili powder
2 tsp oregano
1 tsp fennel
2 tsp smoked paprika
1 tsp sugar
1 tsp black pepper
1 tsp crushed red pepper
Boil+hydrate TVP with 1.25 cups flaxmilk, broth and liquid smoke.
Blend corn tortilla in food processor until it reaches a crumb-like consistency.
Add all other dry ingredients and spices except TVP and wheat gluten: pulse in food processor until evenly distributed.
Add canola oil, vinegar and TVP. Pulse until partially combined.
Mix in wheat gluten slowly to preserve texture, adding up to .5 cup soymilk+broth as needed to maintain continuous texture.
Form into 12 balls roughly 1.5″ in diameter.
Bake at 375F for 15min, allow to cool and freeze for future use. Or, add to pan with oil and stir fry into pasta sauce, simmering for 12-15 min.