Saturday, May 21, 2016
VBC Meeting #39: Breakfast
Host of the Month: Caroline and Drew
Location: Denton, TX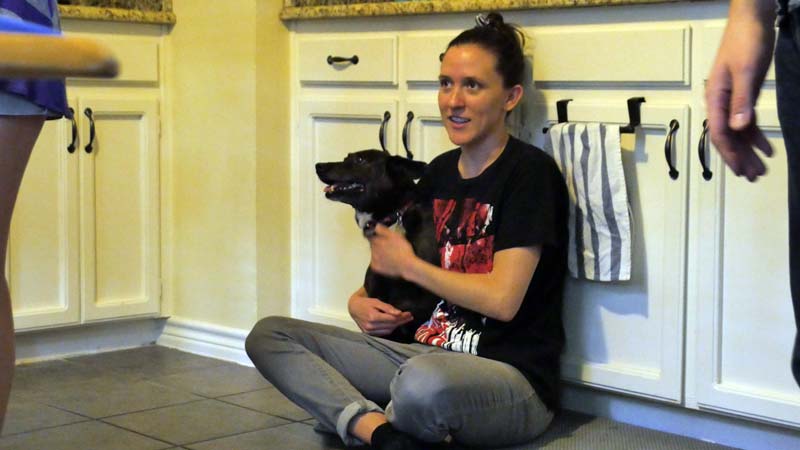 In March 2014 Vegan Bake Club had a brunch themed meeting. Being fond of eating foods designed for the first meal of the day (no matter what time it actually is) this month we went with breakfast theme. We also discussed what the difference is between what should be consumed at breakfast versus brunch. The only thing we really figured is that there are more socially acceptable alcohol options with brunch.
This is what we made: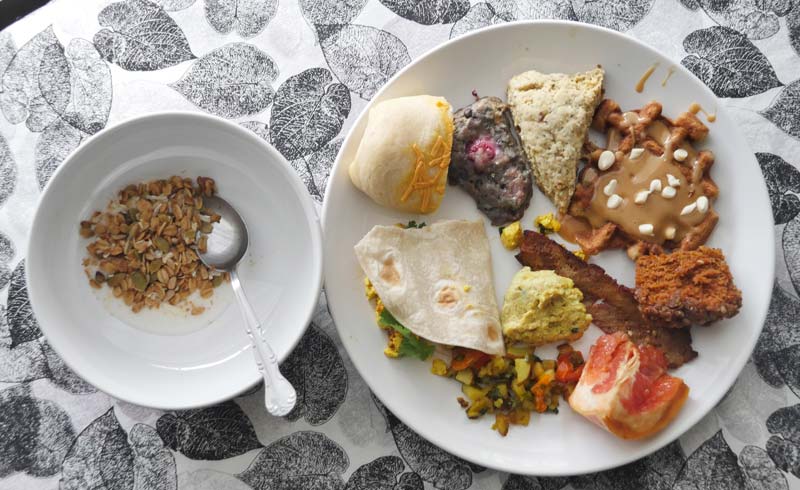 Billy: Seitan Bacon
Billy made a vegan bacon recipe that called for two separately seasoned seitans sandwiched together for that brown-with-pale-streaks bacon look.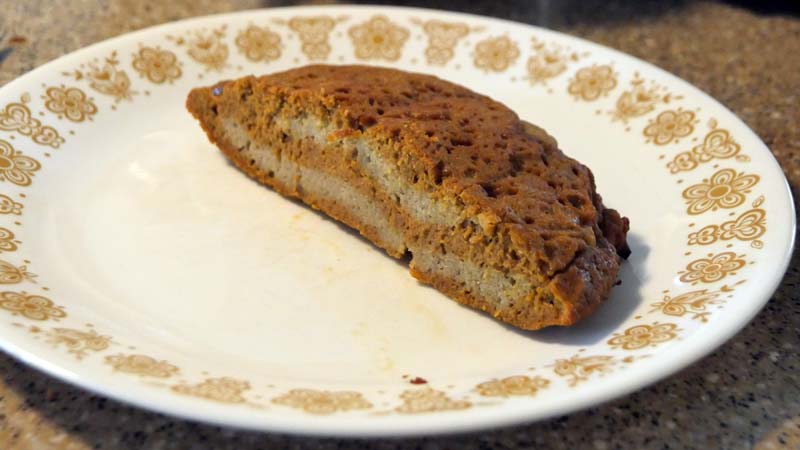 The seitans were seasoned with liquid smoke, soy sauce, liquid amino, miso paste, maple syrup, white pepper, nutritional yeast, smoked paprika, etc. Soft and crispy. Sweet and salty. Mmm.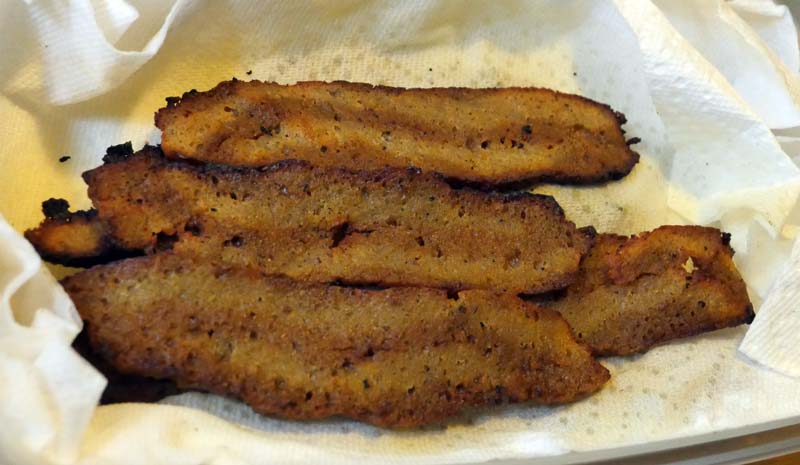 Lauren: Carrot Apple Streusel Muffin; Scrambled Tofu Egg
Lauren made a muffin batter with grated carrots and apple sauce, flavoring it with cinnamon, nutmeg, and ginger. Before baking the muffins, she added a streusel topping made with pecans, flour, cinnamon, brown sugar, and vegan butter.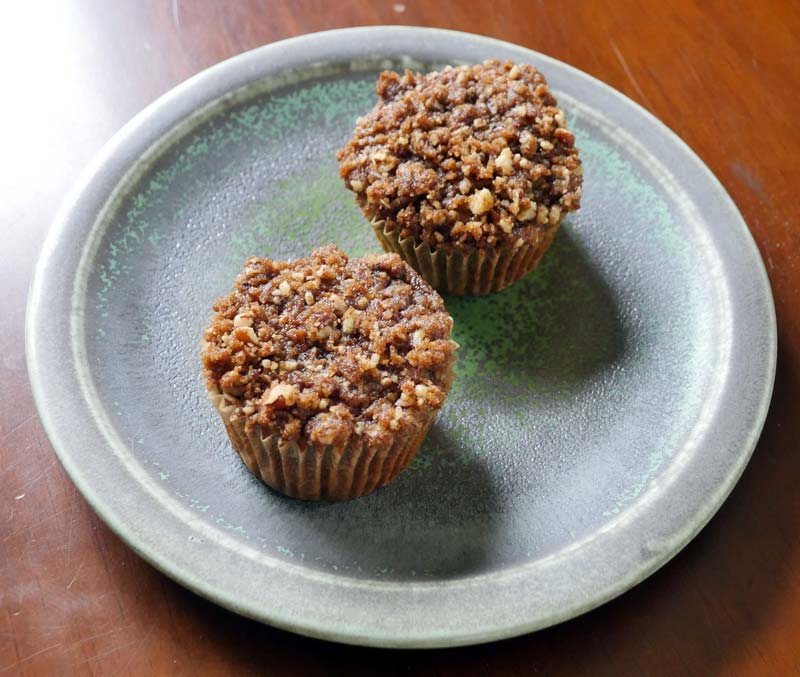 Lauren also made an attempt at scrambled egg style tofu seasoned with nutritional yeast, flaxseed meal, potato starch, tapioca starch, vegan butter, black salt, pepper, turmeric, mustard powder, garlic powder, and onion powder. It took around thirty minutes of cooking in a frying pan to get this mix out of goo stage.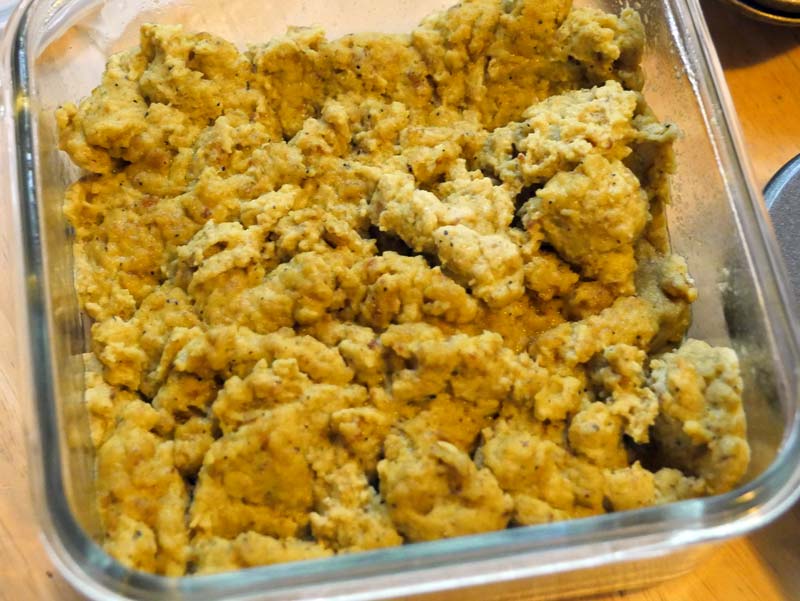 John: Lemon Orange Cardamom Scones
John altered the amounts of vanilla, cardamom, and fruitiness from the recipe he used to make these scones. For instance, instead of just the zest of a lemon and orange, he blended up the entire fruits and put them in (typical John style). His bakery quality scones also contained hemp hearts for a good textural quality that was also aesthetically pleasing.
EDIT: About a week after this meeting John made the scones again, this time with regular amounts of cardamom and ginger. He reported that as with the first time he made them, the cardamom and ginger flavors were not strongly apparent, so if you want to try the recipe, perhaps increase these spices.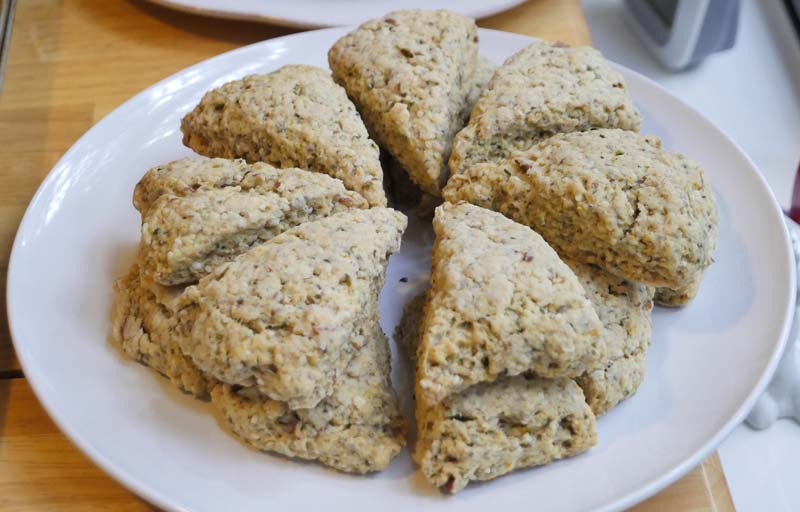 Lilly: Farmer's Market Potato Hash
Lilly picked up the fresh veggies for her hash from the Denton Community Market. She cooked diced potatoes with turmeric and later combined it with sautéed green bell pepper and kale. She garnished the finished combination with sliced cherry tomatoes.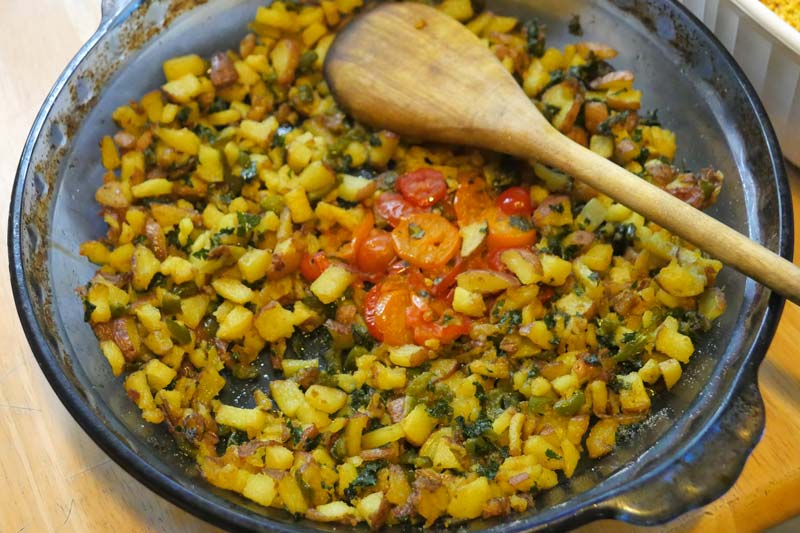 Ramon: Kolaches from Reverie Bakeshop
Ramon had a busy day, so rather than baking something for this breakfast meeting, he chose the highly acceptable alternative of picking us up a bunch of kolaches from Reverie. He brought Jalapeño hot dog buns, breakfast sausage filled buns, and one pizza kolache. Since no one wanted to be the guy who took the only pizza kolache, John sliced it up so we could all have a bit of pepperoni and mozzarella filled dough.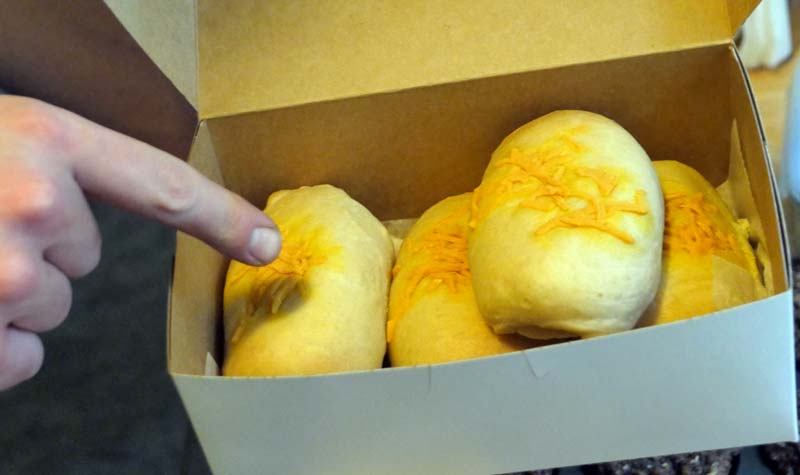 Caroline: Chocolate Chip Raspberry Scones
Caroline made spelt and oat flour scones filled with chocolate chips and raspberries for a colorful breakfast food with pops of pretty sweetness.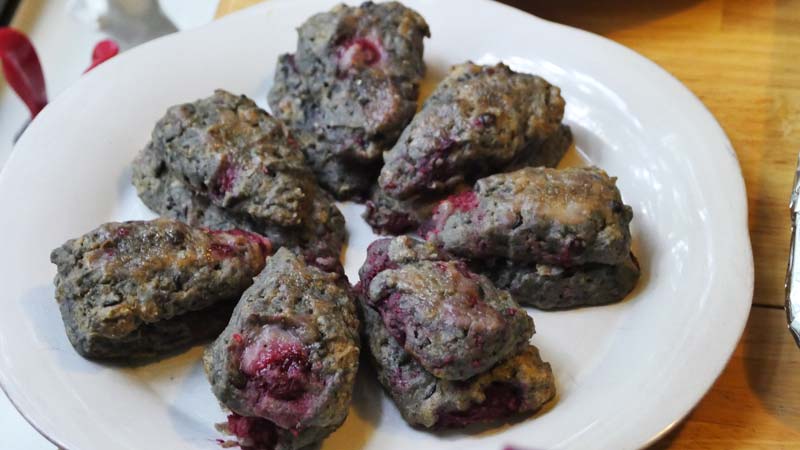 Slynn: Banana Muffin Waffles; Baked Grapefruit
In one of her various waffle maker experiments, Slynn made a banana muffin batter (recipe from Sweet Vegan – also delicious as muffins) and cooked it in her waffle iron. We can all now add banana muffins to the list of foods that can be waffled. She served the waffles with peanut butter syrup made from peanut butter, maple syrup, and Smart Balance (the kind with flax) and with a side of white chocolate chips produced by Reverie Bakeshop. Next Slynn wants to make biscuit waffles. Hopefully she will be sharing those with us soon.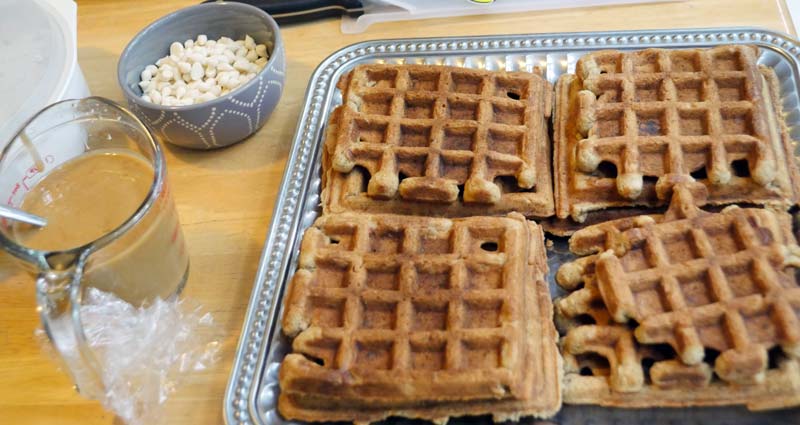 For a healthier breakfast option, Slynn also halved a few bright juicy grapefruits and baked them with brown sugar.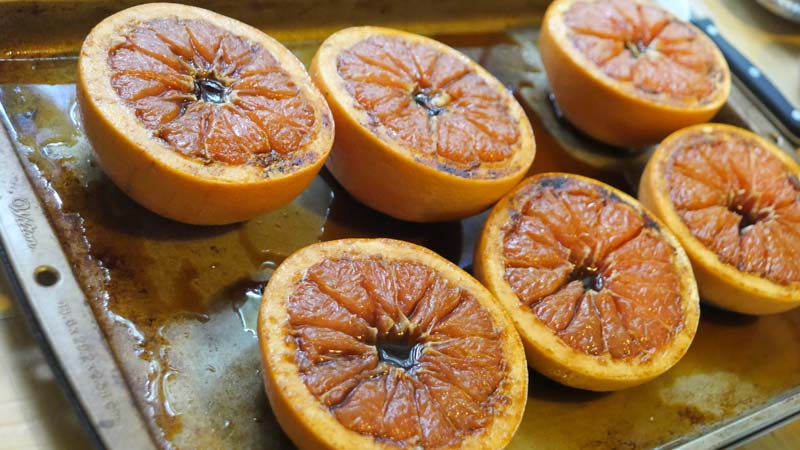 Drew: Tofu Scramble Breakfast Tacos; Granola with Yogurt
For his tacos, Drew prepared tofu scramble with extra firm tofu seasoned with garlic, turmeric, and cumin. He threw in tomato, bell pepper, and green onions from their porch garden.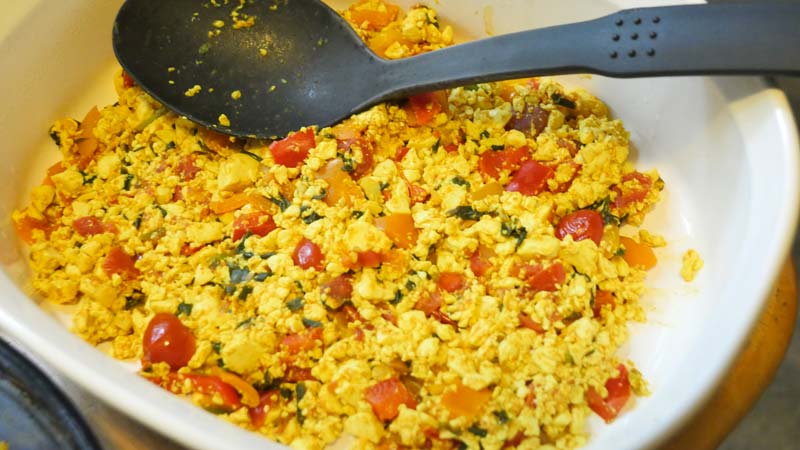 We ate these tacos with fresh cilantro on toasty flour tortillas.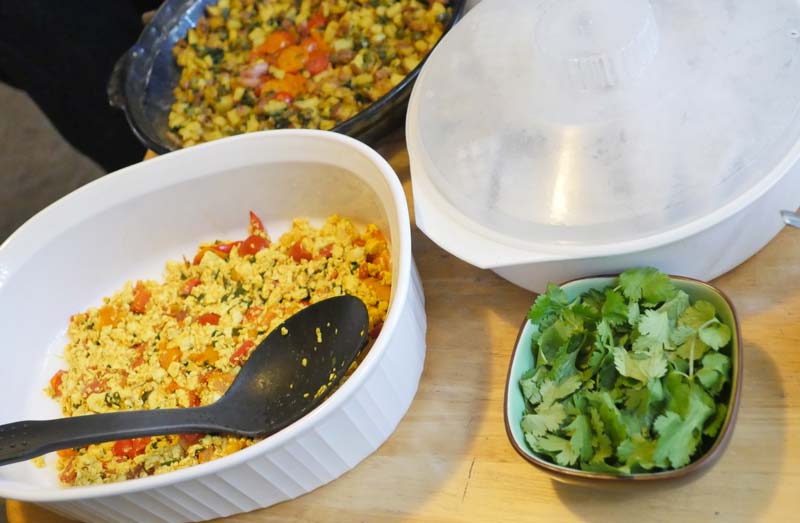 Caroline and Drew also served homemade granola made with a medley of steel cut oats, pumpkin and sunflower seeds, coconut flakes, walnuts, and cashews. To this they added brown sugar, maple syrup, cinnamon, and olive oil. The ingredients were then spread on a baking sheet and baked for an hour with a few stirring arounds during that time. They fed us this along side of coconut yogurt and Unsweetened Vanilla Almond Breeze.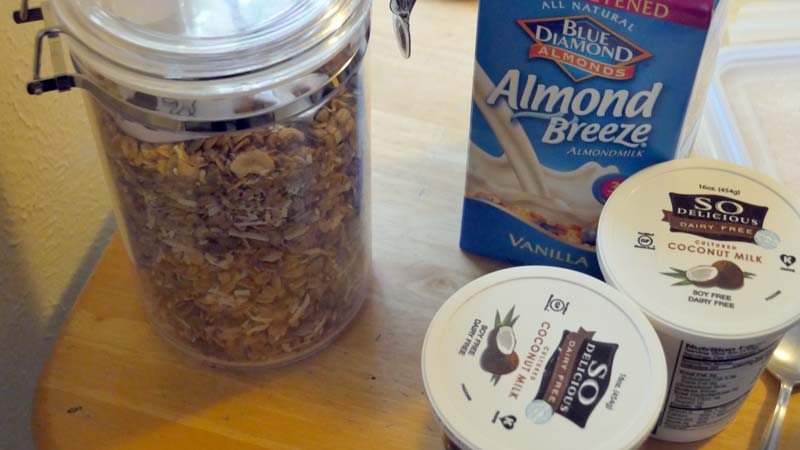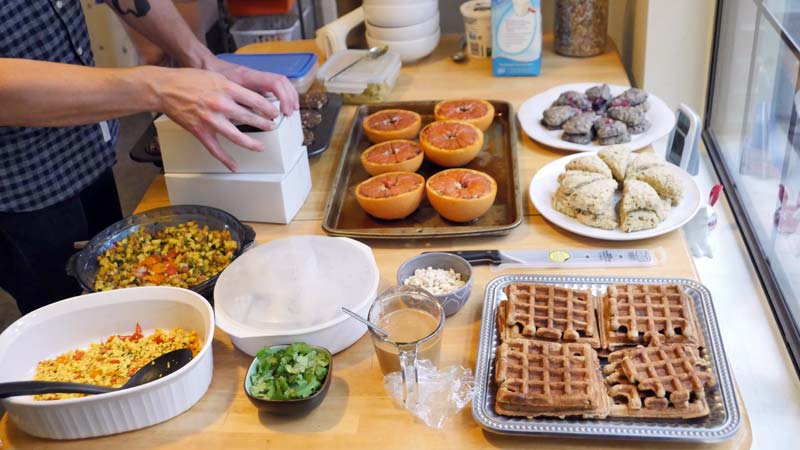 Save
Save