Carrot Apple Streusel Muffins
These Vegan Carrot Apple Streusel Muffins contain vegetable, fruit, and nut, but they are not exactly a health food–so enjoy, but don't eat them all at once!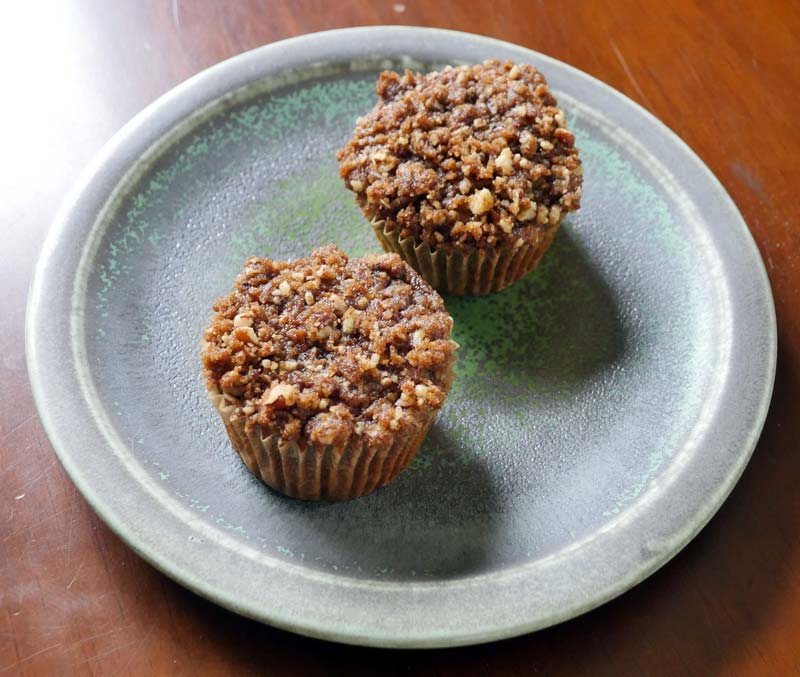 Preheat oven to 350°. Line muffin tin with one dozen parchment muffin cups.
To prepare the topping, combine in small mixing bowl:
3 TBS all-purpose flour
1/3 cup brown sugar
1 tsp cinnamon
1/3 cup finely chopped pecans
Cut 3 TBS cold vegan butter into the topping blend, and set aside.
Combine the following dry ingredients in a large bowl:
1 1/2 cups all-purpose flour
2/3 cup brown sugar
2 TBS flaxseed meal
1 teaspoon baking soda
2 teaspoons cinnamon
1/2 tsp nutmeg
1/2 tsp ground ginger
1/2 teaspoon salt
Combine the following wet ingredients in a medium mixing bowl:
3 medium-sized grated carrots
1/2 cup unsweetened apple sauce
5 TBS canola oil
1/4 cup water
1 TBS vinegar
Add the wet ingredients to the dry ingredient bowl, mixing until combined.
Scoop the batter into the muffin cups, filling each about 2/3 full.
Top each cup with approximately one tablespoon of streusel topping.
Bake 20 minutes or until a toothpick poked into the center of a muffin comes out clean.