March 28, 2015 – Veganize a Non-Vegan Recipe
Saturday, March 28, 2015
VBC Meeting #25: Veganize a Non-Vegan Recipe
Host of the Month: John
Location: Denton, TX
This is what we made: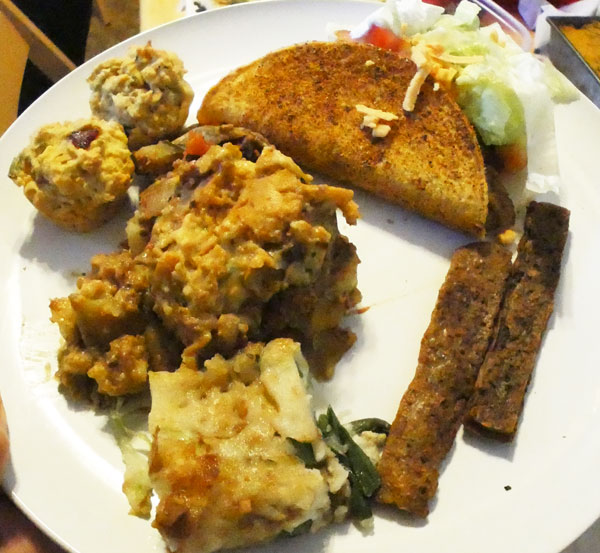 John: Loco Lentil Tacos; Pudding Pops
For this theme, John decided to veganize a Doritos® Taco Loco. For the Doritos® part, he followed the Spicy Taco Seasoning recipe from this vegan Doritos® page, seasoning some store bought taco shells with nutritional yeast, cumin, chili powder, paprika, onion powder, garlic powder, and salt. The filling was made from this veggie lentil taco meat recipe with lentils, carrot, mushroom, celery, and onion. He served this all with fresh lettuce and diced tomato to top things off.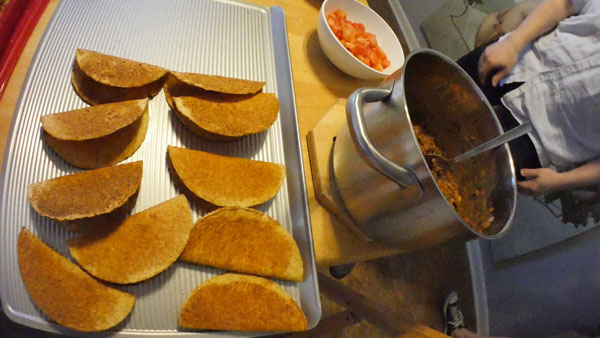 John also provided sweets for the meeting, by taking Jell-O® pudding mixes and using coconut milk out of a carton in place of dairy milk. He whipped up the puddings with a hand mixer then froze them in ice trays with popsicle sticks to make some pudding pops. Even though we didn't take pictures of them, we can still remember them in our dreams. He made chocolate for one flavor, mixed natural crunchy peanut butter into some more chocolate pudding to make chocolate peanut butter pops, and also made banana pops. Then because some of us asked somewhat nicely, he also mixed up some butterscotch pudding during the meeting as our "activity" so we could dip our pops into the non-frozen pudding for twice the happiness.
Billy: Tofu Jerky
To make his jerky, Billy cooked slices of firm tofu on a griddle. Then he marinated them over night in soy sauce, rice vinegar, liquid aminos, chili powder, cayenne powder, onion powder, and garlic powder. In the morning he put them in the dehydrator for approximately four hours.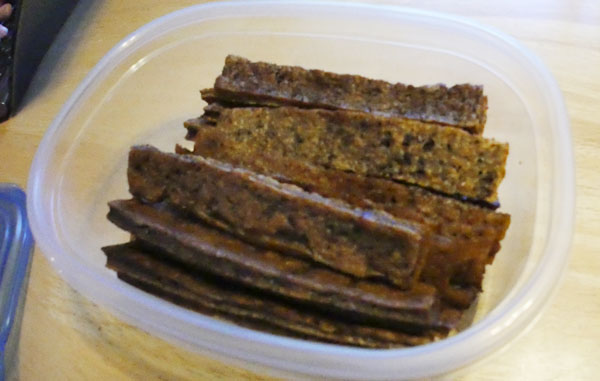 Slynn: Savory Cheese, Cranberry and Herb Mini Muffins
Slynn veganized these savory muffins from a recipe on the Whole Foods website. You can check out the veganized recipe.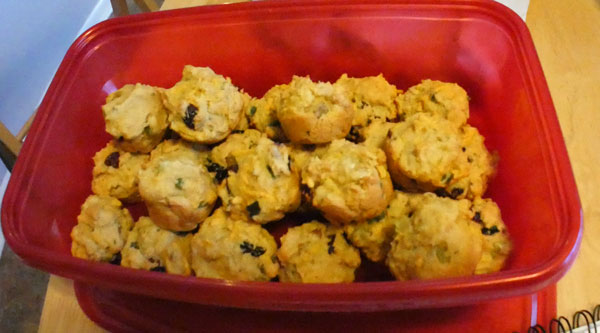 Dylan and Leanna: Pounds of Beer
They carried a whole load of this stuff into the house for us to drink.
Brenda and Victor: Pajeon
Brenda and Victor made Korean scallion pancakes. They took a recipe that had egg in it and substituted flax "egg." If you are wondering what a flax "egg" is, it is 1 TBS of ground golden flax to which you incrementally whisk in 3 TBS of water. The pajeon also contained all purpose flour, scallions, cold water, and salt. It was cooked in a skillet and served with a sauce of soy sauce, rice vinegar, sesame oil, minced garlic, and sugar.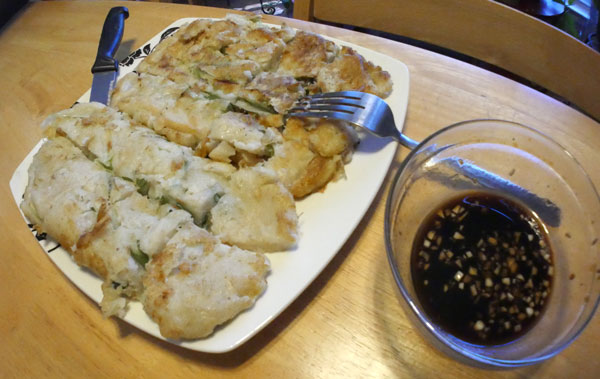 Lauren: Moussaka
Lauren went with a Greek moussaka for the veganized theme. Since it usually contains meat, eggs, and dairy, there was a bit to do. For details, please see the Moussaka Veganized post.