Veganized Cheese Cranberry Herb Mini Muffins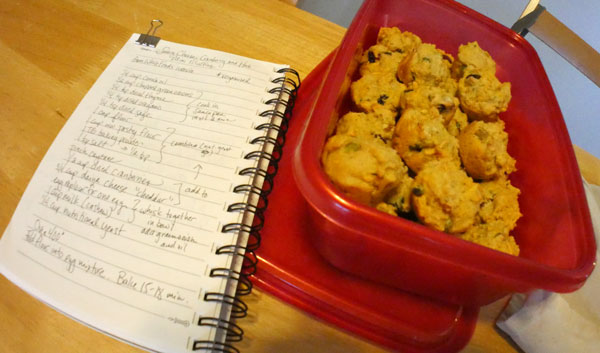 Slynn veganized a recipe for Cheese Cranberry Herb Mini Muffins from the Whole Foods website. It makes for a savory little muffin with pops of sweet from the cranberries. From what she wrote in the notebook pictured above, here is how it goes:
1. Preheat oven to 400 degrees.
2. Lightly oil a mini-muffin pan. (Could be made in a regular muffin-size tin with a longer baking time.)
3. Whisk together in bowl or large measuring cup:
– 1 1/2 tsp Ener-G Egg Replacer with 2 tsp TBS water (or substitute other 1 egg replacement)
– 1 cup vegan milk (Slynn used cashew)
– 1/4 cup canola oil
4. Add the following ingredients to a non-stick sauce pan with a teaspoon of canola oil, and cook for two minutes:
– 1/2 cup chopped green onions
– 1/4 tsp dried thyme
– 1/4 tsp dried oregano
– 1/4 tsp dried sage
5. Combine the next ingredients in a large bowl:
– 1 cup all-purpose flour
– 1 cup whole wheat pastry flour (can use more regular all-purpose)
– 1 TBS baking powder
– 1 tsp salt
– 1/4 cup nutritional yeast
– pinch of cayenne
6. Add the green onion mixture to the "egg mixture" and mix well. Then fold the wet ingredients into the flour mixture until just combined.
7. Add to the above large bowl:
– 1/2 cup dried cranberries
– 3/4 cup Daiya Cheddar Shreds
8. Fill a prepared mini muffin pan with the batter (about 1 TB per muffin), and bake for 15 minutes.
Makes about 32 mini-muffins.