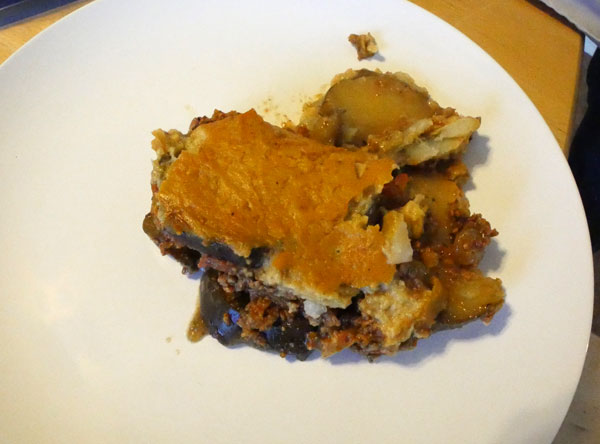 I adapted a moussaka recipe from a combination of not-so-vegan recipes. Here it is:
Vegetables:
2 medium sized eggplants
3 TBS oil
1 tsp salt
2-3 potatoes
TVP Sauce:
1.5 cup textured vegetable protein (TVP)
1.5 cup vegetable stock
2 TBS liquid smoke
1 TBS oil
1 chopped onion
4 cloves garlic
1 TBS soy sauce or liquid aminos
1.5 tsp cinnamon
1 tsp allspice
1 tsp black pepper
1 TBSP dried oregano
1/4 cup tomato paste
1 TBS red wine vinegar
1 TBS sugar
28 oz can diced tomato, mostly drained
Creamy sauce:
6 TBS vegan butter such as Earth Balance
3/4 cup flour
3 1/4 cups vegan milk
1/4 cup nutritional yeast
1/2 tsp garlic
1 tsp smoked paprika
1/4 tsp ground nutmeg
salt to taste
1. Preheat oven to 400 degrees.
2. Peel eggplants. Toss eggplants with 3 TBS oil and salt. Place on baking sheet and bake for 20 minutes. Allow to cool. Meanwhile poke holes in potatoes and microwave for approximately 4 minutes until potatoes are not hard but will slice and retain shape. Slice potatoes into thin rounds. Alternatively if you don't want to use a microwave, slice the raw potatoes, cover with water in a pot, boil potatoes until no longer crisp but still firm.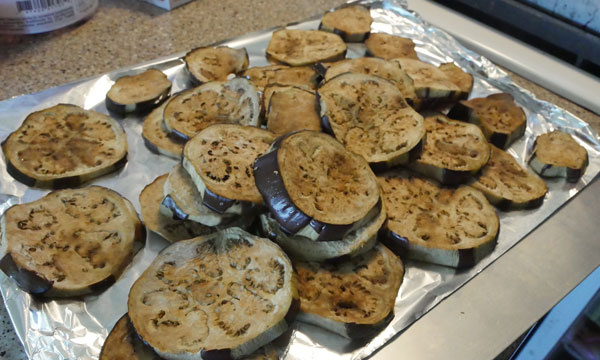 3. In a pot heat vegetable stock. When it boils, add liquid smoke and TVP. Cover and set aside for five minutes to hydrate the TVP.
4. Heat oil in large frying pan. Sautee chopped onion and garlic. After a couple of minutes, stir in the TVP. Add cinnamon, allspice, pepper, oregano, and tomato paste. Cook another couple minutes before adding the vinegar and sugar. Add diced tomato. Let the mixture simmer approximately fifteen minutes, stirring occasionally.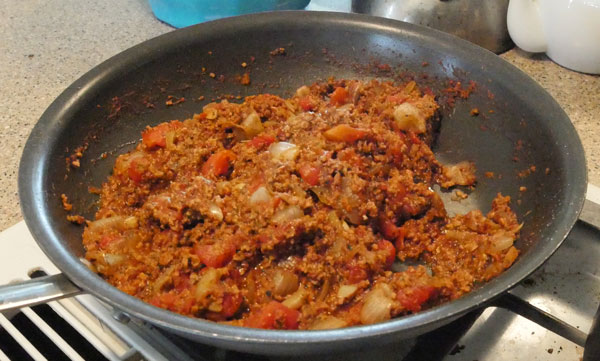 5. For the creamy sauce, heat vegan butter at medium low heat until melted. Slowly add the flour and cook until it begins to turn golden. Slowly add the vegan milk. Then add the nutritional yeast, garlic, paprika, and nutmeg. Heat sauce, stirring regularly, until it begins to boil. Add salt.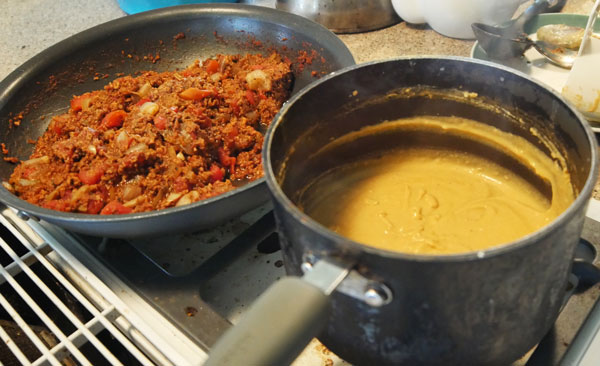 6. Heat oven to 350. Begin assembling the moussaka by spreading one cup of the creamy sauce on the bottom of a 13x9x2 pan. Next, layer the potatoes over the sauce and the eggplant over the potatoes. Spread the TVP filling over the eggplant. Pour the remaining creamy sauce over the top.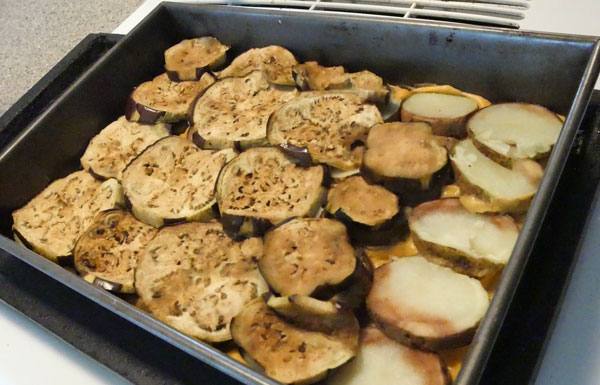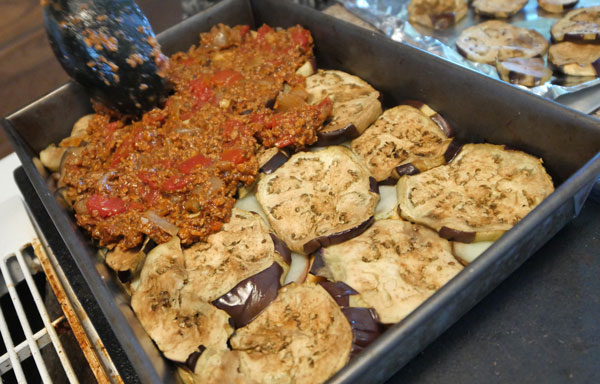 7. Bake 50 minutes.