June 21, 2021 – Happy Hour
Sunday, June 21, 2021
VBC Meeting #100: Happy Hour
Host of the Month: Lauren and Billy
Location: Ponder and the Internet
While posting last month's details to our website, it came to my attention that June was our 100th month of VBC! June turned out to be a tough month to schedule though. Thus, instead of the usual weekend event, we got together at Billy and Lauren's house on Monday, June 21 at 6:30pm. Yeah, you read that right…it was on a MONDAY like never before!. Accordingly, the theme was Happy Hour, so we did beverage or appetizer-y food items.
This is what we made (in the words of those who made it):
Annette: Sweet and Savory Focaccia
I'm sorry to have missed yesterday (family travel!) but am glad that last weekend I baked two delicious vegan treats. I started with the Milk Street recipe for focaccia and doctored up sweet and savory versions. The savory included farmers' market tomatoes, kalamata olives, and lots of oregano, and the sweet included dark chocolate, black pepper, and some cinnamon and anise pickled grapes I made a few weeks ago.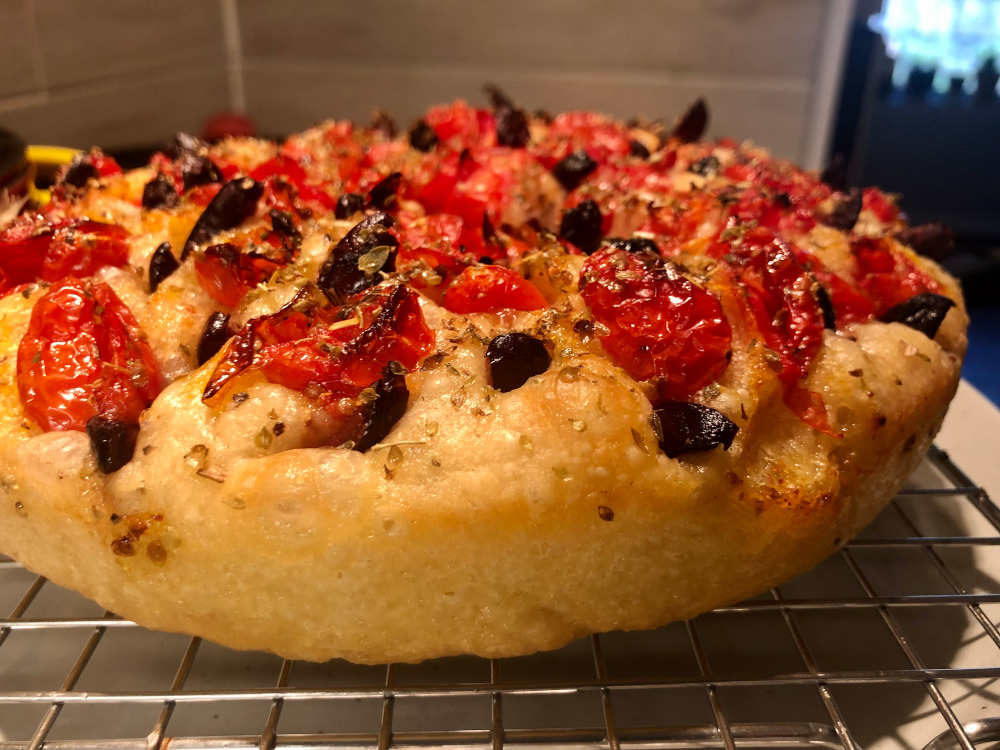 The latter was my favorite, especially since the grapes got a little caramelized in the oven and the chocolate tucked into the olive oil-forward dough was like tiny pockets of hidden sweetness. Five out of five stars, two thumbs up, would bake again!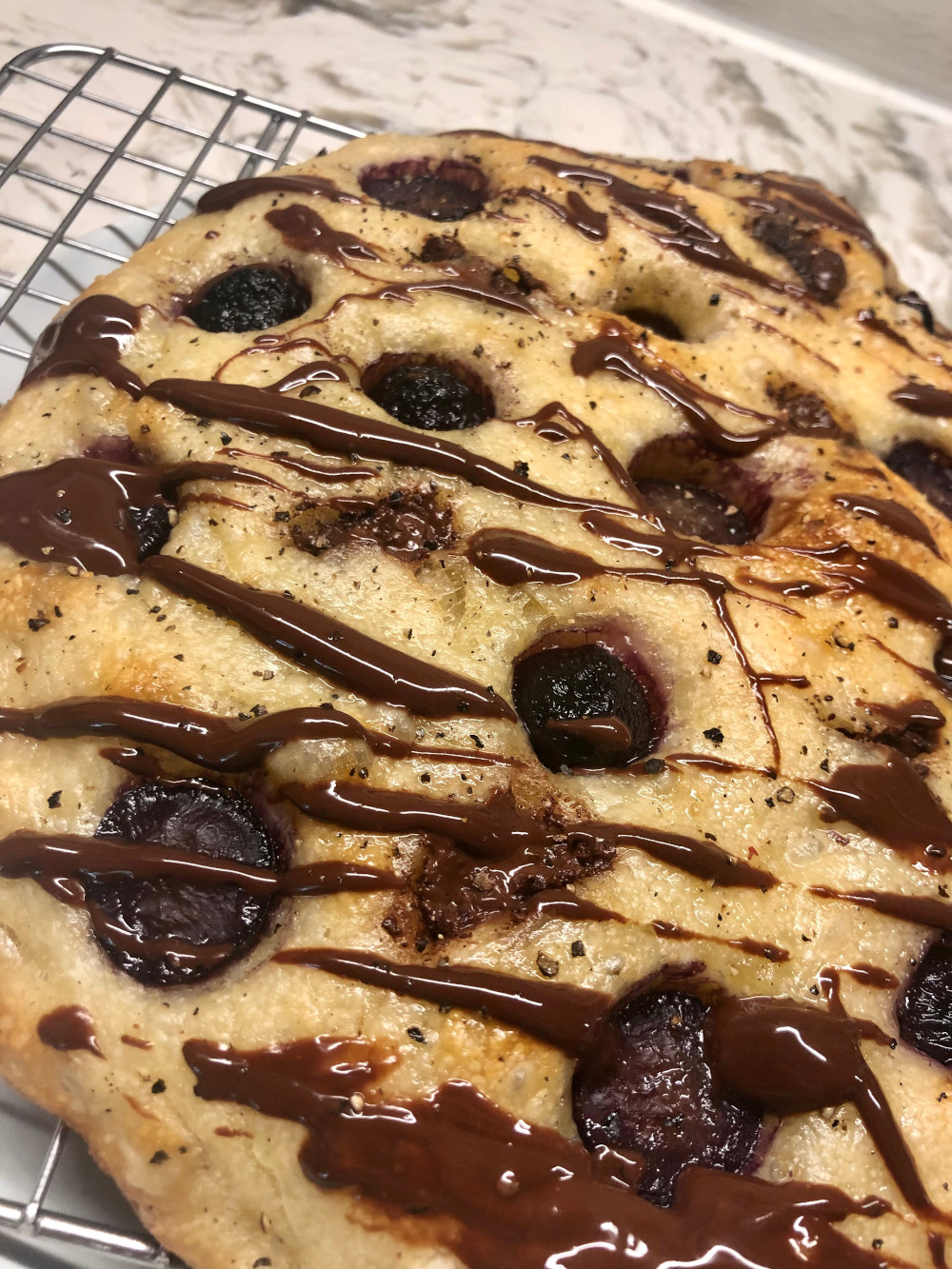 Lauren: Agedashi Tofu
For the Happy Hour Vegan Bake Club meeting, I made agedashi tofu (agedashi dōfu, 揚げ出し豆腐). I started by cutting two blocks of medium firm tofu into six pieces each and pressing some of the water out of the slices by wrapping them in a towel and placing a cutting board on top, After they sat that way for several minutes, I sprinkled each piece of tofu with a little salt and coated each with potato starch. Then I shallow fried them in a cast iron skillet to make a crispy skin. Since agedashi tofu is usually the tofu served in a bit of dashi stock, I quickly tried to whip one up. Of course, I didn't want the fish-basedness of a traditional dashi stock, so I made one with water, miso paste, soy sauce, rice vinegar (since I didn't have mirin), sugar, and orange juice. One recipe I looked at said to add a tablespoon of potato starch. This made the mixture into more of a gravy than a stock. Next time I would probably stick to serving the tofu with a simple sauce made of soy sauce, rice vinegar, sugar, and water.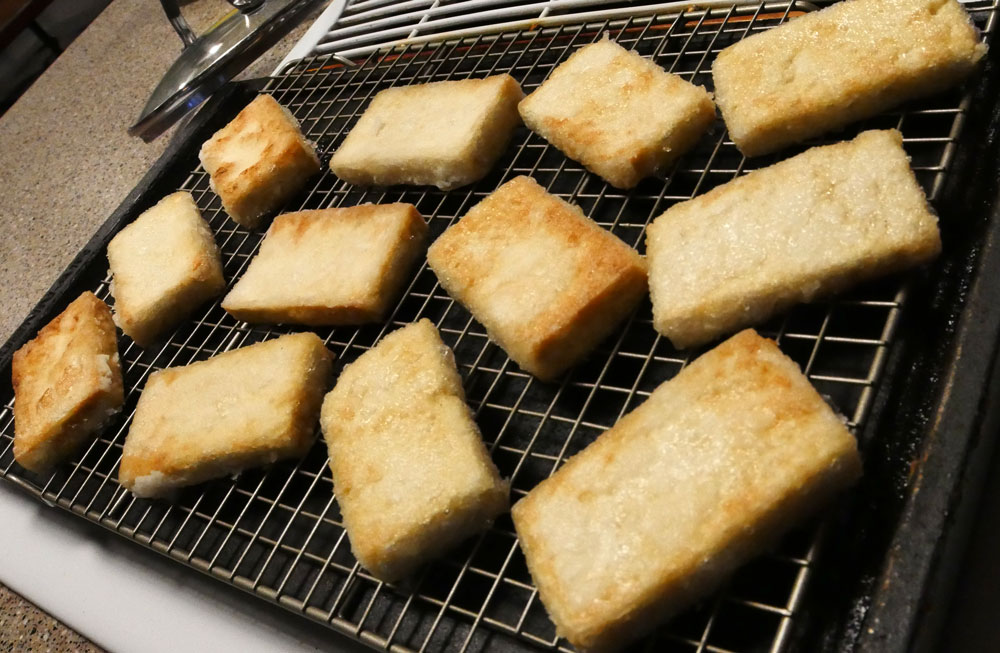 John: PB Chocolate Cereal
I forgot to make something and joined a little late, eating a bowl of cereal for an afternoon snack. Lauren suggested I should take a picture and send it in, so here's my cereal –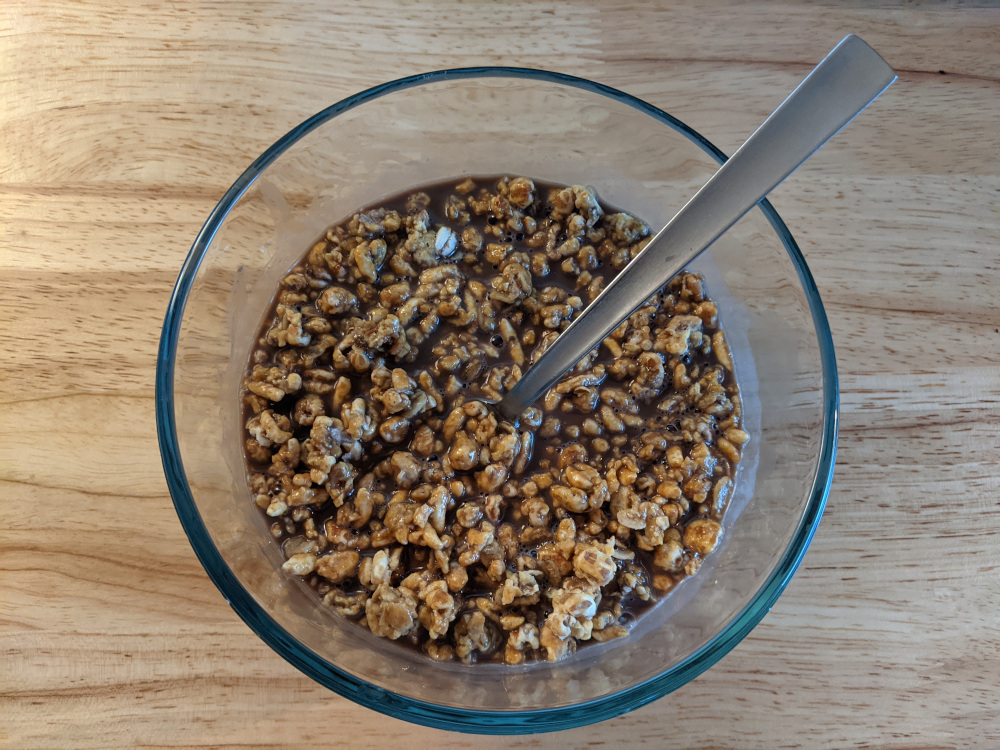 I believe this was Kashi GO Peanut Butter Crunch, with Silk Dark Chocolate Almondmilk. So simple, easy, and delicious!
Billy: Watermelon Margaritas; Tower of Sushi
For VBC 6/21 I made frozen yellow watermelon margaritas after picking up one of these fruits on a whim. This beverage consisted of blended lime margarita mix, frozen chunks of mini yellow watermelon, ice and tequila.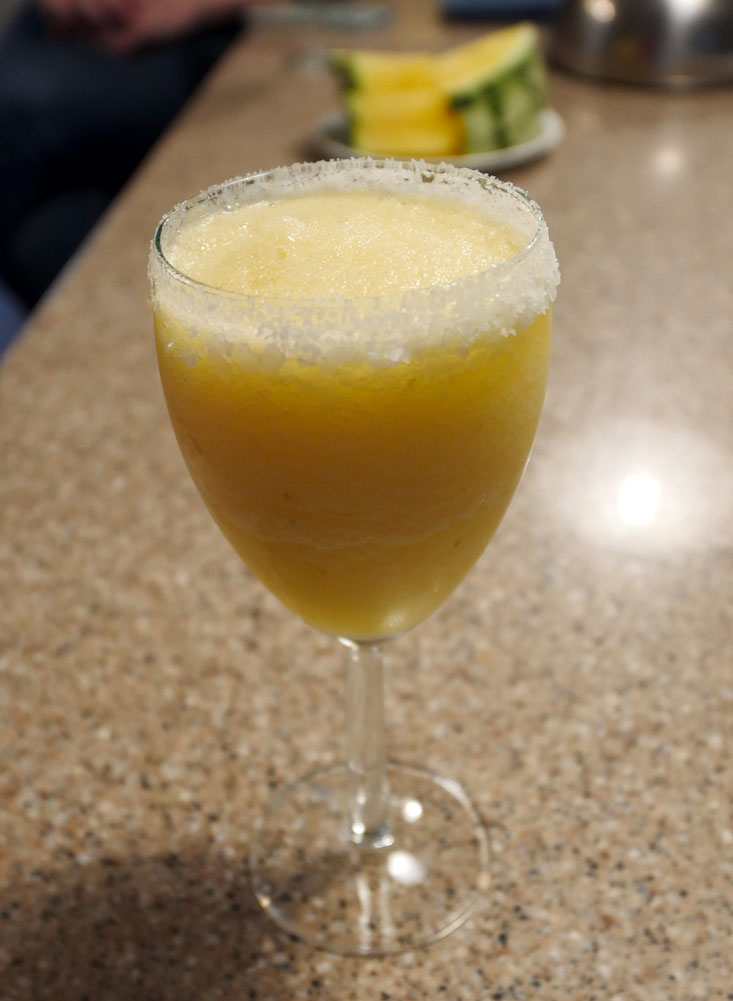 My original plan was just to make sushi for a repeat (of April 2015 where I also failed at making carbonated coffee! lol).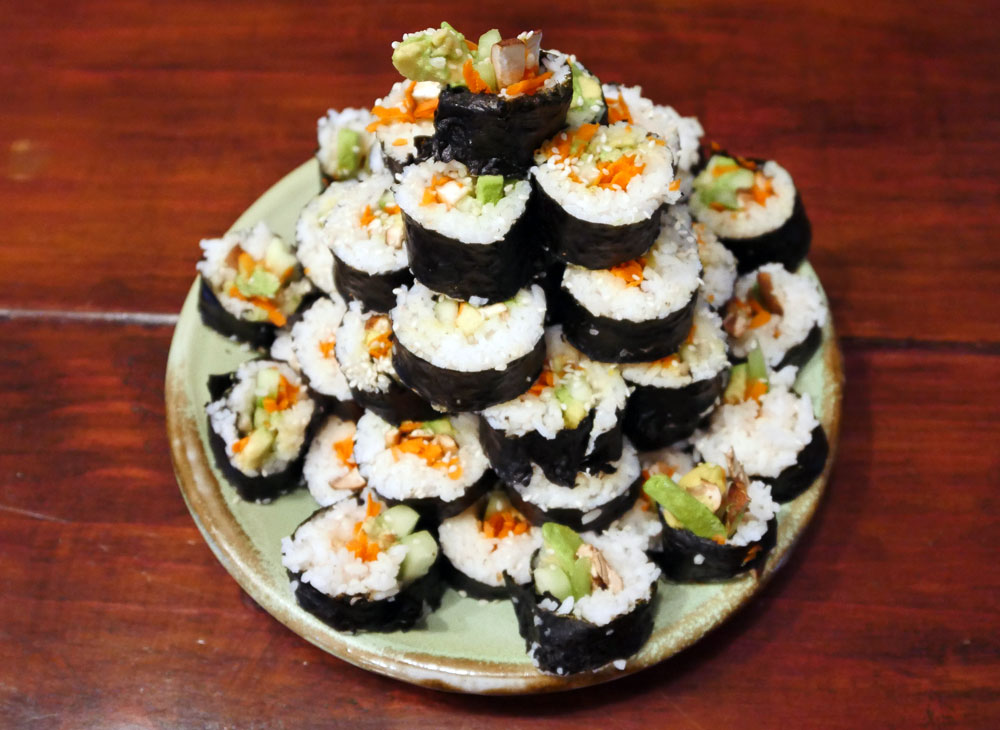 Shannon: Rum Cake; Pâté
For June Happy Hour, I made rum cake and pâté.
For the rum cake: I mostly followed this recipe. But when I didn't have dark rum (which the recipe was very specific about) and it was a Sunday (dry county), I incorporated elements of this recipe to use the spice rum I already had. The sponge was from the first recipe, but I substituted unrefined coconut oil for the neutral oil, subbed pineapple juice for the apple cider vinegar, and I threw in some crushed pineapple. I liked how the recipe used silken tofu and custard powder in it. I had never made a cake with those ingredients, but I like how it turned out. I followed the second recipe for the syrup you soak the cake in. But I skipped the glaze and just got cocowhip instead (because that was easier). I was not displeased with the results.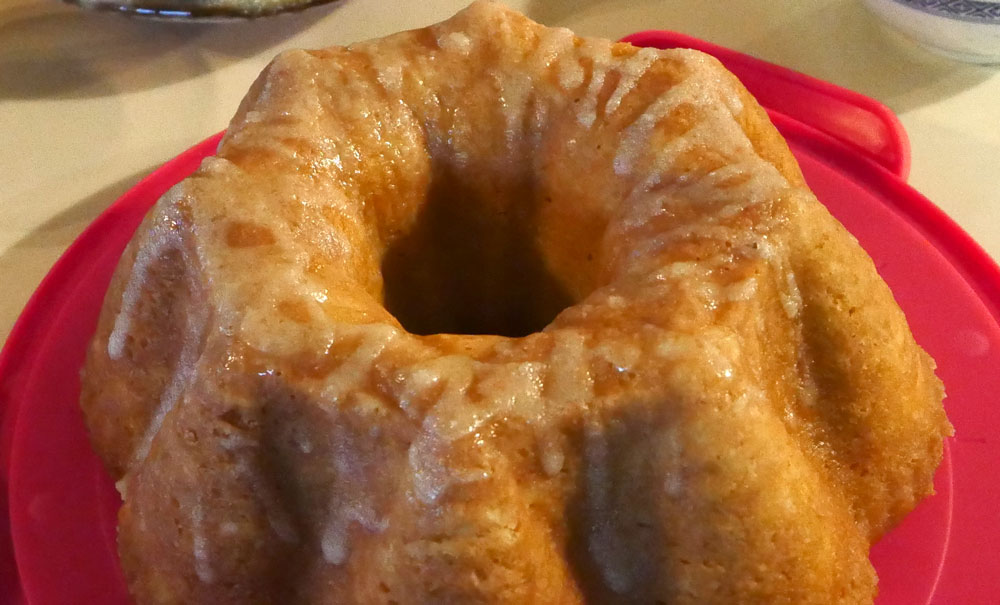 For the vegan pâté: I followed this recipe pretty faithfully. But I threw in a little thyme as well (when I took rosemary from my brother's garden he insisted I also take thyme and basil as well). Stupid easy to make. And I was also not displeased with the results. I do not (or did not) have a good food processor. So I used an immersion blender instead. It worked okay, but I think a food processor would make it smoother. More like the meat goop it is meant to imitate.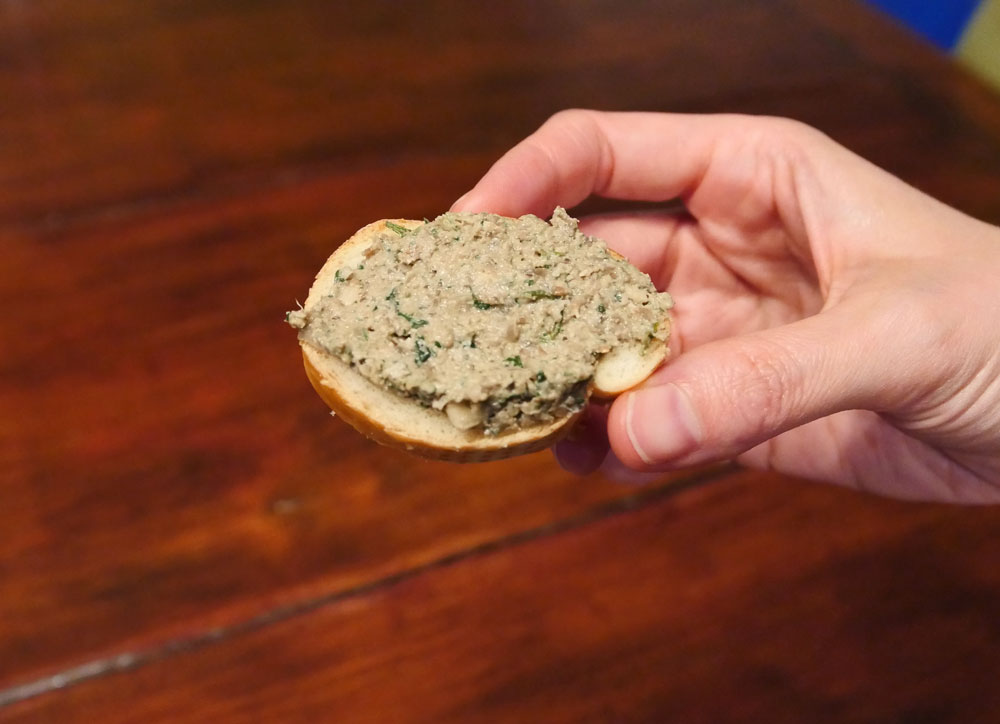 Caroline: Smog City Brewing Co's Amarilla Gorilla India Pale Ale
Turns out I did not get time to make anything. Construction has started on the space that is going to be converted into my lil studio apt here at my sister's house, so it has been hard to get anything done at home. I have escaped to my parent's house for the night for refuge!
Drew bought a 4-pack of this beer when he came to visit me! It's Smog City Brewing Co's Amarilla Gorilla India Pale Ale. Very hoppy and bitter and a lovely reminder of my honey bun Emoji Btw, Smog City Brewing is out of LA county (Long Beach and Torrance), so pretty fitting name.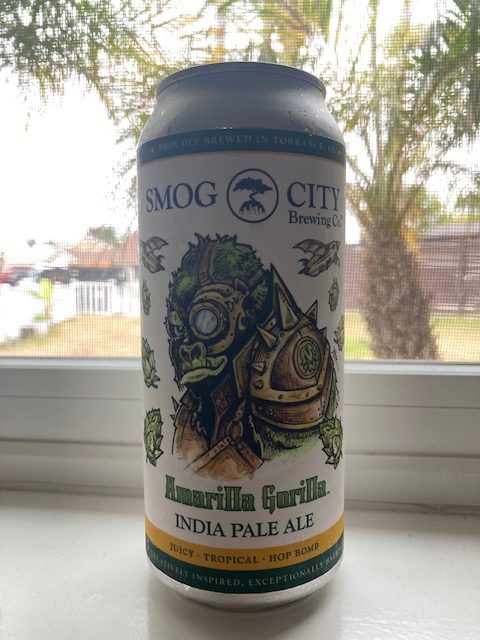 Slynn and Ramon: Eggplant "Pâté"; Pomegranate Orange Mocktail; Italian Vegetable Soup
Sharing our "happy hour" meal from a few nights ago. We pretty much always eat during happy hour since we eat dinner with a 3-year-old.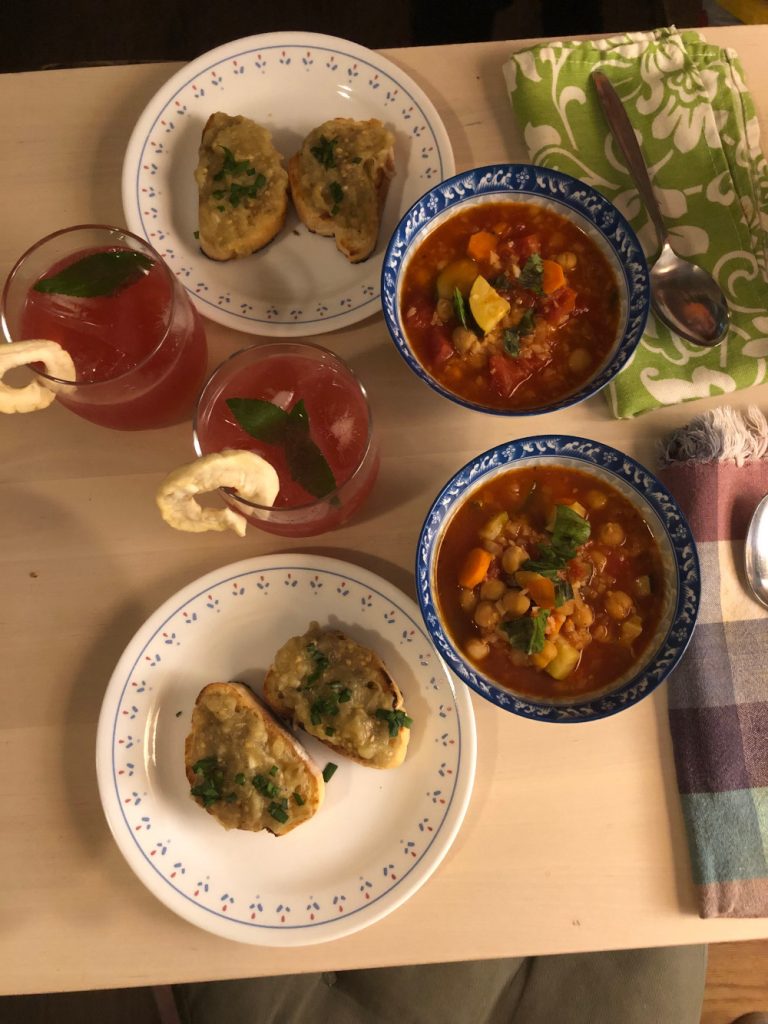 Ramon made an eggplant "pâté" from a book we have called Simply Vegetarian that included roasted mashed eggplant, garlic, and lemon juice.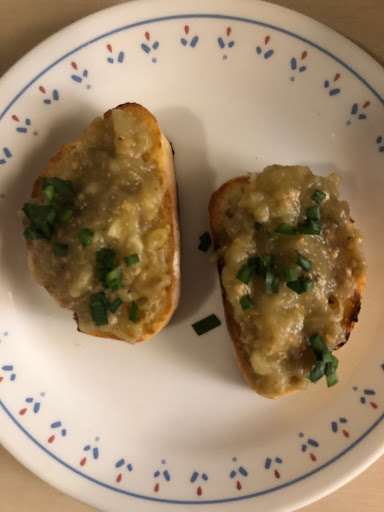 I contributed a mocktail made from a can of pomegranate and orange San Pellegrino that no one wanted to drink otherwise. I found a drink suggestion for this on the website. It has apple juice and juice of pink grapefruit in addition to the canned beverage, mint and dried apple garnish.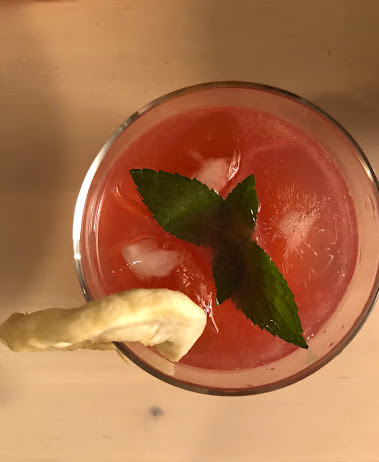 Also pictured is an Italian vegetable soup that Ramon's Italian mom declared "the best ever"! He will have to tell you the secret.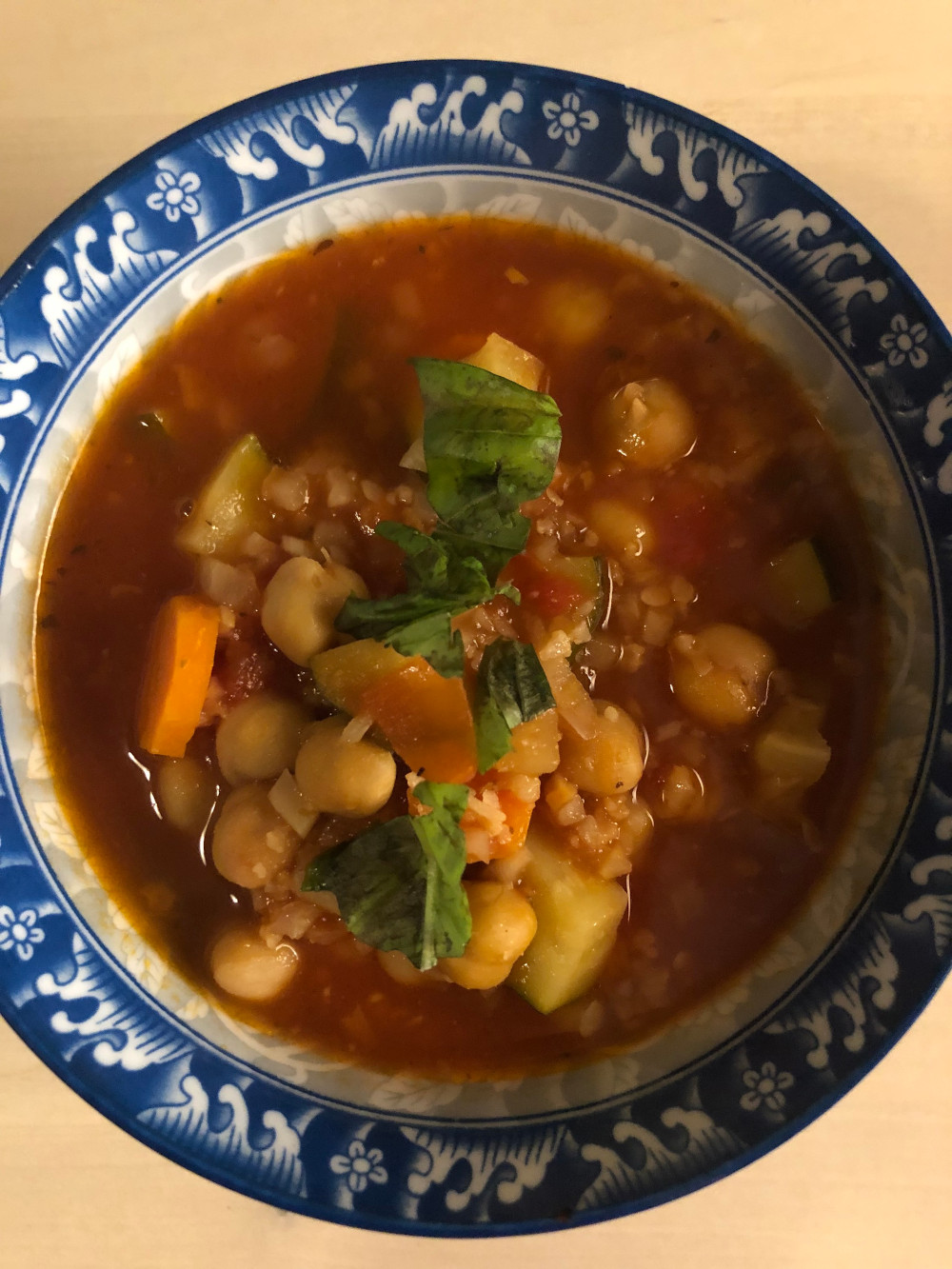 Drew: Veggie and Crumbles Queso
I was short on time, and short on ingredients to make my original plan of nachos as I had to travel to Houston for work and got it much later than I anticipated the day before. So, instead I bought vegan "nacho dip" made by The Honest Stand that I got at Natural Grocers on the way home from work. I then just sautéed whatever random veggies and whatnot I had on hand at the house. I am pretty sure this included onion, mushrooms, bell pepper, garlic, and Gardein "beef" crumbles. I then microwaved the dip, mixed in it with the sautéed stuff and opened a bag of chips!