May 30, 2021 – German Food
Sunday, May 30, 2021
VBC Meeting #99: German Food
Host of the Month: Lauren and Billy
Location: Ponder and the Internet
In April, at our first Vegan Bake Club meeting back together (on a small scale) after the craziness of over a year, we were sitting around chatting about what the theme should be for May. For some reason I can't recall, we decided German food would be a fun one. So it was.
This is what we made (in the words of those who made it):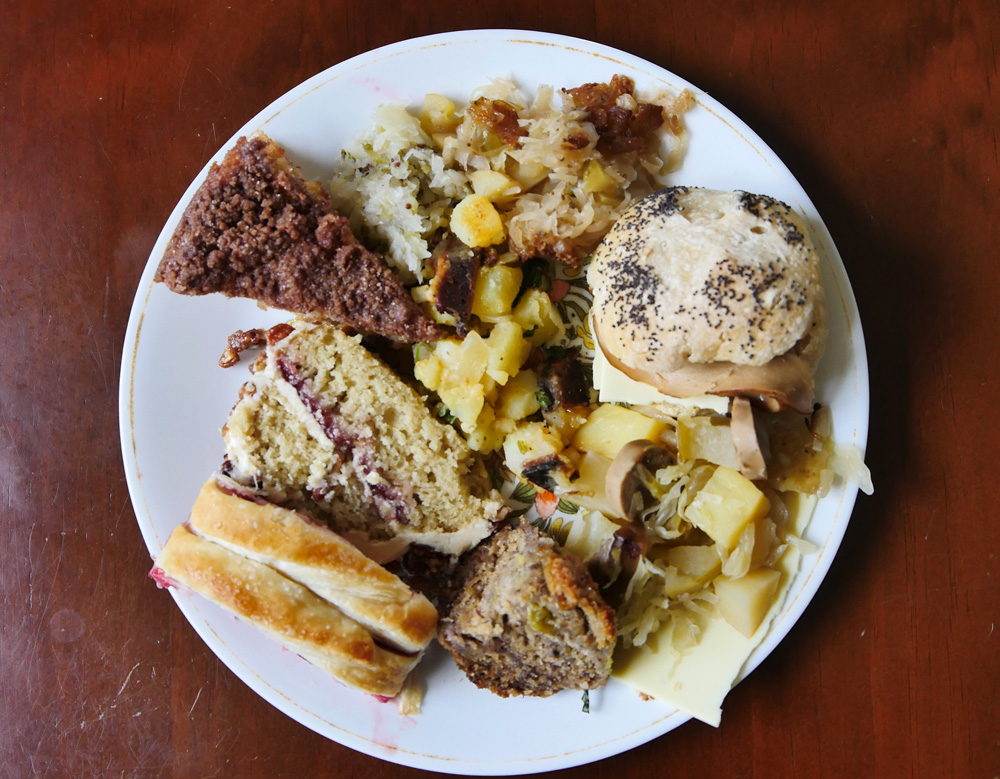 Annette: Ultimate Vegan Banana Bread with Whiskey Raisins
As a long-time follower and first-time attendee of the VBC, I decided to experiment with one of my favorite banana bread recipes. I started with the America's Test Kitchen Ultimate Banana Bread directions, for which I swapped vegetable oil for butter and ground flax for eggs and added a bit more banana for extra moisture and binding. The best parts of this recipe are how it treats the bananas, making them extra caramelized and their flavor concentrated. The recipe calls for straining the liquid from the frozen-then-thawed bananas and boiling it, reducing the already delicious syrup to a thick and caramelly-brown goo. Then, once the batter is in oiled baking dishes, thinly sliced fresh bananas are tiled on the top and dusted with sugar, adding chewy banana coins and a crisp, caramelized sugar lid to the top. Because that didn't seem decadent enough, I also added golden raisins rehydrated with my favorite whiskey, playing up the caramel and vanilla notes of the banana bread. (I forgot to put the raisins in whiskey the night before, so I popped them in a mug and heated them up in the microwave…though the results were great, my kitchen reeked of booze at 8:45am when I started cooking. Whoops!)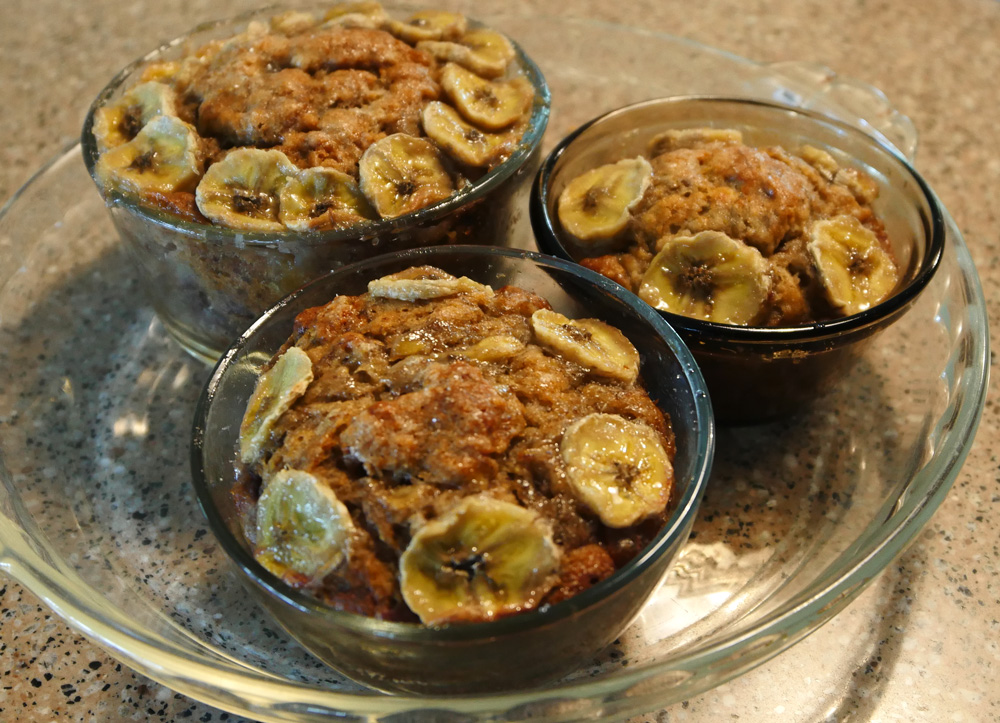 Lauren: Brotchen Sandwiches; Vegan Frankfurter Kranz
My mom's maiden name suggests I descend from German bread makers. That is one of the reasons I decided to make brotchen for the German Vegan Bake Club theme. These are bread rolls that can be eaten on their own, but are sometimes used for sandwiches. I made a batch (or 1/2 batch based on the linked recipe which made 13 rolls using ~2 ounces of dough each). The dough is just flour, water, yeast, and salt, but you start with making a sponge several hours (or a day) in advance. I topped some of the rolls with poppy seeds and some with "Everything" seasoning (like used on Everything Bagels) gifted by Slynn and Ramon. I served them with vegan deli slices and vegan cheese slices for eating as sandwiches.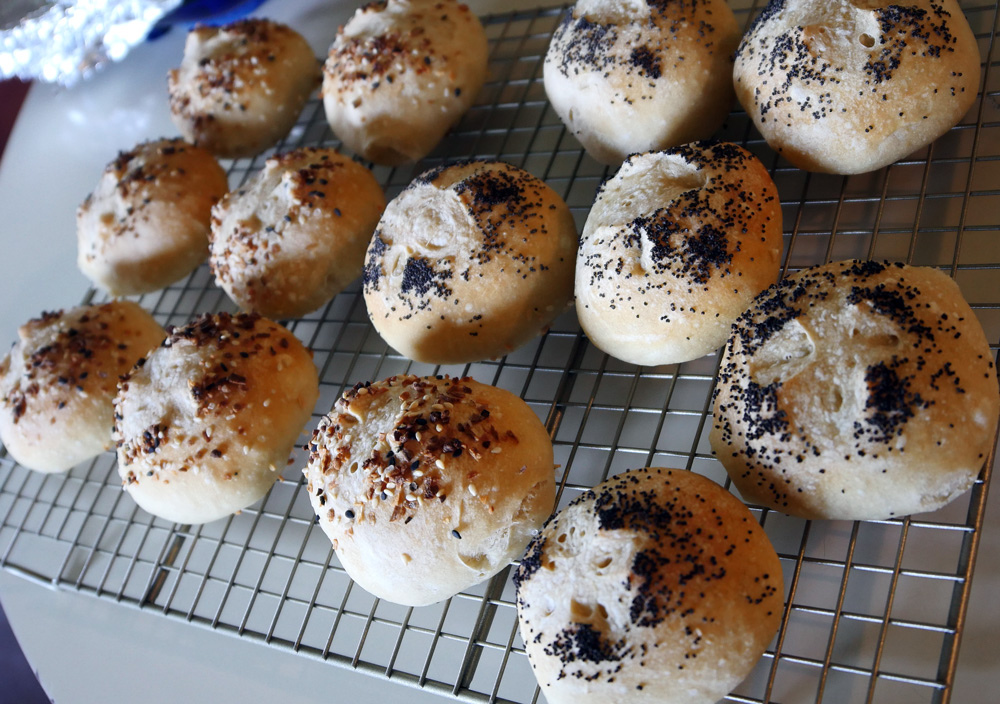 I also decided to make a vegan Frankfurter Kranz cake or Frankfurt Crown Cake, because it looked delicious when I saw a picture while perusing information about German foods. This is a cake, usually split into two or three layers, symbolizing Frankfurt as the coronation city of the Holy Roman emperors according to Wikipedia. It has carmelized nuts on the outside to look like gold and red fruit, often cherries, on top to look like rubies. Rather than follow a single recipe, I made the sponge based on the vegan Diva cake recipe that I used for the Opera Cake in February, baking it in a bundt pan to get the crown-style shape. I made a buttercream frosting with a couple of softened Earth Balance Buttery sticks, three cups of powdered sugar, and two teaspoons vanilla extract. This is not like what I saw for the German buttercreams used in the traditional Frankfurter Kranz cakes which seemed to be a pudding based concoction that I was wary of working well for a frosting if I tried to veganize it last minute. I used pecans for the sugary nuts (this is Texas after all and that's what we already had!), which were prepared by heating a couple tablespoons margarine, 1/2 cup of sugar, and two cups of the chopped nuts in a pan while stirring until the pecans were toasty and coated. Then I spread the nuts out on parchment paper to cool. Since when I tried to take the sponge out of the bundt pan, part of the top stayed stuck in the pan unintentionally, I only sliced the cake into 2 pieces instead of the common three. In between the cake layers I put raspberry jam and frosting. I covered the outside of the cake with frosting, the signature nuts (called Krokant), and topped with some gems of raspberries.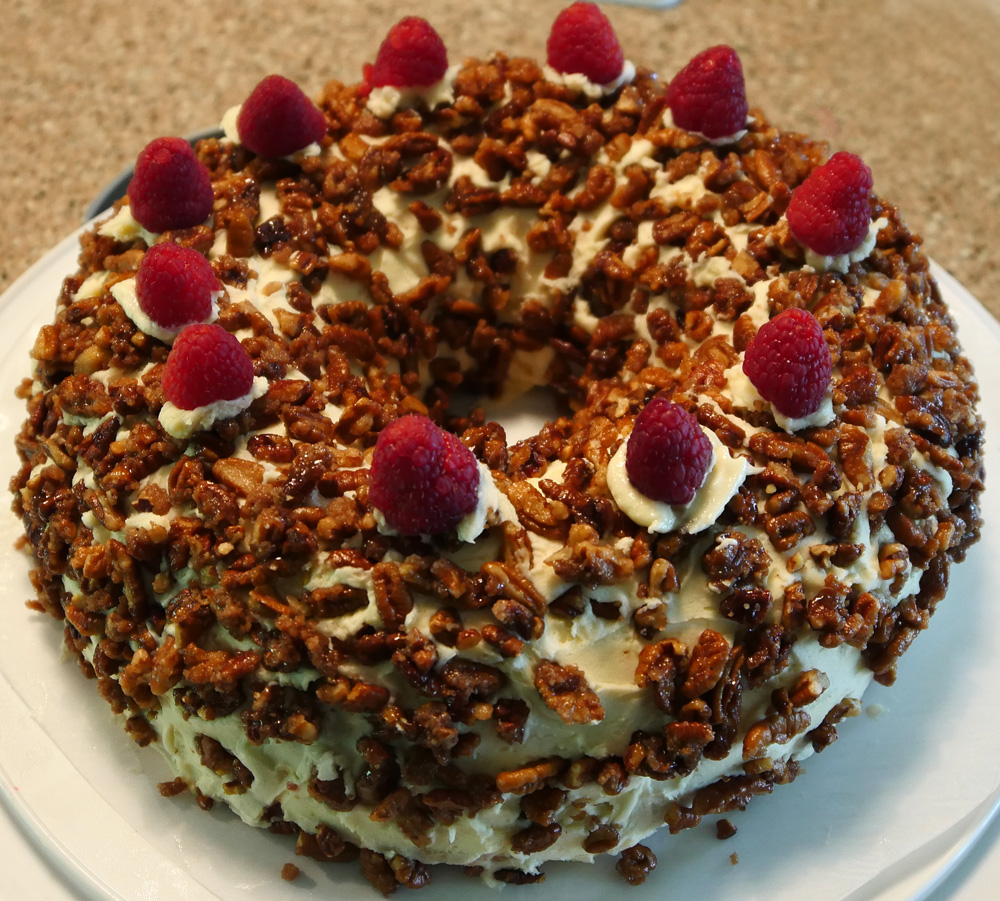 Drew: Potato Sauerkraut Casserole with Vegan Sausage
For the German food theme, I made a potato sauerkraut casserole generally following this recipe. For the sauerkraut, I used Trader Joe's raw, fermented sauerkraut that also had cucumbers (pickles?) in it (I mostly picked the cucumbers out of the dish, but some made it in). For the apples, I used Granny Smith. The recipe didn't call for sausage, but I walked by vegan sausage at Trader Joe's and thought it sounded good in potato sauerkraut casserole so I bought some and added it to it!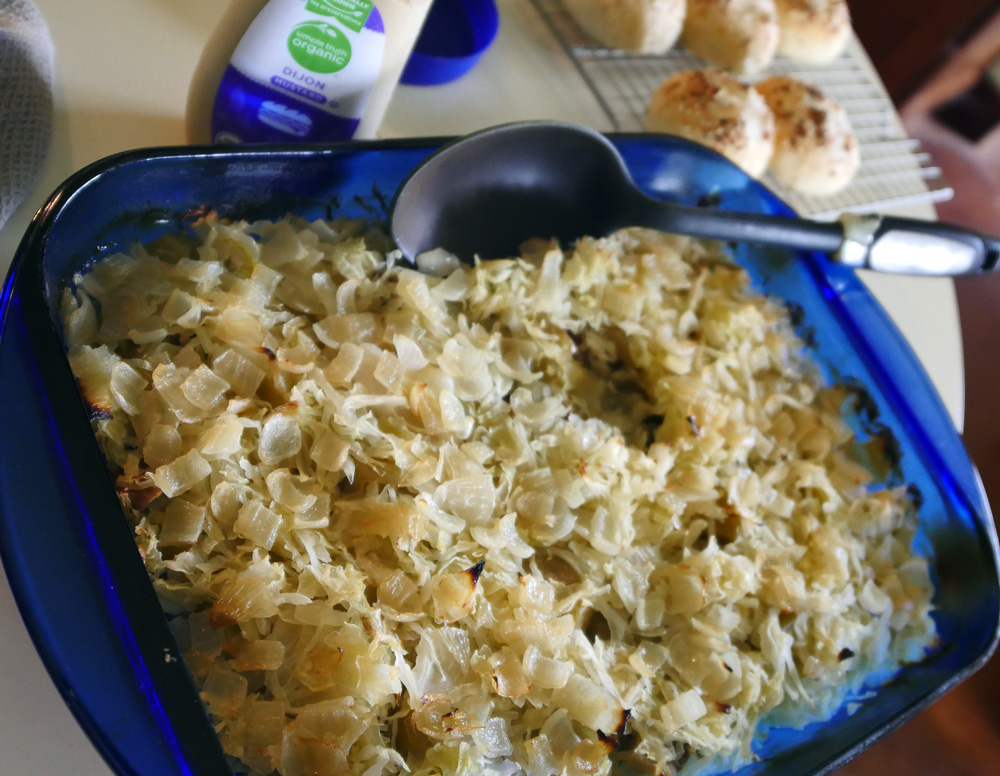 Caroline: Rhubarb Pie
For VBC May 2021, German theme, I made a rhubarb pie! I don't know if it is a particularly German thing, but it reminds me of my grandmother, who was a first-gen German-American. She grew up in Wisconsin with a bountiful garden, making rhubarb pies with fresh rhubarb from the garden. Rhubarb is weird and I had never heard of it before I was in my teens and my Grandma randomly made it for us.
I got the recipe here: https://www.allrecipes.com/recipe/12316/fresh-rhubarb-pie/ and it was SO EASY TO MAKE!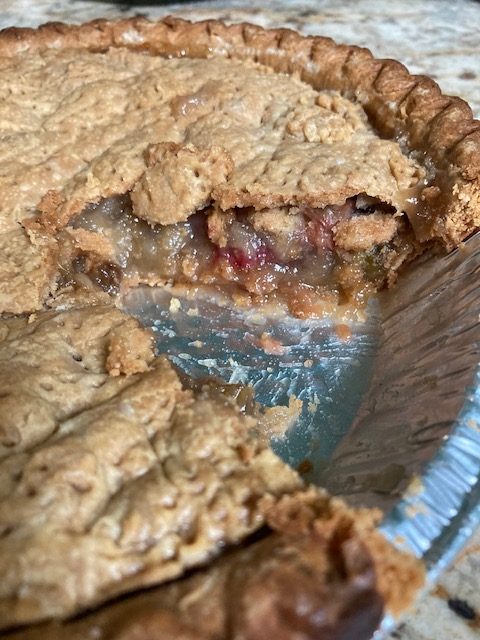 I got fresh rhubarb at Albertsons, as well as the pie crust. I got a pack of two pie crusts and put the second one on top of the pie, taking off the wiggly ends and poking the whole thing with a fork in some attempt to make it look a little presentable like a fancy pie!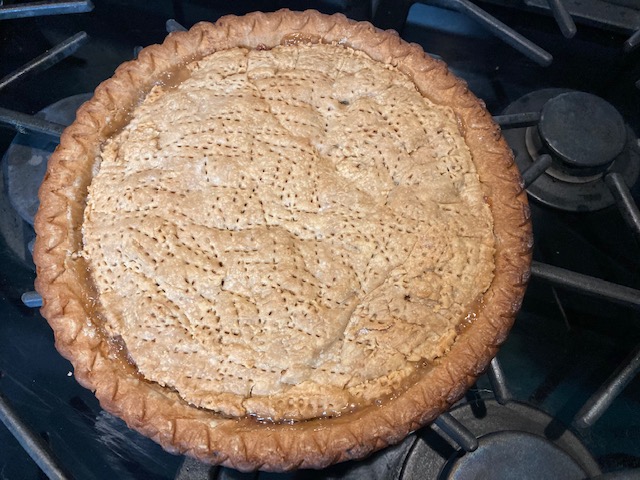 Slynn and Ramon: Potato Sauerkraut Casserole; Cin-ful Apple Cake
We made the same recipe as Drew without the sausage. Guess I didn't need to make this and thus be 2.5 hours late to meeting and melt the inside of my casserole carrier. Ramon was in charge of spices and made his own spice blend for the seasoning salt. I should have used more of it. Also maybe only one can of sauerkraut instead of two!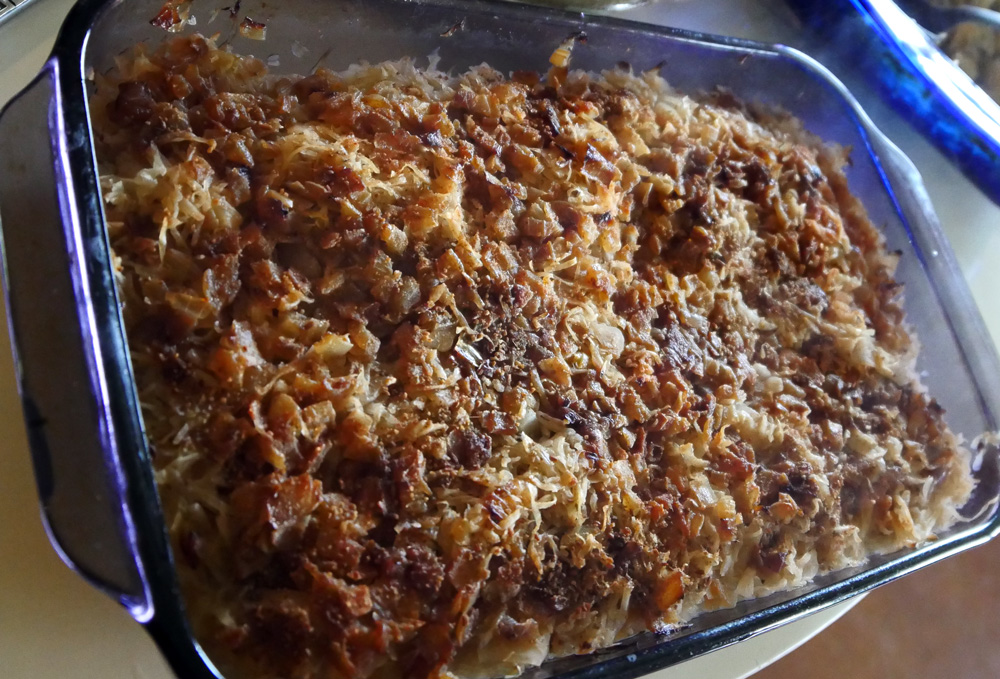 I also made an apple cake. Recipe is Cin-ful Apple Cake from my favorite 100 Best Vegan Baking Recipes. I added flour and EB margarine to the cinnamon sugar topping to make a streusel topping, since that is a word of German origin.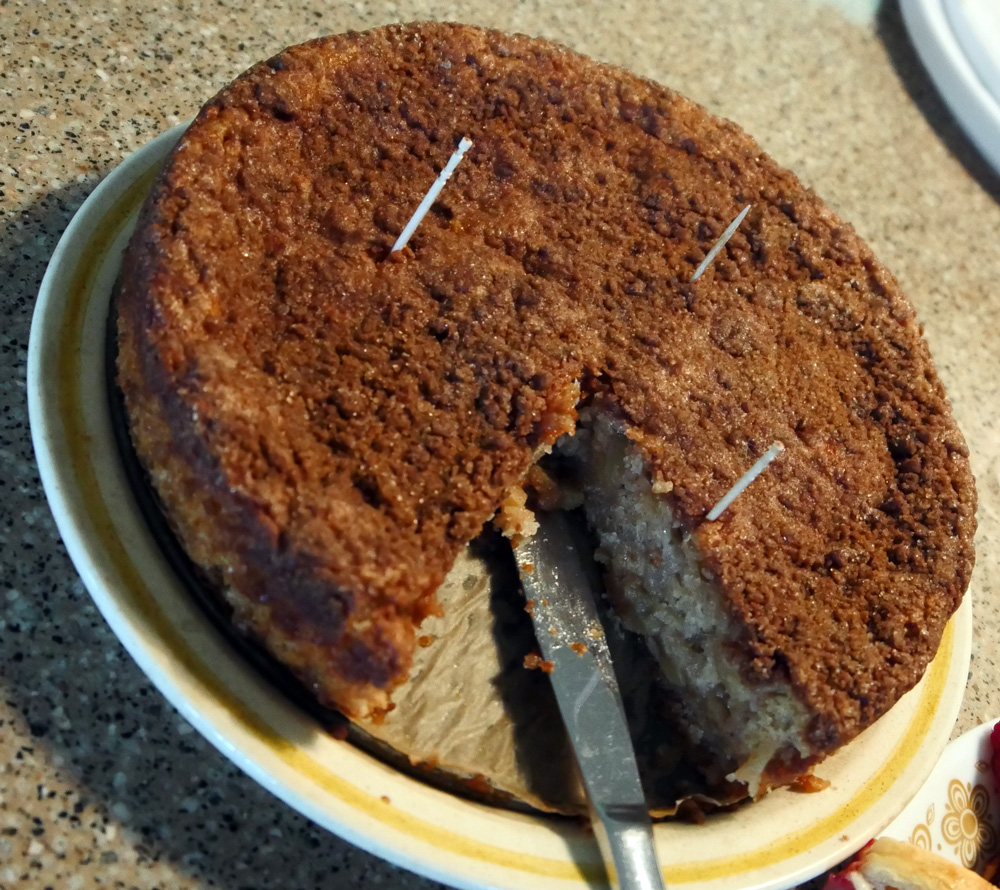 Billy: Sauerkraut
I made sauerkraut for German Food using half of a cabbage, a few small onions from the garden, mustard seed, salt, pepper and garlic powder. I food processed the kraut and onion, cooking them on high in a 5:1 water-vinegar mixture from a boil for around 20 minutes with mustard seed and spices. Excess liquid was drained off and the kraut was stored in an ugly plastic peanut butter pretzel container for this photo. Previously I've been guilty of taking dark, hideous pictures of VBC items in vats (that deserve serving and dressing) like this one.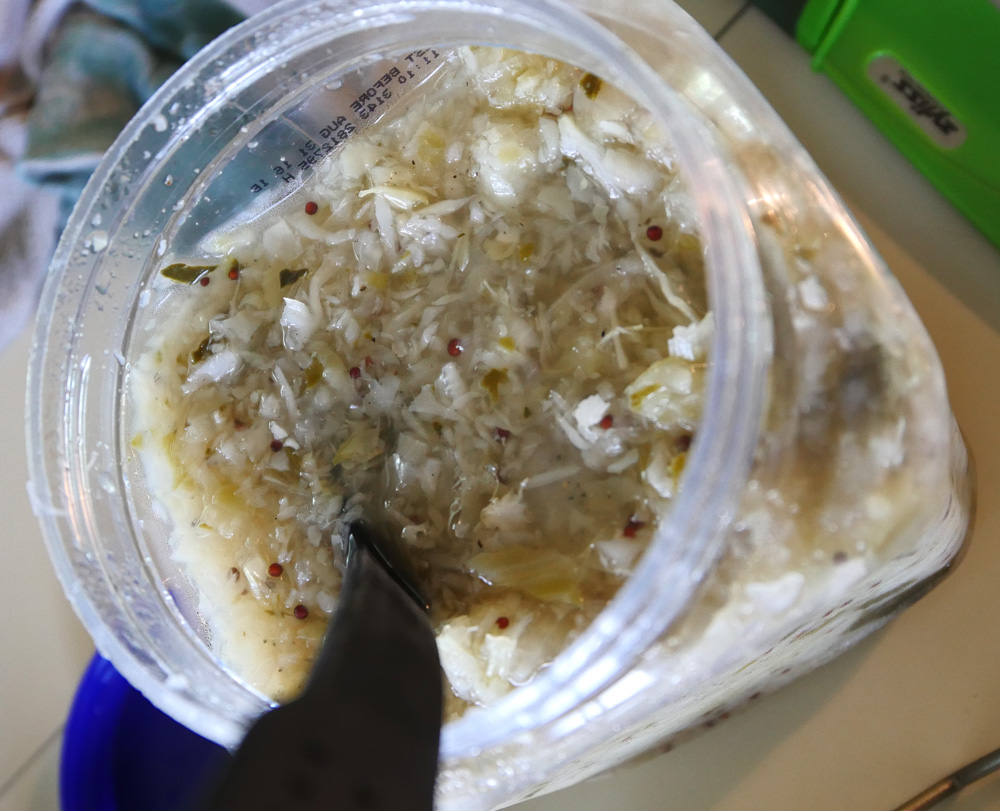 Shannon: Strudel; "Authentic" German Potato Salad
This is what I made for VBC German Food:
Strudel. I mostly followed this recipe: Berry & Brie Vegan Strudel – Holistic Hormone Help. But I couldn't find vegan brie. So I just used cream cheese instead (Kite Hill brand). And the fruit combo I chose was strawberries, cherries, and raspberries. It was stupid easy to do. Unsurprising as I bought the puff pastry and did not make it from scratch (still believe that to have been an excellent choice for a stress-free bake). I think if I made it again (and I do have an extra puff pastry now because you do not need 500g of puff pastry; the 375g of a single package is completely fine), I think I would double the amount of filling and see what happens. Might just turn to goo and leak out the sides. Or it might actually fill it more. Hard to say.
"Authentic" German potato salad. I mostly followed this recipe: Authentic German Potato Salad | Allrecipes. I had viewed a few other variations though. So I made a few tweaks as I was cooking. I added in some flour because I wasn't sure the juices would get thick enough as the real base of German Potato Salad is apparently bacon fat (mine did not have bacon fat). I also threw in some celery seed because I saw that listed in another recipe, and it sounded good to me. Also didn't measure the parsley. Just chopped a whole lot of parsley. I used Benevolent Bacon.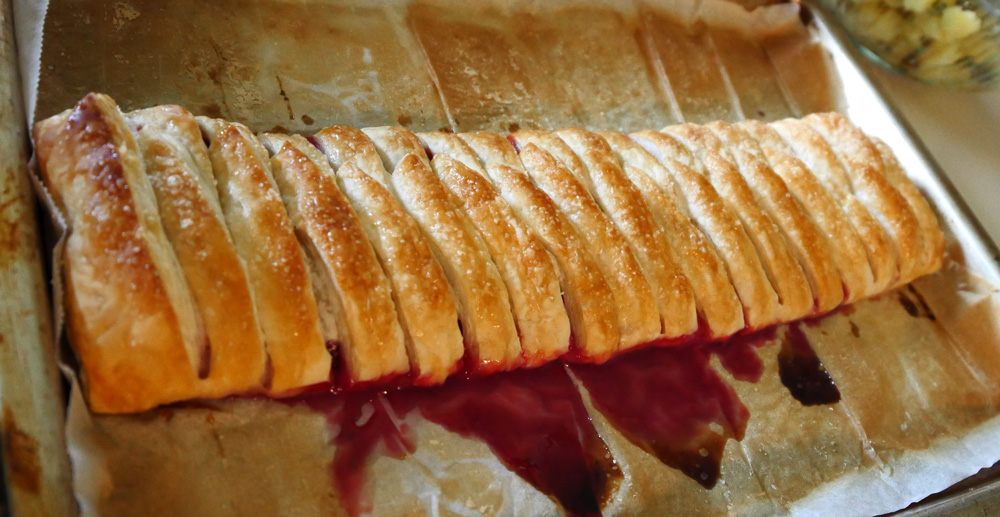 I did not photograph my own food. So the uploaded picture is from Billy. It is mostly the strudel, but you can see the potato salad in the background (it looked like potatoes with bacon bits and parsley).