April 12, 2015 – Coffee and Tea
Sunday, April 12, 2015
VBC Meeting #26: Coffee and Tea
Host of the Month: Slynn and Ramon
Location: Denton, TX
This is what we made: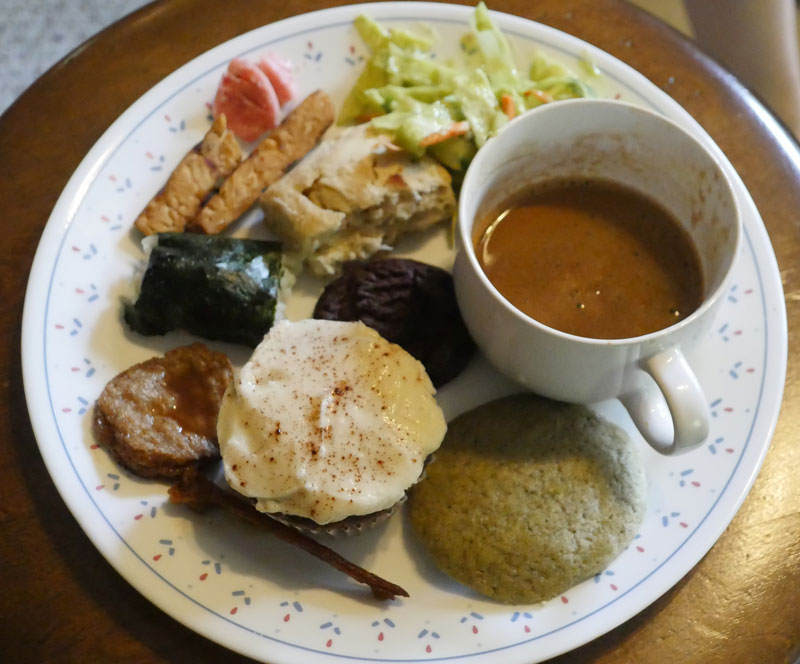 Lilly: Chai Bread
Lilly took some pre-made Persian breads, soaked them in flavor, and cooked them again. She used small pieces of barbari and sangak breads that she soaked in a combination of loose chai, Sadaf Cardamom tea, cardamom pods, and coconut oil. She topped them with sesame seeds and baked them in a muffin pan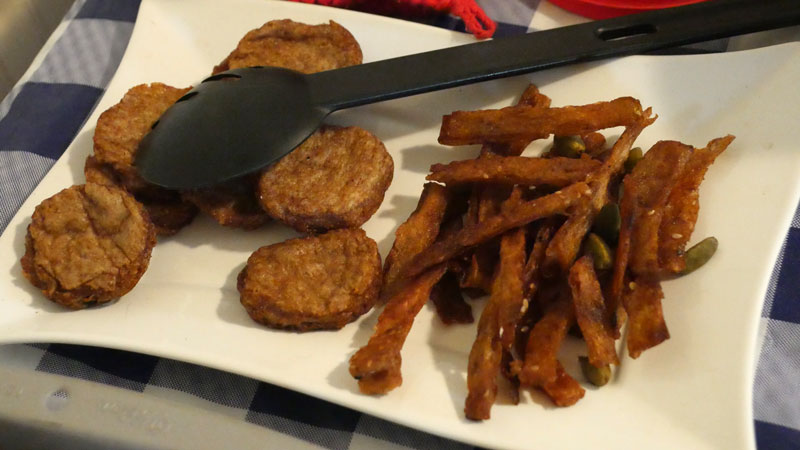 Michelle: Lemon Almond Scones with Toasted Coconut
Michelle shocked us into swearing by pulling up across the street unannounced shortly after 3pm. Michelle lives in Austin, not Denton. She brought with her some homemade scones filled with lemon and almonds and topped with toasted coconut. Scones are like a sweet biscuit you are supposed to soak it in tea or coffee. They generally seem like the best baked good to bludgeon someone with. However, Michelle's had a light quality to them. Perhaps it was the lemon.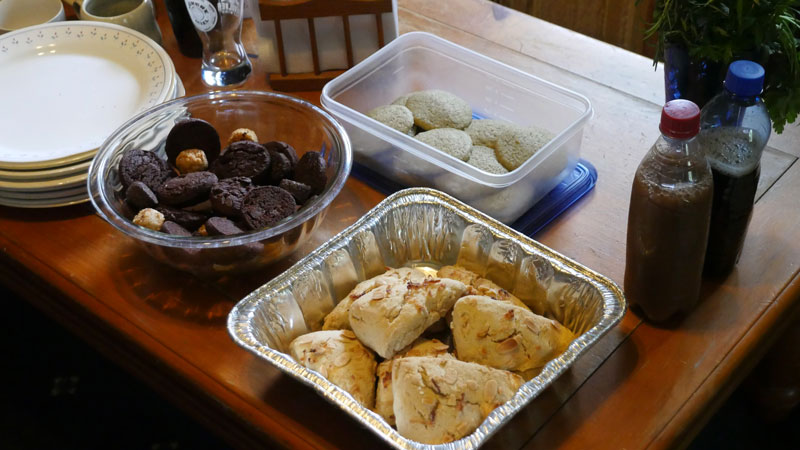 Slynn: Strawberry-Chamomile No-churn Frozen Yogurt
Slynn adapted her treat from a recipe in the current issue of Vegetarian Times. She made it with coconut milk yogurt, strawberries, chamomile flowers, and maple syrup combined in a blender. She froze the mix for three hours, whisking every 30 minutes or so.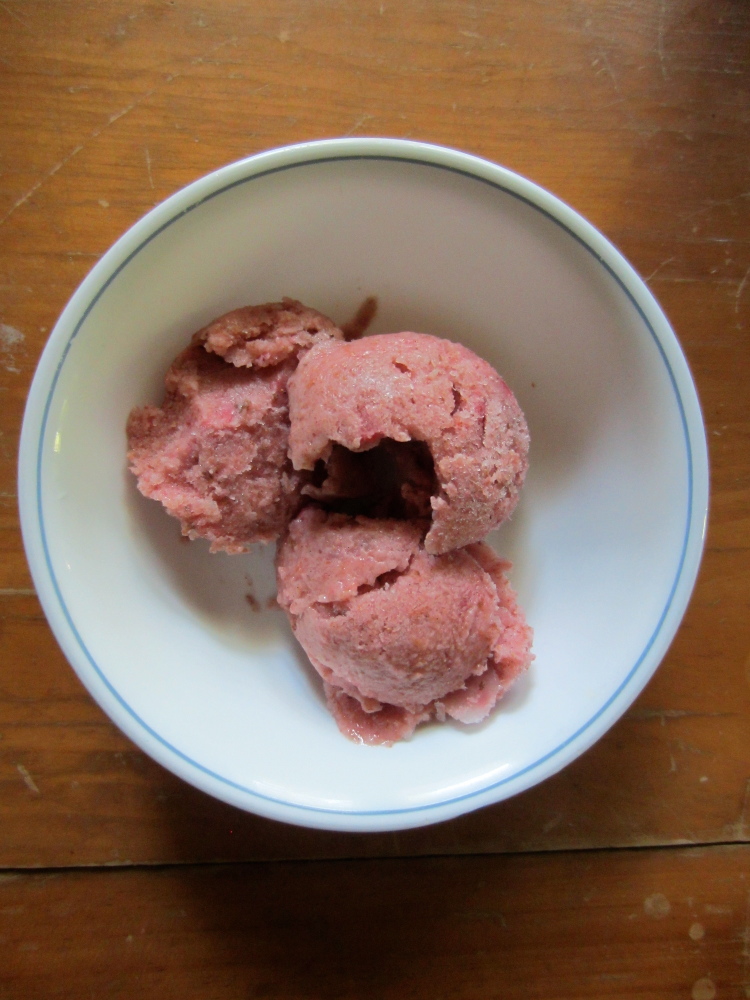 Dylan and Leanna: Bulletproof Coffee; Assorted Vegan Cookies
To make veganized Bulletproof coffee, Dylan and Leanna brewed espresso with their modded coffee maker and added unrefined coconut oil and Earth Balance Buttery Stick to finish it out. The result was a stimulating drink that you could almost eat with a knife and fork.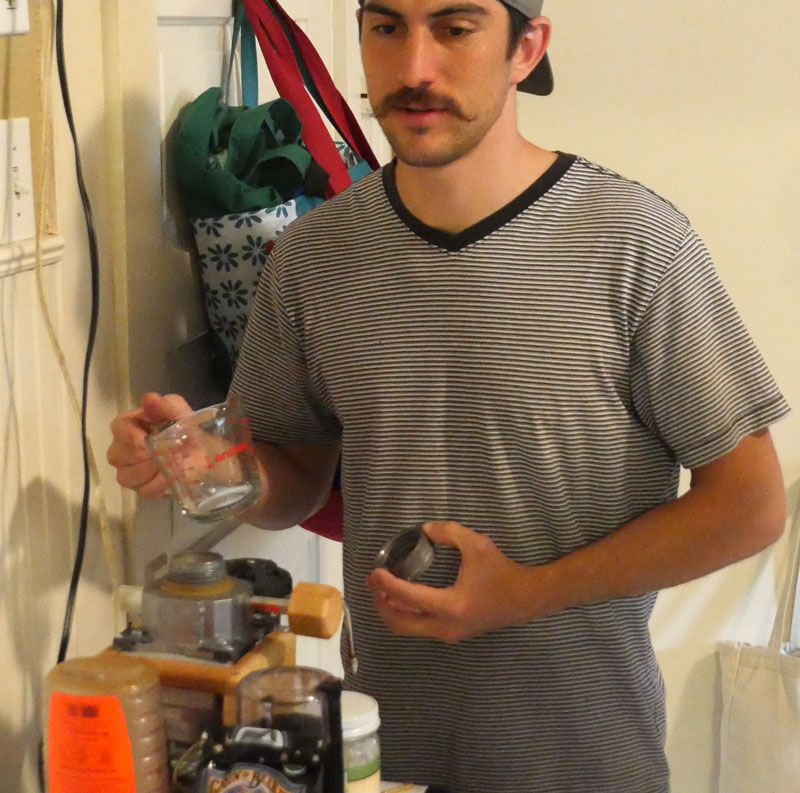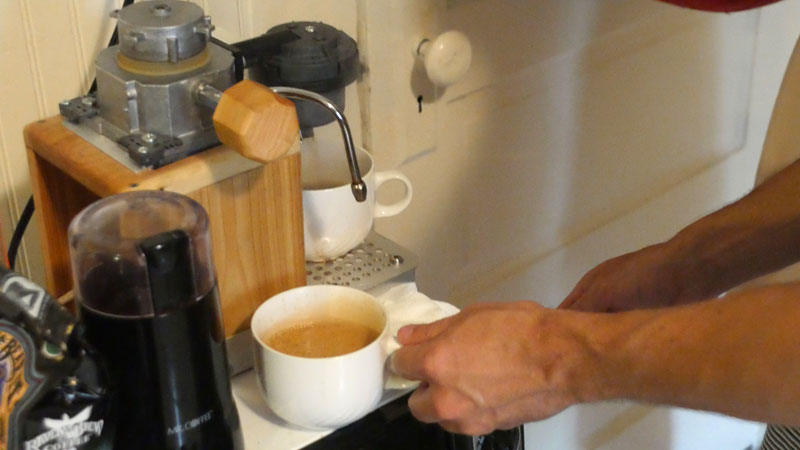 To go with their drink, they brought a variety of purchased vegan cookies such as Hail Merry Macaroons.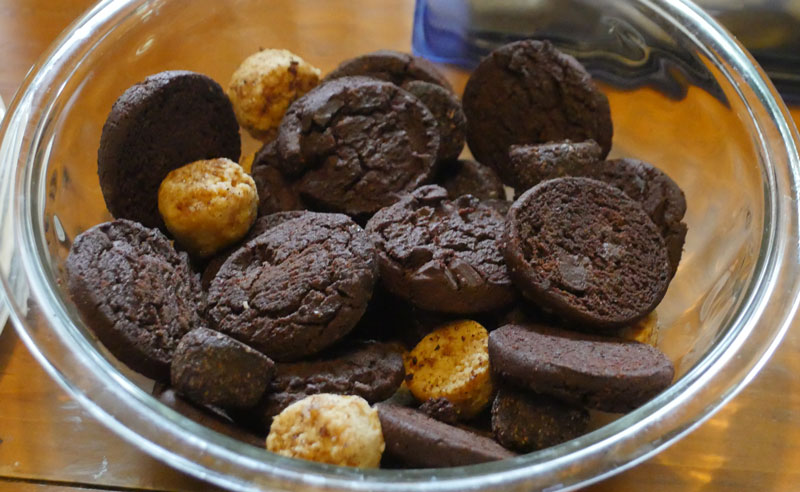 The also brought Billy2.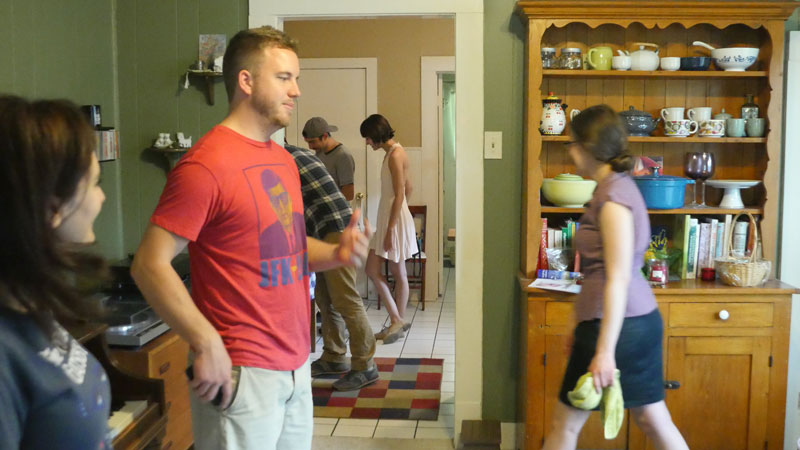 Lauren: Jasmine Tea Cookies; Coffee Velvet Cupcakes
Lauren made a shortbread-type cookie with ground jasmine tea and vanilla for flavor. Billy2 (Dylan and Billy's friend Billy) thought they smelled like Play-Doh, and he was right. They tasted better than it sounds.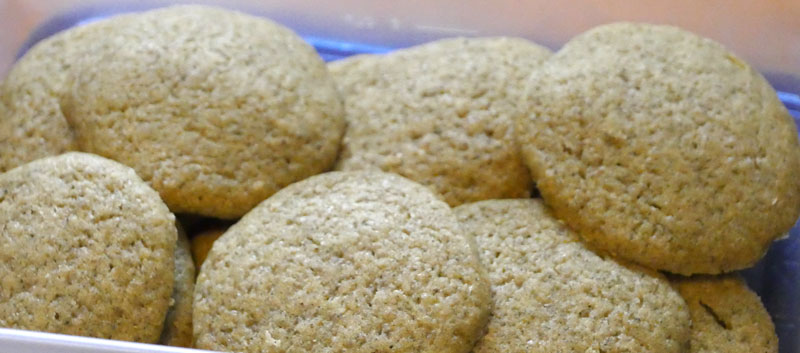 Slynn used some of the cookies to make fro-yo sandwiches.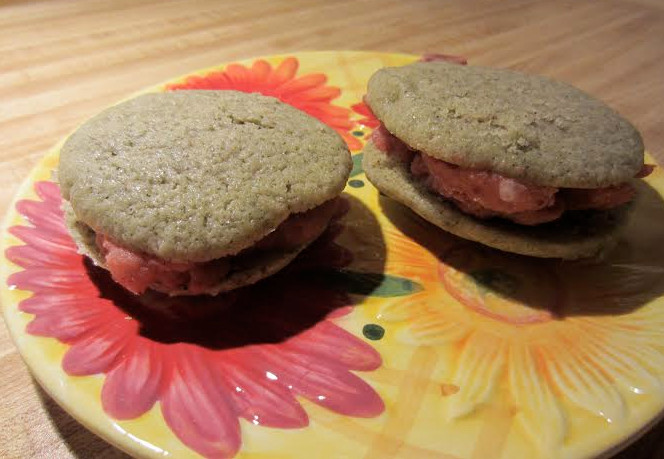 For the Coffee Velvet Cupcakes, Lauren looked at the vegan vanilla cupcake recipe from Are You Sure That's Vegan? by Claire Gosse, modifying it by switching 1/4 cup of the flour with cocoa and adding 2 teaspoons of finely ground coffee. She topped them with a buttercream style frosting and sprinkled them with cinnamon for Lilly.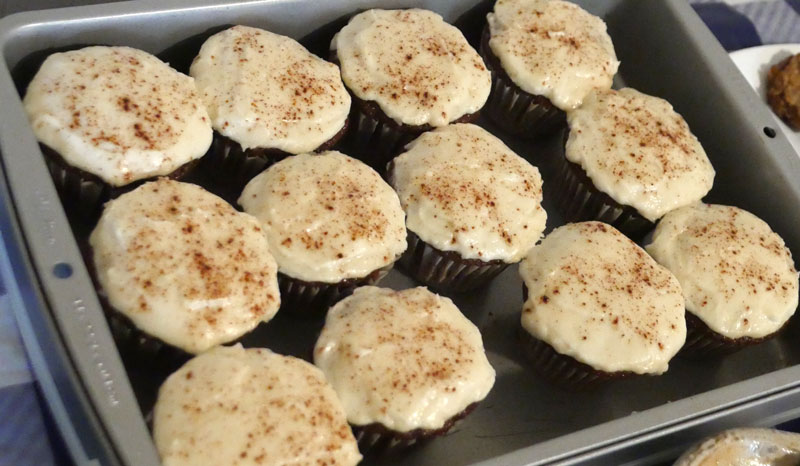 Ramon: Grilled Tempeh Steak Fingers
Ramon grilled tempeh on his George Foreman Grill and made a marinade inspired by Avoca Coffee's "Charlie Sheen" made with Coca Cola and coffee.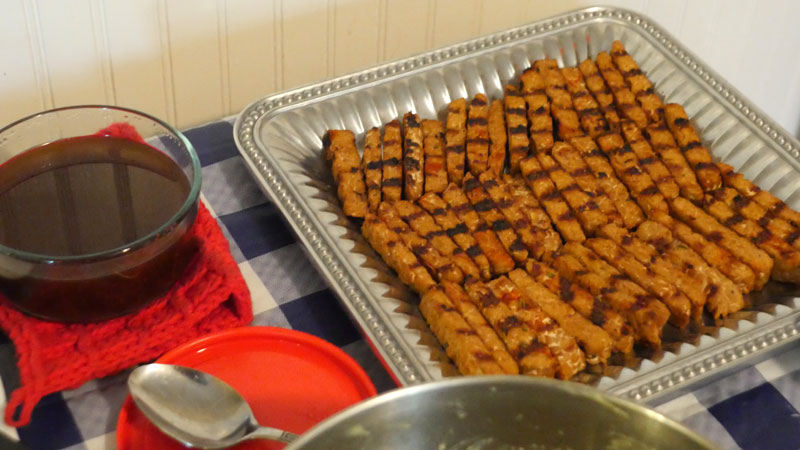 He served it with avocado coleslaw that contained cascara, tea brewed from coffee cherries. He let us smell some of the coffee cherries too. They smelled like tamarind.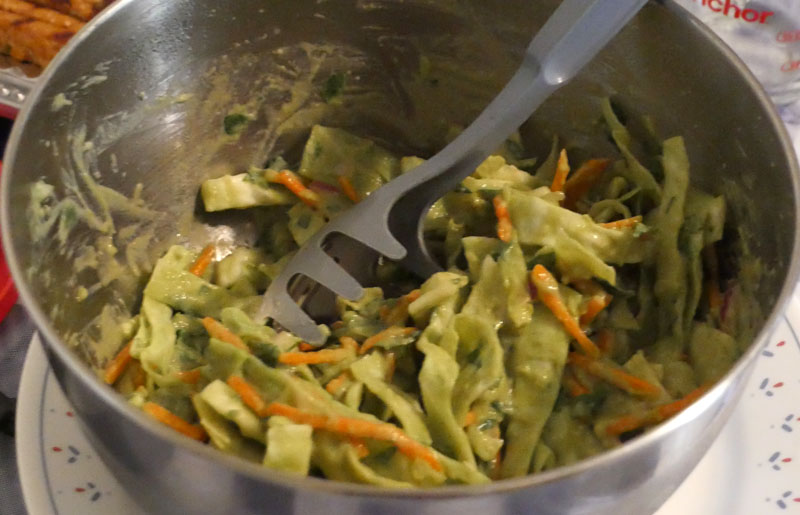 Billy: Matcha Sushi; Carbonated Coffee
Billy cooked rice in water with sweetened matcha (powdered green tea). He then rolled it in nori for some sweet pieces of green-tinged sushi.
For his second venture, he put cold black coffee into one bottle and coffee with chocolate soymilk into another bottle. Then he picked up dry ice at Kroger on the way to the meeting, which he added to the bottles upon arrival.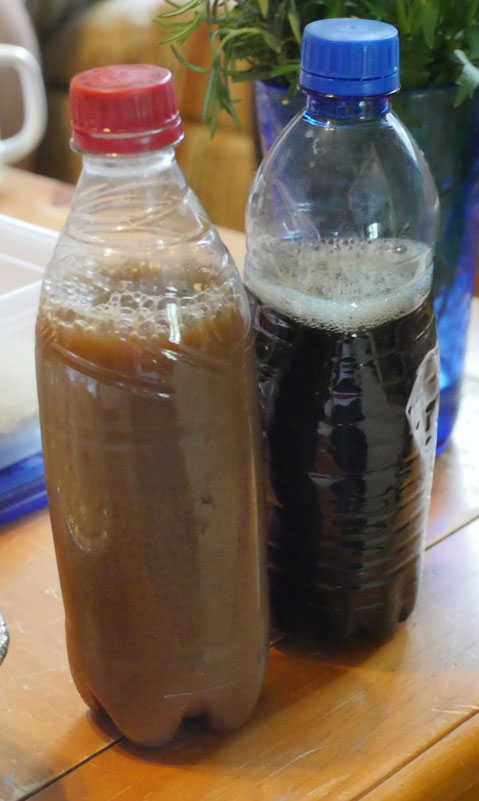 Later, Ramon brewed some extra strong coffee to carbonate.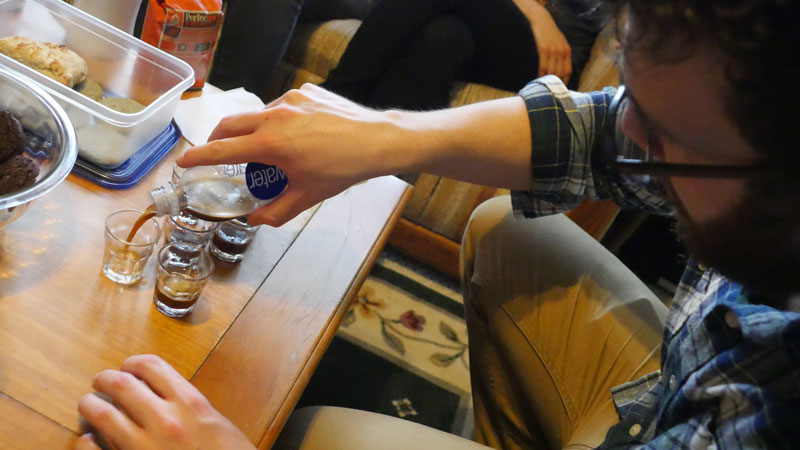 John: Canned Drinks
Unfortunately, John didn't get the meeting invite for this month, so he didn't make anything. However, after receiving text messages inquiring where he was, he made it over on his way back from Dallas with fizzy water and beer. When asked what he would have made, he said he probably would have made something with chocolate and coffee.