Many Days, June 2020
VBC Meeting #88: Staycation
Host of the Month: The Internet
Location: The Internet
For June's virtual Vegan Bake Club meeting we suggested a theme of Staycation. The idea was to think about a vacation you would want to be on and what you might eat or drink on this trip, then to make it at home and make it vegan! Food from a Taiwanese night market, a fruity beverage thing at the beach, Taco Bell burritos on a road trip in remote areas where there is no other vegan food…
This is what we made (in the words of those who made it):
Caroline and Drew and Macydoggie: Macaroni & Cheese
For the "Staycation" theme Drew & Caroline made Macaroni & Cheese! (Macy helped a little by giving us looks of concern and general annoyance.)
I chose this vegan macaroni & cheese recipe because my sister made it last time we visited, which was in December, and I would really like to be taking a vacation right around now to see her and the rest of my family. The recipe is from The Vegan Instant Pot Cookbook. Please note, if it's not obvious from the title, you need an Instant Pot for this recipe.
Cute nibling story! My sister texted me pics of the recipe without sending me a picture of the book cover (she's not a librarian… ;), so I noticed the title of the book at the bottom of one of the pages of the recipe. When I was asked if the recipe came from Nisha Vora's book with that title she said this: "Oh you mean the one by the beautiful Nisha Vora whose photo one certain little boy couldn't stop looking at and whose photo he framed with a circular toy he was holding in his hand? And said, 'Look at her pretty dress!' That one?"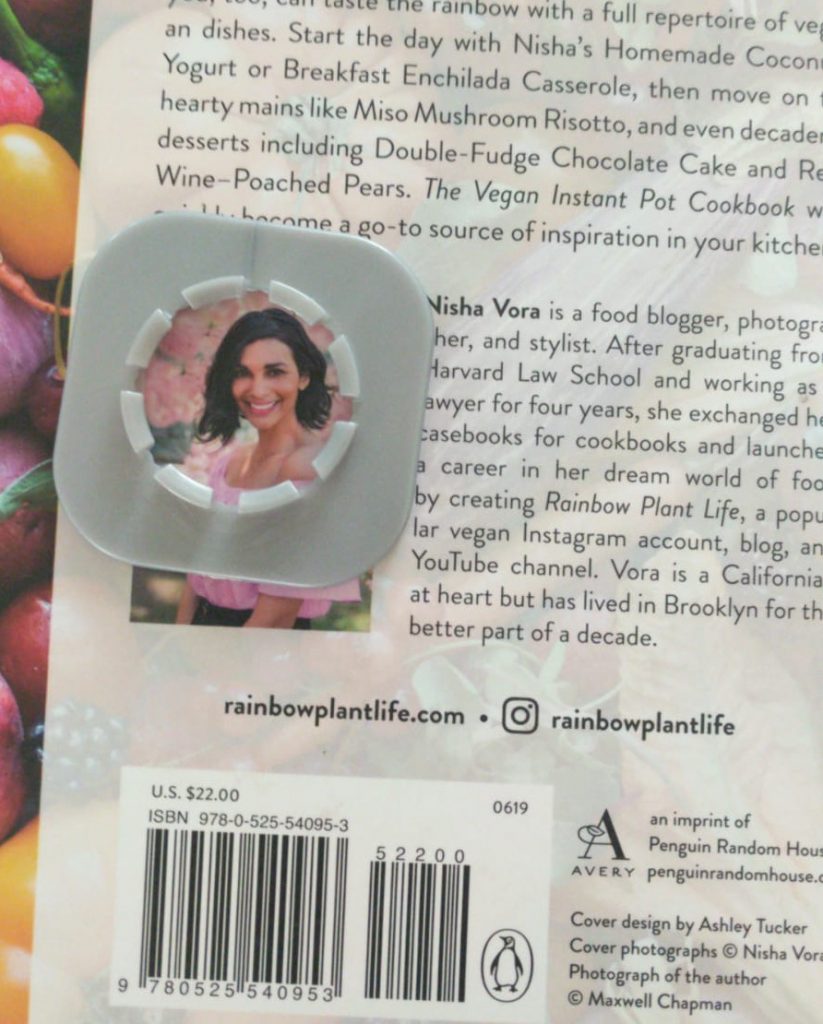 I REALLY miss my family and this next week or two is going to be especially hard since it's almost my nibling's birthday and under normal circumstances I would probably be packing my bags right now to go visit.
Anyways, first make the vegan cheese sauce:
2 teaspoons olive oil
1 cup diced butternut squash (4 to 5 oz) [I used frozen, already chopped, because fuck sawing up a whole butternut squash!]
12 ounces Yukon Gold potatoes (2 medium), peeled and chopped
1/2 medium sweet onion, chopped
4 garlic cloves, peeled but whole
1/2 cup raw cashews
3/4 cup nutritional yeast
2 tablespoons white or yellow miso paste
2 tablespoons fresh lemon juice
1 cup canned "lite" or reduced-fat coconut milk, well stirred
Grease inner pot with oil to prevent sticking. Place butternut squash, potatoes, onion, garlic, cashews, nooch, miso, salt, lemon juice, and coconut milk in Instant Pot. Add 1 cup water and stir well to combine.
(As I'm typing out step 2, I am thinking this recipe is pointless to post if you don't have an Instant Pot. I apologize!)
Secure the lid and set the Pressure Release to Sealing… [Yeah, this seems pointless so I'm going to stop here. To be honest, Drew is the one who set up the Instant Pot to do its thing (I measured out ingredients). The recipe is a lot of blah blah blah that won't be helpful to anyone since I don't know if anyone else has an Instant Pot.]
Then, make the macaroni & cheese:
Olive oil, for the pot and breadcrumbs
Vegan Cheese Sauce
1 teaspoon garlic powder
1 teaspoon onion powder
1 teaspoon mustard powder
1/4 teaspoon smoked paprika
3/4 teaspoon kosher salt
1/2 teaspoon crushed red pepper flakes (optional)
16 ounces cavatappi pasta, medium-size shells, or other medium-size pasta with a cook time of 9 to 11 minutes [We used fusilli and fucked up somewhere along the way because during the cooking cycle the Instant Pot gave us three "Food Burn" error messages and Drew had to stop the whole thing each time to stir the bottom of the pot, which was very thick and very stuck.]
Panko or fresh bread crumbs
1. Blah blah blah long Instant Pot recipe details, numbers, maths, buttons, beep, boop.
5. Once the pasta has come to pressure and the timer begins, toast the bread crumbs. Heat a skillet over medium heat and add 1 teaspoon olive oil. Once the oil is hot, add the bread crumbs and toast, tossing occasionally, until golden brown, 2 to 3 minutes. Set aside.
Etc, etc. steps
Fin.
It was really good but it was labor intensive, mostly because I think we got the wrong pasta and/or didn't do the pasta calculations as noted in the inconspicuous little "tip" section on the corner of the page. But it hit that mac & cheese spot and made me remember happier times when I could visit people, and sometimes those people cooked for me!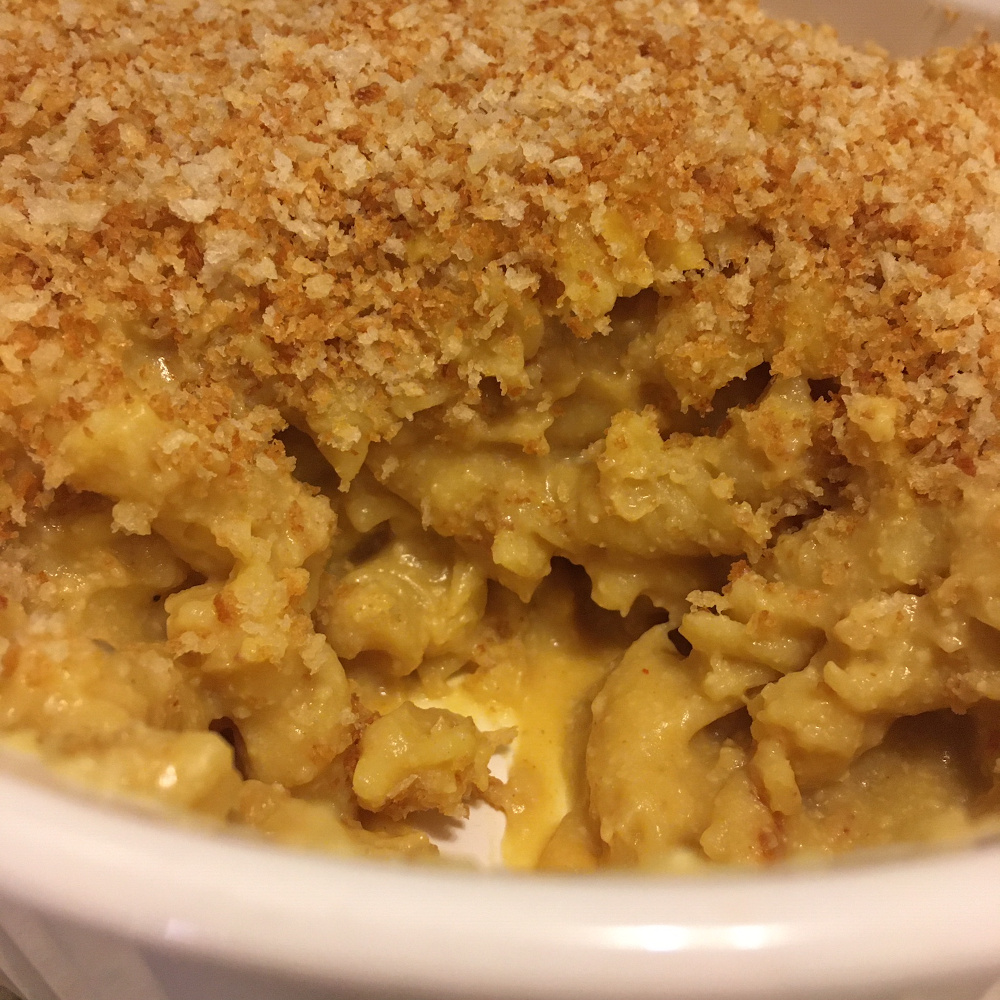 Lauren: Poutine
For my Staycation VBC entry, I made poutine because I wanted to make something regional to Montreal, where I likely would have gone this summer if not for COVID-19 shutting things down. Though I have never found myself strongly wanting to eat fries with cheese curds and brown gravy when I have seen poutine featured on travel shows and such, I made it because I do like fries. For the fries I roughly followed the Isa Does It (by Isa Chandra Moskowitz) "Baked Garlic-Curry Fries" recipe which has you slice potatoes, boil them for 3 minutes, plunge them in ice, pat them dry, then roll them around in olive oil, curry powder, and salt (I never use the minced garlic or measure things the way the recipe says) before baking them at 425°F.
For the brown gravy I roughly followed the "Lentil-Miso Gravy" part of the Isa Does It "Good Gravy Bowl", since gravy containing lentils seemed healthier for a gravy that was going on poutine that was going to be the whole meal. I made it with olive oil, onion that Billy grew, garlic, corn starch, water, vegan chicken-style broth powder from Natural Grocer's bulk section, dried thyme (didn't have fresh), black pepper, red miso (didn't have white like the recipe said, but red is closer to brown looking for brown gravy anyway), and cooked lentils. I didn't blender the gravy out of laziness and thinking the texture might be nice in poutine. Also I left out the sage from the recipe because the broth powder had sage already, and I don't like sage that much (except maybe at Thanksgiving).
For the cheese curds part of poutine, I discussed with Shannon what one might do to make vegan cheese curds which is tough if you aren't familiar with non-vegan cheese curds, and the things you read about them talk about the texture that sounds like a door opening or closing when you chew on them (I think I read something like that). We decided the best path was vegan mozzarella-style shreds which seemed good because I already had them, and I read that mozzarella is an acceptable substitution in poutine. The finished dish was topped with chopped parsley for color and freshness.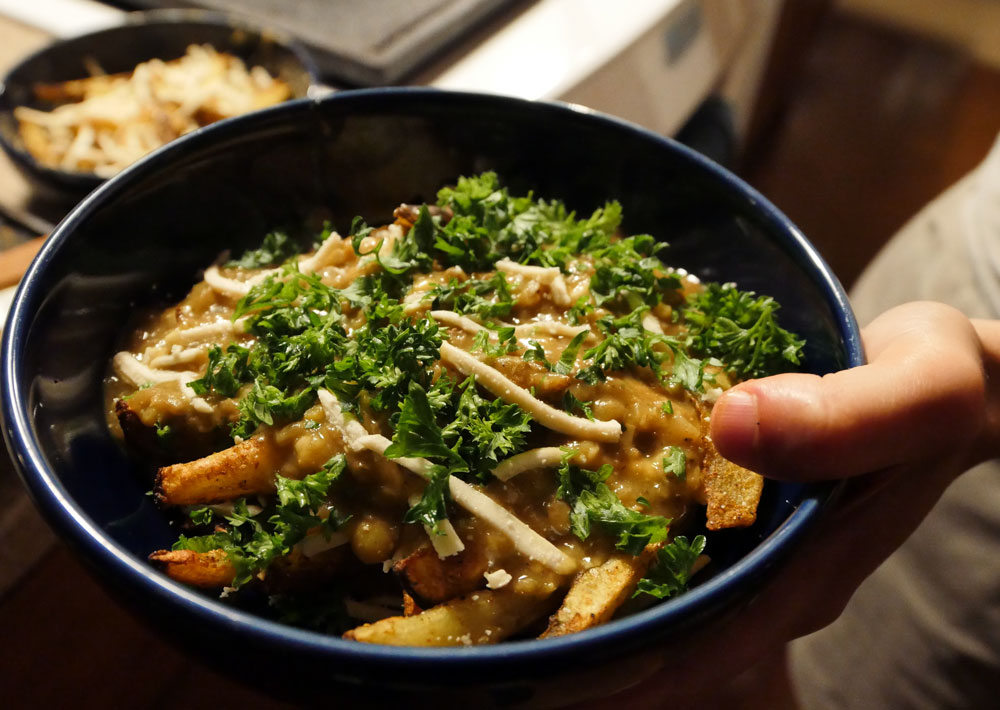 Shannon: Banana Poe
I decided if I could go anywhere right now, I'd want to be on a tropical island in the South Pacific.  So, I Googled Tahiti desserts and came up with French Polynesian Banana Poe.
It's pretty simple.  Just bananas, cornstarch, and brown sugar blended into a puree and then baked, cooled, and refrigerated.  You then cut the banana block into cubes, top with coconut cream and brown sugar.  And voila, a tropical dessert!  It tastes about like you would expect gelatinous banana cubes to taste like.  But it was fun and easy and didn't take anything too outlandish.  You could probably zhuzh it up a bit with spices or something, but then it wouldn't be "traditional".  And I'm okay with simple things.
I tried my best to picture myself on a tropical beach while eating it, but every time I opened my eyes I was still in my apartment.  On the upside, I didn't have to take a 13+ hour flight to get it!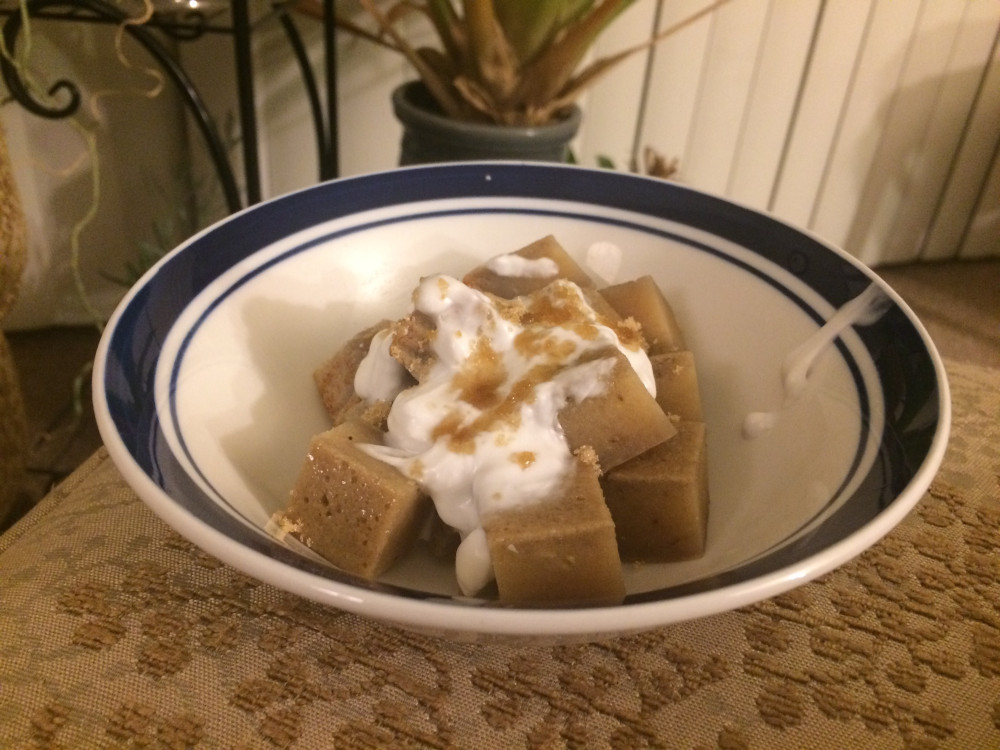 Billy: Cucumber Salad
I would've traveled to a wedding in Bloomington, IN this month and might've gone to Falafels. Could they serve a vegan cucumber salad?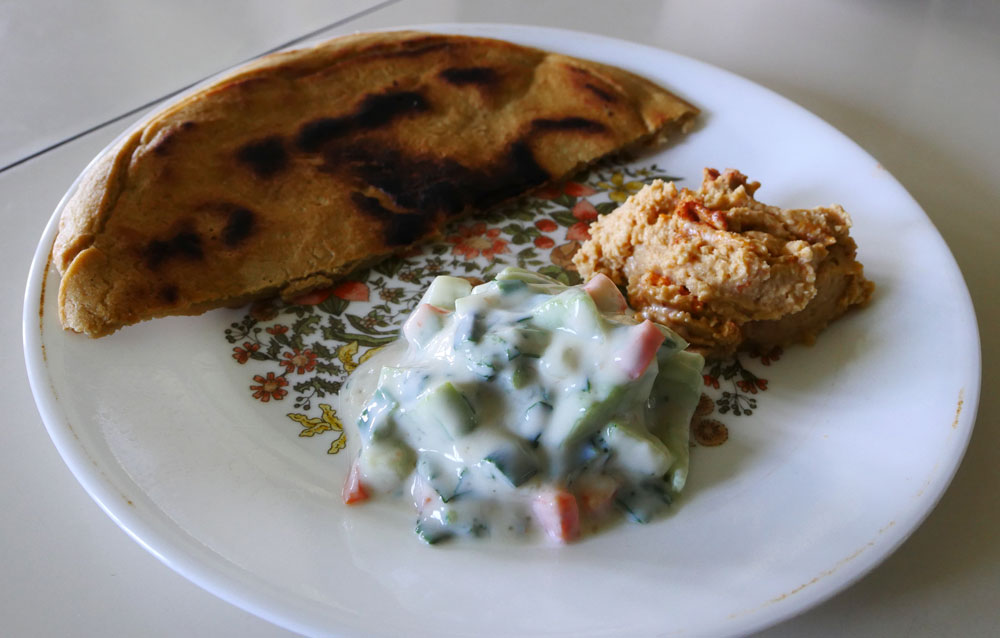 Maybe not, but that's what I made using the giant English cucumbers currently being produced by the garden.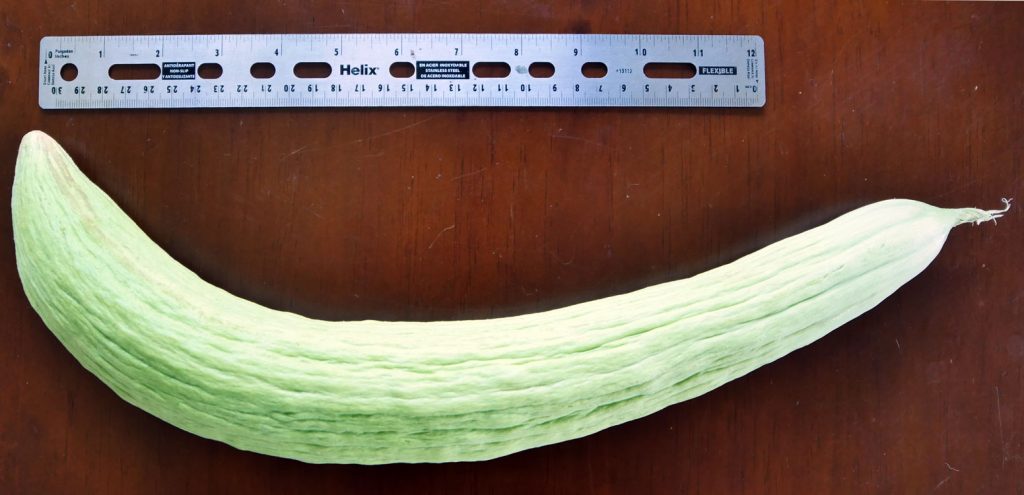 John: Cold Curry Salad; Lemon-Blueberry Banana Muffins
During this month of my staycation, I made a cold curry salad because it's starting to get hot here.  It's based on a sprouted lentil rice salad my mom makes, and that I tried to replicate for VBC a few years ago, but this time with fewer ingredients and more spices.  This version uses sprouted lentils (~2-3 days), lightly pickled cucumber in water and vinegar (~1 day), fresh tomato, and a pressed clove or two of garlic.  To the salad, I added some of the water/vinegar from the cucumbers, a couple shakes of pepper, about a teaspoon of cumin, half a teaspoon of chili powder, and 1/2 teaspoon of curry powder.  It's pretty pleasant, though I'd definitely advise erring lower on the side of curry powder if you're not sure.  It also keeps well, and might even be better the second day.
Regular dried lentils from the grocery store are totally sproutable and easy to sprout.  Here are some directions that match what I do, though the pictures show lentils that are further along in sprouting than the 2-3 days that I prefer (when the sprouts are just a half inch or so long).  They're pretty nice, and the hardest part of growing them is definitely planning ahead of when you'll want to eat them.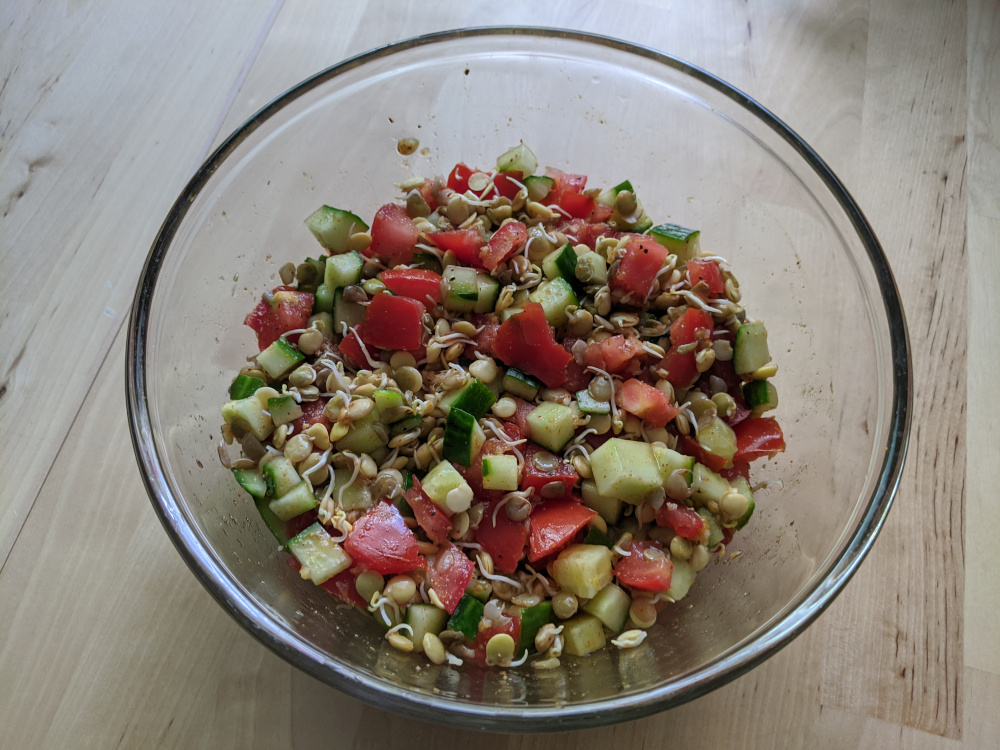 We also had some days that were cool enough to bake, and I tried making last month's Lemon-blueberry banana bread as muffins twice.  Each time I used the same recipe with varying amounts of banana plus a spoon of egg replacer to help them stick together a little better.  The smaller form factor worked well for that too.   The first time, I started chatting with a neighbor and over baked them a little.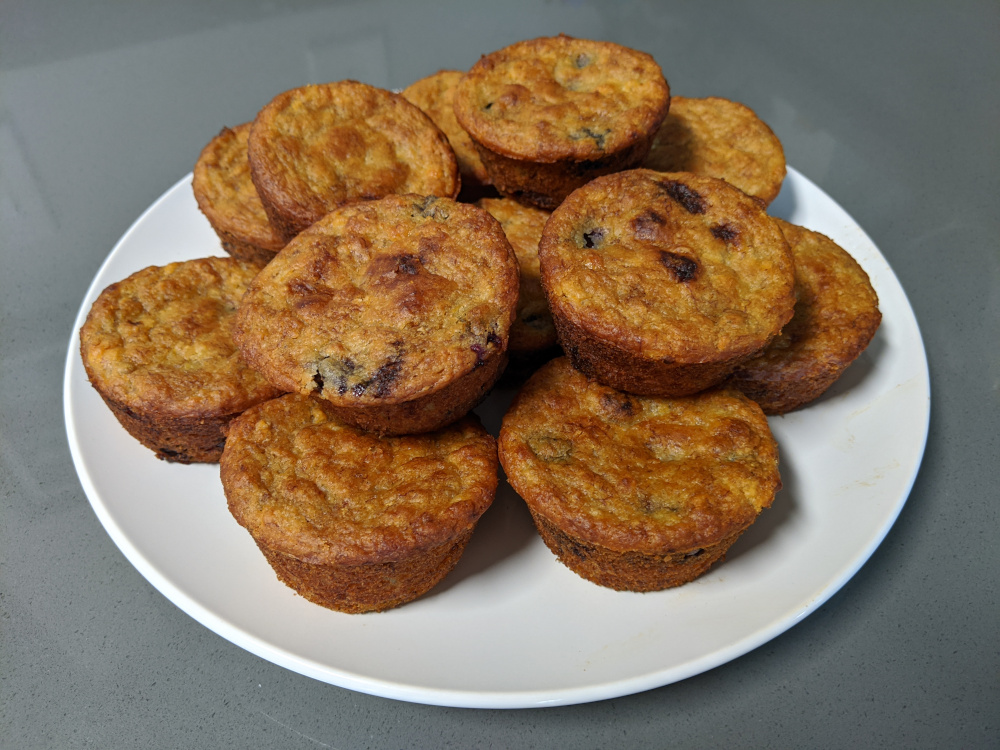 The second time it started getting hot and I pulled them a little early in my efforts to keep my place cool.  They were pretty good both times, though baking them to somewhere in between would have been best.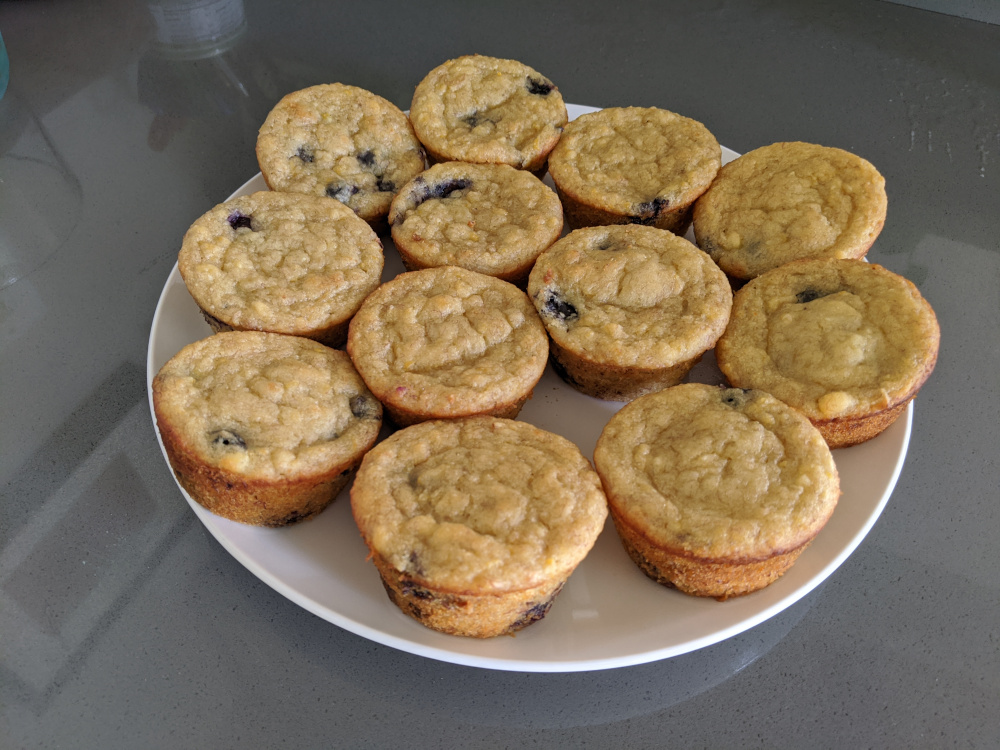 Slynn: Pretzels
The truth is my baking attempt was very disappointing that I just wanted to forget about it, but Lauren encouraged me to share my failure. I wasn't thinking about the theme – I just wanted to make these pretzels I found in one of our cookbooks, The Organic Family Cookbook. I am pretty sure I followed the recipe, so either the proportions are very wrong or I measured something very wrong. After I mixed the dough it was liquid like soup! I had to add 4 (!) extra cups of flour to make it something like a dough and even then it was impossible to roll out into pretzels. I had to scoop it with a spoon onto a baking sheet. And then I had SO MUCH dough. I couldn't bake it fast enough. It just kept rising and rising. I definitely felt like a person struggling through my technical challenge on GBBO. I ended up making 22 VERY LARGE pretzel rolls. They taste okay – pretty much just like a normal roll. But very disappointing that they are not 8-10 heart shaped pretzels as the recipe promised. Side note – the pretzel taste on the outside comes from coating the dough in a mixture of baking soda and water.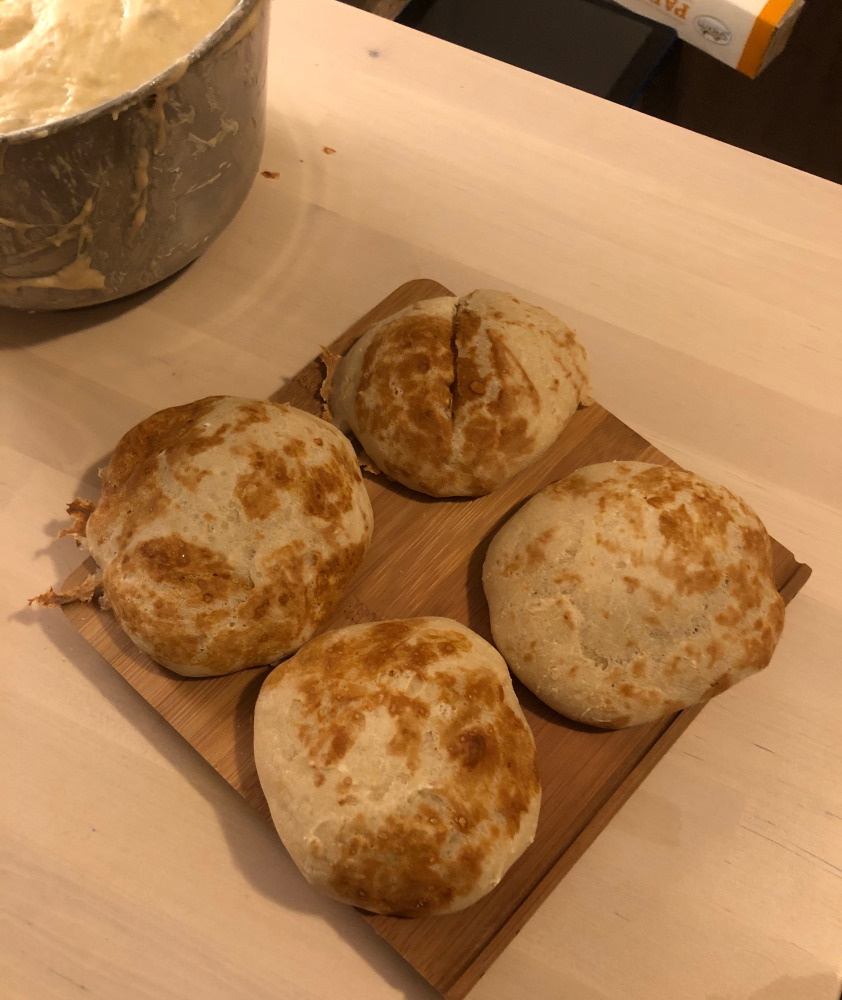 Ramon: Summer Fruit Buckle Cake
Ramon made this really good "Summer Fruit Buckle Cake" for himself for Father's Day. The recipe is from Vegan Pie in the Sky, and the fruit is strawberries and blueberries.