June 22th, 2014 – Family Recipes
Sunday, June 22nd, 2014
VBC Meeting #16: Family Recipes
Host of the Month: John
Location: Denton, TX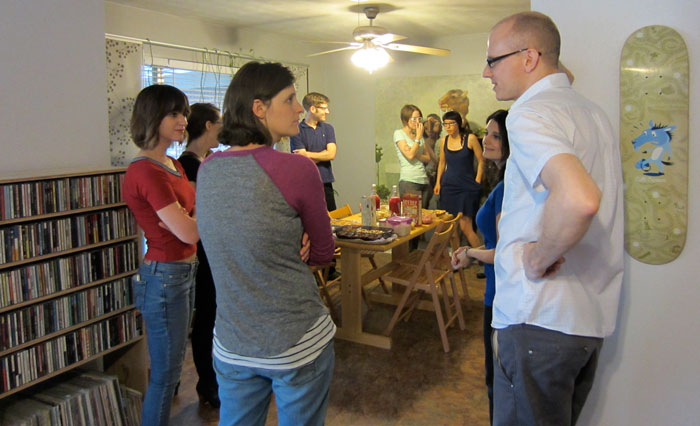 This month the group made food inspired by recipes in the family.
This is what we made:
Lauren: Potstickers
The potstickers contained kale, red bell pepper, chick pea, fresh ginger, green onion, and store bought wrappers.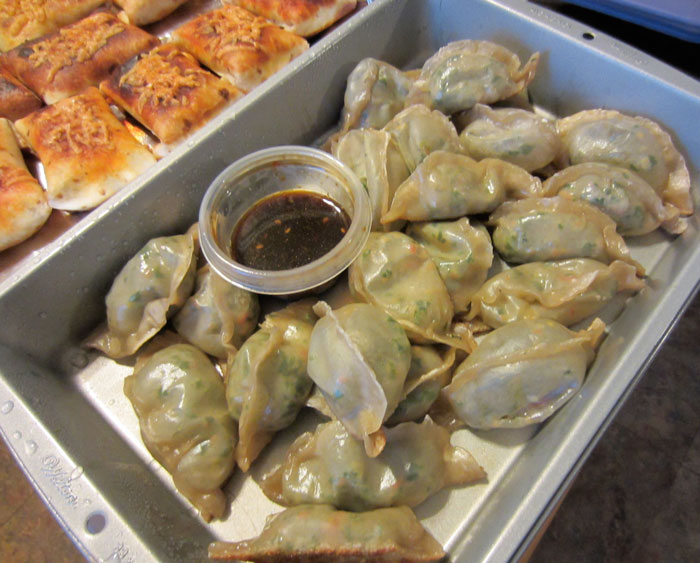 Brenda: rice pudding
The pudding consisted of rice, cream of coconut, vanilla, lime, and cinnamon.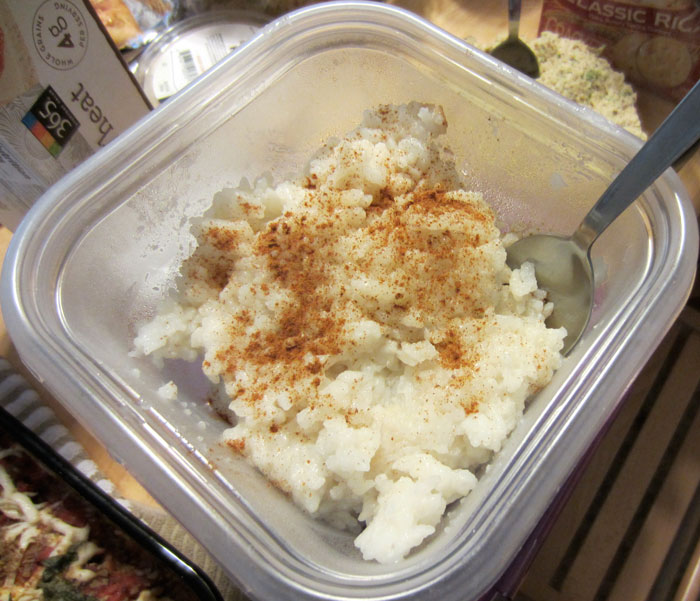 Vanessa: "Tuna fish"
The mock tuna was made using garbanzo beans, spices, green onions, dulse flakes, Vegenaise®, soy sauce, ume vinegar, and mustard.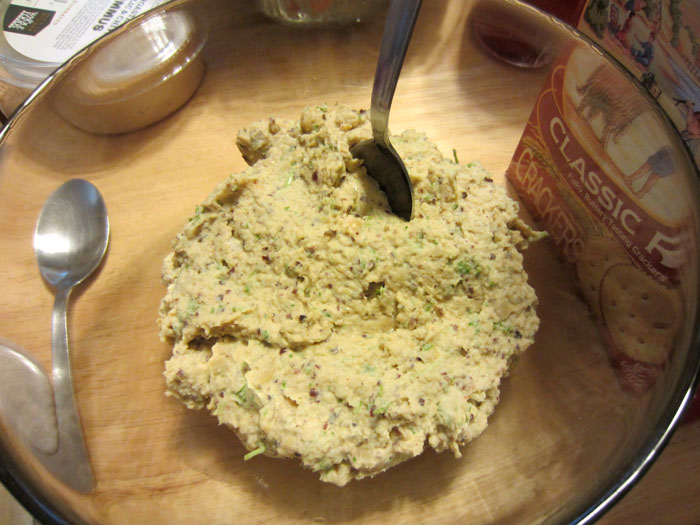 Bryan: Watermelon Juice
The juice had watermelon and beets for color.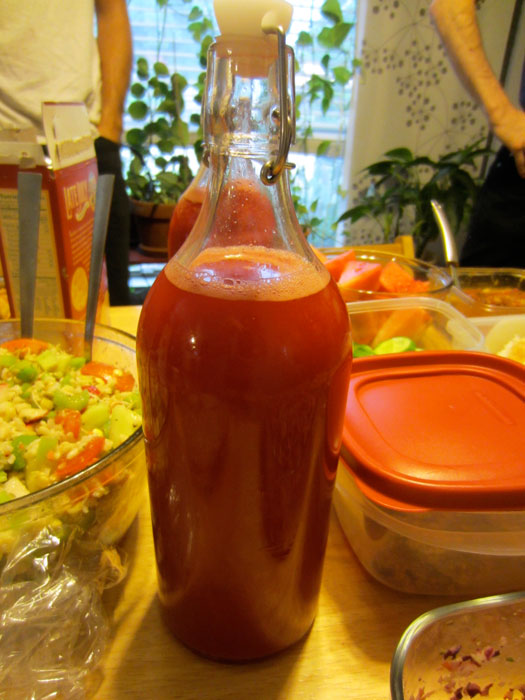 Billy: Chimichangas
The chimichangas were filled with pinto beans, tomato and onion from Billy's garden, ground style soy meat, black olives, fresh garlic, parsley, oregano, cumin, paprika, and topped with Daiya Cheddar Style Shreds.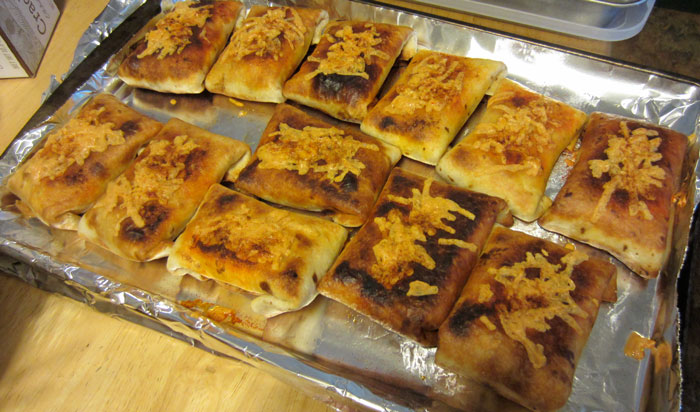 Laura: Pierogi
Laura made the dough from scratch with flour, oil, and salt. She filled them with potato and onion.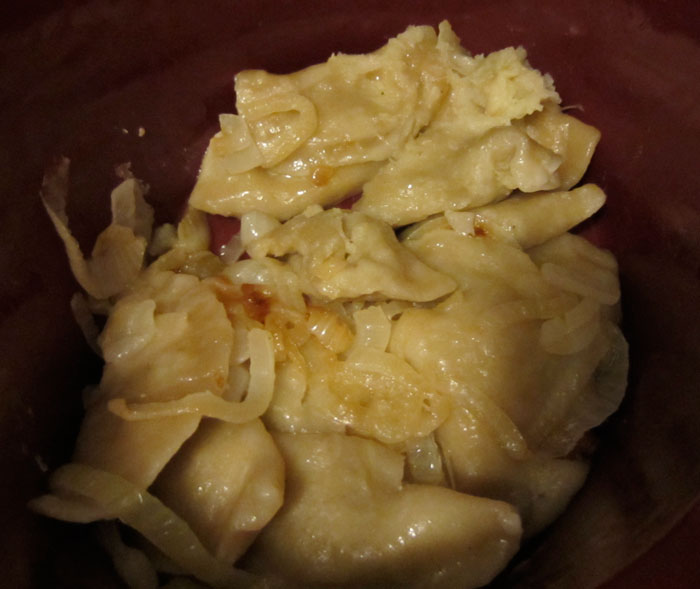 Slynn: Dad's Stuffed Shells with Mom's Tomato Sauce
Slynn stuffed the shells with homemade tofu ricotta. She topped them with vegan "mozzarella" and "not-parm."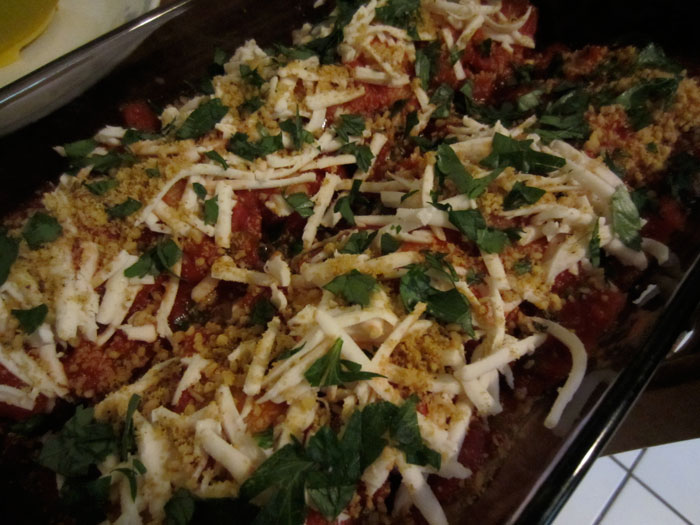 Kim: Coleslaw and watermelon
The slaw contained green and red cabbage, Nasoya Nayonaise, and apple cider vinegar.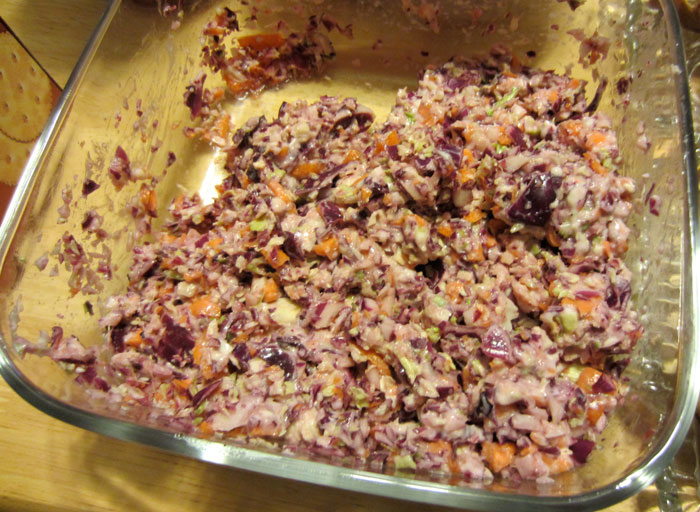 Taylor: Paprikash and bite-sized pastry
The paprikash, a Hungarian dish, had pasta, lots of smoked paprika, bell pepper, mushroom, and onion.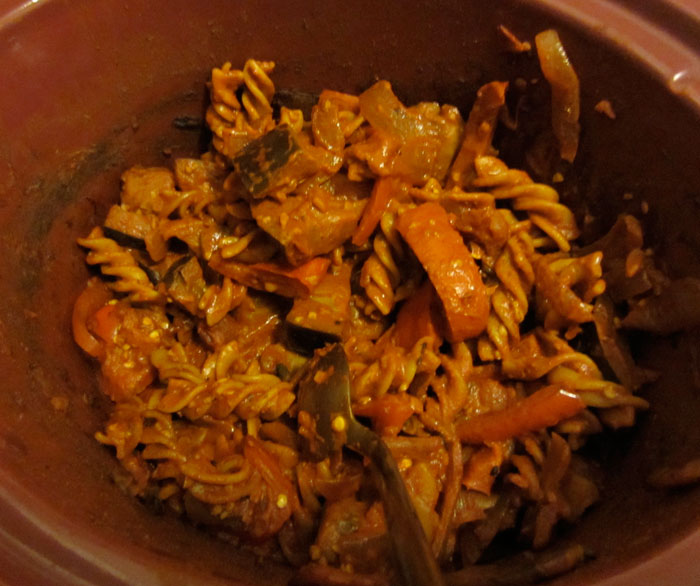 Taylor said these pastries were something she had leftover.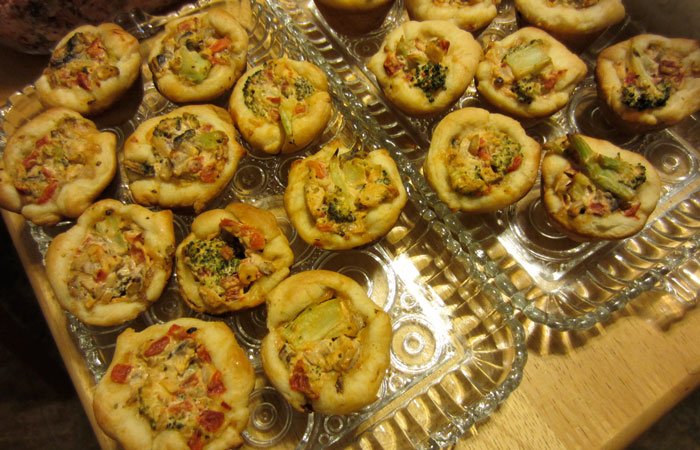 Colleen: Oatmeal banana cookies and chocolate krispie treats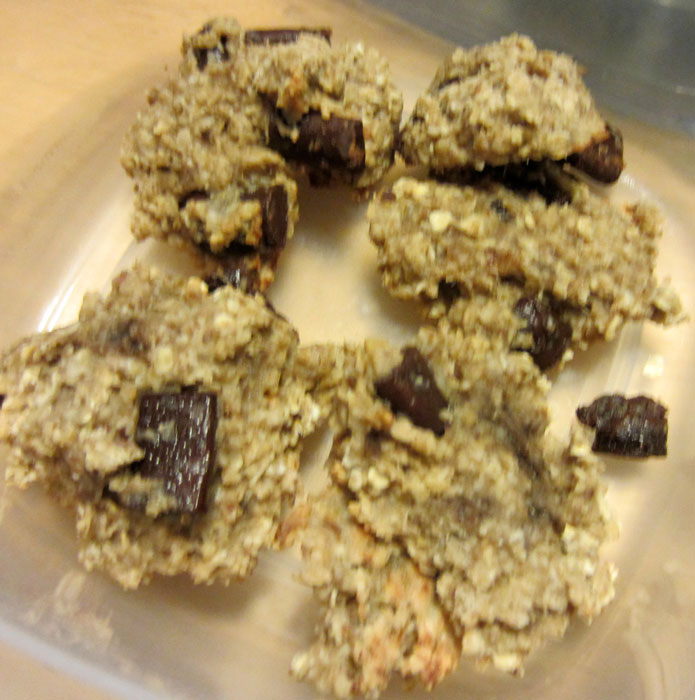 Lilly: Khoresht-e Kadoo, tadig, and Persian cucumbers
Lilly made Khoresht-e Kadoo (zucchini stew) and tadig (crispy rice). She served them with Persian cucumbers.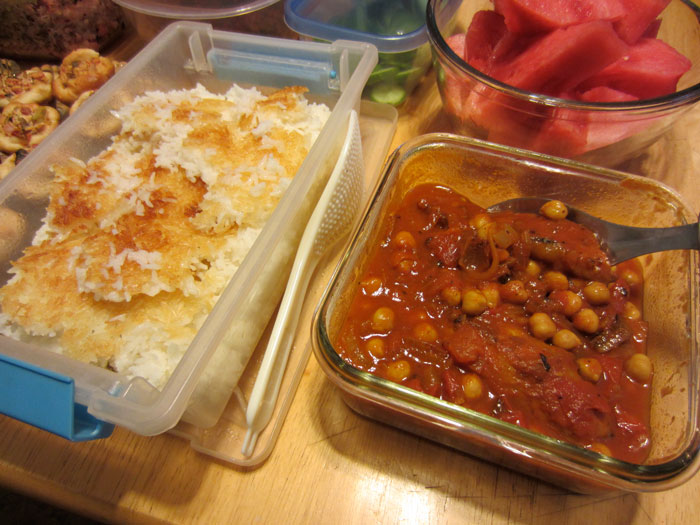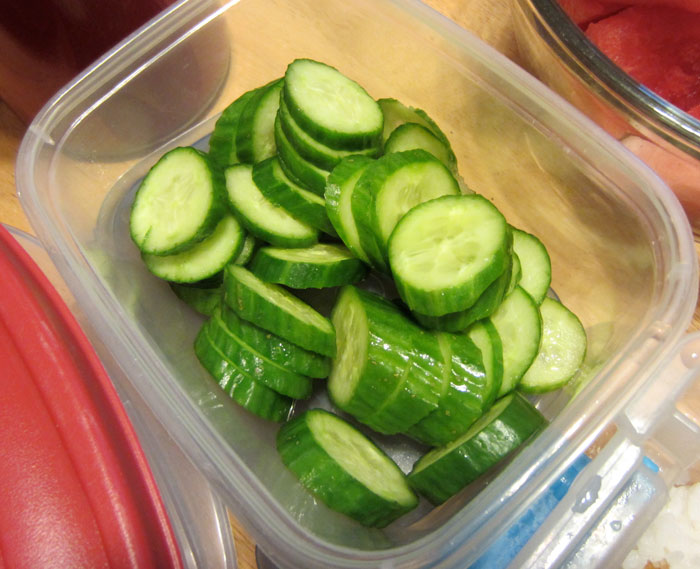 John: Rice salad and pound cakes with strawberries
The salad contained sprouted lentils, rice, tomato, radish, celery, and olive oil.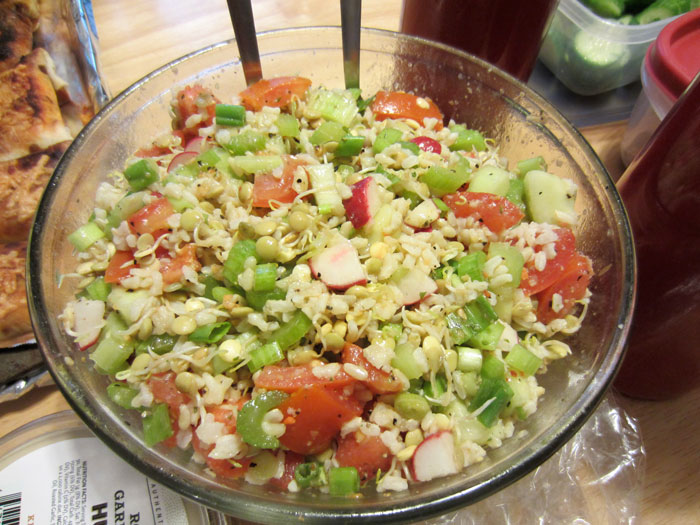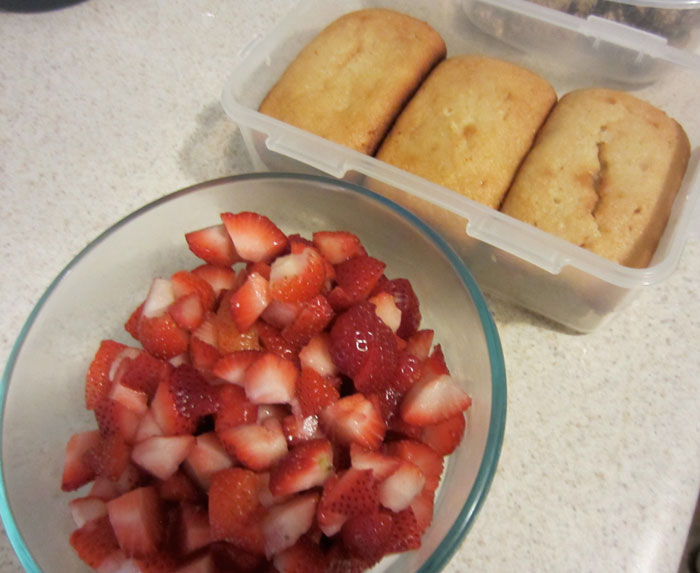 Kelly: Hummus and crackers
Kelly got word about this meeting on very short notice. Not wanting to show up empty-handed, she picked up some hummus and crackers from Whole Foods.
There was also a mint chocolate chip birthday cookie at the meeting for Billy.