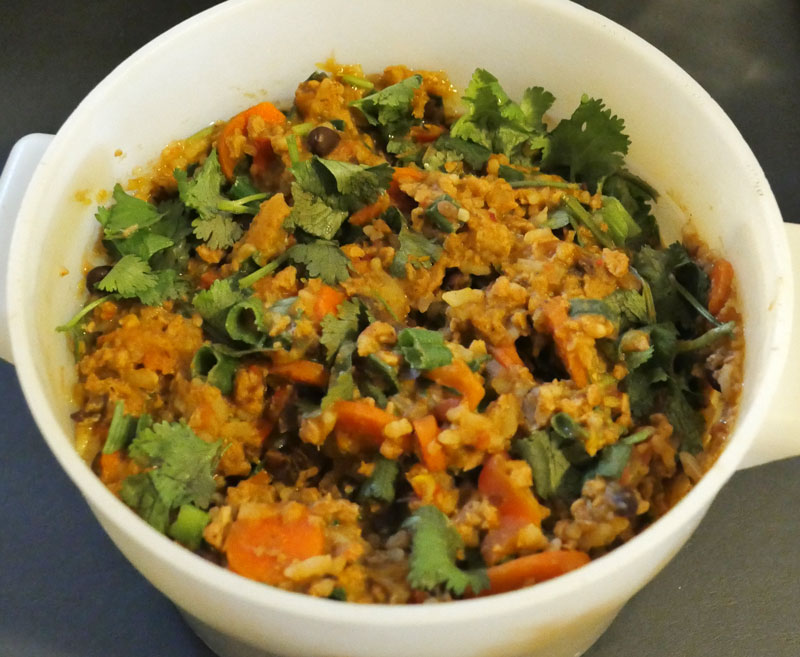 Feijoada is a traditional Portuguese colonial dish popular in Brazil. It is normally cooked with black beans and flavored by pork or beef (extras). We'll veganize these unsavory bits by supplementing lean vegetable leftovers for a flavor that's captivating–not nearly so suety, and far less foul.
Ingredients
(Serves 4+, ~30min Preparation)
1 Cup Textured Vegetable Protein
1 Vegan Sausage
12oz Black Beans (Cooked or Canned)
6oz Tomato (Canned or Diced)
1/2 Cup Rice
1-2 LBS Butternut Squash
1 Bell Pepper
2 Carrots
4-5 Stalks Green Onion
1 TSP Chili Powder
2 TSP Jerk Seasoning
Salt (to taste)
1 TSP Garlic Powder
2 TSP Pepper
3 TBSP Nutritional Yeast
Jalapenos/Cayenne Pepper Powder (to taste)
Any Over-ripe Vegetables in fridge or on counter
Methodology
Begin cooking rice in pot; meanwhile, continue below.
Cut Butternut Squash in half and microwave on plate for 4-7 minutes until soft. Afterward, place in freezer for 3-5 minutes to cool for handling. Meanwhile, continue below.
Slice Bell Pepper, Green Onion, Carrot, Cilantro and Sausage. Finely chop Cilantro stalks.
In a large pot, add 1 Cup of water and bring to a simmer, then add TVP. Cook until soft and turn down heat to between low and medium.
Add Black Beans, Tomato, Carrots, Bell Pepper, Cilantro stalks, Sausage, Rice and any other shelf life-challenged vegetables.
Remove Butternut from skins and add to pot after cutting into chunks, add cooked rice.
Season, salt and cook while stirring occasionally until semi-consistent. Turn off heat and mix Cilantro leaves and Green Onion.
Let cool to edible temperature and enjoy.