Apple Cider Cake with Cinnamon Glaze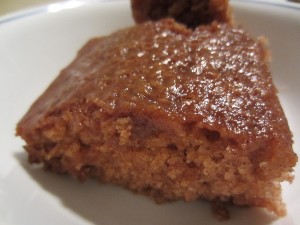 A moist and spicy cake that is easy to make!
This is a modified version of the famous Orange Cake that was, for me, the Gateway to Vegan Baking. Not only is the recipe simple (no mixer required), but as it turns out, it is also highly versatile. You can substitute almost any juice for the original orange in the recipe with delicious results nearly every time. I made a few additional changes for this Apple Cider Cake.
Makes one 8 x 8 inch square cake, one 8 inch round cake, 12 standard cupcakes, or one 8 x 4 inch loaf cake. This recipe easily doubles for a 9 x 13 inch rectangle cake.
Apple Cider Cake
1 1/2 cups all-purpose flour
1 cup granulated sugar
1/2 tsp. salt
1 tsp. baking soda
1 tsp. ground cinnamon
1 cup apple cider
1 TB apple cider vinegar
1 tsp. vanilla extract
1/3 cup canola oil OR 1/4 cup unsweetened applesauce + 2 TB canola oil*
*Applesauce variation yields a cake with a more bread-like texture with all of the flavor and also lower in fat!
Cinnamon Glaze
1/2 cup powdered sugar, sifted
1 tsp. ground cinnamon
1 tsp. vanilla extract
1-2 TB milk of choice (I use almond.)
1. Preheat oven to 350 degrees F. Grease desired pan with oil, or spray with cooking spray, or line a muffin tin with paper liners. Lining with parchment paper is helpful for loaf pans.
2. Using a whisk, combine flour, sugar, baking soda, salt, and cinnamon in a large bowl.
3. In a large liquid measuring cup, whisk together apple cider, apple cider vinegar, vanilla extract, oil, and applesauce.
4. Make a well in the center of the dry ingredients and pour the apple cider mixture into the flour mixture. Whisk together until just moistened. (Some lumps are okay as long as all of the flour is combined.)
5. Pour into prepared pan. Fill muffin cups 2/3 full.
6. Bake for 30 – 35 minutes until a toothpick inserted in the center comes out mostly clean (a few crumbs clinging to it is okay.) Baking time for various pan sizes may vary. Remove cupcakes from the pan immediately and loaf cake from the pan when the bottom is cool to the touch.
7. To make the glaze, sift the powdered sugar and cinnamon into a medium bowl. Add the vanilla and 1 TB of milk and whisk until smooth. Add more milk until the glaze reaches desired consistency.
8. When the cake is cooled completely, pour the glaze over the cake.
Refrigerate the cooled cake if not eating immediately. This cake is best enjoyed the day after baking,  and the flavor continues to improve after that.