Many Days, March 2020
VBC Meeting #85: COVID-19
Host of the Month: The Internet
Location: The Internet
The in-person Vegan Bake Club meeting didn't happen for March 2020, the first month we haven't physically met since March 2013. The government and media inspired fear over the Severe acute respiratory syndrome coronavirus 2 (SARS-CoV-2), that causes the respiratory illness coronavirus disease 2019, commonly referred to as COVID-19 and designated as a pandemic, brought about the cancellation of many events around the world. This led some VBCers to vote for an online-only food sharing event, and a few days after VBC was meant to get together for real anyway, Denton County dictated gatherings, even as small as Vegan Bake Club elicits, were not to be had.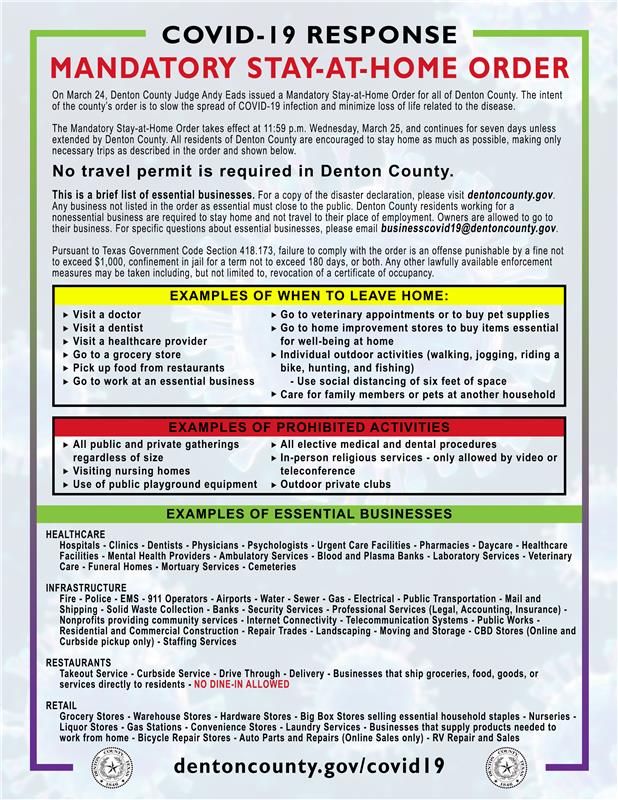 Thus, we asynchronously shared dishes made under our Stay-At-Home order. Not only did this prevent any potential transmission of virus carrying particles between non-family unit persons, it also allowed the non-Texas-based vegan-inclined at-home food makers to participate in the meeting. I reckon those are two wins among a world of losses.
This is what we made (in the words of those who made it!):
Will: Blackberry Babka
Virus theme name: blight of the living bread.
It's basically a brioche dough with blackberry jam swirled around. Turned out not too shabby, and made good French toast the next day.
Bonus fact: my family dog growing up was named Babka (her fur was more of a cinnamon babka than a blackberry one, though).
Recipe comes from this website: https://biancazapatka.com/en/vegan-blueberry-babka-twist-bread/.
[And Will comes to us from Seattle!]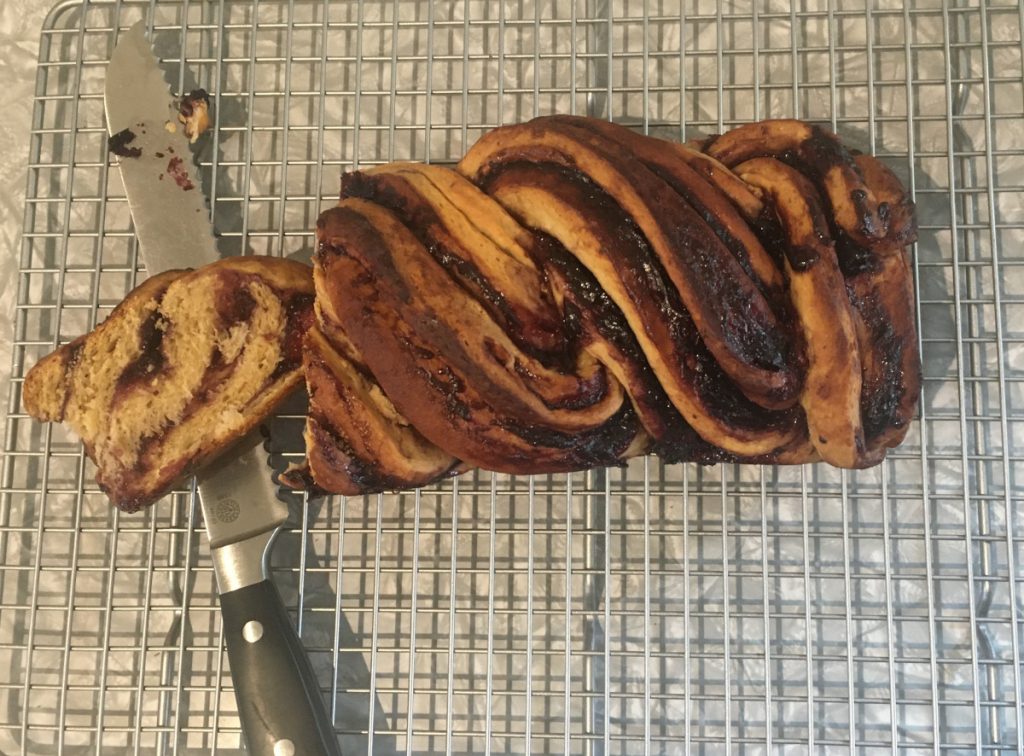 Megan: Novel-beef-substitute-that's-going-viral Burger
Never used Beyond Beef Ground before. It looks kinda gross in the package but it is in a package. Then you open it and it smells like cat food. Meat cat food. It is gross smelling. Then you cut it into quarters to get a decent sized burger and you smash it with your hands and on a plate (flat surface). It is gross to have it on your hands. Then you set the gross patties aside and sautée cremini mushrooms with oil, garlic, pepper, and dried sage until nice and shrunken. Meanwhile steam some broccoli. When the mushrooms are done, take them out of the pan, add oil to the pan and cook the burgers (i made two) for about 4 minutes each side or whatever the instructions say, which i cannot remember.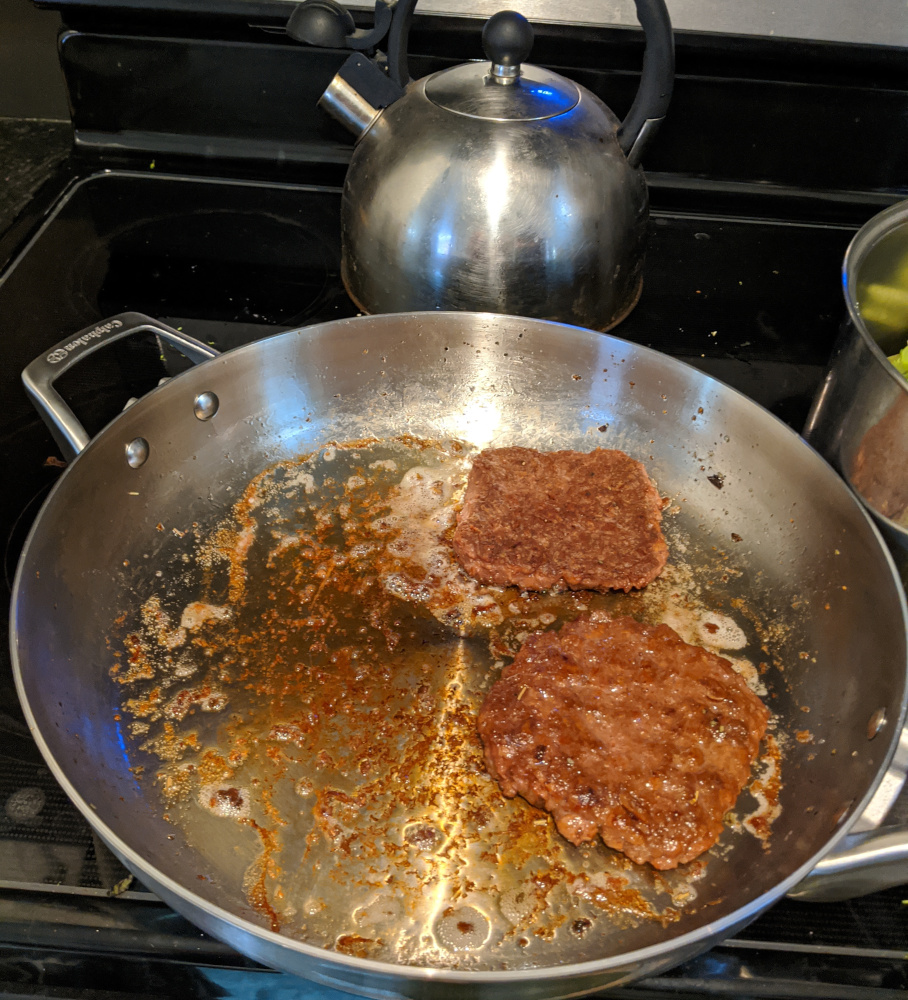 Serve on a toasted piece of bread with Vegenaise, [Field Roast's] Chao cheese, avocado, and topped with mushrooms. So good. Even though process gross. So good. Mushrooms like mom used to make. With novel beef substitute.
Not baked. No recipe. Just package instructions for meat and memory trying for other foods and pairings.
[Megan, while having on rare occasions participated in previous VBC occurrences, also comes to us from Seattle.]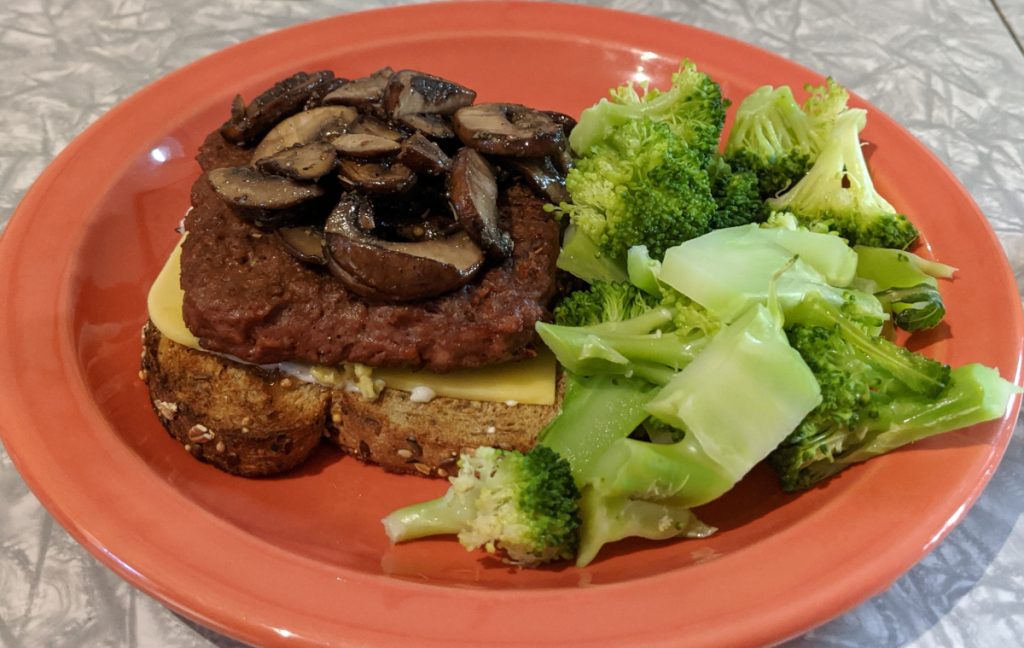 Drew: End Times Beans
I just made [End Times Beans] up with whatever random stuff we had in the pantry and fridge. It is pinto beans (dry, not canned, which I am normally too lazy to do, but dry beans are a pandemic staple now), celery, cauliflower, cilantro, and onions that were in the fridge, two cans of tomatoes, veggie broth, cumin, and habanero (aka virus killer). This was all made in the fancy Instant Pot and accompanied by cheap Aldi wine.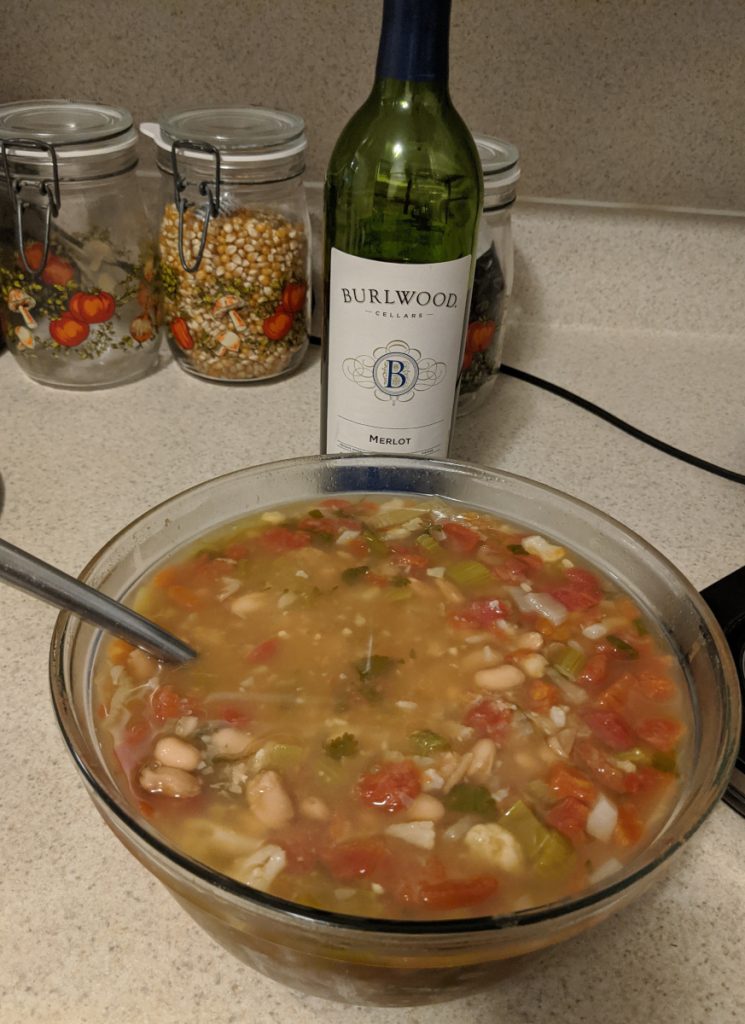 I forgot to mention, if anyone even had an instant pot and wants to cook this, that I soaked the beans for twelve hours, then cooked them for 10 minutes on the high pressure setting.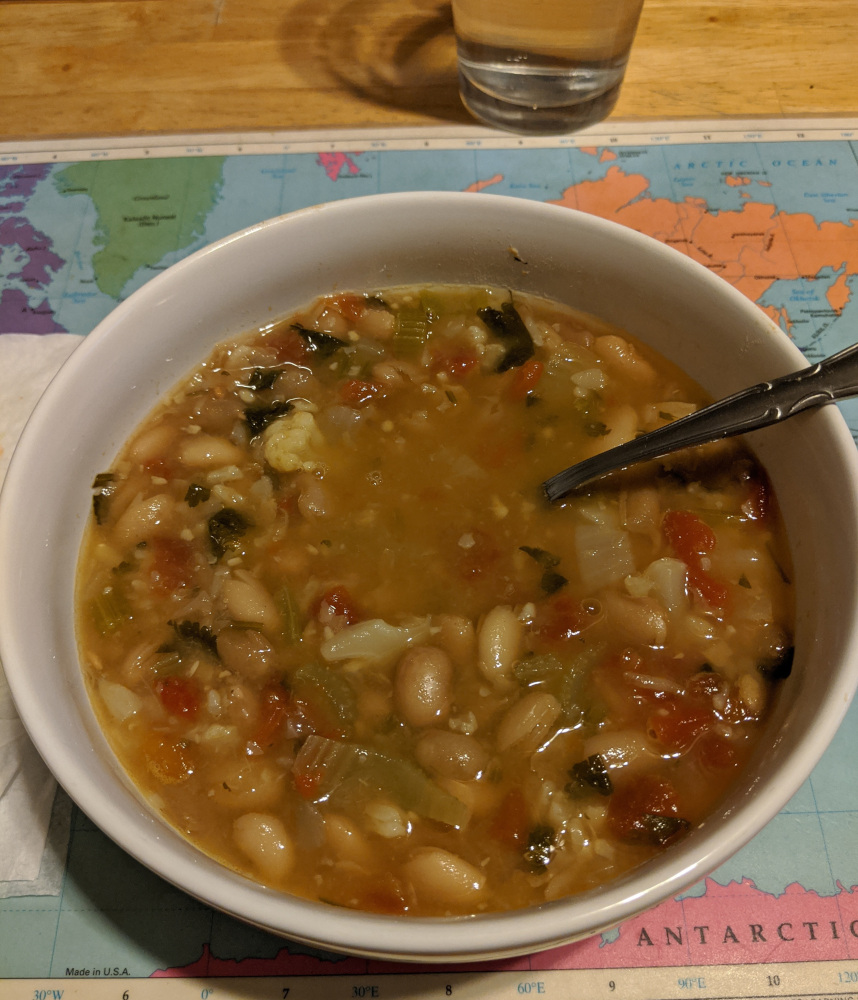 Caroline: Ides of March Rice
[To accompany the End Time Beans,] I made the rice! I did not take a photo of it but I shall submit a drawing for your delight!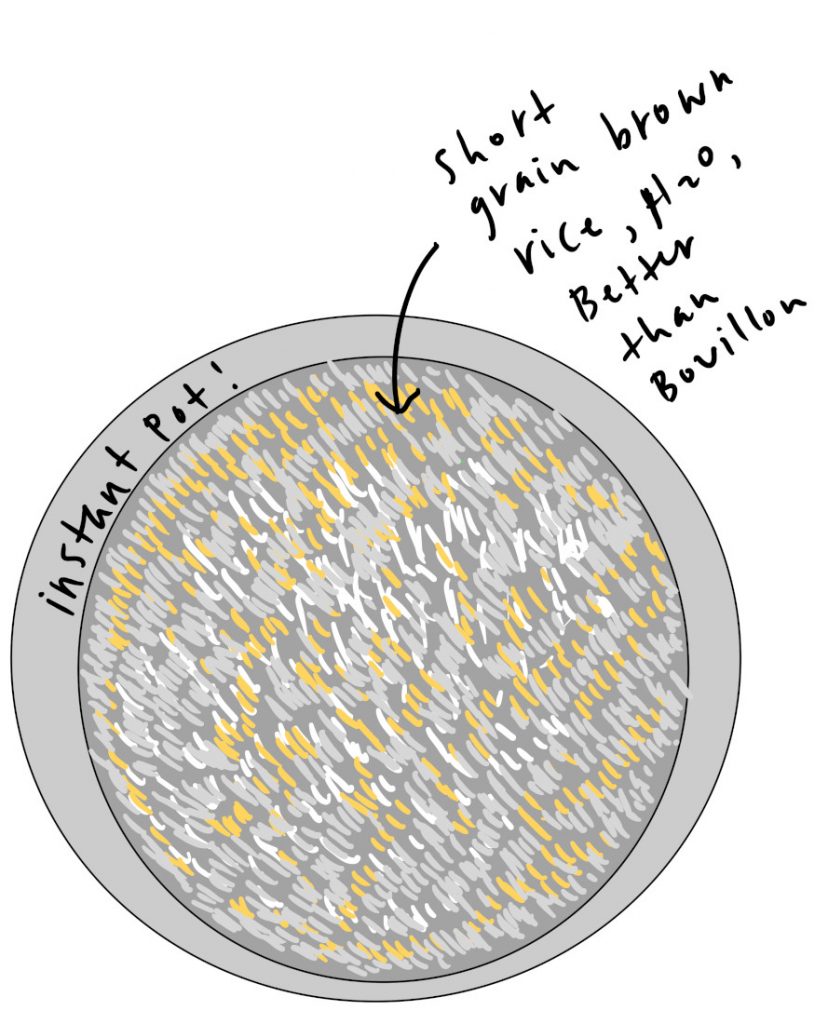 John: Freestyle Breakfast Muffins
I freestyled some muffins after a morning bike ride for the first time in a long time.
Freestyle breakfast muffins
3 Ripe Bananas, mashed
1/4 c Ground Flax
1/2 c Almond Meal
1 1/2 c Bob's Red Mill Muesli
1/4 c Vegetable Oil
3/4 c Orange Juice
2 tsp Vanilla
1/2 c Flour
1 tsp Baking Soda
Mix the muesli, flax and almond meal with all the wet ingredients and let it sit while you mix the baking soda and flour, preheat the oven to 325 F, and grease a 12 muffin tin. Add the flour and baking soda to the wet ingredients, mix everything together with a spoon, and split the mix evenly across the tin. Bake for about 25 minutes until a toothpick comes out roughly clean, let cool for about 10 minutes before removing from pan, and enjoy with some margarine before taking a nap.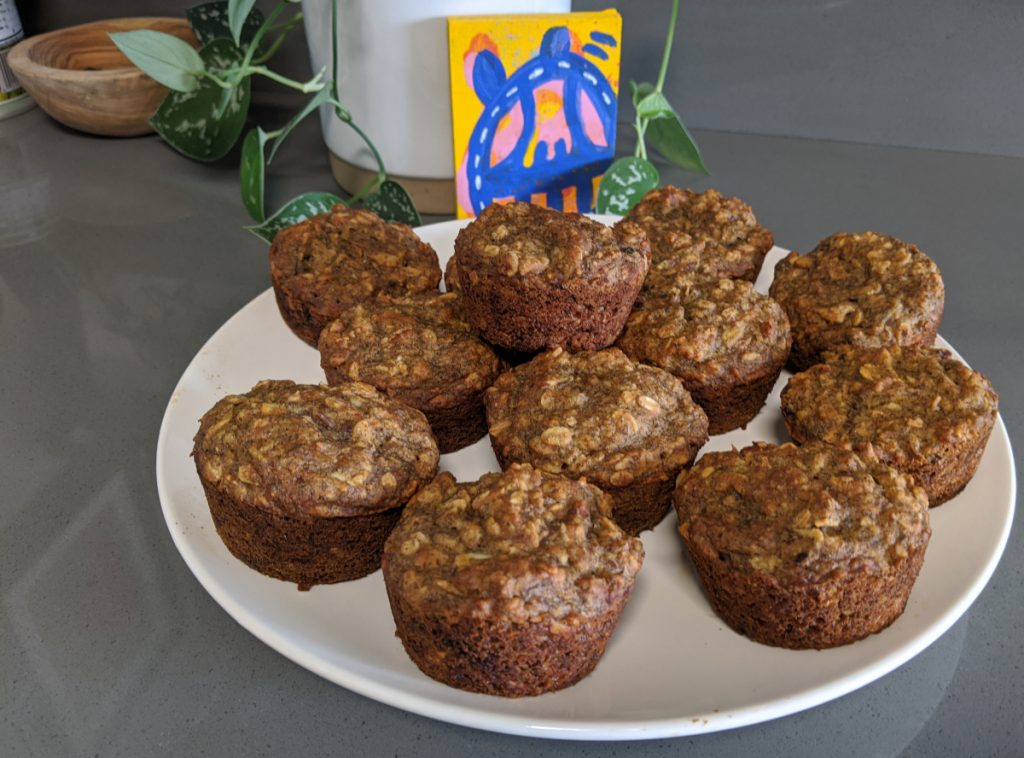 Slynn commented: John! It is very brave of you to freestyle a recipe when baking; I always have to follow a written one when baking something as I am too afraid to fail.
John responded: I don't know if freeform muffins are really brave since I have a decent idea of what goes in muffins, and am open to eating whatever the result is. I feel like when you like all the things you put in, the end result's going to be pretty edible, even if it's not great. I originally wasn't planning on flour or so much liquid, but muesli is so hearty and dry that I kept adding more liquid and letting it sit, and then it seemed like maybe some flour would be good to bind it together. The muffins didn't rise very much and were still very hearty, but also still very edible!
[Formerly a Texas VBC regular, John sent us his muffin recipe from Boulder, Colorado.]
Ramon: Fridge-Find Flavored Hummus
I have made many things in the last week that are vegan. Pictured below are the hummus to go with Slynn's flatbread/crackers made with the most simple of ingredients including chickpeas (that I soaked myself!), tahini that's been in our fridge for sometime, lime instead of lemon, garlic, olive oil, water, salt, sumac, and topped with chopped black olives that have also been in our fridge for awhile.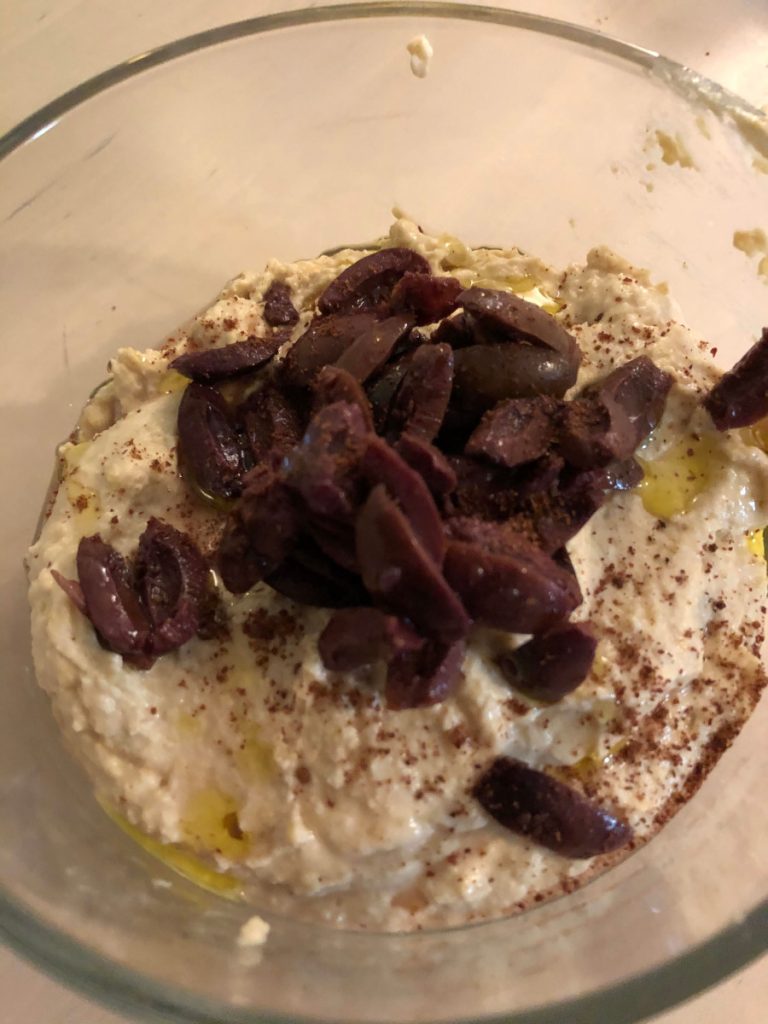 I also made an apple cider cake using leftover apple cider from the last time we hosted VBC and the famed orange cake recipe we have made so many times. I added cardamom, cinnamon, and nutmeg to give it a little extra spice, topped it with a maple cream glaze and toasted pecans.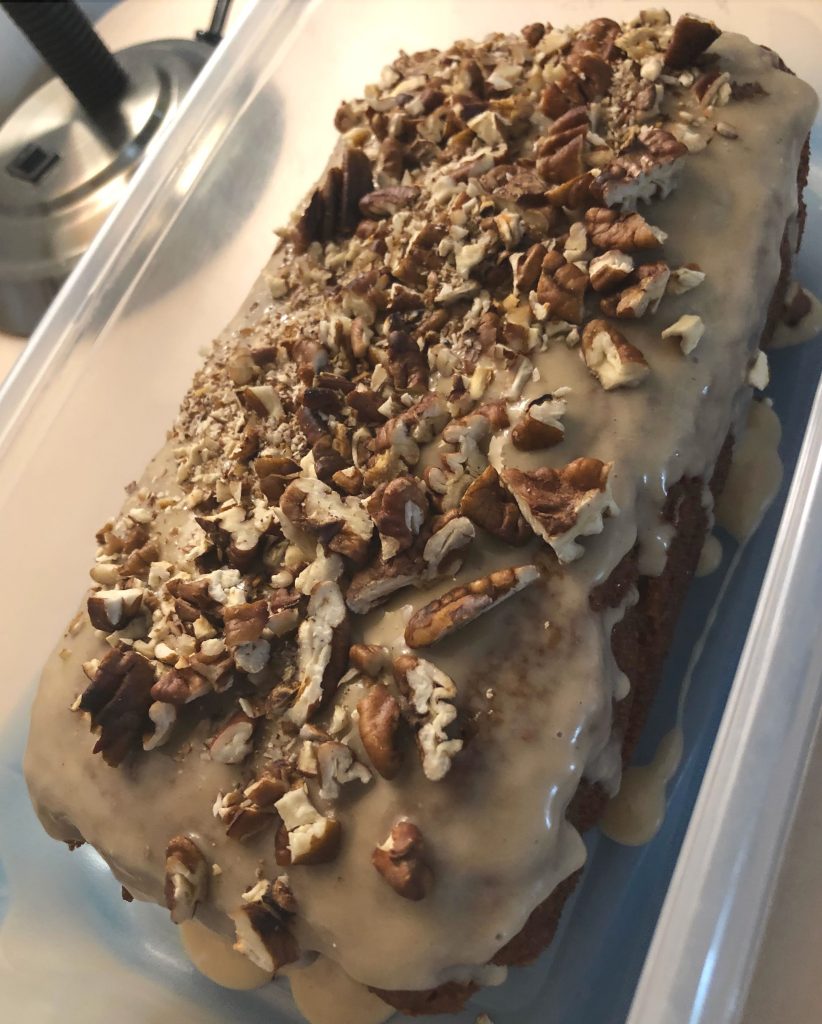 Slynn: Seedy Crackers
This weekend I attempted to make some crackers following a recipe in The 100 Best Vegan Baking Recipes.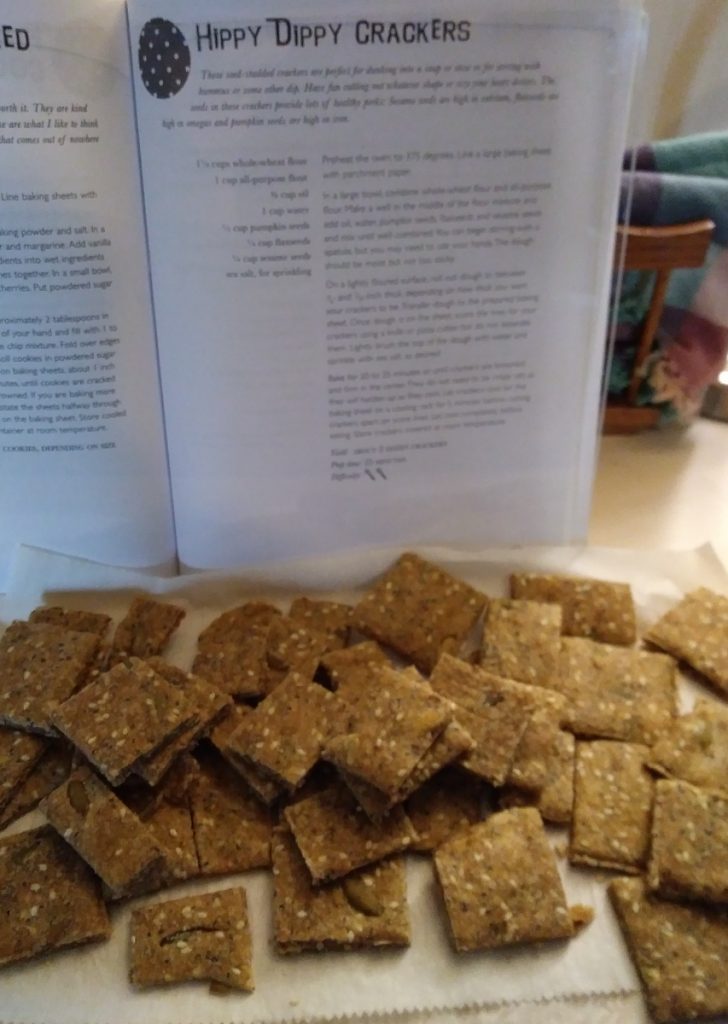 Luckily they call for mostly whole wheat flour because we ran out of all-purpose flour, and there was only whole wheat left at Sprouts. It was an easy recipe with basically flour, oil, water, and seeds. I used olive oil, pumpkin seeds, sesame seeds, and chia seeds. I failed to roll out the dough thin enough or bake long enough for the result to be crispy enough to be called crackers. I would say they are more like flatbread, but still edible! You roll out and score the dough prior to baking, and then cut into cracker shapes after baking, so much less time consuming than baking something like cut out cookies.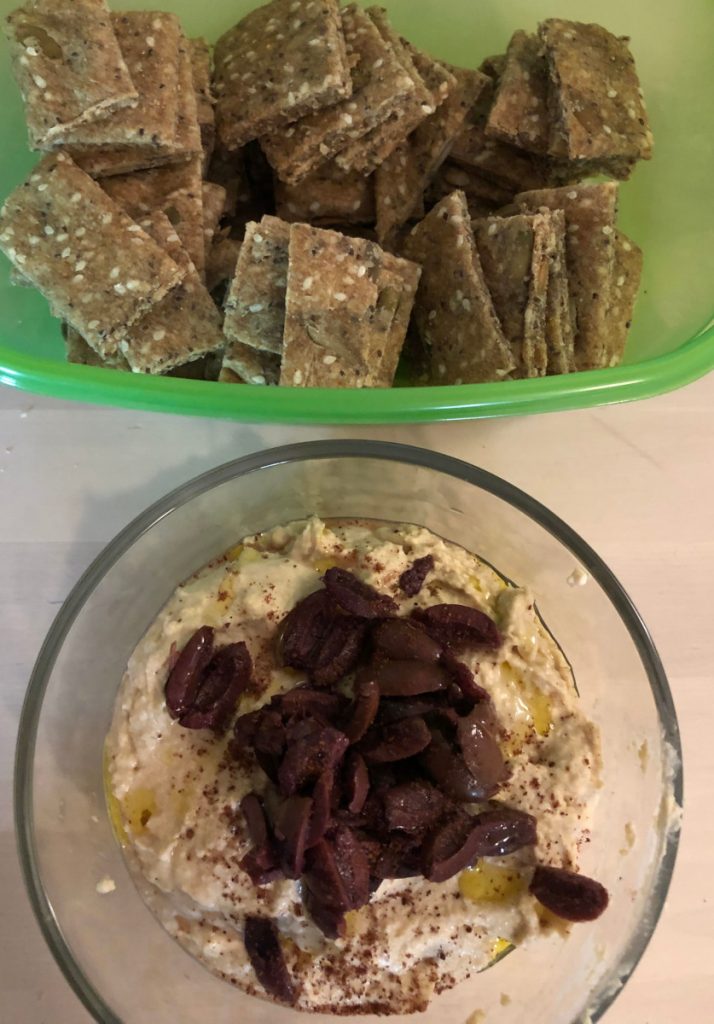 Billy: Beer-Battered Banana Blossom-Seitan "Fish" and Chips
For my VBC-85 Response I decided to produce beer battered banana blossom-seitan "fish" and chips (baked by Lauren) served with a side of mayogurt-based tartar sauce.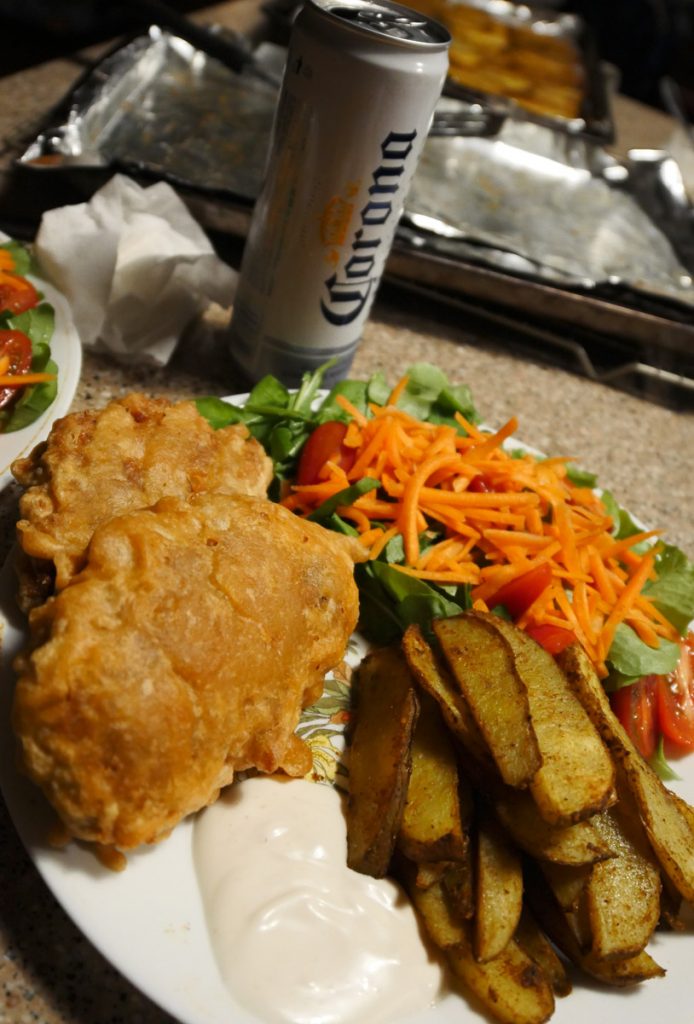 Haley: Tomato Polenta; Marbled Choco-Banana Bread
I made a tomato polenta with roasted onion, carrots, and broccoli and tahini gravy…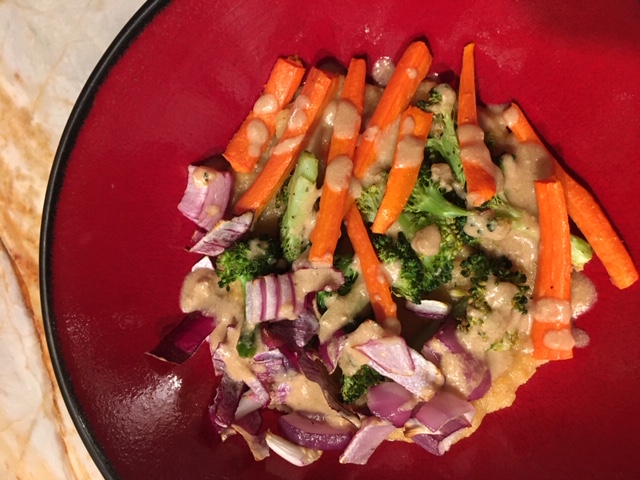 and then made a marbled choco-banana bread.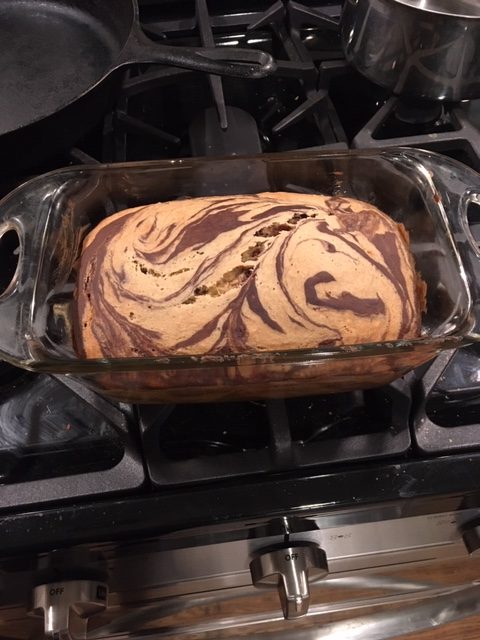 [Haley, having been to VBC while visiting Texas a couple times, participated from Denver.]
Lauren: Cranberry Donut Holes
I decided to make Cranberry Donut Holes because we can no longer just go to a donut shop and get them. I made cake donuts instead of yeast because OMG Donuts only has yeast [donuts], and I like the cake kind too! I decided to forget all about COVID-19 and just make donuts from a recipe I assembled from several non-vegan donut recipes consisting of flour, sugar, flax milk, lemon juice, 1 flax egg (ground flaxseed+water), Earth Balance Butter, vanilla, baking powder and soda, cinnamon, nutmeg, and salt. I rolled them in a blend of sugar, cocoa powder, and cinnamon and gave them accents of white chocolate ganache (made from Reverie Bakeshop's white chocolate chips melted in coconut cream) and chopped cranberries.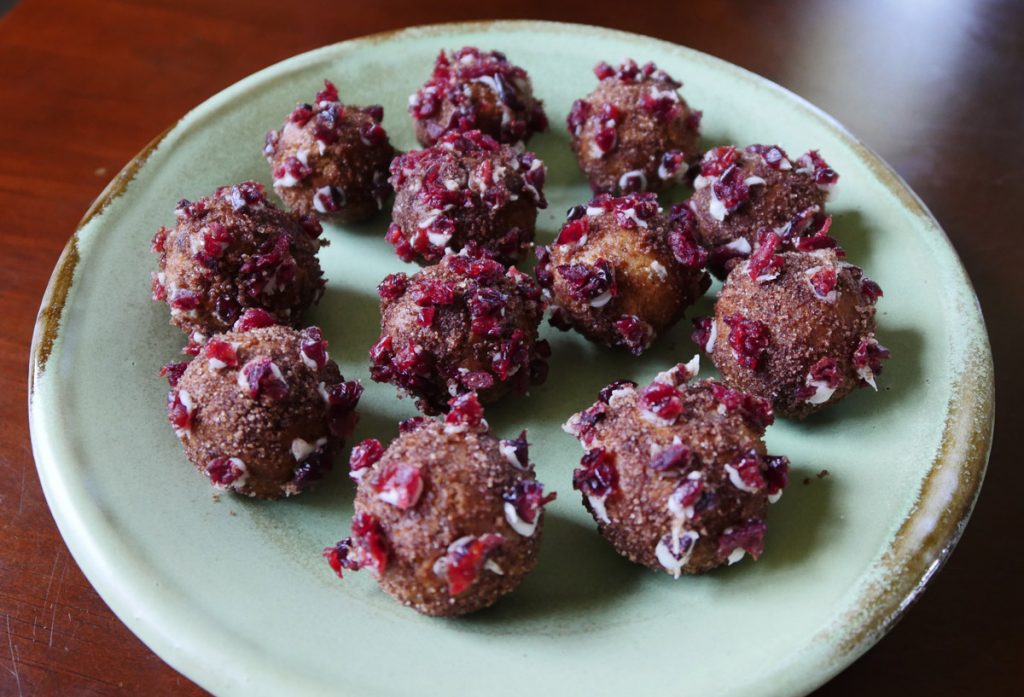 Shannon: Mug Cake Series
I did a mug cake series.
Flavors made:
Lemon-cherry
Chocolate-mint
Chocolate-cherry
Birthday cake
Lemon cherry: I pretty much just followed the recipe and threw in some chopped maraschino cherries. I did switch the baking powder for baking soda, because I am more used to making mug cakes with baking soda. This was probably really stupid since the baking soda with the lemon juice caused the batter to fizz, and perhaps it is why it did not rise as much as the others. It was pretty airy and lemony though. Could have probably thrown in some lemon extract for extra lemon boost.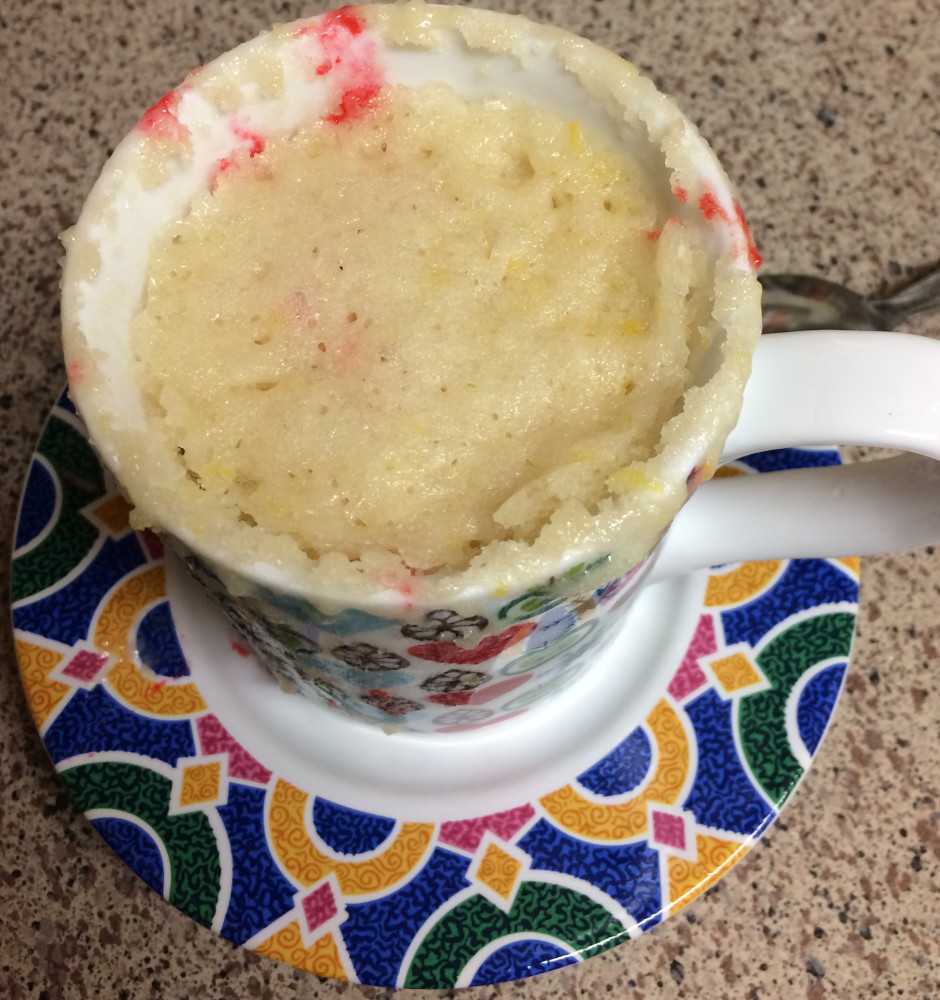 Chocolate-mint: The recipe for the chocolate mug cake is one I make a lot; I find it solid and versatile. I use dark cocoa instead of regular because that's what I keep in my house. For this version, I switched the vanilla extract for mint extract (you can really just keep pouring in extract until it smells the right amount of minty for you). Then I topped with [So Delicious] CocoWhip and sprinkled with crushed Girl Scout Thin Mint cookie.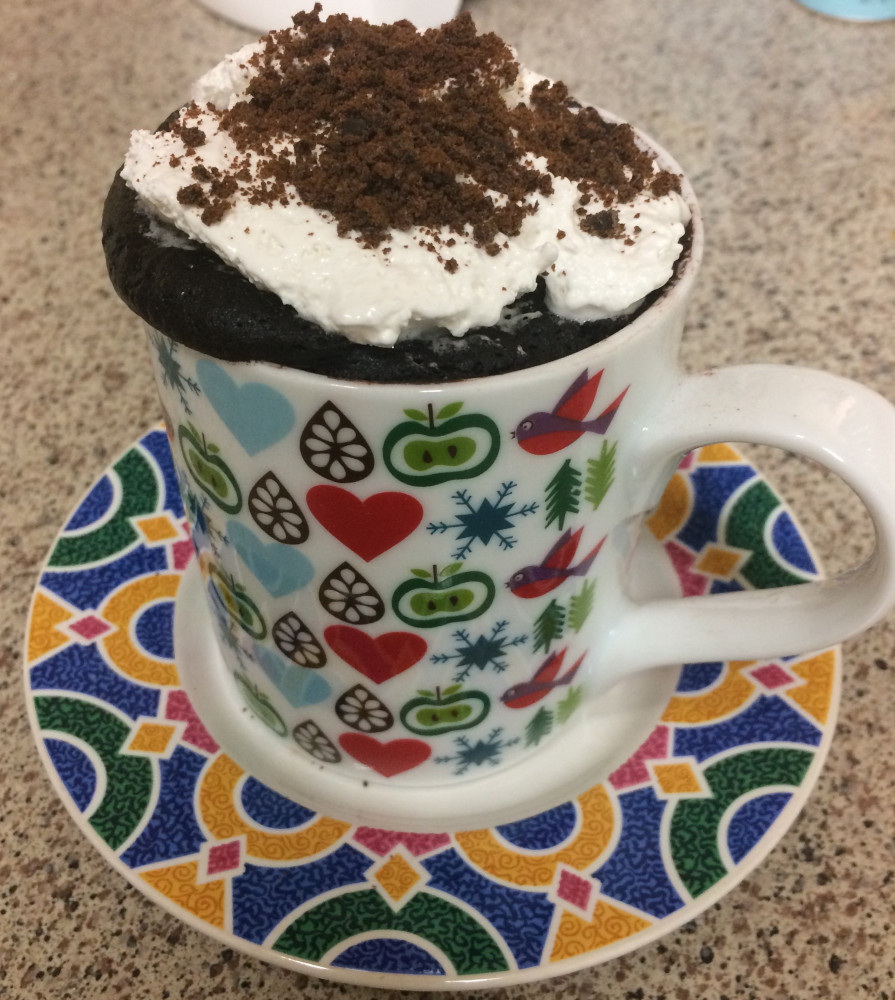 Chocolate-cherry: This time I substituted cherry juice for the water in the recipe and threw in maraschino cherries again. If you had cherry extract, that might make a nice kick (I did not have). Topped again with CocoWhip (since I had pulled it out of the freezer anyway).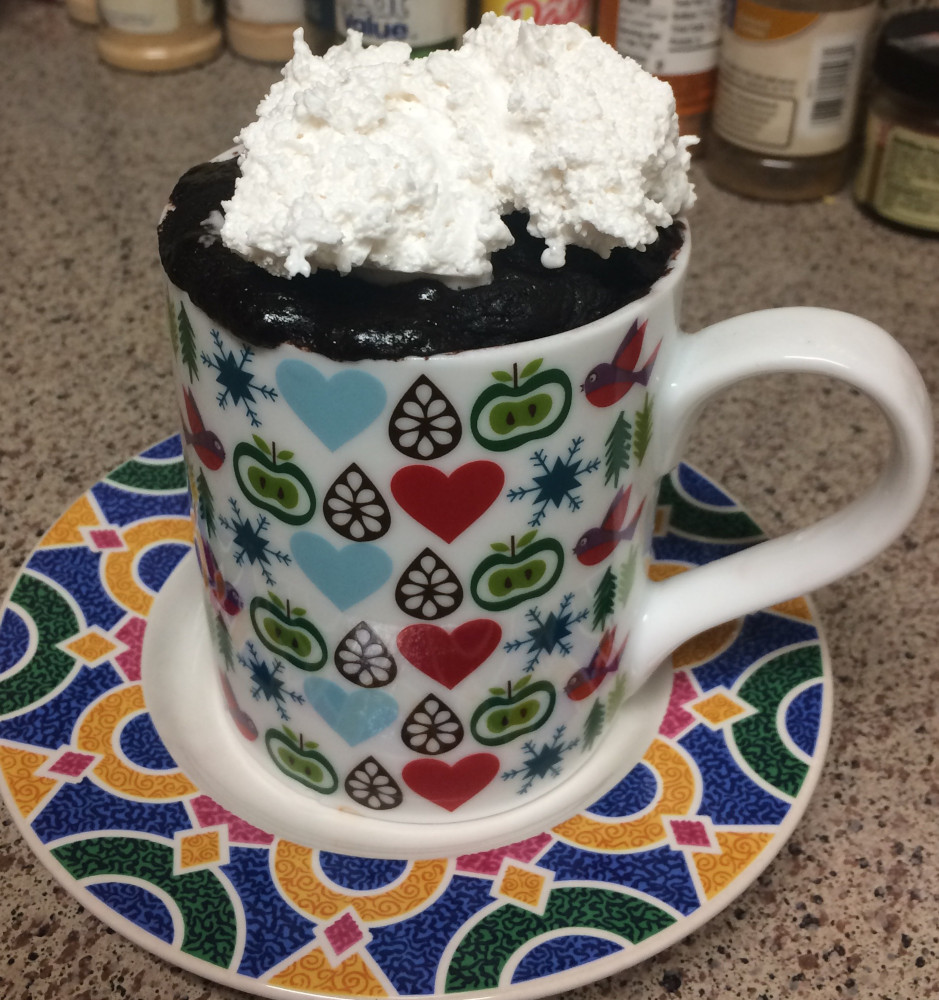 Birthday cake: Pretty much just followed the recipe for this one too, except that I just used whatever sprinkles I had (and not specifically "funfetti"), and I also used lemon extract because I was out of vanilla extract. Topped with CocoWhip and sprinkles. This one produced a nice, non-messy rise (the chocolate one can sometimes spill over if you accidentally add too much baking soda). And the cake didn't stick to the sides like the chocolate one usually does (I think the lemon stuck too).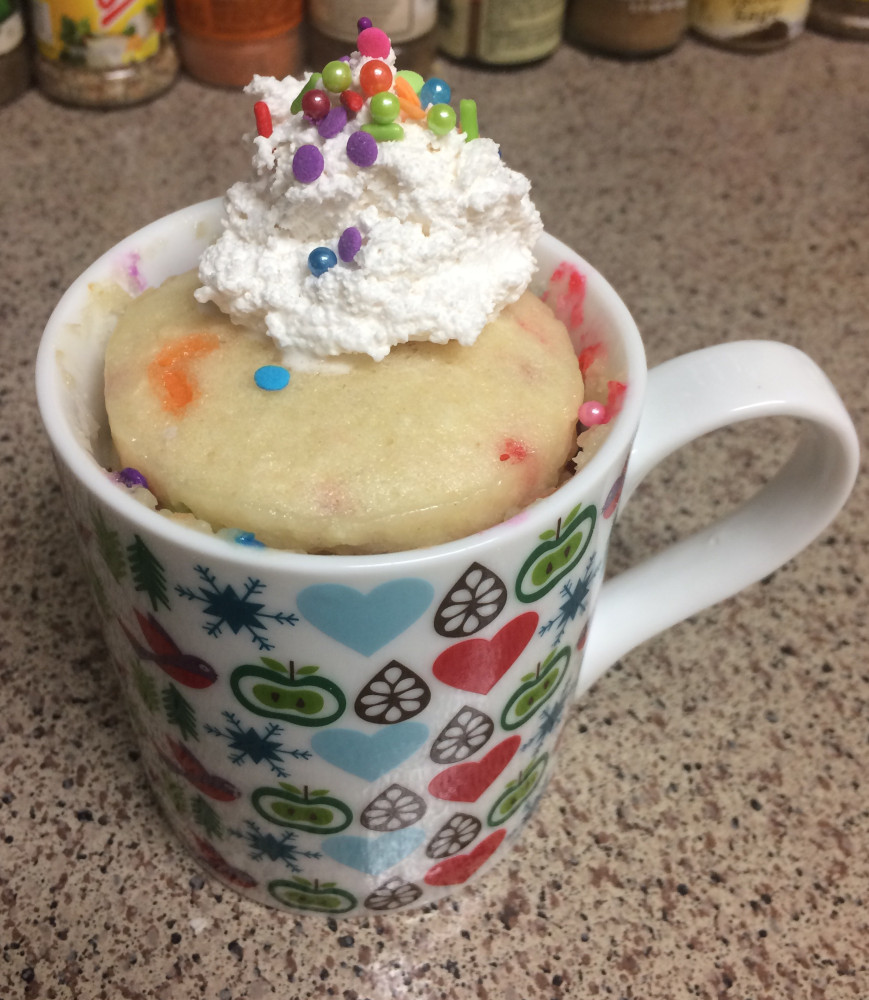 I like mug cakes because they are easy to experiment with, without using up a lot of ingredients to do it. Also, I am just one person. It keeps me from eating whole cakes by myself.