October 28, 2018 – Great British Bake Off
Sunday, October 28, 2018
VBC Meeting #68: Great British Bake Off (or Baking Show)
Host of the Month: Shannon
Location: South Lakes Park, Denton, TX

A handful of us in Vegan Bake Club have a fascination with the British export television program The Great British Bake Off, or as it is called in the United States, The Great British Baking Show. Hence, Shannon thought it would be fun to theme one of our meetings around it. While only a smattering of baked goods on the show are actually vegan (thank you yeasty breads), and some are very anti-vegan (pork pies filled with pork, bacon, quail eggs, and gelatin/animal stock jelly anyone?), we are happy to imagine how one might make all the things vegan friendly.

This is what we made: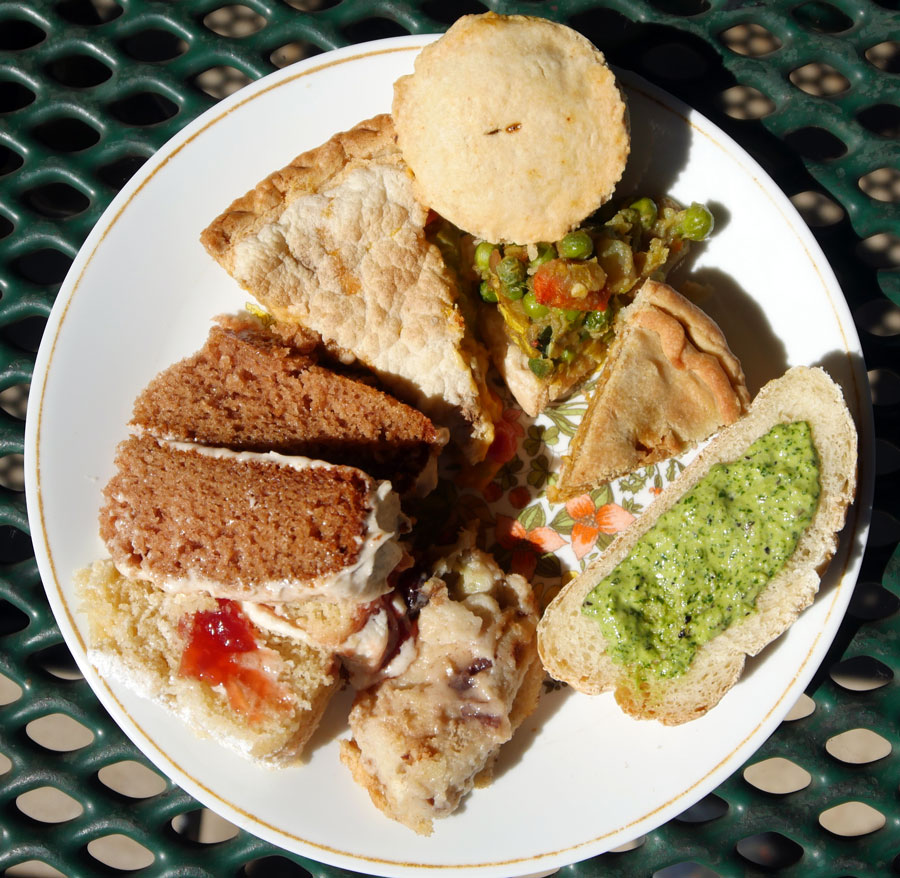 Shannon: Victoria Sandwich; Vegan Picnic Pies

Shannon has long wanted to make a Victoria sandwich. For this go at it, she worked from two recipes, one classic, one vegan. She used self-rising flour, baking powder, sugar, vegan butter, almond milk, and vanilla. For egg replacing, she used an almond-based yogurt. To account for the loss of the rising agent that the real eggs would have provided, she whipped up the wet ingredients extensively then folded in the dry ingredients. For the filling, she used a jar of organic strawberry jam and a frosting of vegan butter and powdered sugar. She finished off the cake by sprinkling the top with more powdered sugar. Unfortunately, the Victoria sandwich had a bit of a complication in transit.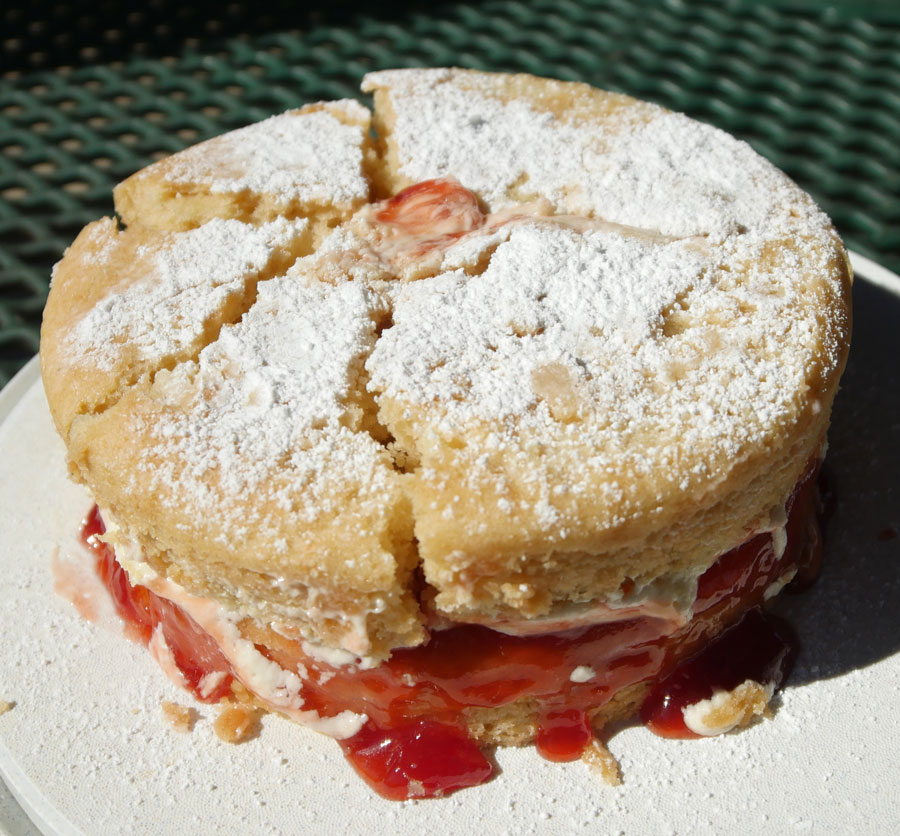 For the vegan picnic pies, Shannon found a recipe to mostly follow online but strayed for a different hot water crust because she didn't want to use the raising agent of the initial recipe. For the filling she sautéed spinach, boiled and mashed some sweet potato, and mixed these together with porcini mushrooms, chestnut mushrooms, onion, and garlic. She added chopped almonds and Brazil nuts and seasoned the filling with soy sauce, fresh thyme, and salt. She splurged on Miyoko's Vegan Cultured Butter to make the hot water crust that also included vegetable shortening, all-purpose flour, bread flour, ground mustard, and cayenne. She formed the mini pies by pressing balls of dough into a cupcake tin, filling them, then topping them with rolled out pastry circles.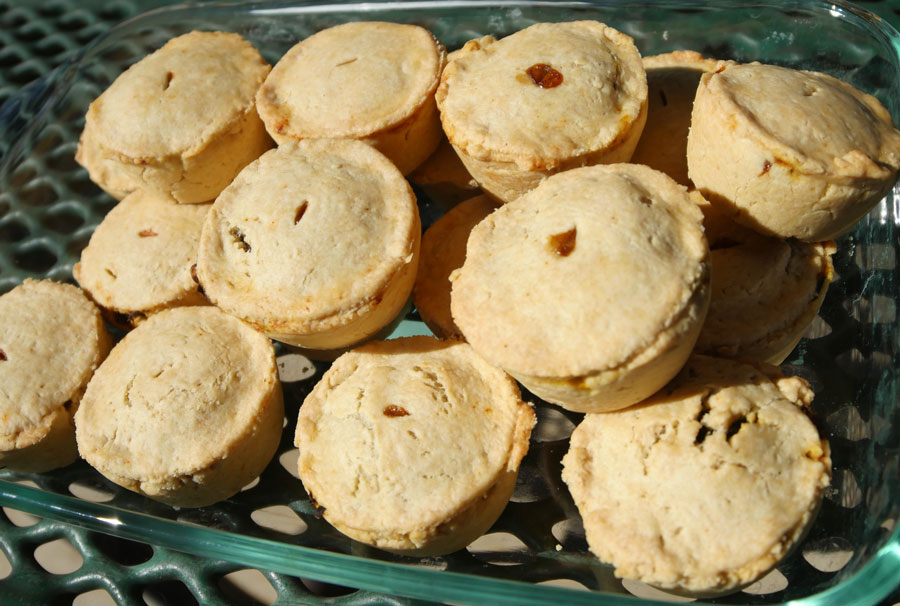 Slynn: Apple Cider Cake

Slynn made her apple cider cake using her mom's homemade apple sauce, apple cider brought back from New York, and apple cider vinegar. If all that apple wasn't healthy enough, she also reduced the sugar that went into the batter. She made a cinnamon vegan cream cheese frosting to complement the apple spice flavor of the cake.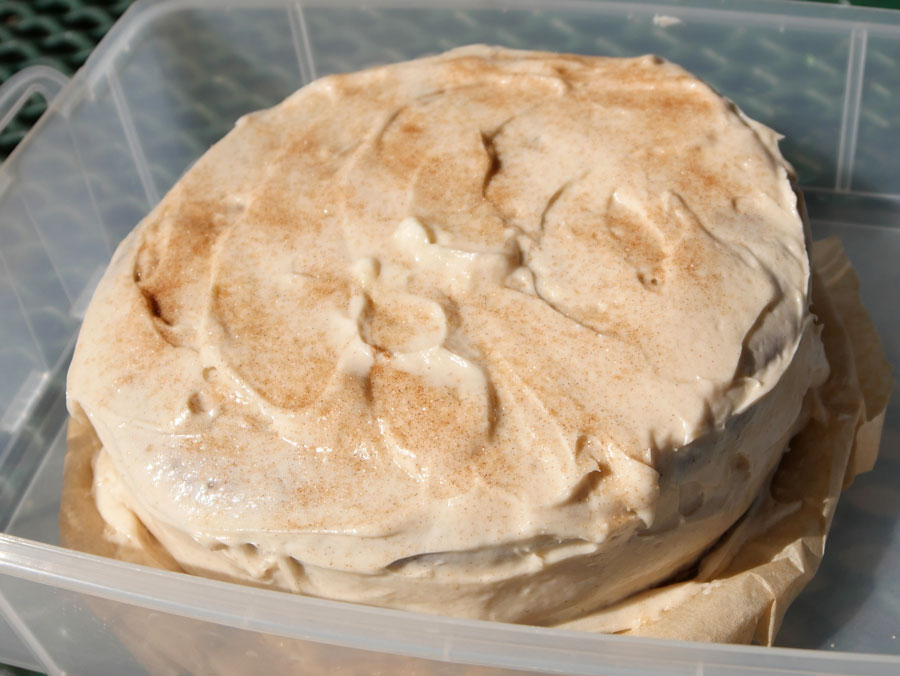 Caroline: Vegan Sausage and Veggie Quiche

Caroline filled a Kroger purchased pie crust with Follow Your Heart Cheddar Shreds, Field Roast Breakfast Sausage, bell pepper, green onion, and tomato. She bound the ingredients together using Ener-g Egg Replacer.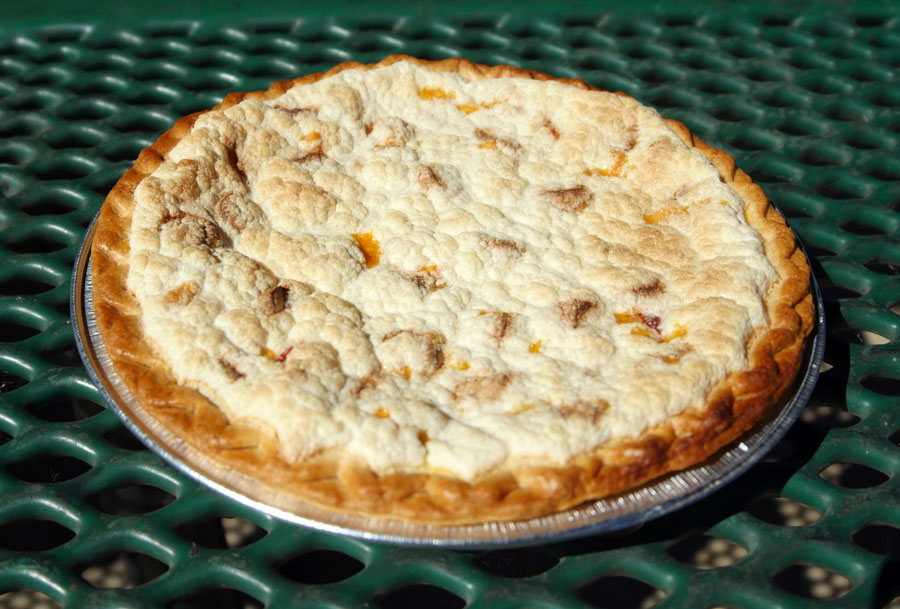 Lilly: Curry Vegetable Pie

Lilly picked up a Wholly Wholesome pie crust from Natural Grocers and blind baked it for ten minutes. For the filling, she boiled and sliced organic red potatoes and also boiled peas. She cooked pieces of yellow squash, zucchini, and carrots in a sauce pan with water, mild curry powder, turmeric, and a spoonful of vegetable bouillon. She cooked some shallot and added the potatoes into it for flavor. To aid her pie in browning, she brushed it with coconut oil and heated the pie with its pre-cooked filling in the oven for a couple minutes. Finally, she garnished her curry pie with some fresh thyme.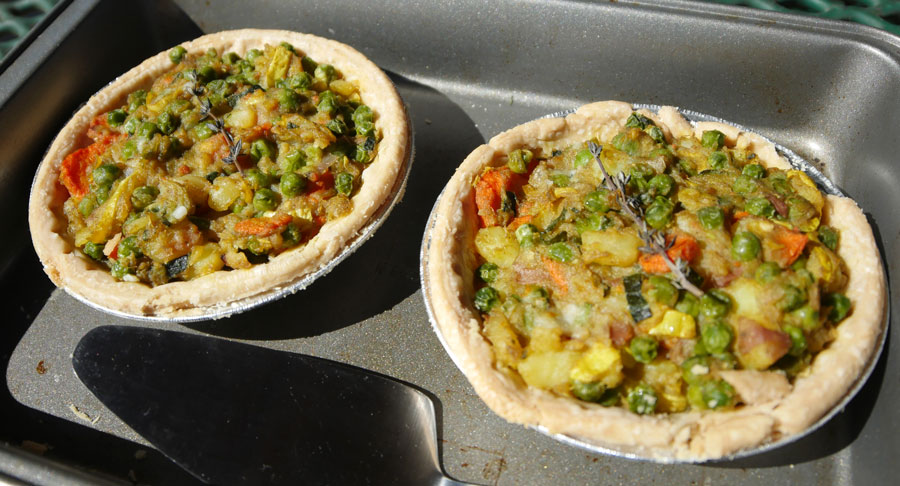 Drew: Banana Bread Pudding

Drew took a loaf of Heartland Cranberry Orange Bread, sliced it, and let it dry out somewhat. He layered the bread with sliced bananas and raisins before pouring over a mixture of almond milk, brown sugar, cinnamon, and Ener-g Egg replacer (2 eggs worth) and baked it for forty minutes to create this bread pudding.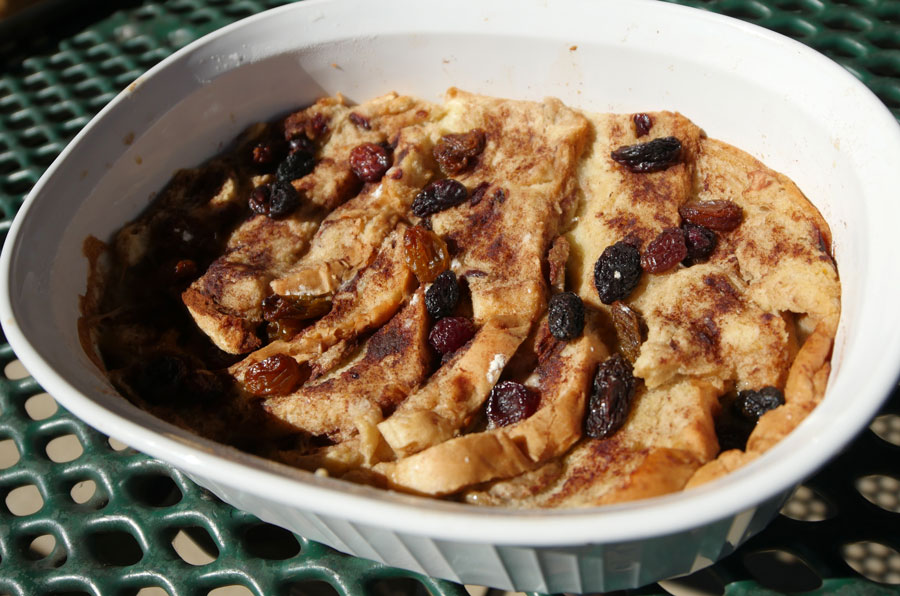 Lauren: Eight-strand Plaited Loaf

Lauren followed Paul Hollywood's recipe for an eight-strand plaited loaf using bread flour, yeast, salt, water, and olive oil. Before baking, she brushed the dough with a mixture of ground golden flaxseed, water, and flax milk hoping it would simulate egg wash. It may have helped with browning, but it didn't make the loaf shiny.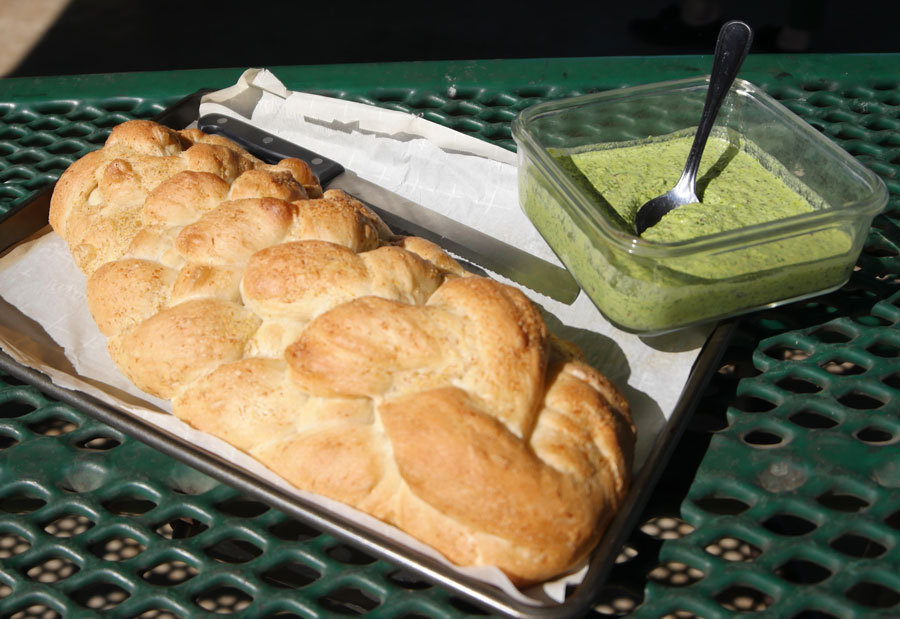 Billy: Disgustingly British "Meat" Pie

Billy made a couple of hand raised pies with a hot water crust made from all-purpose flour, Soy Free Earth Balance, hot water, and salt. He formed the crusts around the well-oiled bases of a bottle of vodka and a beer growler. He made the non-meat filling with a leftover spiced lentil vegetable dish and bread crumbs. Even Neva ate some!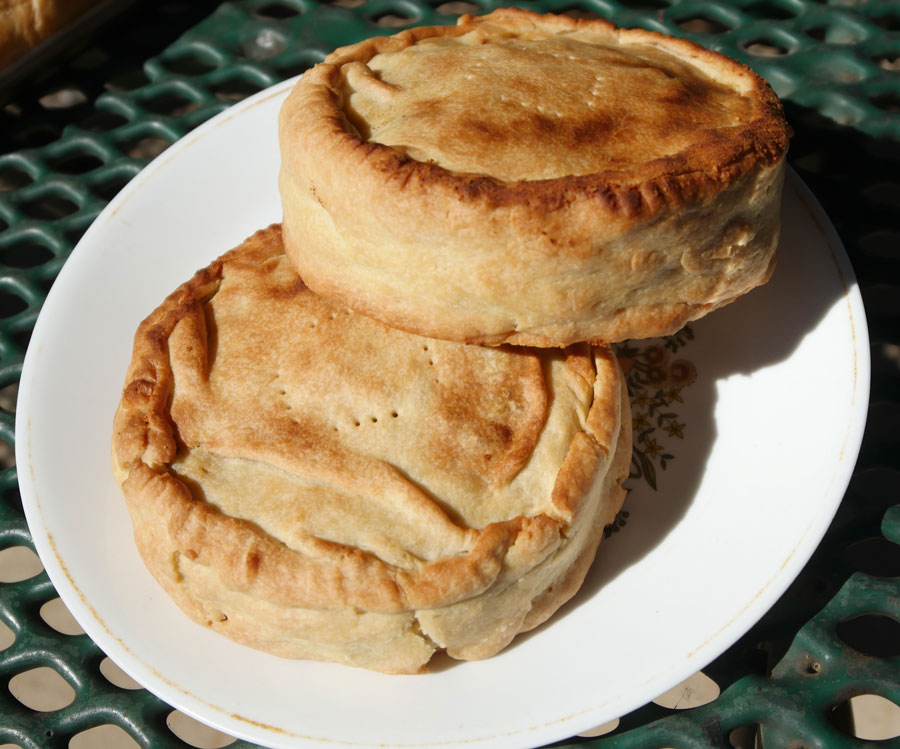 All of this was eaten on a warm October day at South Lakes Park with delightful views of Macy and swordplay.