September 28, 2019 – Viking Food
Saturday, September 28, 2019
VBC Meeting #79: Viking Food
Host of the Month: Caroline and Drew
Location: Denton, TX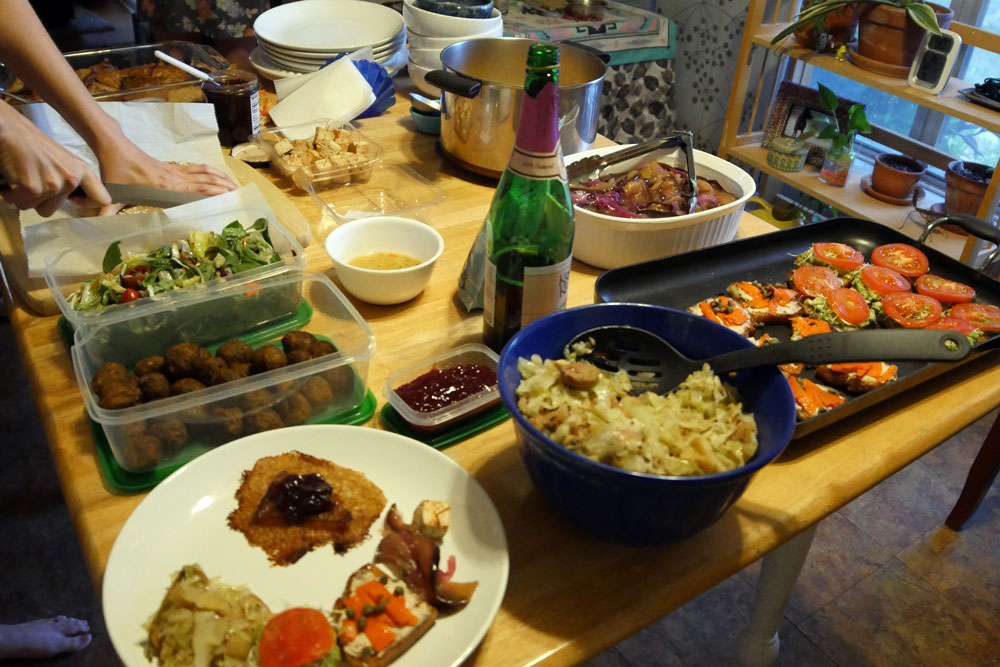 Drew and Caroline named our theme Viking Food in honor of the "badass viking woman warrior recently discovered". Since there aren't really written recipes around from viking times, it is difficult to know exactly what/how they were eating other than by looking at their old poop piles and what grows in the viking home lands. Thus, we also had the option to make Scandinavian foods, foods to prepare one for battle, food acquired from pillaging villages, or seafaring voyage foods.
This is what we made: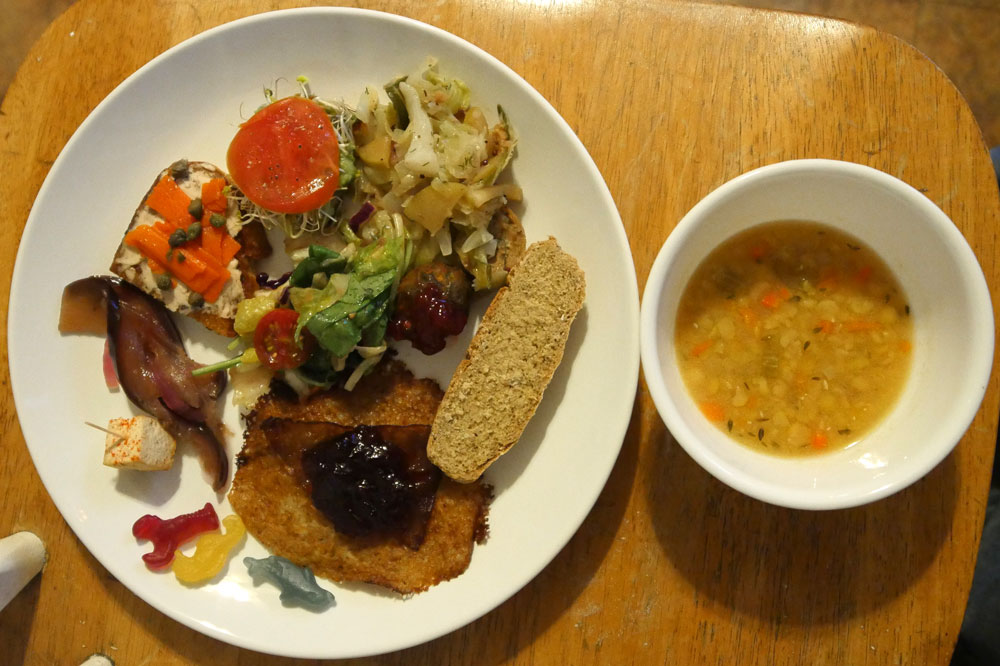 Caroline: Vegan Pickled "Herring"
Pickled herring is prevalent in Denmark, so Caroline felt compelled to make it, though she did not like the finished dish nor had she ever planned to like it. She created long slices of eggplant and red onion, then brought them to a boil on the stove in a bath of vinegar, water, thyme, bay leaves, and sugar. After simmering for a while, the vegan "herring" was cooled before consumption.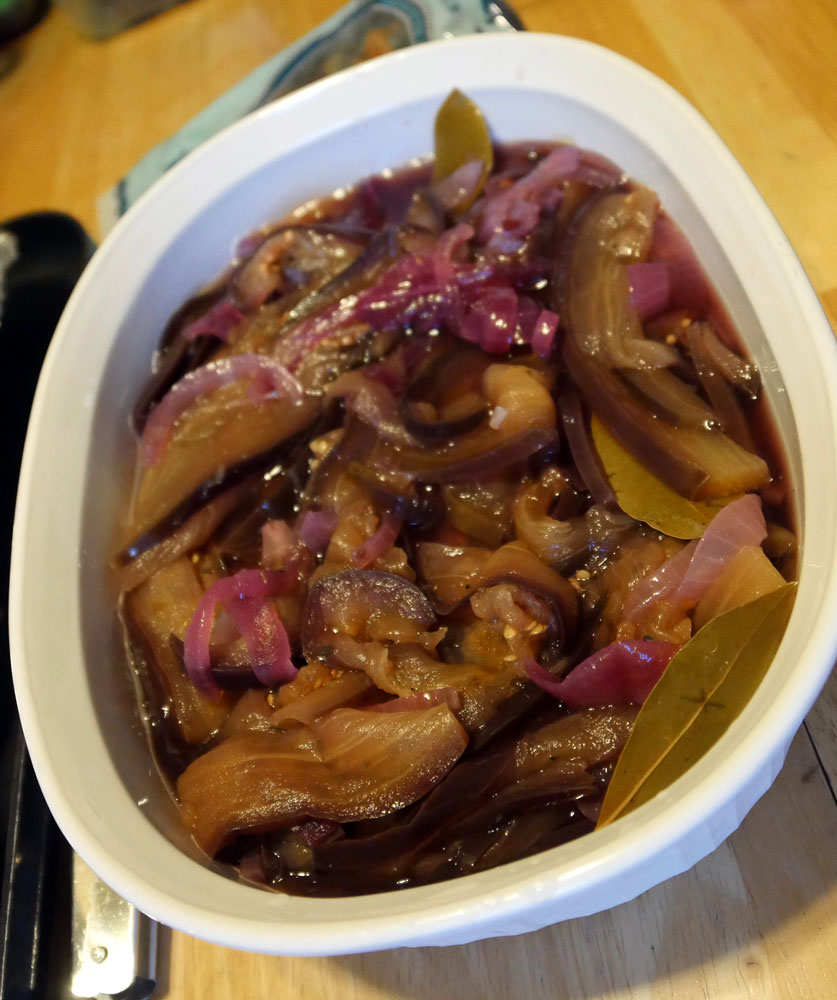 Shannon: Raggmunk
Shannon prepared Swedish potato pancakes for a popular Scandinavian dish. For the pancakes she blended shredded potatoes with flour, oat milk, a flax egg, and salt. She pan-fried them in Miyoko's Cultured Vegan Butter. Because she wanted to serve the raggmunk in a traditional way, topped with bacon and lingonberry jam, but doesn't like store bought vegan bacons she has so far tried, she made veggie bacon out of spring roll wrappers. She wet doubled-up layers of dry rice paper, cut them into strips, and dipped them in a marinade of oil, soy sauce, liquid smoke, paprika, pepper, and nutritional yeast. She baked them in the oven at 400°F for 9 minutes. She acquired the lingonberry jam from the same place she gets her ZerGut Russian Style Ikra, Bed Bath & Beyond.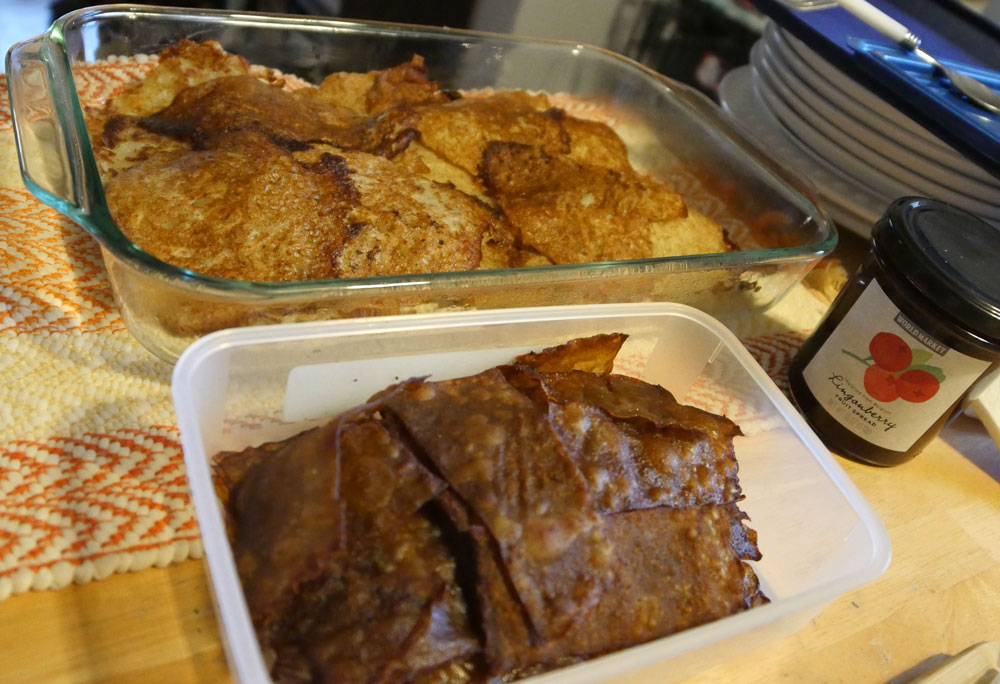 Lauren: Viking Cabbage Stew
In her shallow research of viking food, Lauren read that cabbage and onion were among the crops that would have been grown by vikings and that some form of apples (crab apples perhaps), cumin, dill, and salt would also have been available to some vikings. Thus, she decided to concoct a cabbage dish with onion, apple, Field Roast Smoked Apple Sage Sausage (probably not a viking staple, but they did eat a lot of real meat), dill, apple cider vinegar, olive oil, mustard seed, a dash of cumin, salt, and pepper.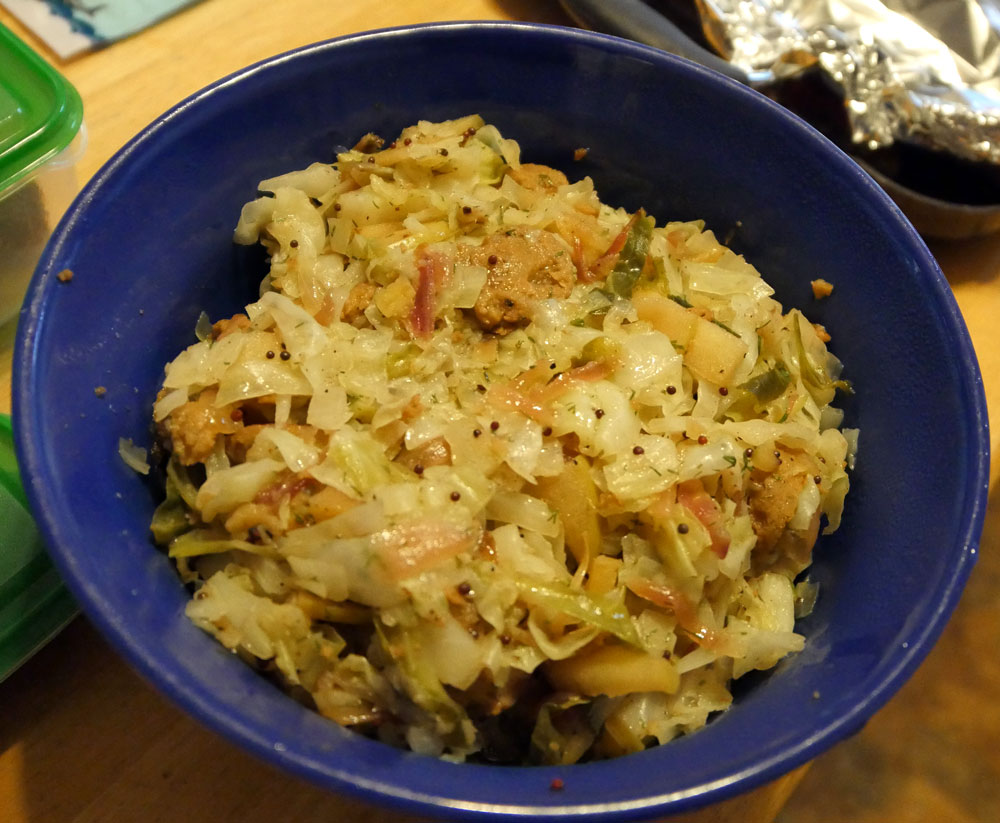 Marcia: Open-Faced Avocado Toast; Carrot Lox Toast
Marcia put together open-faced sandwiches on a garlic bread she acquired at Sprouts. For the base of her two types of sandwiches, she toasted the bread in a frying pan with olive oil. One version of her toast was topped with smashed avocado, broccoli sprouts, sliced tomato, salt, and pepper. For the carrot lox version, her schmear was Miyoko's Vegan Cream Cheese. She prepared carrot lox by boiling long carrot strips for five minutes before marinating them for an hour in olive oil, liquid smoke, rice vinegar, shredded nori, and salt. The carrot lox toast was also topped with capers.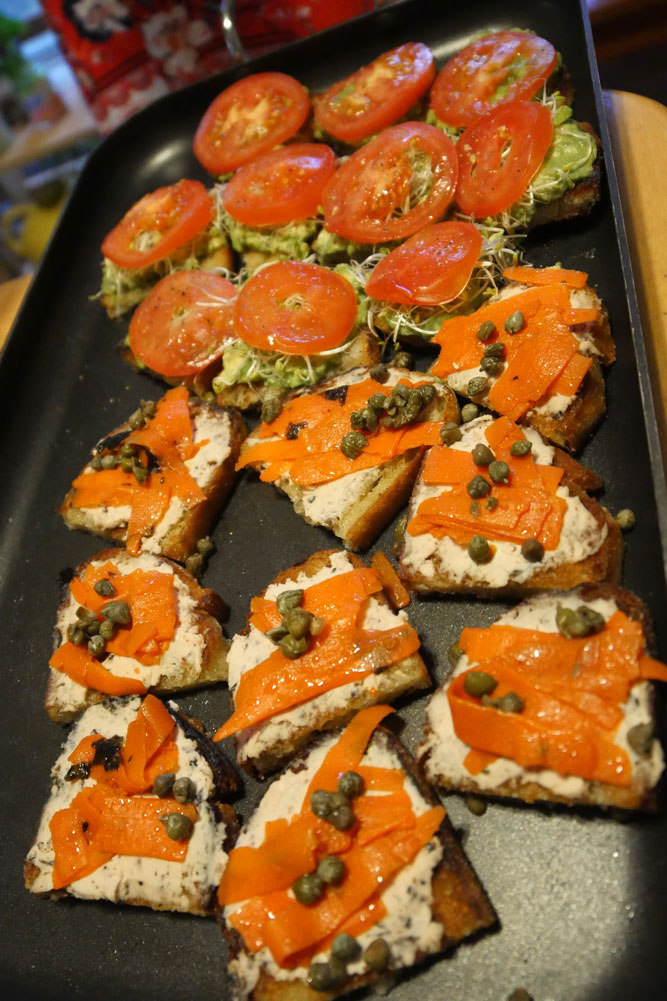 Slynn and Neva: Viking Bread
Wanting something quick to make, Slynn went for a viking brown soda bread. The vikings weren't using yeast for bread rise yet, so this bread uses baking soda for leavening in the dough of white wheat flour, water, oats, and salt. Slynn found that her loaf didn't look like the picture featured on the recipe website, her bread not having risen as much. She questioned whether the pictured bread was actually made using a different recipe or if she had perhaps not kneaded the dough the correct amount. Though by reported accounts of viking bread, flatter is more legit anyway.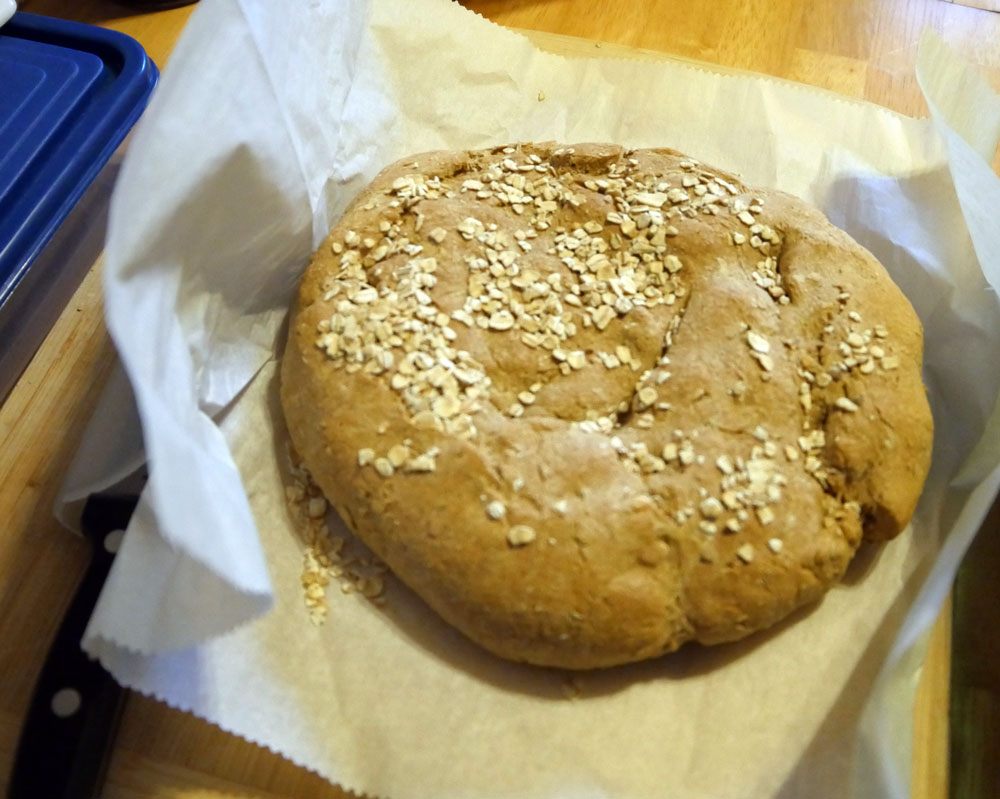 Billy: Vegan Putrefied Shark
One special occasion viking dish was fermented (or rotten) shark, called kæstur hákarl in Iceland, made from Greenland shark that must be processed before eating due to the amount of urea in the meat. Thankfully, Billy's vegan version little resembled the rotten shark (except perhaps for being served in pale cubed form). He marinated tofu in distilled white vinegar, lemon juice, liquid smoke, and soy sauce. After placing his flavored cubes on a baking sheet, he sprinkled them with salt and paprika then baked them in the oven at 400°F for ten to fifteen minutes. He served the cubes cold on toothpicks.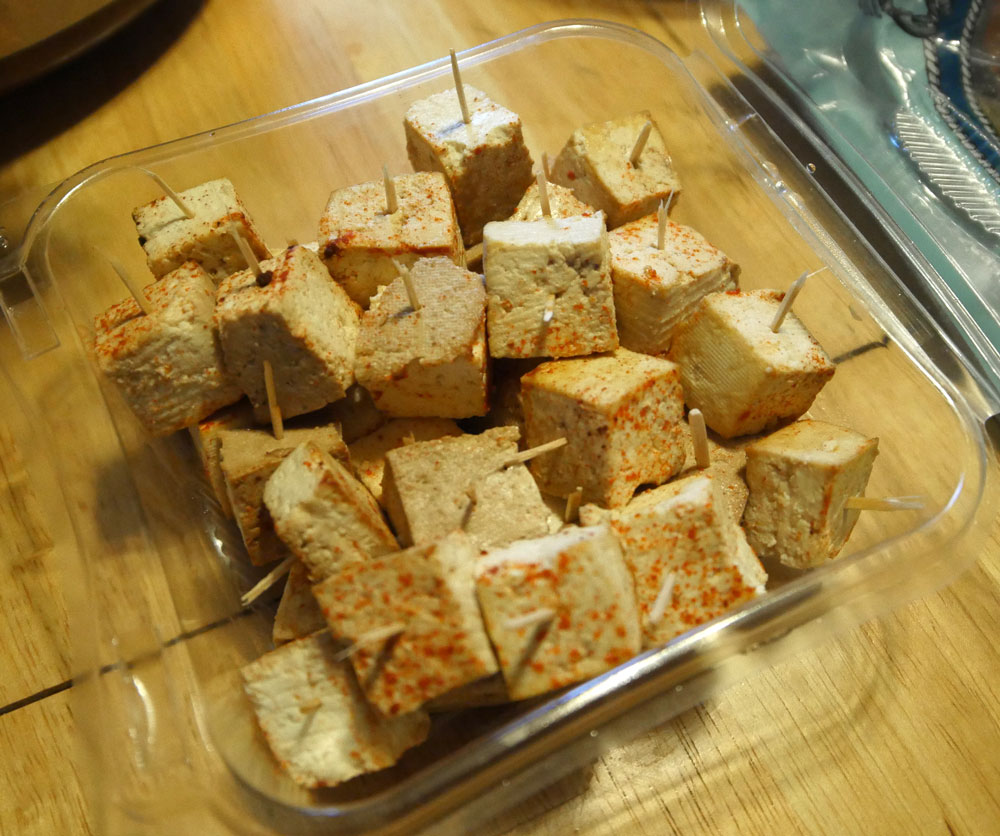 He also made a label in case this ends up in your local vegan shark store soon.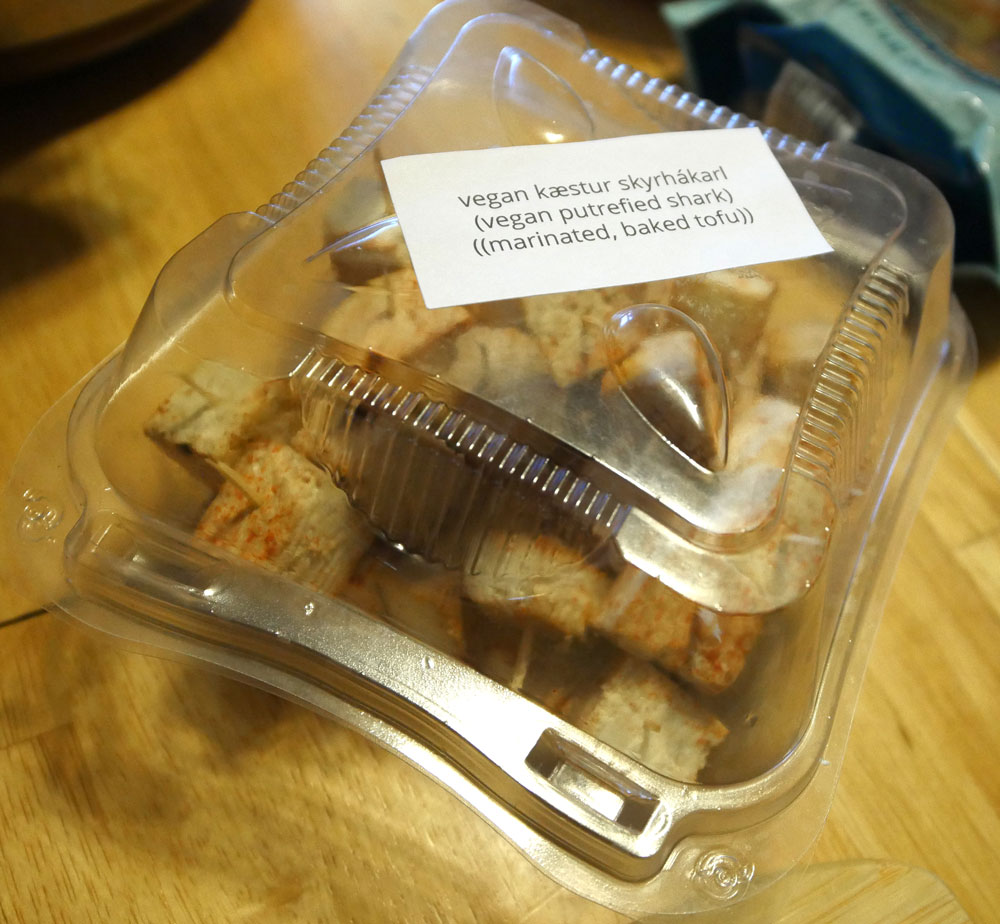 Lilly: Veggie Meat Balls; Salad in Lingonberry Vinaigrette
Lilly served us IKEA's ALLEMANSRÄTTEN veggie balls with IKEA's lingonberry preserves. For a balanced meal, she also made a salad with spring mix and grape tomatoes dressed in a lingonberry vinaigrette she developed using lingonberry preserves, stone ground mustard, Himalayan pink salt, olive oil, and onion powder.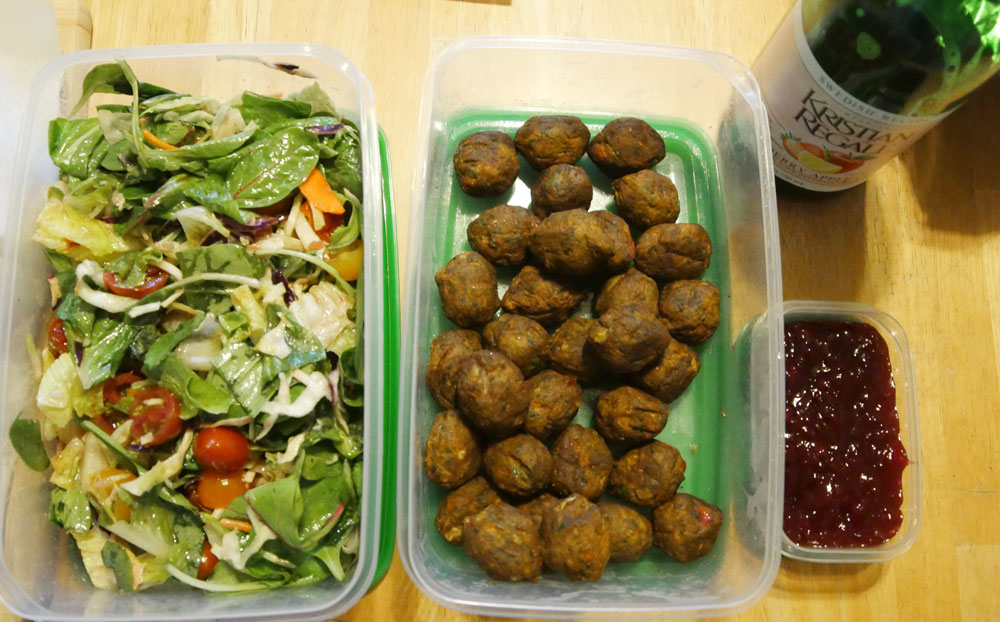 Lilly also brought a special guest, former UNT sociology graduate student, Giselle to the meeting.
Drew: Ärtsoppa
Actually made by Caroline because Drew was trying to fix an air conditioner, this yellow split pea soup contained onion, celery, fresh thyme, veggie stock, lemon juice, ground mustard, and salt. While ärtsoppa traditionally contains salted pork, they simply left it out for their veggie version of the soup. Also left off were the pancakes, jam, and whipped cream that the soup is often served with because this seemed like too strange of a combination that would have required a lot more work!