September 22, 2018 – Aromatics
Saturday, September 22, 2018
VBC Meeting #67: Aromatics
Host of the Month: Billy and Lauren
Location: Ponder, TX
Lauren picked this theme after hearing the word "aromatics" repeatedly on cooking shows. A lot of us had to look up what aromatics more or less meant, but we all turned out something fitting. This is what we made: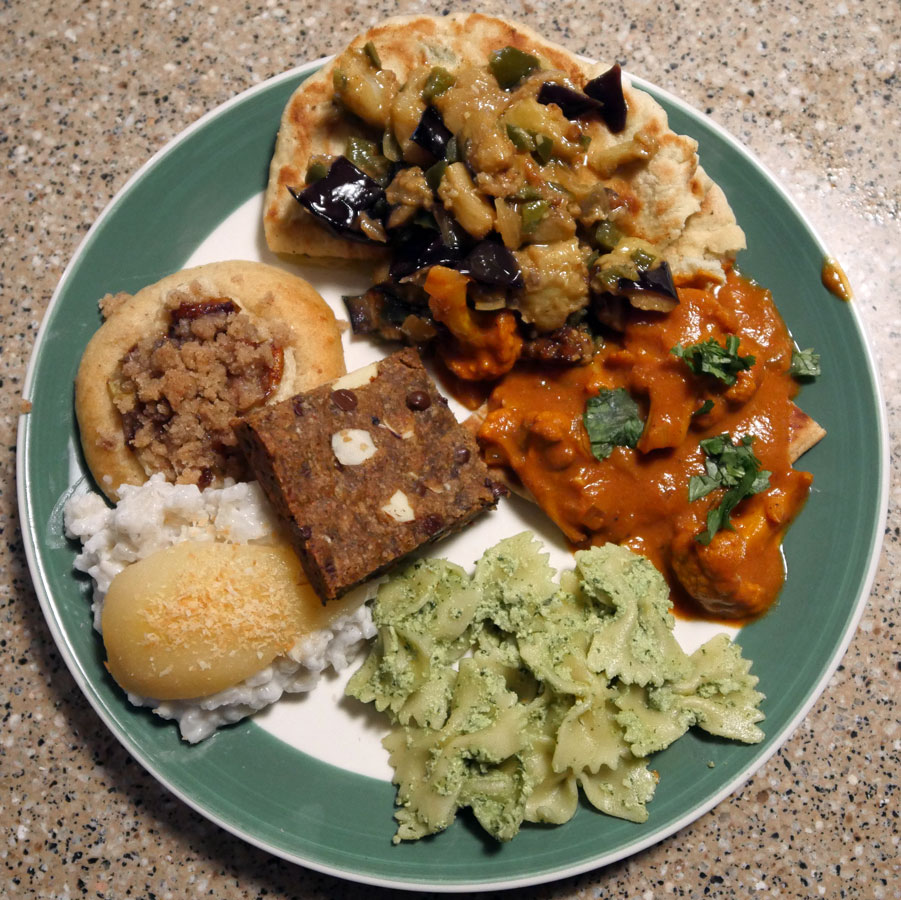 Shannon: Sri Lankan Eggplant Curry Shannon made a deliciously rich Sri Lankan eggplant curry by pan frying eggplant before blending it with onion, poblanos, and an array of aromatic spices including turmeric, cumin, coriander, ground mustard seeds, garlic, and ginger. The recipe calls for curry leaves but she subbed bay leaves due to the challenge of finding curry leaves in Denton. To create an even fuller flavor, it also includes vinegar, coconut milk, brown sugar, and of course, salt.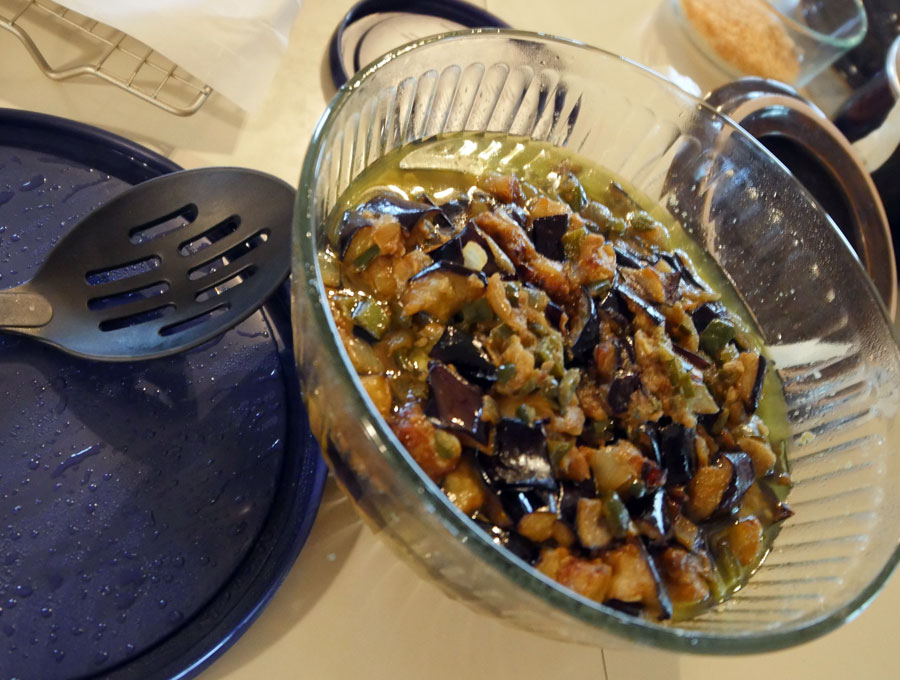 Slynn: Aromatic Poached Pear Pudding Following a British Indian-Spiced Rice Pudding recipe, Slynn borrowed Ramon's fancy coffee scale to measure the ingredients. As the "pudding rice" listed in the recipe is not something usually seen in stores around Denton, Slynn used a non-specifically-pudding short grain rice and flavored it with rose water, cardamom, and saffron. Per the recipe, she poached pieces of pears in water flavored with sugar, star anise, cloves, cardamom, and cinnamon to create a dessert with an aromatic burst of flavor.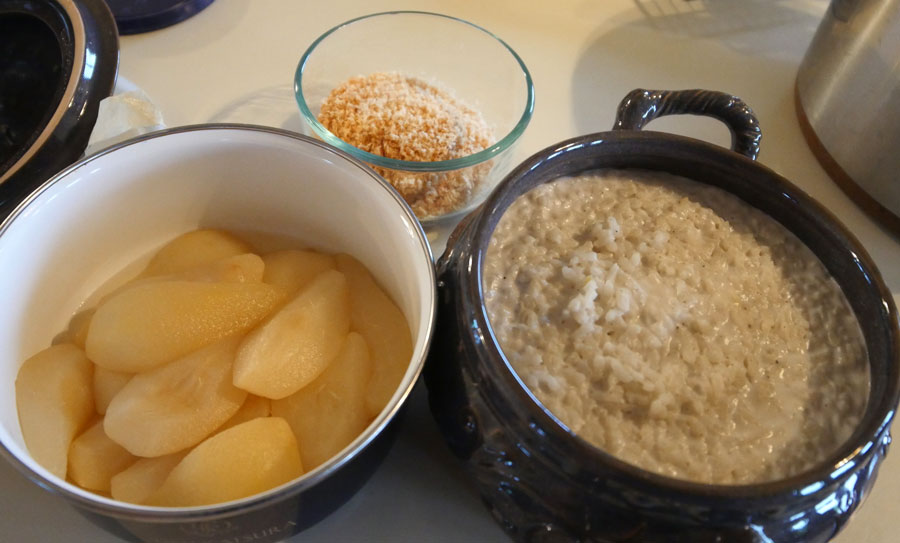 Drew: Coffee Almond Chocolate Cookie Bars Drew used the Amazing Vegan Toffee Bar recipe from eatingbirdfood.com to make these coffee almond chocolate cookie bars. One reason he chose this recipe is because his favorite smell is coffee, however he used the less deliciously smelling instant coffee since that is what the recipe wanted. The bars also contained flour, brown sugar, Earth Balance Buttery Sticks, Enjoy Life Chocolate Chips, almond chunks, baking power, and salt. Contrary to the recipe, he used vanilla extract instead of almond extract since that is what he had on hand.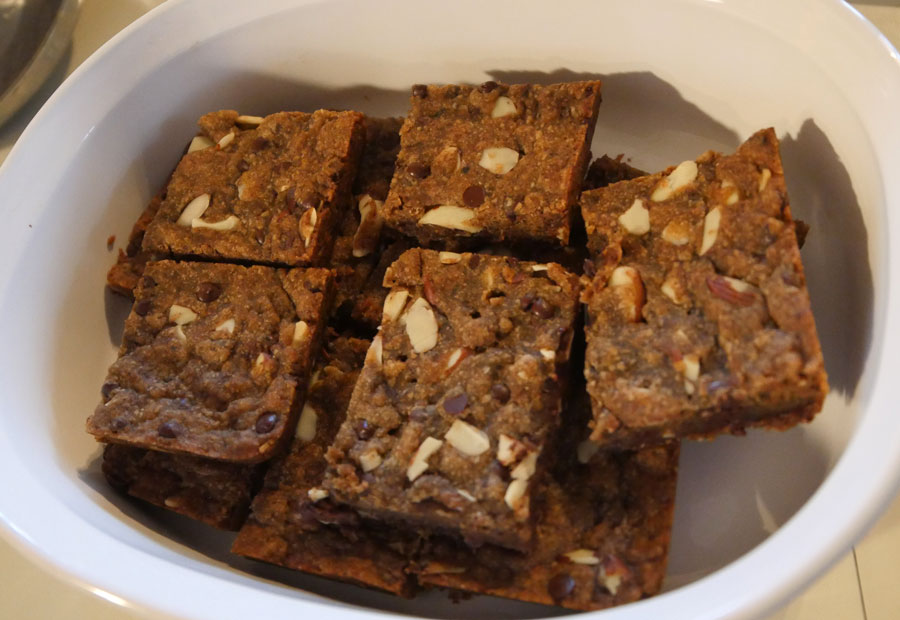 Caroline: Lemony Cashew Garlic Pesto Pasta Caroline made Dreena Burton's pesto pasta recipe from the book Eat, Drink & Be Vegan. She made the sauce with puréed cashews (you don't have to soak them!) flavored with basil, lemon, and garlic. She added this sauce to bow tie pasta with little sliced tomatoes.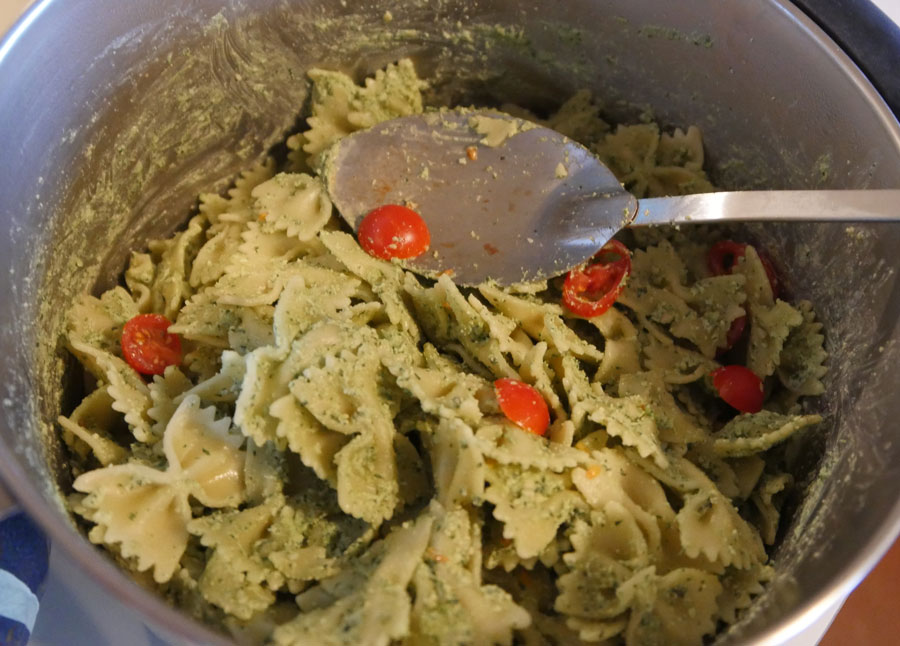 Billy: Za'atar Bread For this meeting, Billy turned back to his Risen Bread recipe from our first VBC meeting. To dress it up aromatically, he mixed random quantities of oregano, marjoram, cumin, sesame seeds, black pepper, salt, and lemon zest. He used lemon juice to morph this spice blend into a paste that he brushed onto each side of the flatbread while cooking them on the griddle.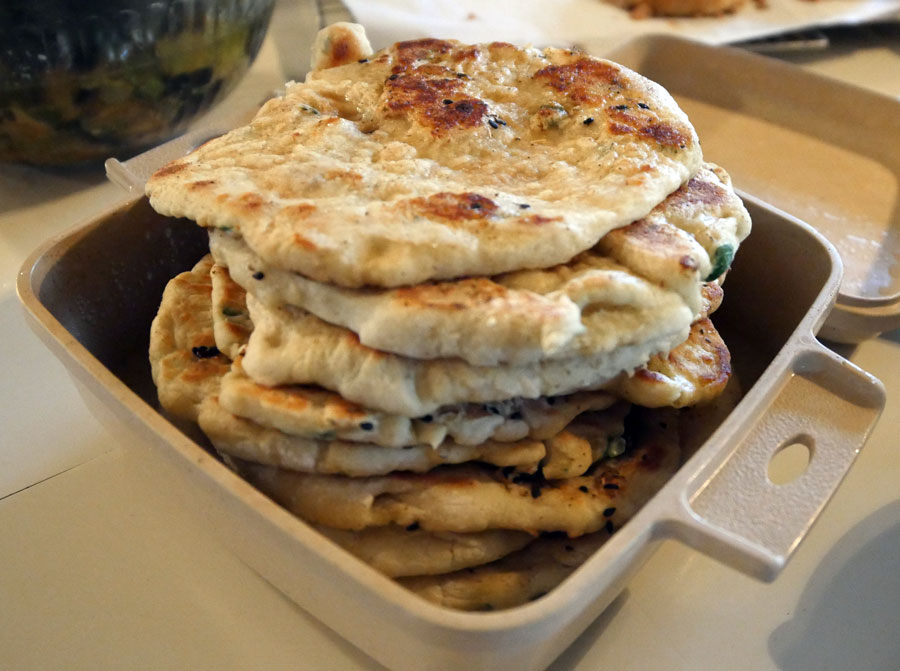 Lauren: Apple Ginger Kolache (Kolacky) Lauren made a Kolache enriched yeast dough and topped it with golden delicious apple pieces that had been cooked with fresh minced ginger, brown sugar, cinnamon, and nutmeg. She made a cashew cream cheese with soaked raw cashews, coconut cream, sugar, lemon zest, lemon juice, and vanilla. She topped the baked goods with posipka made of sugar, flour, cinnamon, and melted Earth Balance margarine.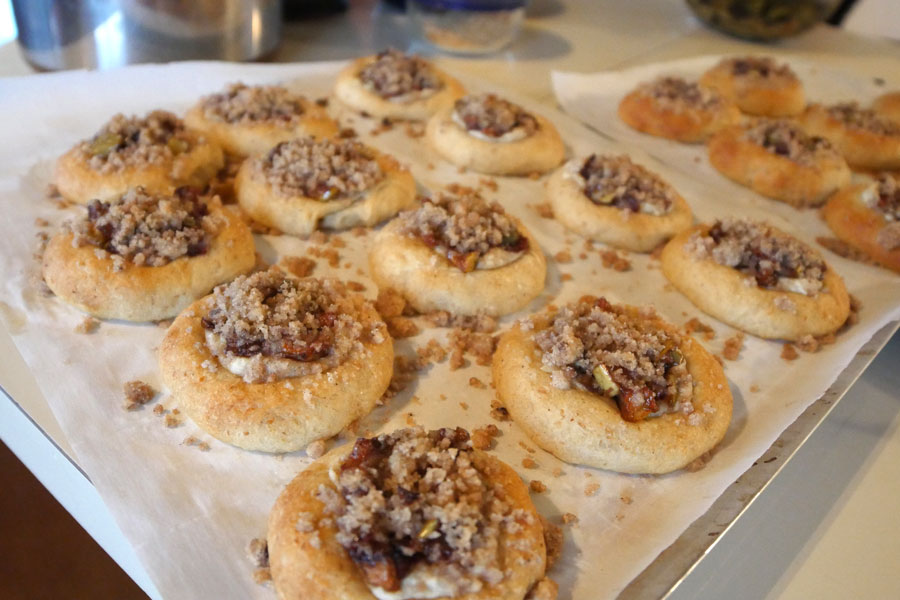 Ramon: Cauliflower Tikka Masala If one delicious curry wasn't enough for the meeting, we had two! Ramon made a cauliflower tikka masala using cauliflower florets tossed in coconut yogurt, salt, coriander, paprika, chili powder, cumin, lemon juice, garlic, and ginger. The curry included tomato paste, onion, oil, coconut cream, coconut yogurt, garlic, ginger, cumin, coriander, turmeric, garam masala, chili powder, paprika, salt, and fresh cilantro.