Orange-Pecan Crusted Tofu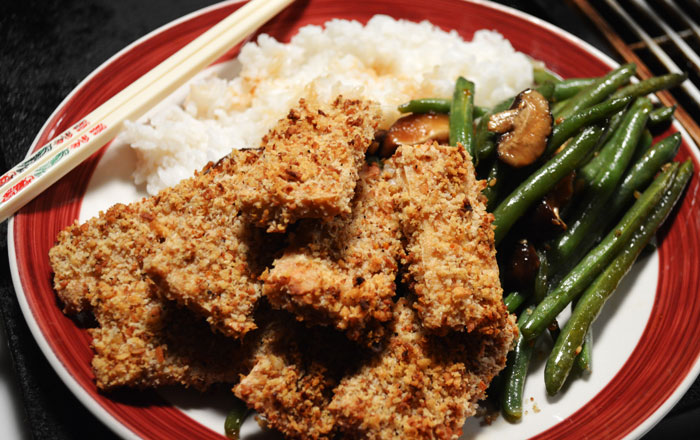 I put this recipe together for Vegan Bake Club's January 2014 Citrus themed meeting. Making the Orange-Pecan Crusted Tofu is about as elaborate as I ever prepare tofu (don't let this scare you, it isn't difficult; I tend to be a lazy cook), but you don't have to prepare things all the way to the end of the instructions here to have tasty tofu.
Most commonly when I eat tofu, it is straight off the griddle unseasoned. I like to eat it this way with rice and a store bought dipping sauce. This is great for lazy nights when you come home downtrodden after another beat-down day and want some vegan protein quickly. I was once in the Gila National Forest on an alternative spring break trip to help build hiking trail. This is the first time I remember eating tofu cooked this way when the forestry ranger guy, who I remember looking like the priest in Dr. Quinn Medicine Woman (he probably didn't look anything like this), was cooking slices of tofu in a frying pan in the middle of the wilderness. He seasoned it nicely with just salt and pepper.
If you keep going in the recipe and marinate the tofu, taking the product of that and throwing it into a hot pan to stir-fry with some veggies is still pretty simple and really flavorful.
But for those of you who have time to see this recipe to the end, you will be well rewarded with a crunchy citrus protein that looks nice too. It doesn't actually take much effort, just more steps than being totally lazy.
Ingredients:
1 block extra firm tofu
1 TBS canola oil
Marinade:
1/2 cup orange juice
1/4 cup soy sauce
2 tsp sesame oil
1 tsp onion powder
1/2 tsp garlic powder
1/2 tsp ground ginger
1/4 tsp white pepper
Breading:
1/4 cup unsweetened coconut flakes
1/2 of an orange's peel
1/4 cup pecan
2/3 cup bread crumbs (I used Panko)
1/2 tsp ground ginger
1/2 tsp black pepper
Batter:
1 TBSP ground golden flax seeds
1/3 cup almond milk
1 TBSP canola oil
1 tsp lemon juice
Heat griddle or frying pan. Spread with 1 TBSP oil. Slice tofu into approximately 1″x2″ rectangles about 1/4″ thick. Place tofu rectangles on griddle. Cook each side until golden brown.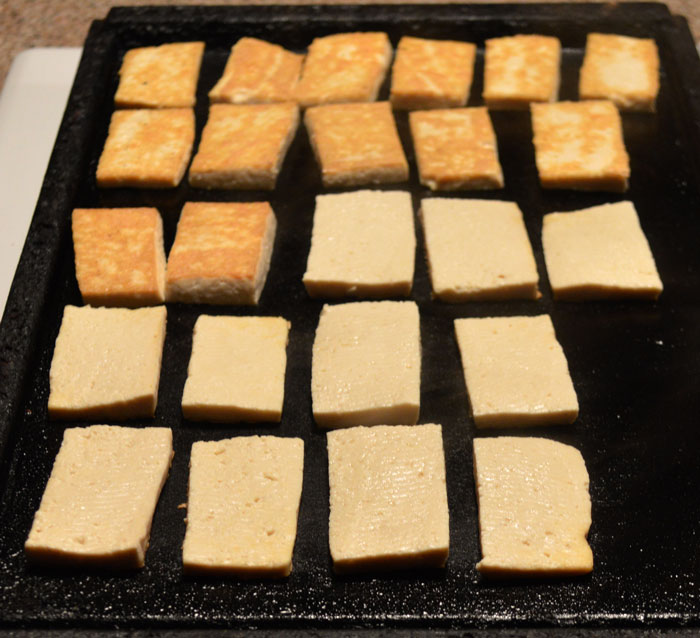 While cooking, whisk together all marinade ingredients in a large shallow dish. Remove tofu from griddle and place into marinade. Allow to sit in marinade 30 minutes (or longer if you can wait that long). If you want to save time at dinner hour, you can prepare this hours in advance or even the night before, and store it in the fridge.
While tofu is marinating, prepare breading and batter.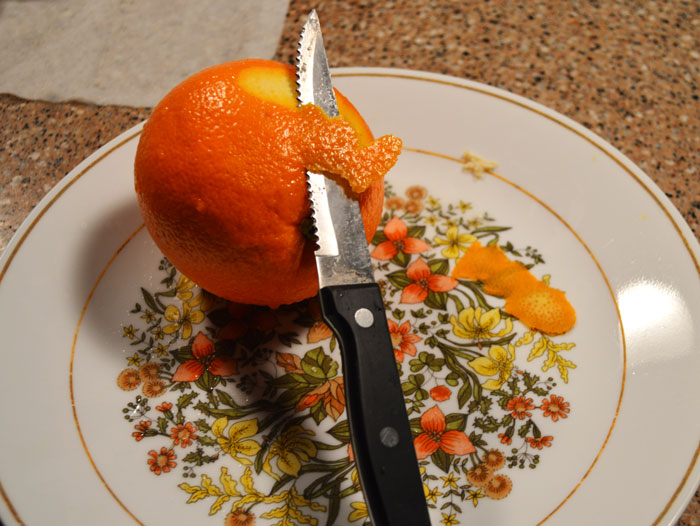 For the breading, add coconut and orange peel to food processor. Process for approximately 1 minute (depending on how big the chunks of coconut and peel are) until the food bits are about the size you'd want to eat (unless you are John M. because they should probably be smaller than the chunks of orange peel he likes to eat). Add pecans and process for about 30 more seconds or until chopped small. If you don't have a food processor, I imagine you could get by with using orange zest, coconut shreds that came small from the store, and those little pecan bits you can buy in your grocery store's baking aisle.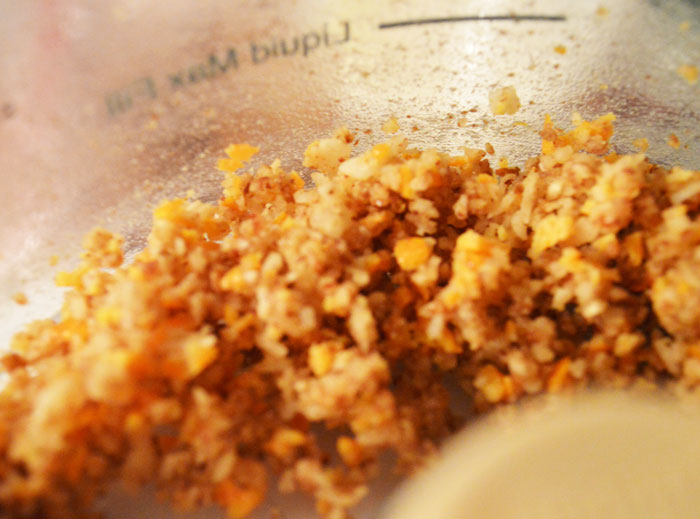 Empty food processor contents into a medium sized bowl. Stir in bread crumbs, ginger, and black pepper to distribute everything evenly.
For the batter, whisk together all ingredients in a shallow dish.
Preheat oven to 400 degrees. Line a baking sheet with foil. To prepare tofu for the oven, lift each piece of tofu from the marinade, allowing a brief moment for some of the excess sauce to drip off. With one hand, dip the tofu completely into the batter then drop it into the bowl of breading. With your other hand (that should hopefully not have batter on it) help cover the tofu in the breading. Then use this hand to set the tofu onto the baking sheet.
Bake 20 minutes or until the crust is golden and crisp. Serve hot with extra marinade as a dipping sauce.