November 27, 2016 – Fourth Annual Thanksgiving
Sunday, November 27th, 2016
VBC Meeting #45: Fourth Annual Thanksgiving
Host of the Month: Billy and Lauren
Location: Ponder, TX
Already our fourth vegan Thanksgiving together!
This is what we made: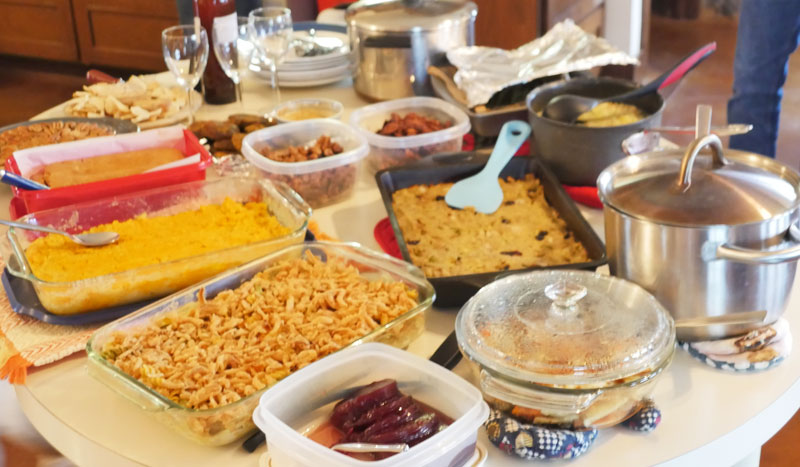 Lilly: Yellow and Green Barley Soup
Lilly made her wholesome Yellow and Green soup with a vegetable broth base, quick cooking barley, zucchini, yellow squash, leeks, great northern beans, shallots, ginger, and garlic.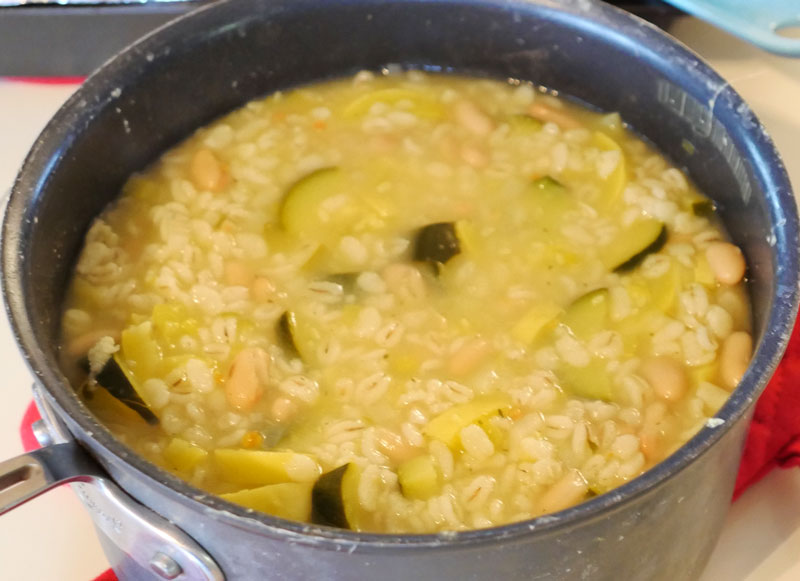 Shannon: Corn Casserole; Canned Cranberry Sauce
Shannon veganized her sister's corn casserole recipe with creamed corn, whole corn, Earth Balance butter, Tofutti sour cream, vegetarian Jiffy corn bread mix, and vegan Follow Your Heart Cheese shreds. If the delicious vegan version of this casserole wasn't as rich as the original, the original is a serious health hazard.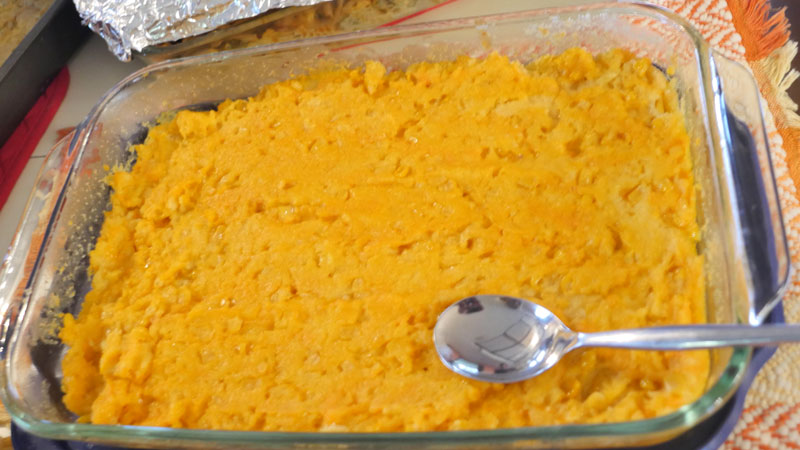 Shannon also shared the ol' traditional canned cranberry sauce. Nice slicing!
Slynn: Cranberry Orange Bread; Green Bean Casserole Mac 'n' Cheese
Slynn used the 350 Best Vegan Recipes recipe for Cranberry Orange Bread, a sweet bread concoction of frozen cranberries and orange in many forms: orange zest, orange juice, and orange marmalade.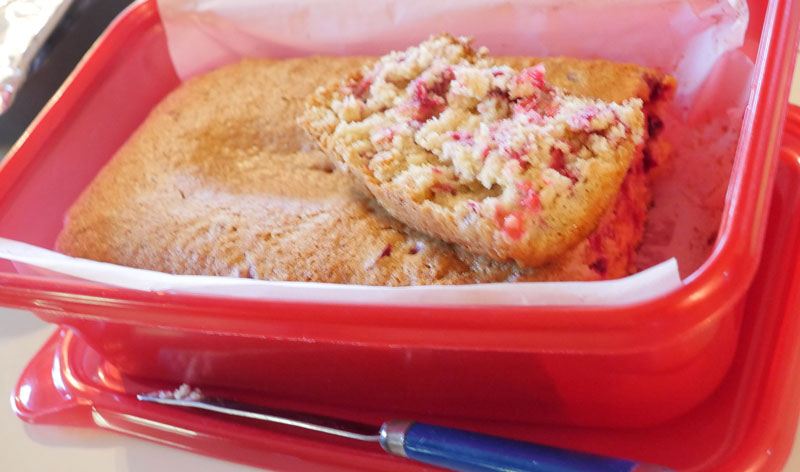 For the casserole, see Ramon.
Ramon: Green Bean Casserole Mac 'n' Cheese
Slynn and Ramon designed this pasta-filled green bean casserole together. The casserole idea was Ramon's, plus he did the shopping. Slynn carried out most of the implementation. The dish consisted of a cashew sauce, cooked spiral pasta, green beans, and mushrooms, all topped with fried onions and baked.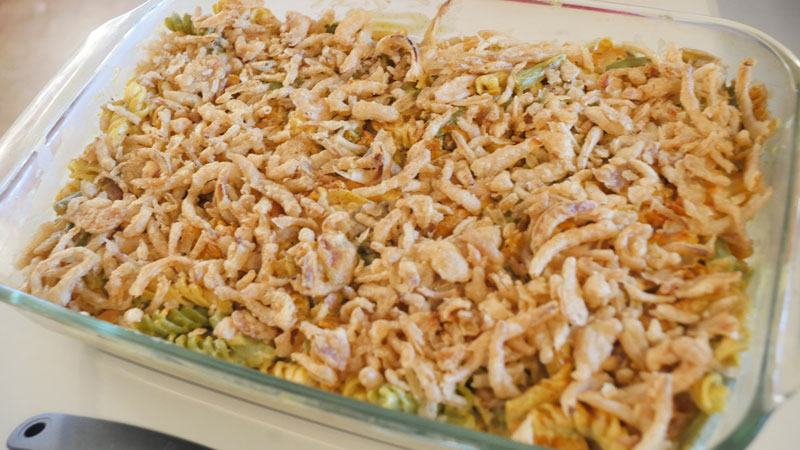 Tara: Spiced Walnuts and Pecans (Teez Nuts)
Tara's treats came to be by creating a paste of nutmeg, cinnamon, sugar, and clove mixed with a little water. She tossed walnuts and pecans around in the paste, before baking them for an hour to make a candy coated nut.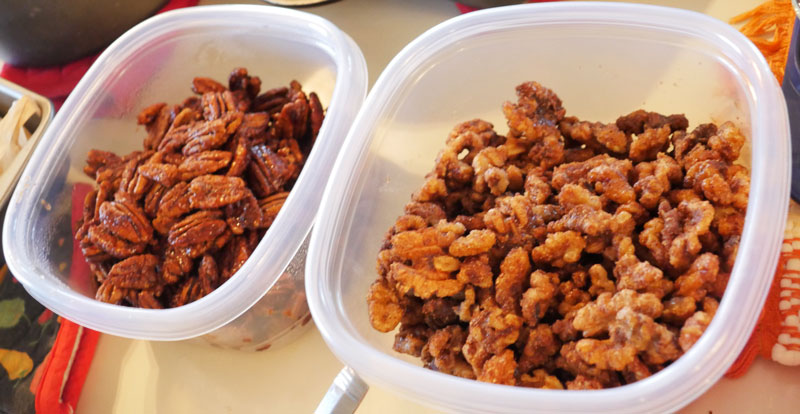 Lauren: Chickpea Patties; Gluten-Free Cornbread Dressing; Pumpkin Pecan Pie
Lauren made a chickpea patty with Swiss chard from the garden, chickpeas, green onion, pumpkin puree, pecans from Billy's parents' house, lemon juice, cumin, coriander, garlic, black pepper, and a bit too much salt. She served the small patties with maple mustard sauce containing Dijon mustard, maple syrup, olive oil, almond milk, paprika, and black pepper.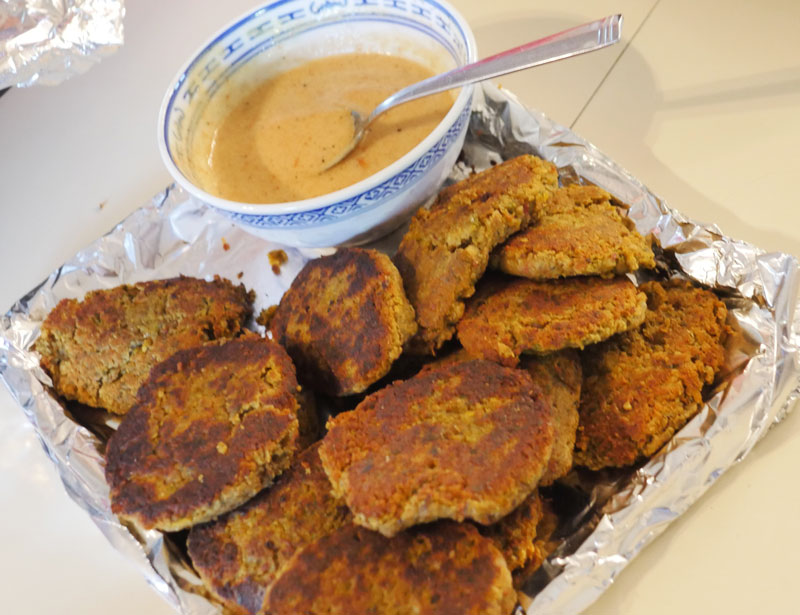 Because Thanksgiving isn't Thanksgiving without corn bread dressing, Lauren made a gluten-free version of the Quick and Easy Vegan Comfort Food corn bread recipe to serve as the base of a dressing including onion, celery, and dried cranberries.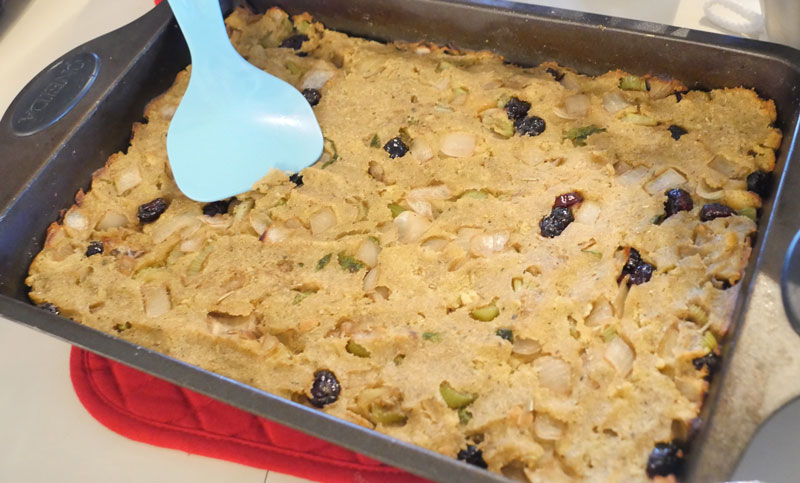 For dessert, Lauren made the pumpkin pie from 100 Best Vegan Baking Recipes–sort of. She used different spices, perhaps overly clove-heavy, because she didn't find pumpkin pie spice in her house. She may have used too much pumpkin because she wasn't using canned. Also, she made a weird tasting gluten-free crust.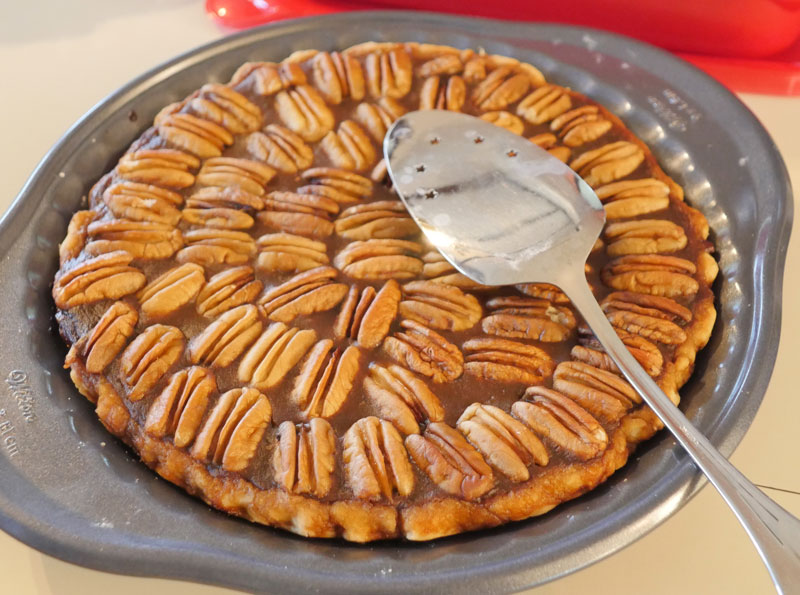 John: Mashed Potatoes and Mushroom Gravy; Parsnips and Carrots
John made mashed potatoes from his mom's recipe. He also prepared Isa Chandra's savory mushroom gravy, but without the white wine because he didn't have any.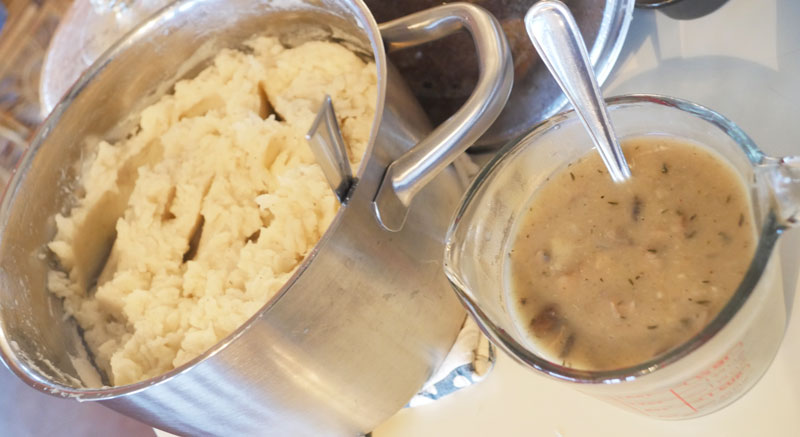 John also cooked parsnips and carrots seasoned with oil, sage, rosemary, pepper, and salt. He roasted these roots in the oven at 425° for thirty minutes and let them sit another thirty minutes in their covered dish steaming. He said they could just be roasted for forty minutes.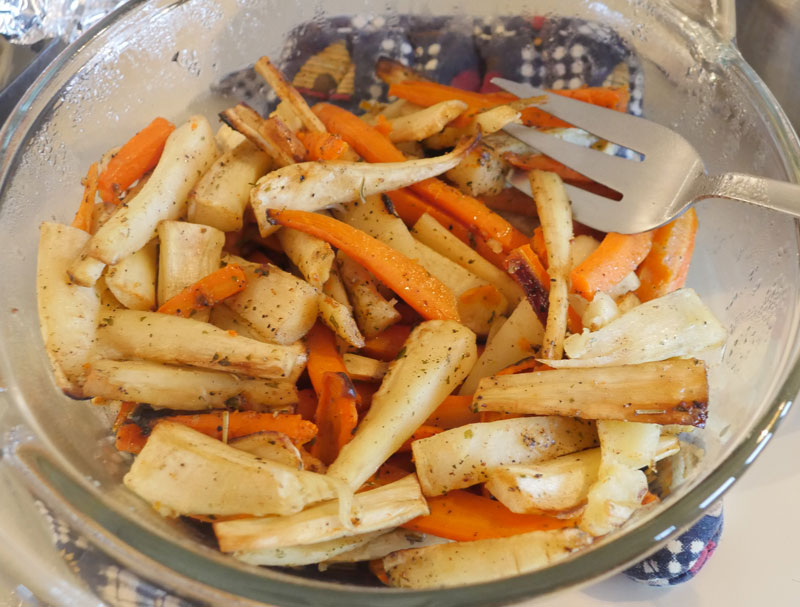 Caroline: Lemon Broiled Asparagus
Caroline broiled asparagus coated in olive oil, fresh lemon juice, fresh ground black pepper, and sea salt based on a recipe from Eat, Drink, Be Vegan.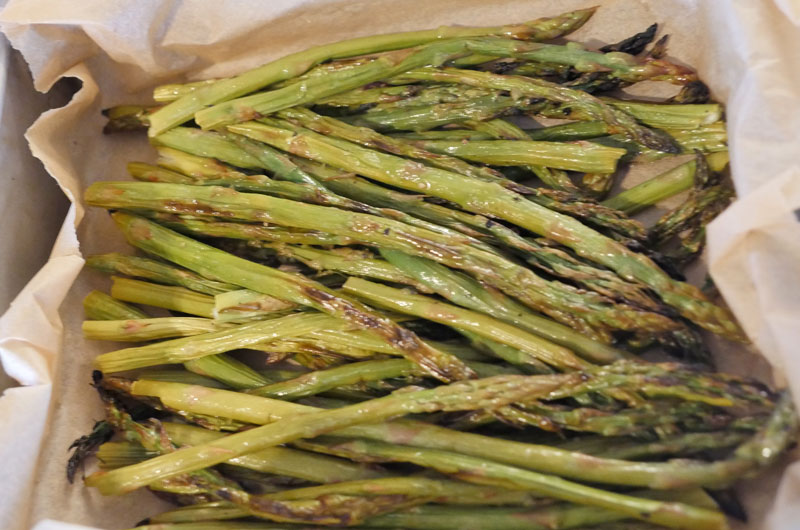 Drew: Mashed potatoes
For his mashed potatoes, Drew boiled onions, garlic, and rosemary with red potatoes. He mashed potato skin and all with vegan butter, almond milk, salt, and pepper. A picture of Drew's potatoes is missing, so please enjoy a picture of us eating food.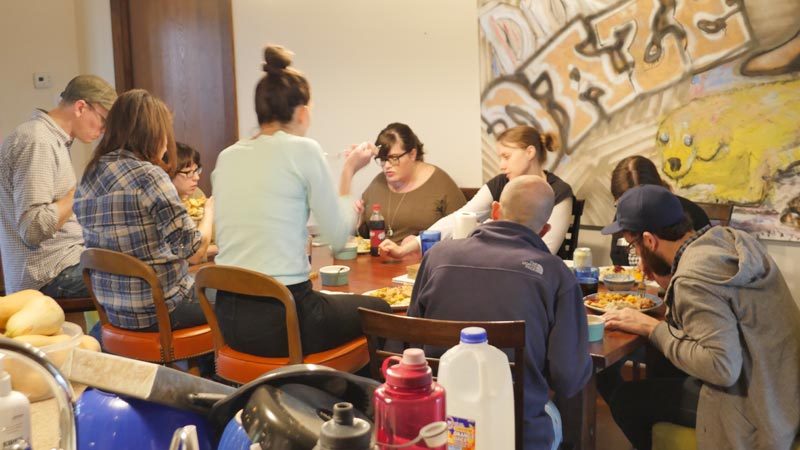 Billy: Homemade Wine and Vegan Cheese
Billy served his homemade wild mustang grape wine, months in the making, with some of his homemade almond cheese.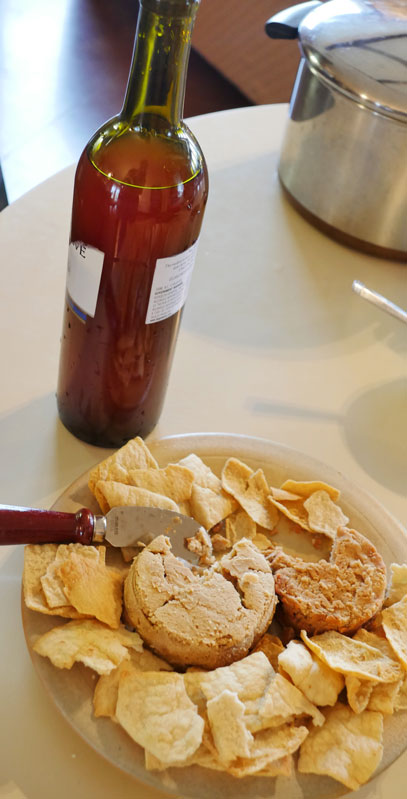 Mmm. Thanksgiving.