November 18, 2017 – Fifth Annual Thanksgiving
Saturday, November 18, 2017
VBC Meeting #57: Fifth Annual Thanksgiving
Host of the Month: John
Location: Denton, TX
For the fifth November in a row, Vegan Bake Club congregated to eat some of our favorite Thanksgiving foods.
This is what we made: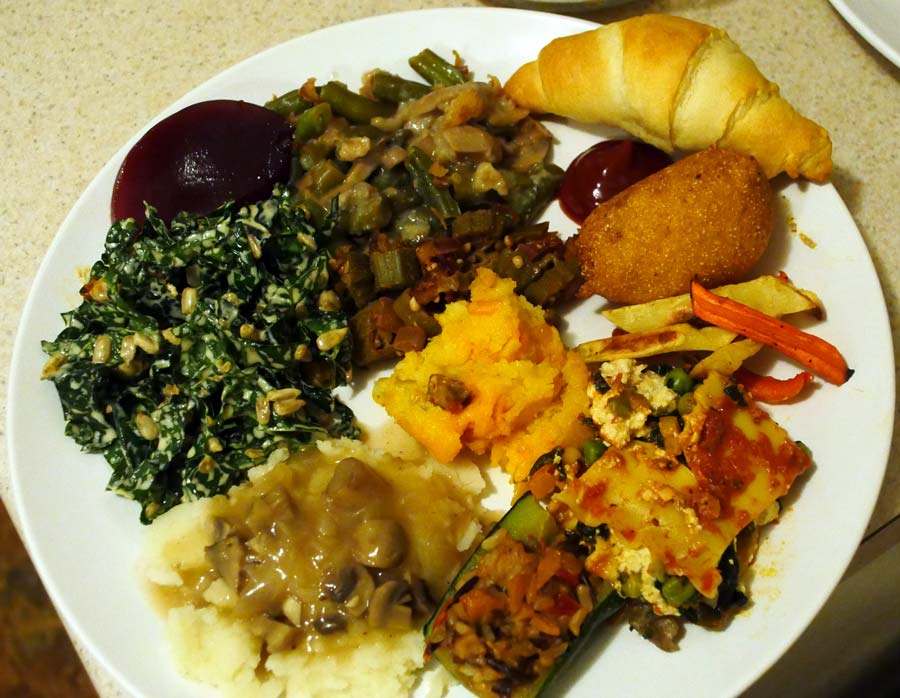 Tara: Mini Pumpkin Tarts
Tara prepared twenty-four mini tarts in foil wrappers based on Detoxinista's No-Bake Pumpkin Tarts recipe. Walnuts, coconut, maple syrup, coconut oil, and salt went into the crust. The filling included pumpkin puree, almond milk, coconut oil, dates, vanilla, cinnamon, ginger, and cloves.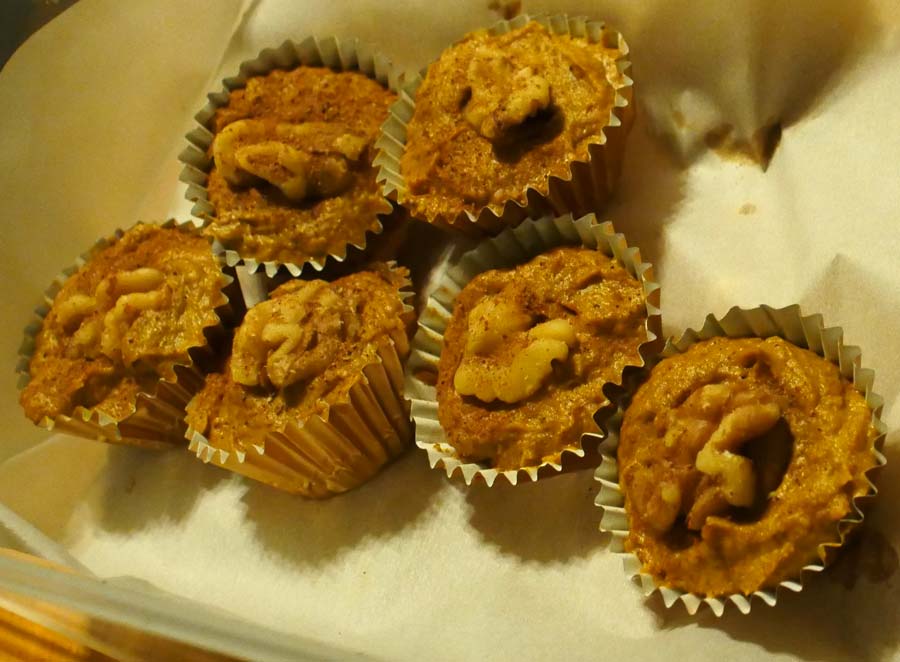 Shannon: Corn Casserole; Pumpkin Cookies; Can of Jellied Cranberry Sauce!
Shannon made her popular corn casserole same as last year.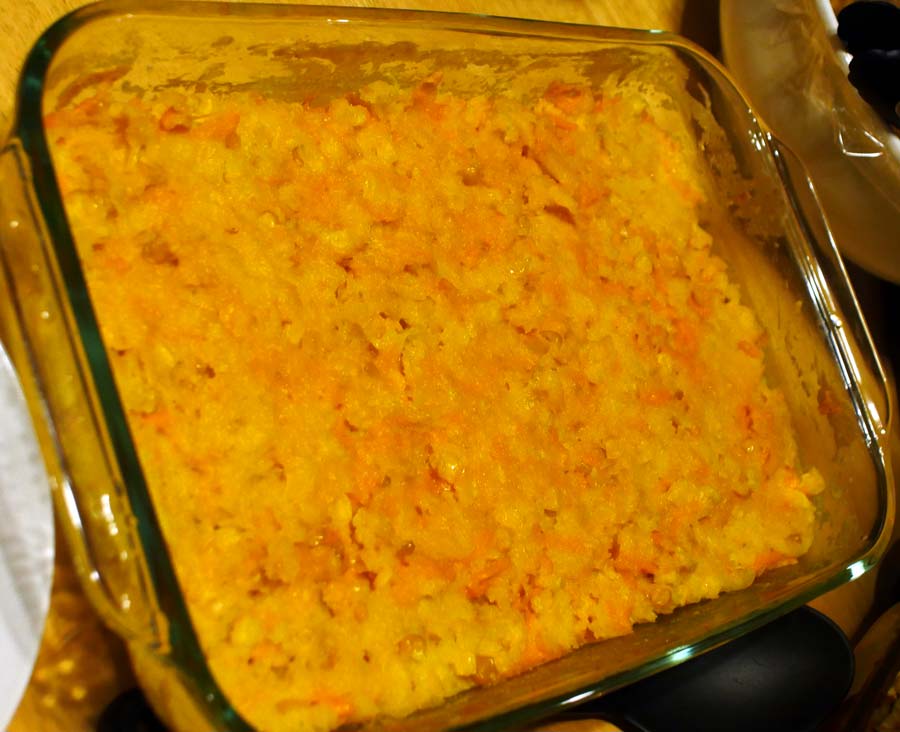 She also veganized a pumpkin cookie recipe, using apple sauce instead of an egg and vegan butter.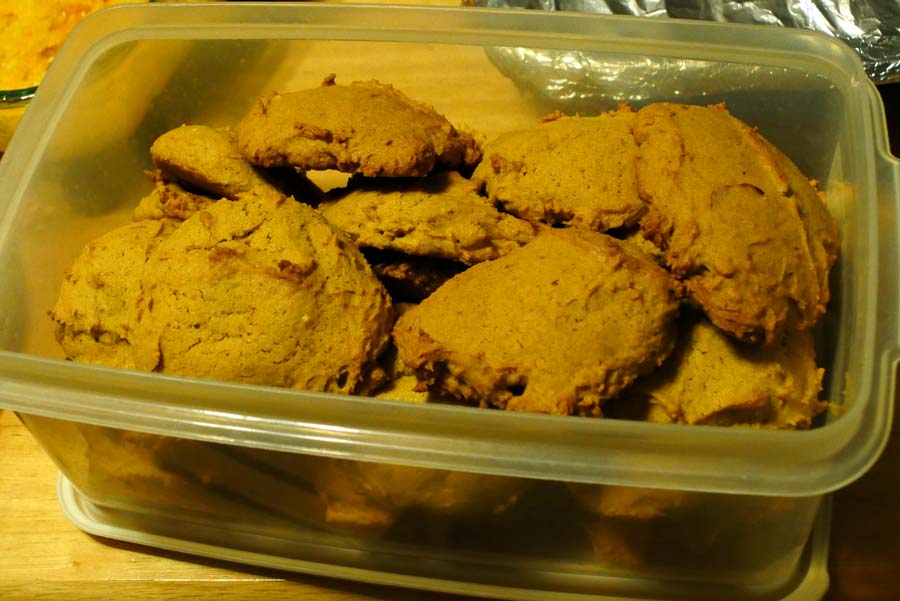 Finally, because Thanksgiving is not Thanksgiving unless there is cranberry sauce, she sliced up some can-shaped cranberry sauce.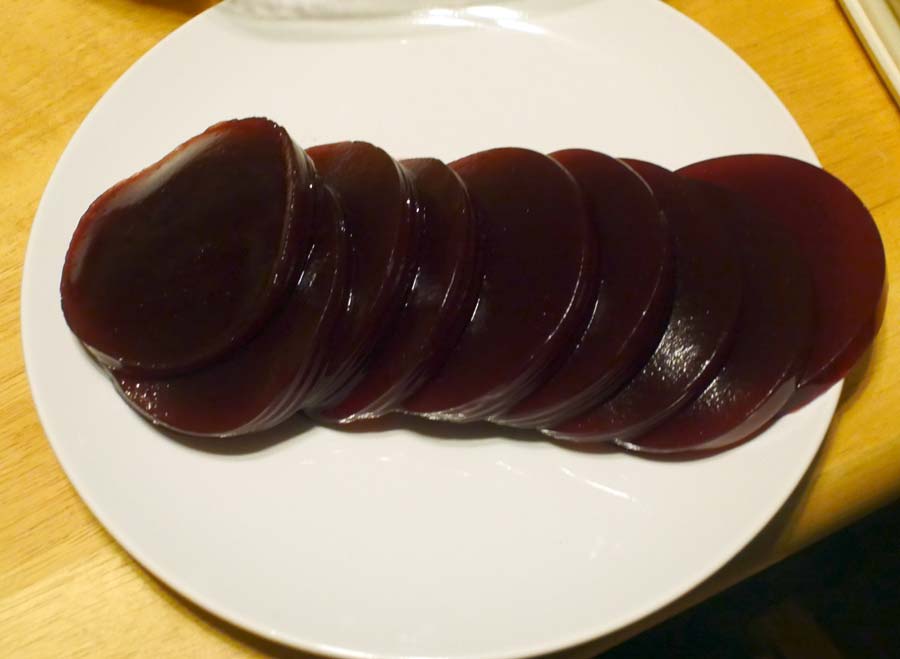 Lianna and Dylan: Vegsagna
For their lasagna, Lianna and Dylan made a vegan ricotta cheese using two blocks of tofu, garlic hummus, and nutritional yeast and a batch of veggie filling with spinach, peas, mushroom, and zucchini. They layered these concoctions with al dente lasagna noodles and pasta sauce.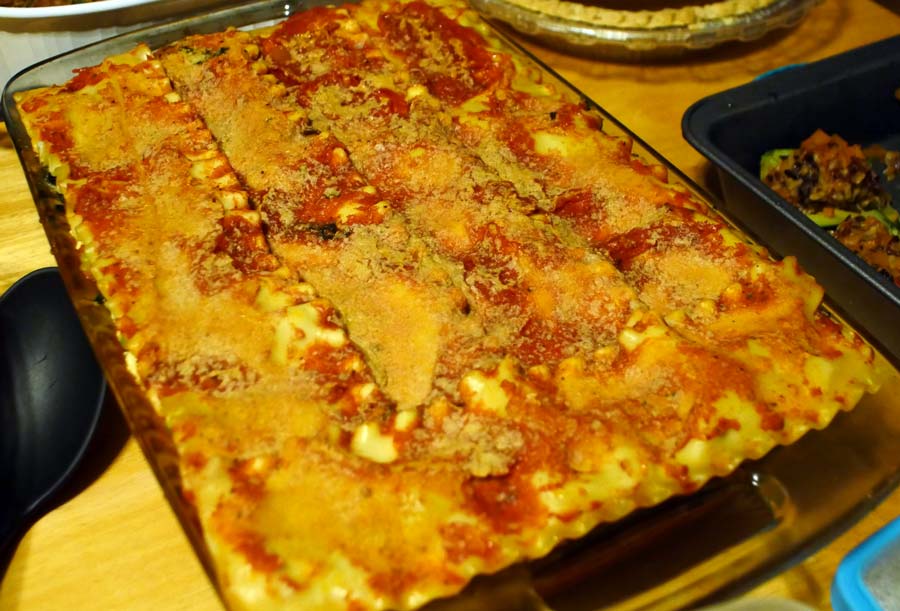 John: Mashed Potatoes and Mushroom Gravy; Parsnips and Carrots; Pillsbury Crescent Rolls
John made many of his Thanksgiving favorites. For his mashed potatoes and gravy he said he burnt the onions that went into the gravy,but we noticed nothing amiss.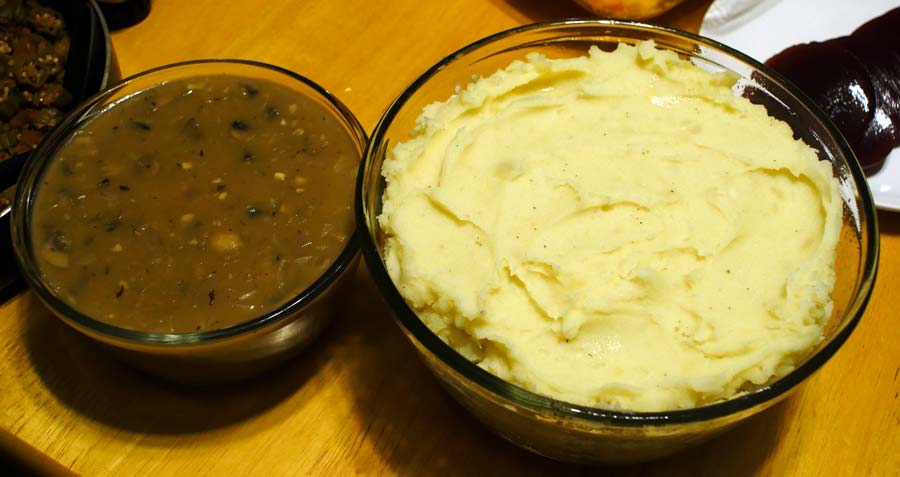 He said he burnt some of the parsnips in his roasted parsnips and carrots dish, but since he ate what he claims be burnt, we did not bear witness.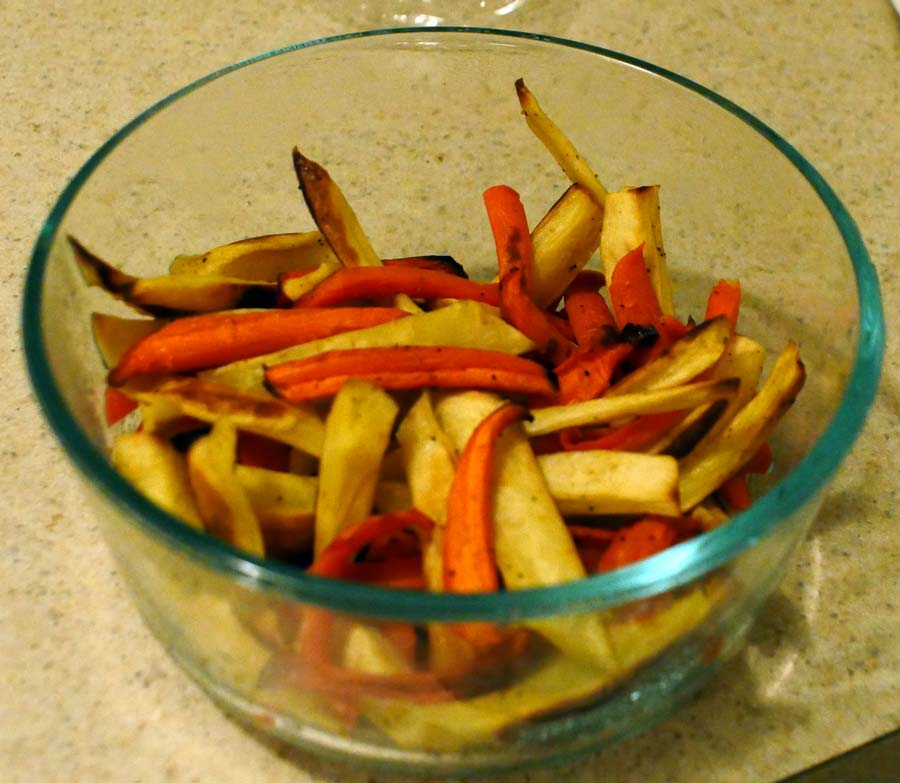 Because no one made rolls for this meeting, John baked some Pillsbury crescent rolls while people finished arriving.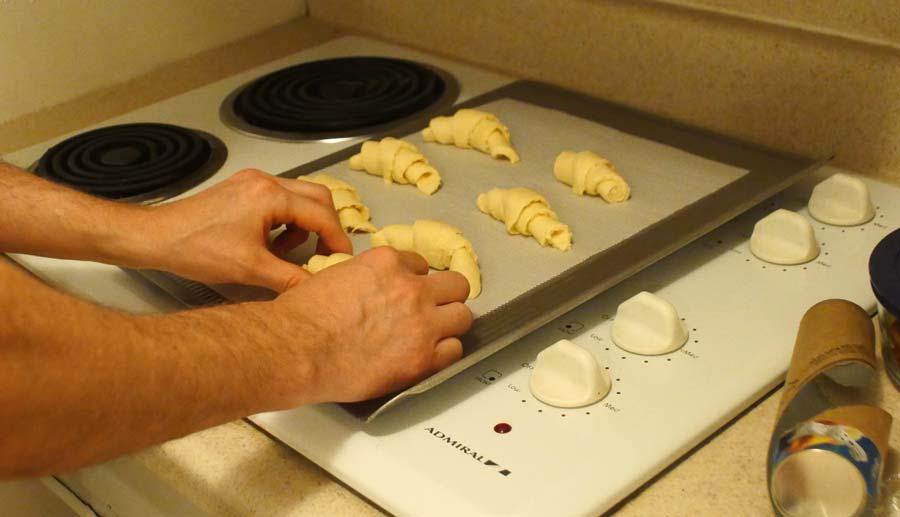 Drew: Green Bean Casserole
Drew made a cream of mushroom soup with almond milk, mushrooms, corn starch, and a variety of seasonings including garlic powder and pepper. He combined this soup with frozen green beans and topped the casserole with fried onions.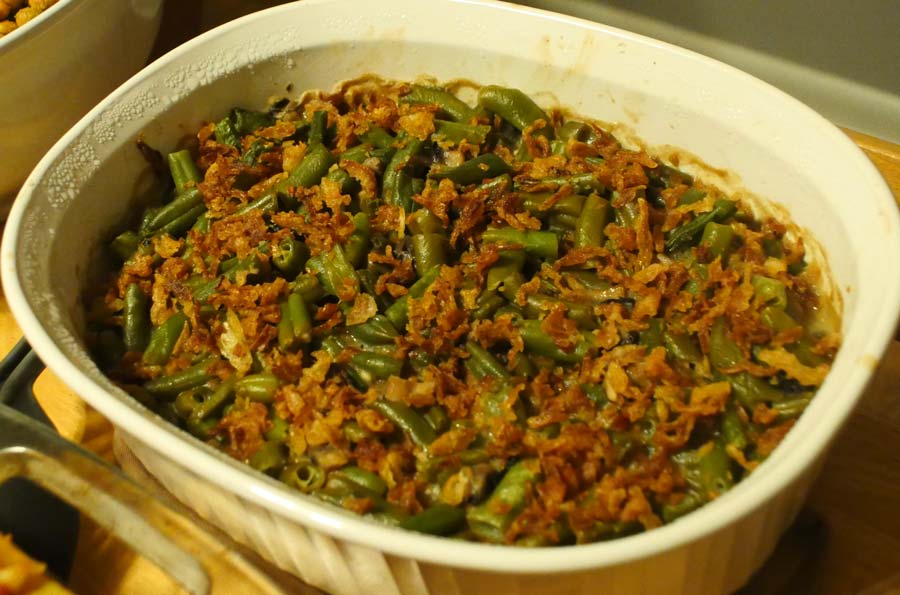 Caroline: Pumpkin Pie with Coconut Whipped Cream
Caroline made a simple pumpkin pie filling with cashews, canned pumpkin puree, maple syrup, and pumpkin pie spice. She baked this in a pre-made crust and served some homemade coconut whipped cream, made from the solid part of a cold can of coconut cream blended with powdered sugar, on the side.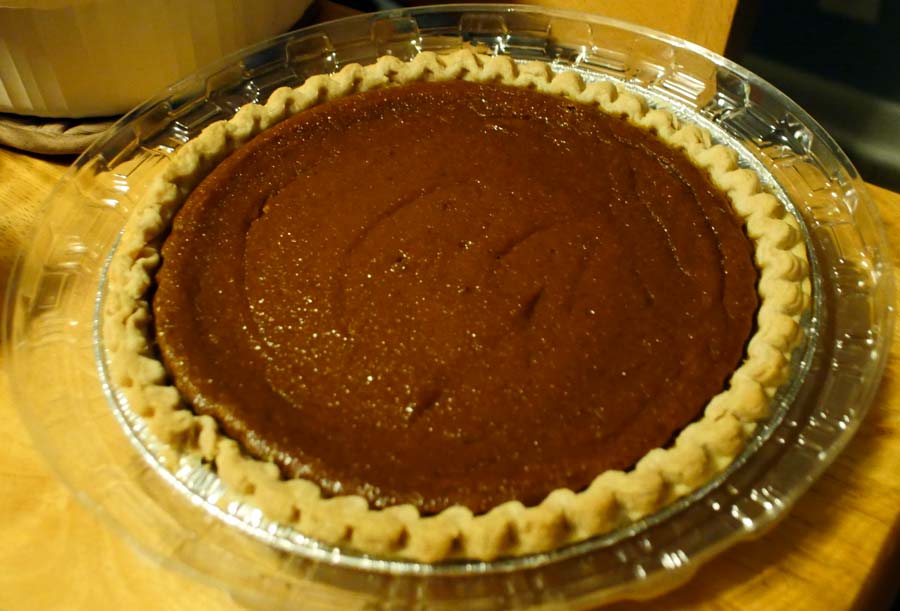 Lilly: Butternut Squash Sailing Wild Rice Zucchini Boats
Lilly was inspired to make zucchini boats by the zucchini, butternut squash, and tomatoes she picked up at the Denton Farmer's Market. She cooked wild rice in vegetable broth then added sautéed tomatoes. She cut her zucchinis into quarters and boiled them with rosemary and thyme until they were almost fully cooked. She then scooped out some of the zucchini flesh in order to replace it with the wild rice mixture. She separately cooked butternut in vegan butter and veggie broth and placed that on top of the boats.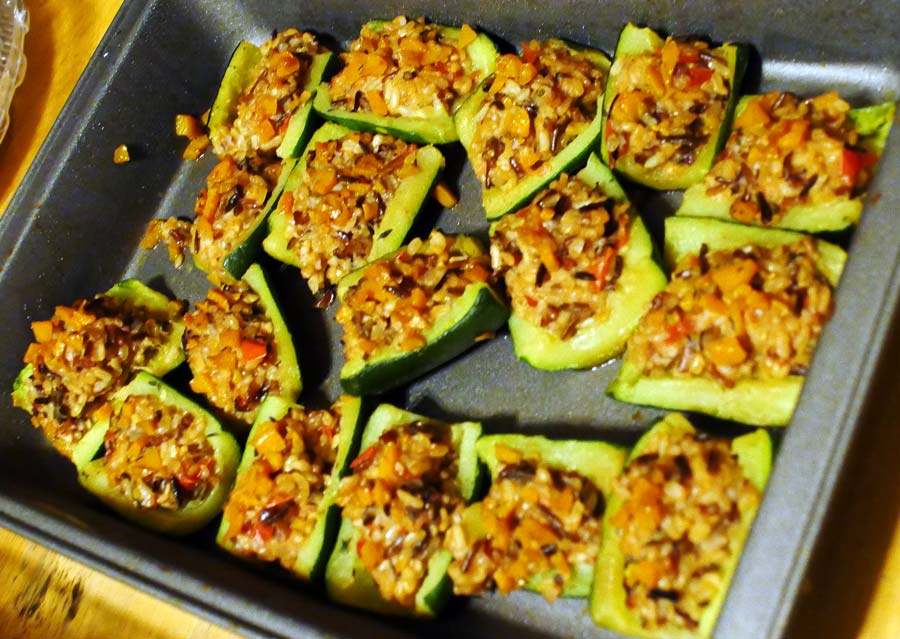 Slynn: Sweet Potato Pie; Kale Caesar Salad
A few days before this years Vegan Bake Club Thanksgiving, Slynn made sweet potato casserole in a Crockpot for a work potluck using sweet potatoes, coconut milk, maple syrup, brown sugar, and pecans. She turned the leftovers into a sweet potato pie by thickening them with corn starch and adding nutmeg and cinnamon. She made a crust with oats, pecans, whole wheat pastry flour, coconut oil, cinnamon, and maple syrup. She served the pie with So Delicious CocoWhip topping.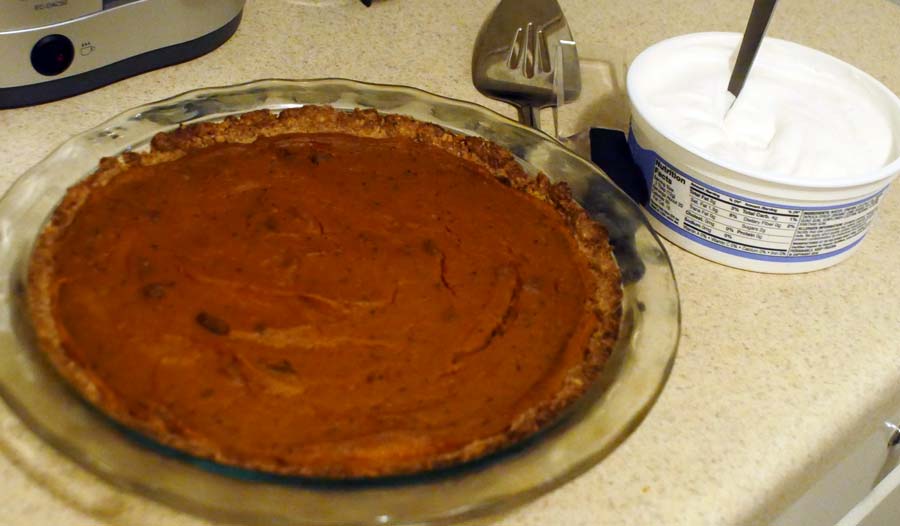 For the Kale Caesar Salad she removed the stem/vein from kale leaves before "massaging" them with a dressing of Dijon mustard, Just Mayo, lemon juice, nutritional yeast, and capers. She topped the salad with roasted seasoned chickpea "croutons" and sunflower seeds.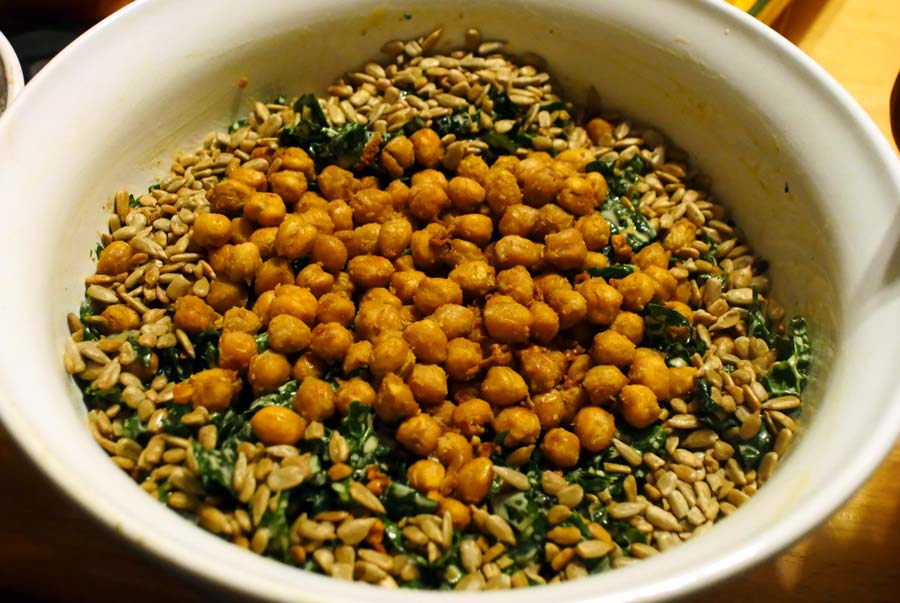 Billy: Okra with Veggie Sausage and Onions
Earlier in the year, Billy gave his dad some okra seedlings to tend. Once harvested, Billy received bags of frozen okra from his mom. He cooked this okra with home grown onions and homemade veggie sausage.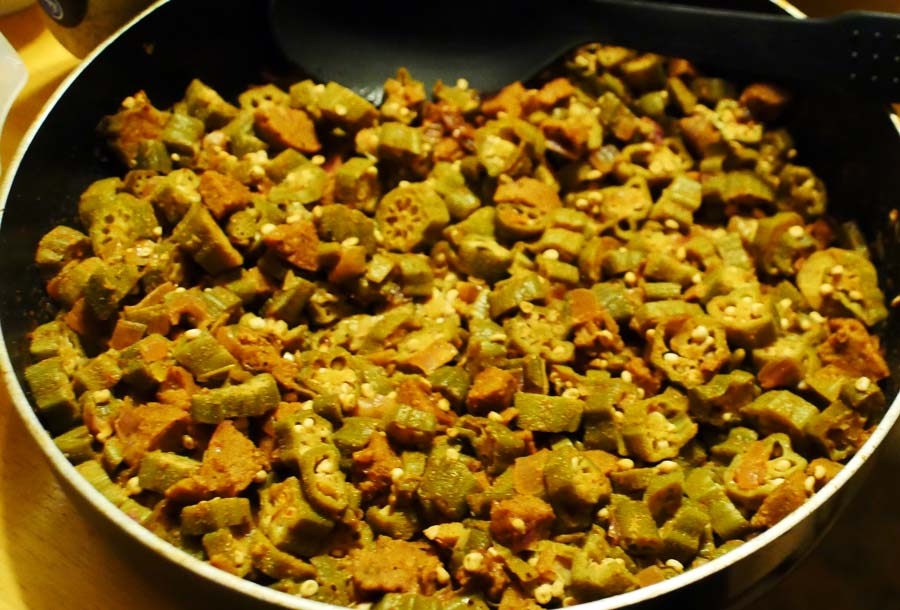 Lauren: Mini Corndogs
Lauren made a mini version of vegan corndogs, battering Field Roast Frankfurters in cornbread. She served them with ketchup and mustard. She also made a few hush puppies with the leftover batter.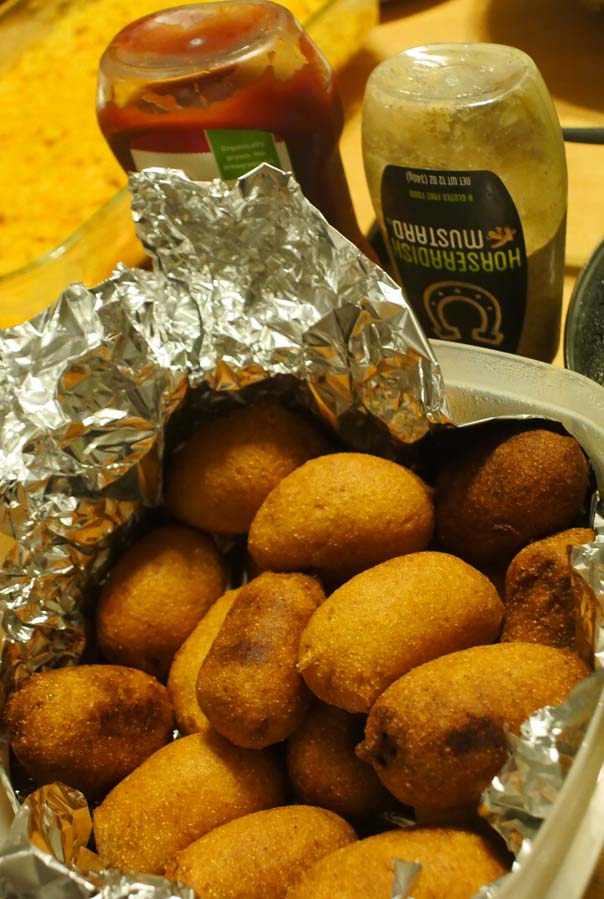 This is what the table looked like: