June 30, 2018 – Finger Foods
Saturday, June 30, 2018
VBC Meeting #64: Finger Foods
Host of the Month: Lauren and Billy
Location: Ponder, TX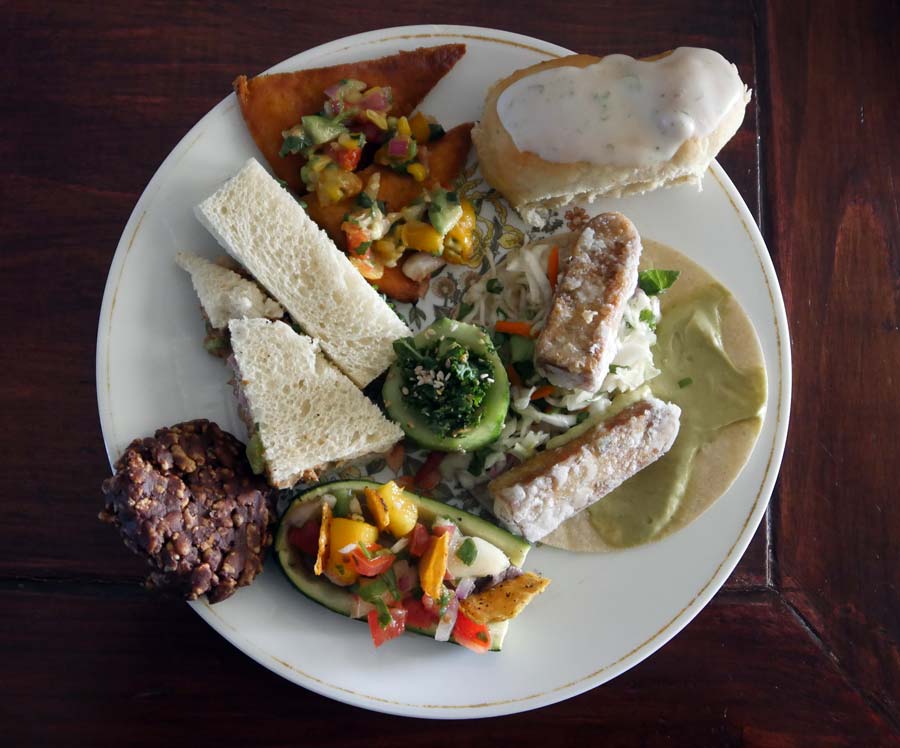 With the 2018 FIFA World Cup taking place in June, brainstorming for a Vegan Bake Club theme led to fútbol which led to the idea of a Foot Foods theme which sounded gross but led to a different body part named theme: Finger Foods. When it came to the day of our meeting, we all seemed to have interpreted the theme as foods to be eaten with your fingers–not so much food that looks like fingers like that time John made witch's fingers.
This is what we made: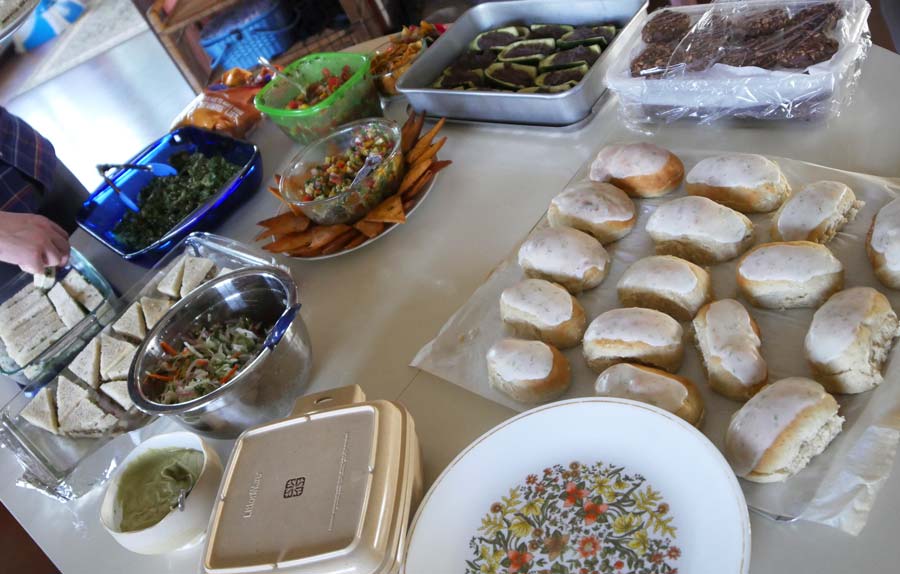 Ramon: Black Bean Zucchini Boats
Ramon hollowed out pieces of zucchini that he then seasoned with grape seed oil, salt and pepper and baked for 8 minutes. To fill them, he prepared Cuban black beans by simmering two cans of black beans, red onion, garlic, lime juice, cilantro, serrano pepper, red wine vinegar, cumin, salt, and pepper for a couple hours before puréeing the beany goodness with an immersion blender.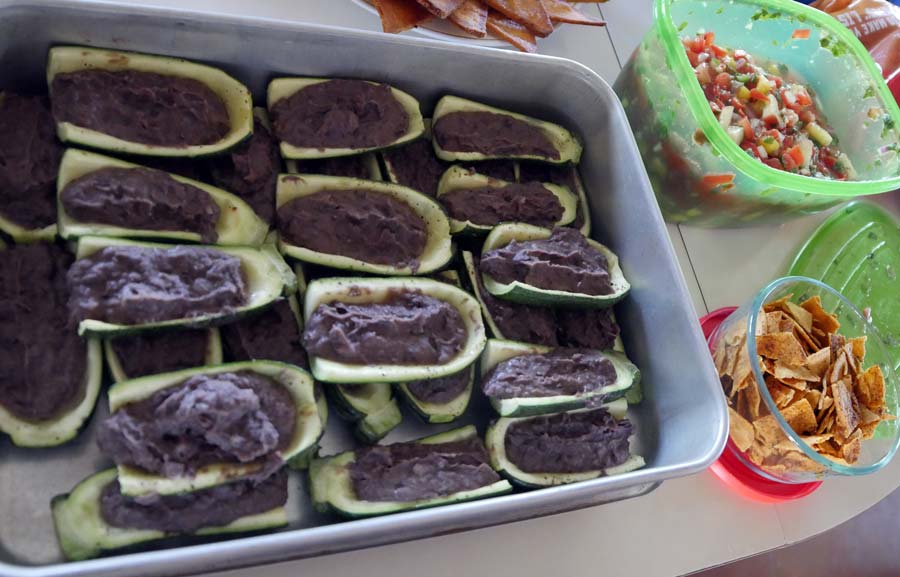 To provide further flavor and visual interest to the top of his boats, Ramon made a salsa with tomato, red onion soaked in water to lose some bite, cilantro, mango, peaches, fresh lime juice, white wine vinegar, salt, and garlic. For crunch, he baked some tostadas seasoned with oil, chili powder, and salt at 375°, breaking them up as another zucchini boat topper.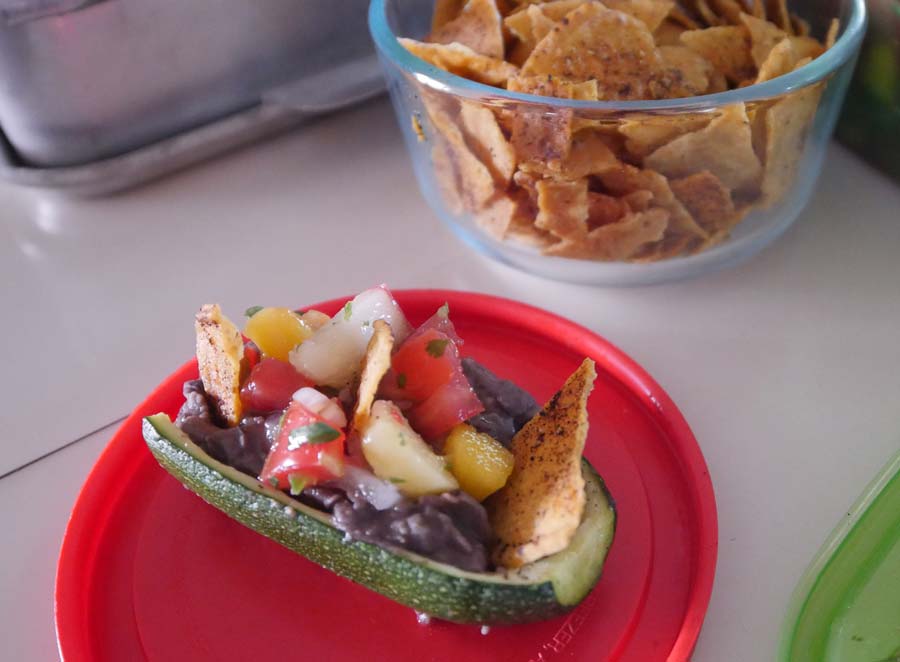 Drew: Finger Salads
Drew sliced half inch thick pieces of cucumber then used a grapefruit spoon to scoop out the center of each. He filled his cucumber salad bowls with kale marinated in lemon juice, olive oil, tamari, and half a cup of blended soaked cashews and sprinkled the tops with sesame seeds.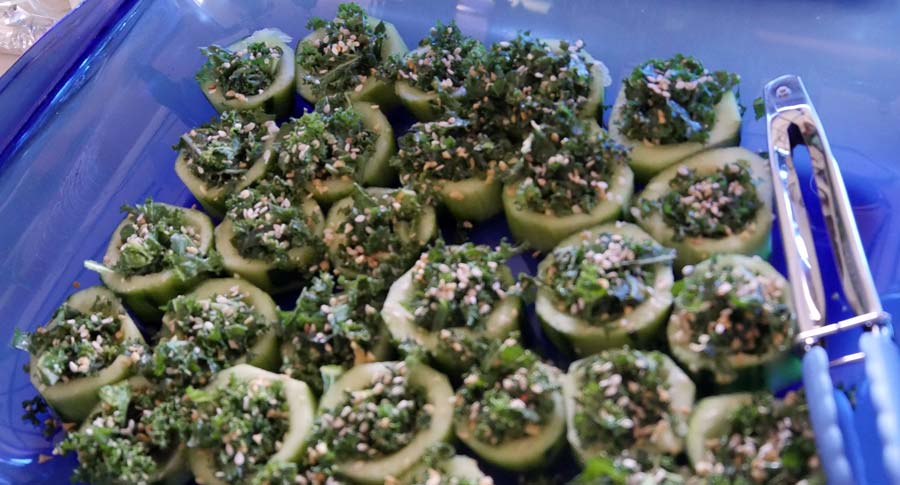 Shannon: Tea Sandwiches
Shannon put together two types of tea sandwiches. She made rectangle shaped ones from a Martha Stewart vegan cucumber tea sandwiches recipe. As the recipe suggests, she used Kite Hill vegan cream cheese which she blended with fresh chives, fresh parsley, and fresh tarragon. This was spread onto slices of white bread and layered with cucumber slices. She also made triangle shaped sandwiches with Toona, Just Mayo, celery, a shallot, pickle relish, lemon juice, salt, and pepper.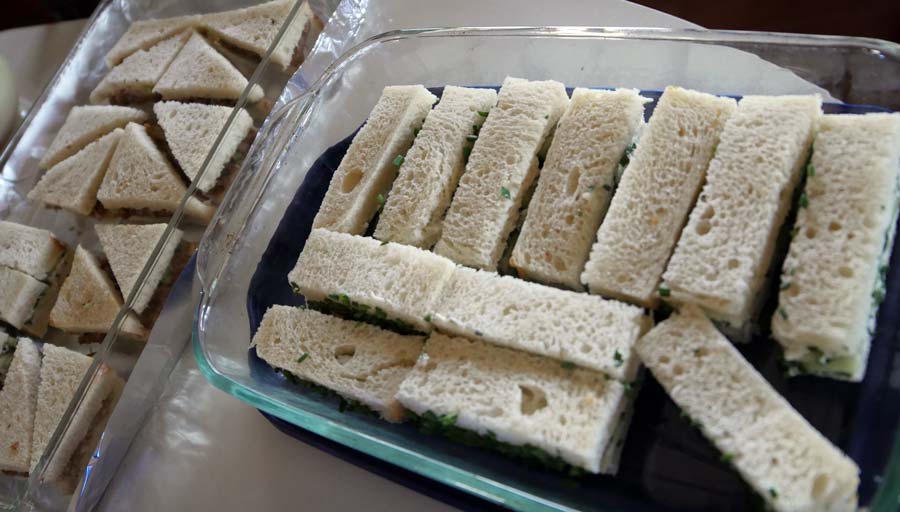 Slynn: Vegan Star Crunch
Inspired by Little Debbie® Star Crunch treats, Slynn made a no-bake cookie with vegan chocolate chips, peanut butter, crisp rice cereal, maple syrup, and coconut oil. She melted everything but the cereal in the microwave then mixed in the cereal and formed puck shapes to make vegan Star Crunches!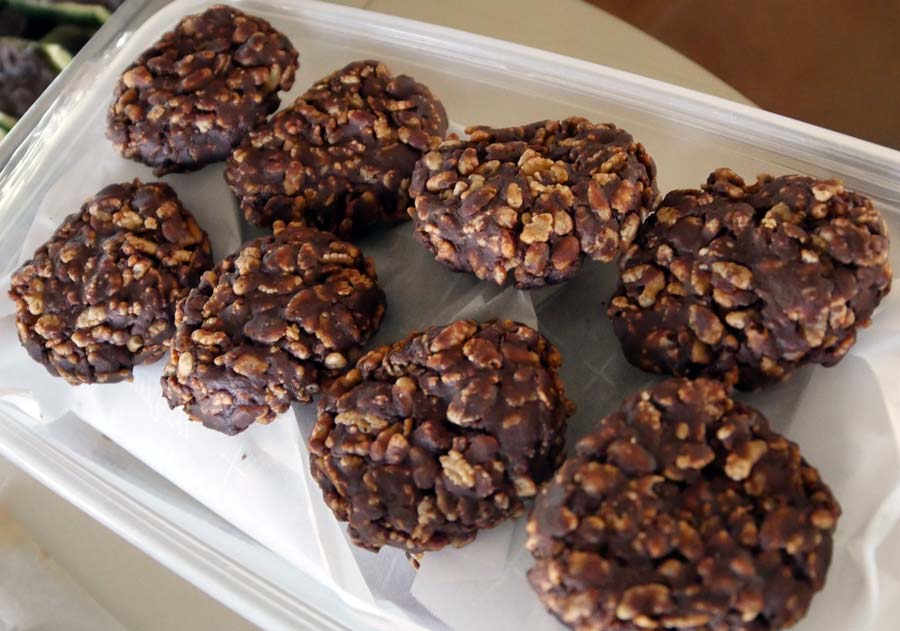 Billy: Pico de Gallo on Crisp Tortillas
For his pico de gallo, Billy used red and yellow tomatoes, red onion, and jalapeño from his garden, and from the store, he used avocado, cilantro, lime juice and zest, and salt. He served the pico with some of Central Market's chili powder flavored tortillas that he cut into triangles and shallow fried in canola oil.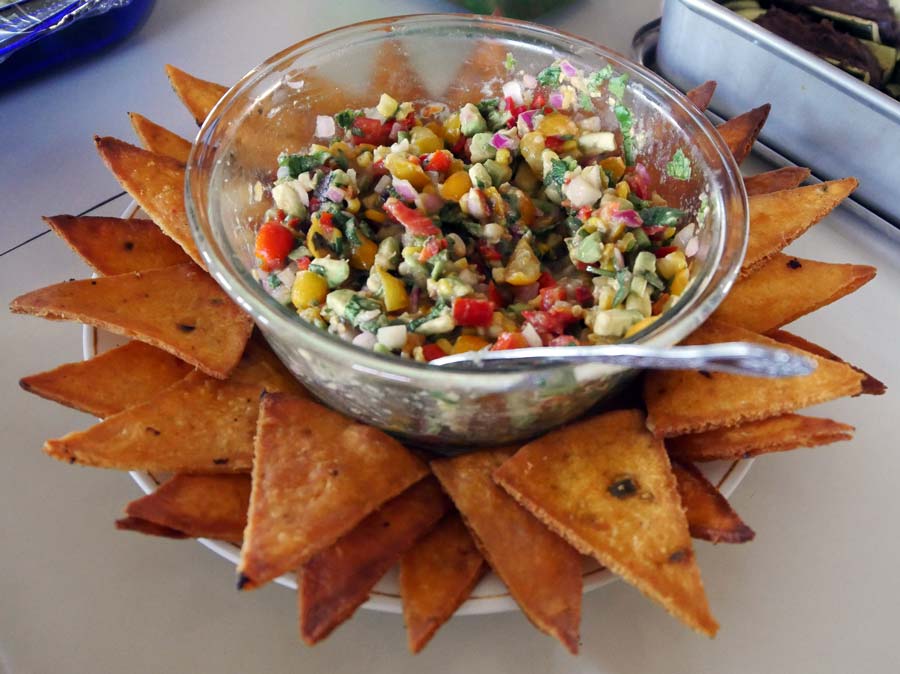 Lauren: Baja Tofu Tacos; Iced Fingers
As filling for the corn tortillas of her Baja tacos, Lauren marinated tofu in liquid amino acid, lime juice and zest, and nori crumbs. She made avocado aioli with an avocado, Just Mayo, lime juice, fresh garlic, chipotle chili powder, smoked paprika, and salt. She made slaw with cabbage and shredded carrot, pickled onion and jalapeño, cilantro, apple cider vinegar, and lime juice and zest. While she based the aioli and slaw on those used in this beer battered tofu taco recipe, rather than using a beer batter for the tofu, she coated strips of tofu in potato starch and shallow fried them on each side.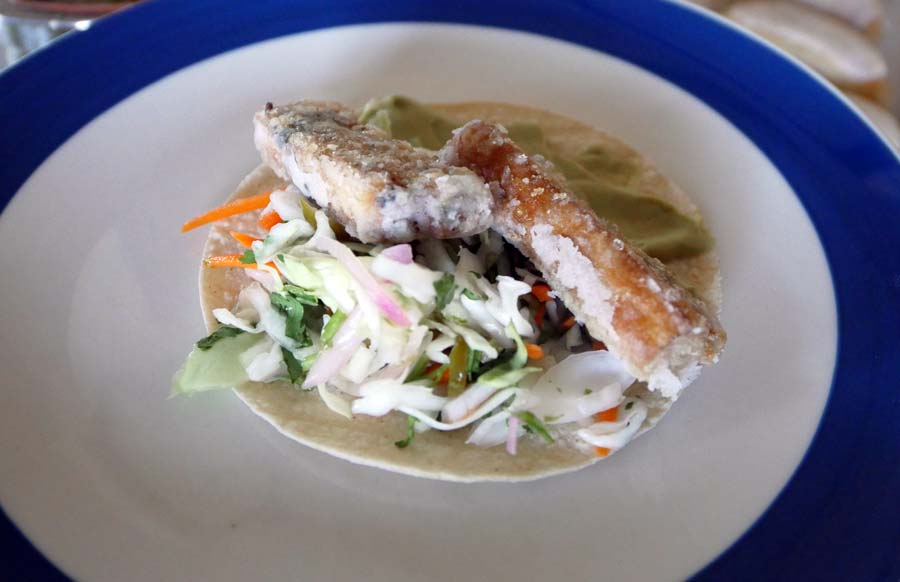 For the iced fingers, Lauren followed Paul Hollywood's recipe, veganizing it by using flaxseed meal and water for the eggs and coconut whipped cream to fill. The cream filled buns were also piped with Crofters Strawberry Jam to which she added lime zest. She also added the zest to a thin vanilla icing that was spread on top of the iced buns.