Saturday, July 23, 2022
VBC Meeting #113: Vintage
Host of the Month: Lauren and Billy
Location: Ponder, Texas
For July, Slynn suggested the theme of "Vintage", because she was thinking of a theme that would fit making a recipe from one of the old newspapers that she deals with at work on a regular basis. Drew seconded the theme because he liked the idea of making a vegan Jello salad. The Merriam Webster website defines "vintage" in that context as "of old, recognized, and enduring interest, importance, or quality", but it also defines it in the context of wine. Well, no one went with the wine definition, Drew opted not to make Jello salad, and Slynn missed the meeting, but we did manage to make some recipes of, what some would consider, enduring interest.
This is what we made: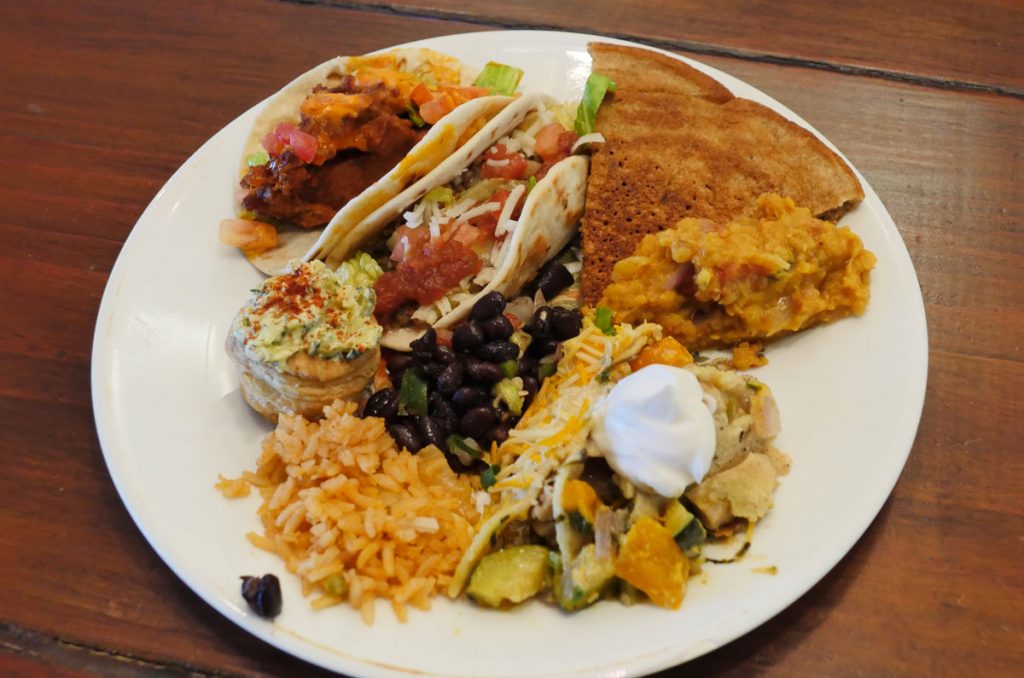 Kori, Skyler, and Dallas: Pineapple Upside Down Cake
Kori made the cake with long lasting tropical fruity allure: the Pineapple Upside Down Cake. To start, she melted butter, then added oil when she ran out, and sprinkled brown sugar over it in a 9″ pie pan because she didn't have a 9″ cake pan. She placed canned sliced pineapple into the pan next and filled the holes with maraschino cherries. She made a batter of sifted flour, brown sugar (accidentally thinking there was supposed to be brown sugar in the batter not just for the top), white sugar, Stevia, baking soda, vanilla extract, vegetable oil, white vinegar, soy milk, and salt that she poured over the fruit. She baked the cake at 350°F for thirty minutes with foil on top for twenty five of them to help the fruit caramelize. After cooling the cake for fifteen minutes, she flipped it out for serving.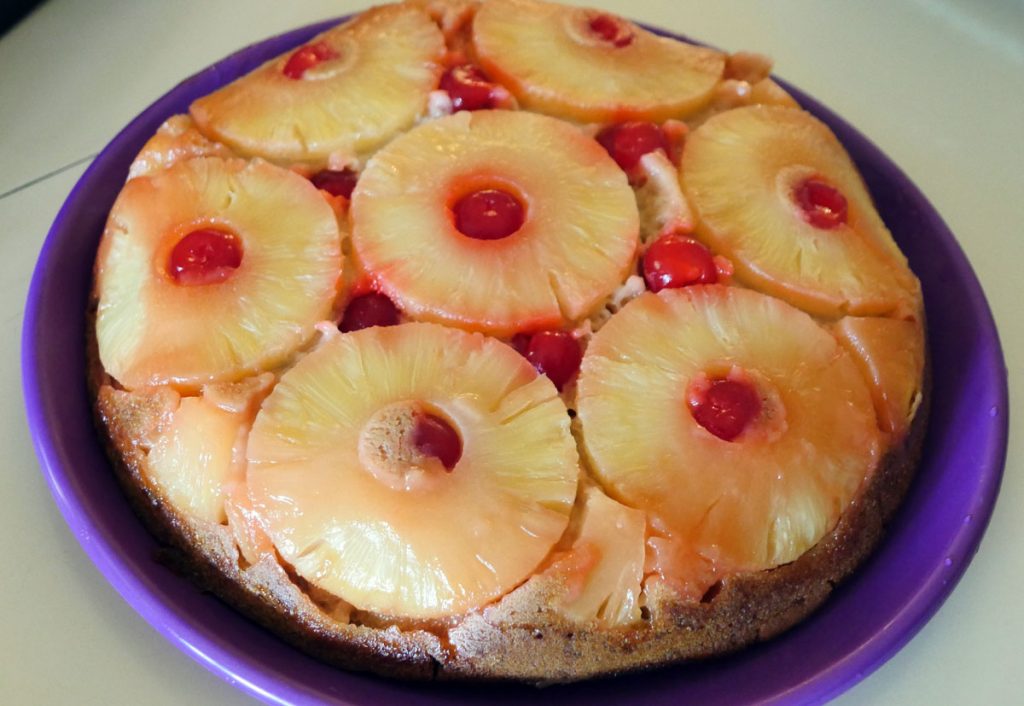 Megan and Will: Pepitas Tacos and Sides
Megan and Will were visiting Texas from Seattle, and while they both have made things for Vegan Bake Club before, they had a lot of socializing to fit in with various people in a short amount of time. Thus, they picked up a bunch of food from Pepitas in Denton. They showed up with fried "chicken" tacos, picadillo ground beef tacos, beans, rice, chips, salsa, plus churros with chocolate sauce and tres leches cake. Hopefully they come back often, but since they drove from Seattle, taking many days, that is unlikely.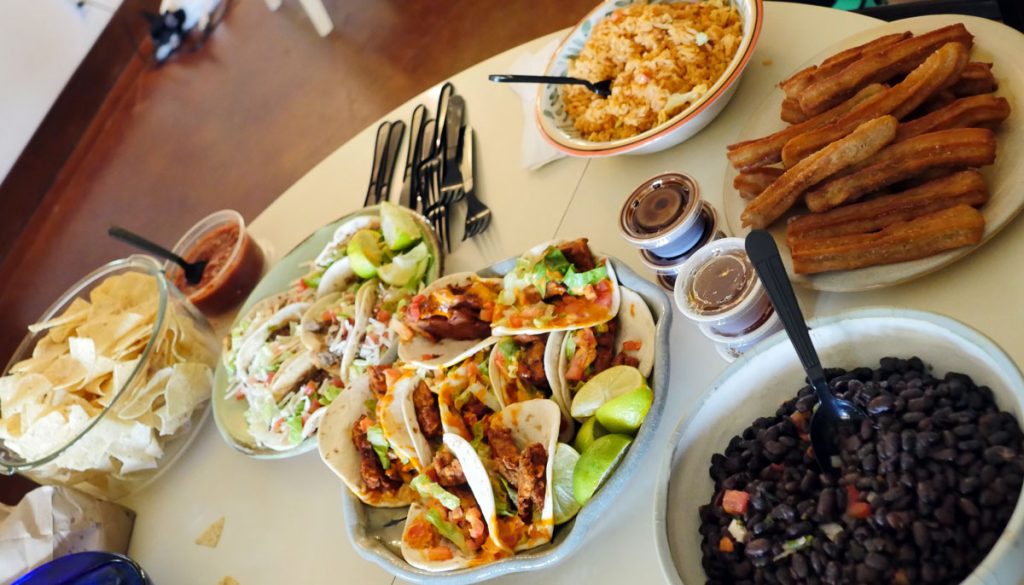 Drew: King Ranch Casserole
Drew made a vegan version of the classic Tex-Mex casserole that is named for South Texas's King Ranch. He sautéed zucchini, bell pepper, onion, and Morningstar Farms Chik N Strips. He made a cream sauce with almond milk, flour, vegan butter, salt, pepper, and nutmeg. Then he layered the sauce, strips of corn tortillas, the cooked veggies, a thin layer of leftover Pepitas queso, and a layer of So Delicious vegan "cheese" shreds. He baked the casserole for thirty minutes at 400°F.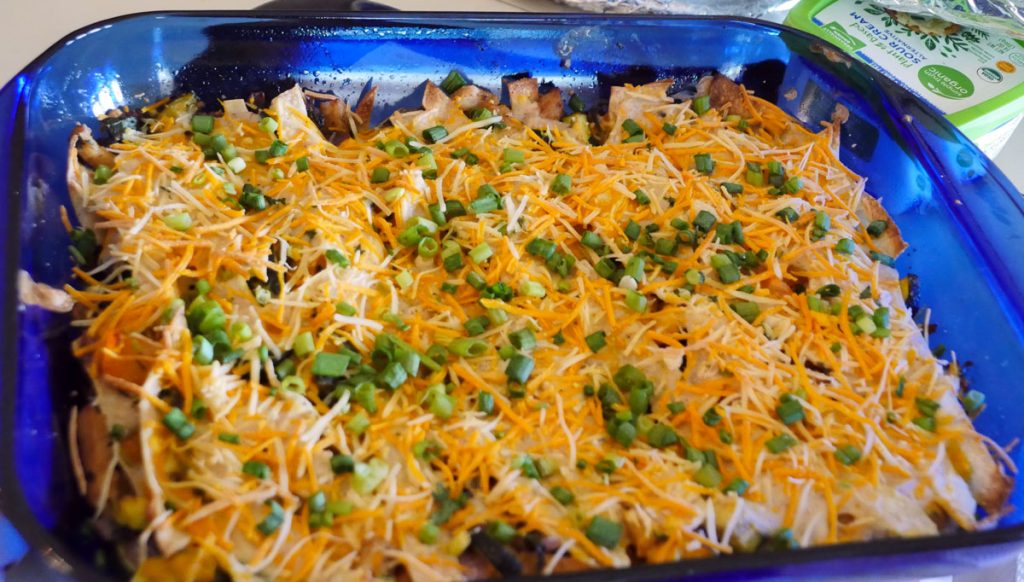 Billy: Risen Bread and Dahl
Since Billy didn't come up with anything much in advance, he decided to make a vintage VBC offering, what he made for the Inaugural meeting, dahl and risen bread. He made dahl using a packaged spice mix purchased at an Indian market, canned tomato, onion from his garden, and red lentils. Rather than make the more time consuming yeast-based naan-style bread of the first meeting, he went with a quicker, easier bread based on Jacques Pépin's Tibetan bread recipe made using whole wheat flour, water, nutritional yeast, baking powder, and salt.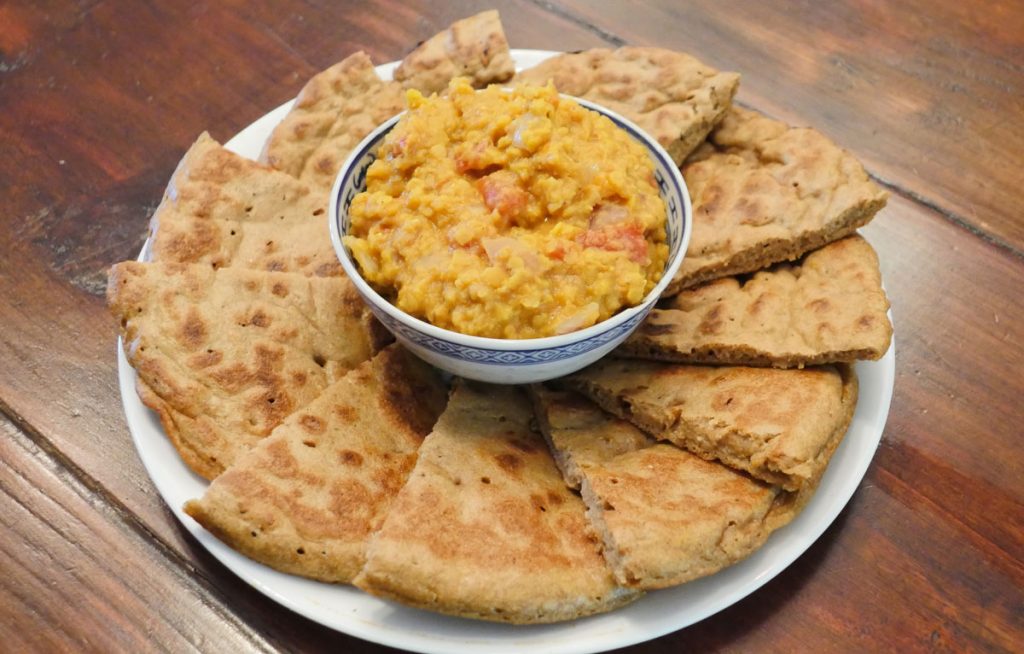 Lauren: Zucchini Vol-au-vents; Turtle Brownies
Like Billy, it took a while for Lauren to decide what to make for this meeting. Then she heard mention of vol-au-vents being a vintage sort of thing. She made this puff pastry based food using Pepperidge Farm's frozen puff pastry and filled it with a mixture of shredded zucchini (grown by Billy), minced garlic, Tofutti Better Than Cream Cheese, salt, pepper, garlic powder, and the zest and juice of one lemon. Unfortunately, the puff pastry cups were malformed out of the oven, probably due to using a dull cutter that required force and rotating to cut through the dough, generally preventing the layers of pastry from rising. She plopped filling on top of whatever pastry shapes she had and sprinkled them with smoked paprika for added taste and distraction.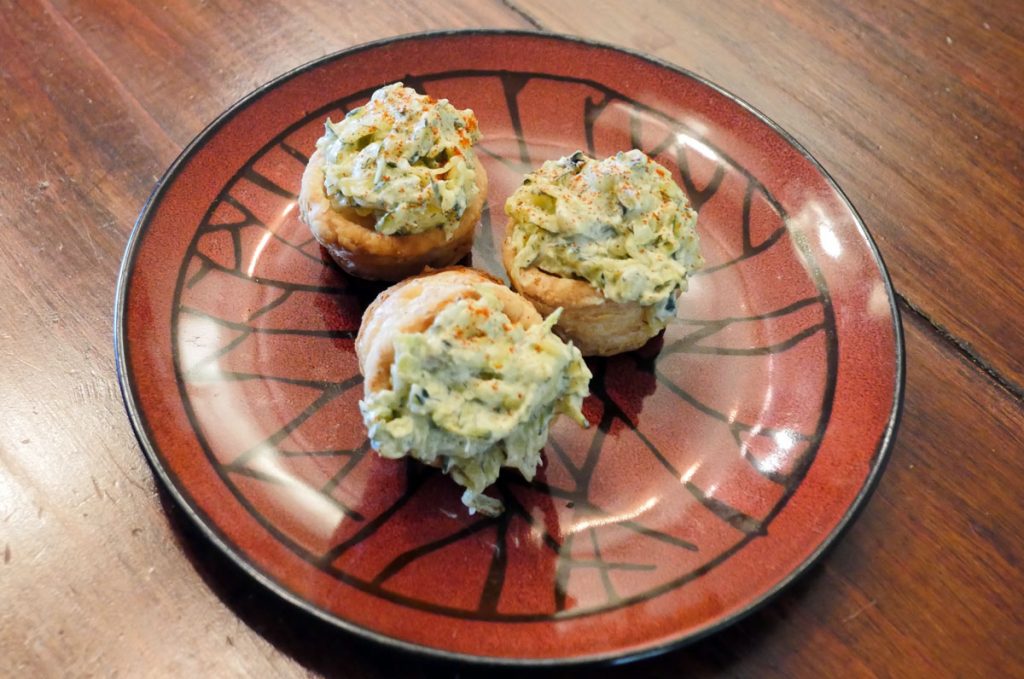 For dessert, Lauren made a brownie batter with whole wheat and all purpose flours, sugar, cocoa powder, vegan milk, ground flax seeds, oil, baking soda, vanilla extract, and salt. She mixed in chopped pecans, chocolate chips, and chopped Cocomel caramels to make the sweet baked good into Turtle Brownies, which were listed online somewhere as being a vintage type of brownie.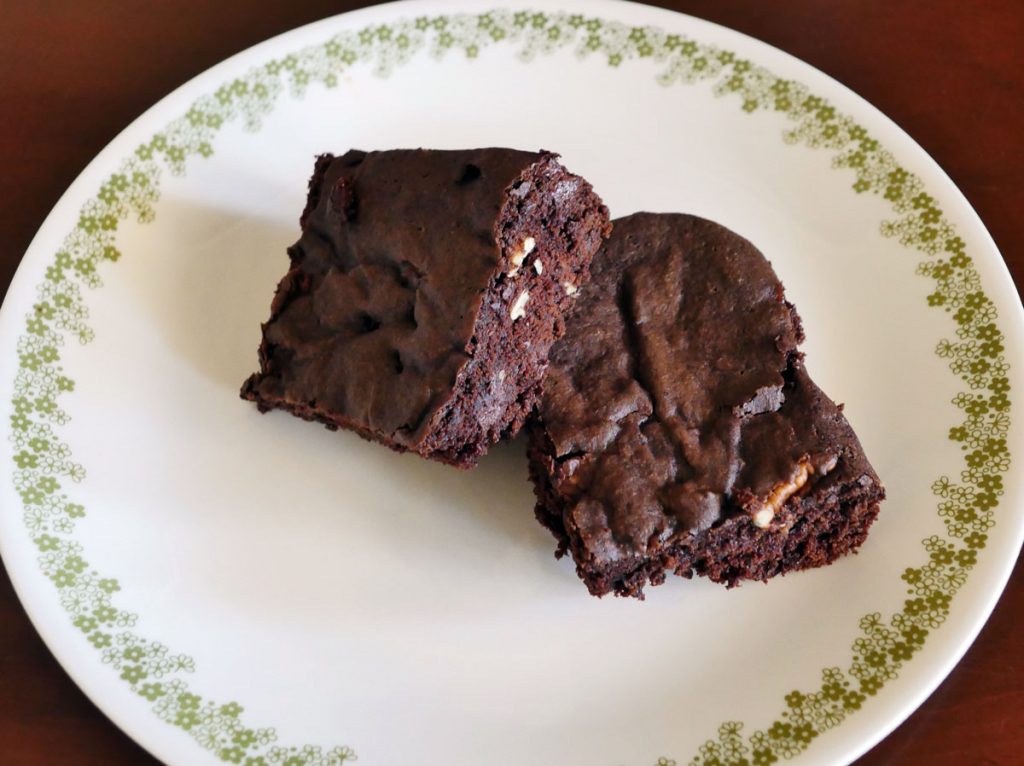 Caroline: Appearance
Caroline made a much appreciated appearance online! You are missed.