January 14th, 2017 – Changes
Saturday, January 14th, 2017
VBC Meeting #47: Changes
Host of the Month: John
Location: Denton, TX
The theme of changes came about perhaps due to a number of people in the group changing jobs and making other changes as well. Dylan and Lianna are now married for one. Most of us change into clean socks almost every day for another.
This is what we made: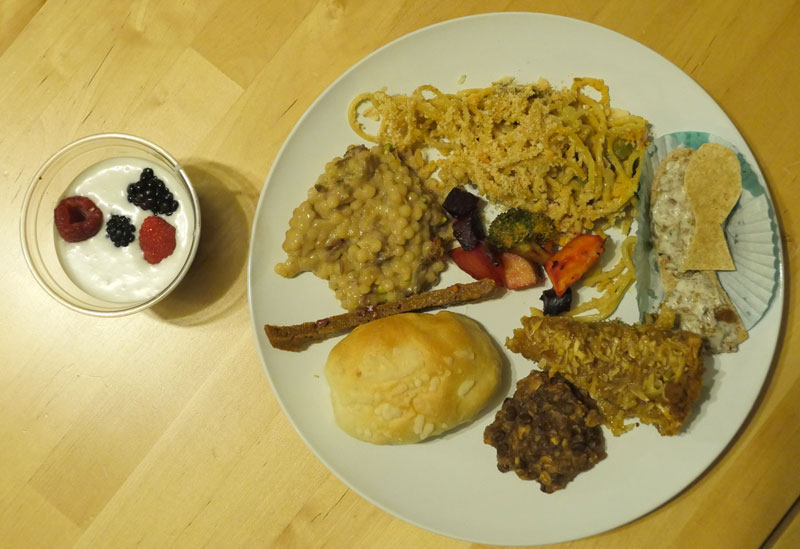 Drew: Baked Beets and Veggies
Drew was typing into an Internet search box "foods that change" which auto-completed with…"urine." This reminded him of his discovery years ago that eating loads of beets tinges your urine pink. In honor of that, he cut up beets, parsnips, broccoli, onion, garlic, sweet potato, and potato, seasoned it all with olive oil and spices, baked the veggies, and served them with an explanation of their potential effect.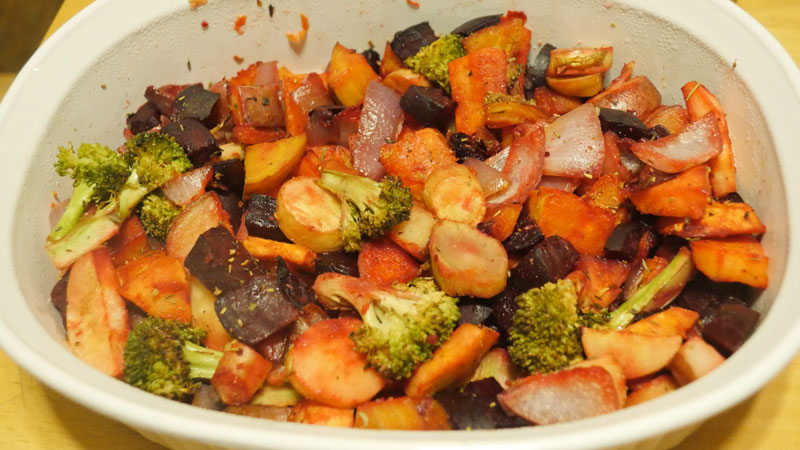 Slynn: Curried Macaroon Pie
Slynn made the Curried Macaroon Pie recipe from Vegan Pie in the Sky by Isa Chandra Moskowitz and Terry Hope Romero since she already had some ginger snaps lying around. She crushed up her leftover ginger snaps to make the crust that was filled with a combination of items including shredded coconut, coconut milk, brown rice syrup, sugar, and curry powder.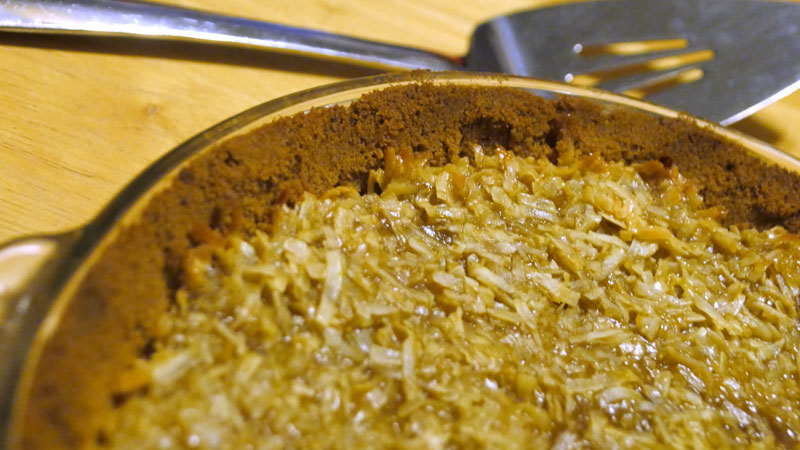 Shannon: Veganized Tetrazzini
Shannon veganized her mom's tetrazzini recipe that uses cream of mushroom and cream of chicken soups. Shannon used spaghetti, onions, celery, vegan cheese, and a "cream of anything" mixture made with soy milk, corn starch, and different herbs and spices. For the cream of chicken soup she used Not Chick'n Bouillon, and she used a can of mushrooms for the cream of mushroom soup. Like her mom, she topped the tetrazzini with crushed Ritz Crackers before baking it.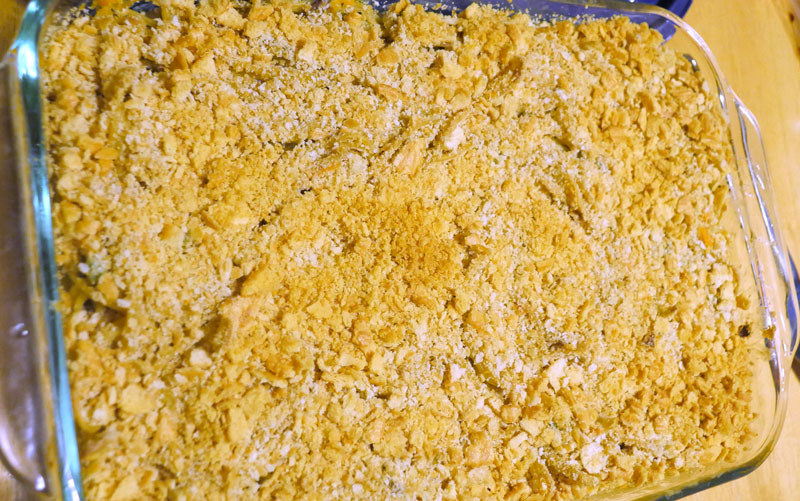 Billy: Seitan Jerky
Billy made the red part of this bacon recipe then sliced and dehydrated it in his new dehydrator. It came out drier than planned, so before leaving for John's house, he soaked the jerky in a soy sauce, sesame oil, and hot pepper blend.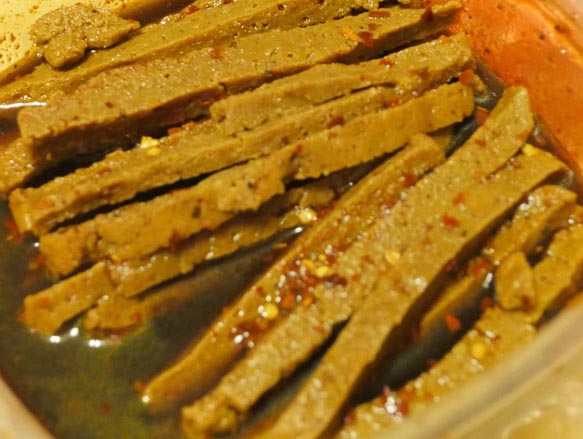 Caroline: Vegan Pearl Couscous Pudding
Caroline made a dessert couscous with chopped pistachios, orange zest, dates, almond milk, vanilla, and agave syrup. Re-reading the ingredients now, with so many precious flavors, is making me want some.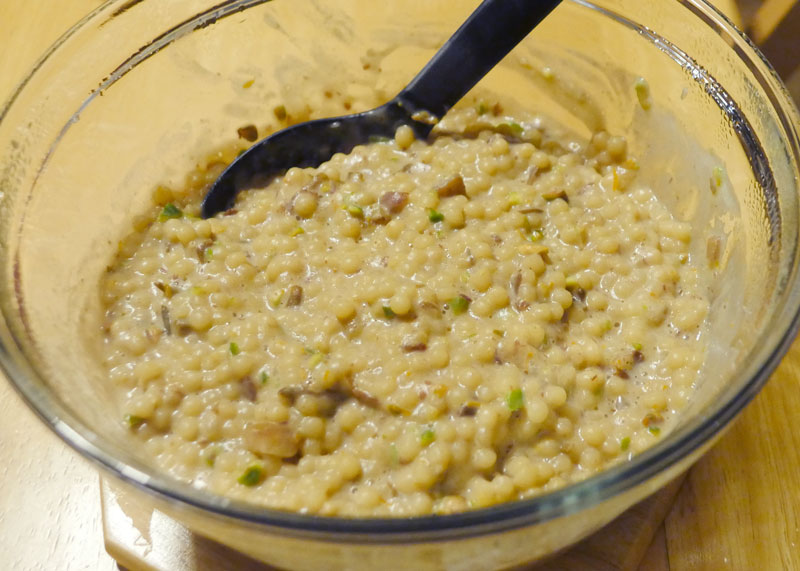 Dylan and Lianna: Chocolate Chia Seed Pudding
Dylan and Lianna made a pudding with chia seeds, vanilla, cocoa, dates, almond milk, and a dash of salt blended expertly in a Ninja.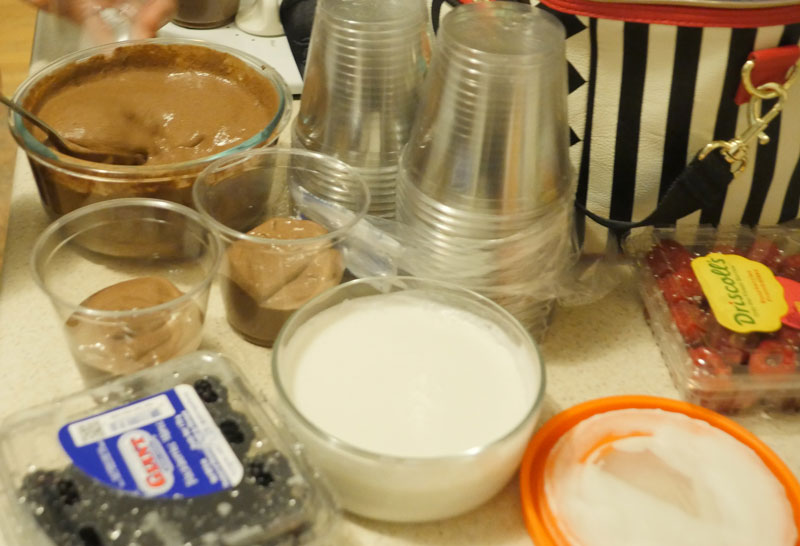 They topped it with whipped coconut cream made with a blend of Stevia and baking sugar.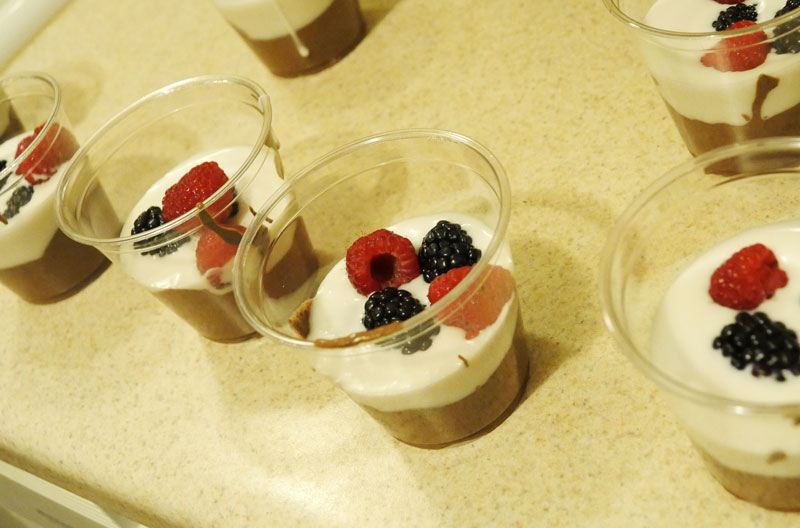 Lilly: Sea Change Open-Faced Toona Sandwiches
Lilly's Toona sandwiches took some inspiration from Beck's Sea Change album. She used Sophie's Sea Salt Vegan Toona mixed with water to tone down the saltiness. She mixed in horseradish Vegenaise, fresh thyme, and pepper. She craftily cut fish shapes from bagel thins and tortillas for the sandwich bread.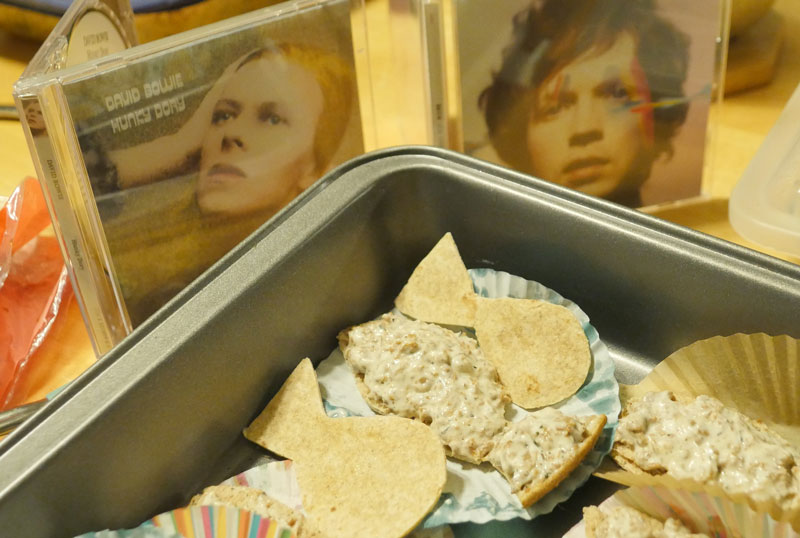 Lauren: Breakfast Buns
Lauren is a big fan of the Soysage and cheese kolaches from Reverie Bakeshop. One change she wanted to try in making something similar was to switch out a big wad of Soysage with something less bulky. She filled a bread dough based off the garlic roll recipe from 100 Best Vegan Baking Recipes (minus the garlic) with chopped homemade breakfast sausage, cooked apple, Follow Your Heart Mozzarella, and green onion.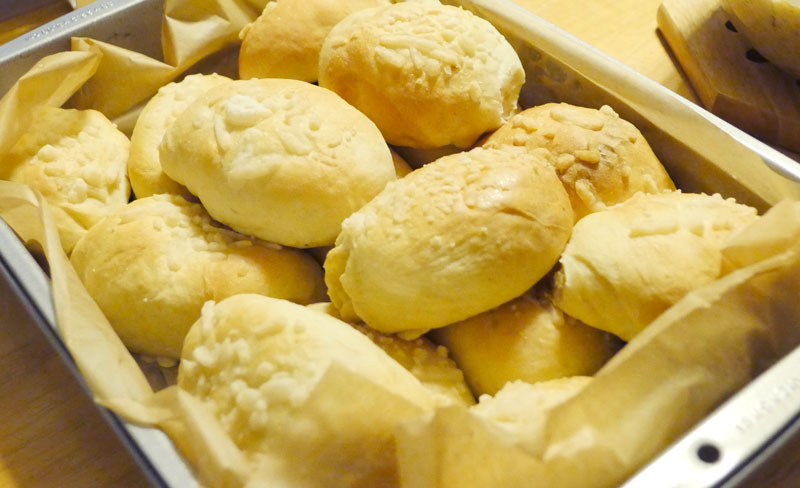 John: Hearty Hazelnut Cranberry Teff Oatmeal Cookies
John looked up teff and tapioca flour cookie recipes to come up with these gluten-free cookies. He added chocolate chips, cranberries, and hazelnuts for texture and taste. To his first batch he used no oil, just applesauce. In the second batch he still used applesauce but also added a blend of canola oil and coconut oil (he ran out of canola) and extra sugar.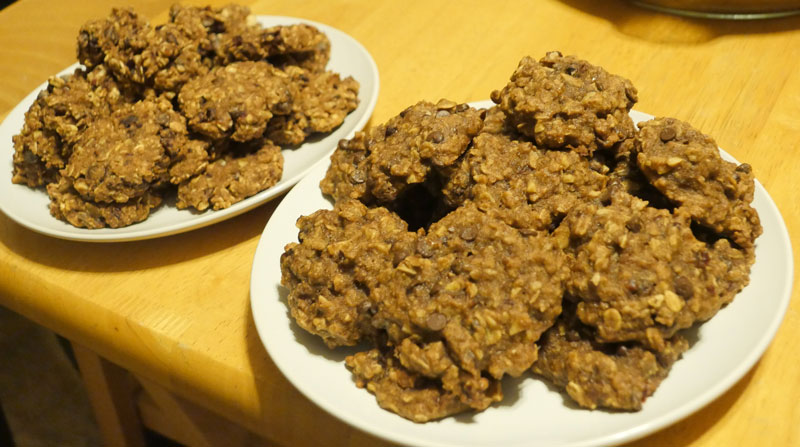 We enjoyed all of these brownish foods! The colorful beets and veggies were nice too!