Hearty Hazelnut Cranberry Teff Oatmeal Cookies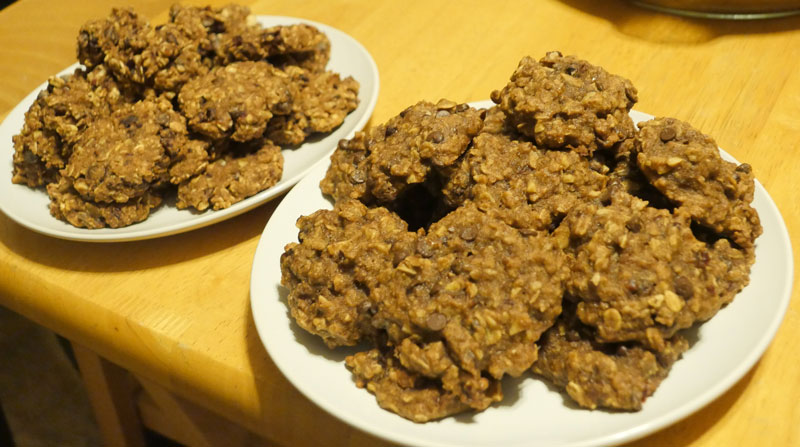 The recipe for these vegan gluten-free cookies was modified from http://bojongourmet.com/2016/11/gluten-free-oatmeal-teff-chocolate-chip-cookies-cookie-mix-gift-in-a-jar/.
Ingredients:
3/4 cup teff flour
1/4 cup tapioca flour
1 cup old-fashioned rolled oats
3/4 teaspoon salt
1/4 teaspoon baking powder
2 tablespoons ground flax
2 tablespoons water
1/2 cup applesauce
1/4 cup oil
1/2 tablespoon vanilla extract
3/4 cup packed brown sugar
1/2 cup hazelnuts, coarsely chopped
1/2 cup dried sweetened cranberries, chopped
1/4 cup semi-sweet chocolate chips
Preheat oven to 350º F. Line 2 baking sheets with foil or parchment.
In a large mixing bowl, combine ground flax, warm water, applesauce, vanilla extract, and brown sugar. Set aside.
In a small bowl, mix flours, oats, and baking powder. Set aside.
Prepare hazelnuts, cranberries, and chocolate chips.
Add the flour mixture to the large mixing bowl, mixing until combined. Fold in the hazelnuts, cranberries, and chocolate chips.
Scoop 1 ½" balls onto the baking sheets. Bake ~13-15 minutes.