August 21, 2022 – Indian Food
Sunday, August 21, 2022
VBC Meeting #114: Indian Food
Host of the Month: Drew
Location: Denton, Texas
This is what we made: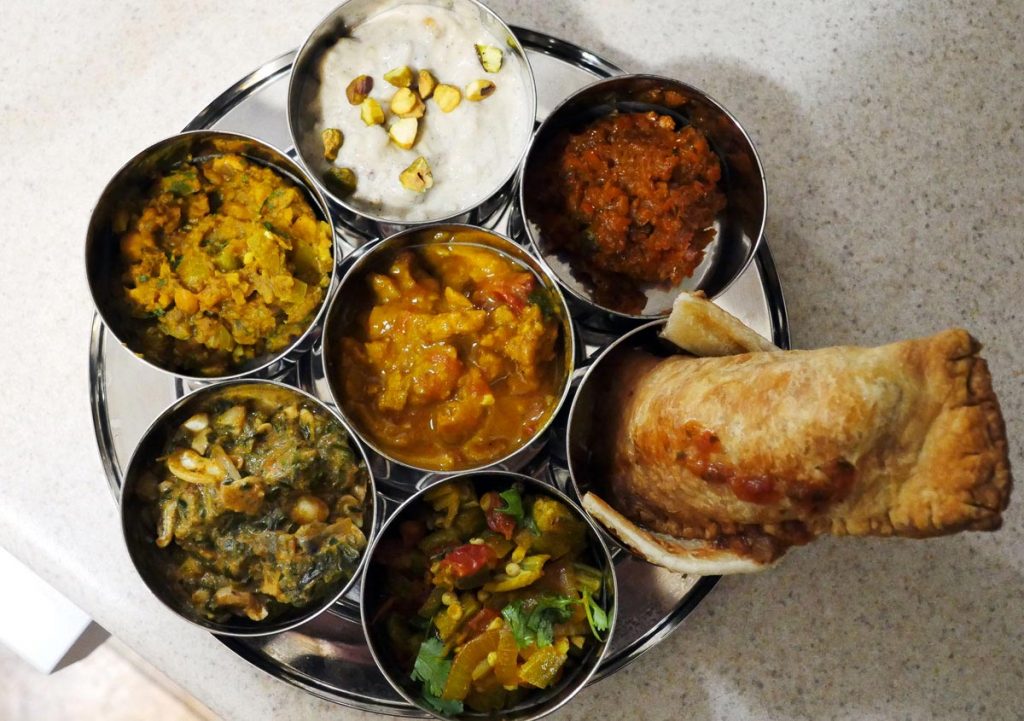 Minji: Veggie Puff Pastry
It seems like when people join us for Vegan Bake Club for the first time, they often feel like they should go to a lot of effort to make something fancy (not including Jared and his infamous but delightful Trader Joe's cinnamon buns). They don't yet know that a lot of us get lazy about cooking and baking (some or most of the time), and that we are okay with failing at what we bring to the meeting. They also don't know yet that we're just glad they wanted to come and hang out with us. This may have been the case for Minji, who impressed with Indian Bakery Style Veg Puffs and even went to the effort of practicing the recipe, experimenting using Annie's biscuit dough in one iteration.
Making the veg puffs involved sautéing green chilies, potatoes, peas, green and red bell peppers, onion, ginger, and garlic in oil then cooking in spices that may have included chili powder, turmeric, coriander, and garam masala mixed with a little water. Into this went mashed potatoes, optional amchoor powder (mango powder), kasoori methi (fenugreek), fresh mint, and salt. Once that mixture was well blended, Minji scooped it onto pieces of pre-made puff pastry (she used Pepperidge Farm Puff Pastry) that she folded over and sealed with vegan milk before baking the pastries for 20-25 minutes at 425°F.
Billy: Saag Tofu
Billy made Saag Tofu (Tofu and Spinach) roughly following the recipe from the cookbook Vegan For Everybody by America's Test Kitchen. He baked tofu in bite-sized cubes that he cooked with frozen spinach, olive oil, ground cumin, coriander, paprika, cardamom, cinnamon, cayenne pepper, chopped onion, minced garlic, ginger, canned diced tomatoes, Silk Nextmilk, roasted cashews, black salt, and lemon juice. He put half of the mixture into the blender to purée, then added it back with the rest. At the end of cooking, he mixed in vegan yogurt to increase the creaminess. He served the saag tofu with store-bought paratha.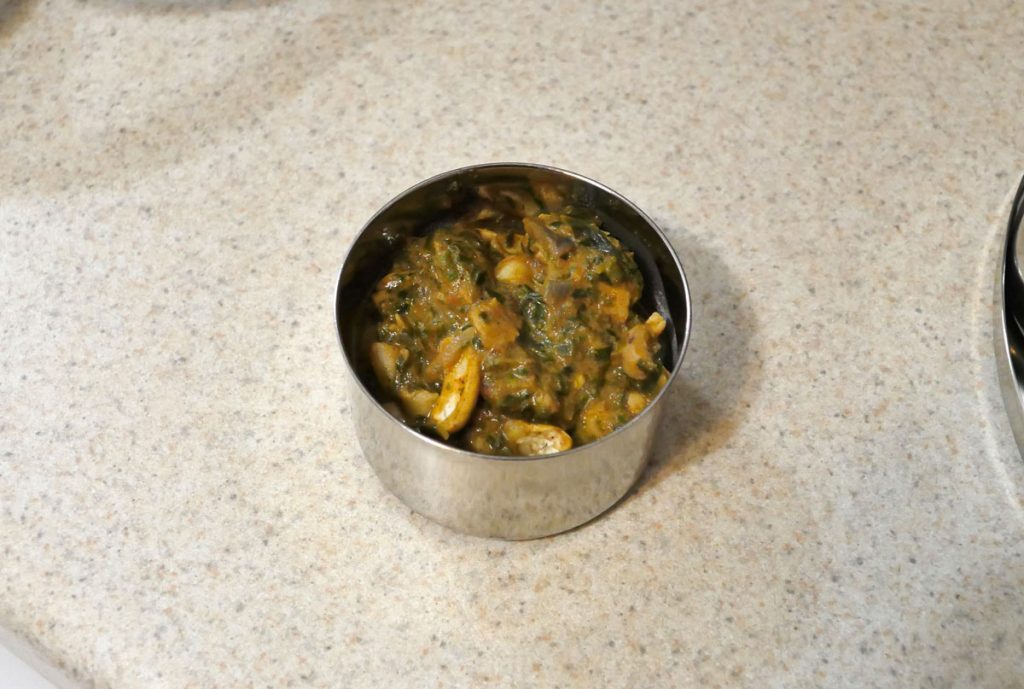 Ramon: Chana Dahl
Slynn and Neva are big users of the Denton Public Library, often checking out cookbooks and children's books. One of their chosen books, Bilal Cooks Daal, held the Chana Daal recipe of choice for Ramon who, working the night and morning just prior to the meeting, found the slow cooker nature of its method to be ideal. He mostly followed the recipe but swapped out green bell pepper for jalapeño. Chana daal, water, turmeric, salt, chili powder, cumin, and coriander went into the slow cooker for 4-5 hours on high. He cooked onions, pepper, ginger, garlic, and diced tomatoes in a frying pan with olive oil that were mixed into the slow cooker along with lemon juice and garam masala. He also added some fresh cilantro.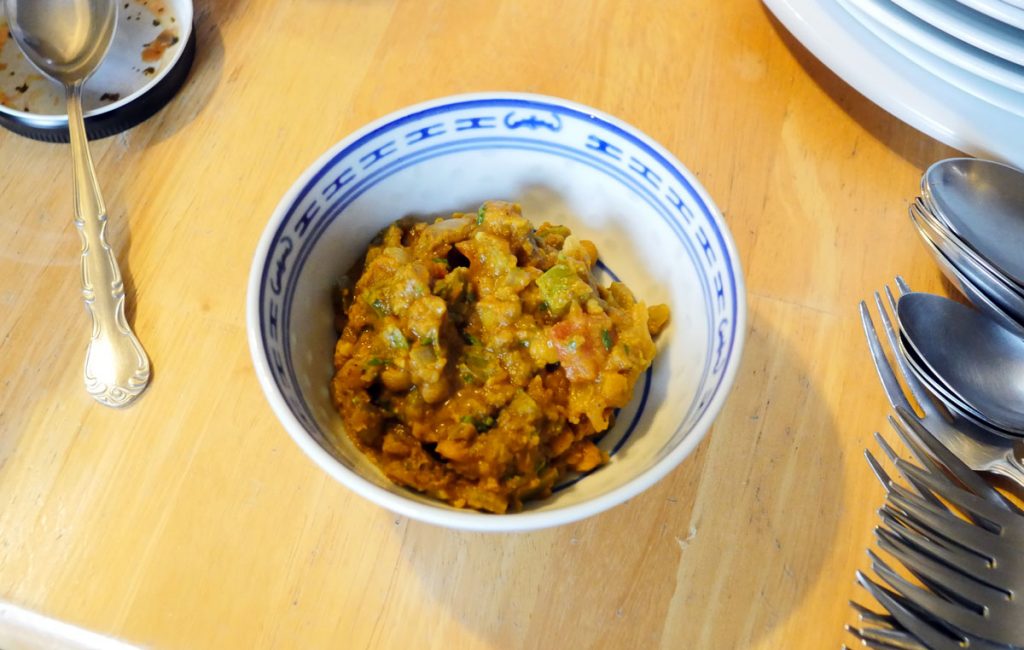 Slynn: Gajar ka Halwa (Carrot pudding)
Slynn made a carrot-based pudding called Gajar ka Halwa from The Indian Vegetarian Cookbook. She boiled shredded carrot in vegan milks of the oat and flax varieties for 20 minutes then added brown sugar and cardamom and cooked for another 10 minutes. She fried almonds in vegan butter rather than the ghee listed in the recipe, which went into the carrot mixture with raisins, walnuts, clove, nutmeg, and cinnamon. This all cooked until it displayed the quality of separating from the sides of the pot. She served the Indian pudding topped with extra cardamom.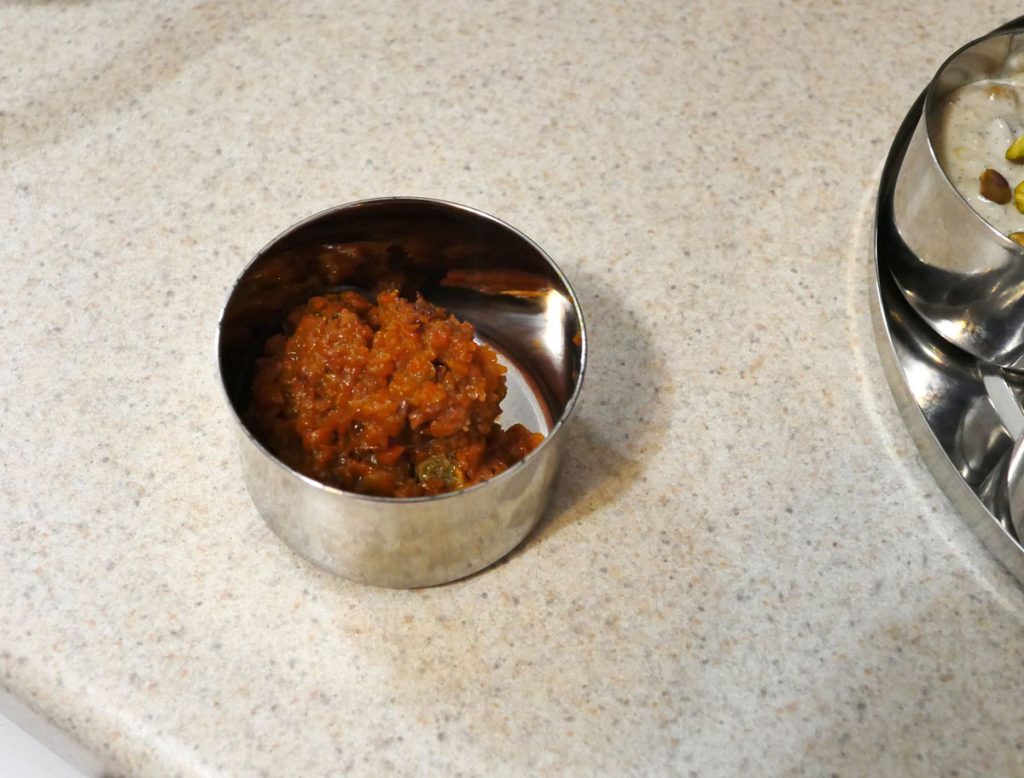 Kori: Vegan Coconut Chicken Curry
Kori made us a double version of Vegan Richa's Coconut Chicken Curry recipe since she had double the amount of soy curls used in a single batch. She put the dry soy chunks into her Instant Pot with diced tomato, two cans of coconut milk, garam masala, ground coriander, cumin, turmeric, ginger, garlic, chili powder, salt, black pepper, and onion powder plus water to help prevent burning. After pressure cooking, she added 1/2 a cup of soy milk and set the cooker to sauté mode. She left out the optional fenugreek because she didn't have it and left out the lemon juice because the contents of the pot were already very saucy. The result was a mildly spicy creamy pot of comfort food goodness.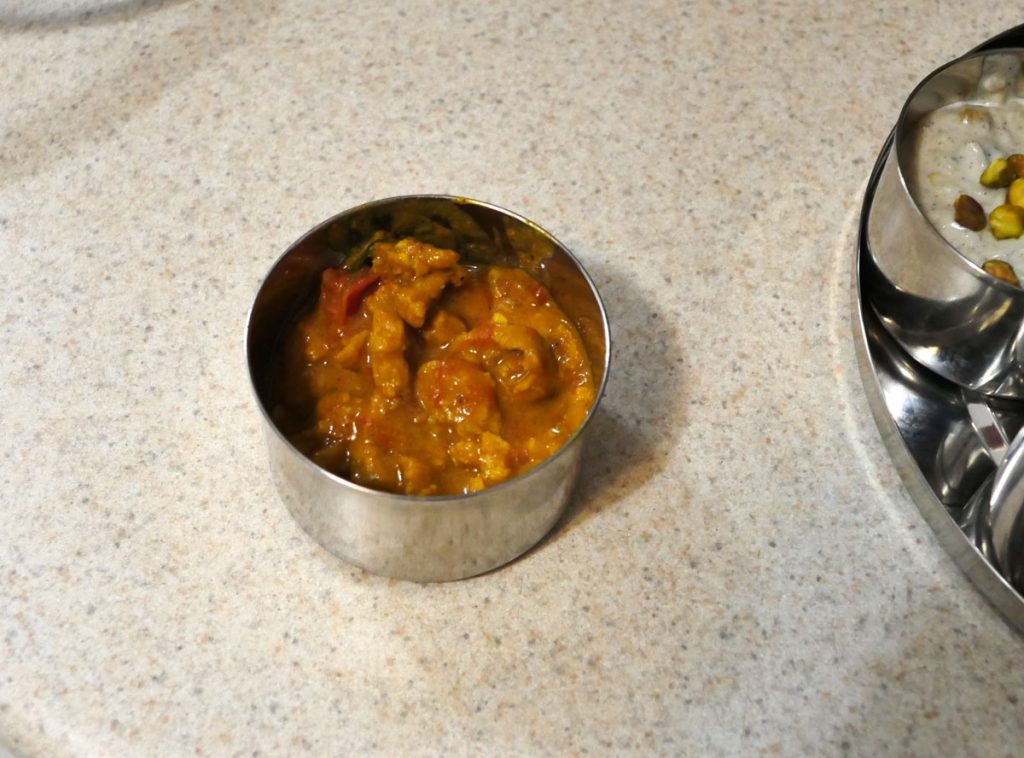 Drew: Baked Bindhi Masala
Like Kori, Drew made a Vegan Richa recipe that involved mostly hands off cooking. For the Baked Bhindi Masala, he baked okra and onions with oil, salt, chili powder, cumin, coriander, tomato, turmeric, and salt. He opted to use frozen okra because the fresh stuff at the store looked too hard and fibrous to be good. He garnished the dish with cilantro and lemon juice.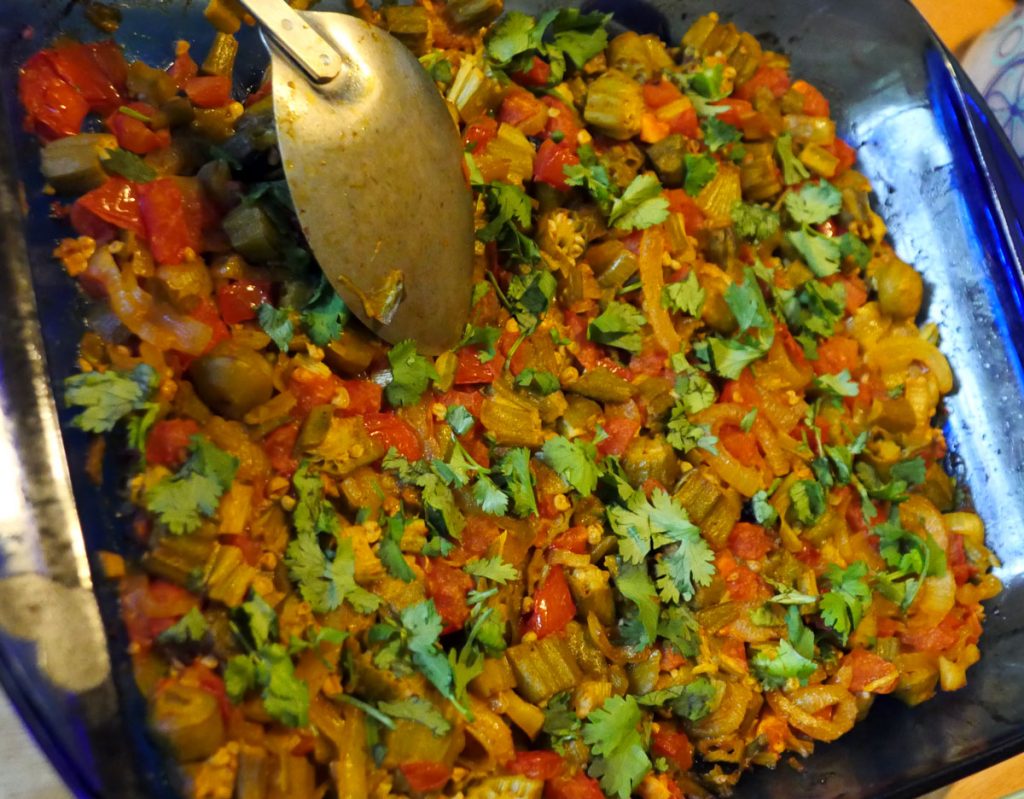 Lauren: Kheer (Rice Pudding); Mango Lassi
Years back, Lauren worked at a vegetarian Indian restaurant where rice pudding was always on the menu. Being vegan, she didn't eat it, but the creamy rice dish looked appealing, so she has tried to make something similar on occasion, but without looking up a recipe. After doing a little research, the key appeared to be using a small quantity of rice to milk and soaking the rice then cooking it in milk instead of adding pre-cooked rice to the milk. She soaked 1/4 cup of basmati rice for about thirty mintutes. She heated one can of coconut cream plus enough flax milk to total 5 cups of liquid. Once boiling, she added the drained rice and cooked uncovered for twenty minutes then added 1/4 cup each of sugar, chopped apricot (golden raisins is more common), chopped pistachio, two teaspoons cardamom, and 1/4 teaspoon salt.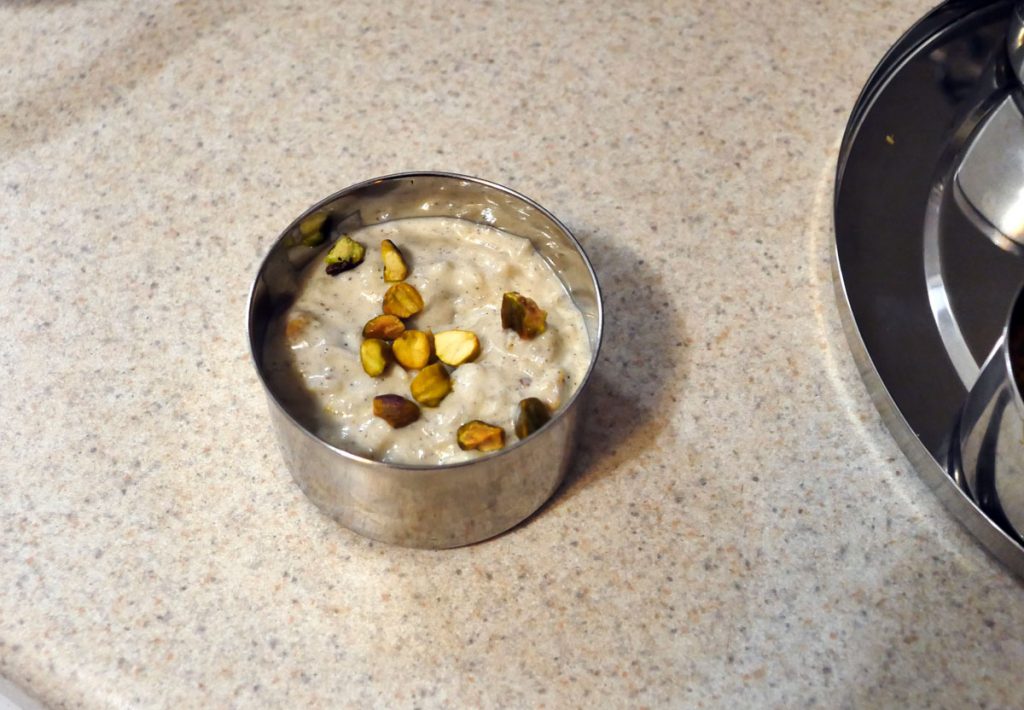 Not sure she would have time to make the pudding, Lauren also made plans to make mango lassi. She blended 850 grams of mango pulp from a can, 650 grams of vegan soy yogurt, about 1/2 cup of Silk Nextmilk, and 1 teaspoon cardamom.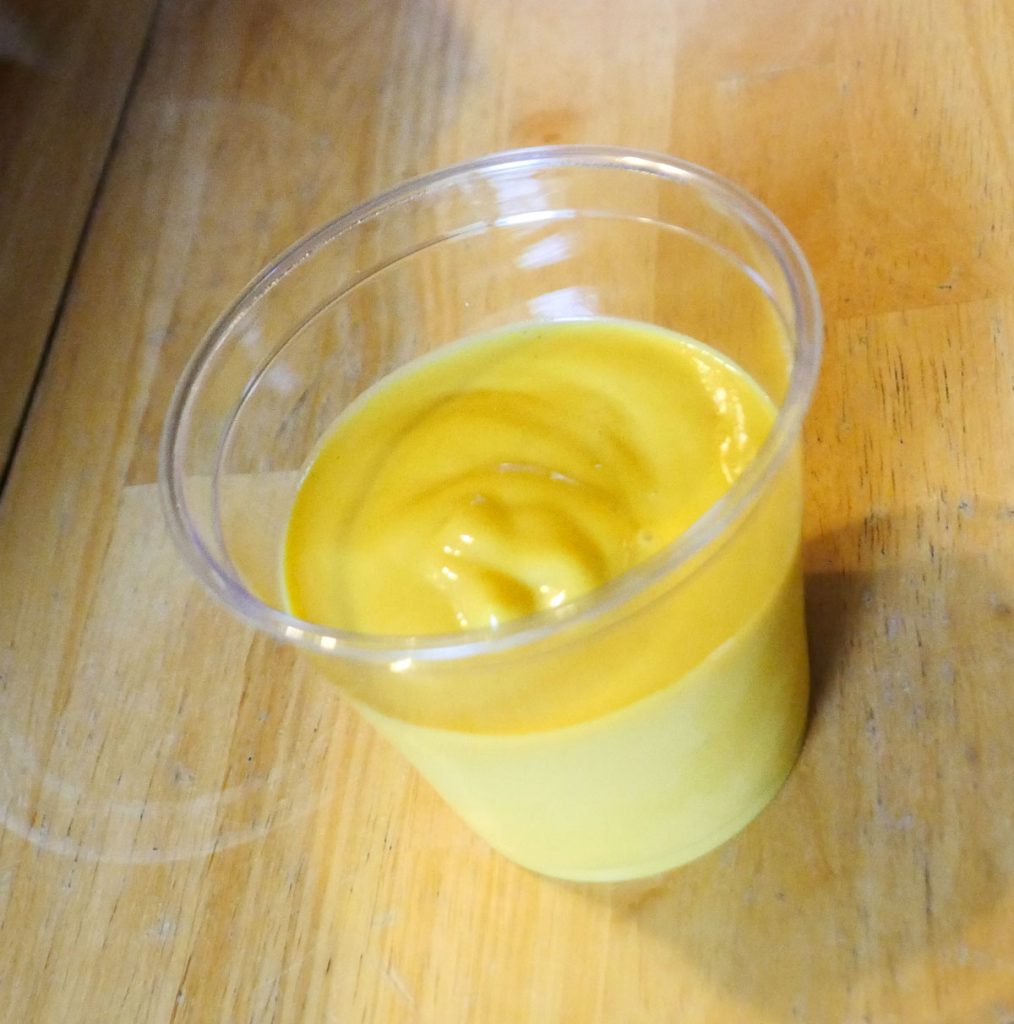 Shannon: Thoughts of Paratha
Shannon attended the meeting virtually and let us know that she had thought about making paratha but did not. When she used to housesit for Lauren and Billy, cooking store-bought paratha out of their freezer was a norm. Perhaps she will make it from scratch one day!