April 28th, 2018 – Casserole
Saturday, April 28, 2018
VBC Meeting #62: Casserole
Host of the Month: Caroline and Drew
Location: Denton, TX
For April, Caroline and Drew chose Casserole for our theme. We served up several deep dishes of goodness.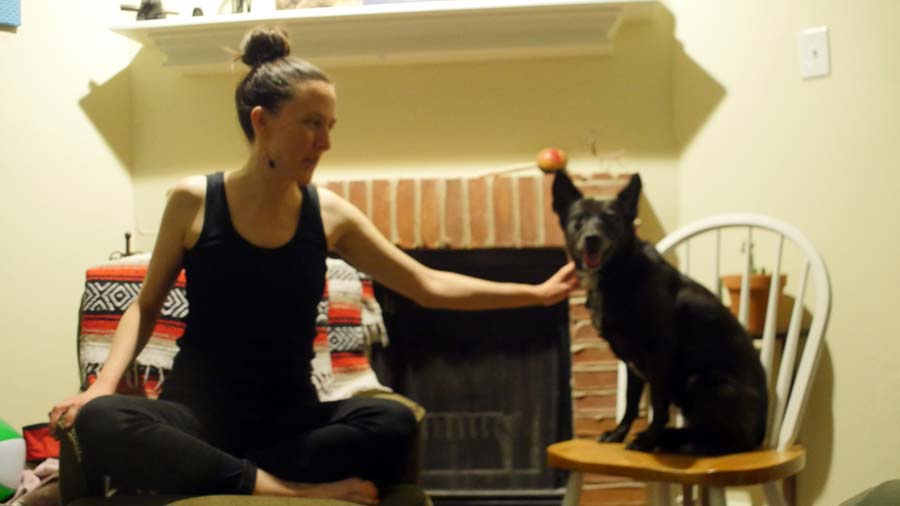 This should help you imagine eating with us: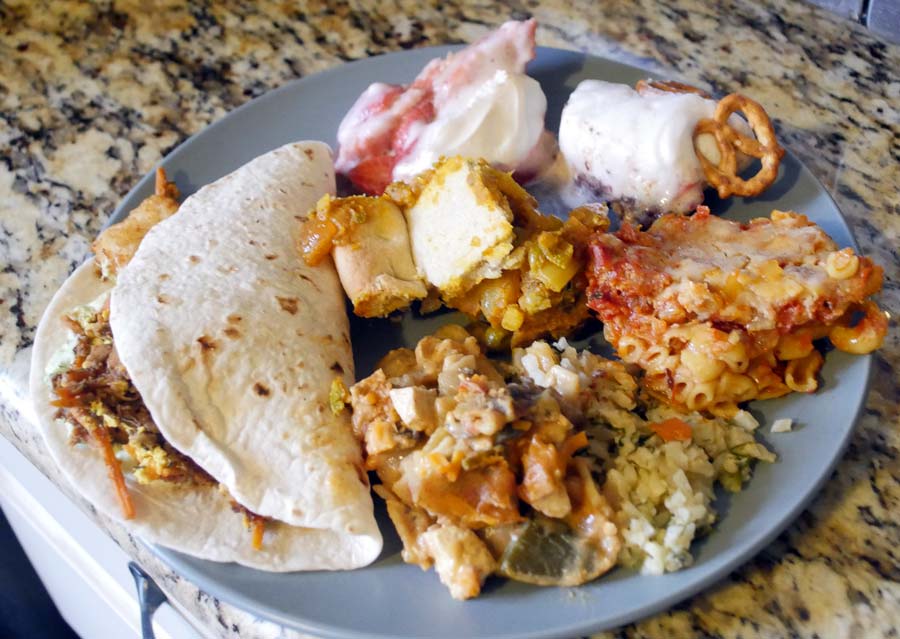 This is what we made: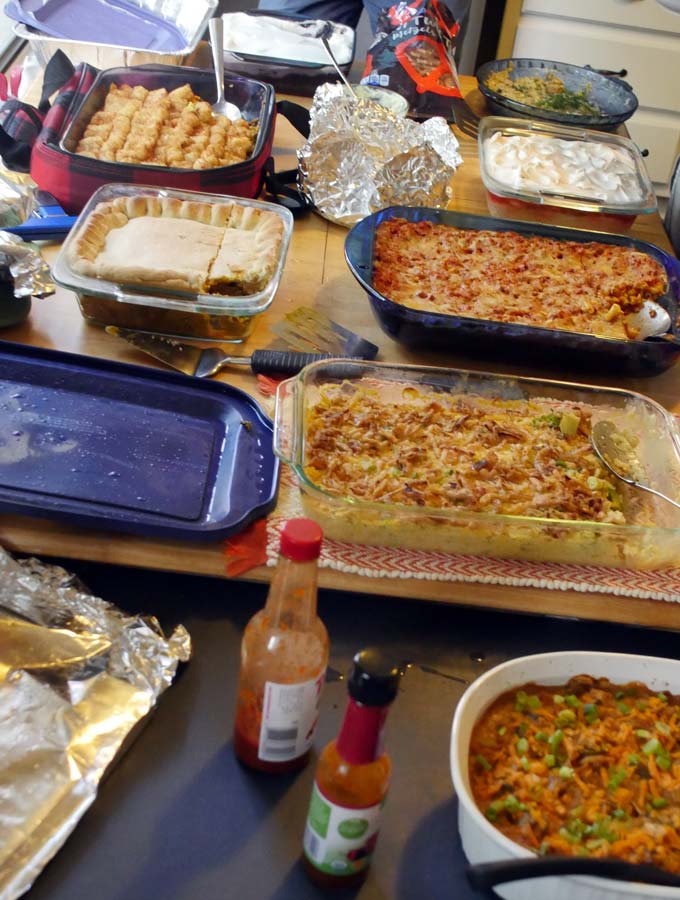 Shannon: Broccoli Rice Casserole
As has become a common practice, Shannon veganized another of her mom's recipes for this meeting. This time she went with a broccoli rice casserole. The original recipe called for minute rice, but she used real rice because the minute sort freaks her out. She made a cheese sauce with soaked cashews, Yukon potatoes, carrots, nutritional yeast, miso paste, Dijon mustard, onion powder, salt, pepper, and some leftover starchy potato water. Veganizing the recipe also led her to make a vegan cream of mushroom soup that she mixed with the cheese sauce, broccoli, and sautéed onions. She topped the casserole with crispy fried onions and baked at 350° for 45 minutes.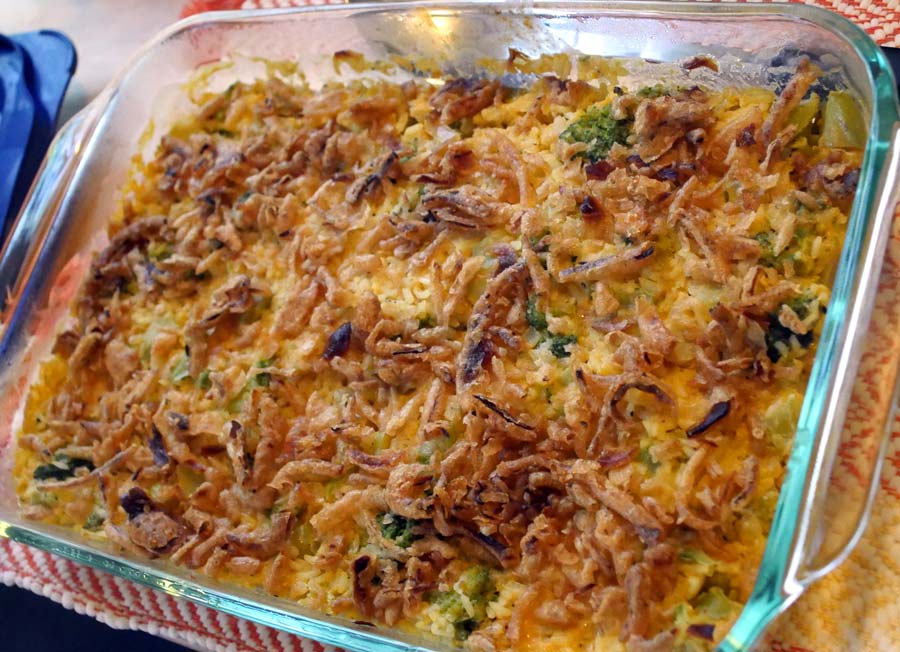 Lilly: Lemon Dill Butter Riced Cauliflower with Butter Beans
For her buttery, herby, lemony, cauliflower and beans dish, Lilly used two bags of frozen riced cauliflower that she heated in the microwave and seasoned with Himalayan pink salt. After cooking it, she spread the cauliflower out in a casserole dish to dry somewhat. To make the beans, she used canned butter beans that she cooked in a pot with lemon juice, vegan butter, fresh dill, and olive oil. She made a sauce using Soy-Free Earth Balance, chopped fresh dill, and lemon juice. She poured the sauce over the cauliflower, added the beans, and mixed it together. She garnished it with fresh sprigs of dill.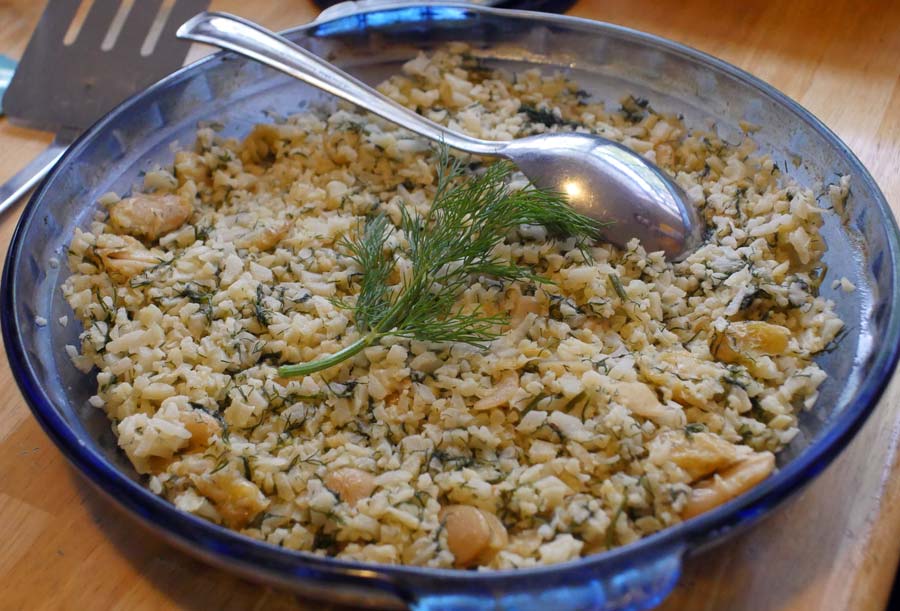 Caroline: Easy Vegan Macaroni Casserole
To make Easy Vegan Macaroni Casserole, Caroline cooked onion and garlic in olive oil and turmeric (because of its suspected anti-inflammatory properties) in a sauce pan. She added diced tomatoes, marinara sauce, water, and Beyond Meat crumbles. To turn this into a casserole, she put a small amount of this concoction on the bottom of a casserole dish, put uncooked macaroni over it, then poured over the remaining sauce and baked the dish.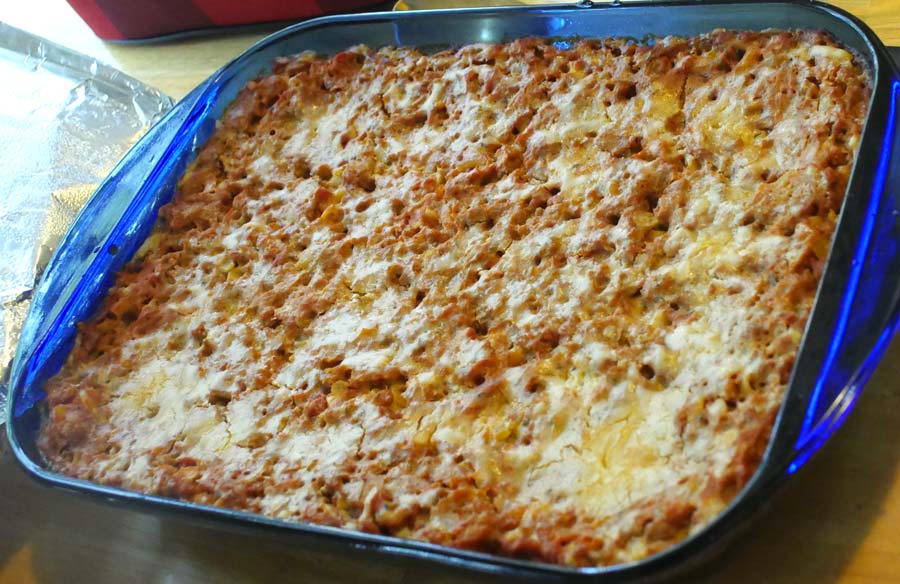 Slynn: Chocolate Hummus Pie-sserole
Slynn invented this dessert casserole. She baked a graham cracker crust layer for the base. She made a second layer of chocolate hummus by blending together a can of chickpeas, cocoa powder, maple syrup, vanilla, and water. She placed a layer of sliced strawberries on top of that and mixed up an aquafaba and powdered sugar whip stabilized with cream of tartar and flavored with vanilla.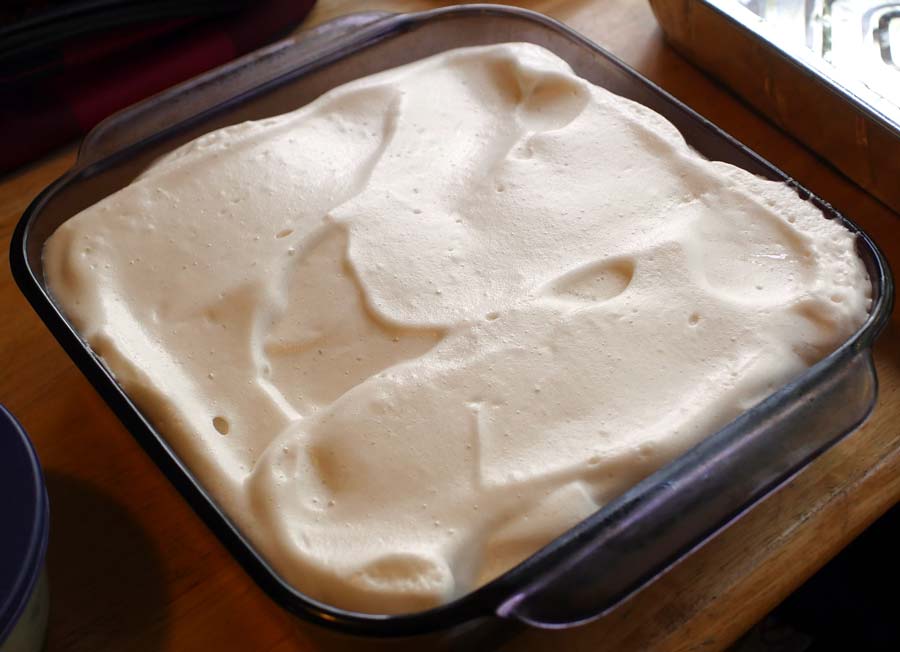 Drew: King Ranch Casserole
Drew made this vegan chicken enchilada inspired casserole using some MorningStar Farms® vegan chik'n, poblano peppers, onions, mushrooms, salsa, green chiles, vegetable broth, cut up corn tortillas, Trader Joe's vegan cream cheese, and Follow Your Heart cheese shreds.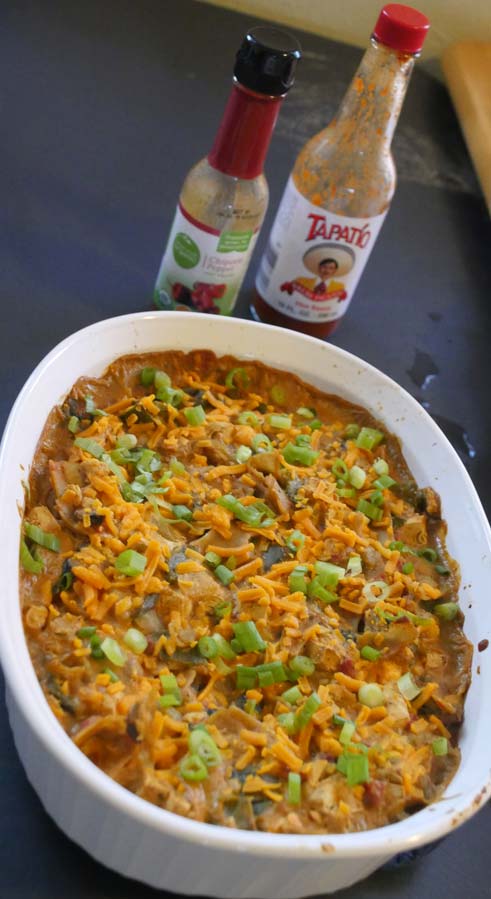 Ramon: Mexican Breakfast Hot Dish
The bottom layer of Ramon's breakfast casserole was vegan barbacoa from the Minimalist Baker's 1-Pot Vegan Barbacoa recipe made with lentils, carrots, and much more. He made the next layer using Isa's Tofu Scramble Revisited flavored with thyme and turmeric, and followed it with a layer of Cheddar Follow Your Heart shreds, and a layer of seasoned tater tots to qualify it as a "hot dish."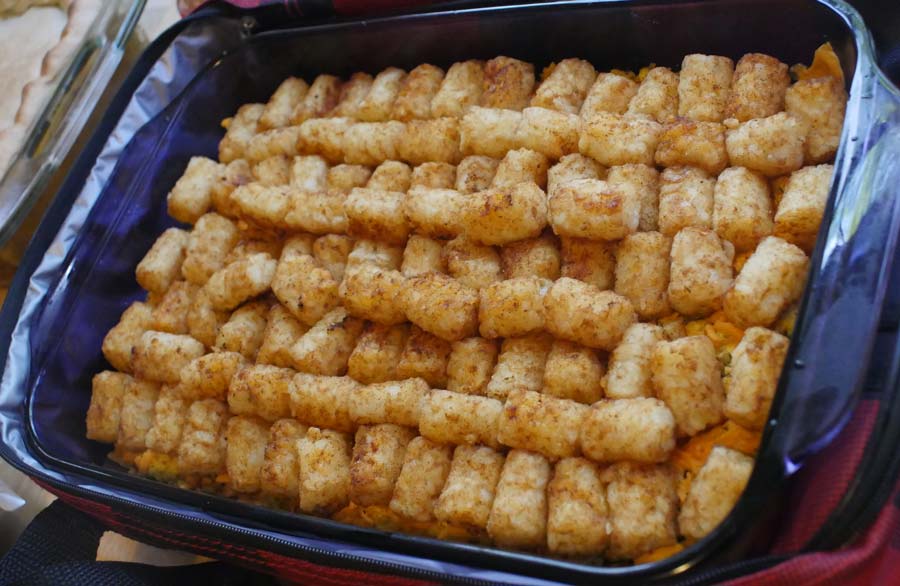 He served this with flour tortillas and a sauce of vegan sour cream, avocado, lime juice, Herdez Green Salsa, cilantro, and salt.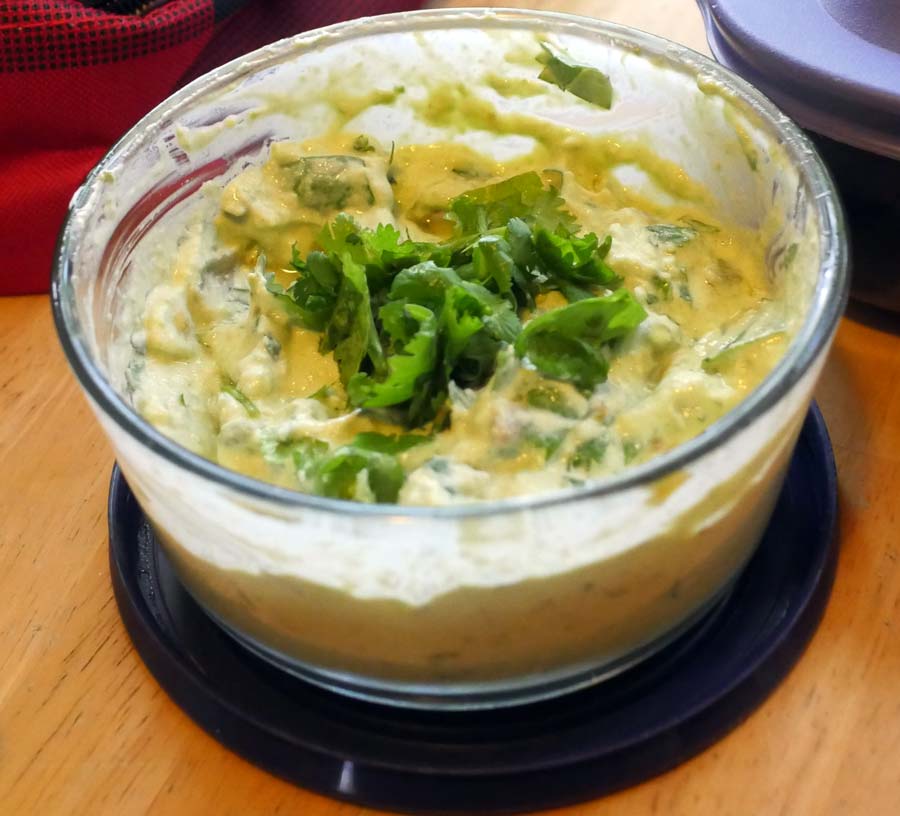 Lauren: Vegan Queen of Puddings
Lauren made this three layer pudding in honor of Great British Bake Off. The first layer started with simmering flax milk, coconut cream, sugar, lemon zest, and lemon juice on the stove. After removing it from the heat, she mixed in Melt vegan butter, vanilla extract, and bread crumbs. She stirred in a flax milk and corn starch mixture before baking this to create a cake layer base. After cooling, this was spread with fresh strawberries tossed in Crofter's organic strawberry jam. For the top layer she made an aquafaba meringue that contained chickpea water, sugar, cream of tartar, and vanilla.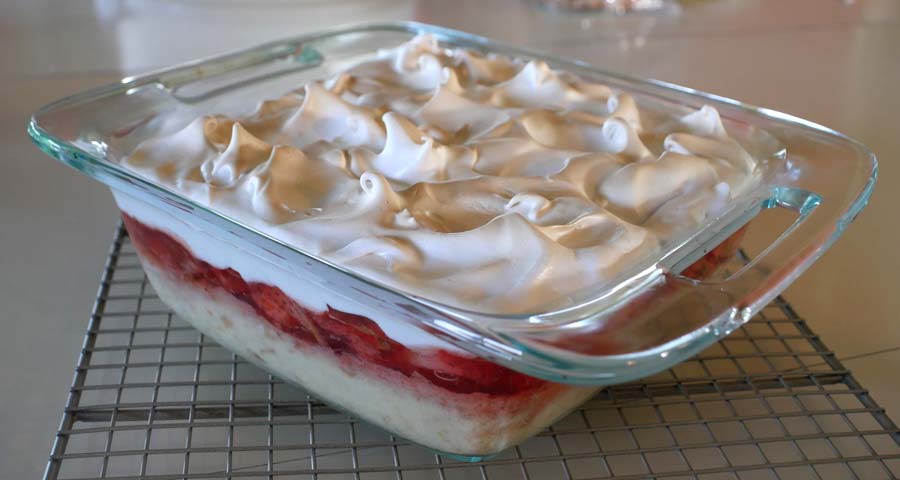 Billy: Samosa Casserole
Billy's samosa casserole filling was cooked russet potatoes, frozen peas, ginger powder, garlic, salt, garam masala, chili powder, and lemon juice, plus home grown coriander, scallions, and jalapeño. After cooking the filling in a frying pan on the stove, he put it in a casserole dish. He topped the potato mixture with a hot water crust made from flour, vegan butter, hot water, and a dash of salt. He baked the casserole at 400° for 25 minutes.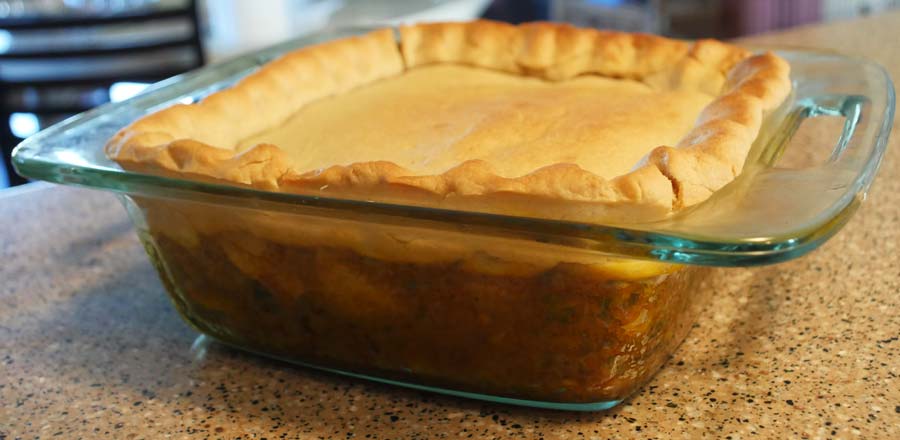 John: Eaten Cake
John showed up 2 hours and 23 minutes late to the Vegan Bake Club casserole gathering with a mostly eaten vegan chocolate cake that he brought over from another party. Hearsay is that the cake, made by John's friend Maria, originally said words about a "Johnvoyage" since John was about to move to Boulder at the time. Of course many of those letters were missing when he showed up, so we don't really know.
Farewell, John! Come back soon!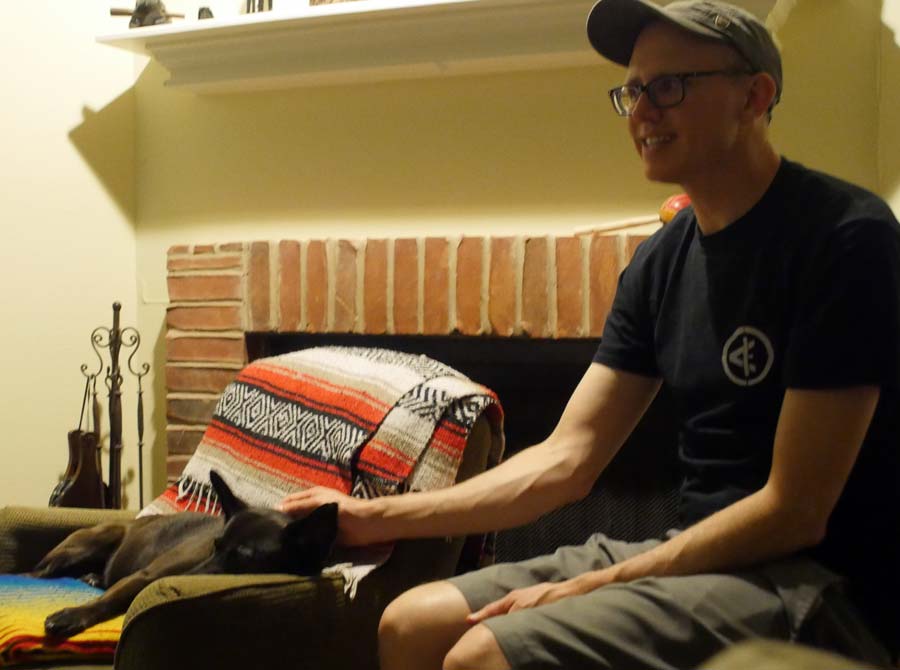 In the mean time, Slynn and Ramon have already produced John's replacement.