A long post about our experimental weekend with pizza and donuts –
Deep Dish Thai Pie (makes two 9" pizzas, enough for 4-6 people)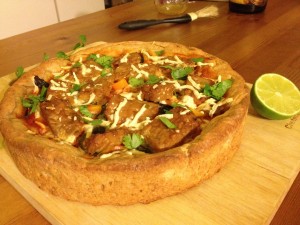 We really wanted a deep dish pizza, and this crust turned out perfect. Crispy on the outside, very tender on the inside. We just Google searched for any ol' recipe, adjusted it slightly, and let the yeast work its magic. We also, for some reason, really wanted Thai food. Thus, the Thai Pie was born.
Crust:
Just search for any deep dish (Chicago-style) recipe thats look good to you. We added some whole wheat to ours.
Toppings:
1/2 c tomato-coconut sauce (we used a small can of tomato sauce and added a few Tbsp canned coconut milk)
1/2 c sliced mushrooms
several leaves fresh basil
1/2 orange bell pepper, thinly sliced lengthwise
1 package tempeh, cut into big chunks (we marinated ours for a good hour in soy sauce, ginger, sriracha, and veggie broth)
two Thai chilis, minced
modest sprinkling mozzarella-style Daiya (totally optional — we wanted some cheesiness without the overwhelming flavor of Daiya)
fresh lime juice
cilantro
coconut-peanut sauce for dipping (we thinned ours to a nice consistency with the addition of drinkable coconut milk, but be sure to season it up with sugar, salt, and pepper)
Make your crust according to the recipe, and add most of the sauce and all of the mushrooms and basil. Add a little more sauce, then the bell peppers, Thai peppers, and tempeh. Sprinkle on some Daiya, add a little more sauce, and squeeze some fresh lime juice over the pies. Bake according to your crust recipe. Take out the pies, and liberally top them with cilantro, sriracha, coconut-peanut sauce, and more lime juice. Use the rest of the coconut-peanut sauce to dip your crusts!
______
Cocoughnuts (makes about 8 big donuts and some donut holes)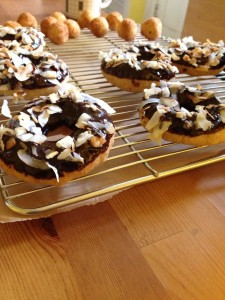 So, we'd never tried making donuts and finally had the cajones to do it. This dough was pretty sticky, but smelled wonderfully yeasty. Anyway, donuts need two risings, but we got really sleepy during the first one. We just let it rise all night, then rolled 'em out, cut 'em, and let 'em rise again in the morning. I have to say, it would have been much smarter to let them do their second rise overnight, but c'est la vie. They turned out really tasty, especially with the rich ganache and toasted coconut. I say give it a shot!
Donuts:
1 recipe donuts, from Vegan Dad
Topping:
1/4 c plain, unsweetened almond milk
2 Tbsp agave
heaping 1/3 c semi-sweet chocolate chips
Bring the milk to a light boil. Remove it from the heat right away, then stir in agave. Add most of the chocolate chips, and stir gently until they're all melted. Add the rest of the chips, and stir gently again. Let the mixture cool to room temperate, and dunk the tops of your donuts into the ganache. Pull up carefully, place back on the cooling rack, and then sprinkle with toasted coconut shreds. We used our left-over ganache for some quick, weird cardamom-black pepper chocolate-chocolate cupcakes!