Finding vegan treats on the road can be a challenge. Here are some spots that we tried while driving from Dallas, TX, to Seattle, WA.
Phoenix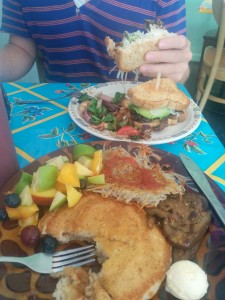 Bragg's Factory Diner: This all vegan diner was voted best pancakes in Phoenix for good reason: super fluffy, melt-in-your-mouth, and topped with a classic butter ball. Their bacon substitute is made from marinated eggplant slices, hence the ELT (instead of BLT). The bacon tastes pretty eggplant-y but not bad and is a refreshing take on fake meat. We also tried the Reuben, made with mushrooms instead of mock meat, which was messier but tastier than the ELT. After having such amazing pancakes we opted to take the French toast on the road, but once we tore into it, the texture was a little tough and disappointing, perhaps not the best road food. The restaurant used to be a pie factory and still has a large dessert case. We didn't have room for pie but took a brownie and a muffin on the road. The brownie was super dry and more like a cake, and the muffin was good but nothing special. Overall vibe: kitschy, bright, clean, punk rock mom-and-pop shop.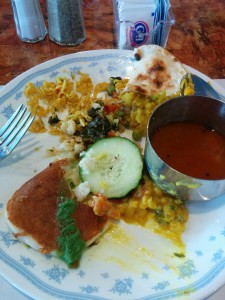 Ruchi Vegetarian Indian Cuisine: Just outside of Phoenix, stop in for a liberatingly labeled South Indian buffet. About 95% of buffet items were labeled vegan. One dosa per buffet eater comes with the price. Overall vibe: spacious Indian buffet catering to the local Indian vegetarian community.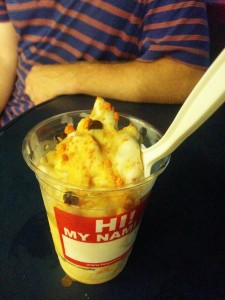 Nami: All vegan café, known for its tsoynami: think vegan Dairy Queen Blizzards. I was super pumped to find this rare dessert but found the result a little more ice-y and a little less creamy than I'd hoped. Still worth a novelty try. I had one of the special flavors: a Butterfingers rendition made with chick-o-sticks. Overall vibe: hipster hangout largely populated by university students.
Loving Hut: Yes, there is a Loving Hut in Phoenix. One of the Asian-themed varieties with various goods for sale including vegan jerky. We ordered fresh rolls with jicama (tasty!) and fresh juice as well as a noodle soup. Pretty standard if not a cut above its peers. Overall vibe: spacious, quiet, casual restaurant with the vaguely spiritual vegan propaganda trappings.
Los Angeles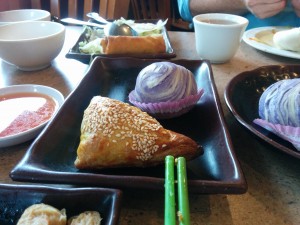 Fine Garden: Pumped to hear about vegan dim sum prospects, mostly disappointed with the actual fare. Seemed like reheated frozen dim sum. None of the dumplings or buns were very flavorful, but the BBQ pork puffs and taro puffs are amazing (if you like sweeter dim sum) and the spring rolls were tasty. Overall vibe: dingy, mid-sized mom-and-pop shop.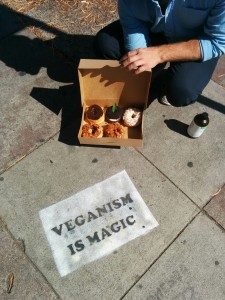 Donut Friend (!!!): Go there. Run by an ex-hardcore musician, selling band-themed donuts (like Poppyghandi) that come as elaborately designed or can be cut into sandwiches and filled and topped to order. Many donuts are already sold in sandwich-form, like the strawberry shortcake and PB&J. My favorite was the classic Bavarian cream. Overall vibe: modern, clean, friendly bakery.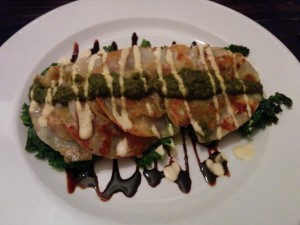 Sage Vegan Bistro: Not my first choice, but the food was good if expensive and high brow. I got butternut squash ravioli on a bed of kale with balsamic reduction. I didn't like the vinegary contrast and the ravioli were big and tough like flat, over-sized Chinese pot stickers. We also got a tempeh avocado club which was good but not super special for the price. They have KindKreme located inside the restaurant hawking desserts like ice cream sundaes and scoops and advertising ice cream sandwiches (but they were all out of cookies!). Overall vibe: hipster nosh, see and be seen (if you can stomach that).
Oakland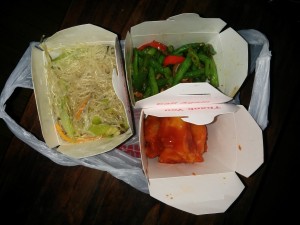 Nature Vegetarian Restaurant: I got to order my favorites: hairy gourd and vermicelli and dry fried green beans. We also tried mushroom flat noodles and Peking-style spare ribs. The spare ribs were an interesting mock meat made from what appeared to be fried dough. Overall vibe: authentic, mid-sized mom-and-pop restaurant.
Berkeley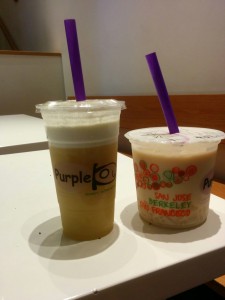 Purple Kow: Bubble tea place with vegan options (a novelty in my book). The extensive menu and customizability makes ordering like taking a survey: select item, type of milk, topping, amount of sugar, hot or cold, etc. Overall vibe: chain store catering to university students.
Portland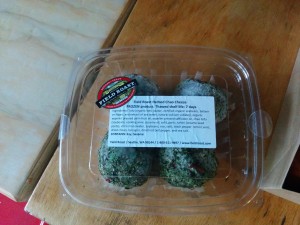 Food Fight: Small all vegan grocery heavy on the snacks. Excited to find Field Roast cheese balls, which oddly enough, I have yet to come across in Seattle. The balls come in a frozen four pack and are a convenient snack when thawed in the fridge one ball at a time. They also have an extensive collection of lip balm, some ready made foods, and a soft serve machine! (I didn't try any but was tempted.) Their website also has an extensive listing of local vegan restaurants and businesses. Overall vibe: small, locally owned vegan store.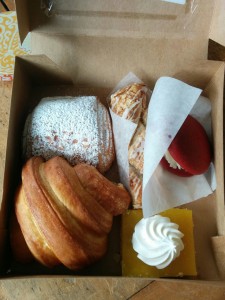 Sweetpea Baking Company: All vegan bakery right next door to Food Fight. I wouldn't have necessarily gone out of my way to go there but on a Sunday morning, I found that they had a lovely assortment of pastries including peach strudel, lemon basil tempeh croissants, and Pan au chocolat. The peach strudel was amazingly flaky and buttery but the croissant was less so, which I found odd, but didn't bother other food eaters. We also got a red velvet whoopee pie, which was pink but otherwise not very good or red velvety, and a lemon bar, standard and tasty. Overall vibe: hipster café.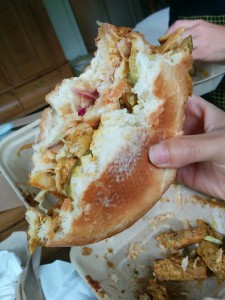 Homegrown Smoker Vegan BBQ: All vegan food cart with very heavy "comfort" food. Many of the sandwiches had mac and cheese on them. We got a grilled ham and cheese, which was on butter soaked sourdough and had a couple thin slices of tomato–too greasy and vegetable-less for me to feel great about. Luckily, we also got a Carolina Chicken Sandwich, which was a messy pile of chicken strips, pickles, and spicy coleslaw: delicious. Overall vibe: food cart corner.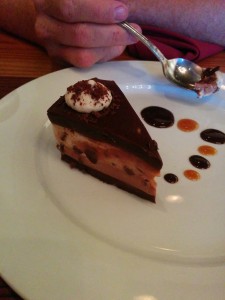 Portobello Vegan Trattoria: I was expecting something fancy but found myself in the middle of a newly erected commercial lot with three other businesses. Exteriors aside, this is one of Portland's most highly rated restaurants and it was a treat to have all vegan Italian. We tried the linguine with fried eggplant and marinara sauce and ravioli in cashew sauce. Although we didn't order it, they also offer Vtopian cheese plates. (Vtopian is an amazing vegan cheese maker based in Eugene, OR.) The best part though was the dessert: a super rich gluten-free (if that's important to you) peppermint patty mousse cake! Bonus: you can make reservations online for parties of two and up. Overall vibe: classy, clean strip mall.