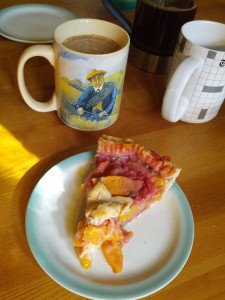 Wanna remind your senses that it's still summer? It might get your kitchen feeling like the bowels of hell, but this very pretty pie will smell, look, and taste divine.
The pinks and oranges look so beautiful together, and the basil is just the right touch. I wish there were some way to give the pie that basil flavor without cooking the lovely green leaves to a dull gray. Comment if you have any ideas!
Also, please don't skimp on the zesting! It's such an easy way to give your baked goods a much deeper profile.
You'll need:
One 8″ pie crust (whatever your go-to is) (increase amounts of ingredients if you're making a 9″ pie)
Five or six big, ripe, juicy organic peaches (go local!), skinned, pitted, and sliced about 1/8″ thick
About 8 oz. ripe organic strawberries, washed and diced
Several (8-12) leaves lemon basil (mine was from Wendy Town Farms!), finely minced
1/2 cup sugar
1/2 tsp salt
1/2 tsp cardamom
1/2 tsp cinnamon
1/4 cup orange juice
1 T tapioca starch
1/4 cup flour
zest from 1/2 a lemon
zest from 1/2 a lime
Preheat your oven to 450F. Get a pie pan outfitted with some dough for a nice, flaky crust. I made one with coconut oil, which was delicious but very hard to work with, so I'm not posting the recipe for it till I work out the kinks. Put it in the fridge until you're ready to fill it.
In a big bowl, very carefully stir together all of the pie filling ingredients. I think a peach pie turns out really nice when the slices of peach are still slices, so I really do mean carefully. When your slurry is ready, pull out the pie pan and gently fill the crust, making sure the peach slices are laid flat and the strawberries are dotted all throughout. I also made an effort to evenly distribute the basil.
If you have enough crust to cover the pie, go ahead. I only had enough to make a weird little flower and leaf shape on top. Give the whole thing a nice sprinkling of sugar and bake for about 50 minutes to an hour. At 40 minutes, I covered my pie with foil to keep the crust from burning.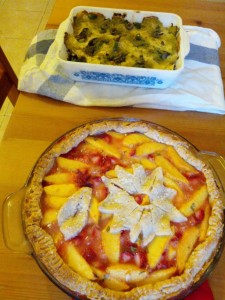 Make sure to let the pie cool completely before eating. This is not an overly sweet pie — it relies on very ripe fruit for a lot of its flavor. If you find that it's not sweet enough, you'll probably like it better a day old. Or you'll just serve it with ice cream <3