September 30, 2017 – Soul Food
Saturday, September 30, 2017
VBC Meeting #55: Soul Food
Host of the Month: Caroline and Drew
Location: Denton, TX
This is what we made:
Our 55th meeting was a soul food theme with lots of warm and hearty dishes plus two banana puddings!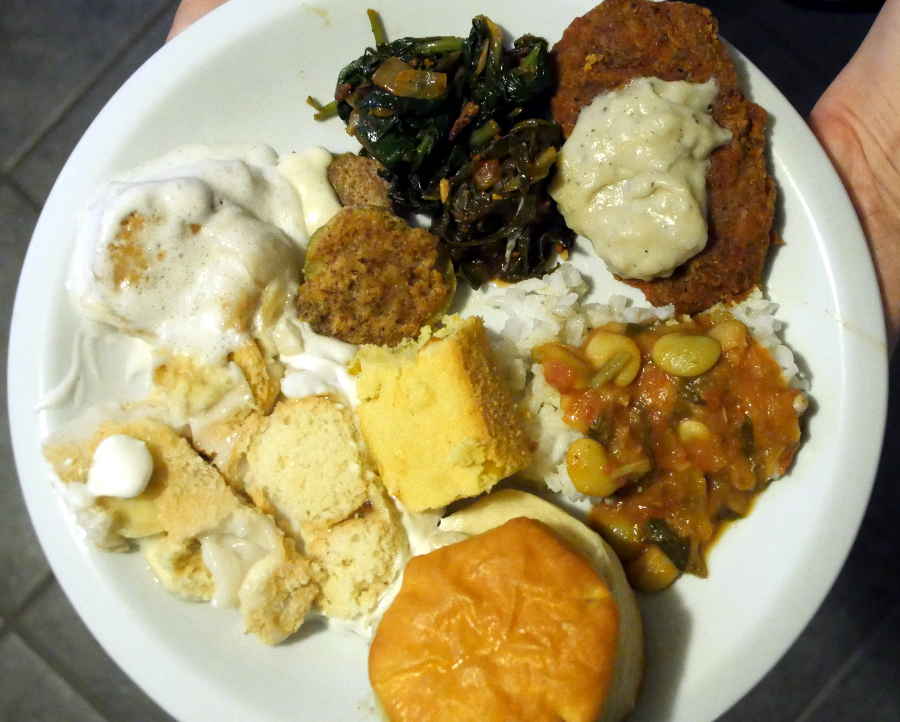 Lauren: Country Fried Steak with Cream Gravy
Lauren made a seitan steak using this vegan country fried steak recipe with wheat gluten, pureed pumpkin, garbanzo bean flour, and spices. Rather than using that recipe's crispy coating, she opted to make a batter from a vegan fried chicken recipe with all-purpose flour and a creole blend of seasoning. For the coating liquid she used almond milk, flax egg, and more creole style seasoning. She fried the steaks in canola oil. She served the entrée with a gravy consisting of almond milk, garbanzo and all purpose flours, nutritional yeast, garlic powder, onion powder, salt, black pepper, and nutmeg.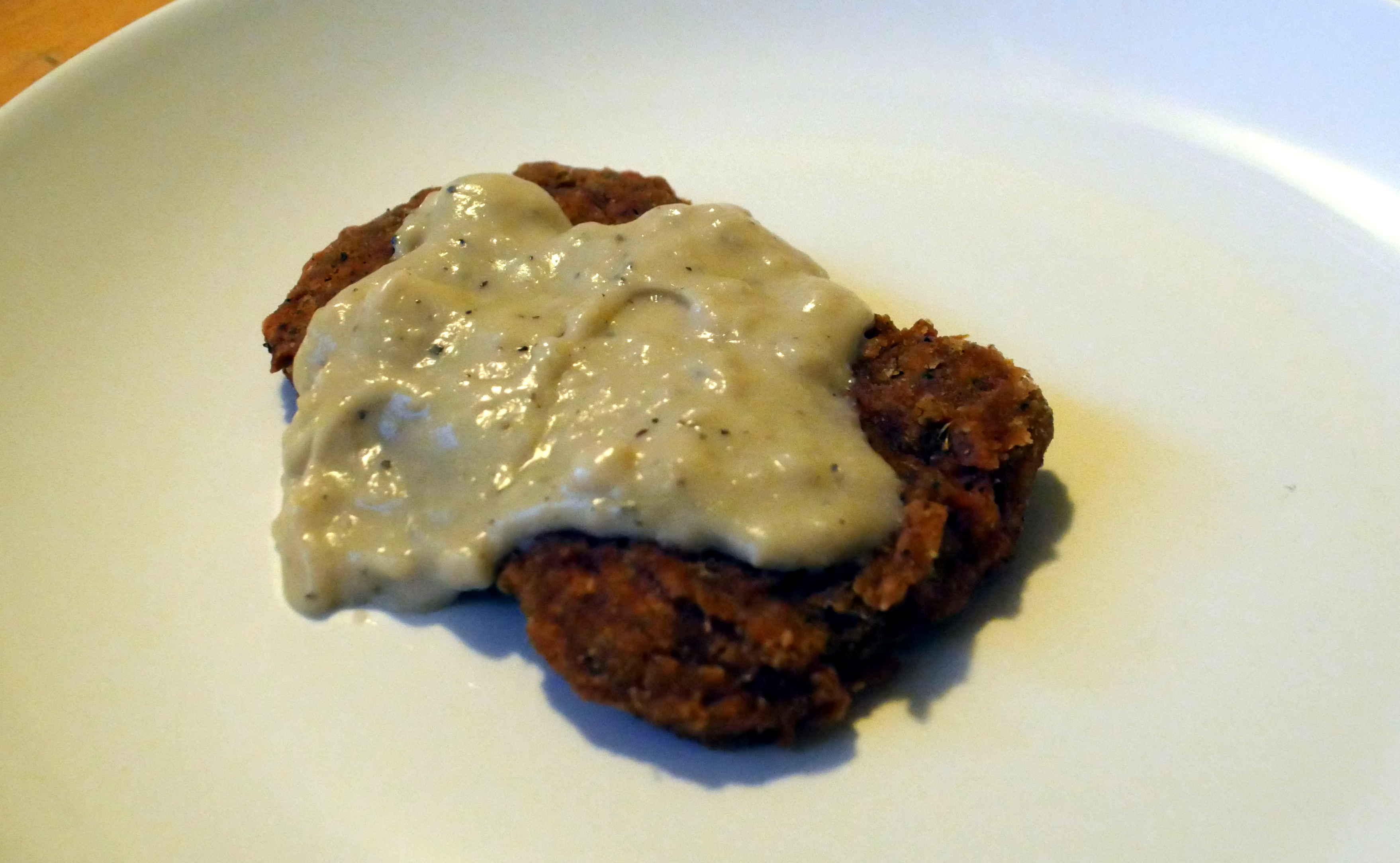 Billy: Soul Greens
Billy used mature arugula from his garden, home grown onions, and homemade bacon. He cooked it in a frying pan with canola oil, seasoning the dish with lemon juice, nutritional yeast, chili powder, garlic powder, salt, and pepper.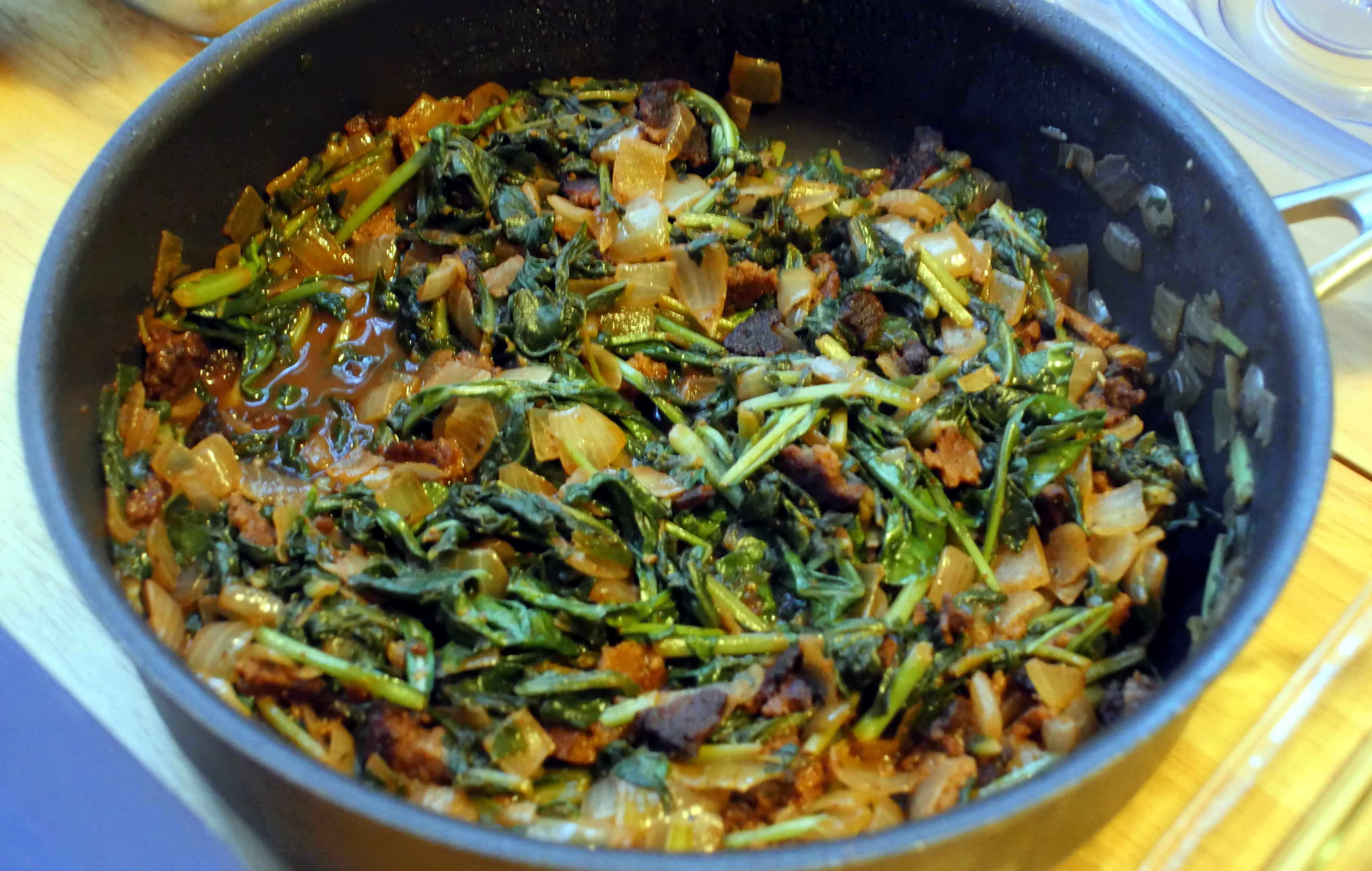 Caroline: Fried Pickles
Caroline coated sliced dill pickles in a blend of almond meal and tapioca starch mixed with water, spiced with garlic powder, onion powder, cayenne pepper, salt, and pepper. She started shallow frying the pickles with coconut oil but switched to canola oil because the smell of coconut and pickles was freaking her out. She served the pickles with a side of Daiya Homestyle Ranch Dressing.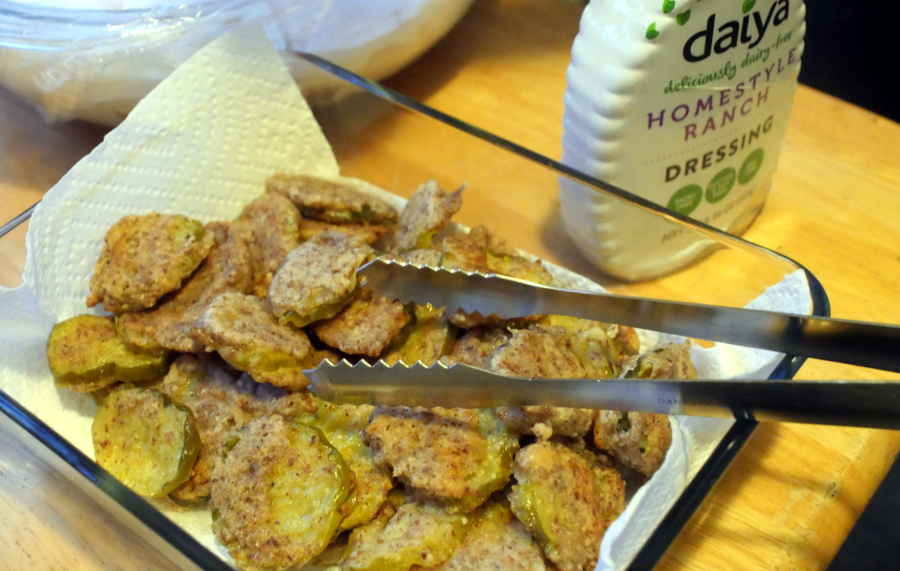 Drew: Collard Greens with Vegan Bacon
Drew cooked up some collard and mustard greens with Light Life Bacon, tomato, garlic, paprika, and onion powder.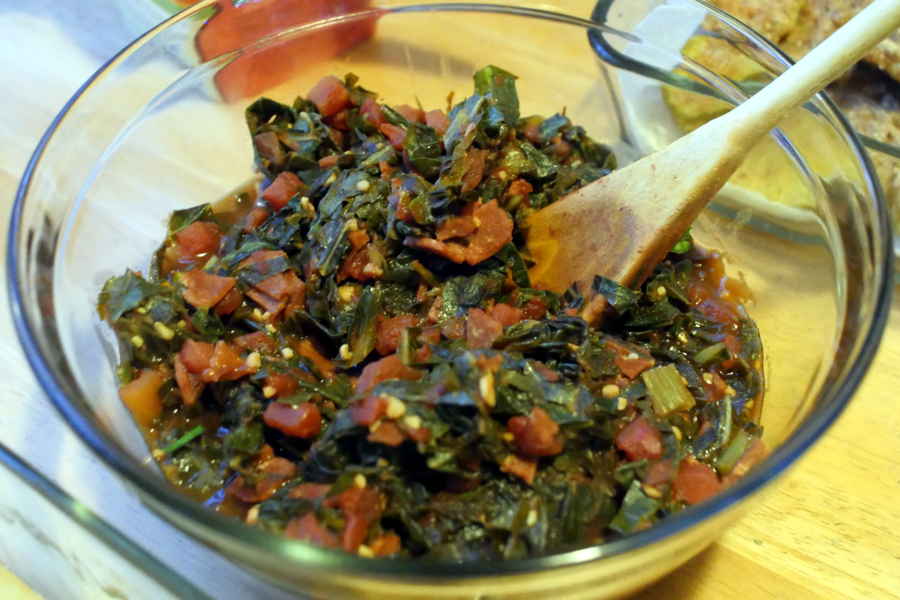 Shannon: Southern Vegan Banana Pudding; Sprouts Tube Biscuits
Shannon made a vanilla pudding with almond milk, a can of coconut milk, sugar, corn starch, and salt. She layered it with Sprouts brand vanilla wafers, bananas, and whipped cream on top. Initially she tried to make a vegan whipped cream with a can of coconut cream, but since the can turned out to be a dud (too much water), she used So Delicious Cocowhip! (the original full fat kind).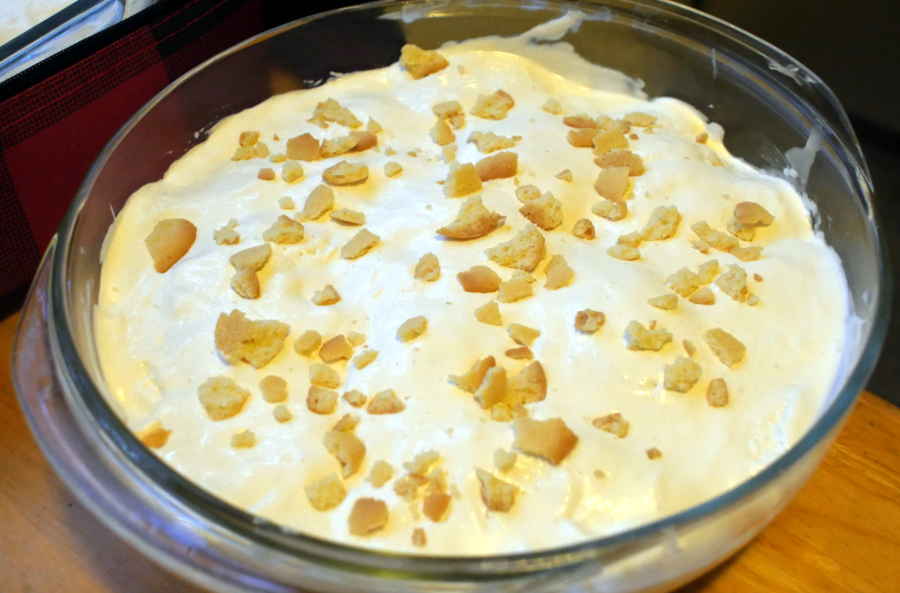 She also brought some prepared biscuits out of a tube that she also got from Sprouts. These were good enough to quest for in the future.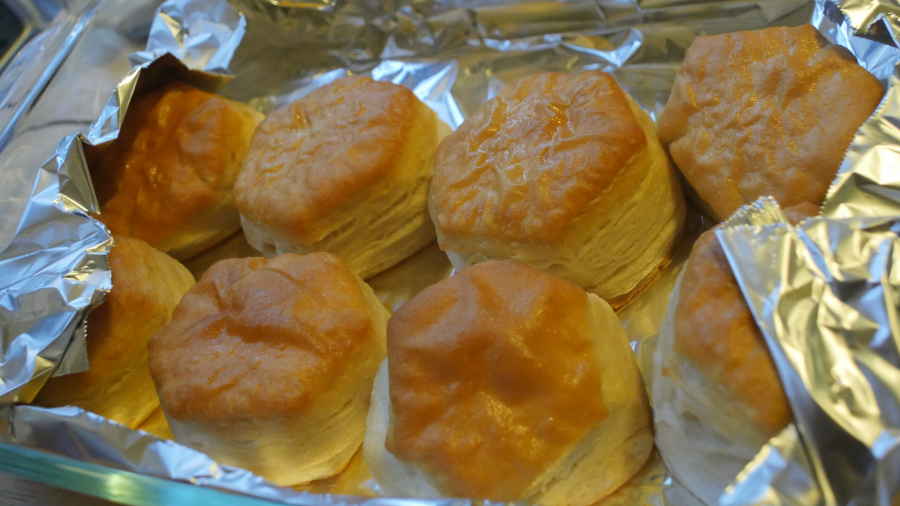 Slynn: Banana Pudding
Slynn used Midel Vanilla Snaps for the cookie base of her banana pudding. She placed a layer of bananas over them and spread vanilla pudding and So Delicious Cocowhip! (the lite kind) over the top. She made her vanilla pudding with beverage-style coconut milk, vanilla, sugar, and corn starch.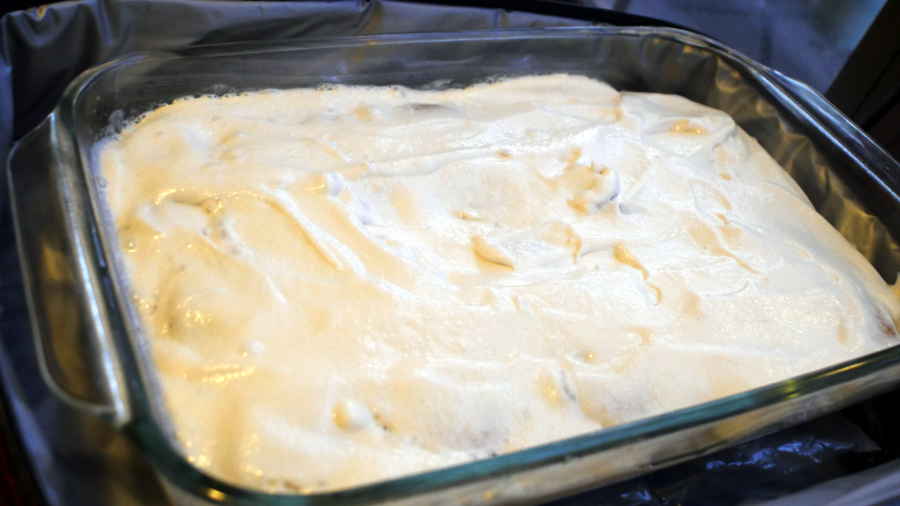 John: Corn Bread
John went with making the easiest cornbread ever because it seems like a good idea to keep things simple when you break your arm flipping off a bike in Portland. He put corn meal, all purpose flour, frozen corn, and sugar into the batter. Because he didn't want to go to store (got to keep it easy as possible), he used oil instead of butter and used water instead of non-dairy milk. He offset possible resulting flavor deterioration effects of the substitutions by supplementing more oil and salt.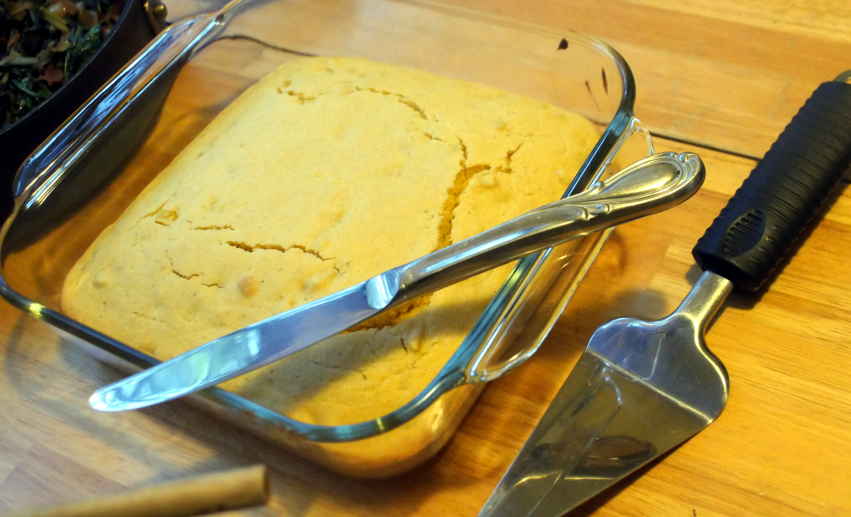 Lilly: Okra Stew with Rice
Lilly made an okra stew with lima beans, fresh spinach, jarred stewed tomatoes, and olive oil style Earth Balance. She cooked the stew in a sauce pan on low heat for an hour. She tried to make a barley accompaniment but it burned and tasted too smoky, so she prepared some rice instead and shallow fried some okra seeds for a garnish.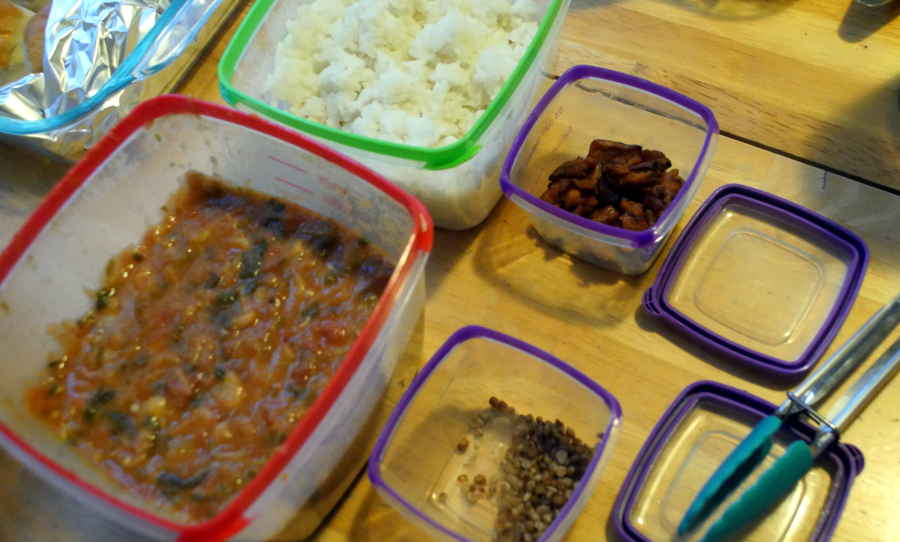 Here is a final look at the spread: