September 26, 2021 – Jewish Cuisine
Sunday, September 26, 2021
VBC Meeting #103: Jewish Cuisine
Host of the Month: Lauren and Billy
Location: Ponder
This is what we made:
With multiple Jewish holidays in September this year, we decided to serve some Jewish cuisine.
This is what we made: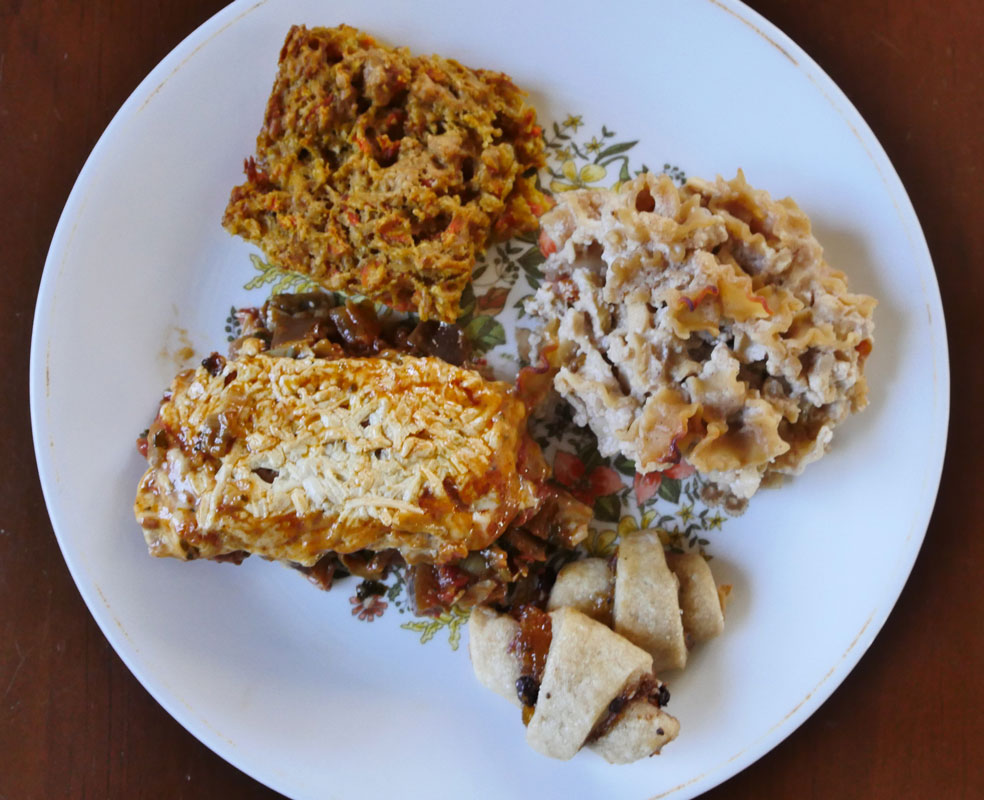 Shannon: Vegan Sweet Noodle Kugel
The traditional non-vegan version of a noodle kugel uses egg noodles. The closest Shannon found to that shape was a protein noodle; even though it was shorter than the traditional noodles, it had the crinkle thing going on. She used Kite Hill Cream Cheese, mixing it with silken tofu where the recipe called for soft tofu. To the mixture, she added 1/4 cup agave, 2/3 cup golden raisin, half a cup of sugar, 2 teaspoons vanilla, 1 teaspoon cinnamon, and a dash of cardamom. The recipe called for a medium pear or apple, so she used half an apple and a small pear. This all went into a casserole dish, and baked at 350° for 35 minutes.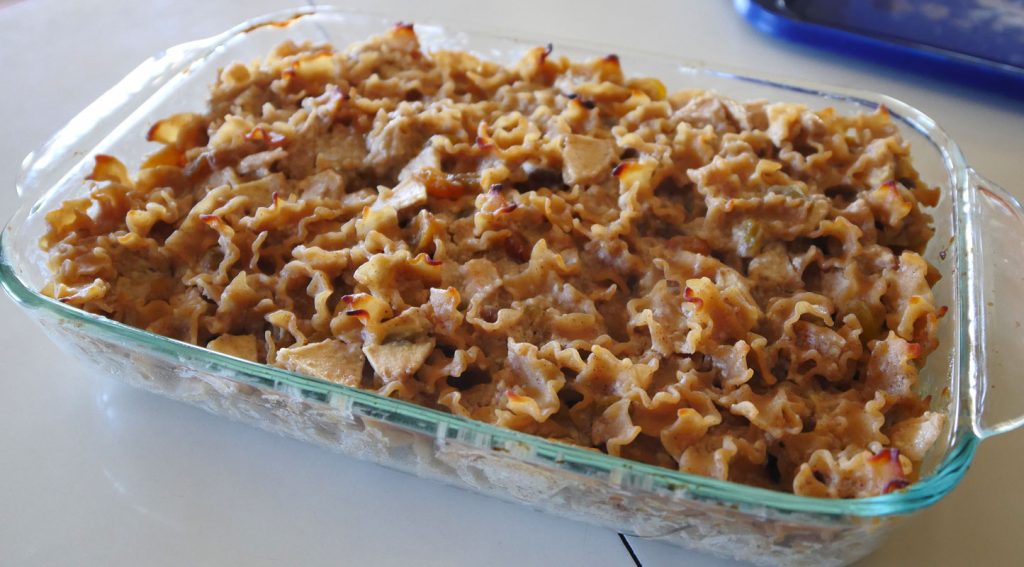 Billy: Eggplant Artichoke Matzo Mina
Billy's matzo mina was based on the Eggplant Matzo Mina recipe from Nava Atlas's Vegan Holiday Kitchen. He cooked eggplant in a pan with olive oil (instead of roasting it as the recipe instructed) and added artichoke hearts (not in the recipe), onion, garlic, tomato sauce, diced tomatoes, fresh parsley, fresh basil, smoked paprika, oregano, salt, and pepper. He put this into a casserole dish. He didn't find matzo at the stores he visited, which he was supposed to put on top of the vegetable mixture, so he made his own with flour, water, and a prayer. On top of that he put vegan mozzarella shreds and baked the dish at 375° for 45 minutes.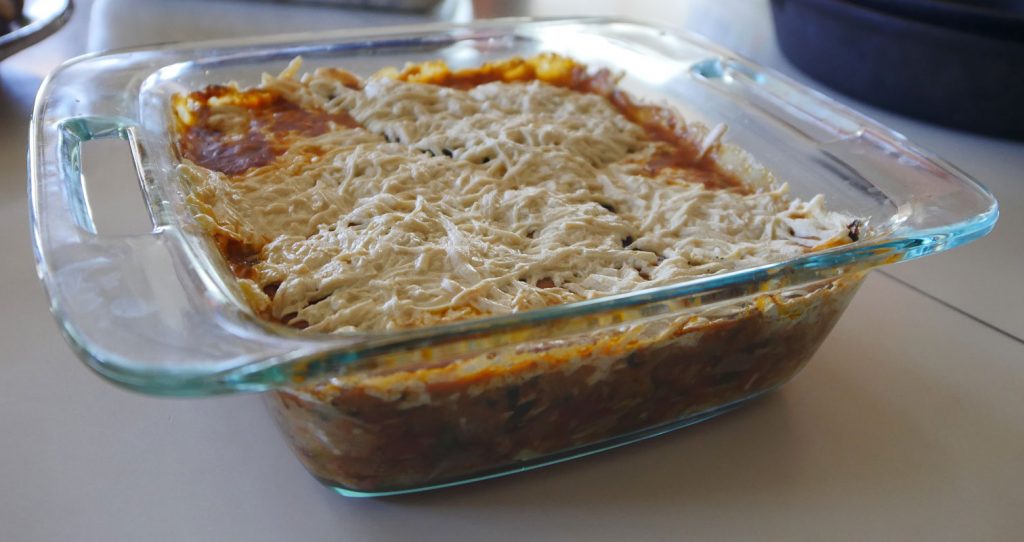 Drew: Turnip Carrot Kugel
Drew followed a recipe for parsnip carrot kugel, but he substituted turnips that he picked up at the Denton Community Market for the parsnips. Though it is a side dish, not a dessert, the recipe is sweetened with maple syrup and flavored with cinnamon and ginger. Other included ingredients: flour, baking soda, baking powder, oil, water, and lemon juice.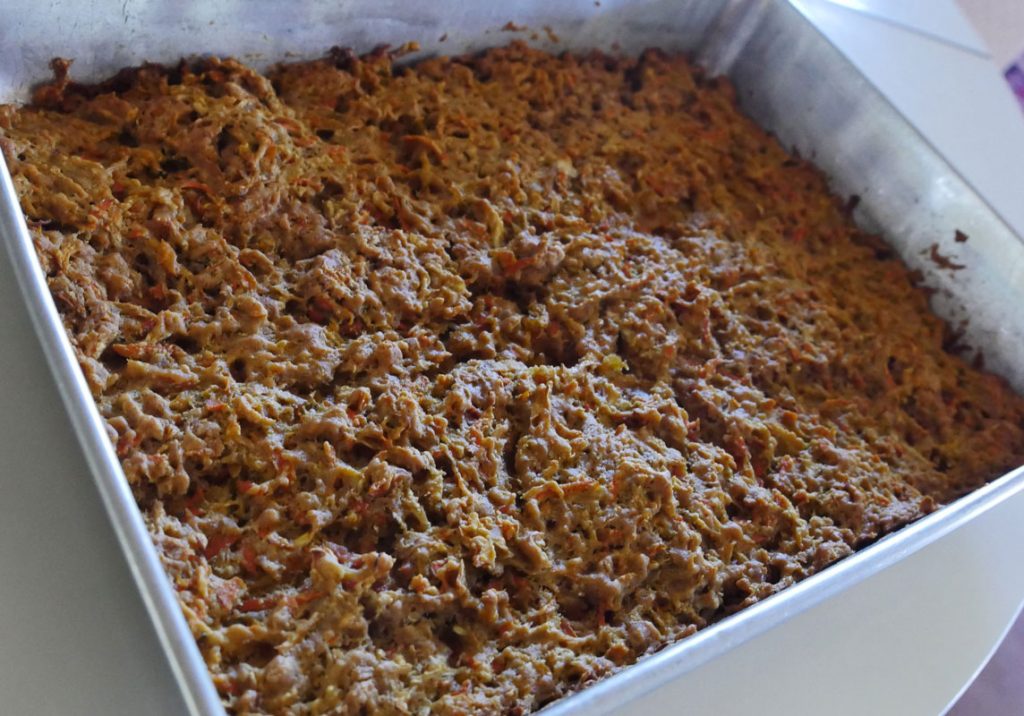 Lauren: Rugelach
Also following a recipe from Vegan Holiday Kitchen, Lauren made the rugelach dough with all-purpose flour and a little whole wheat flour (instead of whole wheat pastry flour), two sticks of Earth Balance, a tub of Tofutti cream cheese, and salt. She also added vanilla and a little sugar, as she saw these ingredients included in other rugelach recipes. The dough was divided into four pieces and refrigerated as disks over night. These were rolled into approximately 9″ circles and topped with filling. Most of the rugelach got the chocolate, pecans, cinnamon, and sugar topping which was one of two filling recipes given in the book. A quarter of the dough got apricot preserves, with the remaining crumbs of the aforementioned filling. The circles of topped dough were cut like pizzas into twelve pieces and each piece was rolled into a crescent shape, brushed with vegan milk, and sprinkled with sugar for baking at 350° for 25 minutes.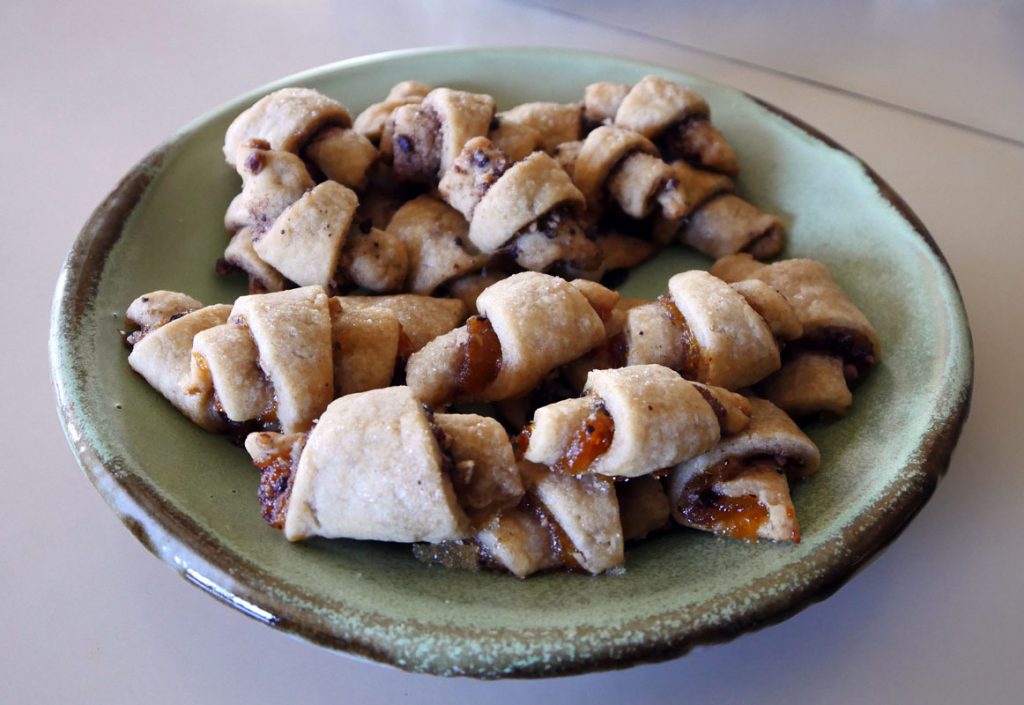 Slynn: Babka
In the words of Slynn:
Many mistakes were made in the production of this babka. I won't detail them all here, but I was able to bake it, and it tastes pretty good. Not being Jewish myself, I did some research into symbolic foods for Rosh Hashanah, which occurred earlier in September, and I found this recipe to follow. I made the pizza dough recipe from 100 Best Vegan Baking Recipes and added cinnamon to the dough instead of herbs. The filling is dates cooked on the stove with a lot more water than is indicated in the recipe, cinnamon, and Enjoy Life chocolate chips. Served with pomegranate for our new fruit. I probably put too much filling in!