September 2020 – Labor Foods
Many Days, September 2020
VBC Meeting #91: Labor Foods
Host of the Month: The Internet
Location: The Internet
For September, we went with a suggestion by Shannon to relate things to Labor Day. That could be Labor Day Foods…or Workers' Foods or Working [Wo]man Foods. You could make a food traditional to a worker's lunch or food made to celebrate the Labor Day holiday or food to bring about childbirth (I was going to say…"to bring about child labor", but that seems more like putting kids to work in violation of laws and such which probably isn't the best thing to bring about).
This is what we made (in the words of those who made it):
Lauren: Butternut TVP Pasty
For the working human foods, I made a pasty, historically a food of the working class that could be made ahead and taken to work for lunch and heated over fire. I made a hot water crust with Earth Balance Buttery Sticks, flour, hot water, and salt. I made a filling with textured vegetable protein seasoned with stuff that probably included (it's been several days) black pepper, cumin, vegetable bouillon, etcetera that I combined with Billy's home grown butternut squash and frozen peas. I pressed out the dough with my hands, laid on the filling, sealed it up, and baked the little packets of food.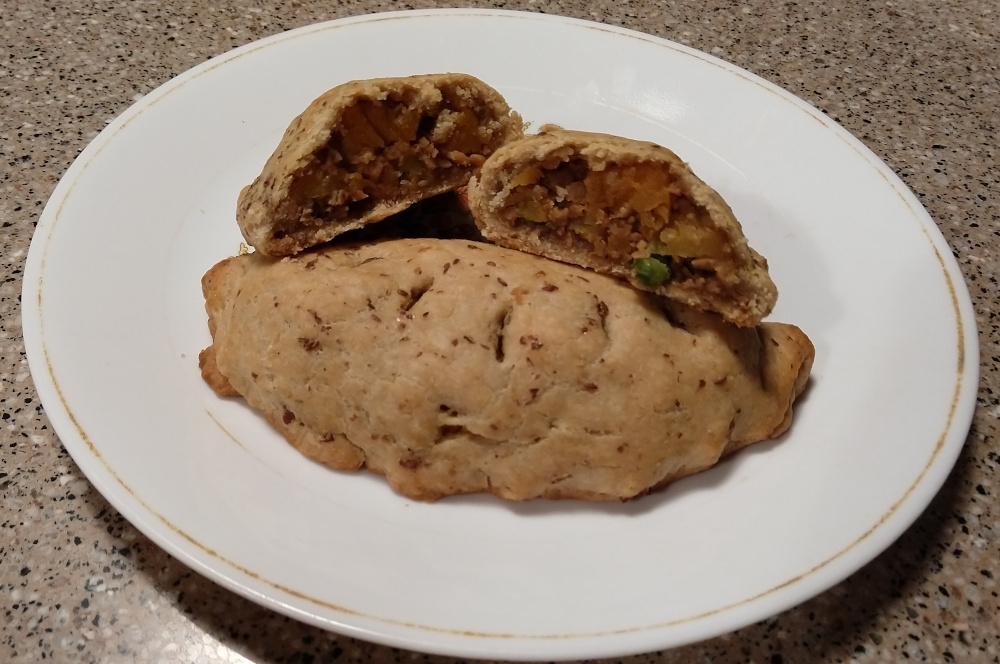 And speaking of butternut, earlier in the month Caroline came over and together we made the butternut squash steaks with vegan ranch from Vegan For Everybody with a side of Billy's home grown Swiss chard sautéed with cannellini beans, black eyed peas, onion, garlic clove, bbq sauce, white wine vinegar, and other seasonings. Macy was there too! Oh, and also Billy!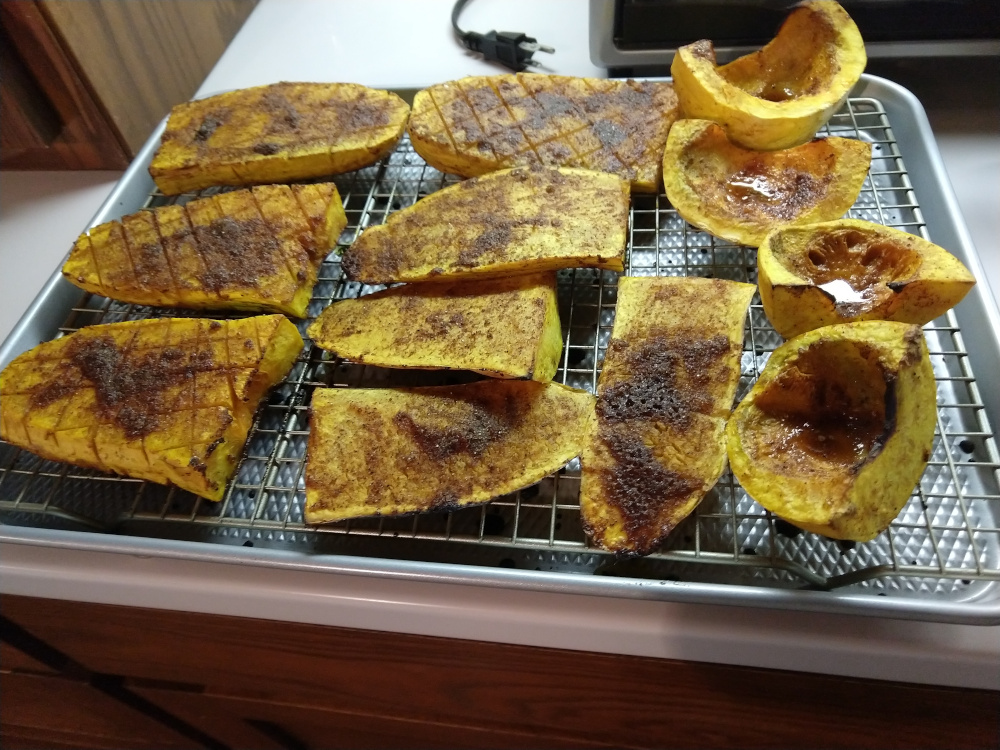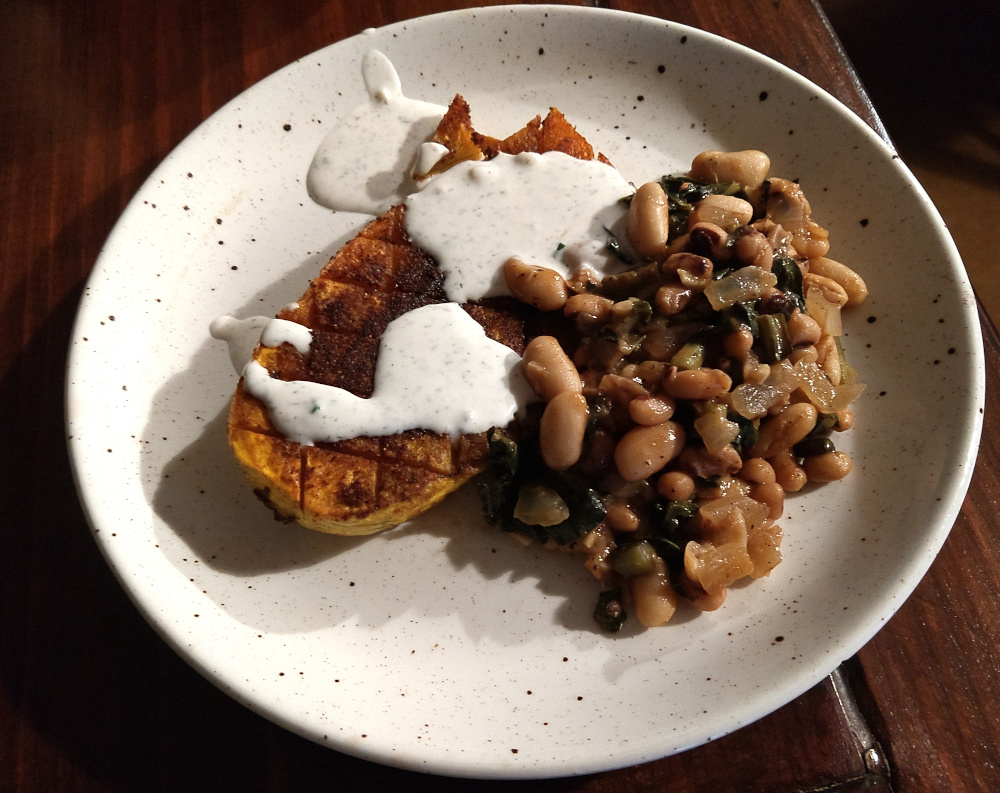 Slynn: Fig and Apple Crumble
I made a fig and apple crumble inspired by this recipe: https://theshadybaker.com/2018/03/apple-and-fig-crumble/. At the beginning of September, my parents brought over some figs and apples picked at a friend's property in Pottsboro. I didn't have the patience to weigh out the ingredients, so I used this chart as a guide: https://www.dovesfarm.co.uk/hints-tips/cheat-sheets/us-cups-conversion-table. I guess that makes it "rustic" to not measure out everything exactly. It is difficult to get an attractive photo of this type of thing, but here is one to prove I made it.
Also, the website where I found the recipe has a nice post about shearing sheep in Australia: https://theshadybaker.com/2020/09/shearing-2020/. The shearing team brings their own cook!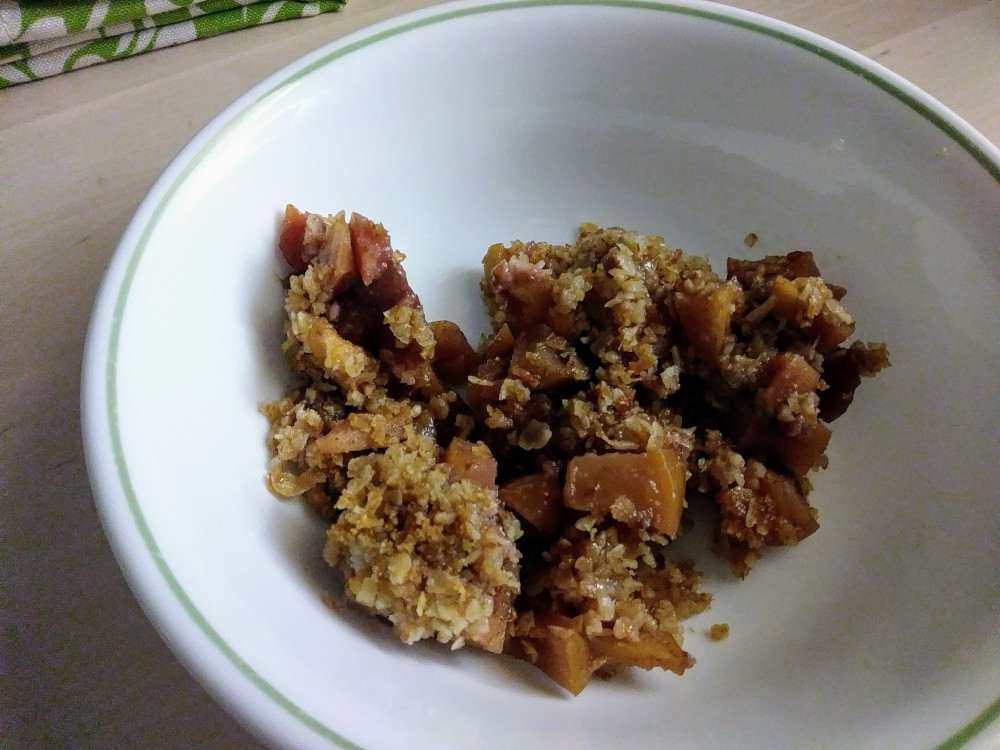 Shannon: Vegan "Beef" Stroganoff
To me, workers' food is hearty and filling.  So I made "beef" stroganoff (really, I just wanted to make beef stroganoff).  I used this recipe for vegan mushroom stroganoff and added seitan to it (I've been really into seitan lately; I had no idea how much protein is in it!).  I also cut the recipe in half, ditched the white wine and also didn't use the mustard or nutritional yeast.  And I used fettuccine noodles.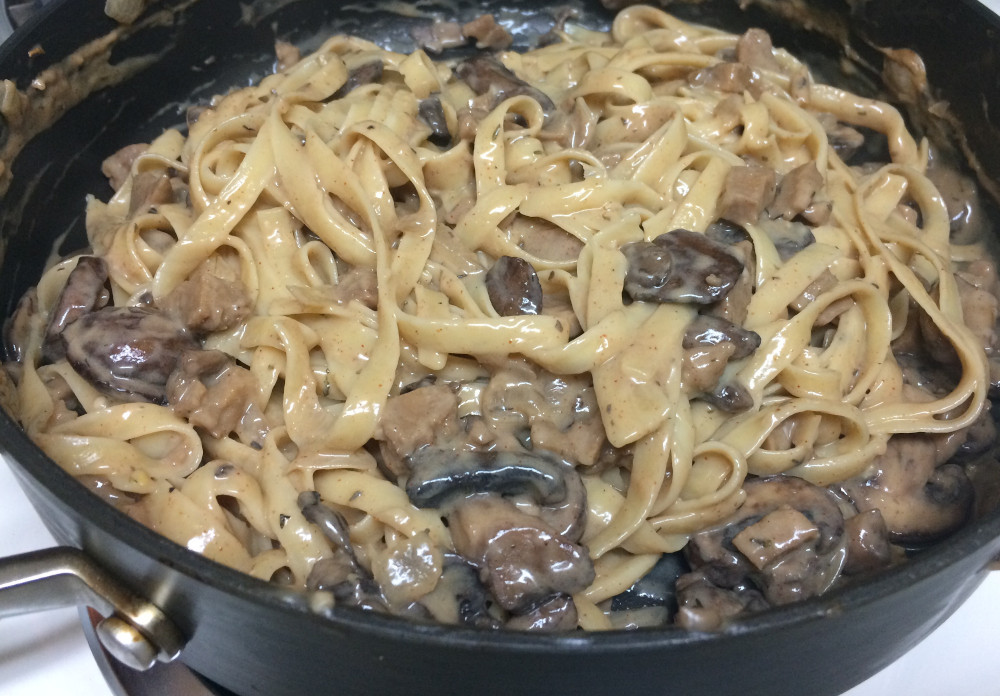 I think if I did it again, I would use the base, but nix the mushrooms and just use seitan since that would make it more like the beef stroganoff I remember from childhood.  And I would also half the paprika.  There was a lot of paprika (also, I used smoked paprika; I might use a different kind).  Still pretty good though.  Even half the recipe didn't last long with me (there's a reason I don't keep pasta in my house).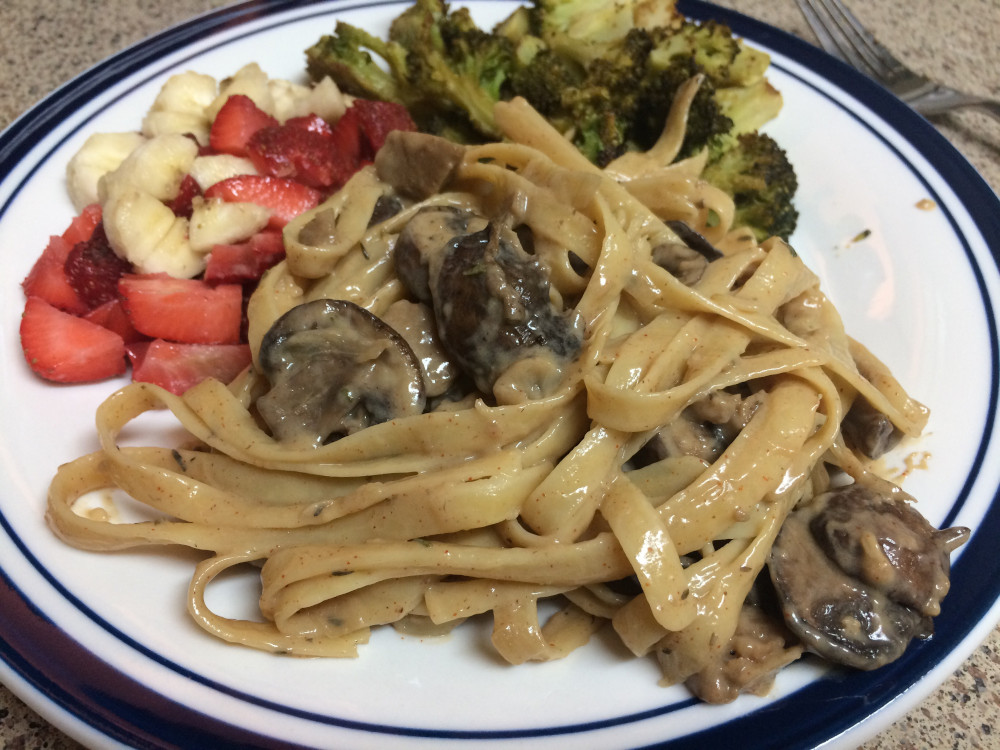 Caroline and Drew: Sausage Tacos
We made sausage tacos: "Workin' man's food!" -Drew
Ingredients:
Vegan sausage (meant to get chorizo but got Italian by accident)
Onion
Garlic
Bell pepper
Yellow squash
Olive oil
Nature's Seasonings
Cumin
Smoked paprika
Trader Joe's vegan chicken broth seasoning
Refried beans
Flour tortillas
Avocado
Cilantro
Slice onion and garlic. Sauté in olive oil.
Slice squash and bell pepper. Add to sauté.
Add dash of Nature's Seasonings and smoked paprika.
Heat refried beans on stove. Add Nature's Seasonings and chicken broth seasoning.
Heat tortillas on stove.
Lastly, heat the sausages for about 1 minute per side (how many sides does a cylinder have?!?!???!?!?!?!?!).
Serve.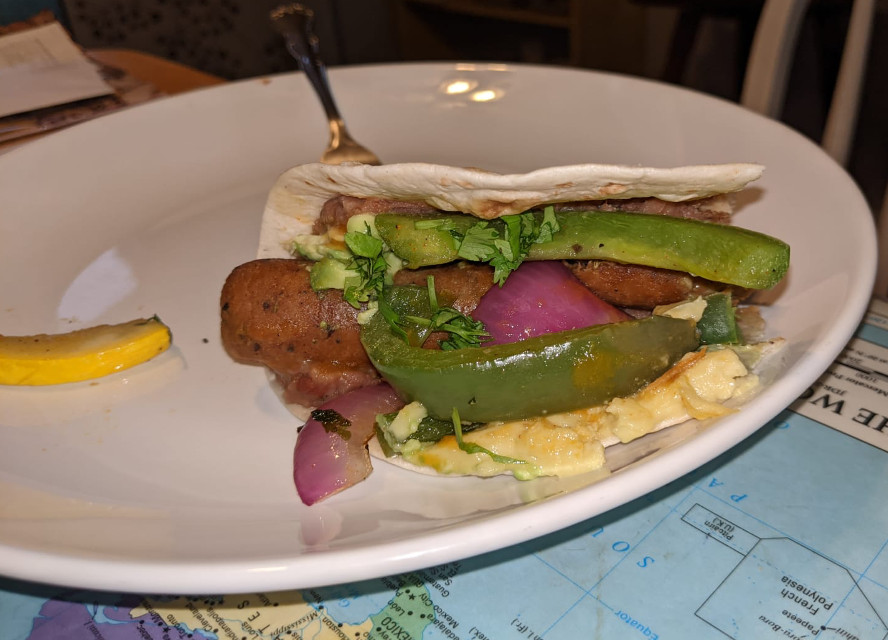 Billy: Seitan Jerky
Jerky is a work-man-like/pro wrestling-type food, so I decided to try making wheat gluten-based jerky with texture approximating Primal Strips, which also contain shiitake (as well as other) mushrooms for texture.

I used our vegan bacon "dark" dough recipe as a starting point and followed the Primal Strips ingredient deck, which was nearly identical but with mushroom. After hydrating the mushrooms they were pulsed in the food processor longer than desired, which added some chewy texture, but not the desired stringiness.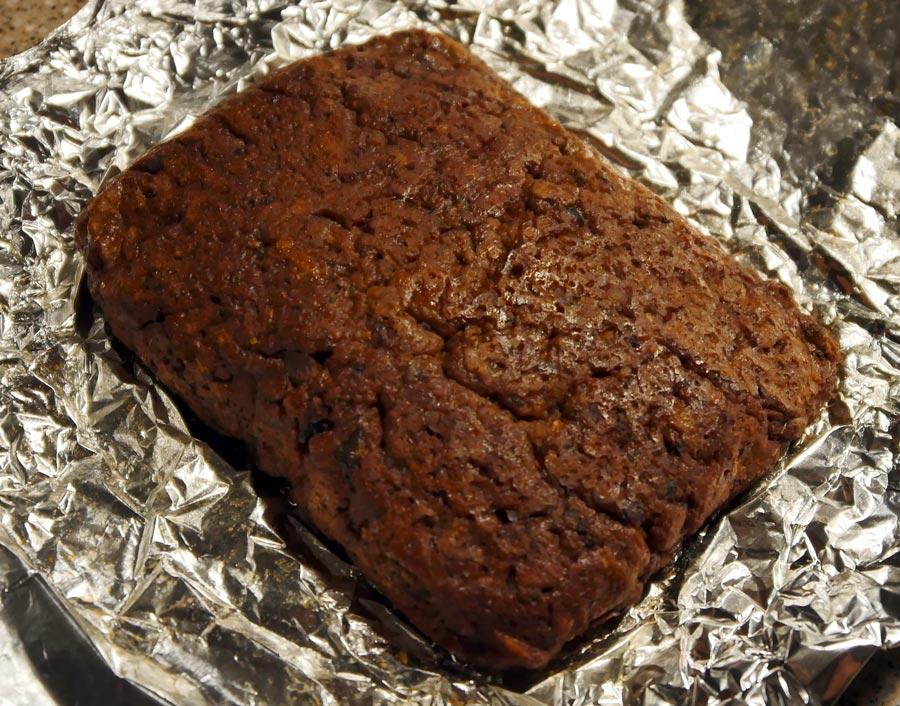 After dehydrating the strips for a couple hours they were packed in a plastic bag with olive oil similar to Primal Strips. Pleased with the results, but next time I'll be chopping the mushrooms into long slices by hand instead.