September 18, 2022 – We Love Breakfast
Sunday, September 18, 2022
VBC Meeting #115: We Love Breakfast!
Host of the Month: Lauren and Billy
Location: Ponder, Texas
We've done a breakfast theme and a brunch theme before, but since we are very fond of the foods eaten to start the day, our theme was We Love Breakfast!
This is what we made: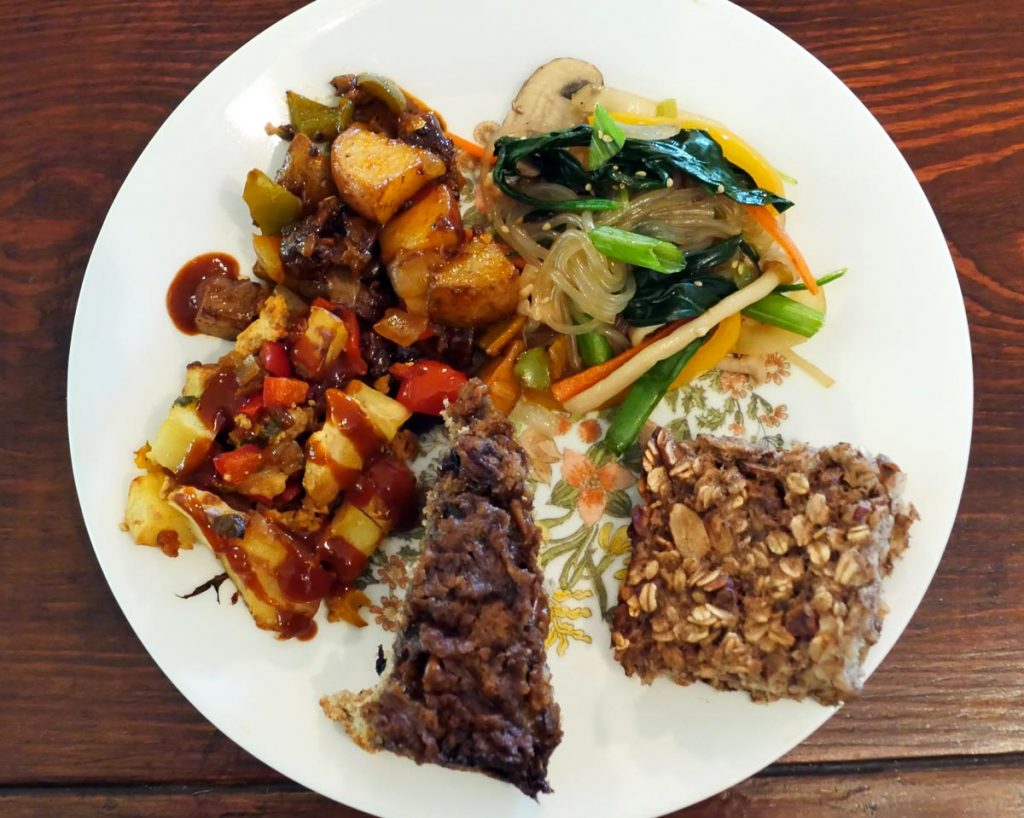 Minji: Japchae (잡채)
I'm not sure if this is a common breakfast food or not, but it was very delicious, so one should eat it any time of the day possible. This was the first time that Minji had made this dish, so her mom gave her the tip to overseason it because all the flavor would soak in and become subtle otherwise. Minji decided to use only half the sauce anyway and thought in the end that her mom was right. We still liked it very much though and thought nothing of a lack in flavor. For the sauce, she mixed together soy sauce, sugar, sesame oil, garlic, and black pepper. To prepare the noodles, she soaked glass noodles in cold water for thirty minutes. Meanwhile, she stir fried carrots, yellow bell pepper, and onion. She separately stir fried mushrooms and added a spoon of the sauce and blanched spinach that she then squeezed the water from and seasoned with sesame oil and salt. After boiling the noodles for three or four minutes and letting them cool, she tossed them in a large bowl with the veggies, sauce, chopped spring onion, and sesame seeds.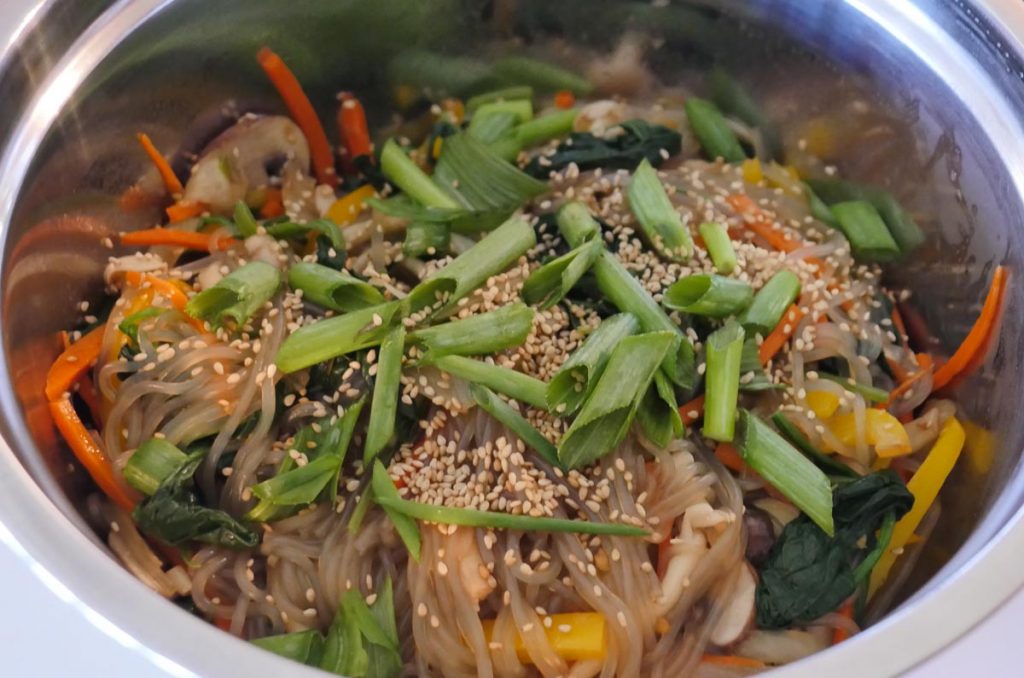 Lauren: Blueberry Coffee Cake
For a breakfast item, Lauren made a blueberry coffee cake from a recipe that she has been making in a veganized form for several years.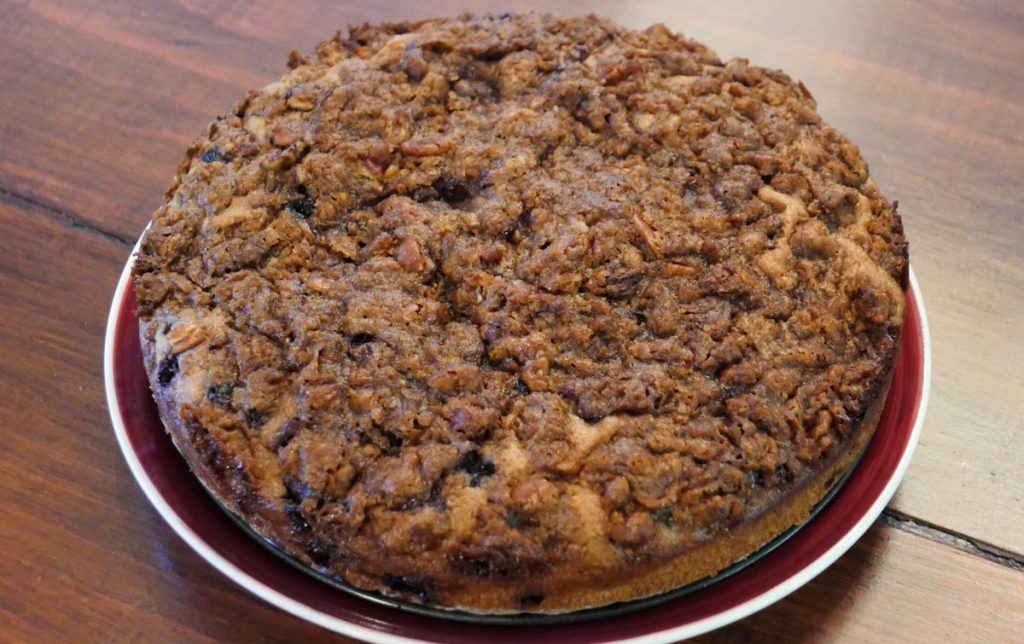 To make the coffee cake vegan, she used Natural Grocer's vegan butter, a flax egg, and Silk Nextmilk in place of butter, egg, and dairy milk. She made it a little healthier by using whole wheat flour. Vanilla and almond extracts, baking powder, salt, and wild blueberries also went into making the batter. For an added topping before going into the oven, she cut more of the vegan butter into a blend of brown sugar, flour, cinnamon, and chopped pecans. The coffee cake baked at 375°F for 45 minutes.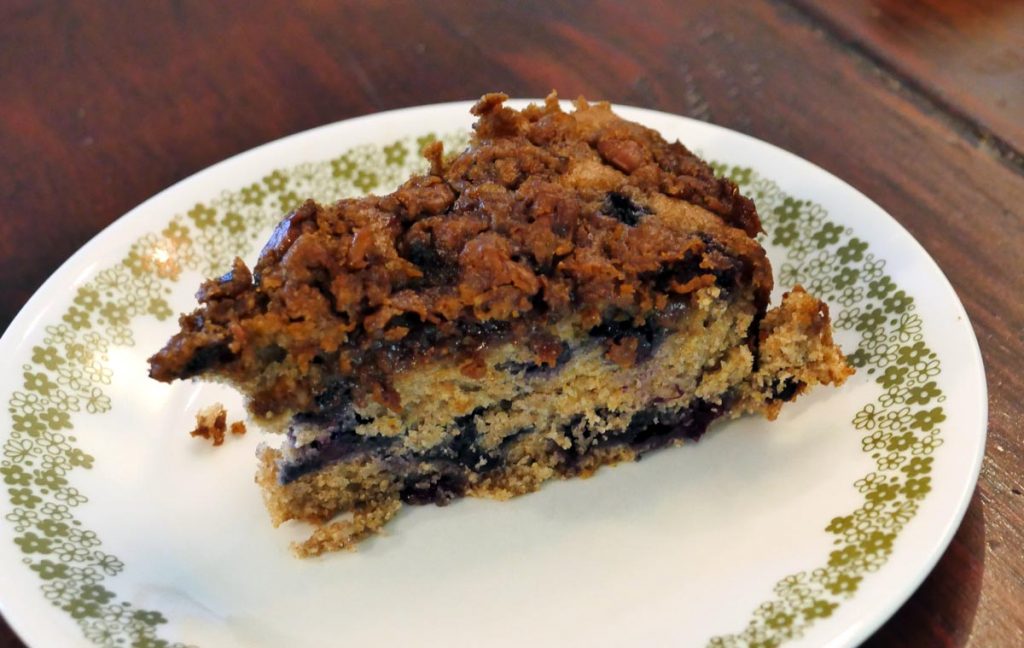 Kori: Tofu Veggie Scramble
Kori made us a tofu veggie scramble. She steamed whole potatoes in her Instant Pot then diced and air fried them. She sautéed onion, red and yellow bell pepper, and kale. For the tofu, she made it vegan bacon bit style (she calls it tofu bacon crumbles) using an extra firm block of tofu that she crumbled and coated in a mixture of Bragg Liquid Aminos, nutritional yeast, garlic powder, paprika, maple syrup, and liquid smoke mixed with enough water to form a paste. She baked the crumbles for 350°F for 40 minutes. She mixed the veggies and tofu together and warmed it in the oven then added the air fried potatoes before serving. She served it with barbecue sauce on the side for extra flavor and moisture.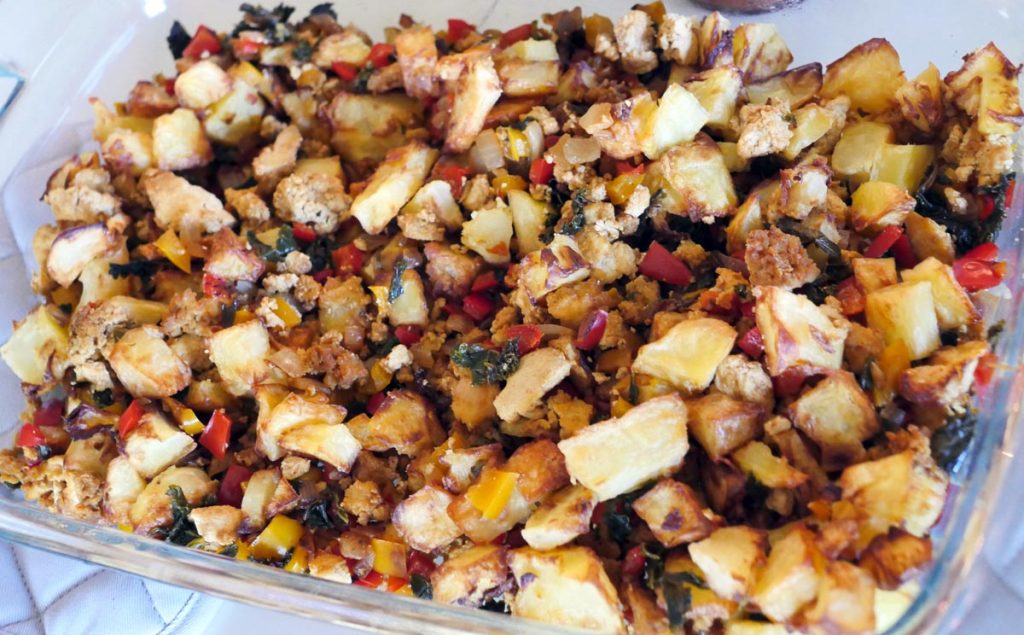 Billy: Breakfast Potatoes
Billy made a dish in some ways similar to Kori's but that turned out different enough for us to eat plenty of both. He microwaved potatoes that he then chopped and stir fried with onion, bell pepper, Field Roast Spicy Mexican Chipotle sausage, and Kroger's Simple Truth Non-Dairy Cheddar Style shreds. He seasoned the amalgamation with smoked paprika, garlic powder, chili powder, pepper, salt, and nutritional yeast.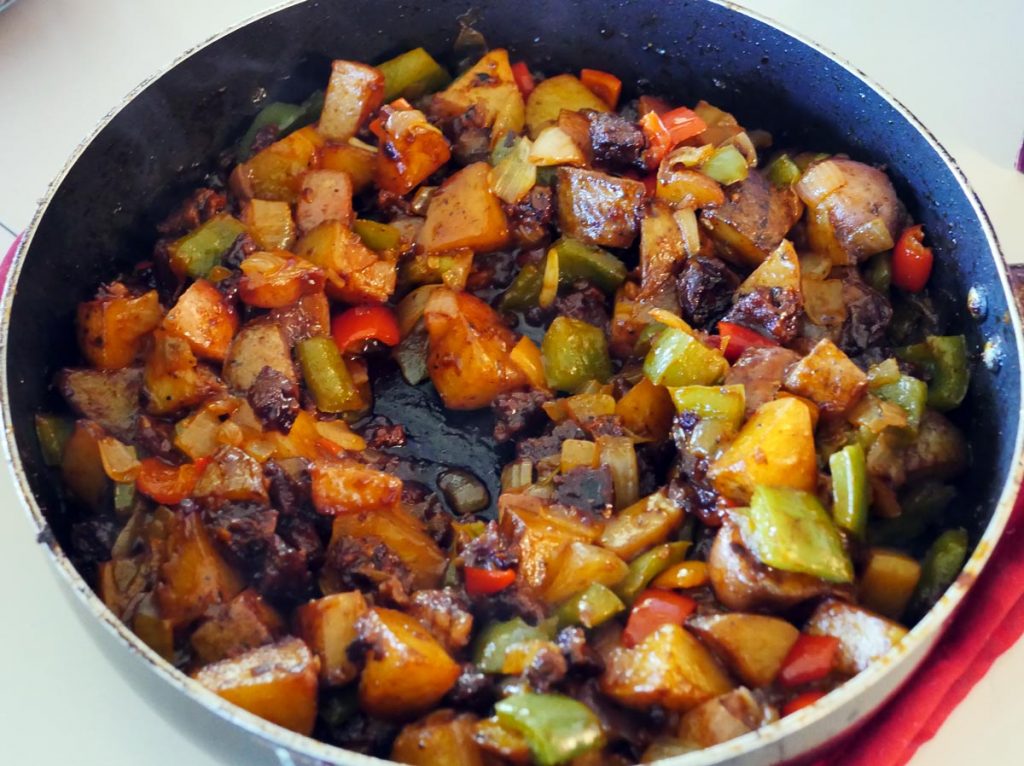 Drew: Baked Oatmeal Bars
Drew made breakfast banana oatmeal bars by first combining dry ingredients including oats, pecans, almonds, cinnamon, allspice, baking powder, and salt, which he dumped into a greased pan. In a separate bowl he mixed mashed banana, maple syrup, oat and almond milks, and almond extract (he didn't have vanilla). He gently mixed the wet ingredients into the dry then baked the bars at 375°F for 45 minutes. We were contemplating why the recipe has the dry and wet ingredients combined in the baking pan rather than a bowl. Oh well. By the way, Drew doubled the recipe to be able to use a 9×13″ pan instead of a 9×9″.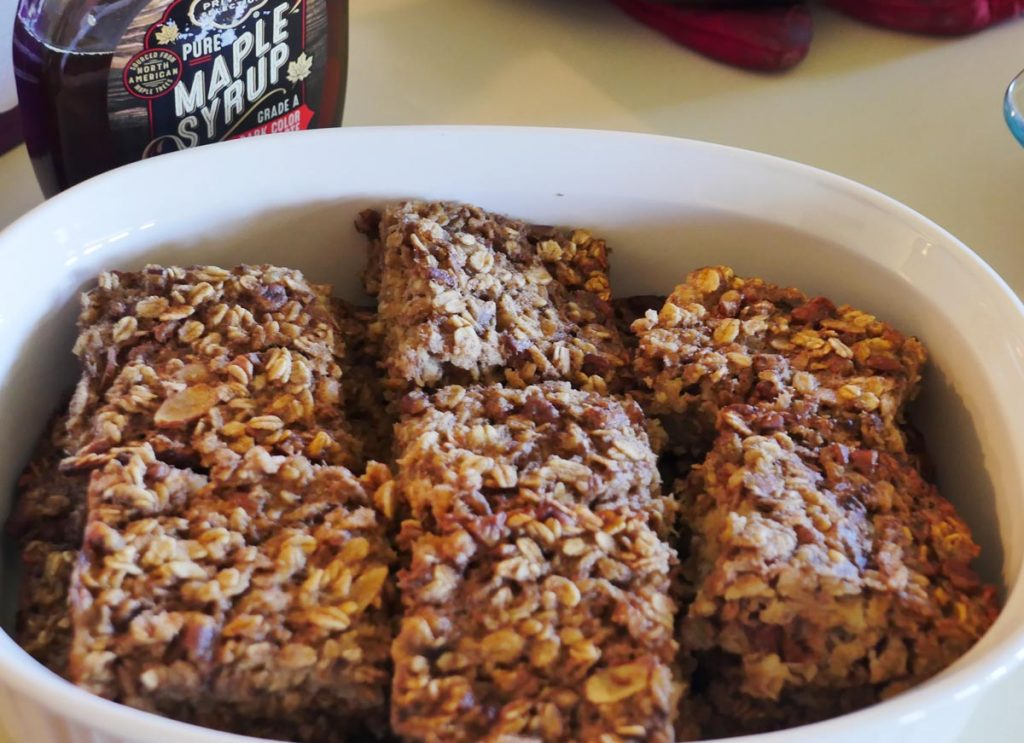 Shannon: Vegan Biscuit Heads
Shannon did not make it to the meeting virtually this time because she was entertaining her sister who was visiting. They did go to Biscuit Heads though, where Shannon got a vegan gluten-free biscuit, collard greens, and veggie sausage. She was not super impressed, so it doesn't matter that she didn't take a picture for us!