Saturday, June 22, 2019 – Diner Food
Saturday, June 22, 2019
VBC Meeting #76: Diner Food
Host of the Month: Neva, Slynn, and Ramon
Location: Denton, TX
For June 2019 we went with the not-so-healthy but incredibly crave-worthy diner food theme. Unbelievably, we haven't done this theme at least four times already, since it lends itself to such wonderfully comforting and tasty foods from brunch to lunch to dinner to dessert.
This is what we made: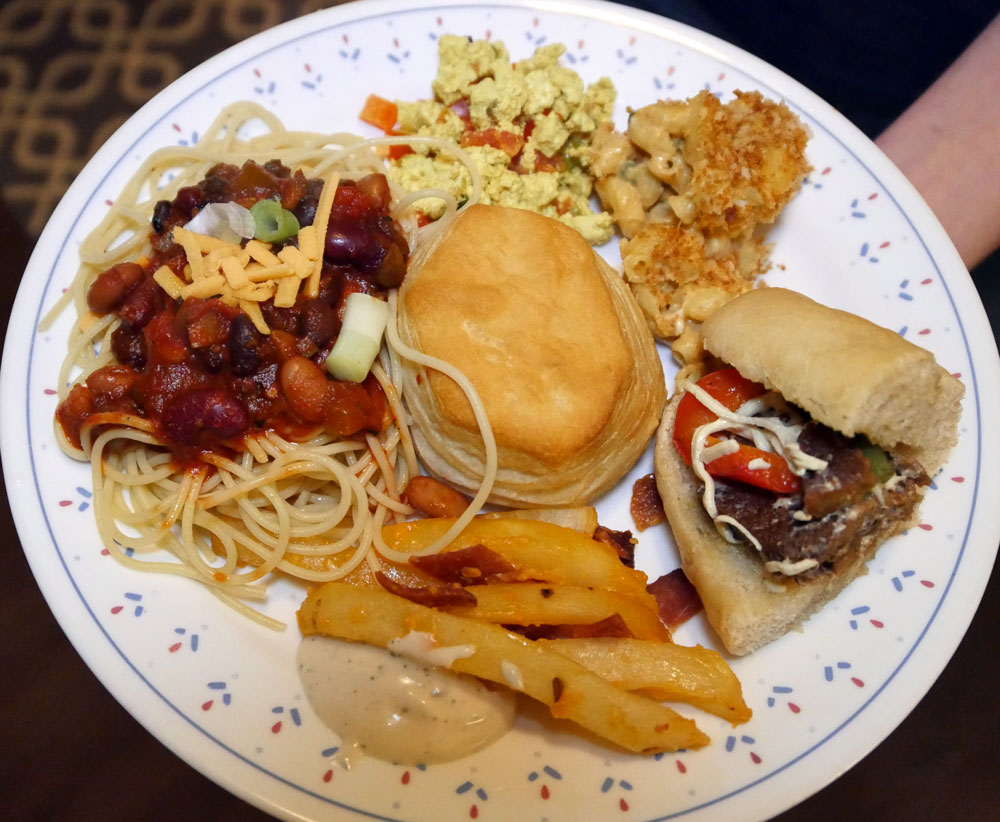 And this was dessert: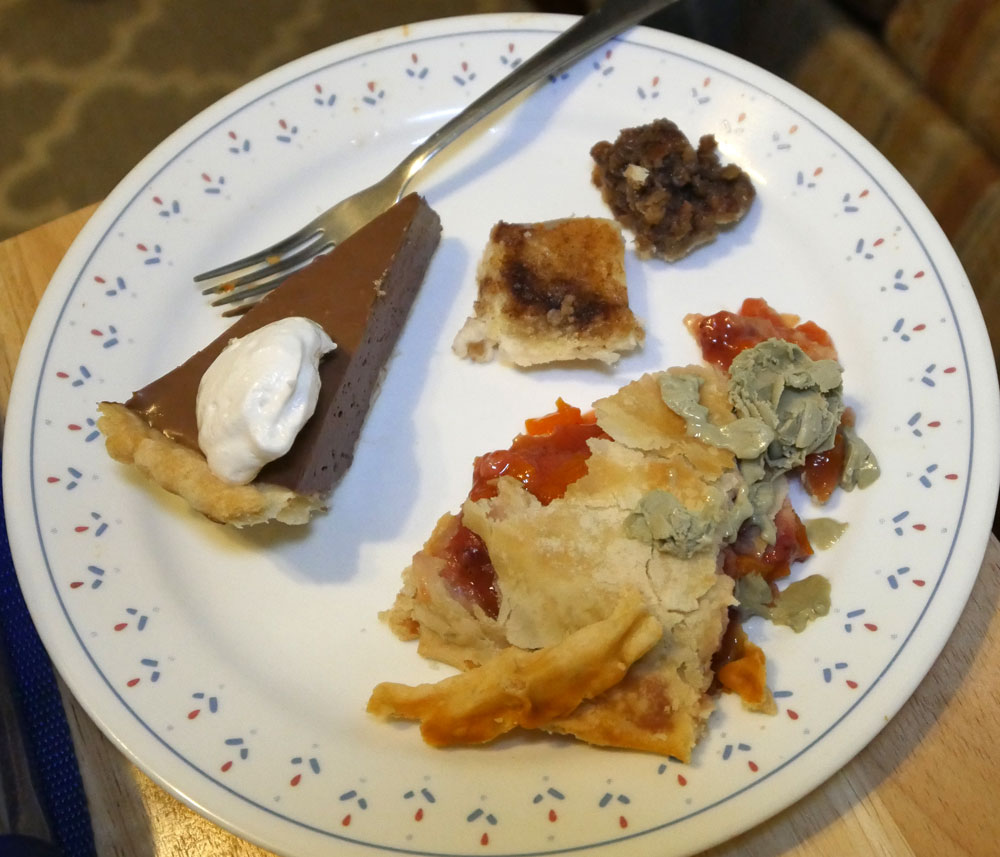 Shannon: Cheesy Bacon Fries; Chocolate Pie
Shannon went both savory and sweet for this meeting. For the diner themed savory dish she baked some frozen Kroger brand fries, topping them with Follow Your Heart Cheddar style shreds and fried and crumbled Smart Life Bacon. If that wasn't comforting enough, she served the fries with Daiya Ranch dressing for dipping.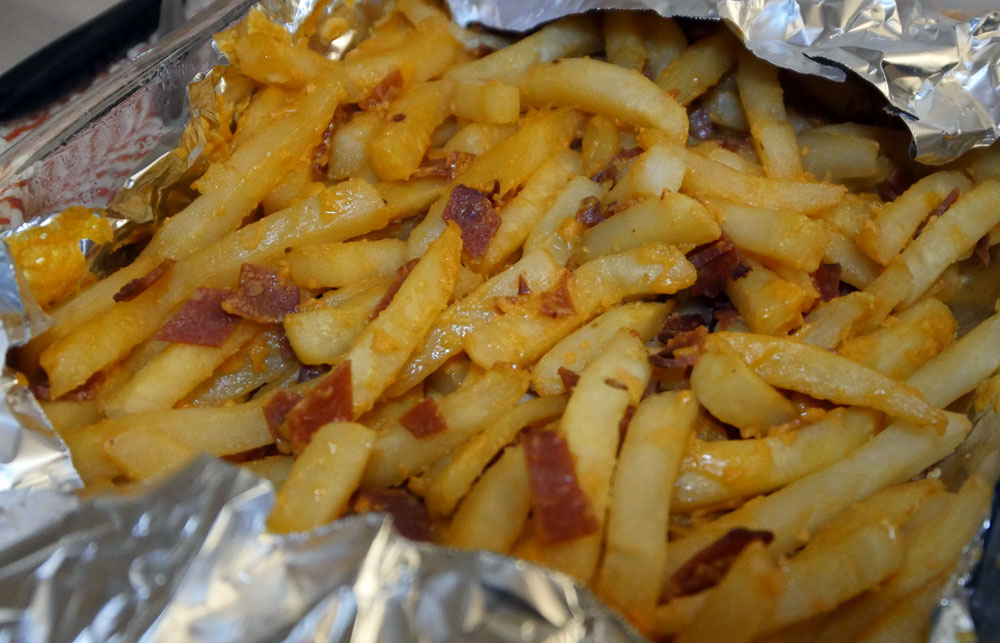 For her sweet diner dish, Shannon made a chocolate pie using her mom's pie crust recipe.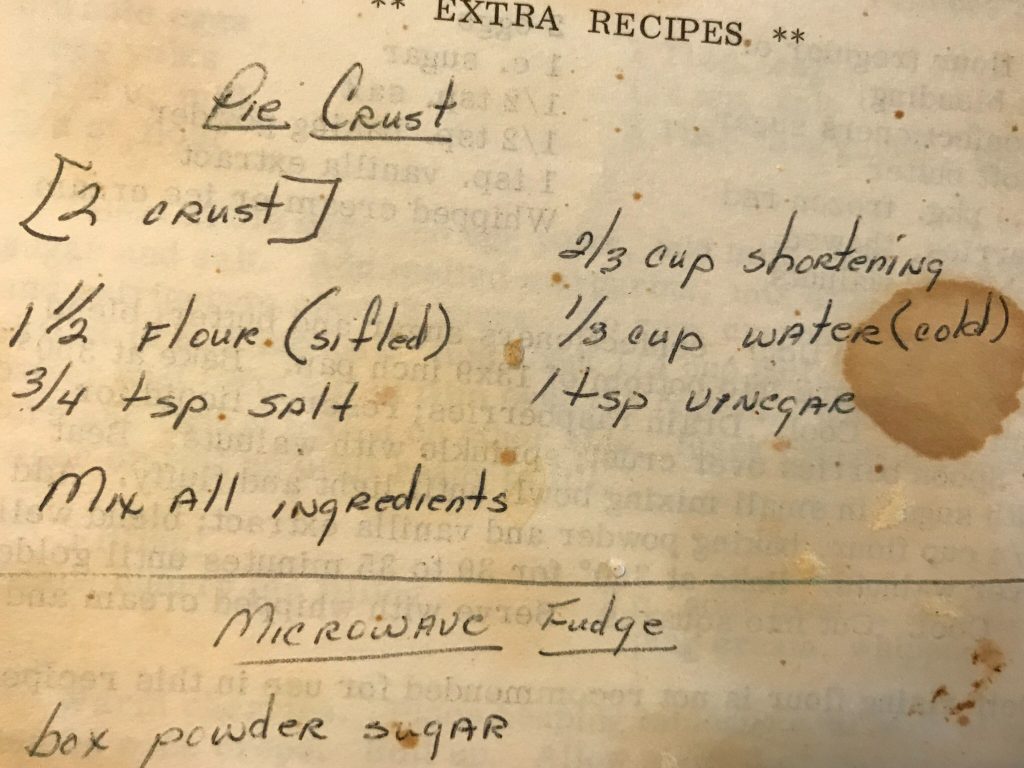 She blind-baked the crust before pouring in the Minimalist Baker's Chocolate Silk pie no-bake filling consisting of silken tofu, melted vegan chocolate chips, and coconut milk. To avoid the chocolate pie being lonely when gazing upon the fries with its side of ranch dressing, she paired the pie with a tub of creamy So Delicious CoCoWhip.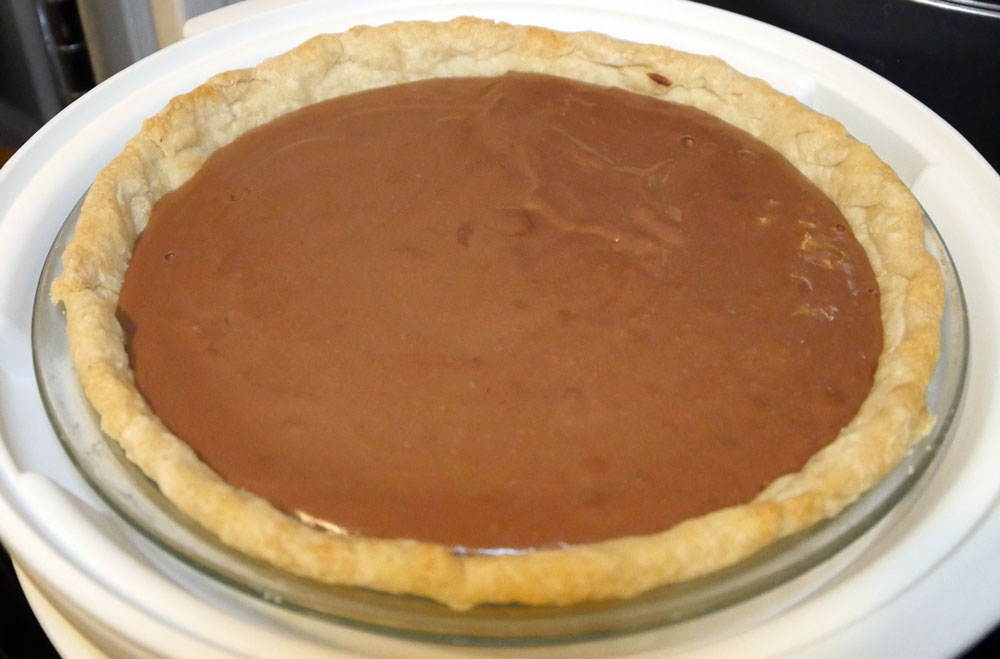 Drew: Tofu Scramble
Drew decided to prepare a diner breakfast for us in the form of tofu scramble and biscuits. For the scramble he cooked Kroger's Simple Truth brand firm tofu with green onions, bell pepper, mushrooms, and spices including: turmeric for yellowness, cumin, garlic, Trader Joe's Everything Bagel Seasoning, salt, and pepper. For a robust accompaniment, he baked a tube of Immaculate Baking Company Biscuits, always fully stacked with layers of deliciousness.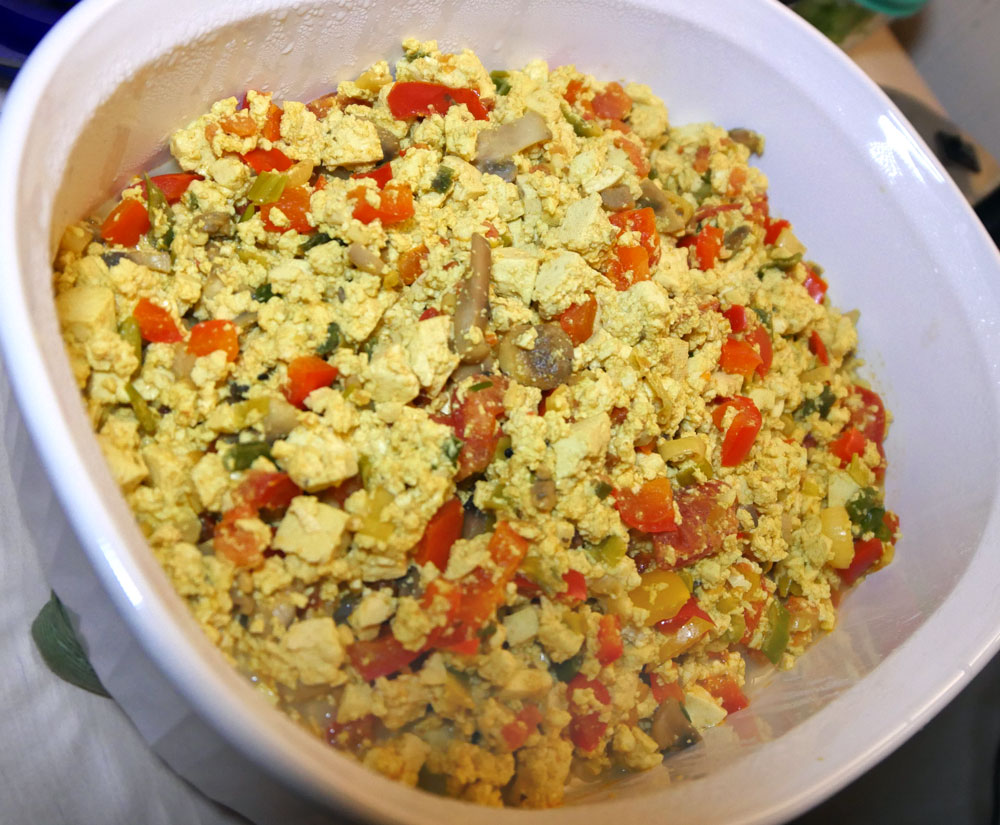 Slynn: Strawberry Apricot Pie
Like Shannon, Slynn produced a pie using her mom's pie crust recipe, this one a simple and quick oil-based dough baked on high heat. She filled the pie with summery fresh apricots and strawberries, sugar, flour, cinnamon, and nutmeg. Though we wouldn't have noticed if she hadn't mentioned it, her pie experienced a fair amount of leakage on one side. This reminded Slynn (and the rest of us through her explanation) that when dividing dough for a double crust pie, the portion for the bottom needs to be larger than for the top to account for the depth of the pie pan.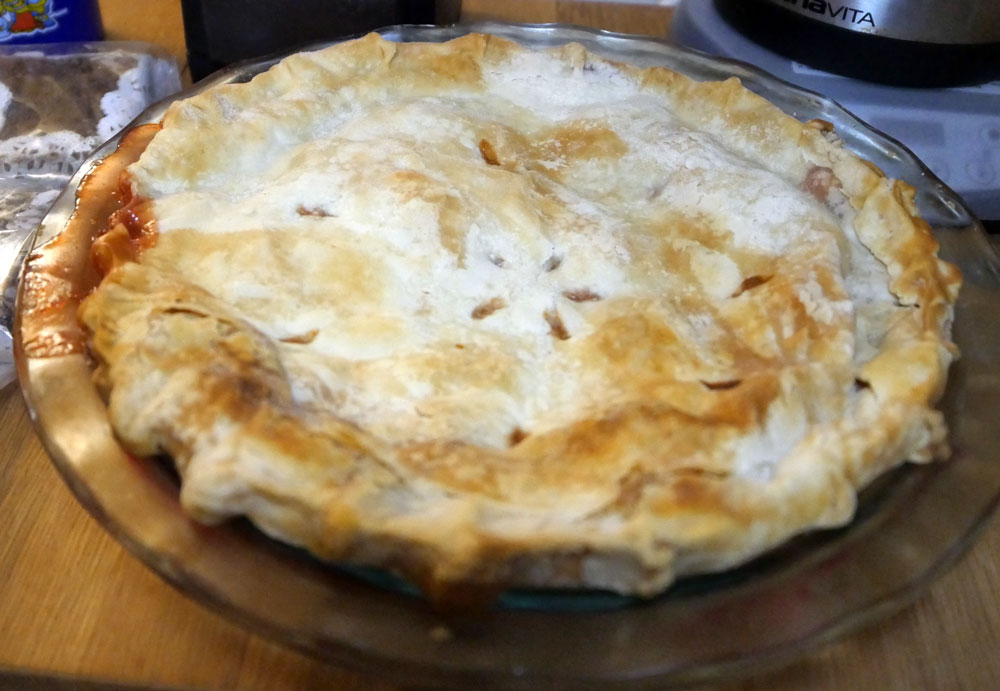 Caroline: Pecan Bars; Sopapilla Bars
Caroline and Drew were in North Dallas the afternoon of the Vegan Bake Club meeting, so they went by Reverie Bakeshop where Caroline picked up some pecan bars and sopapilla bars to share with us. She explained that she "will be a better baker next month" when she turns in her last school assignment to complete her master's degree, but Reverie goods are always welcome with us.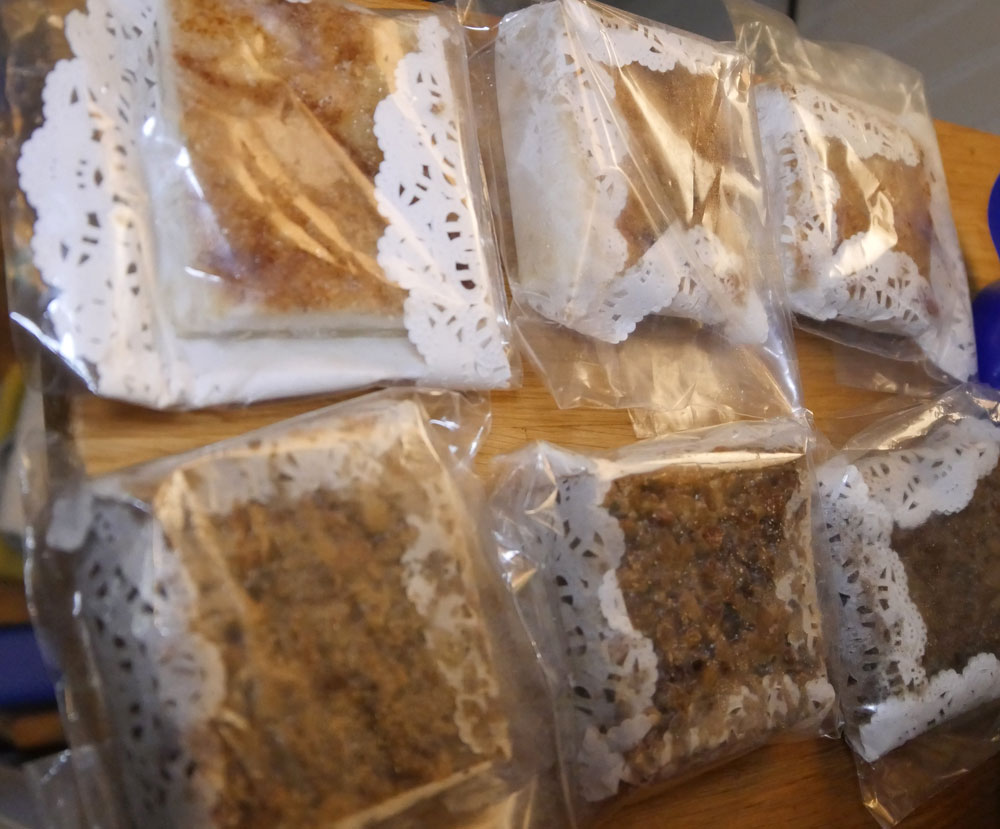 Ramon: Cincinnati Chili; Matcha Ice Cream
Already a frequent cooker of chili, Ramon went one step further to make this spaghetti-topped version. He cooked chili from scratch starting with a sauce of rehydrated dried guajillo chile, ancho chile, and chile de árbol peppers puréed with white onion and garlic. He cooked diced mushrooms and bell pepper then combined them with his sauce, two cans of fire-roasted tomatoes, a can each of red beans, black beans, and pinto beans, tomato paste, a little over a tablespoon of brown sugar, cumin, salt, and pepper. For toppings he offered Follow Your Heart Dairy-Free Cheddar Shreds and sliced green onions.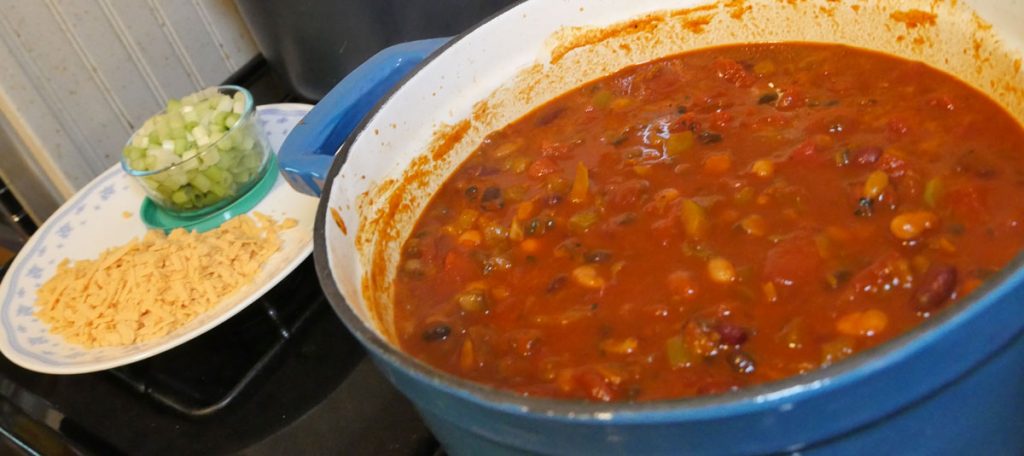 To make Slynn's pie à la mode (as pie served in diners really should be), Ramon also made a matcha ice cream that he regularly used to make for a coffee shop where he worked. He blended soaked cashews, the separated cream from two cans of full-fat coconut milk (he used Thai Kitchen brand but prefers Kroger's), sugar, 3 tablespoons of matcha powder, a teaspoon of vanilla extract, and a pinch of salt then put it in an ice cream maker for twenty-two minutes.
Billy: Vegan Mac and Cheese
Billy made a cheesy sauce using nutritional yeast, water, flax milk, coconut cream, Daiya Dairy-Free Cheddar Style Shreds, garlic powder, paprika, and salt. To this he mixed in cooked elbow macaroni and sautéed minced jalapeños from his garden. He toasted panko-style bread crumbs in olive oil to sprinkled over the top along with chopped parsley, also from his garden.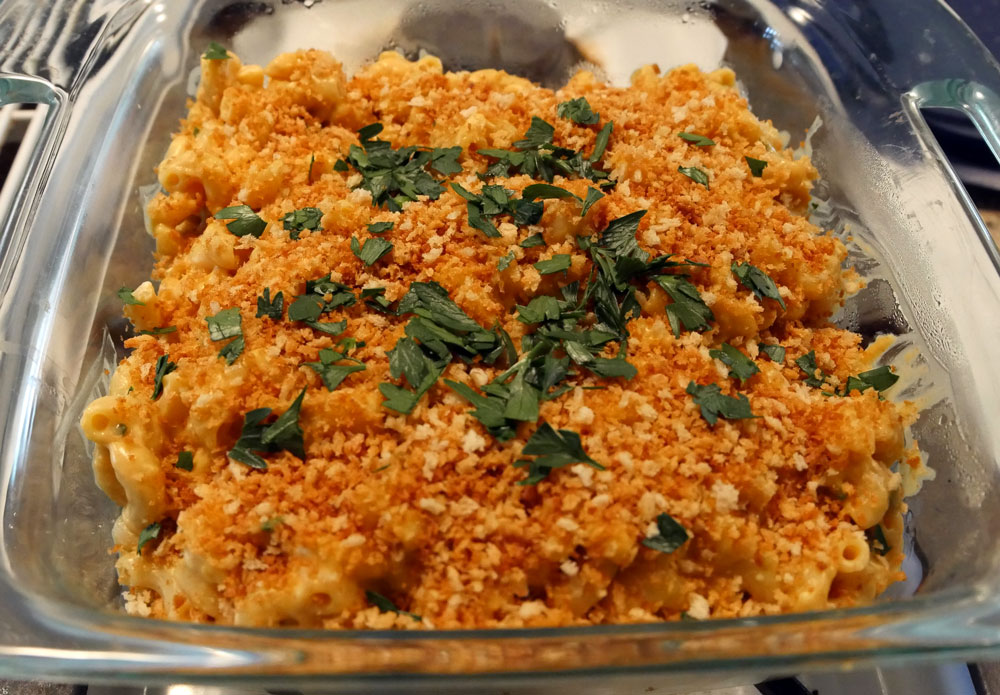 Lauren: Philly Cheesesteak
To build these sandwiches Lauren baked mini Italian bread loaves according to a King Arthur recipe that used a starter of flour, warm water, and a tiny bit of yeast into which more flour, water, yeast, and also salt were later mixed. A few days in advance she made seitan in the slow cooker that came out so moist and textureless in the mouth that she baked and stir-fried it before putting it on the sandwiches. She also filled the sandwiches with stir-fried yellow onion and green bell pepper from Billy's garden, plus red bell pepper from the grocery store, and Daiya Dairy-Free Mozzarella Style Shreds.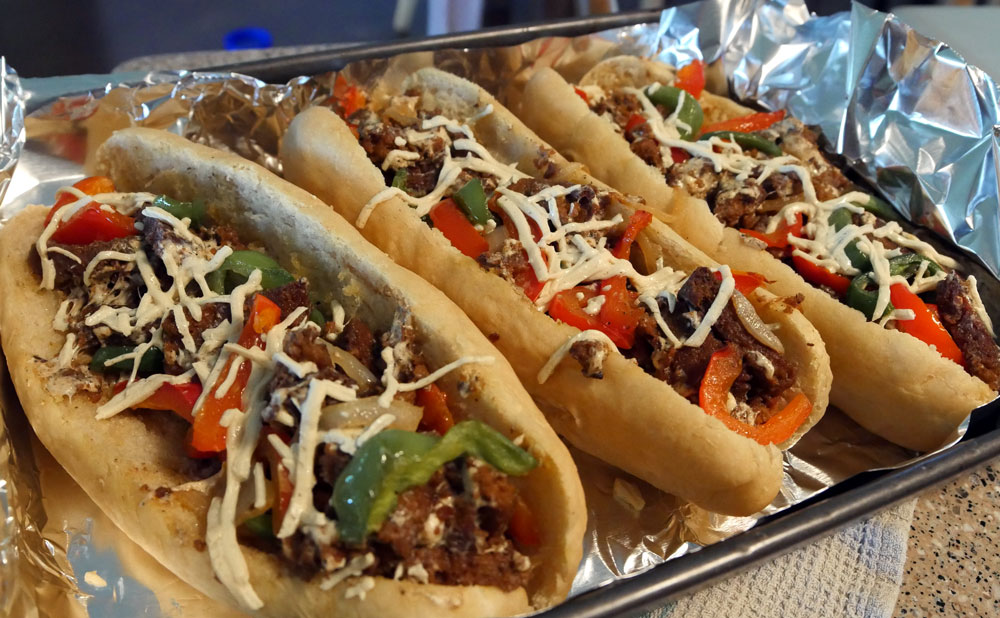 Neva: Lots of Entertainment
As usual, Neva supplied us with copious amounts of engaging entertainment and smiles–also the occasional fervent tossing aside of whatever had lost her immediate interest.