Saturday, August 24, 2019 – Filling
Saturday, August 24, 2019
VBC Meeting #78: Filling
Host of the Month: Lauren and Billy
Location: Ponder, TX
For August we explored foods of the filling sort, however we wanted to interpret that. It could, for example, be filling inside of a food, food that is very filling and makes you feel full, food that is sweet enough to give you cavities that cause you to need fillings, or food you get at a filling station.
This is what we made: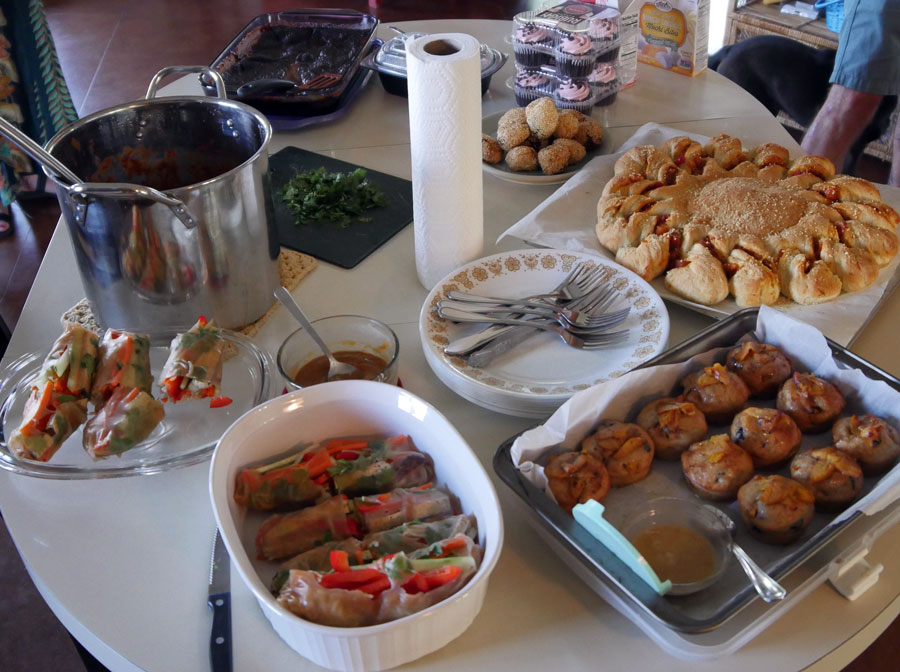 Shannon: Rubicon Bakers Vegan Neapolitan Cupcakes; Sprouts Non-Dairy Mochi Bites
After returning from camping in Yosemite ill, Shannon had time to recover enough to attend Vegan Bake Club, but understandably, she opted not to cook anything. Instead she decided to pick up treats at the store, thinking it would save on effort. She wasn't so sure it saved effort after it took three stores to find the sweet filled treats she was looking for, but thankfully she still turned up to hang out with us. She arrived with Sprouts brand Non-Dairy Mochi Bites, frozen filling wrapped in a glutinous rice flour dough, made with coconut milk in the flavors of chocolate, strawberry, mango, and coconut. She also brought Rubicon Baker's Vegan Neapolitan Cupcakes built of chocolate cake, strawberry frosting on top, vanilla cream filling inside, and a sprinkling of mini chocolate chips.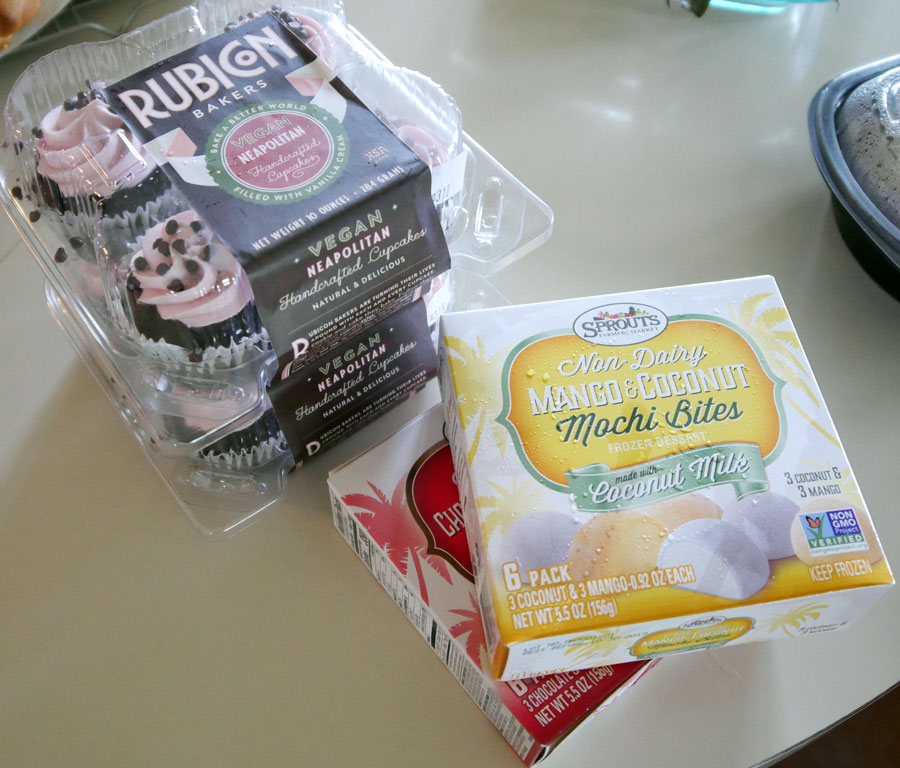 Lilly: Peach and Blueberry Filled Muffins
For the base of her peach and blueberry muffins, Lilly used Cherryvale Farms Blueberry Muffin Baking Mix, Everything but the Blueberries (misleadingly named since it does not contain blueberries and thus would more appropriately be called Muffin Baking Mix, and it also does not contain everything but the blueberries unless you don't believe that water and oil count as entities considered to exist). To the mix she added some frozen wild blueberries, chopped fresh organic peaches, Miyoko's Cultured Vegan Butter, and water. As if filling the muffins with delicious fruits wasn't enough, Lilly also injected them with sweetened condensed coconut milk. She additionally baked peach slices coated in the vegan butter, placing them on top of the cooked muffins to hide the hole created by the condensed milk insertion. She served her treats with additional condensed coconut milk flavored with cinnamon. Name-related qualms aside, the muffins turned out nicely formed and tasty!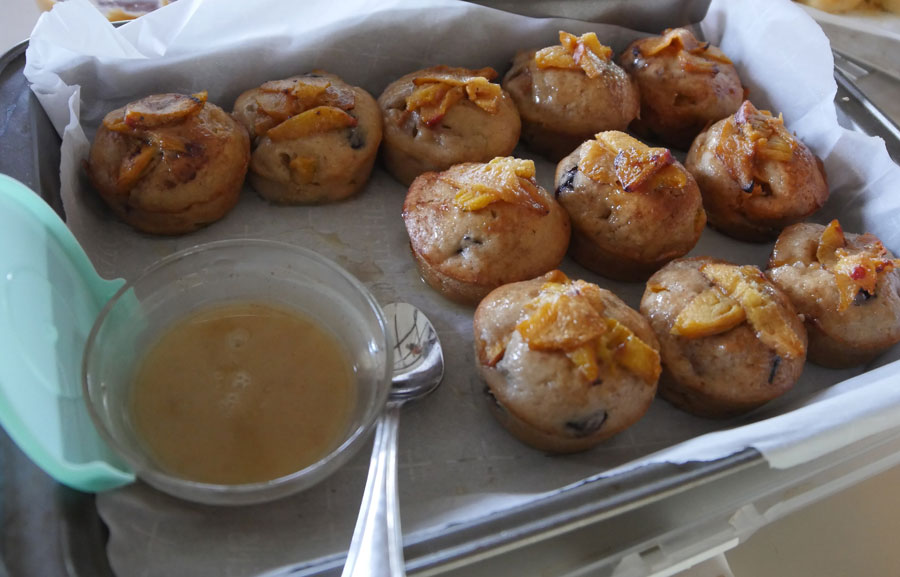 Slynn: Chocolate Cheesecake Bars
Having recently made vegan cheesecake bars for a birthday celebration, Slynn decided this time she would turn them into chocolate cheesecake bars. She filled two layers of crescent roll dough with a mixture consisting largely of sweetened Daiya Plain Cream Cheese Style Spread blended with cocoa powder. This was covered with a buttery cinnamon sugar.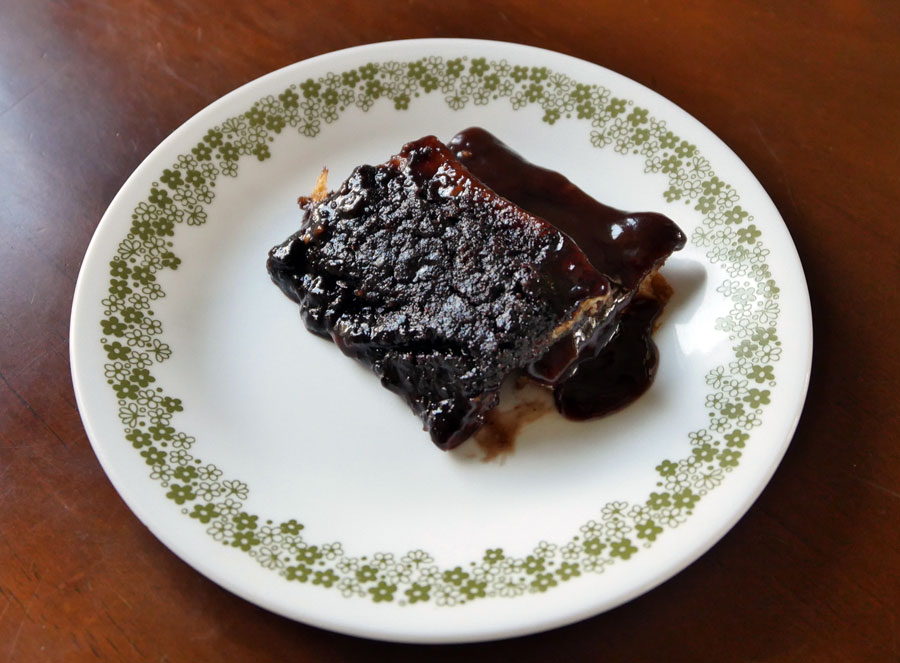 Marcia: Pineapple Fried Rice
Newly an official Dentonite, Marcia attended her first Vegan Bake Club event with an impressive pineapple fried rice made according to the From East Meets Vegan recipe. She halved a fresh pineapple and removed the insides, cutting it into chunks for inclusion in a fried rice stir-fried with lots of minced garlic, ginger, scallions, sesame oil, salt, peas, and scrambled tofu. After preparing the rice, she filled the pineapple shells with it.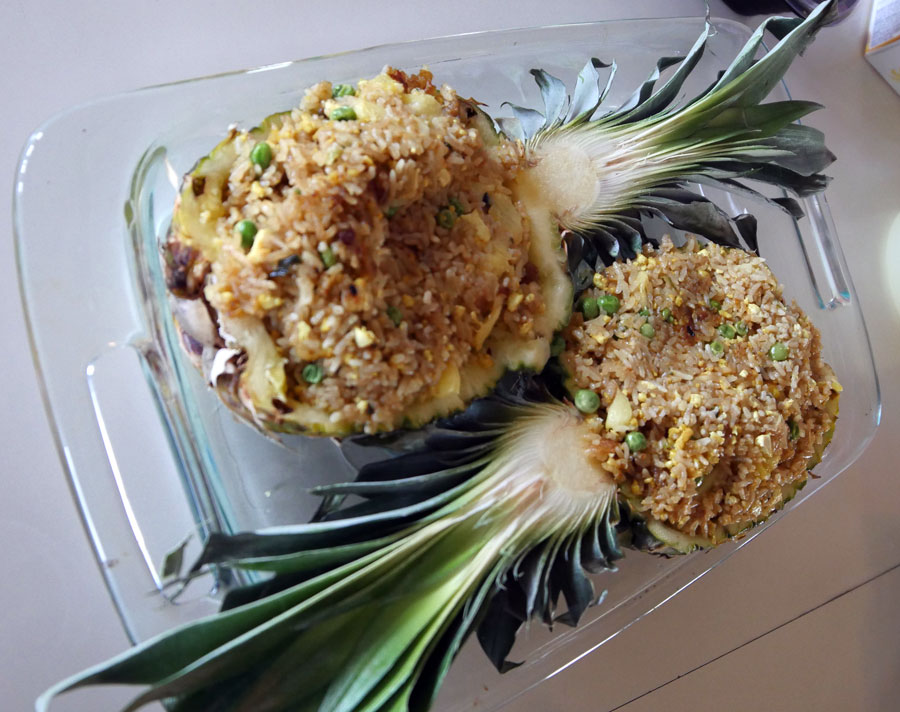 Billy: Sesame Balls (Jian Dui)
A dim sum favorite of his, Billy made us jian dui with a dough of glutinous rice flour, sugar, turnip cake powder (he ran out of regular glutinous rice flour but had this which is that same flour but with some starches added), baking powder, and water. He separated portions of dough, filled each with sweet red bean paste, and rolled them in sesame seeds before frying.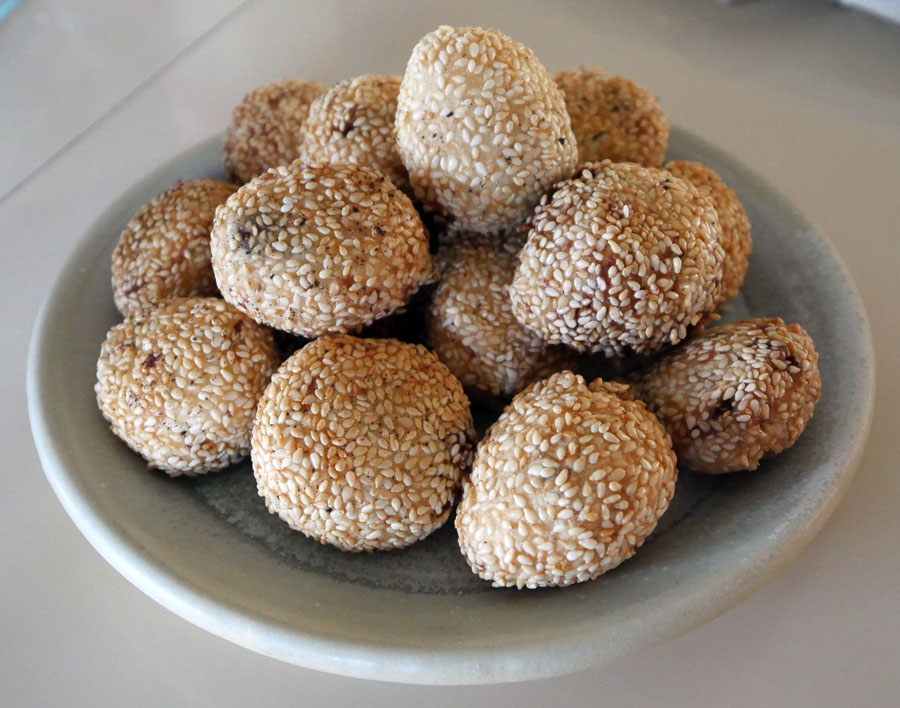 Lauren: Pinwheel of Bread
Inspired by many bread weeks of the Great British Bakeoff, and by Richard's pesto pinwheel bread in particular, Lauren made a large loaf filled with Billy's home grown butternut squash. Rather than closely follow Richard's recipe that is not vegan, she used a Papa John's-style dough recipe to which she added garlic powder, dried thyme, and oregano. In addition to the squash sautéed in brown sugar, liquid smoke, and cinnamon, her filling included roasted red bell pepper, tomato paste, and barbecue sauce, plus an adaptation of the Minimalist Baker's cashew Parmesan of coarsely ground raw cashews, nutritional yeast, salt, garlic, and oregano. She baked the bread with steam to help richen the color on the outside of the finished bread.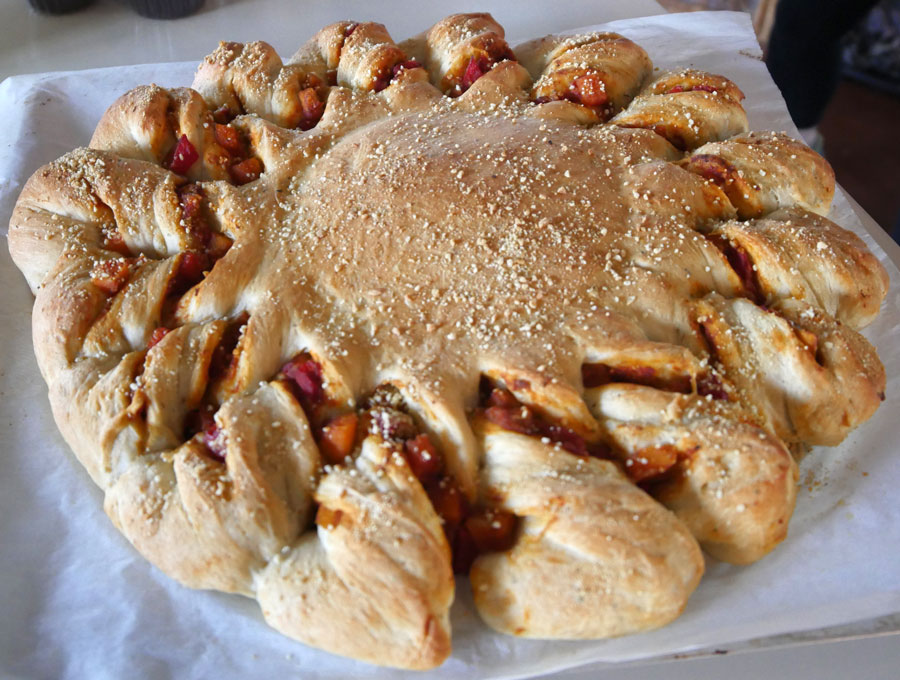 Ramon: Chile Colorado
Ramon offered us Chile Colorado tacos, corn tortillas filled with what is traditionally a pork stew with dried chiles where he substituted seitan, sweet potato, and chickpeas for the meaty filling. His pepper lineup included six ancho chiles, five guajillos, and one California. The recipe he used came from Dora's Table, a place from where he regularly seeks vegan recipes that make him feel closer to his Hispanic heritage. To make the Chile Colorado, he blended garlic, tomato, the chiles, cumin, oregano, and the water left over from re-hydrating the chiles. He cooked this in a pot with onion, potato, sweet potato, fresh sprigs of thyme, and Bay leaves. In addition to the tiny corn tortillas he found at La Michoacana, he also served an accompaniment of fresh cilantro.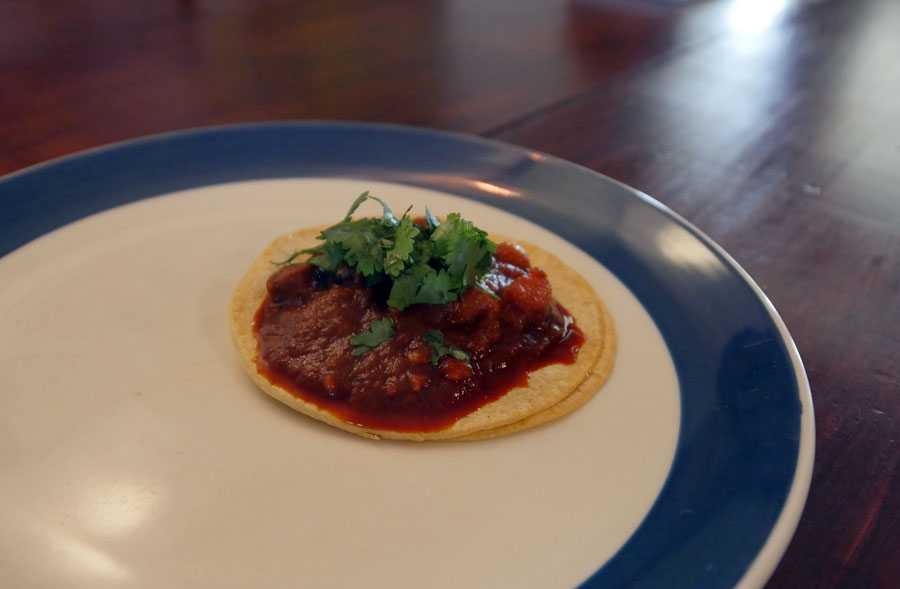 Drew: Fresh Veggie Spring Rolls
Drew obtained brown rice paper from Natural Grocers that he re-hydrated and used to envelop a filling of cucumber, red bell pepper, carrot, cilantro, mint, and pre-marinated braised tofu. For the side, he prepared a sauce of peanut butter, lime juice, maple syrup, garlic powder, tamari, and sriracha.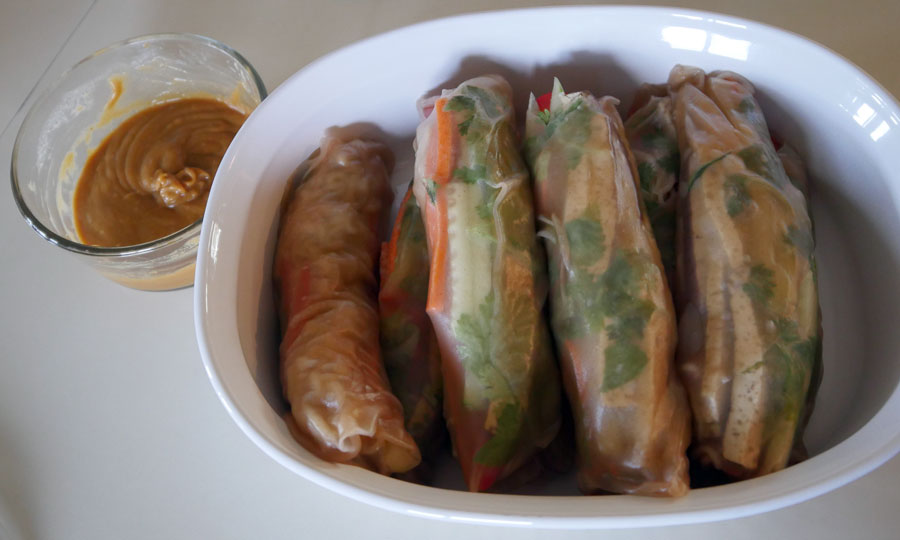 Caroline: Margaritas on the Rocks
Caroline provided libation with Isabella Eats' classic margaritas. She bought a bunch of limes and a fancy new lime squeezer to extract a pint of fresh lime juice that she combined with water, agave, Triple Sec, and tequila. She served the concoction in a variety of glasses ringed with margarita salt.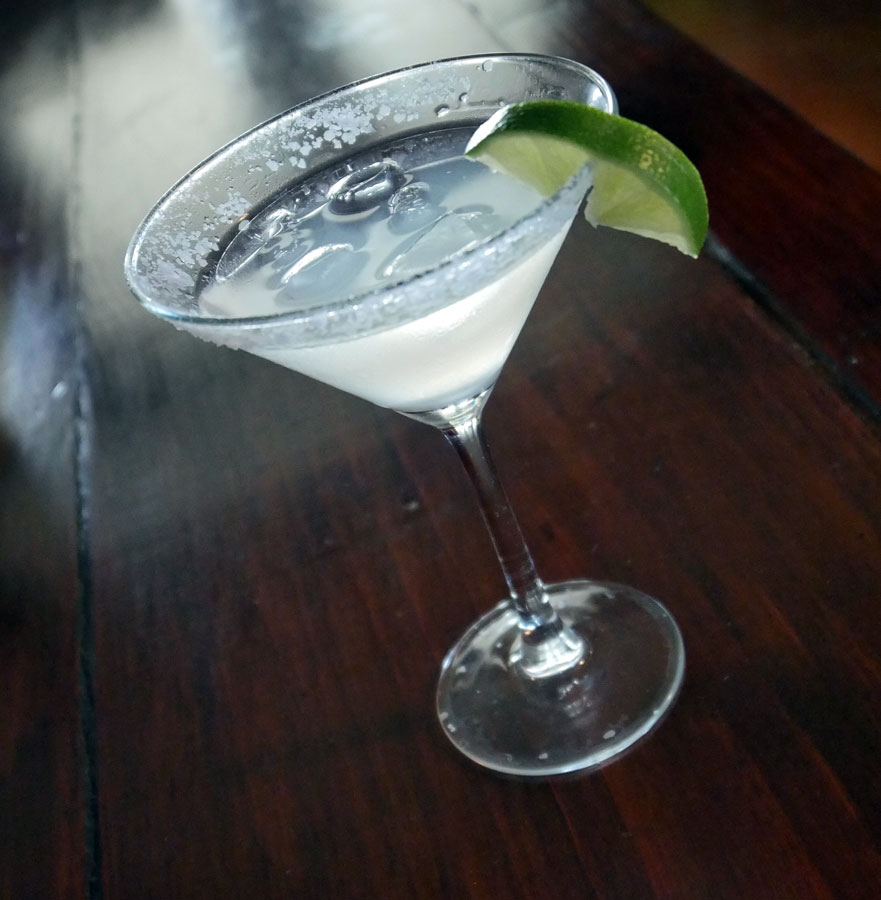 Enjoy!