Review: Liz Lovely Cowgirl and Cowboy Cookies
I enjoy baking and eating homemade cookies, but when it comes to packaged cookies, my reaction is often mixed. However, I was decidedly impressed when Ramon brought home a package of Liz Lovely Cowgirl Cookies from Wheatsville Coop after a recent trip to Austin.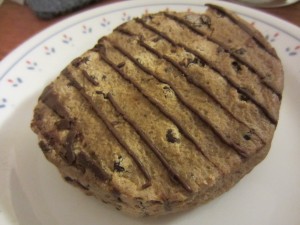 They may have the appearance of a chocolate-drizzled Boca burger, but the taste is reminiscent (as Lauren observed) of the Chewy Chips Ahoy! cookies you may have eaten as a kid. The package boasts "Just Cookie Dough!" and I have to agree.  The first ingredient is sugar, which accounts for the slightly gritty, cookie dough-like texture and probably most of their appeal as a cookie. They taste homemade, possibly because the ingredient list (sugar, flour, chocolate, oil. water, molasses, vanilla, sea salt, and baking soda) includes all of the things you would use to bake cookies at home, with no artificial flavorings, "shelf stabilizers," or fillers. (Visit the Liz Lovely website to learn more about the company's history and baking philosophy.)
Liz Lovely Cowgirl Cookies are among the best packaged cookies I have ever tried. And, as luck would have it, they are also vegan. Ramon said: "I am without control around these cookies." Seriously, you can hear them whispering to you from the other room.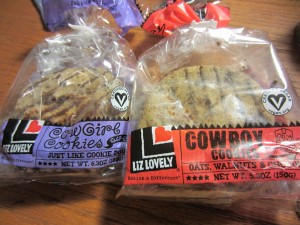 We devoured the package in one sitting, so I had to wait until his next trip to acquire another package to photograph. This time we also tried the Cowboy Cookies. They have all the same ingredients as the Cowgirl Cookies with the addition of oats and walnuts and have chocolate on top and bottom, which is a nice touch. These cookies are slightly less sweet than the Cowgirl variety and are heartier in flavor and texture.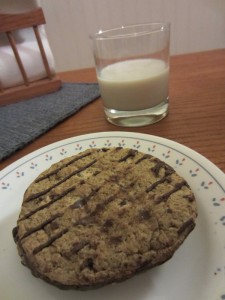 Despite their lack of visual appeal and the fact that the two cookies in the package are usually stuck together, both cookie varieties are highly recommended. You can purchase Liz Lovely cookies at select stores and through their website (where I also learned that the company is hiring bakers and began daydreaming about moving to Vermont to bake cookies full time).
Important note: The Liz Lovely company has decided to become entirely gluten-free and will no longer manufacture both of the cookies reviewed above. While the Cowboy Cookie comes in a gluten-free variety, the Cowgirl Cookie has been retired. Perhaps we should attempt to recreate them in a future installment of Vegan Bake Club. In the meantime there are several other varieties of Liz Lovely cookies to try!