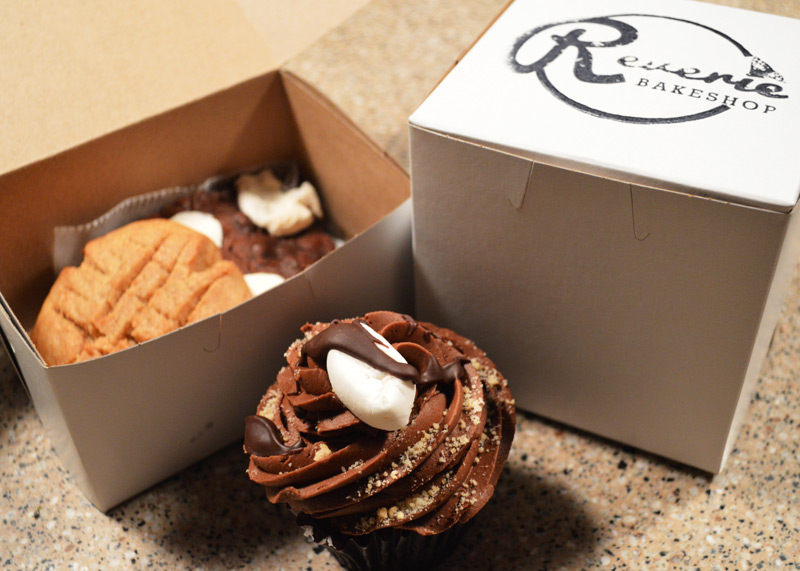 There is a new bakery in Richardson, Texas, luckily not far from my parents' house. Reverie Bakeshop creates a happy variety of vegan treats, many of them gluten-free. We first came across the the Reverie goods at Texas Veggie Fair 2013 where I shared a massive slice of Brownie Cheesecake with my pal Byl. Even letting someone else eat a good chunk of this thing, I was pretty much holding my stomach, groaning with fullness afterwards. Of course, I had also just eaten some Korean BBQ style tacos from the Good Karma Kitchen truck and a decent portion of a Nammi bánh mì sandwich. It was worth it. The cheesecake had a tofu/Tofutti Better Than Cream Cheese base, and though there may have been a couple of moments where I tasted the slightest bit too much tofuness, the interspersed areas of baked-in brownie and the creamy whipped topping made most bites delightul.
That day we were fairing around with Vanessa and Bryan. Vanessa granted me a bite of her Reverie pumpkin cheesecake, the filling somewhere between cheesecake and pumpkin pie was just what a person ought to be hoping for when they order such a thing. Cherry and Sakura spent several minutes trying to achieve a bite, but Vanessa, being a responsible pet owner, did not share with them.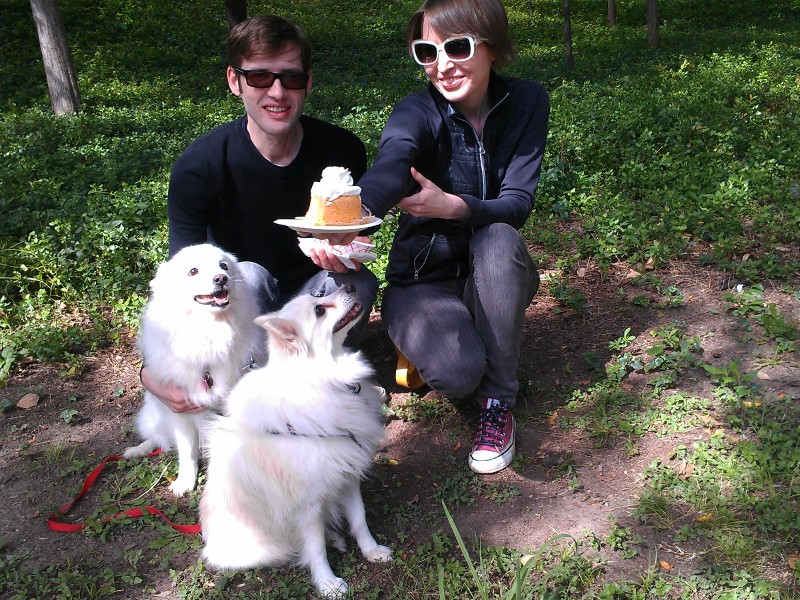 Less than a week later Byl and I met up with my mom at the Reverie Bakeshop proper, at Coit and Campbell. Presented with a plethora of vegan baked goods upon entrance, it took a while to pick out just a few to take along with us. The girl behind the counter didn't seem to mind though and was friendily helpful. I got to try my mom's chocolate with marshmallowy cream filling whoopie pie, a good choice when you can't decide between a cookie or a cupcake. It brought up sweet childhood memories of times when I still ate not-so-vegan Hostess CupCakes and Little Debbie Swiss Rolls. Also, it was cute to look at. I selected a classicly tasting super fat-sized peanut butter cookie, that was the right level of soft-not-too-soft that I like in a cookie. And I like cookies. A lot. Billy picked out the s'mores cupcake and didn't even realize it was gluten-free until I mentioned it during consumption. That is a respectable thing for a gluten-free baked good. The flavor of the chocolate cake was standard, but when taken in with the mound, nay mountain, of chocolate butter cream frosting and the marshmallow cream filling, it was pretty amazing. While we were at it, we picked up a prettily decorated peanut butter cupcake (it had a more elaborate name than that) for Slynn because it is nice to share and makes you feel a little less like a glutton when you are thinking of other people. Oh yeah, we ate a giant brownie also. It was of the cakey sort, topped with marshmallows, and was reportedly Billy's favorite Reverie item.
So the moral of this story is that I recommend you give Reverie Bakeshop a visit, and bring some company. Then you have a pleasant excuse to get all sorts of different treats to try. For those of you who aren't crazy sweets people, they offer paninis as well. I can't say I tried them; I am a crazy sweets person. But there's tomorrow after all…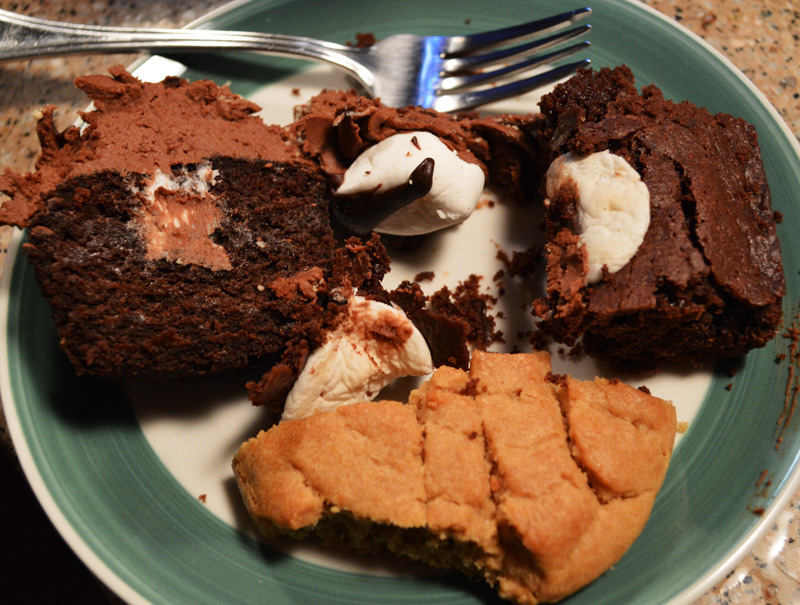 Disclaimer: The several baked goods purchased at Reverie Bakeshop were not eaten in one sitting–it was two maybe.