October 30, 2022 – Octoberish
Sunday, October 30, 2022
VBC Meeting #116: Octoberish
Host of the Month: Lauren and Billy
Location: Ponder, Texas
October brings to mind events like Oktoberfest and Halloween plus any of the copious food-related "National Days" in the month. There is National Oatmeal Day if you are feeling healthy or National Greasy Food day if you are not or National Fluffernutter day if you are feeling fanciful. We left the theme for October's Vegan Bake Club meeting open to whatever sort of food October inspires for each person…something Octoberish.
This is what we made: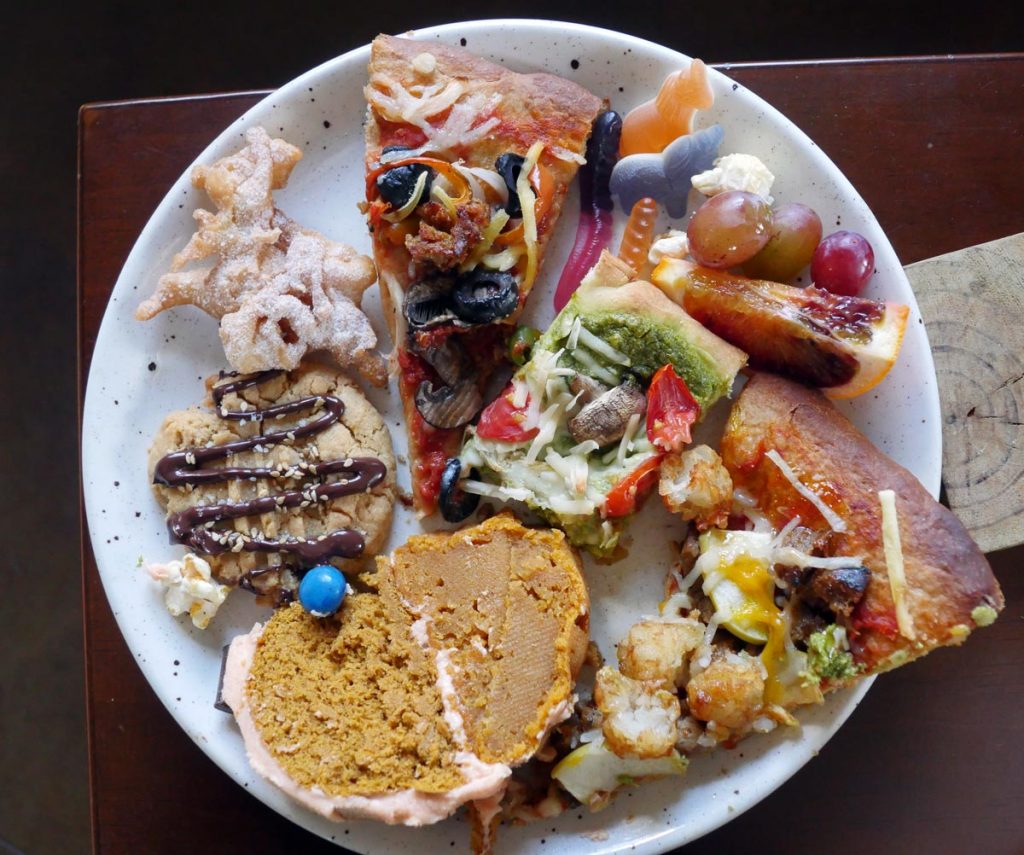 Annette: Pad Thai Peanut Butter Cookies
Annette found a vegan peanut butter cookie recipe on the Internet with a lot of good reviews and used that as a base to adapt her Pad Thai Peanut Butter Cookies. She used lime juice and water in place of almond milk and added lime zest, sriracha, and ginger in addition to peanut butter for lots of pad thai flavor. She heated a SoChatti chocolate pouch (cacao and sugar) in a warm water bath to melt it then drizzled it over some of the cookies before sprinkling on sesame seeds and sea salt for extra garnish.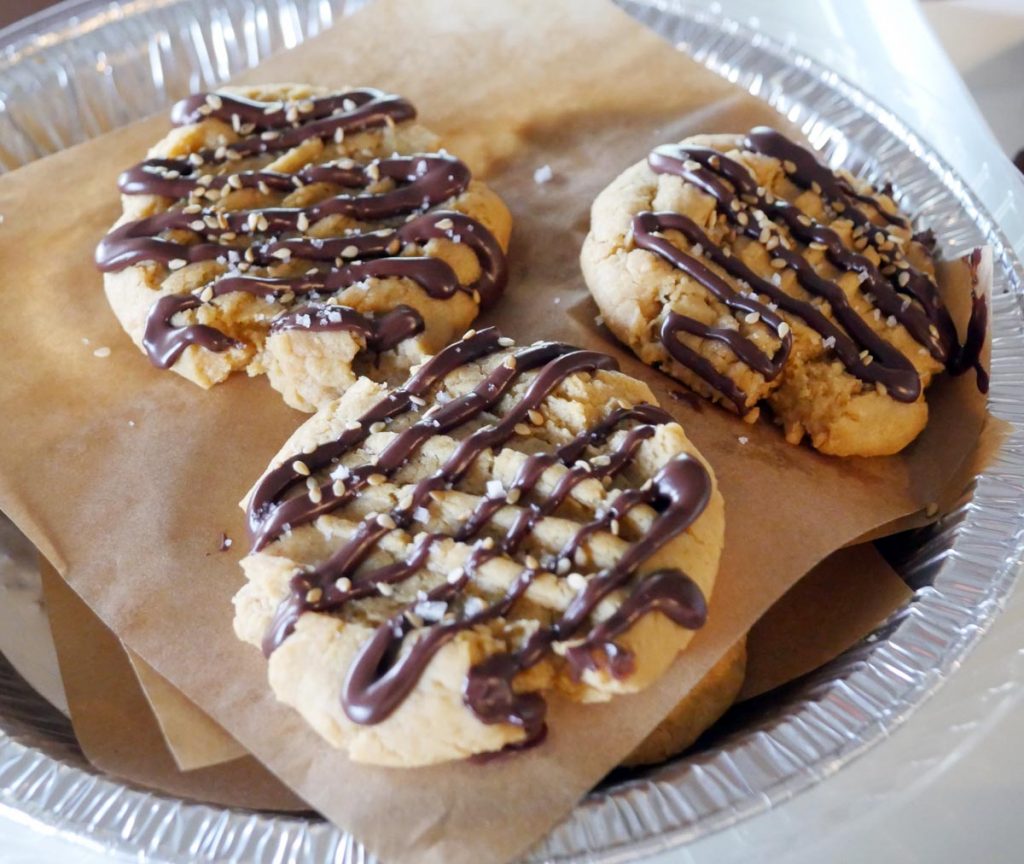 Minji: Arugula Pesto Flatbread
Minji made a pesto that she likes to make for pasta out of arugula, Ripple Non-Dairy Plant-Based Milk, raw cashews, pine nuts, nutritional yeast, onion, a couple cloves of garlic, and olive oil. She spread this onto a Stonefire Naan and topped it with tomato, artichoke, mushroom, and So Delicious vegan shreds.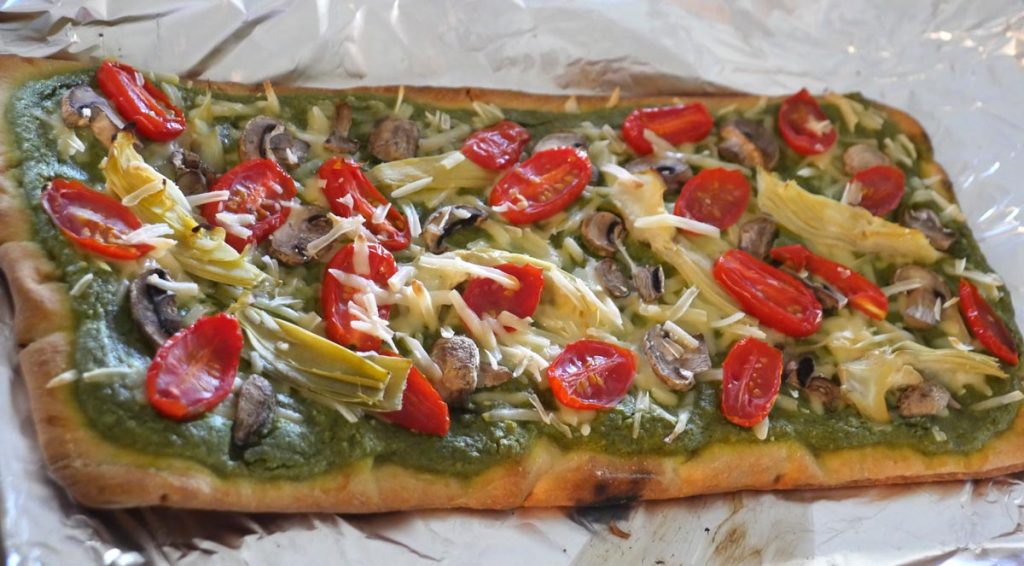 Ramon: Tray of Halloween Sweets
Ramon built us a tray of Halloween themed sweets that he picked up from Sprouts including gummy unicorns, vegan gummy worms, and, on the candy of nature side, he included Gum Drop Grapes and Dracula Blood Oranges.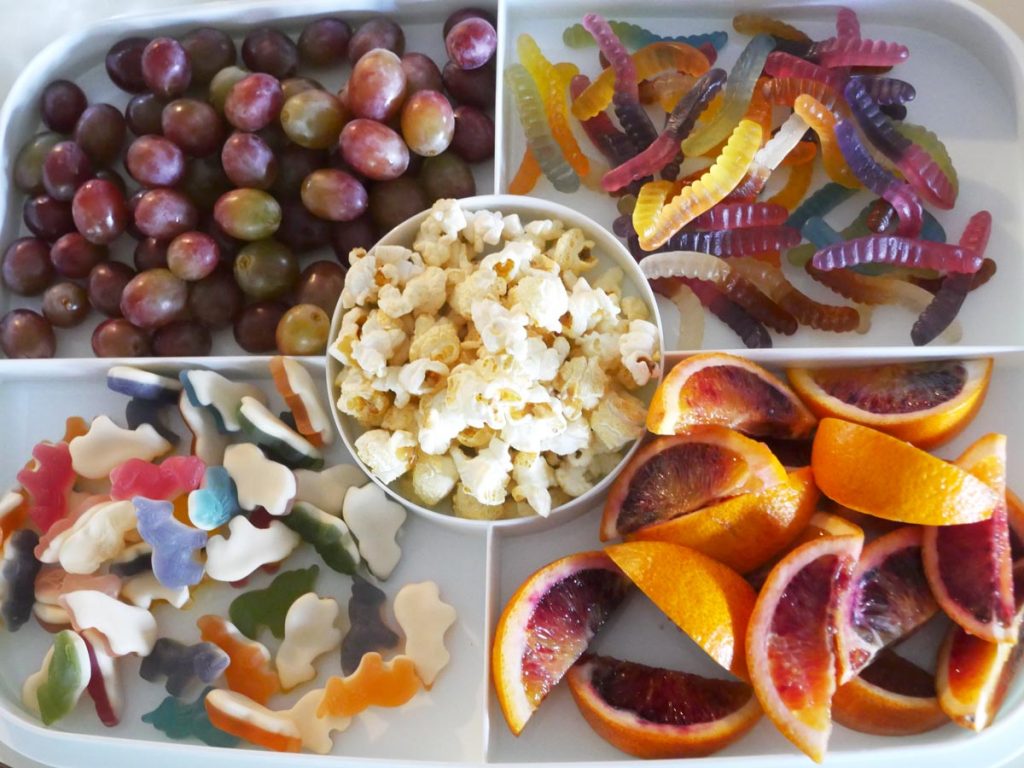 Lauren: Vegan Sausage and Veggie Pizza; Breakfast Pizza
October is National Pizza Month, National Sausage Month, and includes National Sausage Pizza Day (October 11), so Lauren made pizza for VBC. One included Field Roast Italian Sausage, bell pepper and onion grown by Billy, black olives, mushrooms, and Daiya and Field Roast Chao shreds. She made a sauce of crushed tomatoes, garlic powder, onion powder, olive oil, sugar, oregano, marjoram, thyme, and salt.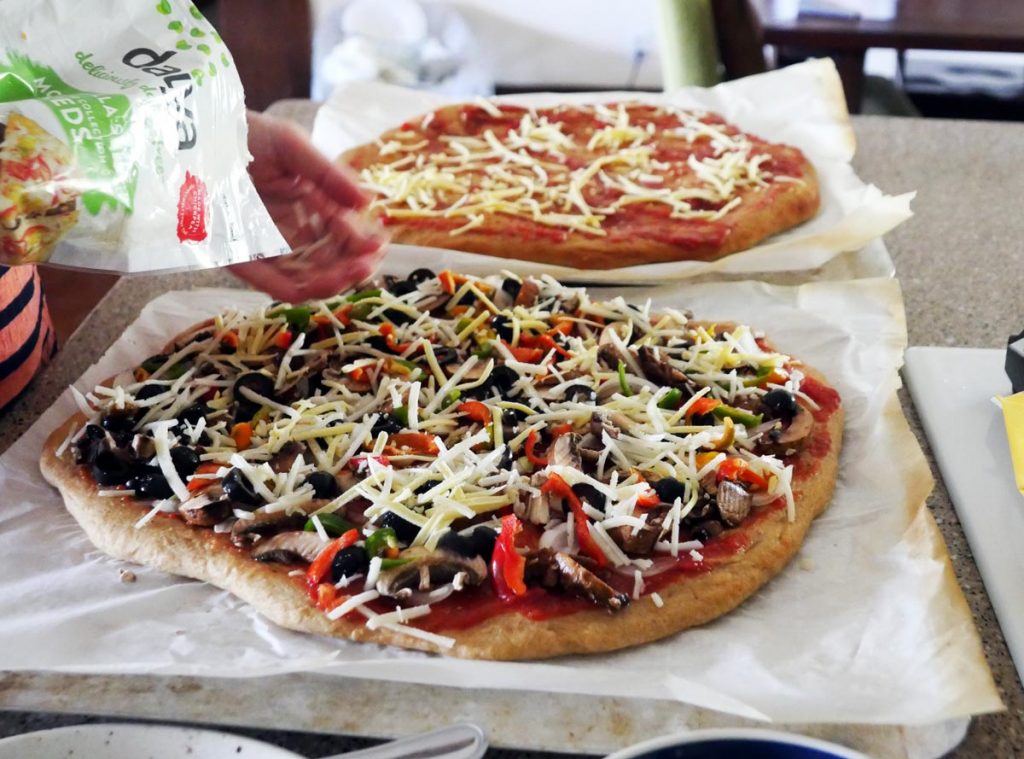 Her second pizza was breakfast-style with the same sauce and shreds, plus Field Roast Breakfast Sausage, tater tots (serving as hash browns), and Granny Smith apple slices. She served it with maple syrup on the side.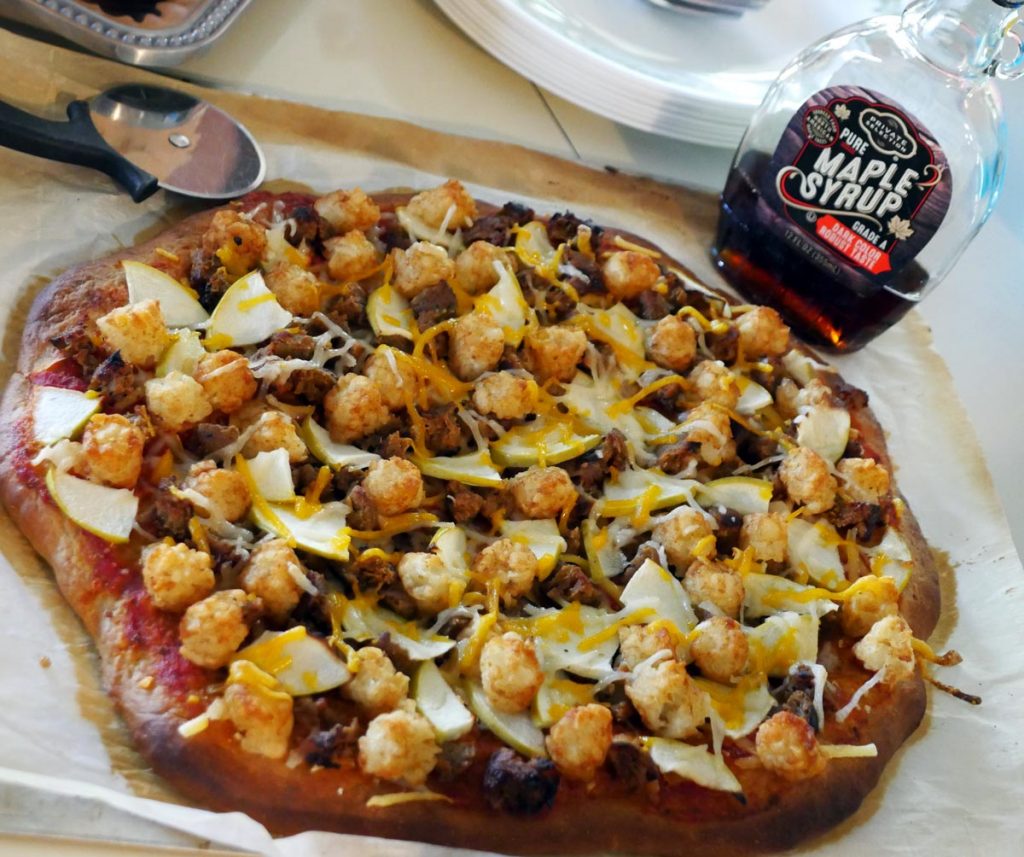 Slynn: Pumpkin Bundt Cake
For the bottom layer of her cake, Slynn used a recipe from the Post Punk Kitchen website, but she suspects she left out a cup of flour because it turned out like pumpkin pie. To up the overall cake-likeness of her bundt cake, she made a top layer using Duncan Hines Spice Cake Mix combined with a can of pumpkin. She adorned the cake with a buttercream frosting made using Earth Balance Buttery Sticks and festive orange food coloring plus chocolate chunks for decoration.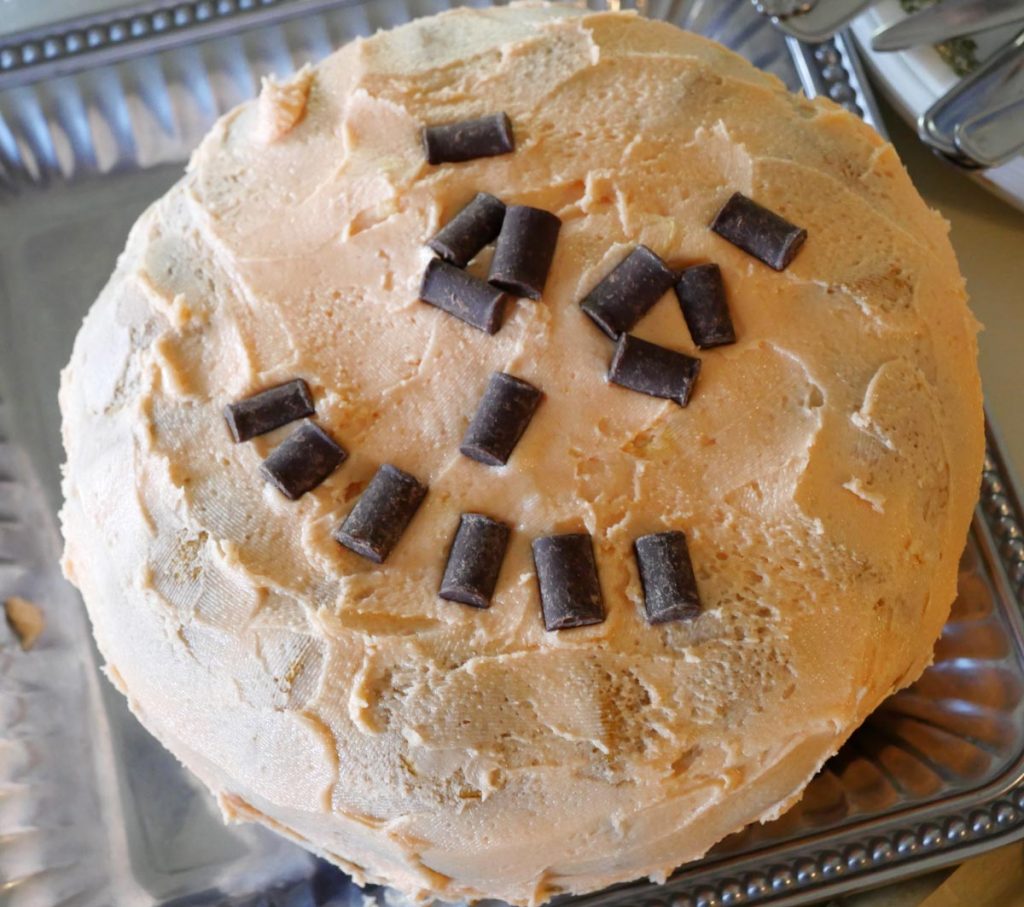 She piled Unreal Dark Chocolate Covered Peanut Gems and Boomchickapop Sweet and Salty Kettle Corn in the center of the sweet baked good to transform it into a surprise cake!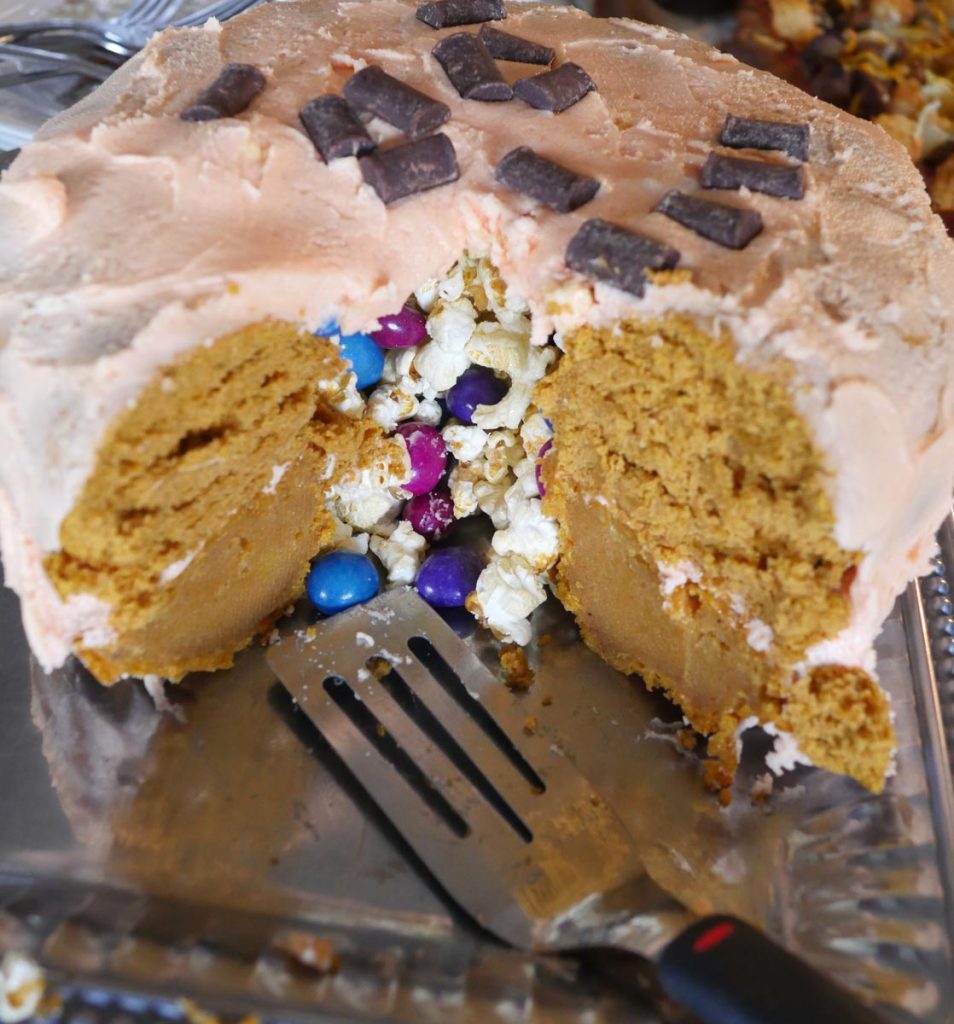 Billy: Funnel Cake
October in North Texas means the State Fair of Texas, so Lauren suggested Billy make funnel cake for the Octoberish theme, and since he had no other plans, he followed the recipe from the cookbook Are You Sure That's Vegan? Vegan Clones of Your Favorite Desserts by Claire Gosse. This involved dispatching a batter of applesauce, soy milk, sugar, all purpose flour, salt, and baking powder via a funnel into a pot of oil. Annette and Lauren assisted by sprinkling powdered sugar over the funnel cake pieces as they came out of frying.