October 26, 2019 – Mediterranean
Saturday, October 26, 2019
VBC Meeting #80: Mediterranean
Host of the Month: Slynnamoneva
Location: Denton, TX
For October, a small group of us enjoyed a picnic of Mediterranean flavors at South Lakes Park in Denton.
This is what we made: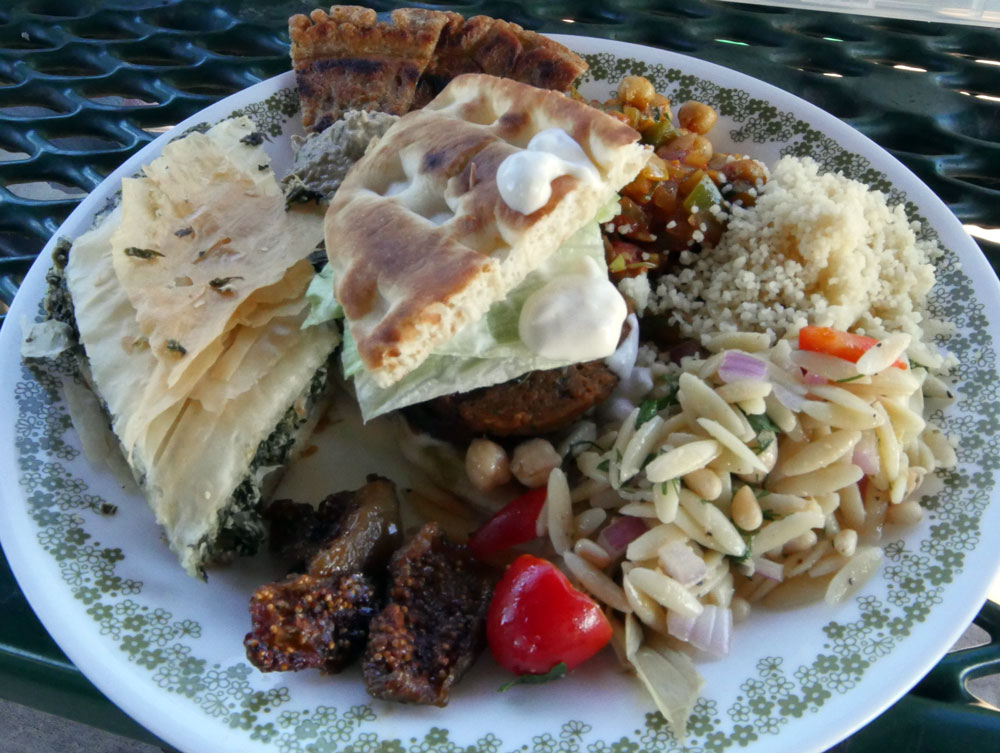 Ramon: Dolma Salami Sandwich
Inspired by an Instagram post, Ramon developed this sandwich full of Mediterranean delights. He made a vegan salami from a wheat gluten based dough that he wrapped in foil and baked for ninety minutes. Along with the salami, he placed iceberg lettuce, dolmas, and homemade vegan mozzarella (made in the style of the fresh sort of mozzarella) between pieces of a waffle-patterned gyro bread. For added deliciousness, he dressed his sandwiches up with a lemon garlic aioli concocted from 2/3 cup Soy-Free Vegenaise, a tablespoon lemon juice, two minced garlic cloves, and salt.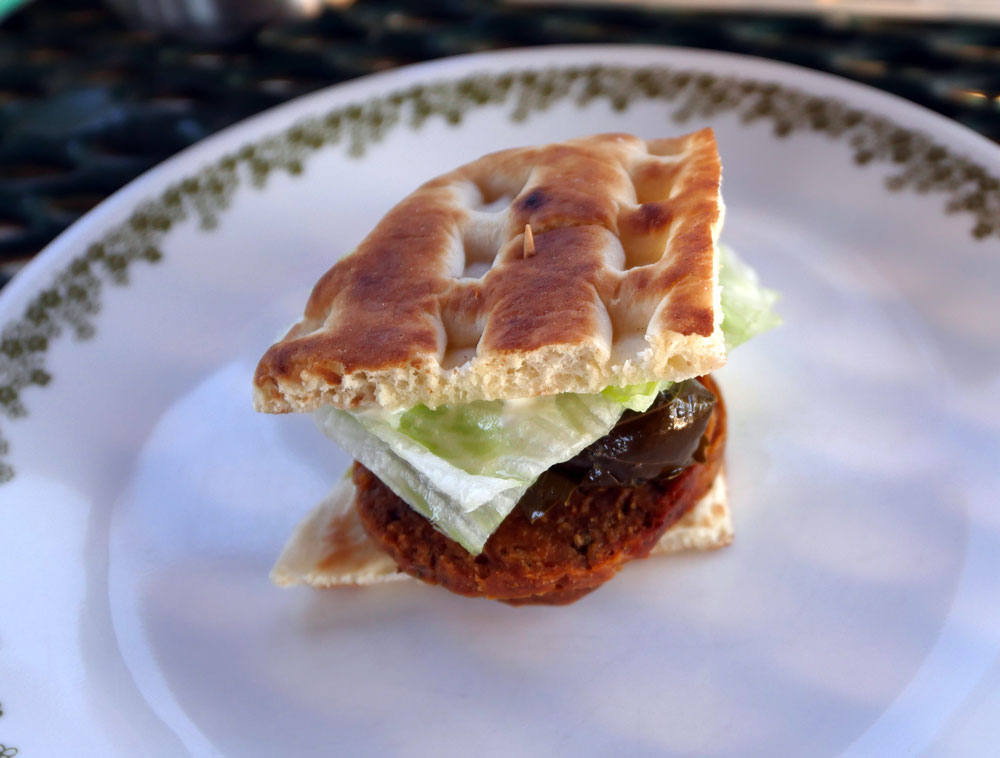 Slynn: Chickpea Tagine with Couscous; Maple-Roasted Figs
While Ramon took inspiration from the Internet, Slynn, rather, took it from her her dad, making a chickpea tagine recipe he had recently prepared for them. The recipe started with tossing drained canned chickpeas in lemon juice and leaving them to soak in the acidic liquid while cooking other ingredients including onion, garlic, ginger, bell pepper, cayenne, smoked paprika, turmeric, cumin, coriander, and cinnamon in a Dutch oven on the stove. Once warm, Slynn added chopped tomatoes and sugar and simmered for fifteen minutes, adding water as needed to thin. After this, the chickpeas and salt went in, continuing to simmer for another twenty minutes. Before serving, Slynn livened up the dish with fresh herbs such as chives, cilantro, and parsley.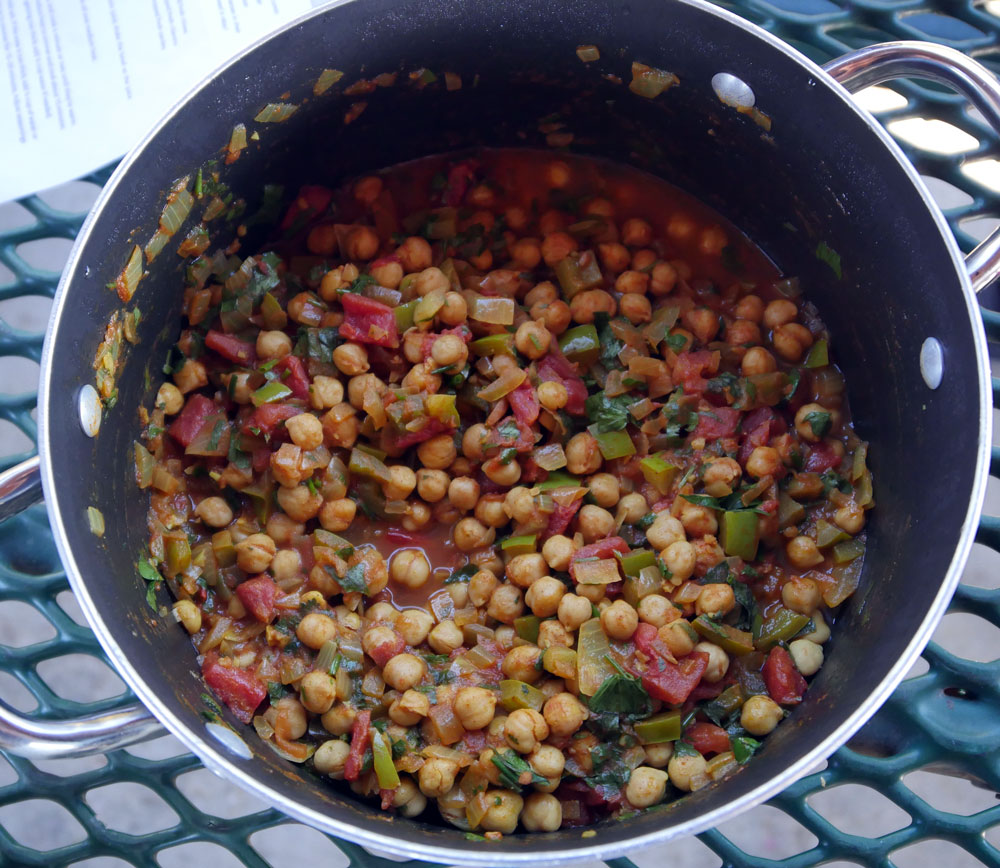 She served the chickpea and vegetable dish over couscous.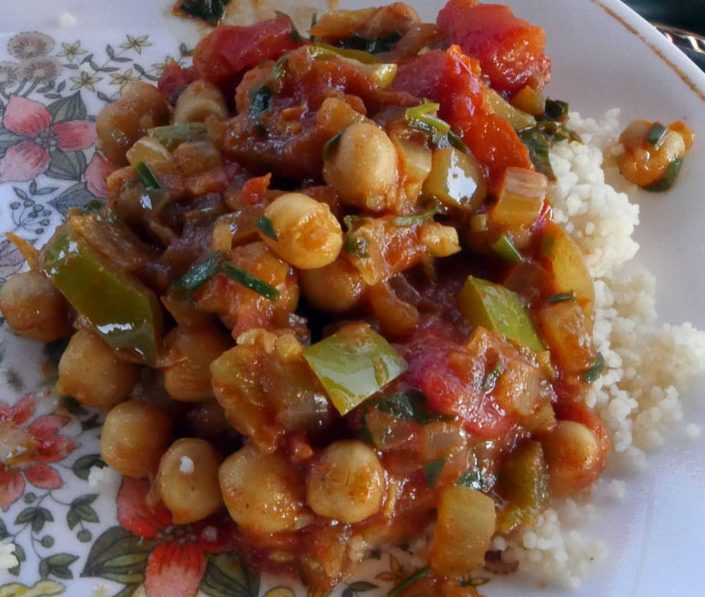 For a sweet dish, Slynn roasted some semi-dried figs that she had acquired in Trader Joe's freezer section with maple syrup, cinnamon, and Kosher salt.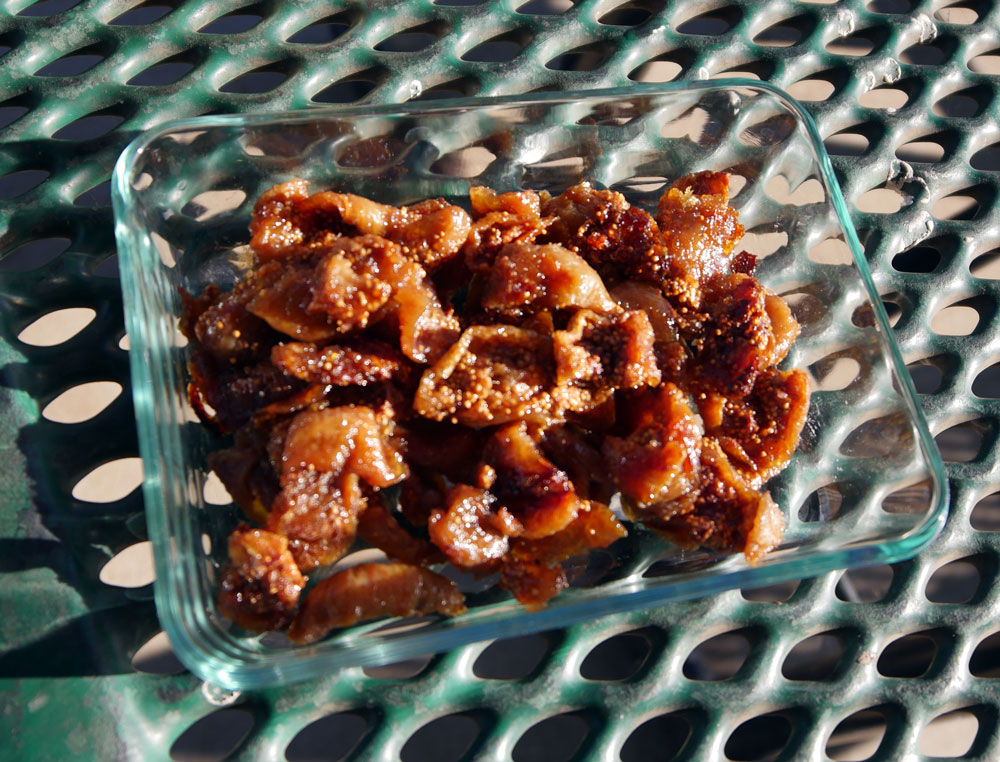 Drew: Caroline's Mediterranean Orzo Salad
Caroline, Drew, and Macy worked together to bring us this Mediterranean orzo salad in that the former made it, but because she wasn't feeling well, the latter two brought it to the park. Caroline followed a recipe from the Simple Veganista, veering from it only so far as to add some red wine vinegar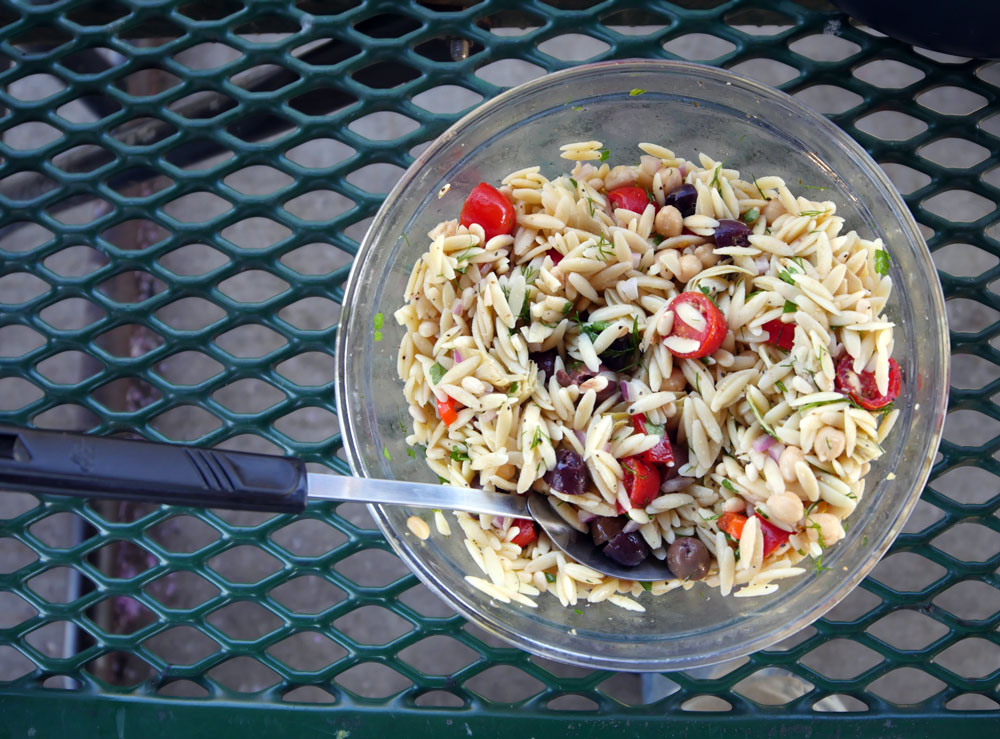 Billy: Baba Ghanoush with Wheat Bread
Billy grilled an eggplant for approximately twenty-five minutes, flipping it a couple times during cooking. Post-grill, he skinned the eggplant and food processed it with tahini, olive oil, sea salt, lemon juice, and garlic. To serve with this baba ghanoush, he made a flat bread with wheat flour, water, nutritional yeast, baking powder, and salt cooked in a frying pan until crisp.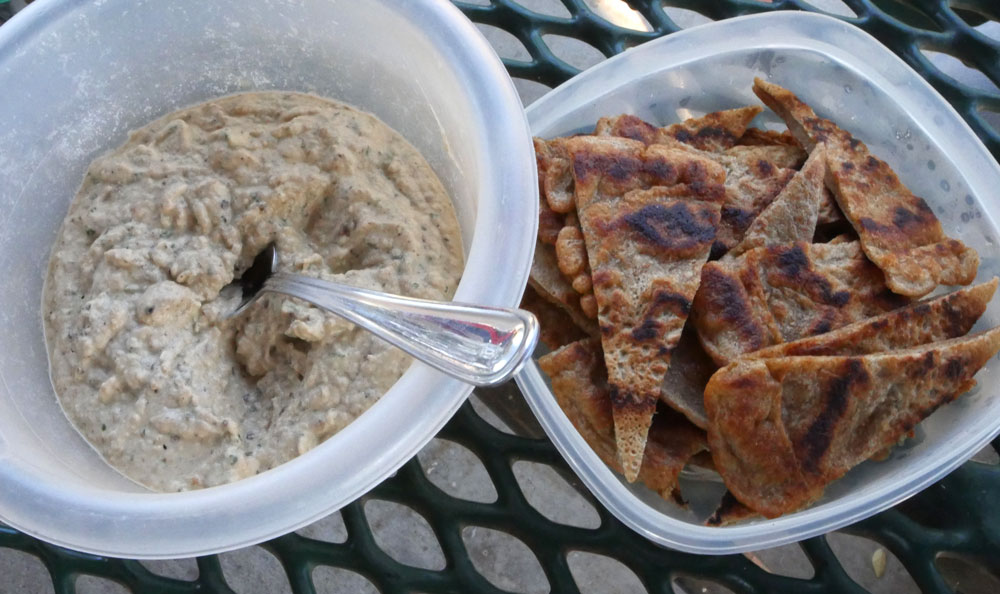 Lauren: Spanakopita; Lemon Olive Cake
To build her spanakopita, Lauren made the vegan feta cheese recipe of a Virtual Vegan. For the green insides, she cooked thirty-six ounces of frozen spinach, then drained off as much liquid as possible using a colander and squeezing with her hands. She mixed the spinach with cooked green onion, a small chopped red onion, and minced garlic (though some Greeks might find this treasonous: see comments) then combined this with the batch of feta. She layered sheets of store-bought phyllo dough, brushing every other one with olive oil. After layering about two thirds of the package in her 13″ x 9″ baking pan, she spread the spinach mixture over the stack then layered on the rest of the sheets. She baked the spanakopita at 365°F for about an hour until golden and flaky.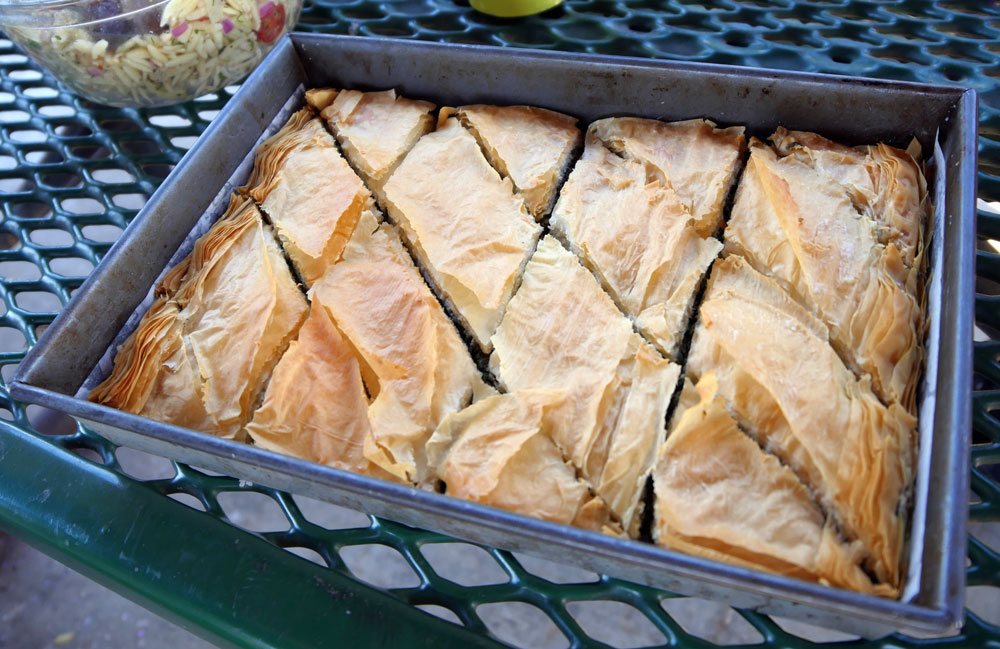 For dessert, Lauren made a lemon olive oil cake, using half extra virgin olive oil and half regular olive oil to achieve the desired level of olive-y taste.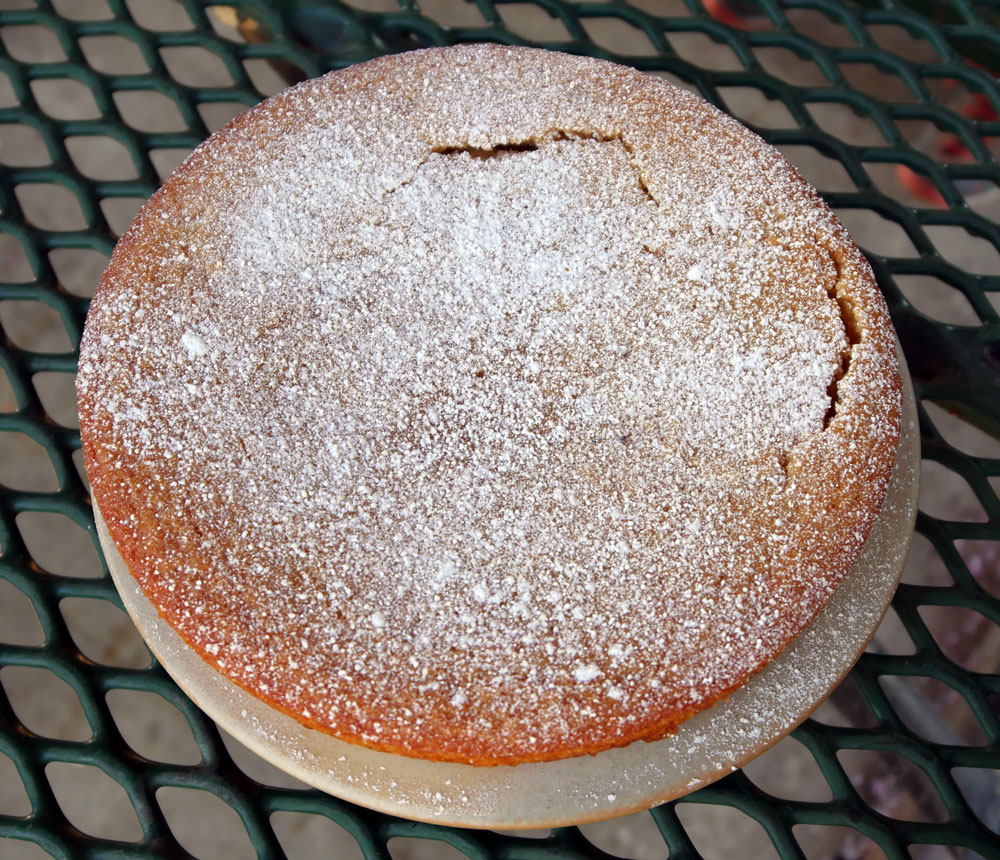 Our final treat of the day was a wheelie provided by Ramon and Neva!